Option 1: Subscribe to Our Weekly Newsletter
By entering your email address in the upper right subscribe box, you can subscribe to our weekly newsletter. Our newsletters are usually sent later in the week. Both Adam and I personally pick the latest and best seasonal recipes to share with you each week. An updated list of open giveaways also included. Our newsletter email service is operated by Mail Chimp.
What will the newsletter look like? Here is an example.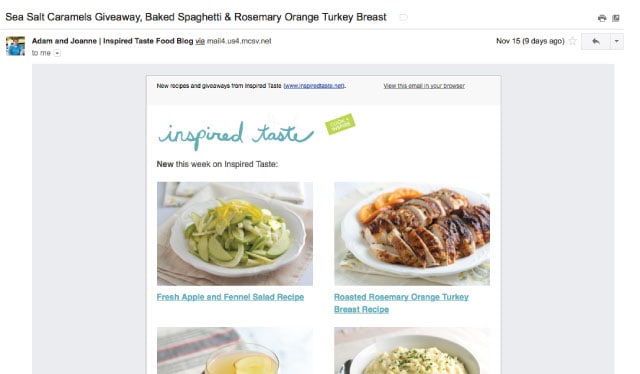 By the way, we hate spam as much as you do. That's why we're careful to hand pick the best content to share with you each week. If you decide you don't want to receive email updates anymore, you can always unsubscribe; there is a link to do just that at the bottom of every email.
Option 2: Subscribe Using a RSS Reader
Rather than manually checking in to see what's new here, you can instead use a RSS feed reader program that will compile all of the latest headlines and excerpts of your favorite sites that have enabled RSS.
The following RSS feeds are available for Inspired Taste:
http://www.inspiredtaste.net/feed/

Receive free RSS updates via email!

Option 3: Add Inspired Taste to Your Personalized Google Page
Google offers two different ways to keep up-to-date with Inspired Taste and your favorite sites:
Add us to your Google Homepage
Add Inspired Taste to your Google Reader
Option 4: Facebook, Twitter and Pinterest
Each time we share a new recipe or giveaway, we will also post a link to the new content on our Facebook page, will share the link in a tweet on Twitter and pin the image to our Pinterest account.
Like us on Facebook
Follow us on Twitter
Follow us on Pinterest

Option 5: Subscribe to Inspired Taste on YouTube
For our most popular recipes, we create recipe videos. All videos are made and edited by us.

Need Some Help?
If you have any questions, feel free to say hello using our contact us form – we'll be in touch shortly!
You're the best! Adam and Joanne