Learn how to cook trout in the oven for a tender, juicy, and flavorful fish dish. This oven baked trout recipe is easy to follow and only requires a few simple ingredients. Use this simple recipe for smaller freshwater varieties like rainbow trout. Tips for substituting larger varieties of fish are in the recipe.
Watch the Video
How to Bake Whole Trout to Perfection
Freshwater trout, like rainbow trout, is one of my favorite fishes to cook at home. It cooks quickly after using our simple cooking method the fish is tender and succulent. You can buy trout as whole fish that has been gutted and cleaned (like in our photos) or as fillets. For this recipe, we're using whole trout. Remember that even though we initially developed this trout recipe for freshwater varieties, you can adapt it for larger or saltwater types of fish like arctic char, steelhead trout, and even salmon!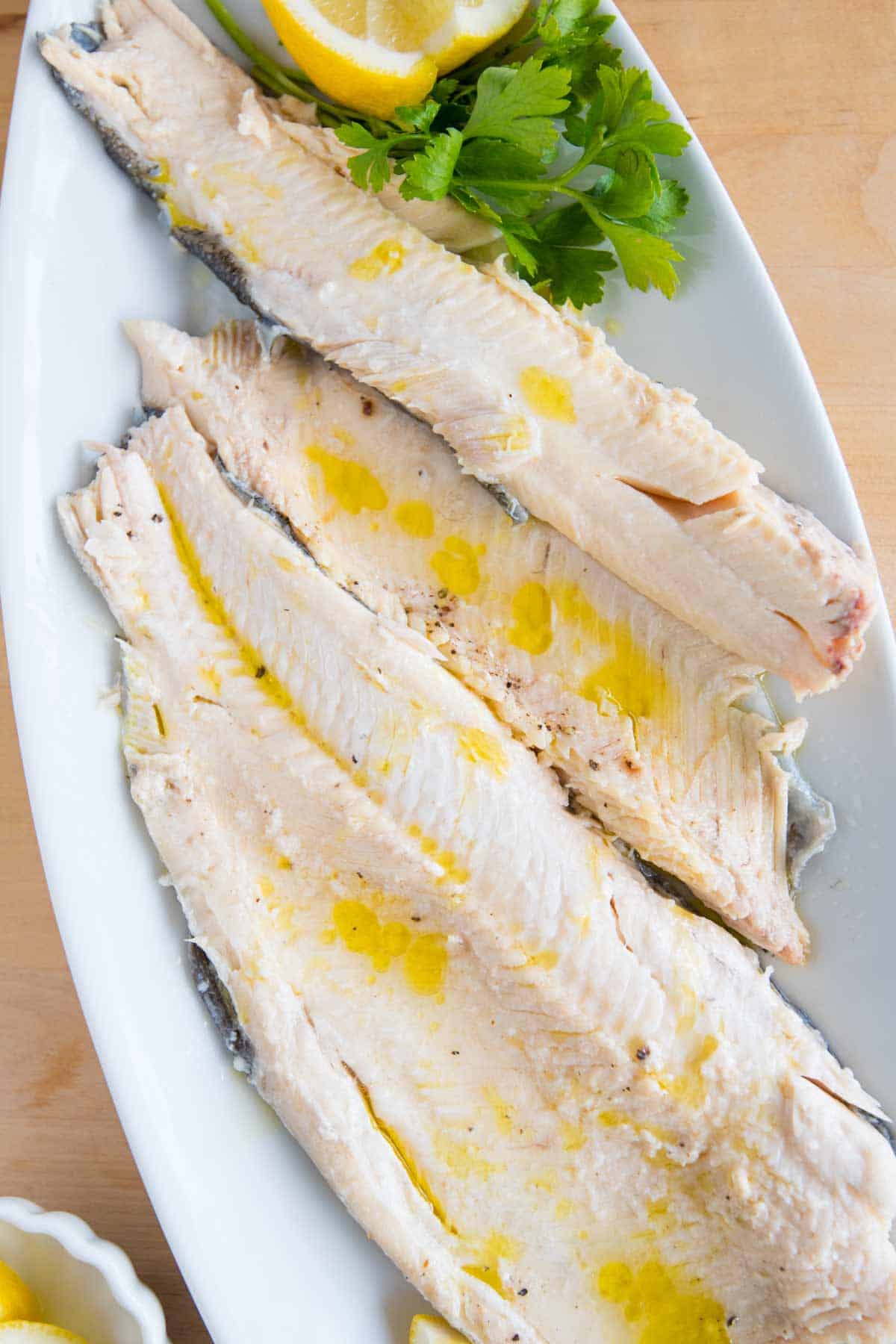 Baking whole trout in the oven is genius — especially when you do it in foil or parchment paper packets. (called fish cooked en papillote or "paper").
With our easy trout recipe, dinner will be on the table in about 20 minutes. You can't beat that.
After sharing this recipe with friends — some were a little overwhelmed with cooking the whole trout (with the skin, tail, and sometimes head still attached). So if you think the same, stop. I promise it's all going to be okay!
When it comes to shopping for trout, it's easy to find already cleaned and butterflied trout. By butterflied, I mean that the fish is slit down the middle but still has the halves attached.
Buying the trout butterflied allows us to add a few fresh ingredients to the middle. For example, in our stuffed trout recipe below, we add lemon slices and fresh herbs to the center. Add even more if you like; consider thinly sliced garlic, onion, or greens (like spinach).
Since we are adding so much flavor to the packets, there isn't much need for a marinade or additional seasonings.
To make the packets, we use parchment paper or heavy-duty foil.
How Long Do I Need to Bake Trout in the Oven?
The baking time depends on how large your fish is. In our recipe below, we call for small to medium rainbow trout and find that they take between 10 and 15 minutes.
The bake time will be longer if you have a larger variety of fish, like steelhead trout. Use our tips for checking for doneness as a guide.
By the way, you could put the trout packets on a grill instead. I've shared a temperature and cooking time in the recipe below.
How To Fillet Cooked Trout
In the video above, we show you how to fillet your trout once it has finished baking. It's really easy — and I think, much easier than when the fish is raw.
It's a simple process. I use a spoon and butter knife to do it. Here are the basic steps I follow. I highly recommend watching the video:
Pull away all the fins. Since the fish is cooked, they come away easily.
Press the knife into the soft flesh just before the head and cut up to the bone. Repeat this with the soft flesh just before the tail.
Use the knife to follow the line down the middle of the trout (this follows the spine). Just cut up to the bone.
Following the line you just made down the spine, use a spoon to carefully pull/push the top and bottom fillet away from the bones.
Pull the tail up and away the fish. By doing this the spine and bones will come away with it.
Clean all the fillets of small bones and transfer to a plate for serving.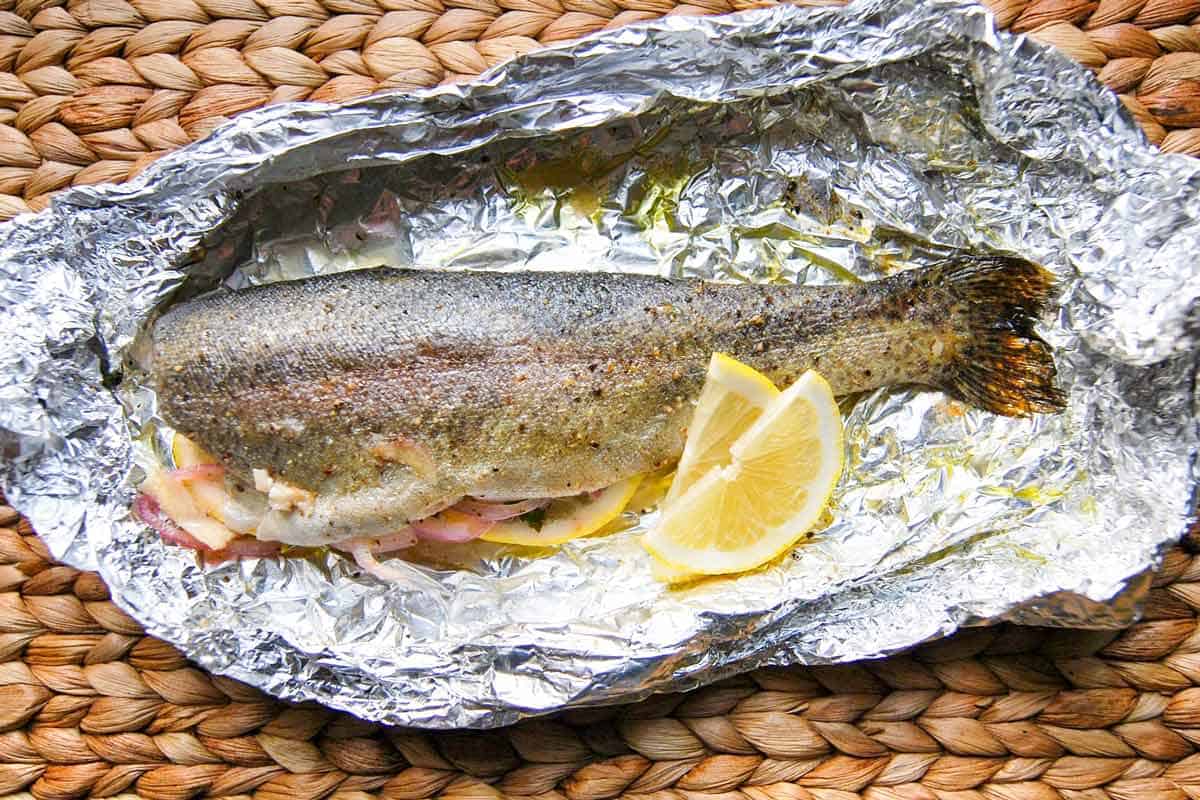 Easy Oven Baked Trout
Here's how how to cook trout in the oven so that it is succulent and flavorful. Baking rainbow trout in foil packets helps the fish cook perfectly. While they bake, juices form at the bottom of the packet, which are delicious when spooned over the cooked trout. Other ingredients to consider adding to the middle of the fish are thinly sliced garlic, onion, or greens (like spinach). If you have larger varieties of fish like steelhead trout or even salmon, you can still use our method, but the bake time will be longer.
Watch Us Make the Recipe
You Will Need
Olive oil
2 small rainbow trout, cleaned and butterflied (opened up with the halves still attached), about 1 pound
1 lemon, sliced
4 fresh parsley or dill sprigs
Salt and freshly ground black pepper
Directions
Prepare Trout

1Heat the oven to 400° Fahrenheit. Cut two sheets of heavy duty aluminum foil that are larger than your fish.

2Place trout, skin side down, on each piece of foil. Lightly oil both sides with oil. Season both sides, inside and out, with salt and pepper.

3Place two parsley (or dill) sprigs and two lemon slices down the middle of each fish.

4Fold up the foil by grabbing at the edges and crimping together to make a packet.
Bake Trout

1Place packets of fish onto a baking sheet. Bake for 10 to 15 minutes, checking one packet after 10 minutes. The flesh should pull apart easily with a fork.

2Place each packet on a plate. Carefully open the foil packets — take care not to let the steam burn you. Slide the fish away from the packet and onto the plate and pour juices over it. Serve with more fresh herbs and lemon slices.
Adam and Joanne's Tips
If you do not have heavy duty foil, use two sheets of regular foil to make each packet.
Parchment paper can be used instead of aluminum foil to make the cooking packet.
How to Make Grilled Trout: Follow the directions in the recipe above to make each packet. Heat grill to medium-high heat. Place the packets over indirect heat. Grill 10 to 15 minutes, or until cooked through.
Nutrition facts: The nutrition facts provided below are estimates. We have used the USDA Supertracker recipe calculator to calculate approximate values.
If you make this recipe, snap a photo and hashtag it #inspiredtaste — We love to see your creations on Instagram and Facebook! Find us: @inspiredtaste
Nutrition Per Serving
Calories
285
/
Protein
32 g
/
Carbohydrate
1 g
/
Dietary Fiber
0 g
/
Total Sugars
0 g
/
Total Fat
16 g
/
Saturated Fat
4 g
/
Cholesterol
87 g