Learn how to make easy homemade balsamic vinaigrette. Plus, how to turn it into a creamy dressing and how to use jam to turn it into a strawberry dressing. Jump to the Essential Balsamic Vinaigrette Recipe
Homemade balsamic dressing is a staple in our house. So much so that we thought we should share three versions we make all the time: a basic dressing, creamy dressing, and strawberry balsamic dressing.
More homemade salad dressings: Try our easy homemade ranch, this creamy blue cheese dressing or this better than store bought Italian dressing.
How to Make Homemade Balsamic Dressing
When making vinaigrettes, the idea is to slowly stream in oil and vigorously beat it into the base of the dressing — often vinegar or lemon juice. In this case, we used olive oil and slowly added it to balsamic vinegar.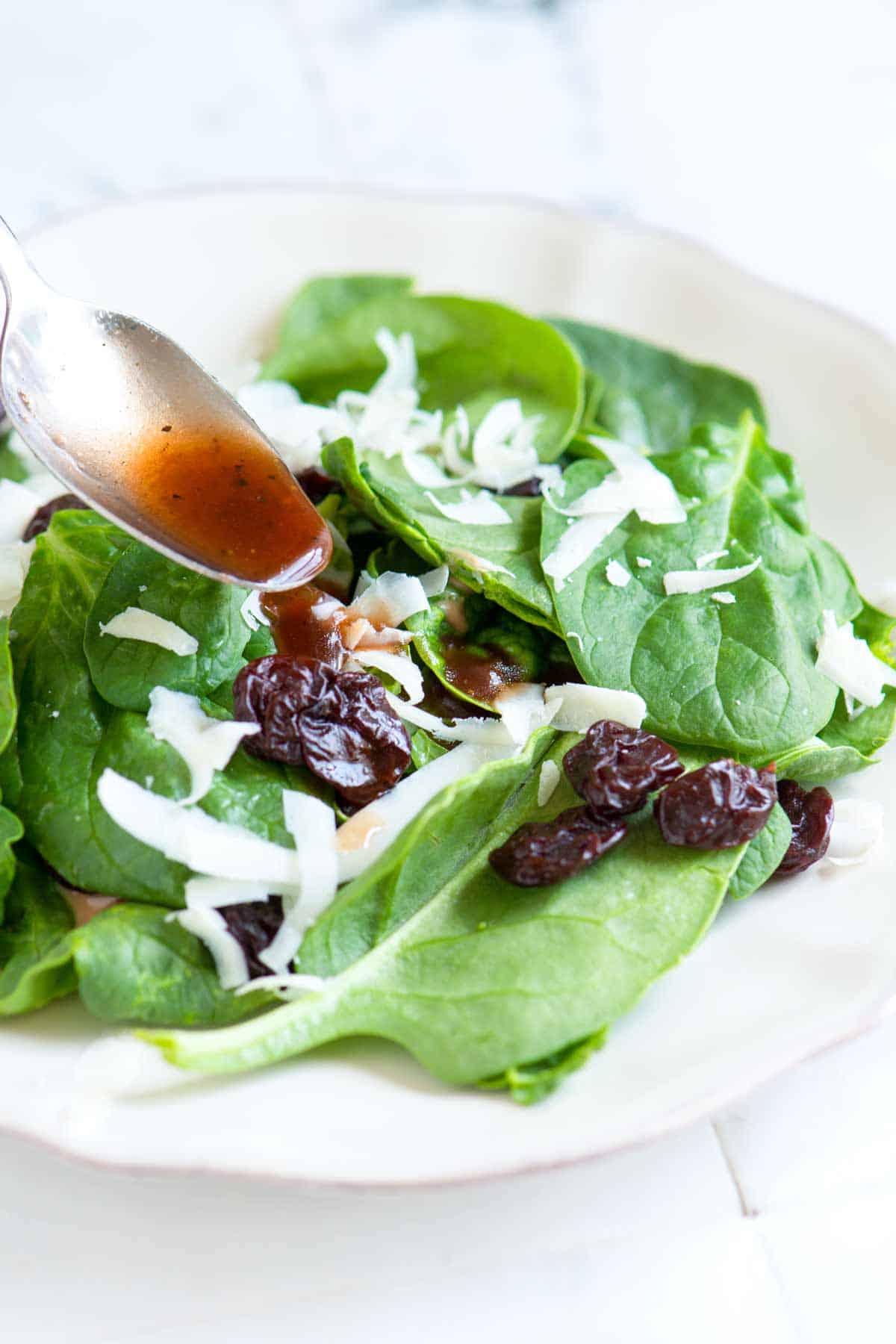 Depending on the quality of your balsamic vinegar you may only need to add salt and pepper for a thick, slightly sweetened vinaigrette. Most of us don't have high quality balsamic vinegars at home (or if we do, we don't want to use a 1/4 cup of it in dressing).
They can be very expensive. So for our daily homemade balsamic dressing, Joanne and I buy relatively low-range balsamic vinegar (around $10). Then, we cheer up it's flavor with some extras — Dijon mustard and a little brown sugar. The brown sugar adds sweetness, often found in the higher quality stuff and the mustard adds complexity.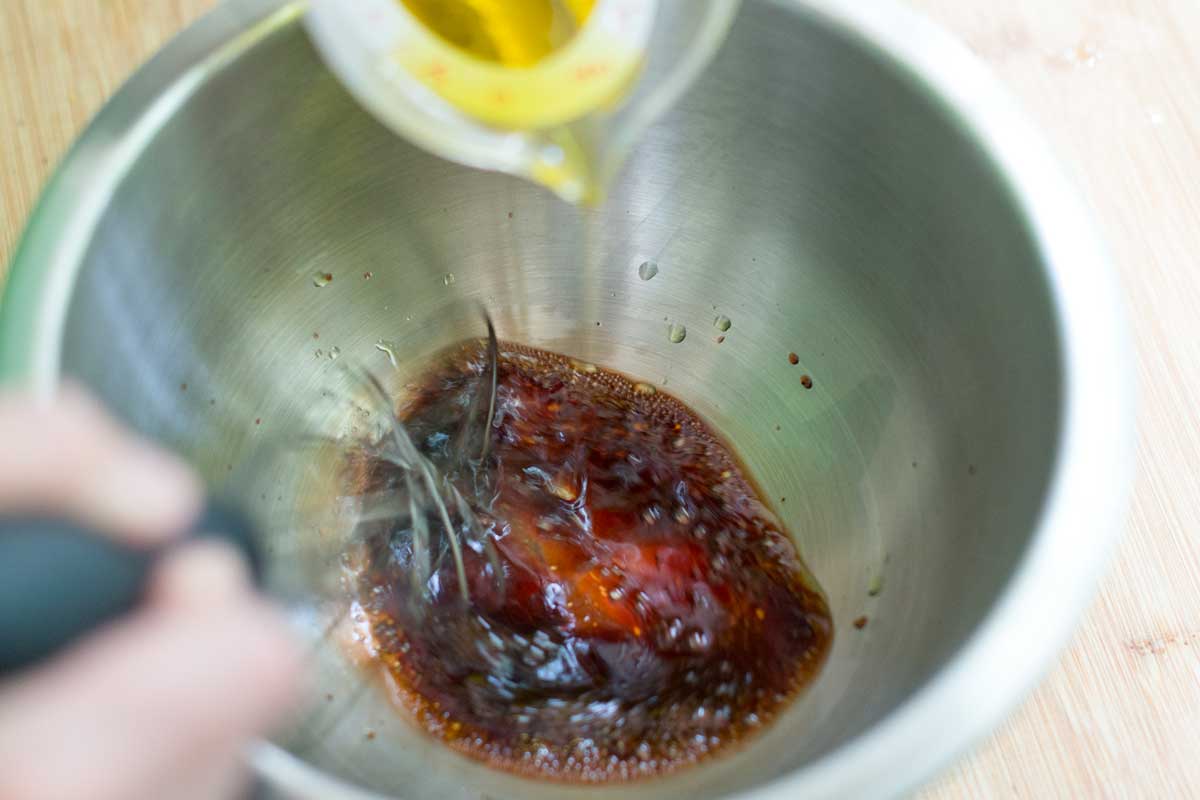 How to Make Creamy Dressing
If we're feeling like something different, we'll go a little further and make the dressing creamy. We add a little mayonnaise and it works like a dream. We've also tried sour cream and crème fraîche — both are a nice touch and add a little bit of sour to the mix.
How to Make Strawberry Balsamic Dressing
Another option is to turn the basic dressing into strawberry balsamic dressing and use strawberry jam instead of brown sugar. By the way, you could skip strawberry and use another jam — blueberry, cherry and fig jam are delicious. This would be excellent drizzled over our Balsamic Strawberry Salad!
More ideas for spicing up our basic balsamic dressing are to add garlic, a little red wine vinegar, or chopped fresh herbs.
Recipe updated, originally posted May 2013. Since posting this in 2013, we have tweaked the recipe to be more clear. – Adam and Joanne
Essential Balsamic Vinaigrette Recipe
Homemade balsamic dressing is a staple in our house. Below we've shared three versions: basic, creamy and strawberry. We like vinegary dressings, so we use twice as much olive oil as vinegar. To make a less vinegary dressing, add more olive oil. Garlic is optional in this dressing — If we use it, we add one crushed garlic clove to the dressing then let it sit for about 30 minutes before removing it and serving. For a stronger garlic flavor, use minced garlic. The strawberry dressing uses jam, so you could easily substitute strawberry with cherry, blueberry, fig, or other jam.
Makes approximately 3/4 cup
You Will Need
1/4 cup (60 ml) balsamic vinegar
2 teaspoons Dijon mustard
1 teaspoon brown sugar, or more to taste
1/2 teaspoon kosher salt
1/4 teaspoon fresh ground black pepper
1/2 cup (120 ml) extra-virgin olive oil, or more to taste
Directions
1Whisk vinegar, mustard, sugar, salt, and the pepper in a medium bowl until well blended. While whisking, slowly stream in the olive oil until completely incorporated and the dressing has thickened. Taste and then adjust with salt, pepper, olive oil, or sugar as needed.
Adam and Joanne's Tips
Creamy Balsamic Dressing: Whisk in about 2 tablespoons of mayonnaise, sour cream, or crème fraîche.
Strawberry Balsamic Dressing: Replace the brown sugar for 1 tablespoon of strawberry jam (or other fruit jam).
Adding garlic to the dressing: Add one lightly crushed garlic clove to the dressing and then set aside for 30 minutes, remove garlic clove then serve. Or, if storing dressing for a while, leave it in — the garlic will continue to add a subtle garlic flavor to the dressing.
How to make in jar or blender: Instead of whisking ingredients together, place all the ingredients in a screw-top jar and shake to combine. Or, use a blender. Add all ingredients, but garlic, to blender then blend until thick.
If you make this recipe, snap a photo and hashtag it #inspiredtaste — We love to see your creations on Instagram and Facebook! Find us: @inspiredtaste