This easy homemade Italian dressing is zesty, super flavorful and perfect for tossing with salad or used as a marinade.
Watch the Video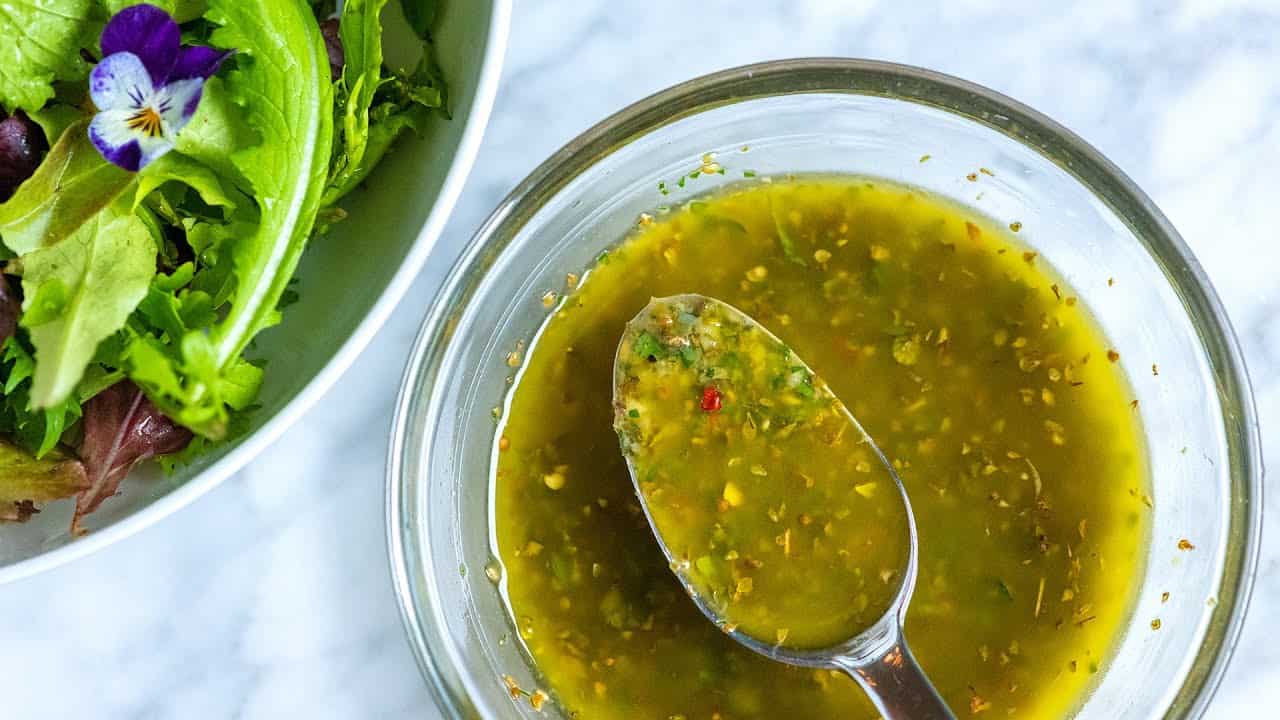 How to Make Italian Dressing That's Better Than Store-Bought
This zesty Italian dressing is incredibly simple to make. This better-than-store bought dressing uses real healthy ingredients so that you can feel good about what you are eating. This Italian dressing recipe is just as easy to make as our honey mustard dressing and this creamy Caesar dressing (so good)!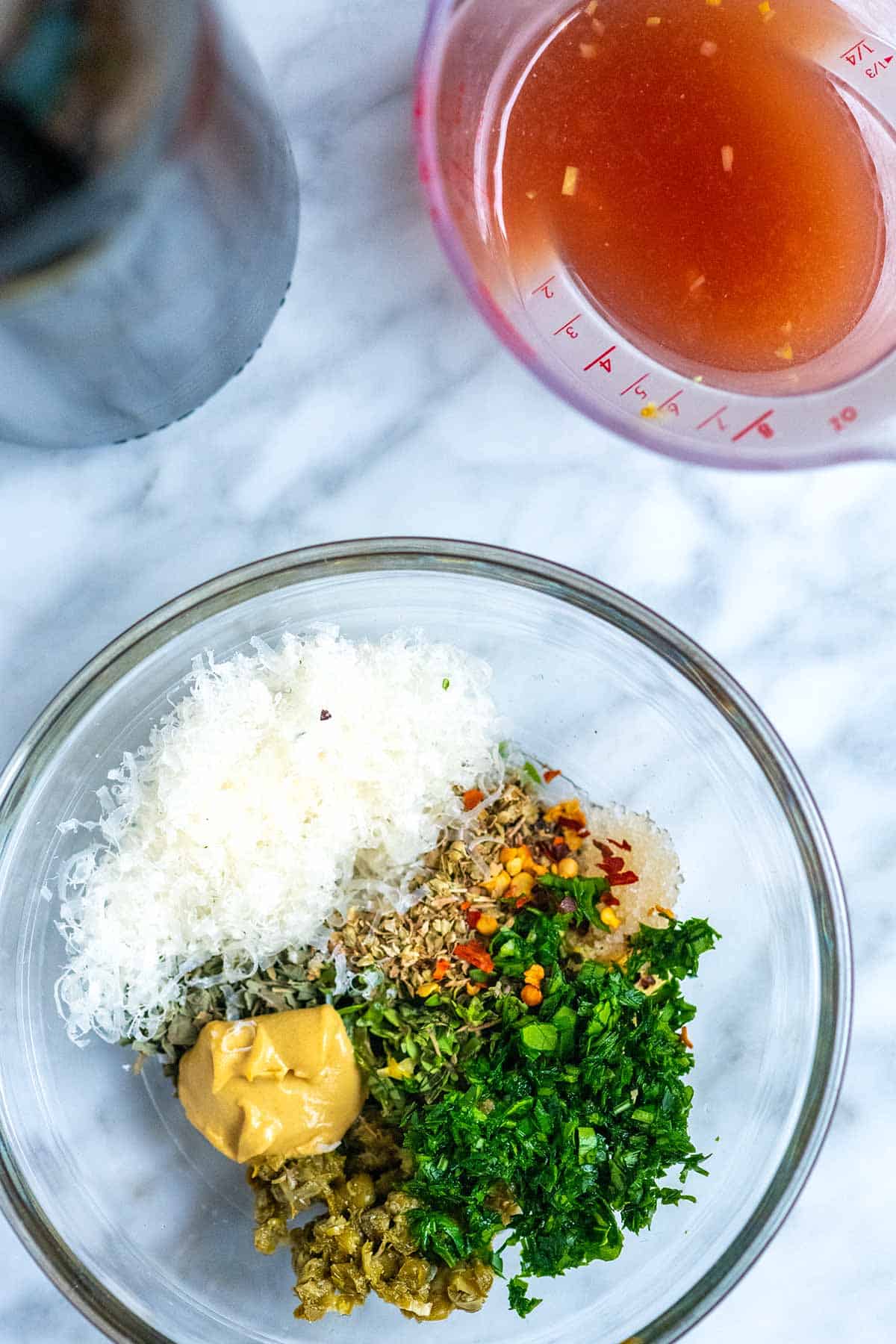 Here's what you will need:
Extra-virgin olive oil is the base of our dressing. If you can, choose a high quality oil that you enjoy the flavor of. Olive oil can vary in flavor from light and fruity all the way to robust and spicy.
Wine vinegar and fresh lemon juice are what bring the classic tart, acidic kick to this dressing. White or red wine vinegar can be used interchangeably and if you don't have lemon, simply make the dressing with 100% vinegar.
Capers and fresh garlic are our little secret for this dressing. They add a zesty, briny kick and give the dressing some texture. We first used capers to make this olive oil dip and have been adding them to recipes ever since.
Dijon mustard is one of our most loved ingredients, especially when making vinaigrettes. We use it to make the dressing for this chickpea salad, our easy bean salad and this honey mustard dressing.
Maple syrup or honey are usually an optional ingredient for us when making dressings, but in the case of this Italian dressing recipe, we highly recommend that you add teaspoon to the mix. It doesn't make the dressing taste sweet, but it does balance the tartness of the vinegar and lemon juice.
Fresh and/or dried herbs are essential when making this. You can use all fresh, all dried or use a combination based on what you have on hand. Ingredient amounts for both fresh and dried are provided in the recipe below.
Parmesan cheese is optional, but it adds a lovely creamy element to the dressing.
We find that this dressing is creamy enough and does not need any additional ingredients. It is amazing what happens when you whisk everything together. That said, to make a creamy Italian dressing, whisk in a tablespoon or two of sour cream, mayonnaise or plain yogurt.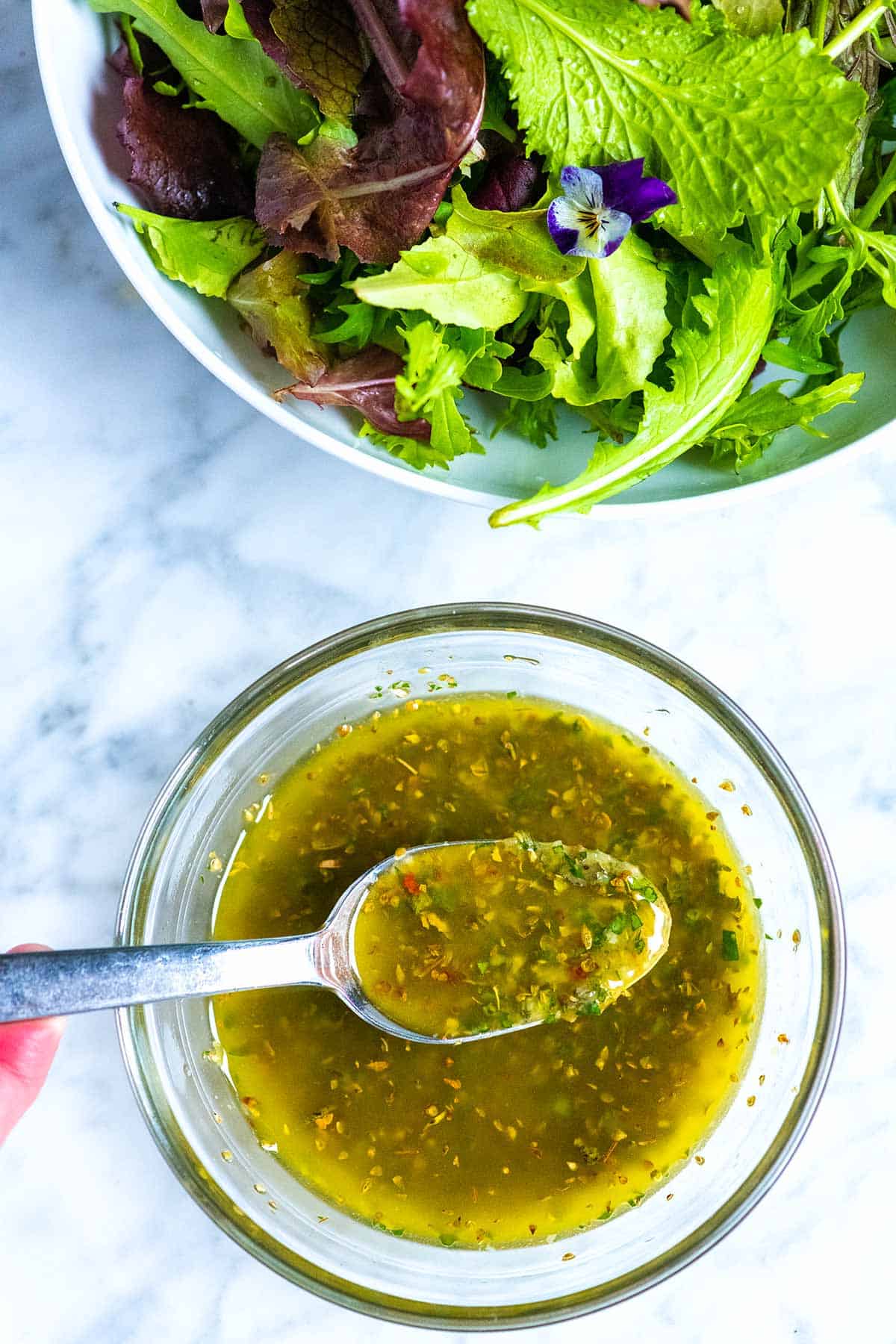 More Homemade Dressings: Try our homemade honey mustard, this creamy blue cheese dressing, our easy Caesar dressing, this quick balsamic dressing and this easy homemade ranch.
How Long Will The Dressing Last?
Here's the great news, this easy homemade dressing lasts in the fridge for a few days. We love storing it in a glass mason jar so that we can shake it before adding to salads or before using it as a marinade. (The dressing will likely last a day or two longer, but the fresh flavor of the garlic and herbs starts to degrade over time.)
Here are a few suggestions for how to use this easy Italian dressing (or vinaigrette):
Skip store-bought salad dressing and use it on your favorite homemade salads. It's especially delicious with greens, brussels sprouts, cabbage, carrots, sweet bell peppers, and broccoli. It's also excellent with salads where you add fruit (like apples or pear).
Use it for for prepared salads like bean salad or a mayo-free chicken salad.
Use the Italian dressing as a marinade. Try it when making baked chicken breast or shrimp.
More delicious salad recipes: We love this three herb Italian pasta salad, our lemony white bean salad with prosciutto and everybody loves this easy bean salad!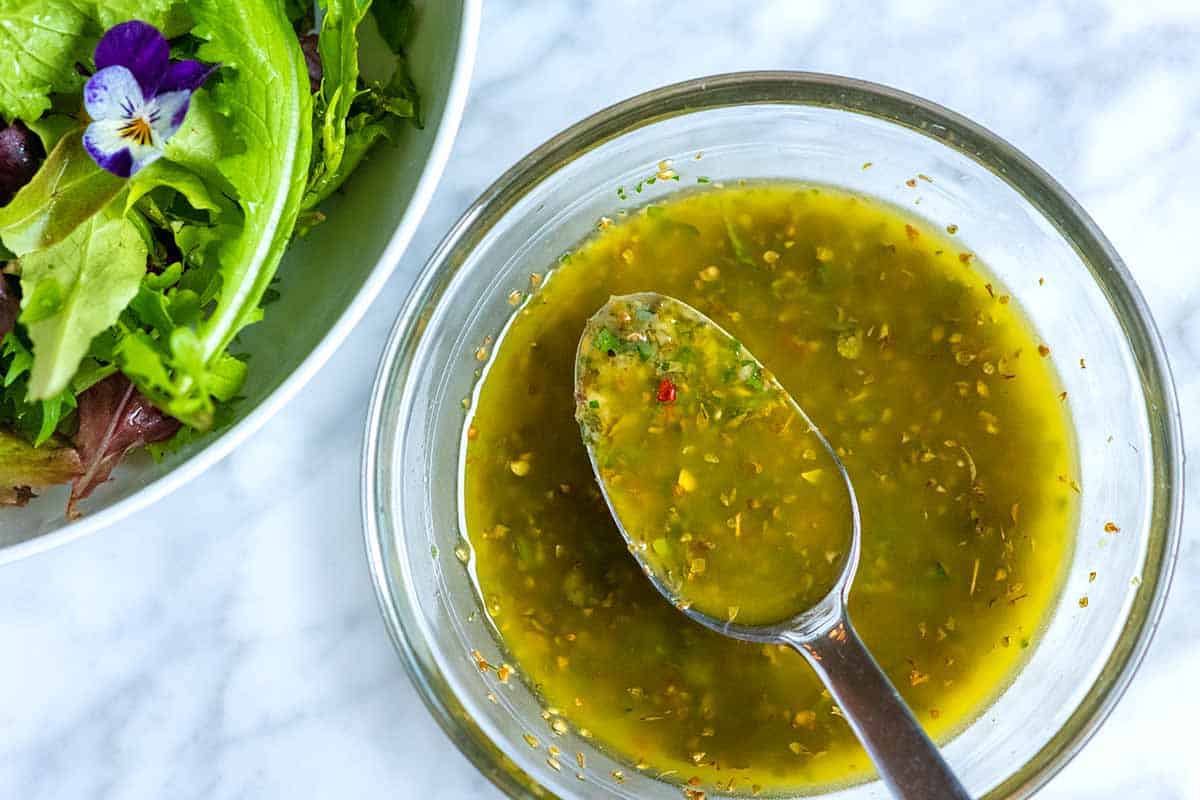 Easy Italian Dressing
This easy homemade Italian dressing is zesty, super flavorful and perfect for tossing with salad or used as a marinade. We love the combination of wine vinegar and lemon juice in this, but if you do not have lemons, use 1/4 cup of wine vinegar instead. White wine vinegar and red wine vinegar can be used interchangeably in this recipe.
Watch Us Make the Recipe
You Will Need
1/4 cup (60 ml) extra-virgin olive oil
2 tablespoons (30 ml) white or red wine vinegar
2 tablespoons (30 ml) fresh lemon juice
1 teaspoon fresh grated lemon zest
1 garlic clove, finely minced or grated
1 teaspoon Dijon mustard
1 tablespoon capers, drained and minced
1 teaspoon maple syrup or honey
1 teaspoon dried oregano or 1 tablespoon chopped fresh oregano leaves
1 teaspoon dried basil or 1 tablespoon chopped fresh basil leaves
1 tablespoon finely chopped fresh parsley or 1 teaspoon dried parsley
1 teaspoon chopped fresh thyme or 1/4 teaspoon dried thyme
1/4 teaspoon fine sea salt plus more to taste
1/2 teaspoon fresh ground black pepper
Pinch crushed red pepper flakes, optional
2 tablespoons finely grated Parmesan or Romano cheese, optional
Directions
1Combine all of the ingredients listed in a small bowl and whisk until well blended and creamy. Taste then adjust with additional salt or pepper.

2Alternatively, you can add all of the ingredients to a medium mason jar, secure the lid, and then shake until blended.

3Keep, tightly covered, in the refrigerator up to three days. The dressing will likely last a day or two longer, but the fresh flavor of the garlic and herbs starts to degrade over time.
Adam and Joanne's Tips
When stored in the fridge, the oil might harden on you. Don't worry, this is normal. Either, place the jar into a bowl of warm water for a few minutes or take the dressing out of the refrigerator 30 minutes before you plan on serving it.
Nutrition facts: The nutrition facts provided below are estimates. We have used the USDA database to calculate approximate values.
If you make this recipe, snap a photo and hashtag it #inspiredtaste — We love to see your creations on Instagram and Facebook! Find us: @inspiredtaste
Nutrition Per Serving
Serving Size
about 1 tablespoon
/
Calories
71
/
Total Fat
7.4g
/
Saturated Fat
1.2g
/
Cholesterol
1.3mg
/
Sodium
133mg
/
Carbohydrate
1.3g
/
Dietary Fiber
0.2g
/
Total Sugars
0.6g
/
Protein
0.5g