I love this naturally sweetened beet juice recipe with fresh lemon plus soothing ginger and cucumber. High in vitamin C and essential minerals!
We have fallen in love with making vegetable juices at home. Think of juicing as a quick way to get lots of vitamins and nutrients into your body. We don't do juice cleanses and don't use juices as a meal replacement. Instead, we love making a small veggie-packed juice and enjoying it with our (usually fiber rich) breakfast or lunch.
We also stick to mostly veggies when juicing since adding lots of fruit makes the sugar content skyrocket — for another veggie based juice, here's our green detox juice recipe. So far, our favorite veggies to juice are beets and carrots — they are already naturally sweet and really don't need much help from fruit to make the juice taste incredible.
For this juice recipe, we combine beets with lemon, ginger and cucumber. Beets are sweet and earthy, lemon and ginger adds zing, and the cucumber adds mineral-rich water.
More: Try making Lemon Ginger Syrup for teas or this Ginger Hibiscus Mocktail!
How To Make The Best Beet Juice
When we make fresh juices at home, we use a juicer. If you do not have one and you love the idea of juicing at home, we highly recommend purchasing one. If juicing is a first for you, you can get away with using a high powered blender (like Blendtec or Vitamix). I've included our tips for this in the notes section of the recipe below.
We use an Omega juicer and absolutely love it. The majority of juicers on the market can be broken down into two camps — slow juicers/cold pressed (also called macerating) and centrifugal juicers. Basically, this just means that the cold pressed variety slowly presses down the fruits or vegetables until the juice is completely pressed out and the now dry fibrous pulp falls into another container. A centrifugal juicer extracts juice by quickly spinning broken down veggies or fruits around until the juice separates from the pulp.
Centrifugal juicers are typically cheaper. There is some debate about whether or not the spinning mechanism creates heat, which can possibly break down enzymes. More importantly to us, centrifugal juicers are not as efficient at getting as much juice out of the produce, which means produce costs might go up.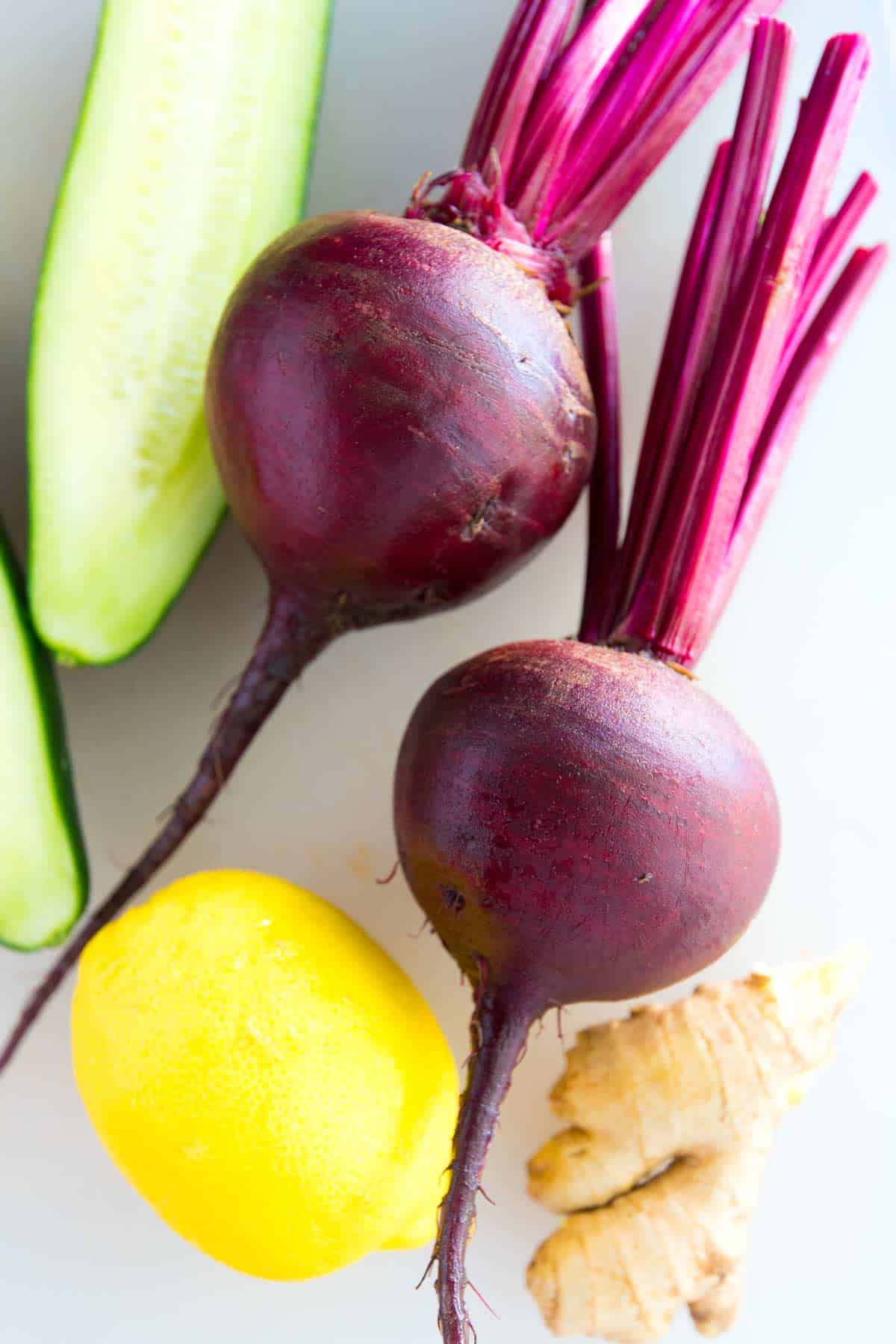 Our juicer is a slow cold pressed juicer. We couldn't be happier with it. If you want to check it out for yourself, you can read all about it here.
When it comes to juicing beets, the Omega juicer flies through them. We leave the peel on, but give them a very good scrub with a vegetable brush to clean them. After trimming the tops, we cut the beets into small strips that are small enough to fit into the juicer.
We do the same with cucumber and ginger — just rinse them then cut into strips that will easily fit the juicer. Lots of nutrients live in the peel so we leave that on. When it comes to lemon, we do remove the peel — it can be bitter. Then we slice them, remove as many seeds as we can, and then pass it through the juicer. Alternatively, you can use a citrus reamer to juice the lemon and add it to the juiced vegetables later.
You can see from the photo below that the pulp is pretty dry — that's good. It means we're getting as much out of our produce as we can. One thing that surprised us the first time we made juice at home, was that the pulp really doesn't smell like much. If anything it smells like dirt. If you have a compost, definitely throw the pulp into it.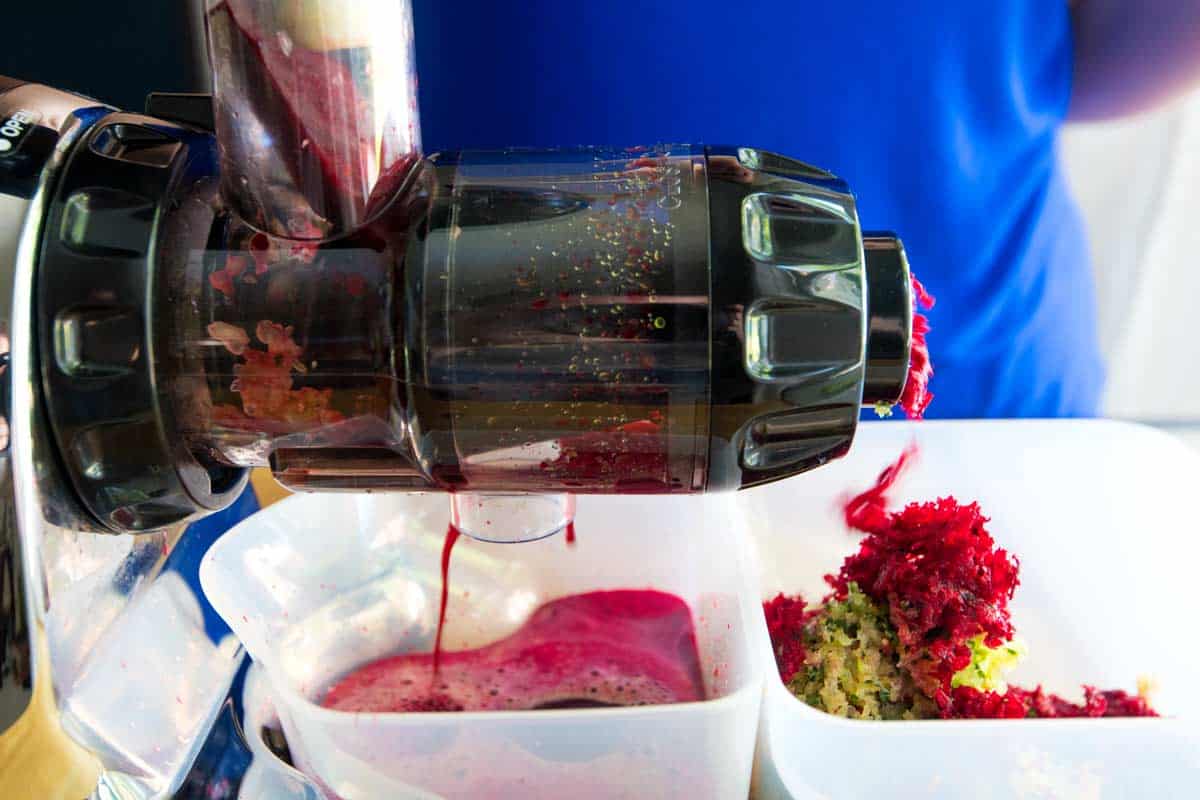 Health Benefits Of This Beet Juice
Speaking of what we get out of the produce, I love learning about all the goodness in veggies so let's geek out a little together, okay?
Beets are packed with lots of essential nutrients including folate, manganese, potassium, iron, betaine and vitamin C. They are excellent with it comes to flushing the liver as well as optimizing our red cells utilization of oxygen. All of that plus anti-inflammatory benefits, makes them a true power veggie!
Lemons are high in immune boosting vitamin C and helps out with potassium and vitamin B6. They are highly alkalizing and are widely known for their detoxifying and antioxidant properties (hello pretty skin). They also help balance out the earthy quality of the beets. If you are like me (a little anemic), all that vitamin C also helps out with iron absorption.
Ginger is a powerhouse in juices. Thanks to gingerols, ginger has powerful anti-inflammatory effects, aids in digestion and relieves bloating. There is no need to peel ginger before adding to the juice. Scrub it clean, cut a piece off then push it through your juicer. If you're sensitive to ginger's warming/spicy quality, add a smaller amount at first and go from there.
Cucumber is high in vitamin A, B complex, vitamin C, and folic acid. It's aids in cell hydration, regulating body temperature and eases inflammation. The high silica content also helps to alleviate skin problems, hair loss and strengthens nails. We love adding cucumber to our juices — it tastes mild and adds lots of mineral-rich water. There's also quite a bit of research looking into cucumbers' anti-cancer properties. We prefer to use the thinner skinned varieties of cucumbers — hot house or English cucumbers are perfect.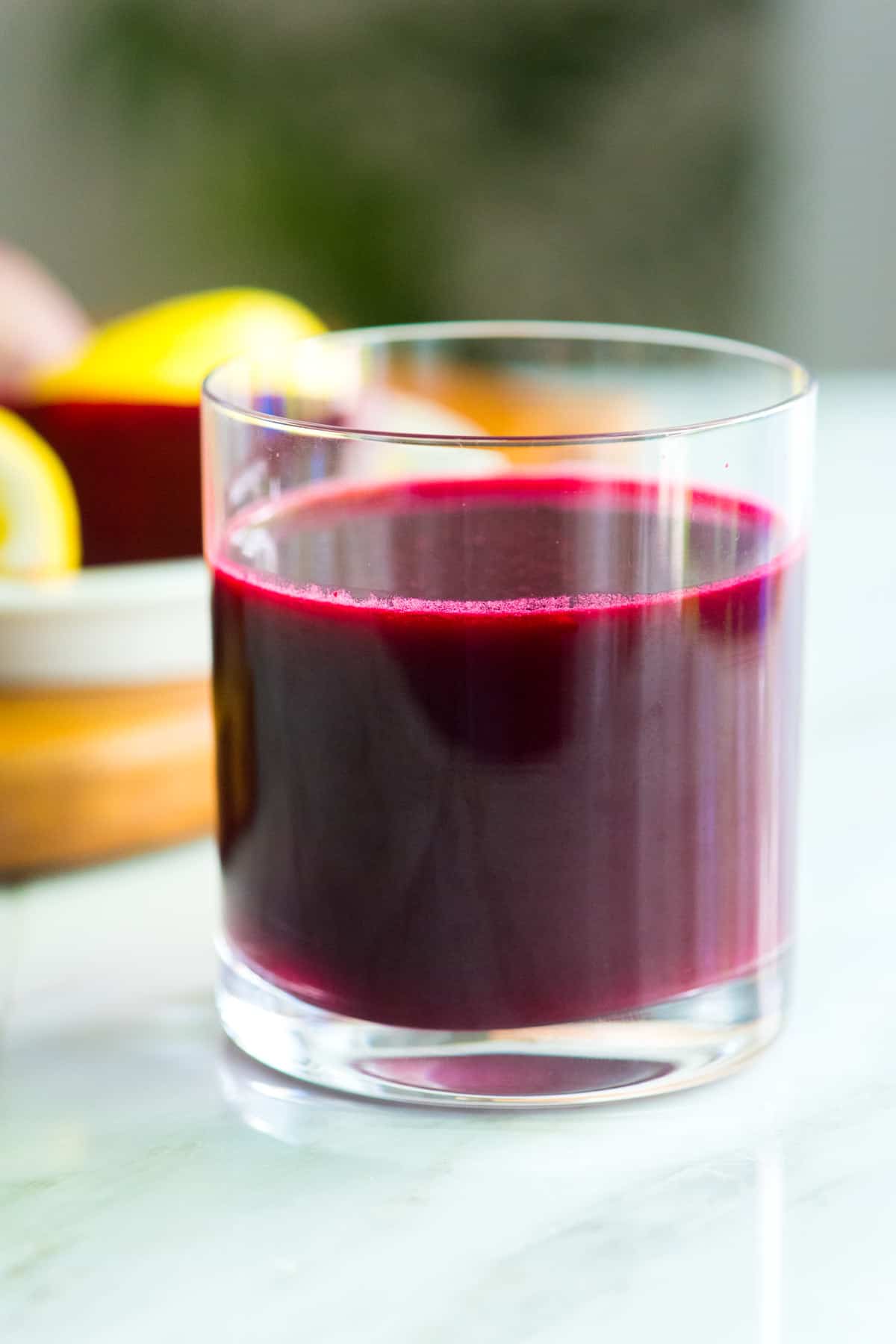 More Easy Juice Recipes
Lemon Ginger Power Beet Juice
In this beet juice, the beets taste sweet and earthy, lemon and ginger add zing, and the cucumber adds mineral-rich water. Beets are naturally sweet so we don't add any additional fruit, with the exception of a lemon. If you find the juice too tart, consider pushing a couple carrots or an apple through the juicer. If you're sensitive to ginger's warming/spicy quality, add a smaller amount at first and go from there.
Makes approximately two 8-ounce servings
You Will Need
2 medium beets, scrubbed clean and tops trimmed
1 medium seedless (hothouse or English) cucumber, rinsed
1-inch length piece fresh ginger, scrubbed clean
1 medium lemon
Directions
Prepare Vegetables

1Chop the beets, cucumber and ginger into thin pieces small enough to easily go through the juicer.

2Cut away the yellow peel from the lemon, leaving most of the white pith and lemon flesh. Cut into slices and remove any seeds.
Make Juice

1Reserve about half of the lemon. Turn the juicer on and push everything through, alternating between the beets and the softer cucumber and lemon.

2When everything but the reserved lemon has been juiced, stir the juice and taste for tartness.

3Add the remaining lemon if you feel it can take it. Or if the juice is too tart, consider adding a couple scrubbed unpeeled carrots or a small cored apple.
Adam and Joanne's Tips
We prefer the flavor of red beets for this juice however, yellow beets will also work.
Make-ahead: Fresh vegetable juice is best enjoyed soon after juicing, but you can make it a day or two in advance. Store in glass, airtight containers. If you have used a cold pressed juicer, it should last a little longer.
How to make beet juice without a juicer: To make beet juice in a blender, add all the prepared ingredients to a high-powered blender (like a Vitamix) and blend until smooth. Then press the pulp through a fine mesh strainer to separate the juice from the pulp. A juicer will make a better juice and will have less waste when it comes to the juice, but this gets you very close.
Nutrition facts: The nutrition facts provided below are estimates. We have used the USDA database to calculate approximate values.
If you make this recipe, snap a photo and hashtag it #inspiredtaste — We love to see your creations on Instagram and Facebook! Find us: @inspiredtaste
Nutrition Per Serving
Calories
66
/
Carbohydrate
15 g
/
Total Sugars
8 g
/
Total Fat
0 g
/
Cholesterol
0 mg