Inspired by authentic red enchilada sauce, our recipe combines dried chilies, garlic, onion, and spices to make a rich, flavorful sauce that's perfect for enchiladas. Skip the store-bought cans, our recipe is simple, quick to make and can be made well in advance.
Related: Use this homemade sauce to make these amazing red chicken enchiladas!
How to Make Authentic Enchilada Sauce
I love the process of making my own enchilada sauce. It's simple to do, is actually fun and makes the kitchen smell incredible. Our goal was to recreate an authentic sauce at home. This sauce is absolutely delicious and makes the best enchiladas! It's honestly so good that I'm sad when we run out.
Dried chili peppers are readily available and very inexpensive. I can find them in the International aisle of my local grocery store as well as in Mexican markets. Online works, too. In fact, the chili peppers last a long time in your pantry, so don't be afraid to buy more than you need.
Now if you just don't have dried chili peppers and still want to make a quality enchilada sauce, take a look at this enchilada sauce recipe that calls for chili powder instead of whole dried chilies.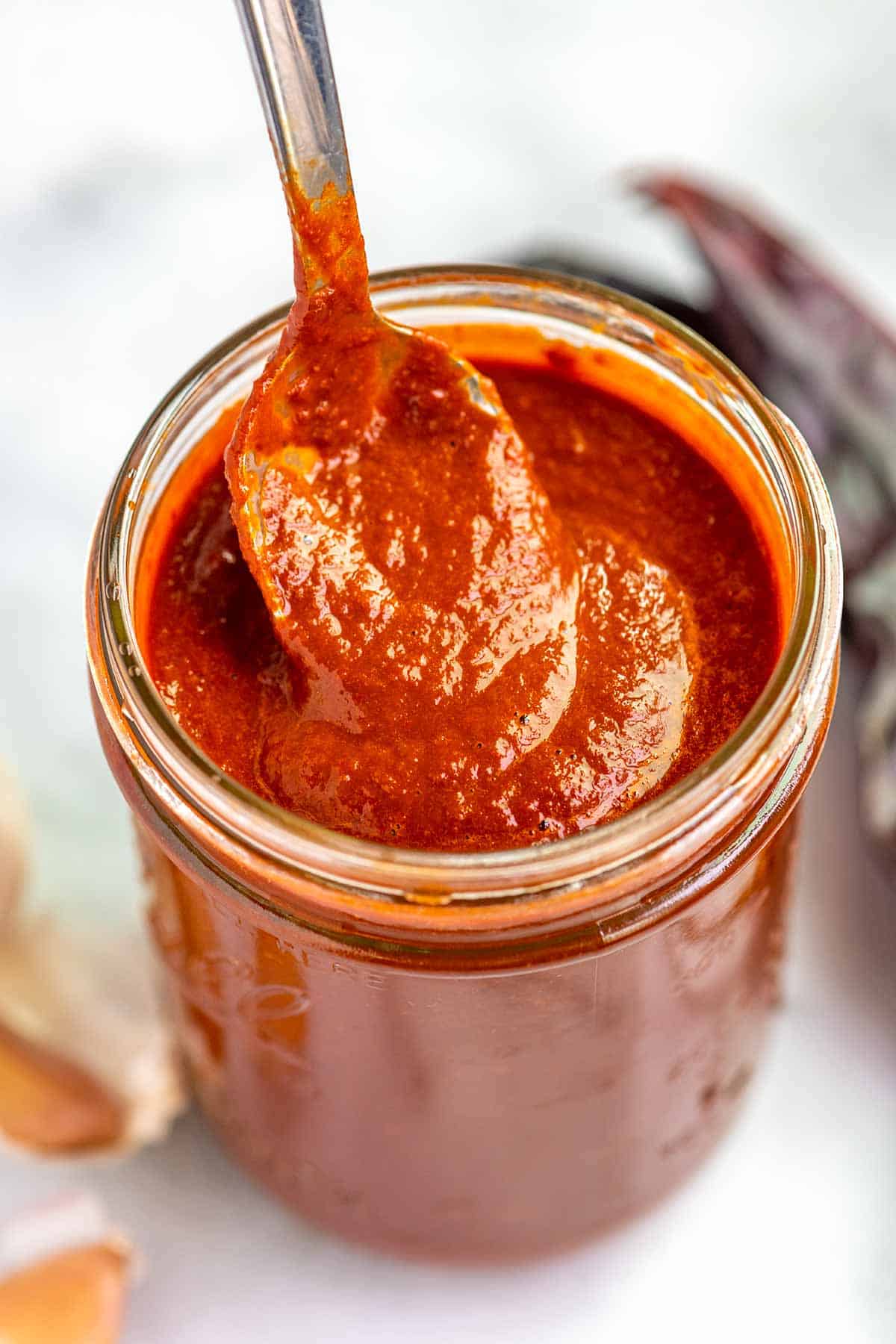 Preparing the Chili Peppers
Most of the recipe is prepping the peppers. Here's what you need to do (it's easy):
Step 1: Remove the stems and seeds from each chili pepper. I use kitchen shears to cut the stems away and then tap the peppers on the counter to shake the seeds out. If the seeds aren't cooperating, cut down the length of the pepper and scrape them out.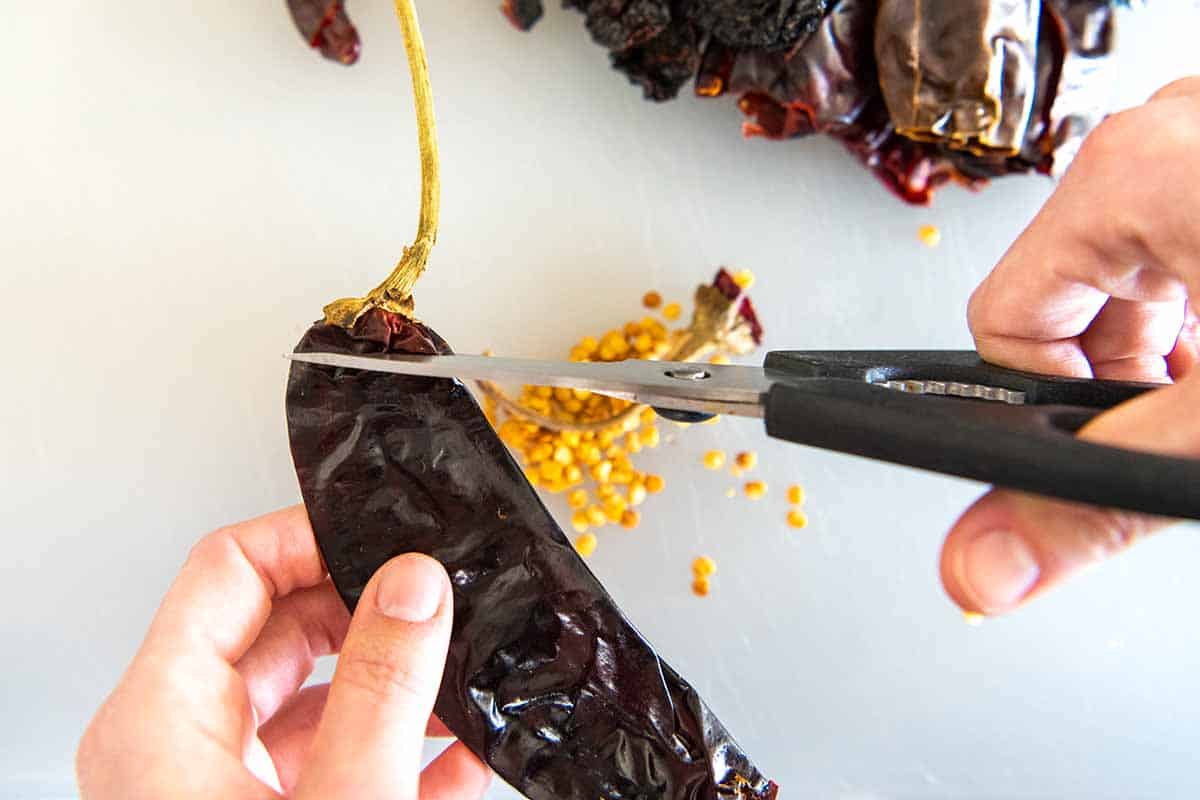 Step 2: Lightly toast the peppers in a dry skillet. Just like toasting nuts and seeds, toasting the dried peppers reinvigorates the oils in the skins and makes them come alive. You do want to be careful during this step and only want to lightly toast until fragrant. I keep my heat around medium-low and stir the peppers often. This prevents scorching the peppers, which makes the enchilada sauce taste bitter.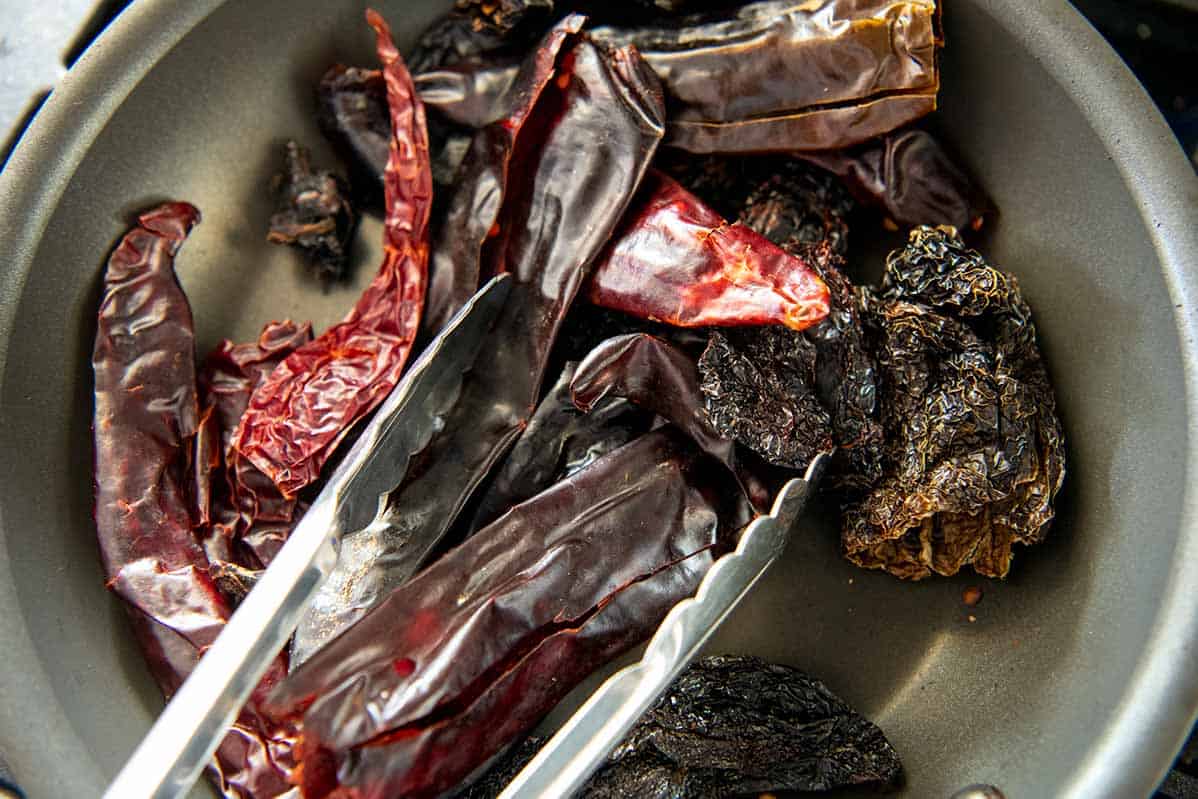 Step 3: Rehydrate the toasted peppers in hot water for 20 minutes. This step takes 20 minutes, but it's all hands-off time for you. Simply add the toasted peppers to hot water and cover. In 20 minutes, the peppers will have swelled and rehydrated. I do this in a deep pot with a lid, but a large bowl with a plate placed on top to stop steam from escaping works just as well.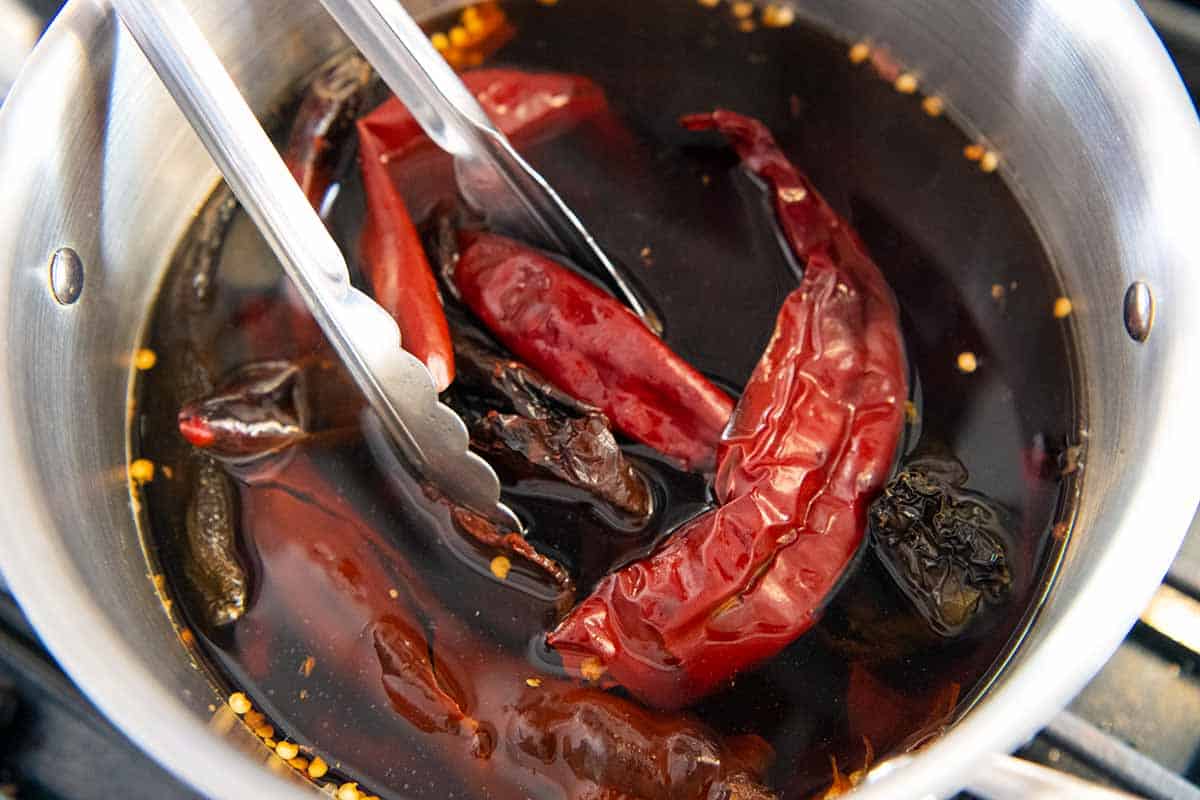 Now that the peppers are ready, you can make the sauce! From here, it's easy peasy. Add the peppers along with some sautéed onions and garlic, spices, and liquid to a blender and blend until your desired consistency.
Best Chilies for Enchilada Sauce
There's lots to choose from, so we've shared a list below of the chiles you are most likely to come across.
Ancho, Mulato and Pasilla peppers are sweet and fruity. The aroma reminds us of raisins, chocolate, and coffee. These are mild.
New Mexico peppers (also know as dried Anaheim, California, or Colorado) smell sweet and fresh — like bell peppers. They can be hotter than ancho chiles, but still are on the mild to medium side.
Chipotle and Guajillo peppers are smoky. Chipotles are smoky because of the way they are dried and have quite a bit more heat. Guajillo peppers have a natural smokiness and are moderately hot.
Cascabels, Pequin, and Arbol peppers are hot and pack a punch.
In our enchilada sauce recipe below, we call for two varieties: Ancho and Guajillo. When the two are combined, the enchilada sauce tastes rich and savory with just a hint of spice. For a spicier sauce, add one or two hotter chilies like New Mexico or Cascabel. You can also make the sauce spicier by adding a pinch or more of cayenne pepper.
It is up to you which chili peppers to use. We recommend including peppers from the sweet and fruity category. They add complexity and flavor (in our case, that is the ancho chili pepper).
Our Best Enchilada Sauce
Inspired by authentic enchilada sauce, our recipe combines dried chilies, garlic, onion, and spices to make a rich, flavorful sauce that's perfect for enchiladas. Many dried chilies will work in this sauce. We love the combination of guajillo and ancho chilies. Guajillo chilies have a natural smokiness and are moderately hot, while ancho chilies are mild and have a fruity, chocolate-like aroma. When combined, the enchilada sauce tastes rich and savory with just a hint of spice. For a spicier sauce, add one or two hotter chilies like New Mexico or Cascabel. You can also make the sauce spicier by adding a pinch or more of cayenne pepper.
You Will Need
2 ounces dried guajillo chiles (8 to 10 peppers)
1 ½ ounces dried ancho chilies (4 to 5 peppers)
Hot water, plus more for sauce
1/2 tablespoon neutral oil like grape seed, safflower or walnut
3 medium cloves garlic, peeled
1/2 medium white onion, sliced
1/2 teaspoon ground cumin
1/2 teaspoon ground coriander
1/2 teaspoon dried Mexican oregano
1/2 to 1 teaspoon fine sea salt
1 tablespoon unsweetened cocoa powder
Sugar, optional for balancing sauce
Apple cider vinegar, red wine vinegar or white wine vinegar, optional for balancing sauce
Directions
Prepare Chilies

1Cut the stems and remove the seeds from peppers. The seeds can be bitter, so get rid of them. Use a pair of kitchen scissors to cut the stem away and then shake or scrape the seeds from the inside of each pepper. (If you have sensitive skin, wear gloves to prevent the oils from getting on your hands. Also, be careful not to touch your eyes during or after working with chili peppers).

2Add the cleaned chilies to a dry skillet over medium-low heat. Toast them, stirring occasionally until fragrant, 3 to 5 minutes. Be careful not to scorch the chilies as this can make the sauce taste bitter.

3Transfer the toasted chilies to a large pot or large bowl and cover with hot water. Cover with a lid to prevent steam from escaping and set aside for 20 minutes. (When using a bowl, a large plate works well as a lid.)
Make Sauce

1While the chilies soak, place the skillet used to toast the peppers back over medium heat. Add the oil, sliced onions and whole garlic cloves. Cook, stirring often, until the onions have softened and have a few brown spots all over, about 5 minutes.

2Place the onions and garlic into a blender. Add the cumin, coriander, Mexican oregano, 1/2 teaspoon of salt and unsweetened cocoa powder. Set aside until the peppers are done.

3When the chilies are done, use tongs to transfer them to the blender with onions and spices.

4Taste the soaking liquid, if it tastes bitter, it's best to use plain water or stock as the liquid for the sauce. If the soaking liquid tastes good, use it.

5Add 1 1/2 cups of the liquid (water, stock or soaking liquid), and then blend. Since the chilies are still hot, remove the center insert of the blender lid and hold a paper towel that's been folded a few times over the hole while blending — this helps to release some of the steam and prevents the blender lid from popping off (which can be a big, hot mess).

6If the mixture is too thick, add more liquid, 1/4 cup at a time until your desired consistency.

7Taste the sauce. If it tastes flat, add a bit more salt and a teaspoon of vinegar. If it tastes bitter, add a teaspoon or so of sugar to balance it out.
Storing

1Store homemade enchilada sauce in the refrigerator up to a week. Freeze it for a month or more.
Adam and Joanne's Tips
Mexican oregano is different than the more common Mediterranean oregano found in the spice aisle. They actually come from different plants. Mexican oregano has grassy, citrusy undertones, while Mediterranean oregano has more sweet with anise undertones. We buy our Mexican oregano from a local Mexican grocery store, but you should also be able find it online. If you cannot find it, don't worry, the flavor profiles might not be exactly the same, but you can substitute marjoram, dried verbena and even Mediterranean oregano for Mexican oregano.
Nutrition Facts: The nutrition facts provided below are estimates. We have used the USDA database to calculate approximate values.
If you make this recipe, snap a photo and hashtag it #inspiredtaste — We love to see your creations on Instagram and Facebook! Find us: @inspiredtaste
Nutrition Per Serving
Serving Size
1/4 cup
/
Calories
28
/
Total Fat
0.9g
/
Saturated Fat
0.1g
/
Cholesterol
0mg
/
Sodium
78.8mg
/
Carbohydrate
5.2g
/
Dietary Fiber
2g
/
Total Sugars
2.8g
/
Protein
0.8g