How to make the best chicken enchiladas at home. Tender shredded chicken mixed with rich enchilada sauce, wrapped in corn tortillas and topped with cheese. Yum! See all of our tips for making them including cooking the chicken, our favorite sauce, and the best way to prep tortillas.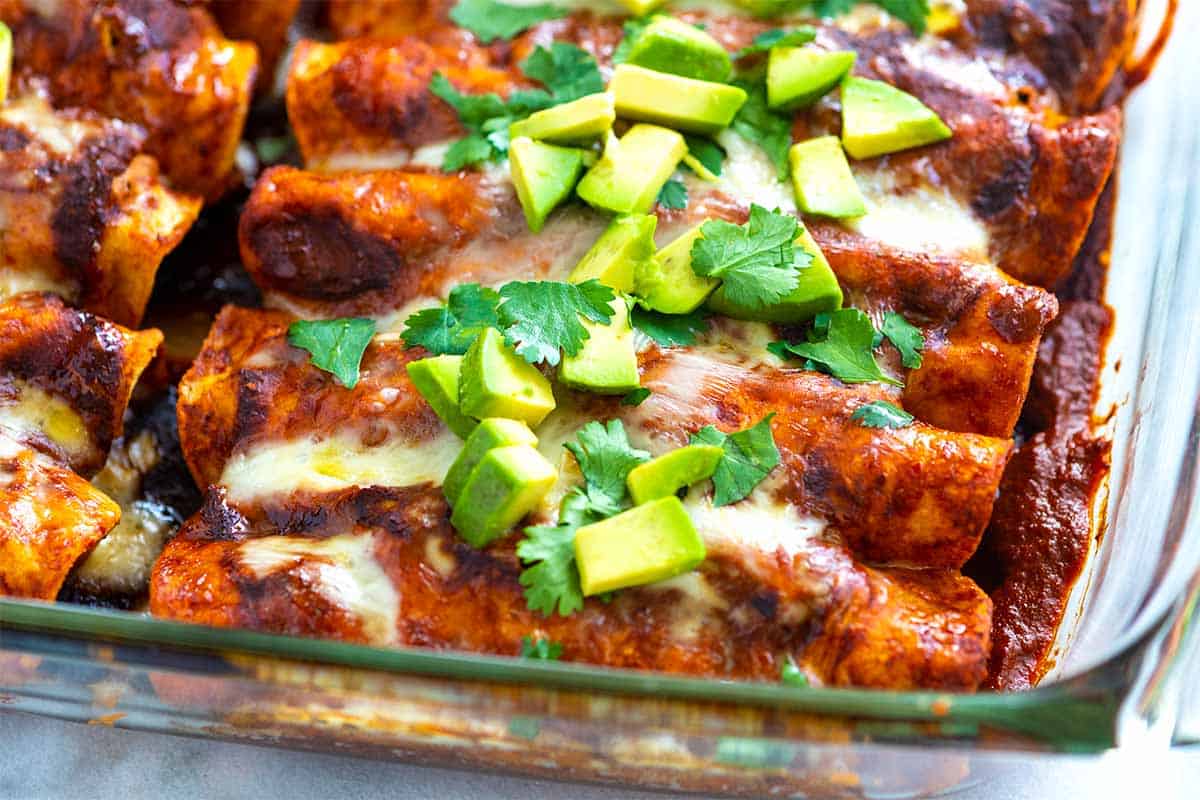 Chicken enchiladas have to be one of the best comfort foods out there. These are easy, too! The sauce and the chicken can even be prepped in advance and they are freezer friendly. Let me show you how to make them:
Making the filling
For these chicken enchiladas, I like starting with cooked shredded chicken. This can be leftover from roasted chicken or made specifically for the enchiladas. (If you are looking for other enchilada recipes, try this vegetarian version with veggies and beans.)
When making the chicken specifically for this recipe, I love using our tender shredded chicken recipe. It calls for chicken thighs, which become a little softer and tender when cooked compared to chicken breast. We also have this recipe showing you how to make it in the slow cooker.
Once you have shredded chicken, all you need to do is toss it with enchilada sauce. I use just enough sauce to coat the chicken, but not too much that it's extra saucy.
In addition to the chicken, I add some shredded cheese to the middle of each enchilada, since I love having a cheesy middle. Cheese on top is a good idea, too.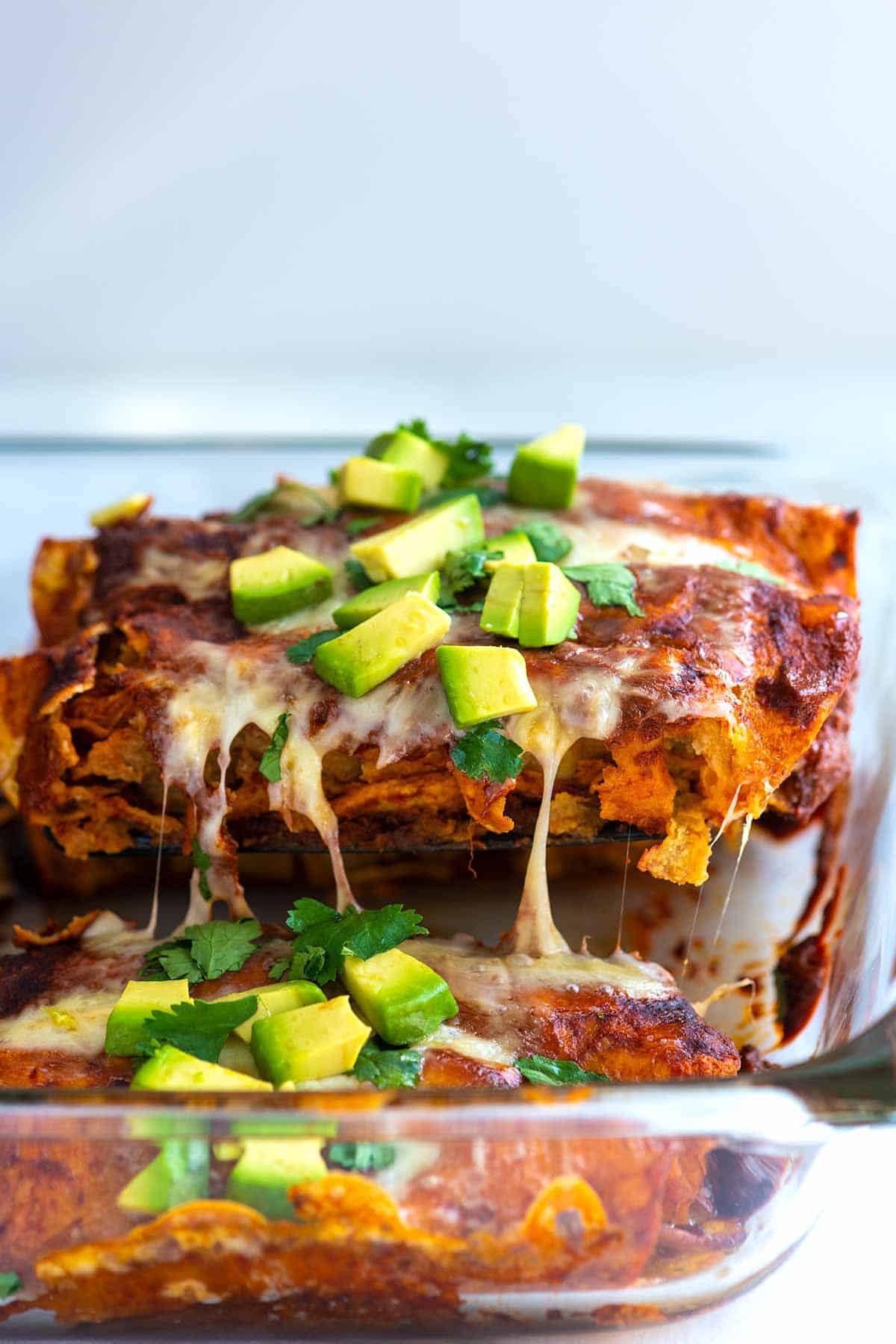 Choosing sauce for enchiladas
This chicken enchiladas recipe is really flexible. Here are four options when it comes to the sauce:
Make our easy authentic red enchilada sauce. To make it, we start with dried chilies and then blend them with garlic, onion, and spices. That's the sauce we used to make the enchiladas shown here. The sauce is rich and deeply flavorful. You'll need about 35 minutes to make it.
Make our quicker recipe for enchilada sauce that swaps dried chilies for chili powder and spices that you probably already have in your kitchen. The sauce tastes different to the more authentic version shared above, but it's still delicious! Adam and I love both sauce recipes and are happy to use either to make a batch of enchiladas. You'll need about 15 minutes to make it.
Make green enchiladas and use our homemade salsa verde. We love red and green sauce equally. You'll need about 25 minutes to make it.
Use store-bought sauce. I particularly like Hatch.
Prepping the tortillas
For the best enchiladas, use corn tortillas. We've occasionally use flour tortillas and when used in these creamy chicken enchiladas, are super happy, but for the most authentic chicken enchiladas, corn tortillas are the way to go.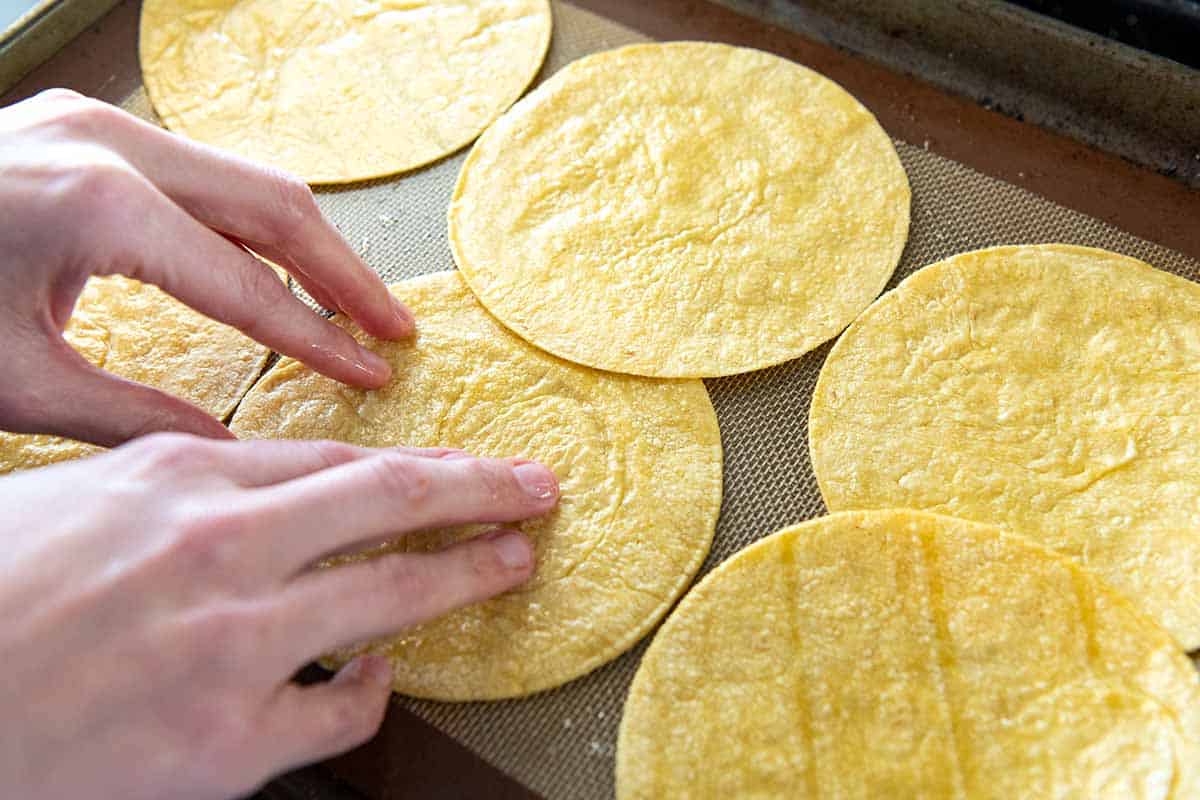 Since corn tortillas have a tendency to crack when they are cold or even room temperature, we lightly coat them in oil and then bake to warm them up. Another popular method for prepping tortillas for enchiladas is to fry them in oil in a skillet. This works just fine, but I find it takes a bit longer than I'd like. By "oven frying" the tortillas, we can make a large batch all at once.
Assembling enchiladas
When the tortillas are warm, I quickly dip them into my enchilada sauce then fill with the shredded chicken and cheese. From there, I roll the tortilla up as tightly as possible and place it seam side down into a baking pan that's been coated with a little extra sauce.
When all the rolled up tortillas are lined up in the pan, I spoon a bit more sauce on top, add some more cheese down the middle, and then cover with foil. (You can also tuck parchment paper down the sides to cover it.)
They bake covered for 15 minutes then I uncover them and bake for another 10 minutes.
Make ahead tips
These are great for making in advance. Here's all my tips:
The sauce and shredded chicken can be made and frozen. We provide freezing instructions for both red enchilada sauces suggested in their recipes. Shredded chicken can be stored in a freezer-safe container and frozen.
Assembled and cooked enchiladas can be frozen and then thawed in the refrigerator overnight. Reheat before serving in the oven.
Assembled, unbaked enchiladas can also be frozen, thawed overnight, and then baked before serving. We recommend leaving the cheese off until you are ready to bake.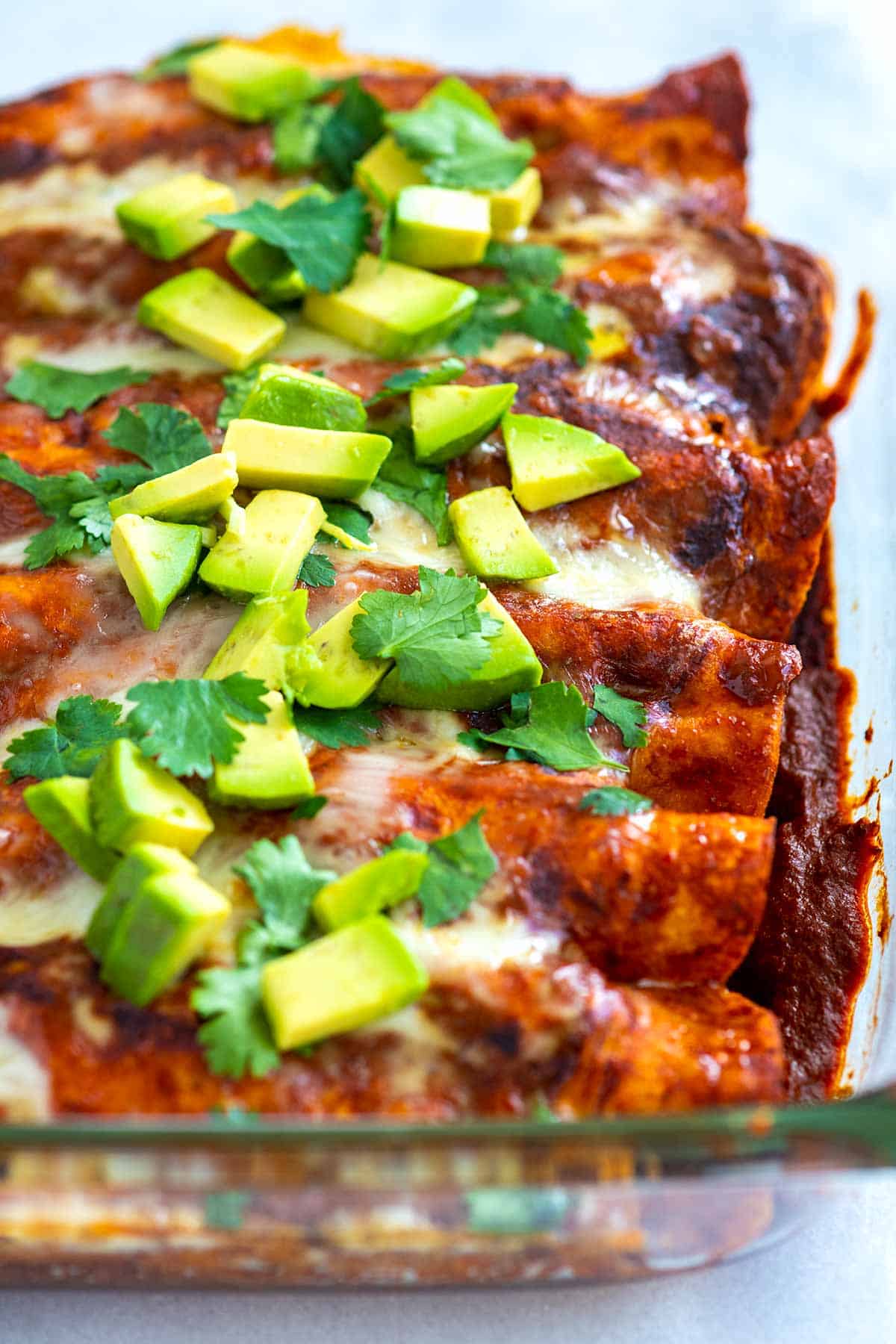 Our Best Chicken Enchiladas
Chicken enchiladas just might be the best form of comfort food. Tender shredded chicken is tossed with rich enchilada sauce and wrapped up in corn tortillas topped with cheese. Use this recipe (and our article) as a guide for making the best enchiladas at home. We have three sauce options for you to choose from: our authentic red chili enchilada sauce, our quick and easy sauce (made with chili powder and spices), and a roasted tomatillo sauce. You can also use store-bought sauce, if that is all you have available to you. For the chicken, leftovers work nicely or you can cook up a batch of shredded chicken. Here's our stovetop recipe as well as our slow cooker recipe.
Directions
1Arrange an oven rack in the middle of the oven and heat to 375 degrees Fahrenheit.

2Spread 3/4 cup of enchilada sauce down the center of a 13×9-inch baking dish, and then set aside.

3Add 1/2 cup of enchilada sauce, shredded chicken, and 1 1/4 cups of the cheese to a bowl, and then toss until the chicken and cheese are well coated.

4Line a baking sheet with parchment paper or a silicone baking mat, and then place six tortillas on the baking sheet so that they are laying flat and barely touching each other. Lightly spray or rub both sides of the tortillas with oil. Bake the tortillas until they just start to crisp up, 2 to 3 minutes. Transfer the baked tortillas to a plate lined with paper towel, and then repeat with the remaining six tortillas.

5Add 3/4 cup of enchilada sauce to a low sided, wide bowl and then quickly dip each baked tortilla into the sauce just to coat.

6Divide the chicken and cheese mixture between the tortillas, adding about 1/3 cup of filling to each. Roll the tortillas up and place them seam-side-down into the baking dish with sauce. The enchiladas will be nestled pretty close to each other.

7Spoon the remaining sauce over the top of the enchiladas and then finish with the remaining cheese scattered down the middle.

8Cover the dish with aluminum foil or cover with parchment paper by tucking the sides and corners down around the enchiladas.

9Bake, covered, for 15 minutes. Uncover, and then bake another 10 minutes or until the cheese is melted and bubbling on top.
Adam and Joanne's Tips
Our method for prepping the tortillas is a little different to other recipes since we use the oven instead of frying the tortillas on the stove. If you prefer to prep the tortillas in the more traditional way, you can.
Nutrition Facts: The nutrition facts provided below are estimates. We have used the USDA database to calculate approximate values. We have assumed this enchilada sauce recipe for the calculations.
If you make this recipe, snap a photo and hashtag it #inspiredtaste — We love to see your creations on Instagram and Facebook! Find us: @inspiredtaste
Nutrition Per Serving
Serving Size
2 enchiladas
/
Calories
291
/
Total Fat
14g
/
Saturated Fat
5.7g
/
Cholesterol
38.5mg
/
Sodium
292mg
/
Carbohydrate
30.1g
/
Dietary Fiber
5.1g
/
Total Sugars
3.8g
/
Protein
13.7g