How to make homemade almond butter in minutes that tastes better than anything you can buy at the store. Jump to the Homemade Almond Butter Recipe or read on to see out tips for making it.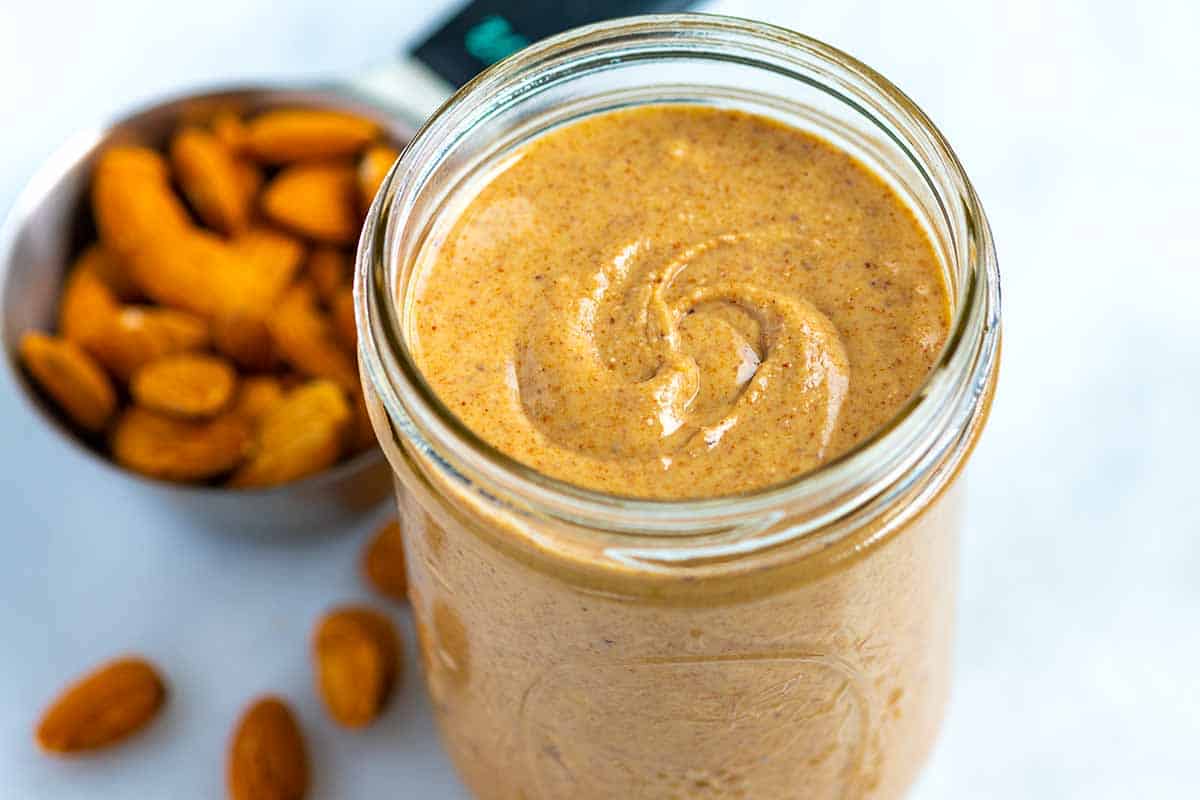 More nut butter recipes! How to make peanut butter (including how to make chocolate peanut butter) and how to make creamy cashew butter.
How to Make Almond Butter
I love making my own nut butter. You have all the control — the amount of salt or additions like vanilla or cinnamon is up to you. You can make it ultra creamy or if you prefer, it can be crunchy.
Making almond butter at home is just as simple as homemade peanut butter. Simply throw unsalted almonds into a food processor and hit process. The almonds will go through a few stages before they turn into almond butter (shown in the photos below), but it doesn't take long and it tastes incredible.
For the best almond butter, keep these tips in mind:
Toast your almonds first. Toasting the nuts first adds so much flavor to the nut butter. I do this in the oven, it takes about 10 minutes with a 5 minute cool down time.
Use unsalted nuts and then season to your own taste. When I can find them, I buy unsalted almonds (usually in the bulk aisle of the grocery store). We do call for salt in our almond butter recipe. By starting with unsalted nuts, we have more control and can add a little salt at first and go from there until the almond butter tastes perfect.
Add a tiny bit of ground cinnamon and vanilla extract. This is optional, but when you add just a 1/4 teaspoon of each (cinnamon and vanilla), the almond butter transforms from pretty tasty to almost addictive. You can always add more, but I actually love it when there is just a hint of cinnamon and vanilla.
I've already mentioned that making you own nut butter is simple, here's a few photos to prove it:
We start with toasted raw almonds. I toast the nuts until fragrant in the oven, which takes about 10 minutes in a 350° F oven. After letting the nuts cool for a few minutes so that they are not piping hot, add them to a food processor (or use a large high powered blender).
After 20 seconds or so the almonds will turn into almond flour. It's very fine and like a heavy powder. It's hard to imagine that this eventually turns into silky smooth almond butter, but trust us.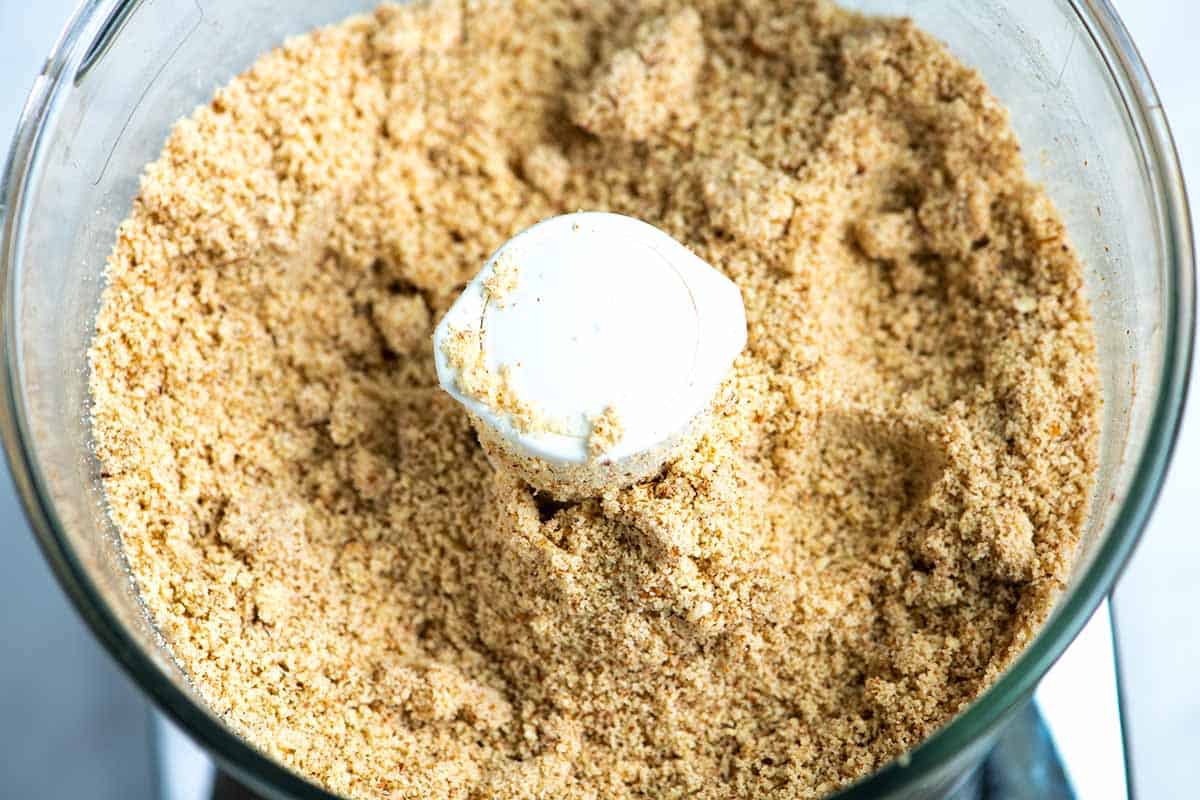 Give the almonds even longer in the food processor and it will start to clump on you. Don't worry! If it isn't moving much inside the food processor, simply turn it off, open the lid, and then scrape down the sides and break up any large clumps. You might find that you need to do this a few times.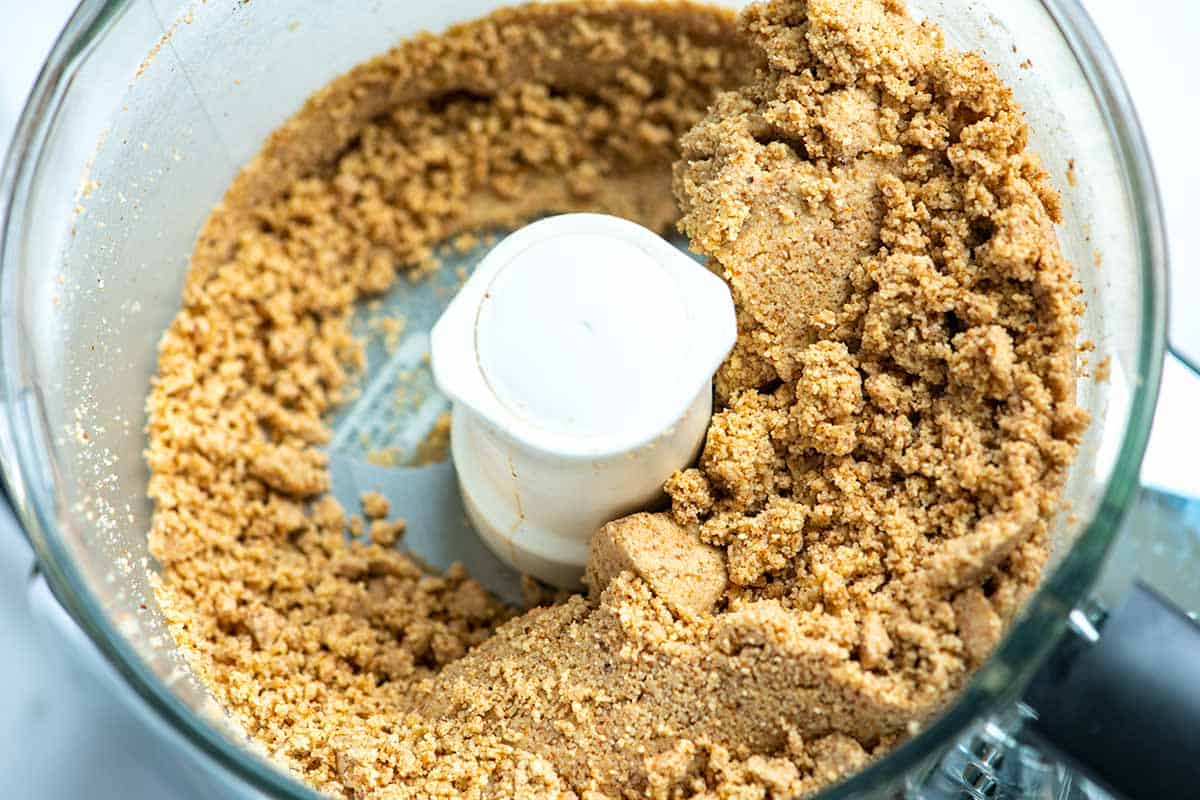 After a minute or two of blending, we have creamy almond butter! Now is the time to add any seasonings like salt, cinnamon or vanilla extract. You can also add a sweetener like honey or maple syrup if you think the almond butter needs it.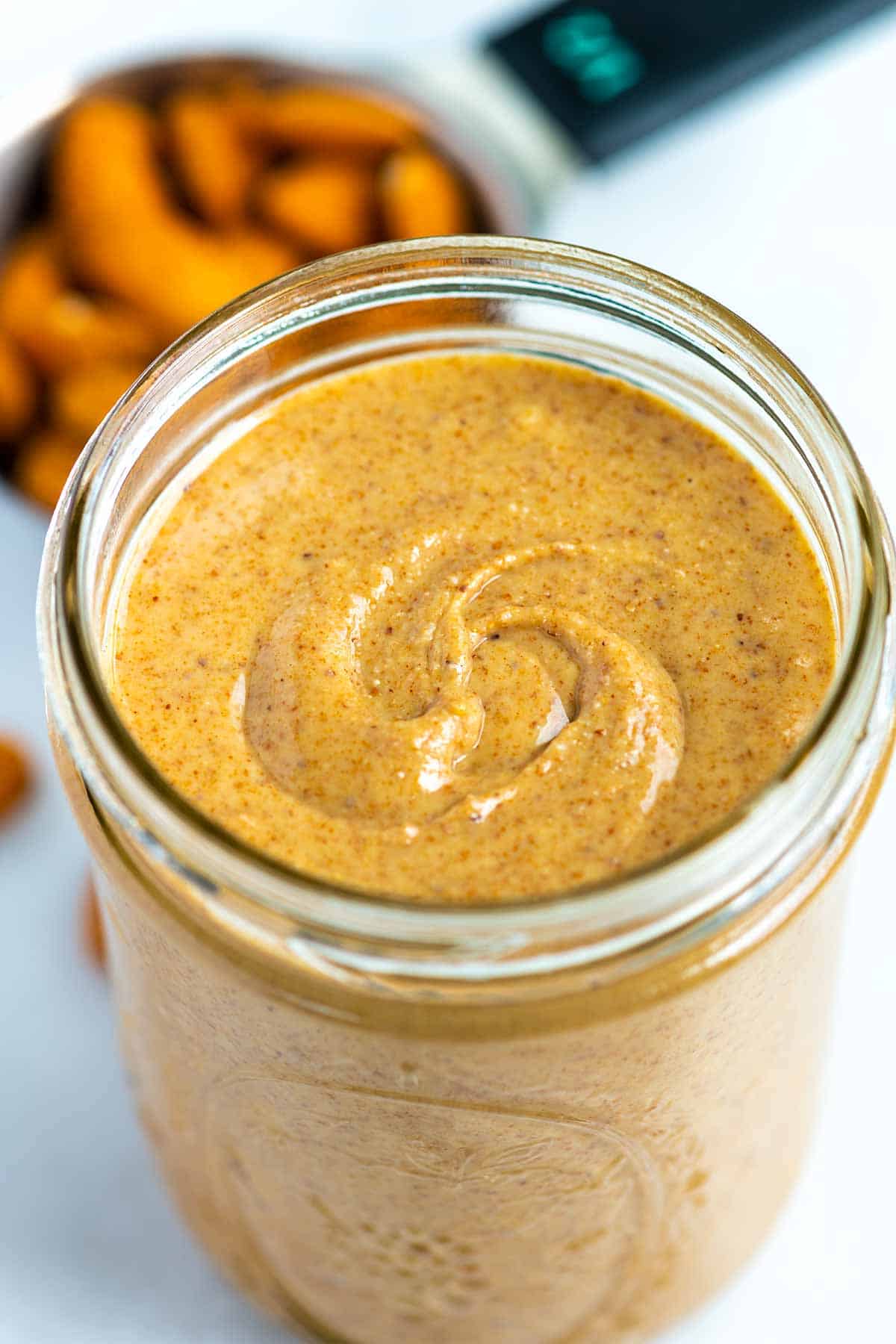 Frequently Asked Questions
How long will homemade almond butter last?
Most homemade nut butters (including almond butter) will last for 3 to 4 weeks. I like to store mine in mason jars. It will last longer when stored in the refrigerator.
How much almond butter does this recipe make?
We have a 12-cup food processor, which is perfect for three cups of almonds. Three cups also makes 16-ounces of almond butter, which is equivalent to the standard size of nut butter jars purchased from the store.
Can I make it in a blender?
Yes, but you'll need to use a high powered blender (which most are). More expensive models with a tamper (like Vitamix) will actually make the process go much quicker.
The almonds aren't turning into almond butter! What am I doing wrong?
My first tip for making nut butter is to be patient. Nuts go through a couple odd stages before turning into a creamy, spreadable substance (see our photos above or watch our video showing us making peanut butter). Depending on the variety and brand of nut you are using, you might find the process goes more quickly or slowly.
If you've been patient and still aren't happy with the texture, consider adding a teaspoon or two of neutral oil to help the nuts along. Grape seed oil, avocado oil or a vegetable oil are all good options.
More Simple Tutorials To Take a Look At
Easy Homemade Almond Butter
How to make homemade almond butter in minutes that tastes better than anything you can buy at the store. We use a 12-cup food processor (10-cup should be sufficient), but a large high powered blender should also work.
Makes 16 ounces (about 2 cups)
You Will Need
3 cups (16 ounces) raw unsalted almonds
1/4 teaspoon fine sea salt, plus more to taste
1/4 teaspoon ground cinnamon, optional
1/4 teaspoon vanilla extract, optional
Honey or maple syrup, optional
Directions
Toast Nuts

1Heat oven to 350 degrees Fahrenheit. Add the almonds to a round or square cake pan (or rimmed baking sheet).

2Roast nuts for 3 minutes, shake pan then roast another 3 to 5 minutes or until the nuts are lightly browned and smell nutty (careful, they can burn quickly). Let cool until you can handle them.
Make Almond Butter

1If you are making crunchy almond butter, add 1/3 cup of the roasted almonds to the bowl of a food processor. Pulse 6 to 8 times, or until the nuts are chopped into very small pieces. Transfer the chopped almonds to a bowl and reserve for later.

2Add the roasted almonds to the bowl of a food processor. Process 1 minute then scrape sides of the bowl with a rubber spatula. Process another 2 to 3 minutes until the almond butter is shiny and smooth. Depending on the brand/variety of almonds you are using, this may take slightly longer. As you process them, the almonds will go from whole nuts, to a fine powder, to a clumpy mess, and finally to a creamy smooth substance. Stopping and scraping or breaking up any large clumps will help to quicken the process.

3When the almond butter is smooth and creamy, add the salt, cinnamon and vanilla. Process for 10 to 20 seconds and then taste. If you feel it needs it, add additional salt, cinnamon or vanilla. To sweeten it, add a teaspoon or more of honey or maple syrup and process another 5 to 10 seconds so that it is well incorporated.

4For crunchy almond butter, stir in the reserved chopped almonds.

5Store in a sealed container, like a mason jar, for a few weeks. It will last longer when stored in the fridge.
Adam and Joanne's Tips
Nutrition Per Serving
Serving Size
About 2 tablespoons
/
Calories
156
/
Total Fat
13.4g
/
Saturated Fat
1g
/
Choesterol
0mg
/
Sodium
36.6mg
/
Carbohydrate
5.8g
/
Dietary Fiber
3.4g
/
Total Sugars
1.2g
/
Protein
5.7g