Learn how to make a Moscow Mule which only requires vodka, ginger beer and lime. Plus, if you read on we have included suggestions for spin-offs like the Kentucky Mule and Peach Mule. Click here to jump to the Moscow Mule recipe below!
Not too long ago, some may have said the Moscow Mule was making it's way onto the "endangered species list" of cocktails. Lately though, we've seen it in most bars we've been in. Since we're seeing a resurgence of love, we thought it would be good idea to share it with you!
How to Make a Moscow Mule – A Three Ingredient Recipe
Simple, with only three ingredients the Moscow Mule began as a partnership between friends — one made vodka, the other ginger beer.
Vodka, spicy ginger beer and quite a bit of fresh lime make up the cocktail. Even though this is a vodka-based cocktail, the drink relies heavily on the ginger beer. Choose something you like — we like it spicy and extra gingery, not sweet. We've fallen in love with Fever Tree's ginger beer, but Cock'n Bull, Gosling's and D&G are also good ones to try.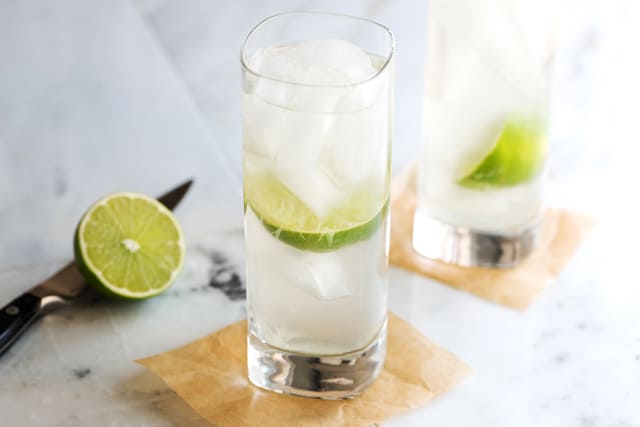 Note: Ginger beer and ginger ale are very different. Ginger ale just won't cut it, here. Ginger beer is much more "gingery" and spicy than ginger ale. Read more about the difference of ginger ale verses ginger beer from The Kitchn.
Moscow Mule Spin-Offs
There are quite a few spin-offs — try a Kentucky Mule, which switches the vodka for bourbon.
Or, experiment with adding extra flavors. The drink is pretty perfect anytime of year, which lets you have fun with whatever is in season. Some of our favorites are to use peach, for a peach-ginger mule or apples for a fall-based cocktail. (Take a glance at this Peachy Moscow Mule Recipe and this Apple Cider Version. For more ideas, here's a little roundup of different variations for the Moscow Mule.
More Cocktail Recipes to Try: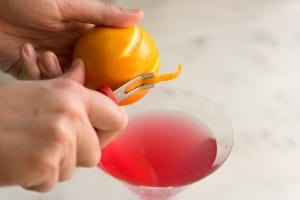 Cosmopolitan Cocktail Recipe: Not overly sweet or too tart, our cosmopolitan cocktail recipe is perfect to shake up for one or even prepare in advance for a crowd. We also have a "gingery" spin-off – Our Ginger Cosmopolitan Cocktail Recipe.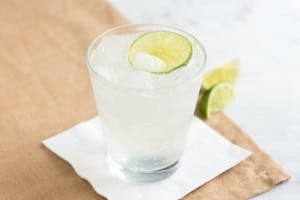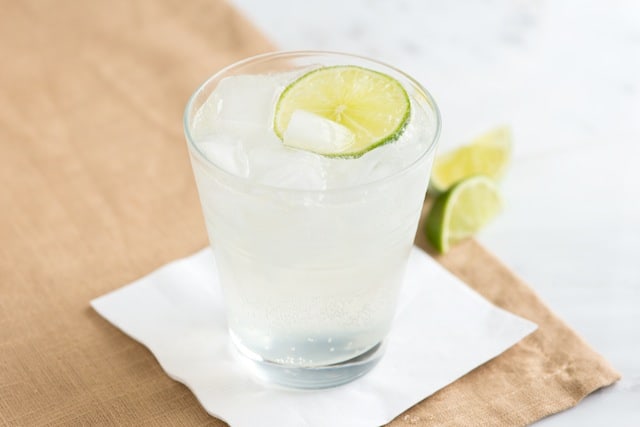 The Perfect Gin and Tonic: The key to a great gin and tonic recipe is to balance the bitterness of tonic water against the gin. Check out our tips for making it best at home.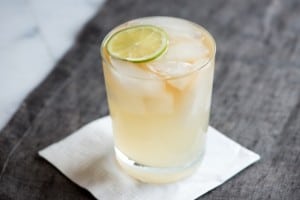 Dark and Stormy: Ginger beer, dark rum and lime make up our Dark and Stormy Cocktail recipe.
One more note: While we simply serve it in a tall glass, it's pretty common to see it served in a seriously cold copper mug. It would be pretty fun to add a few to your home. We found these Mule-worthy copper mugs on Amazon if you're interested!

Easy Three-Ingredient Moscow Mule Recipe
The Moscow Mule is a classic and only requires 3 ingredients, plus ice. It's easy to make and is perfect all-year-round.
Created By:
Adam and Joanne Gallagher (inspiredtaste.net)
You Will Need
1 half lime
2 ounces vodka
4 ounces cold ginger beer
Directions
Squeeze lime into a tall glass (or copper mug) then drop the lime half into the bottom of the glass. Fill glass with ice then pour in the vodka and ginger beer.
Notes and Tips
Ginger Beer: After trying a few of the more popular ginger beers available, we've really fallen in love with the ginger beer from Fever Tree. It's pretty spicy and not too sweet, making it perfect for the Moscow Mule. Other brands to try are Cock'n Bull, Gosling's and D&G.