Mouthwatering chicken meatballs stuffed with goat cheese and baked in the oven. These aren't your typical meatball!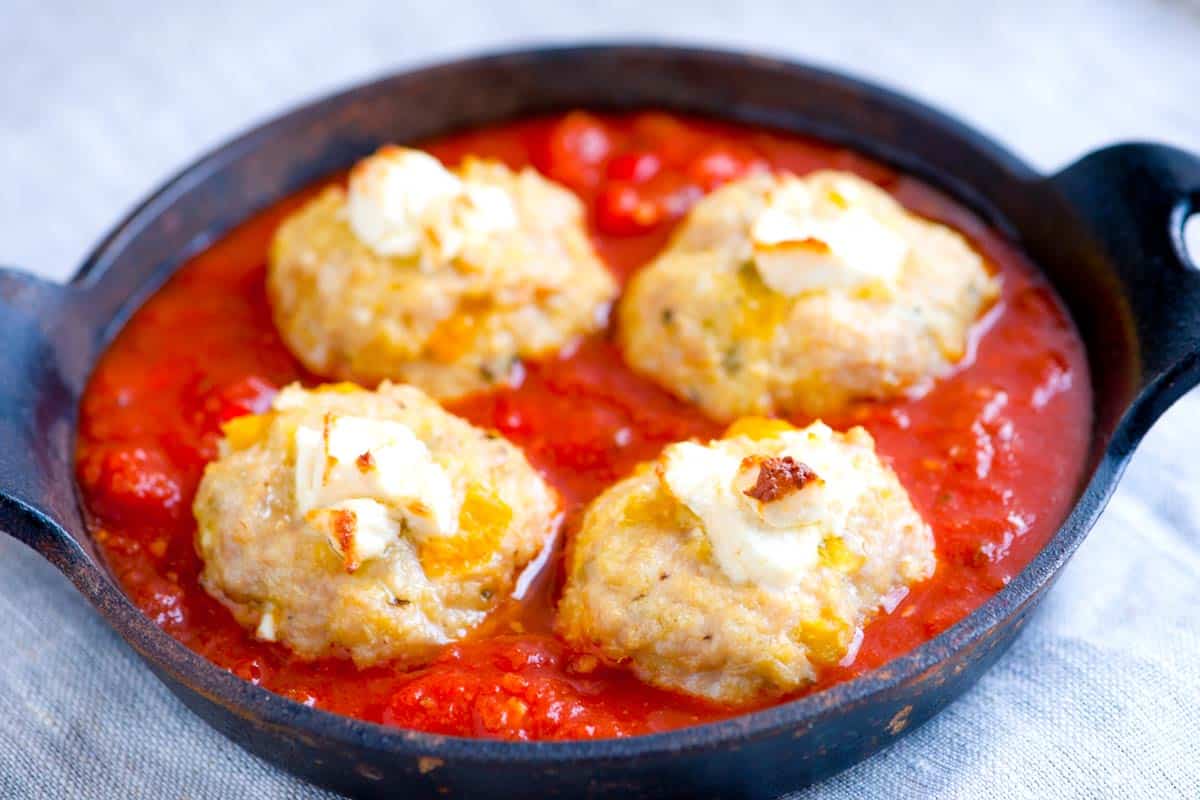 How to Make the Best Cheese Stuffed Meatballs
We love meatballs and have shared many meatball recipes with you (see these tender, juicy meatballs or these slow cooker chicken meatballs)! We love all of them, but this recipe is special and a bit different.
We make a simple mixture of ground chicken, bread crumbs, spices and chopped roasted peppers, and then form it in to balls. Then just before baking, we sneak a piece of creamy goat cheese into the middle of each ball.
As the meatballs bake, they turn golden brown. The cheese melts into the meatball and browns a bit, itself. I love serving these with a simple red sauce, like this marinara sauce or this veggie spaghetti sauce.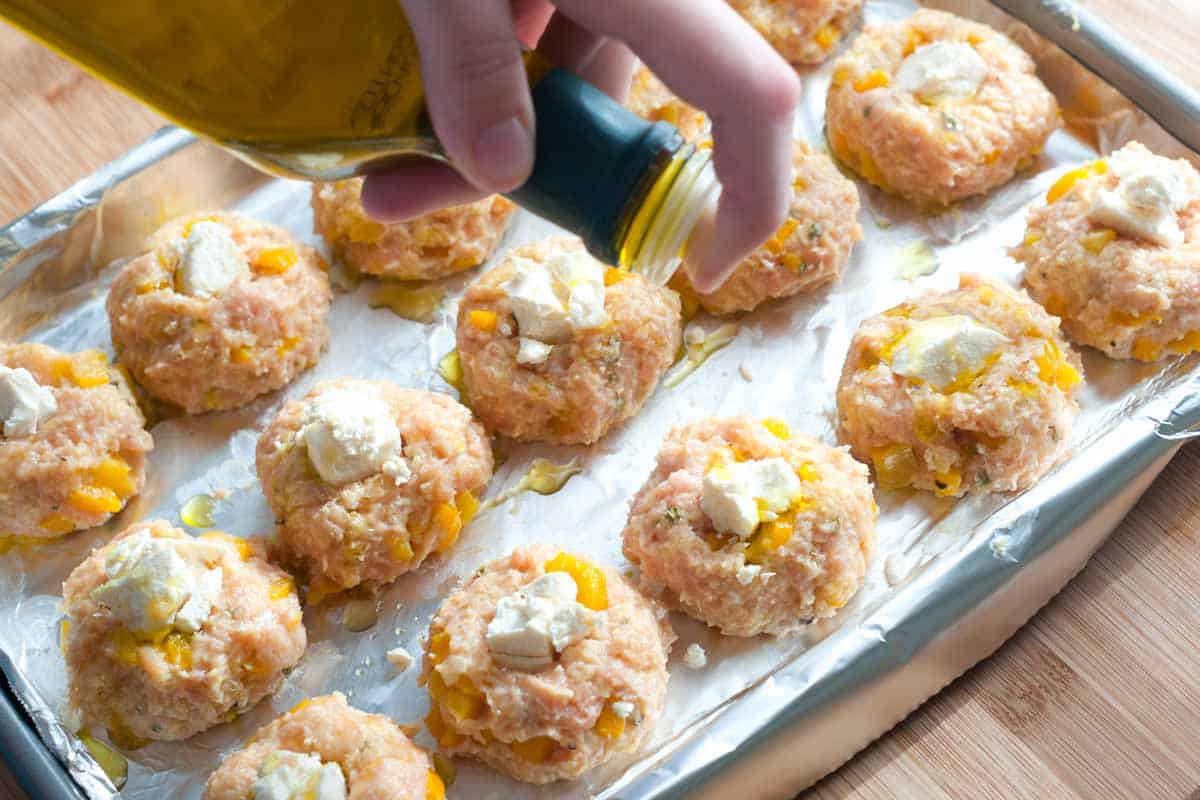 Here are a few things to keep in mind when making them:
The egg, milk and breadcrumbs keep the meatballs tender and juicy
Do you best not to over mix the meatball mixture. The less you work the mixture, the more light and airy the inside of the meatballs will be once they are baked.
We love goat cheese for this, but any cheese will work. Try other cheeses like feta cheese, cheddar cheese or mozzarella cheese.
To encourage browning, drizzle a little olive oil over each meatball before baking.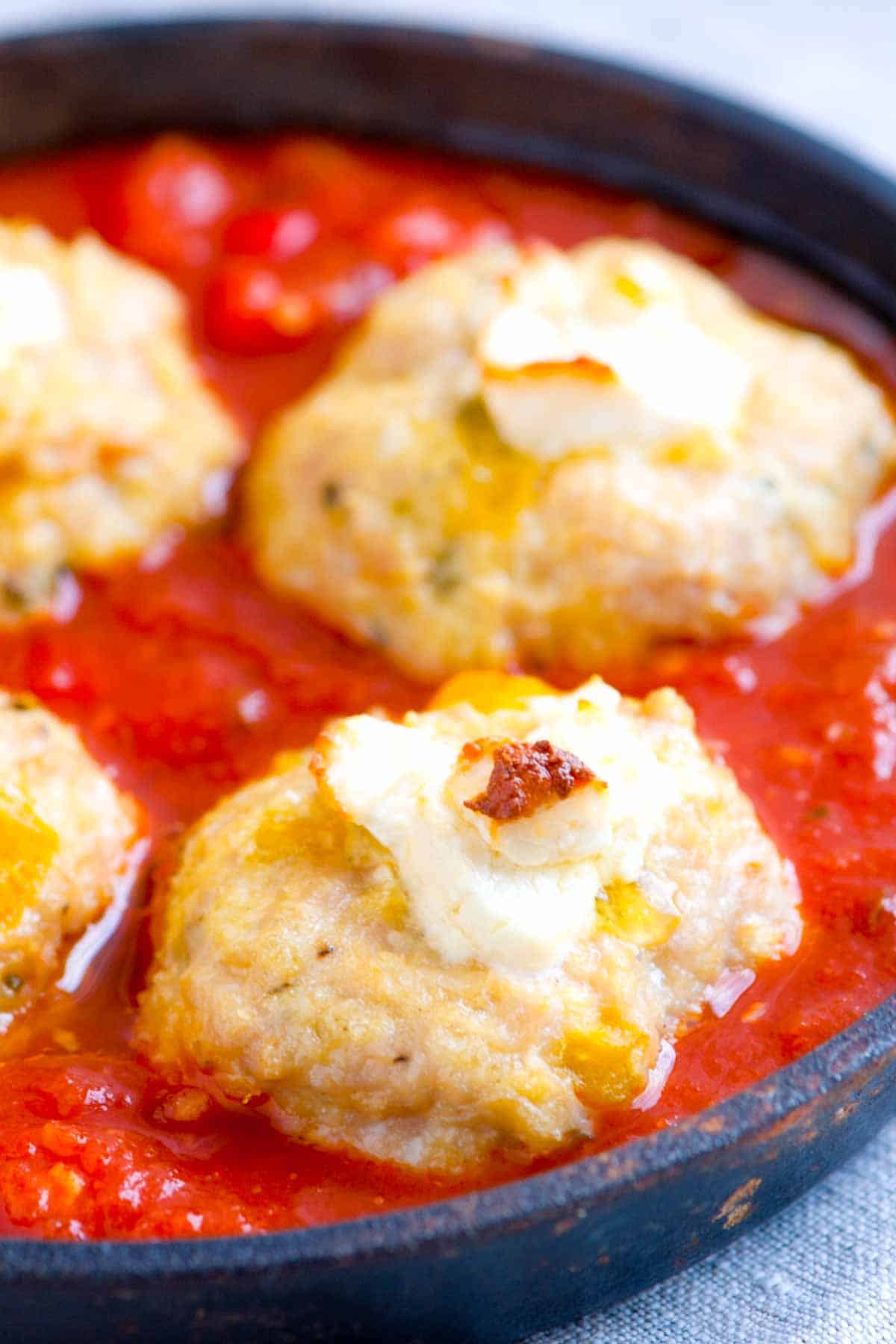 Make ahead & storing tips
Meatballs are excellent for making in advance and keep well once made. Here's everything you need to know about making them in advance, freezing and storing them once made.
If you have raw meatball mixture:
Raw meatball mixture can be refrigerated overnight and baked the next day. Follow our recipe for baking instructions.
Raw meatball mixture can be frozen up to three months. Form the meatballs, and then place them onto a baking sheet lined with parchment paper or a silicone baking mat. Place the baking sheet into the freezer and freeze until the meatballs are firm. Transfer frozen meatballs to an air-tight, freezer friendly container and freeze up to three months. Place your desired amount of frozen meatballs on a baking sheet lined with parchment paper or a silicone baking mat and bake until lightly browned and cooked through, about 20 minutes.
If you have cooked meatballs:
Cooked meatballs will last, stored in an airtight container, in the fridge up to three days.
Cooked meatballs can be frozen up to three months. Store them in an airtight, freezer-friendly container.
Goat Cheese Chicken Meatballs
I didn't think meatballs could get better, but that was until we added creamy goat cheese to the middle of one! These easy baked chicken meatballs come together quickly. When choosing the cheese, goat cheese is an excellent option, but other cheeses will work well. Consider feta, cheddar or mozzarella. If you use a melty cheese (like cheddar or mozzarella), you might want to consider stuffing the cheese into the middle of the meatball and covering it completely with meatball mixture.
Makes approximately 4 servings
You Will Need
1/2 cup (35 grams) bread crumbs, we prefer panko or homemade bread crumbs
2 garlic cloves, minced
1/2 teaspoon fine sea salt
1 teaspoon dried oregano
1 large egg
1/4 cup milk
1/4 cup roasted peppers, finely chopped
1 1/4 pounds ground chicken
2 ounces goat cheese
1 tablespoon olive oil
Warm marinara sauce, optional, see our homemade marinara recipe
Directions
1Heat the oven to 425°F and line a baking sheet with parchment paper, foil or a silicone baking mat.

2In a large bowl, stir the breadcrumbs, garlic, oregano, salt, egg, milk and roasted sweet peppers. Add the ground chicken and lightly mix. Try not to over mix the chicken, over mixing will result in a tougher meatball, so use your fingers or a fork.

3Form 16 evenly sized meatballs and place onto the prepared baking sheet. Break the goat cheese apart and press one or two small pieces of goat cheese into the top of each meatball. To help with browning, lightly drizzle the meatballs with olive oil.

4Bake until they are cooked through, the outsides are browned, and they register 165°F in the middle on an instant-read thermometer; 20 to 25 minutes.
Adam and Joanne's Tips
Dairy-free meatballs: Substitute the milk for unsweetened dairy-free milk and the cheese for 2 tablespoons of nutritional yeast.
Gluten-free meatballs: Substitute the bread crumbs for crushed gluten-free cereal or crackers
Nutrition Facts: The nutrition facts provided below are estimates. We have used the USDA database to calculate approximate values.
Nutrition Per Serving
Serving Size
4 meatballs
/
Calories
379
/
Protein
31 g
/
Carbohydrate
17 g
/
Dietary Fiber
1 g
/
Total Sugars
3 g
/
Total Fat
21 g
/
Saturated Fat
7 g
/
Cholesterol
164 mg
/
Sodium
599 g