Big chewy oatmeal cookies that are packed with white chocolate chips and dried cranberries. Easy to make and so versatile. Jump to the White Chocolate Cranberry Oatmeal Cookies Recipe or read on to see our tips for making them.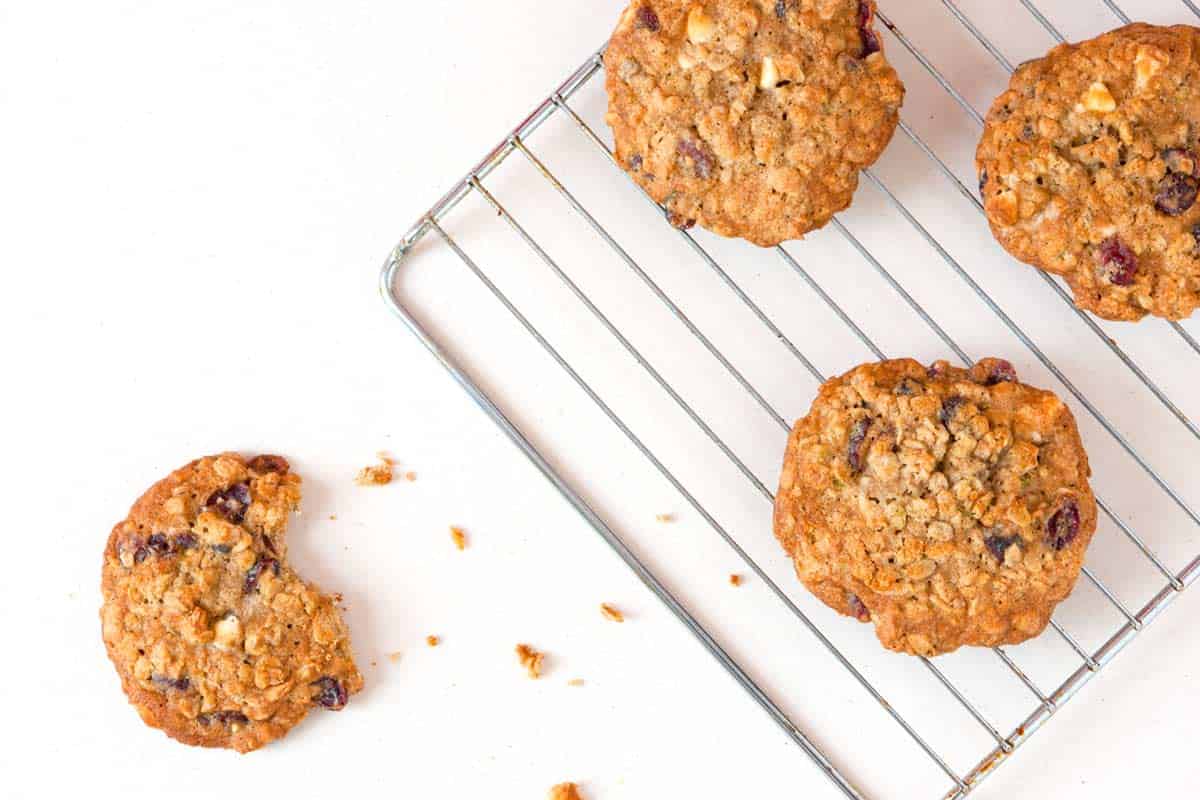 We adore the smell of oatmeal cookies baking in the oven. It has to be one of the best smells in the world. I would buy an oatmeal cookie candle or if I was reading a magazine and there was an advertisement for oatmeal cookie perfume with one of those flaps that you can pull out and rub on your wrist, I would pull out the flap in a heartbeat. Let's be honest, I would do that with most cookies!
YOU MAY ALSO LIKE: How to make oatmeal cookies that are soft in the middle, a little chewy on the outside and full of warm flavors like cinnamon and vanilla. Jump to the Oatmeal Cookies Recipe.
These big chewy oatmeal cookies are packed with white chocolate and cranberries. They are really easy to make, too. You just need a hand mixer to beat butter with sugar then in goes everything else and within 5 minutes you are ready to bake. So simple.
We made these for the Holiday issue of maché and had a blast taking the photos with Heather, you should check out the whole feature, it is so adorable!
Recipe updated, originally posted December 2011. Since posting this in 2011, we have tweaked the recipe to be more clear. – Adam and Joanne
White Chocolate Cranberry Oatmeal Cookies Recipe
Soft and chewy oatmeal cookies packed with dried cranberries and white chocolate chips. Feel free to add dried cherries or blueberries instead of cranberries or milk/dark chocolate instead of white.
Makes approximately 30 cookies
You Will Need
14 tablespoons unsalted butter, room temperature
3/4 cup packed brown sugar
1/2 cup granulated sugar
2 large eggs
2 teaspoons vanilla extract
Zest of one medium orange
1 1/2 cups all-purpose flour
1 teaspoon baking soda
1 teaspoon ground cinnamon
1/2 teaspoon sea salt
3 cups old fashioned oats
3/4 cups dried cranberries
1/3 cup white chocolate chips
Directions
1Heat the oven to 350 degrees F. Line two cookie sheets with parchment paper or silicon baking mats.

2Add butter, brown sugar and granulated sugar to a large bowl. Use an electric mixer on medium speed and beat until creamy. Add eggs, vanilla extract and orange zest; beat well.

3In a separate bowl, combine flour, baking soda, cinnamon and salt. Slowly add to butter mixture until mixed well. Stir in oats, cranberries and chocolate chips.

4Drop dough by rounded tablespoons on to cookie sheets. Bake 8 to 10 minutes or until light golden brown around the edges. Cool on cookie sheets for 5 minutes, and then remove to a wire rack to cool completely. Store tightly covered.