How to make the best beef stew with melt-in-your-mouth tender beef, carrots, potatoes, and Guinness beer. See below for our tips for making the best stew at home.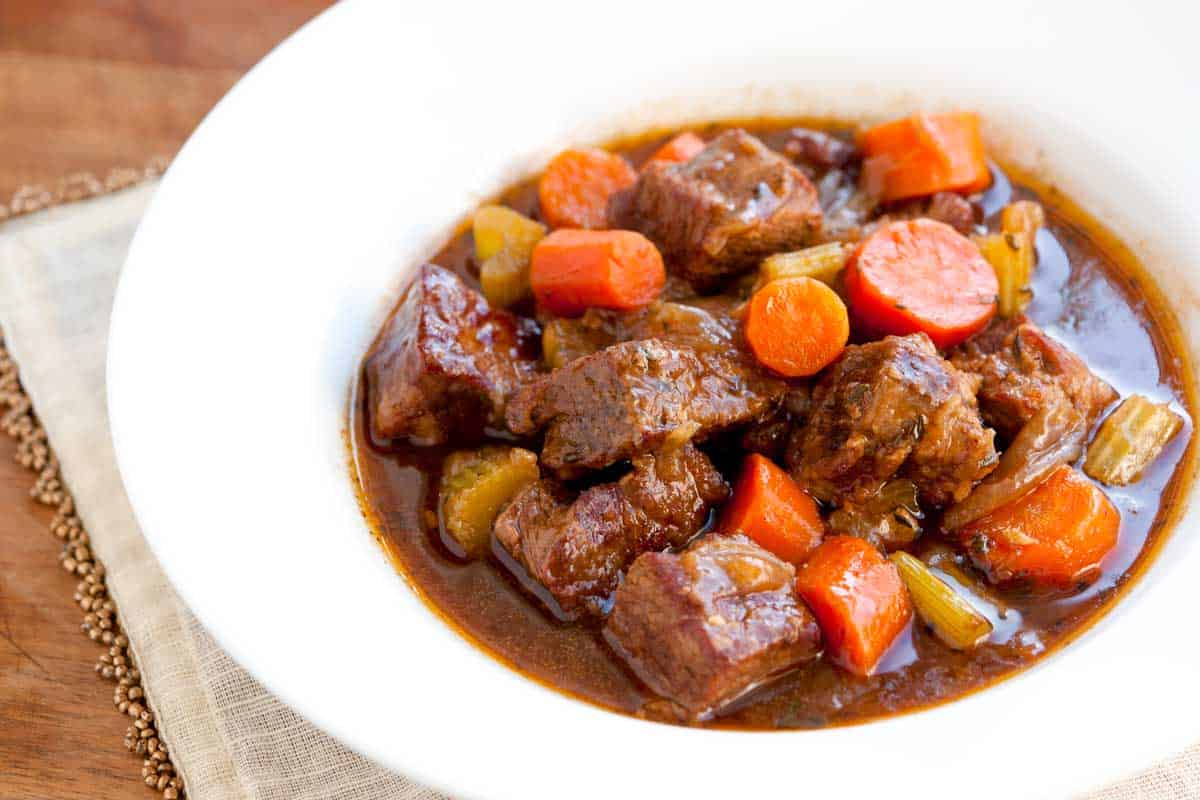 Believe it or not, beef stew is simple to make. This version, made with Guinness beer, is no different. The stew is savory, rich, and irresistible. For this beef stew recipe, you will need just over 2 hours. That's not 2 hours hovering over a stove, though. The good news is that your hands-on time is about 30 minutes.
Beef Stew Recipe Ingredients
Here's what you'll need to make this hearty beef stew:
Beef chuck roast and flour – Use a high-quality, well-marbled chuck roast for the tastiest, most tender beef stew. The marbling (white veins you see running through the meat) ensures melt-in-your-mouth, tender results. So that the beef sears well and gets a nice crust, after cutting the chuck roast into cubes, we dust the raw meat with flour. If you'd prefer to keep this gluten-free, you can leave out the flour.
Garlic and tomato paste – We can make the gravy for our stew after searing our floured beef cubes. Tomato paste and garlic add a rich flavor.
Guinness stout beer – Building off of the tomato paste and garlic, we pour in one bottle of beer. Any beer will work, but we especially love how stout beer intensifies our stew's rich and meaty flavor.
Beef stock – Unless we are talking about store-bought beef bone broths (usually quite expensive), I don't typically buy store-bought beef stock. I either make it myself or substitute a rich chicken stock (I find that store-bought chicken broths are much better than beef, which has little flavor and tastes salty).
Worcestershire sauce and thyme are classic in beef stew. I enjoy fresh thyme in this recipe, but I have provided dry thyme amounts in the recipe below.
Veggies – Onions, carrots, celery, and small potatoes are excellent in this beef stew recipe. We add them towards the end of cooking so they don't become too soft.
Find the full recipe with measurements below.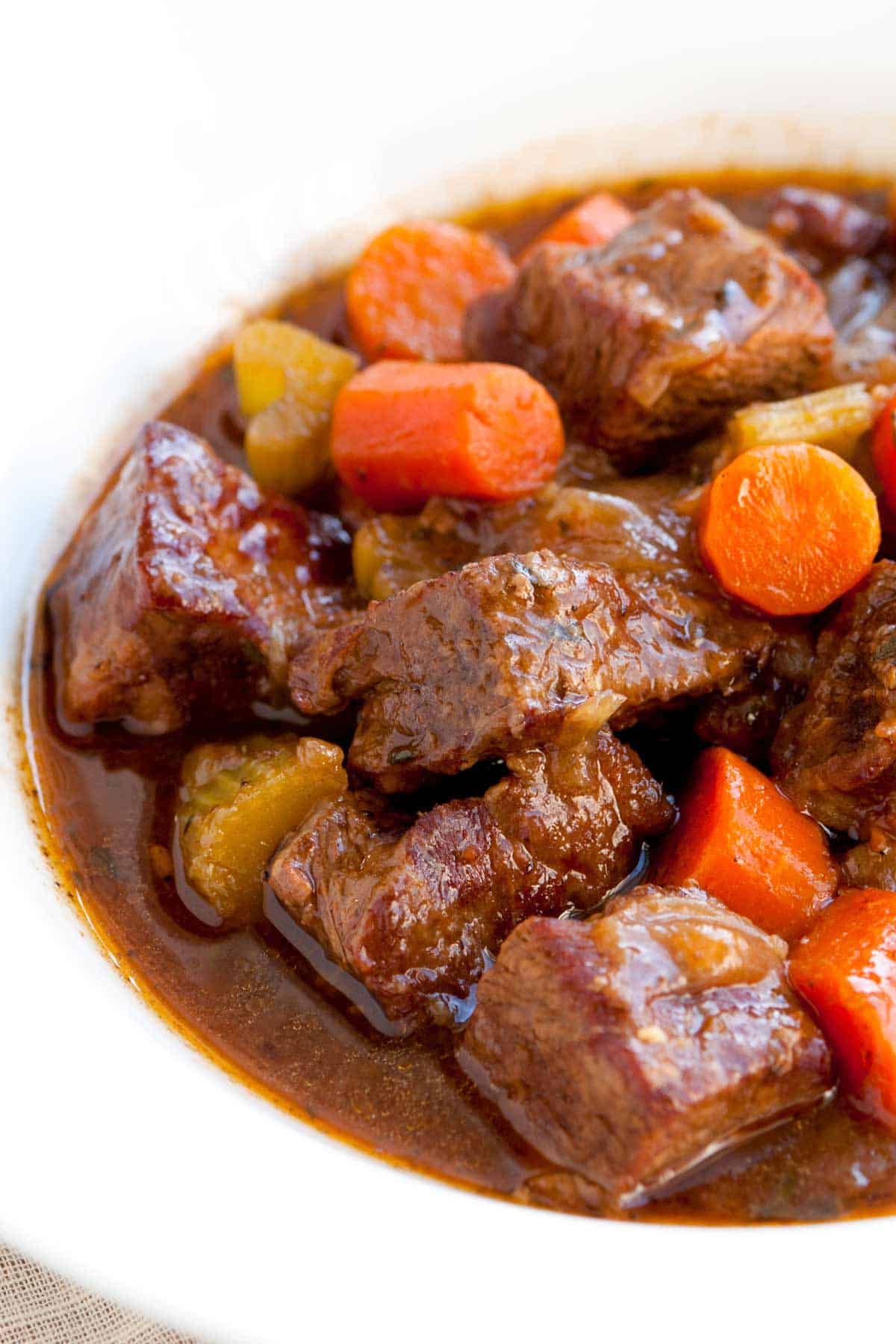 How to Make the Best Beef Stew
Here are five tips for making the most irresistible beef stew.
Tip #1 — Dry the Beef
We know this seems a little fussy, but it is worth your time. Moist meat does not brown. Browned meat is essential for flavor and texture in the stew. So, patting the stew meat dry with a paper towel before searing it is a big deal.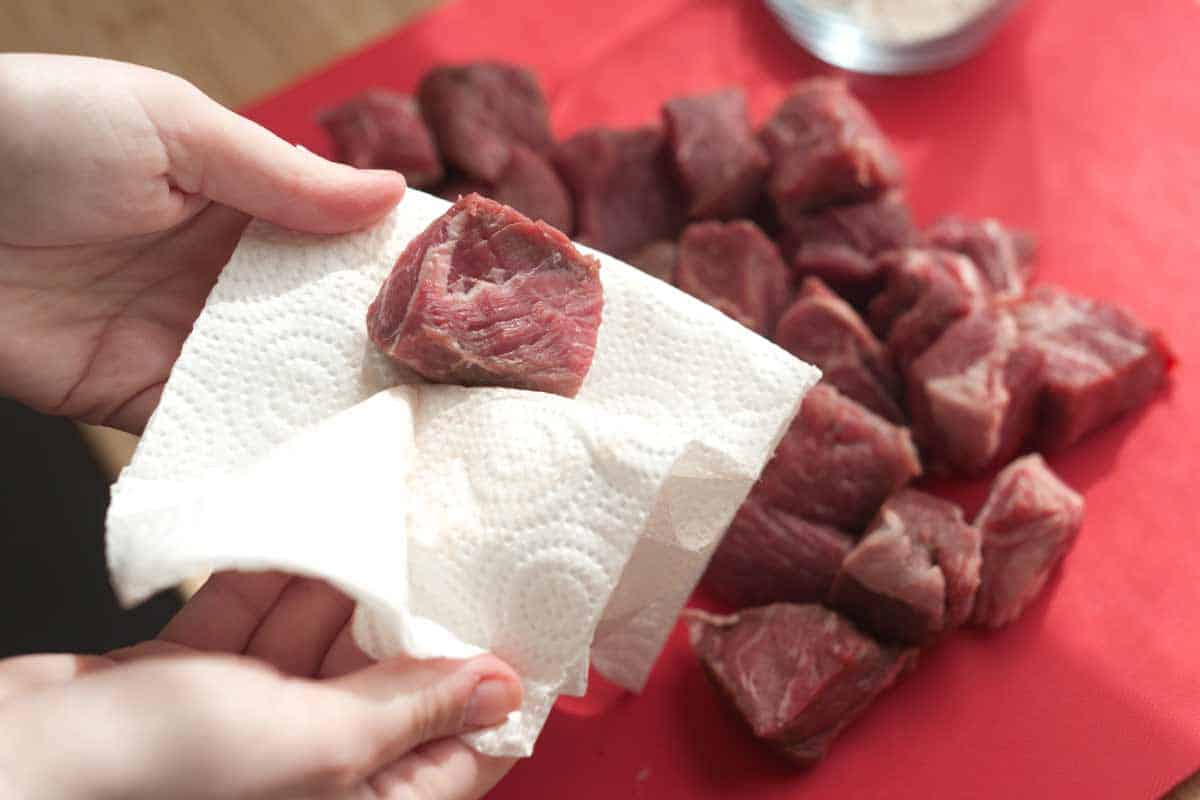 Tip #2 — Roll the Beef in Flour
This is an extension of tip number one. Roll your beef cubes in seasoned flour before searing to ensure the meat is as dry as possible. This guarantees a good sear on the beef, adding a lovely golden-brown crust.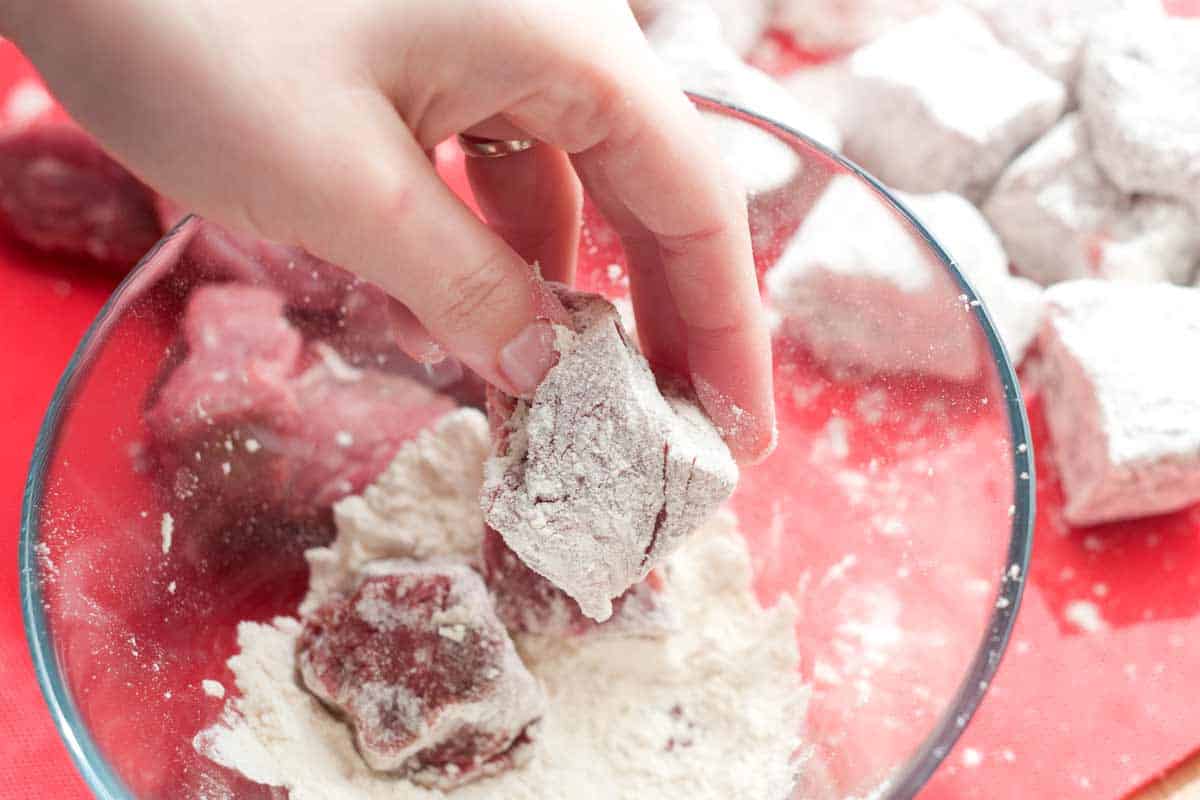 Tip #3 — Brown the Beef
Now that the beef is dry and floured, it's time to sear it. You're not looking to cook it all the way through — you only want to add a nice brown crust.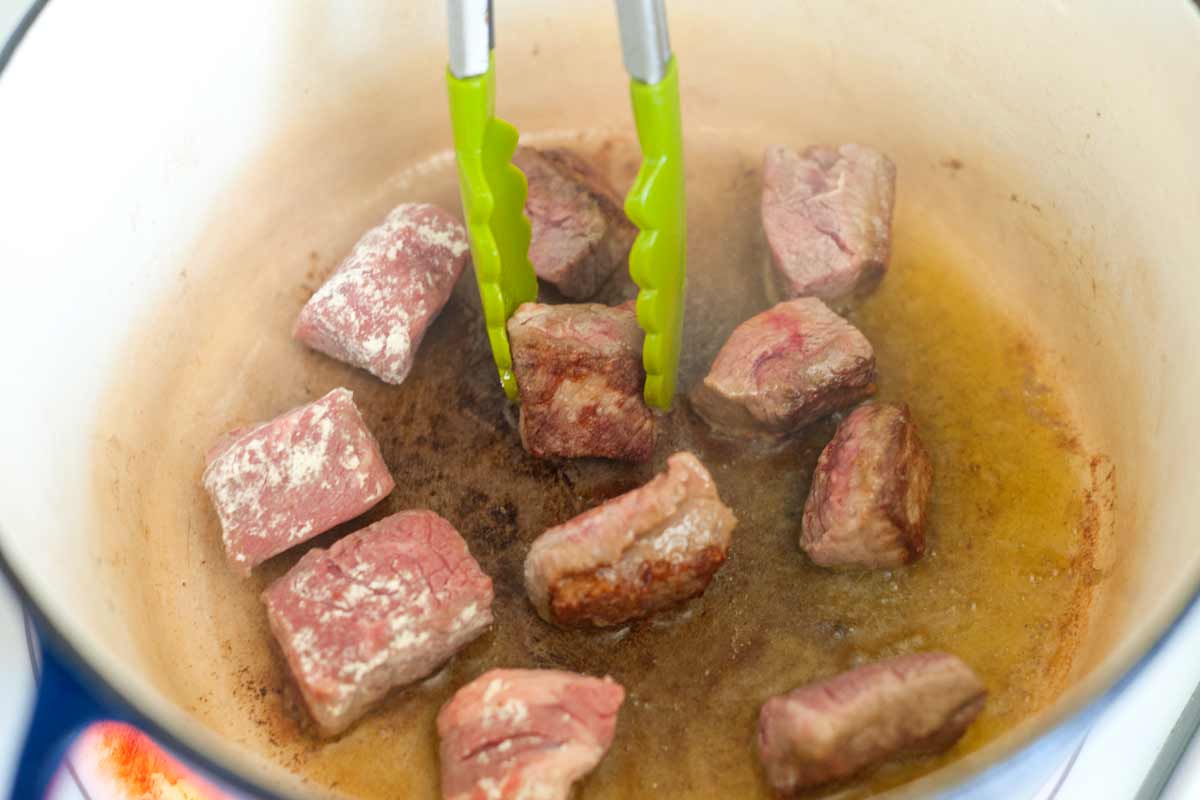 Tip #4 — Add Beer, Wine, or Coffee
The best stew recipes incorporate many layers of flavor. In this recipe, Guinness adds richness to the stew. Dry red wine or coffee would also do the trick. When adding the beer, scrape all the bits stuck to the bottom of the pot after browning the meat.
Tip #5 — Add the Veggies Towards the End
The beef must be cooked for 2 hours to achieve that melt-in-you-mouth tender beef. Vegetables, especially carrots and potatoes, need much less time. Cooking them for 2 hours would make them mushy and overdone. So, in our beef stew recipe, we give the beef a head start in the oven for one hour to get around this. Then, after an hour, we toss in our vegetables and let everything cook together until the beef is tender.
Irresistible Guinness Beef Stew
The best beef stew with melt-in-your-mouth tender beef, carrots, potatoes, and Guinness beer. If you don't have Guinness on hand, use your favorite dark beer, dry white wine, or coffee. As a last resort, use more beef stock.
You Will Need
4 tablespoons vegetable oil, or more as needed
2 pounds well-marbled boneless beef chuck roast, cut into 1-inch cubes
Salt and fresh ground black pepper
1/4 cup flour
5 garlic cloves, minced
2 tablespoons tomato paste
1 (11.5-ounce) bottle Guinness Stout beer
4 cups beef stock, or more as needed
1 tablespoon Worcestershire sauce
4 sprigs fresh thyme or 1 teaspoon dried thyme
2 medium onions, peeled and cut into large chunks
1 pound carrots, peeled and cut into large chunks, 5 to 6 carrots
4 medium ribs celery, cut into large chunks
8 ounces small waxy potatoes, about 20
Directions
Prepare Beef

1Heat oven to 300° Fahrenheit.

2Using paper towels, pat the beef cubes dry, and then season all over with salt and pepper.

3Add the flour to a bowl or plate, then roll the seasoned beef into the flour so it is lightly coated on all sides.

4Heat 2 tablespoons of oil in a large Dutch oven over medium-high heat. When the oil is shimmering, working in batches, add the floured beef cubes, making sure not to crowd them too much. Cook, turning occasionally, until the beef is well-browned on all sides. Transfer to a plate, and then continue with the remaining beef cubes, adding more oil as necessary.

5Reduce the heat to medium-low, then stir in the garlic and tomato paste. Cook, continuously stirring for about one minute.

6Pour in the beer, and then use a wooden spoon to scrape the bottom and sides of the pot, lifting as many stuck bits as possible.

7Pour in the beef stock, then add the Worcestershire sauce and thyme.

8Bring to a low simmer, then place the beef and any juices left on the plate back into the pot. Cover with the pot's lid and move to the oven. Cook, stirring once or twice, for 1 hour.
Prepare Vegetables

1While the beef cooks in the oven, heat another 2 tablespoons of oil in a large skillet over medium heat. Add the onions, carrots, and celery. Season with a pinch of salt and pepper, then cook, stirring often, until the vegetables are lightly browned on all sides, about 10 minutes. Set aside.
To Finish

1After one hour in the oven, remove the Dutch oven's lid and stir in the onions, carrots, and celery. Add the potatoes, and then continue to bake, with the lid partially open, until the beef is tender, 45 minutes to 1 hour longer. If the top of the stew becomes dry, add some extra beef stock.

2Remove the beef stew from the oven, skim off any excess fat from the surface and remove the thyme stems. Taste, and then adjust with additional salt and pepper. Serve.
Adam and Joanne's Tips
If you do not have a Dutch oven, you can sear the beef in a large pot on the stovetop then add everything to a large baking dish loosely covered with aluminum foil.
Nutrition facts: The nutrition facts provided below are estimates. We have used the USDA database to calculate approximate values.
If you make this recipe, snap a photo and hashtag it #inspiredtaste — We love to see your creations on Instagram and Facebook! Find us: @inspiredtaste
Nutrition Per Serving
Serving Size
1/6 of the recipe
/
Calories
412
/
Total Fat
17.1g
/
Saturated Fat
9.7g
/
Cholesterol
89.4mg
/
Sodium
920.1mg
/
Carbohydrate
25.9g
/
Dietary Fiber
4.4g
/
Total Sugars
7.1g
/
Protein
34.5g
Recipe updated, originally posted February 2012. Since posting this in 2012, we have tweaked the recipe to be more clear. – Adam and Joanne