This flavorful, crunchy cold green bean salad is one of our favorite ways to enjoy green beans. The green beans are tossed with a simple shallot dressing and topped with crispy crunchy shallots. Jump to the Green Bean Salad Recipe or read on to see just how easy this salad is to make.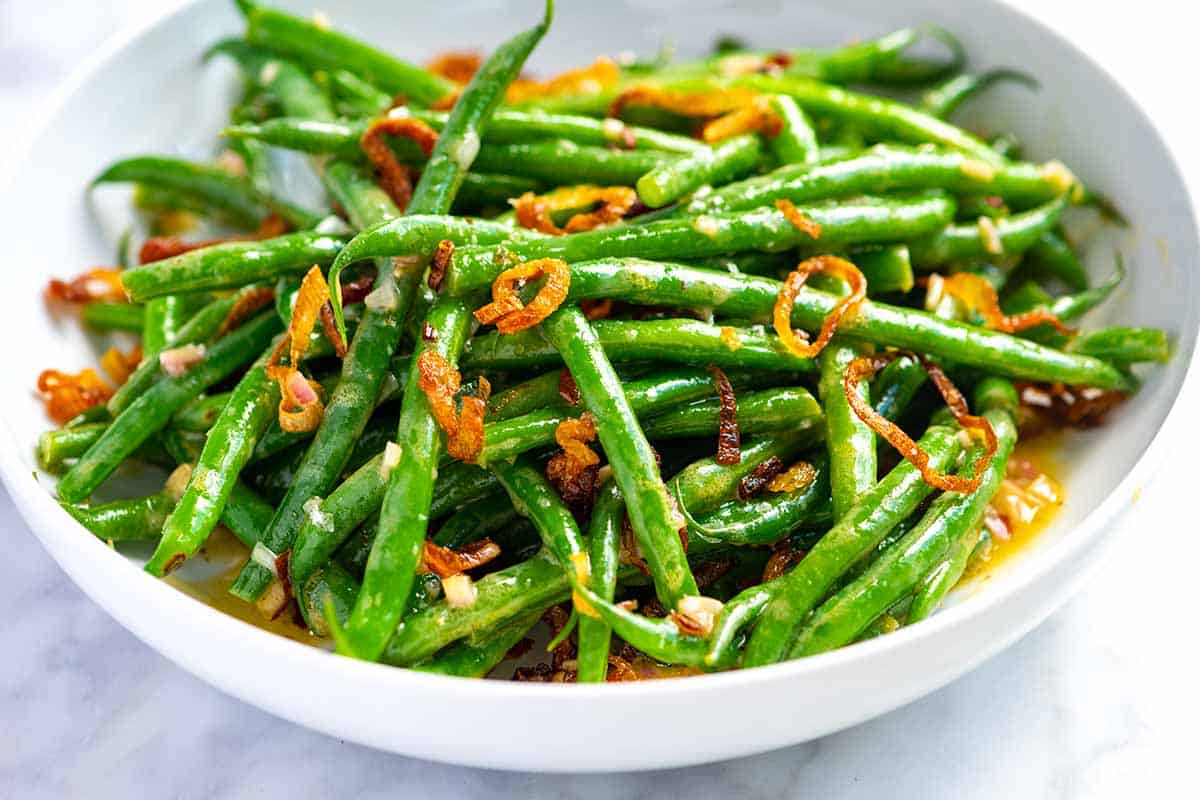 This easy green bean salad is fast to make, works for all occasions, and is vegan. We start with perfectly blanched green beans and toss them with a simple shallot vinaigrette. The whole thing takes less than 10 minutes to make. Let me walk you through how we do it.
How to Make Cold Green Bean Salad
The trick for the best green bean salad is to only blanch the green beans in salted water for a few minutes so that they turn bright green and become crisp tender. Any longer in the boiling water and the beans will lose their crunch and color. We want the beans to be crisp, not mushy.
When the beans are blanched, we plunge them into some cold water to stop them from cooking any longer. It's at this point that we can toss them with our simple shallot salad dressing.
The salad is delicious with just the green beans and vinaigrette, but if you really want to take it up a notch, throw on a handful of crispy fried shallots just before serving. The combo of green beans and crispy fried shallots is a classic (especially during Thanksgiving).
I show you how we make fried shallots at home below (it's easy), but if you prefer you can swap our homemade version for store-bought fried onions.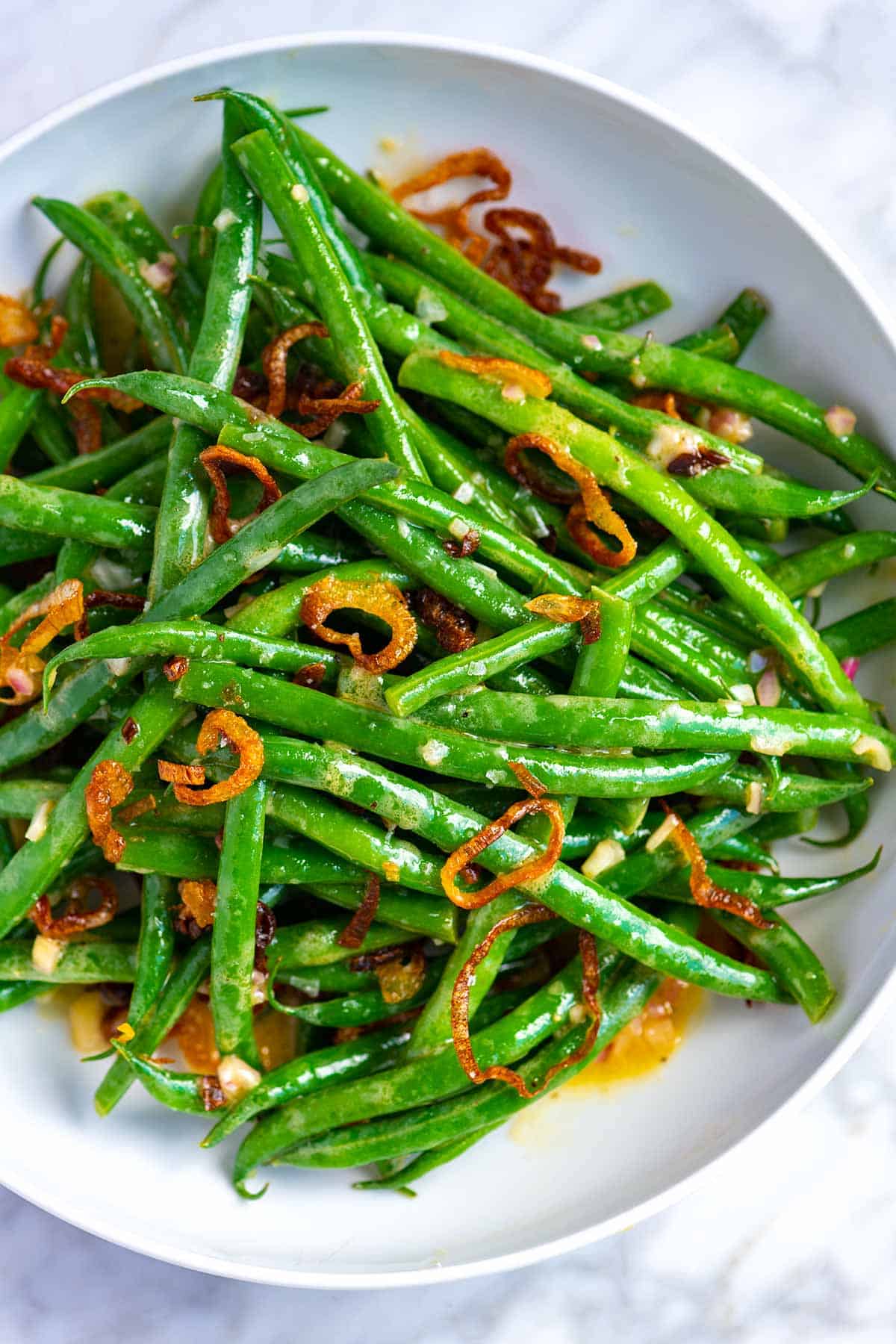 Our Go-To Shallot Vinaigrette
Everyone needs a few go-to homemade salad dressings in their back pocket, and this shallot vinaigrette is one of ours. You won't believe how simple it is and it will remind you of the dressings used in fancier restaurants.
For the shallot vinaigrette, simply whisk minced shallots, with Dijon mustard, wine vinegar (we've used red wine, white wine, and champagne vinegar to make this), olive oil, salt, and fresh ground black pepper.
After whisking, the dressing will be creamy, a bit punchy and perfect for tossing with greens or in this case, crispy green beans.
You may also like: Our whole family loves these Garlic Butter Sautéed Green Beans. Give them a try!
How to Make Crispy Shallots
Once you learn how easy it is to make crispy fried shallots at home, you'll be making them all the time! The great news is that these shallots are quick to make. I usually double the batch so I have crispy fried goodness to add to my salads and other meals for the whole day (they are so tasty). The shallots will stay crisp for a day, maybe a little longer.
Some fried shallot recipes call for flour, but ours doesn't. We don't really think they need it. Here's how we do it:
Slice shallots into thin rings. I find a mandoline helps to slice them into a similar thickness, but a knife works just fine if that is all you have.
Add the sliced shallots to a cold wide frying pan with a two to three tablespoons of high heat cooking oil. (I'm loving walnut, avocado, and grape seed oil right now, but canola or vegetable oil also work.)
Turn the burner to medium heat and allow the oil and shallots to warm up. You'll notice that the oil will start to bubble around the shallots, this is the water cooking off.
Lower the heat to medium low, and then continue to cook, stirring the shallots often, until the bubbles subside and they look golden. (It's important to stay close, the shallots can go from brown to burnt quickly).
Transfer the shallots to a paper towel or clean dishcloth to drain, and then let them cool completely. The shallots will last, when stored in an airtight container, for a day or so.
By the way, the oil you used to cook the shallots can be saved and used again. Think about using it for your next vinaigrette or cook something in it. I love using it for cooking shrimp, chicken, and even greens like spinach.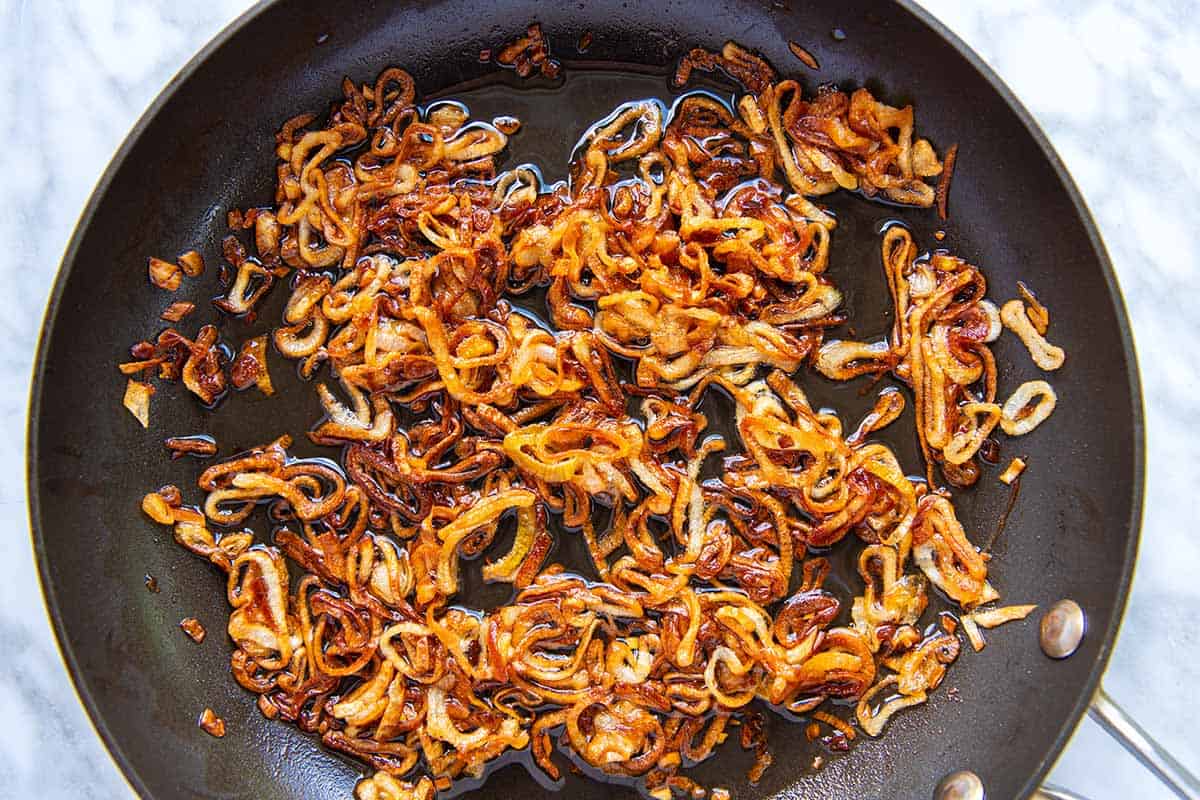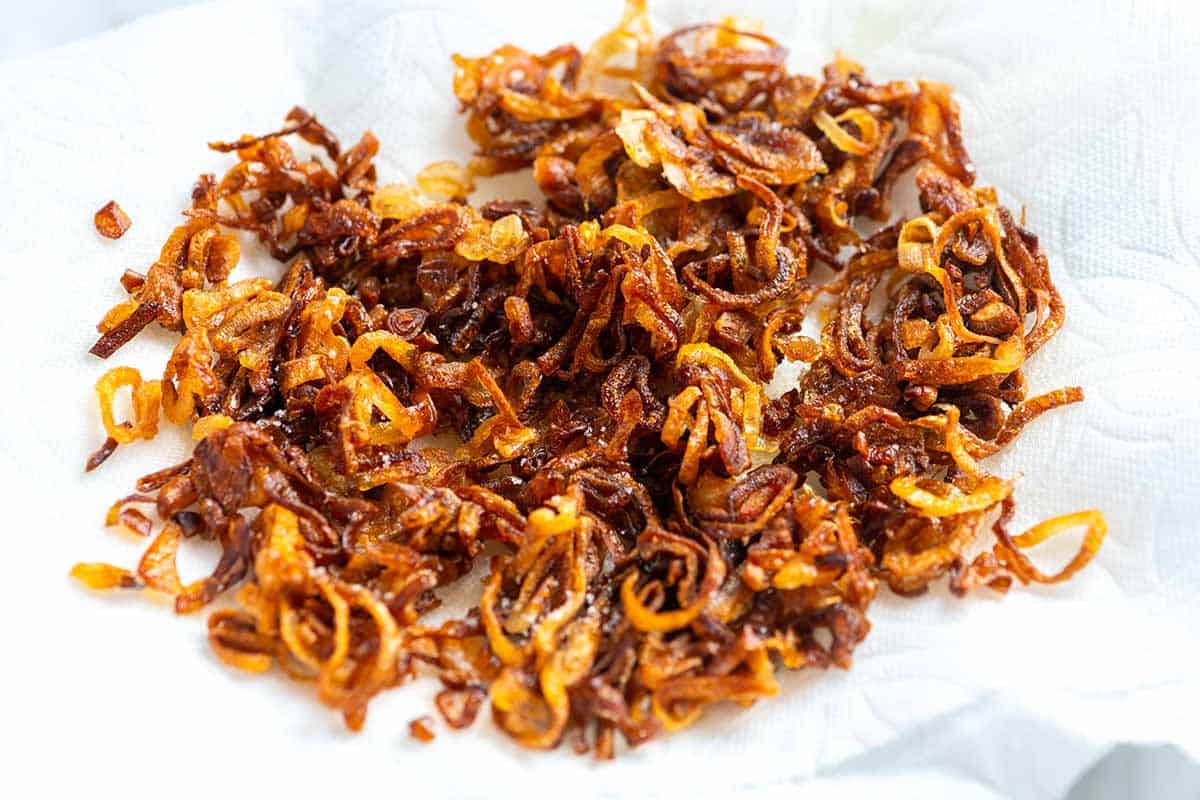 Green Bean Salad Variations
This green bean salad is perfect served as a side for many meals. I personally think it's just as perfect in the summer as it is during the holidays! As with many of our salad recipes, there are plenty of variations you can make to this simple green bean salad. Here are a few of my favorites:
Add some cheese like crumbled feta, shaved parmesan or creamy goat cheese.
Toss in some cooked and sliced potatoes — see our green bean and potato salad for inspiration.
Toss in a few handfuls of greens like arugula, spinach or baby kale.
Serve the salad along side seared tuna or your favorite canned tuna, hard boiled egg, and some olives for a French Nicoise salad inspired meal.
Add some extra protein with cooked and crumbled bacon, diced ham, or shrimp.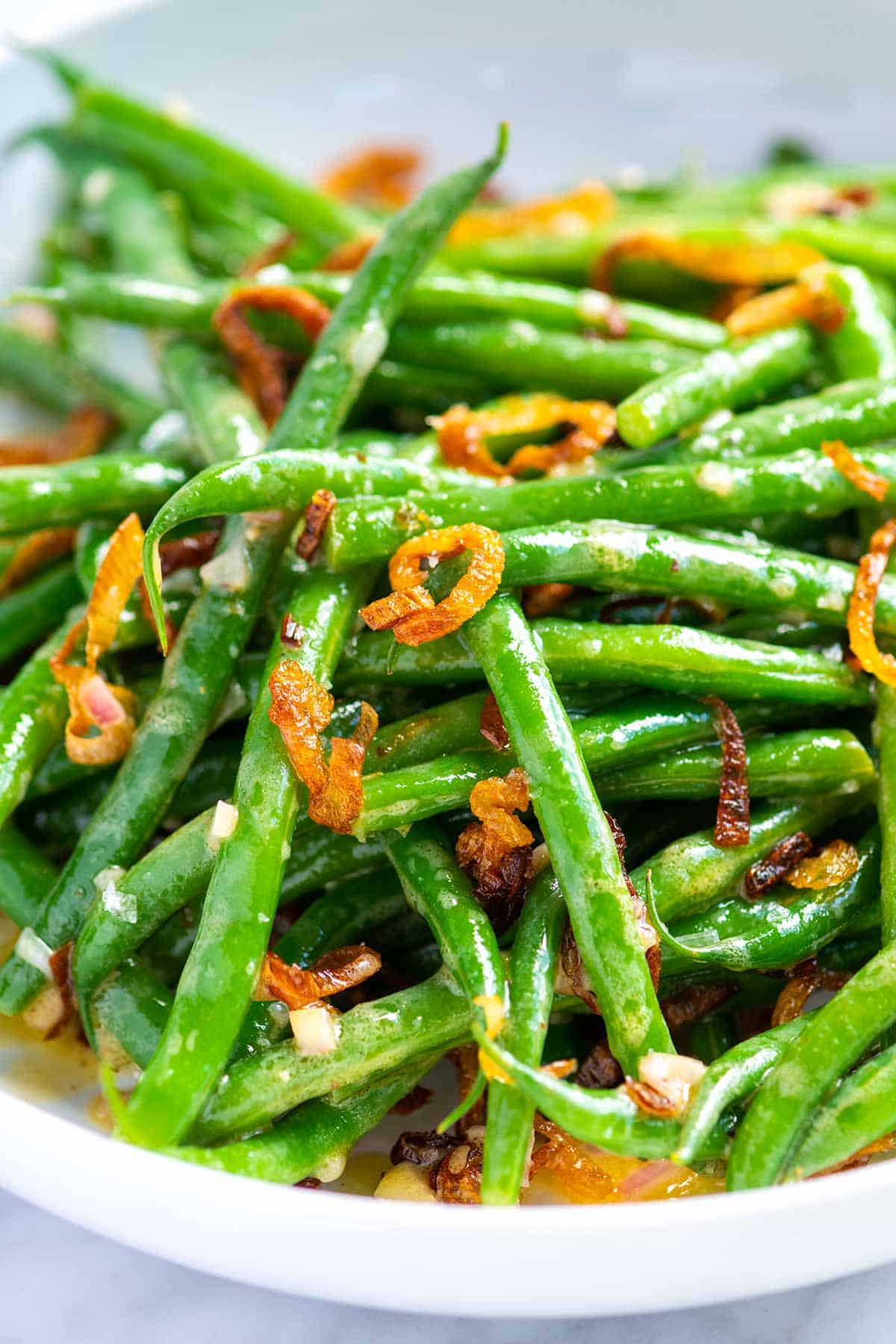 More Easy Salad Recipes
Easy Green Bean Salad with Crispy Shallots
This flavorful, crunchy cold green bean salad is one of our favorite ways to enjoy green beans. The green beans are tossed with a simple shallot dressing and topped with crispy crunchy shallots. The fried shallots can be store-bought or you can follow our easy method of making them from scratch. The salad is also quite delicious without them.
You Will Need
1 pound green beans or small haricots verts
1 tablespoon minced shallots
1 tablespoon Dijon mustard
2 tablespoons red-wine vinegar, white wine vinegar or champagne vinegar
4 tablespoons olive oil
Salt and freshly ground pepper
Crispy fried shallots, optional, see how to make them below
Directions
For the Green Bean Salad

1Trim ends from beans and leave them whole. Prepare a bowl filled with cold water and ice.

2Bring a large pot of salted water to a boil then add the beans. Cook until bright green, but still crisp. I check for doneness after 2 minutes then add additional time as needed. Depending how thin the beans are, they will need 2 to 4 minutes.

3Drain the beans and toss them into the ice water.

4In the bottom of a salad bowl, whisk the minced shallots, mustard, vinegar, olive oil, a pinch of salt, and a pinch of pepper together. Taste then adjust with more salt and pepper if needed.

5Toss in the green beans then serve with crispy shallots sprinkled on top.
Make Crispy Fried Shallots

1Slice one or two large shallots into thin rings. A mandoline makes quick work of this.

2Add the shallots and a few tablespoons of high heat cooking oil (like grape seed, vegetable oil, or avocado oil) to a cold, wide frying pan.

3Turn the heat to medium high and cook until the oil starts bubbling around the shallots. Stir the shallots every once and a while, then when the bubbling slows down, turn the heat to medium low and continue to cook, stirring often, until the shallots are golden. Stay close while they shallots cook, they can go from brown to burnt quickly.

4Transfer the shallots to a plate lined with paper towels or a clean dish cloth, sprinkle with a little salt, and cool completely. Use the shallots within the next day or so.
Adam and Joanne's Tips
Instead of crispy shallots, try frying up some minced or sliced garlic for a green bean salad with crispy garlic.
The salad will last up to a day in the fridge, after that, it will still taste delicious, but the beans will lose some of their bright green color.
Nutrition Facts: The nutrition facts provided below are estimates. We have used the USDA database to calculate approximate values.
If you make this recipe, snap a photo and hashtag it #inspiredtaste — We love to see your creations on Instagram and Facebook! Find us: @inspiredtaste
Nutrition Per Serving
Serving Size
1/6 of the dish
/
Calories
127
/
Total Fat
10g
/
Saturated Fat
1.4g
/
Cholesterol
0mg
/
Sodium
105.2mg
/
Carbohydrate
9.6g
/
Dietary Fiber
3.5g
/
Total Sugars
4.4g
/
Protein
2.6g