We love this easy apple crisp with oats! Chopped fresh apples are mixed with cinnamon and nutmeg, then topped with the most delicious oat crumb topping made with melted butter, flour, and oats. One of my favorite easy desserts!
Watch the Video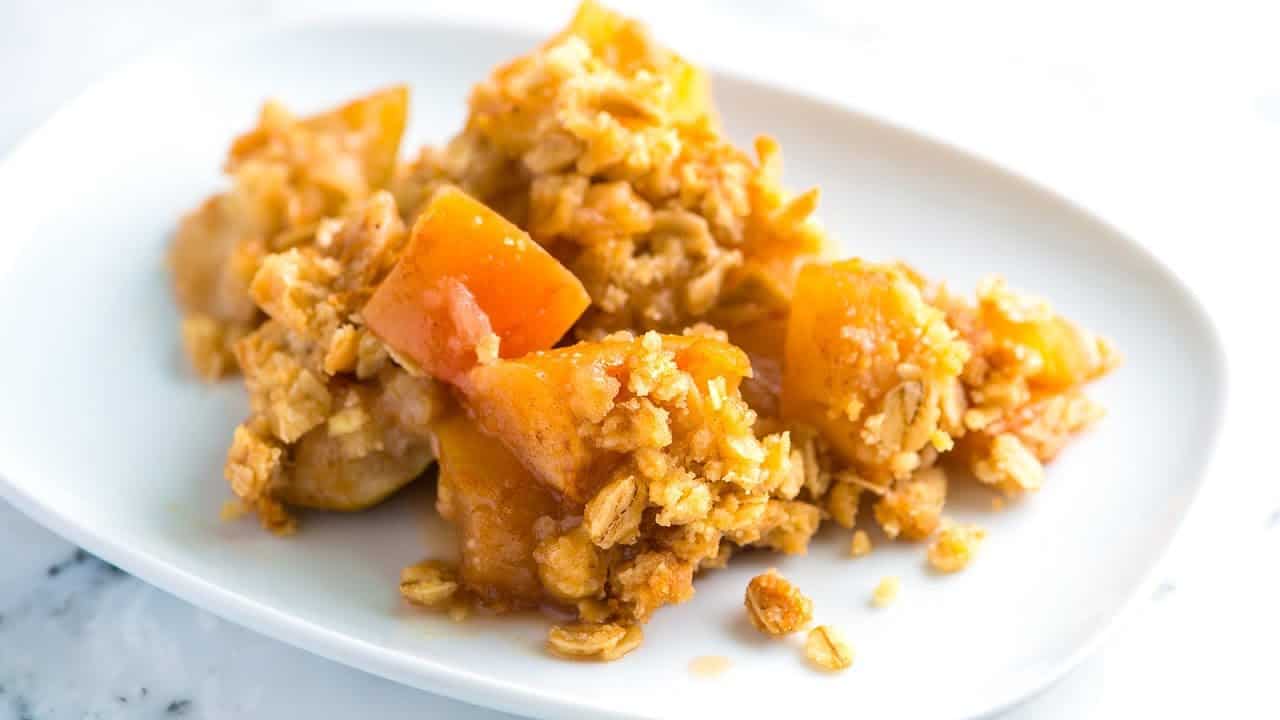 We have so many delicious apple recipes on Inspired Taste it's hard to choose a favorite, but this homemade apple crisp is definitely in the running. Adam likes adding a big scoop of ice cream to his while I go for a dollop (or two) of whipped cream. This apple crisp is also phenomenal cold — sounds a little strange, I know. After a night in the fridge, all the flavors bloom and become even more delicious. Apple crisp for breakfast? Why not!
Apple Crisp Ingredients
The recipe for apple crisp is below, but here's where I dive into the ingredients a bit. So, if you have any questions about why an ingredient is included or if you can substitute it, I have hopefully answered them here.
Apples – Our recipe calls for fresh apples, which I prefer to canned apples. When choosing apples for baking, look for apples you love. I like using two varieties (just like when I make pie). If you have canned apples you absolutely love, I am sure you can use them instead of our filling recipe below.
Orange – In our apple cobbler, we use lemon juice with the apples, but for this crisp, we go for orange. It's such a delicious combination.
Sugar – I typically use either granulated sugar or brown sugar when making apple crisp. Use what you have.
Cinnamon and nutmeg – Apples and cinnamon are such a classic combination. We use a generous amount of cinnamon and a touch of nutmeg (it's much stronger).
Flour and salt – Flour mixes with the oats and melted butter to make our topping. An all-purpose gluten-free blend does work as a substitute.
Oats – Rolled oats are my go-to for this crisp recipe, but instant oats will work. Steel cut oats are not recommended.
Butter – I use unsalted butter when baking (it's a habit for me), but you can use salted butter if that is all you have. If you do use salted butter, leave out the salt called for in the topping.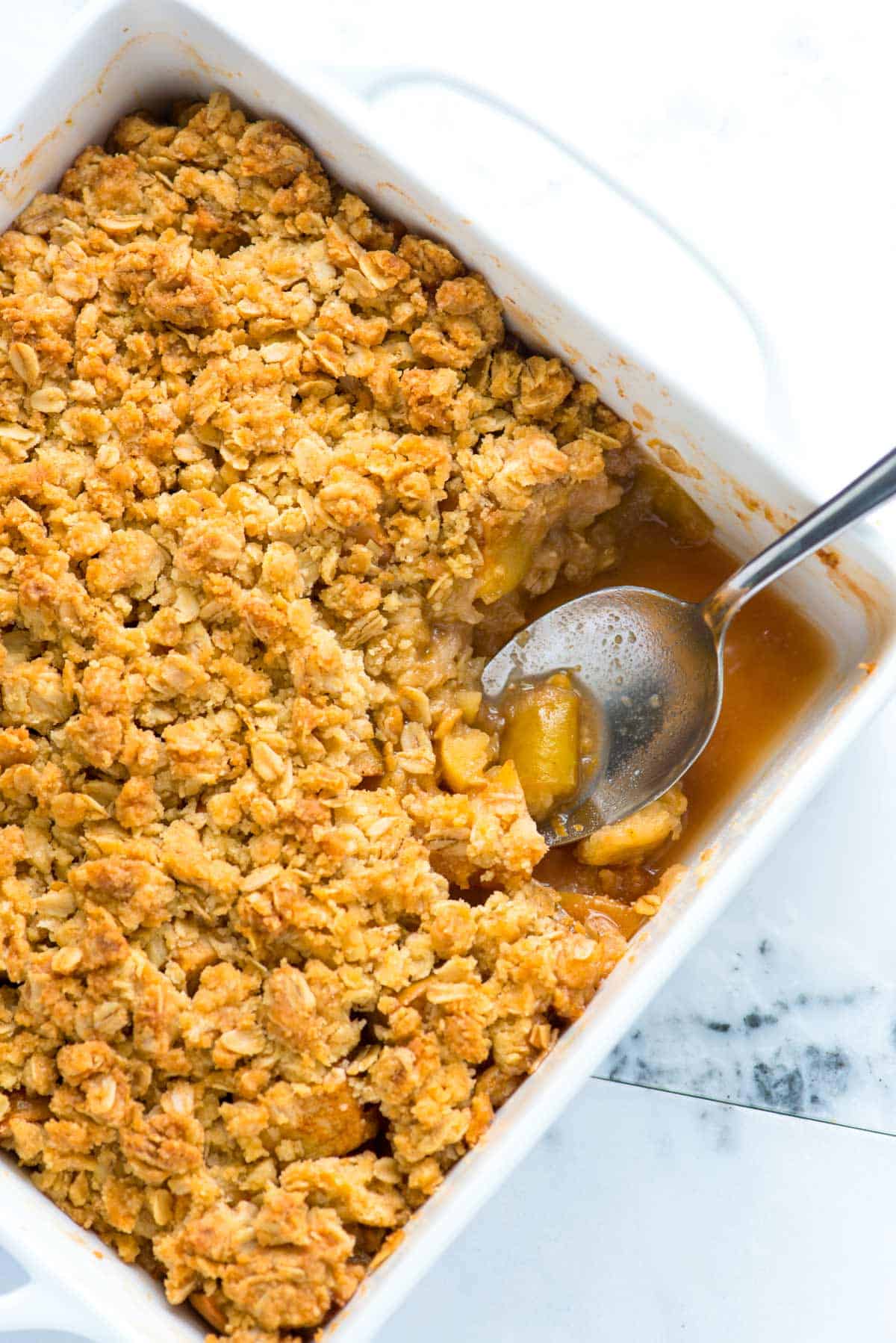 How to Make Apple Crisp
To make the filling, we toss chopped apples with orange juice, orange zest, sugar, cinnamon, and nutmeg. Like most baked apple recipes, you'll want to use flavorful and firm apples. It's also nice to combine two varieties. We used two baking-friendly apples in our photos: Granny Smith and Braeburn. Honeycrisp and Pink Lady are another favorite, we used them to make this apple cobbler.
We leave the apples unpeeled. I love saving a bit of prep time; the texture and flavor are better in the end, especially after such a long bake time. We do the same when making applesauce. If you'd love softer apples in your apple crisp, peel them.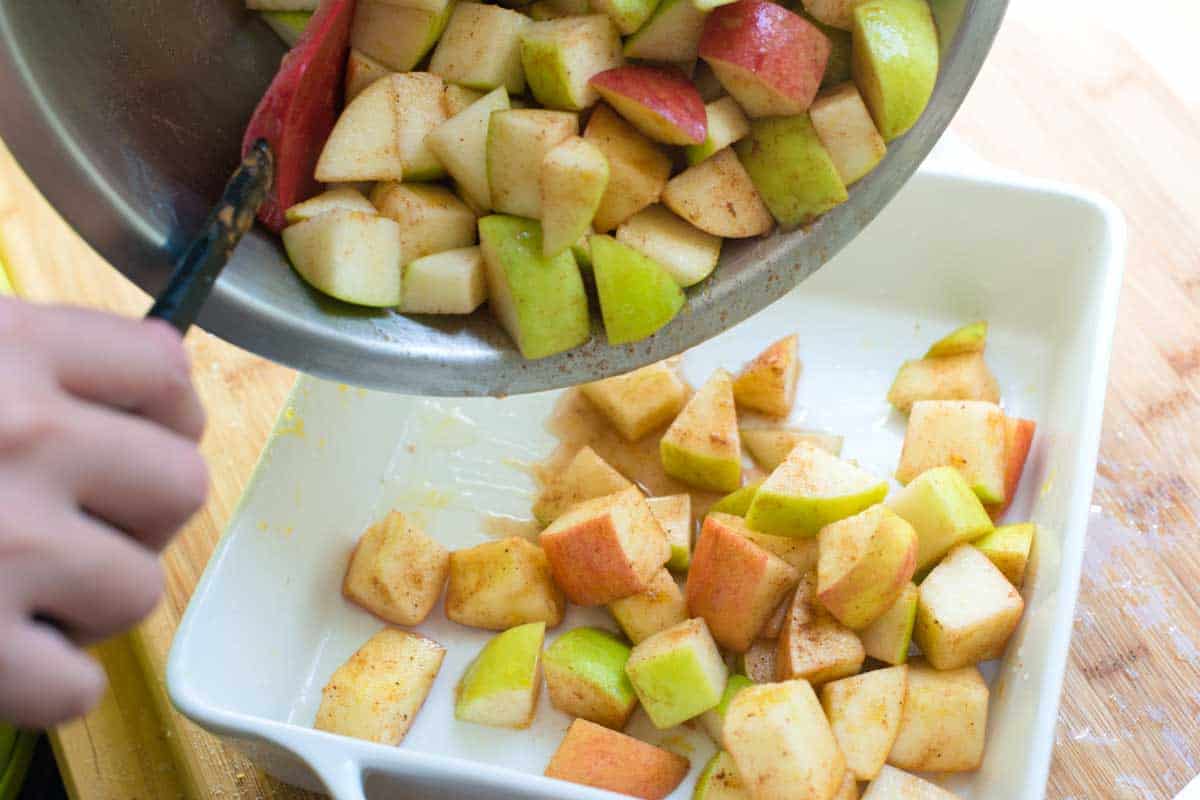 For the topping, we use melted butter. Spend a few minutes searching "apple crisp recipes" on the internet and you'll notice most recipes call for cold or room temperature butter. This is exactly what we used to do. Using our fingers or a fork, we'd work the butter into flour and oats until crumbly. This method works well, but we think we've found a better way.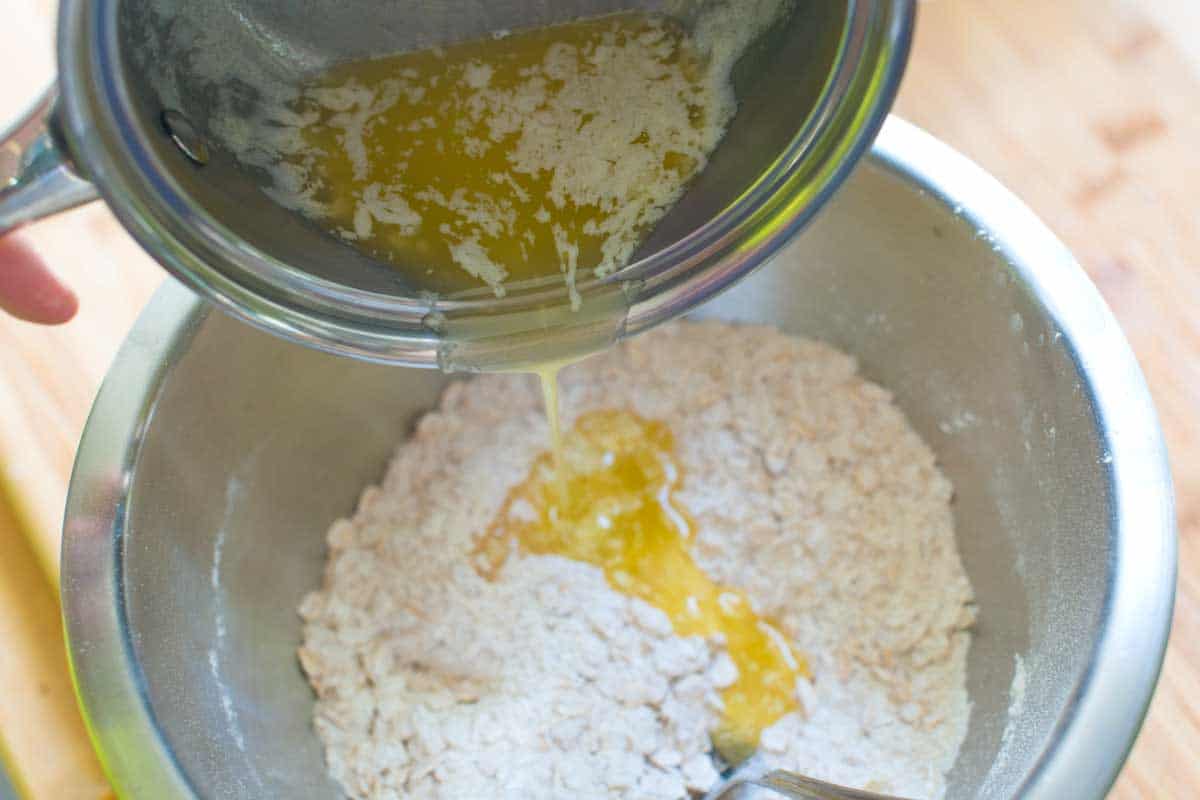 We were looking for a tender topping with a little crunch — something to balance the softened apples. When we used the old method with un-melted butter, we noticed that during baking, the topping would melt down over the apples and into the filling below. It tasted great (how could it not, right?), but it wasn't exactly what we were looking for.
I'm generous with how much oat crumble topping I add to the apples — I like a high ratio of crisp topping to apples! I also do my best to press it into clumps as I add it to the apples before baking. The crisp bakes for an hour or so. Then, I like giving it a few minutes on the counter to cool before digging in.
And there you have it, our best apple crisp recipe! Thanks to melted butter, the topping stays put and crisps on top of the apples. We use this same topping to make these cinnamon baked apples as well as our ridiculously easy blueberry crumble!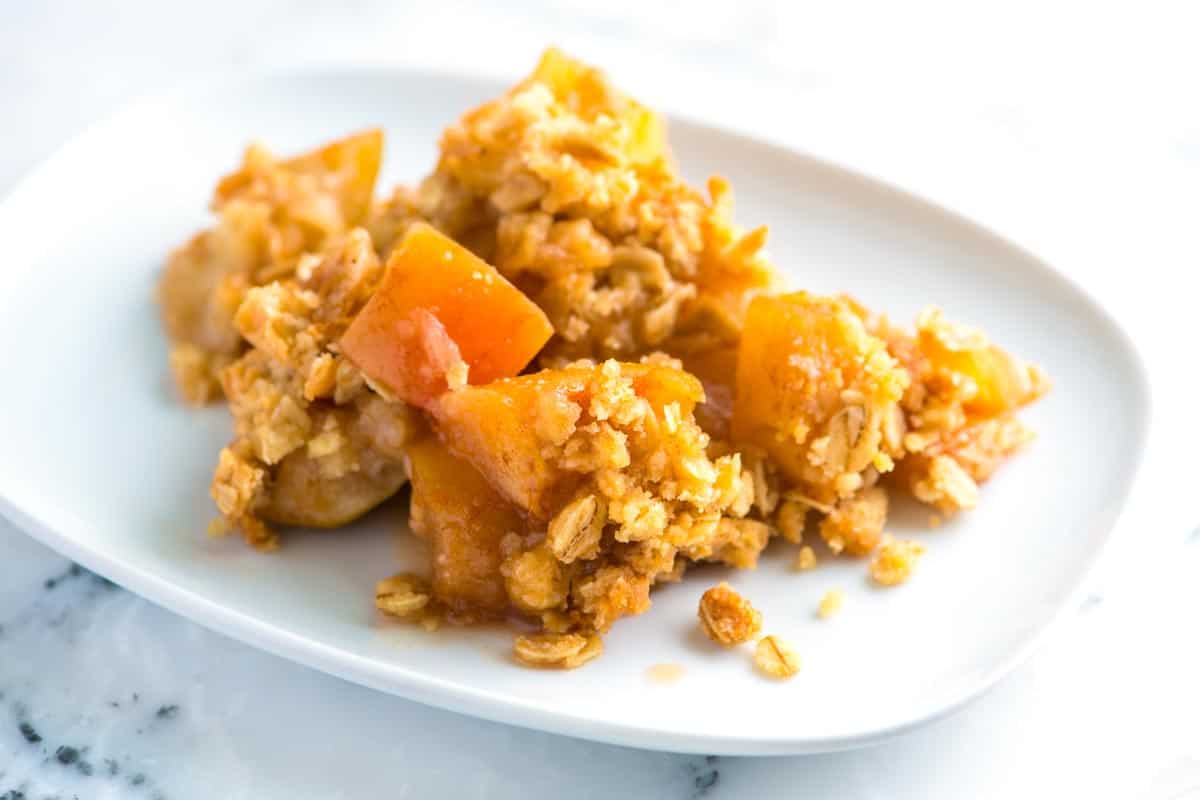 Easy Apple Crisp
We love this easy apple crisp. Like most baked apple recipes, you'll want to use flavorful and firm apples — Granny Smith are our go-to. It's also nice to combine two varieties. In our photos, we used two baking-friendly apples– Granny Smith and Braeburn. You could even add a handful of blackberries, raisins or cranberries. We also found that by leaving the apples unpeeled, the texture and flavor is better — especially after such a long bake time.
Serve warm or serve our favorite way, which is cold — sounds a little strange, we know. After a night in the fridge, all the flavors meld and mingle, giving it lots of extra flavor the next day.
Watch Us Make the Recipe
You Will Need
Filling
6 medium baking apples, such as Granny Smith (2 1/2 to 3 pounds)
1 orange, zested and juiced
1/4 to 1/2 cup (50 to 100 g) sugar, depending on tartness of apples
1 teaspoon ground cinnamon
1/4 teaspoon ground nutmeg
Topping
3/4 cup (100 g) all-purpose flour
3/4 cup (65 g) old-fashioned rolled oats
1/2 cup (100 g) sugar, option: combine 1/4 cup brown sugar + 1/4 cup granulated sugar
1/2 cup (115 g) butter, melted (1 stick)
1/8 teaspoon kosher salt
Directions
Make Filling

1Heat oven to 350 degrees F. Butter a 9-inch square (or 2-quart) baking dish.

2Core apples then cut into 3/4-inch pieces. Add apples to a large bowl with orange zest, orange juice, sugar, cinnamon and nutmeg. Stir then add to baking dish.
Make Topping

1Combine flour, oats, sugar and the salt in a medium bowl. Add the melted butter then stir until all the flour has been moistened by the butter and topping is crumbly. Sprinkle over apple filling. (We like to use our hands to do this. As we sprinkle, we press the crumbles together to create larger clumps of topping.)
Bake Crisp

1Bake 1 hour to 1 hour and 30 minutes or until juices are thickened, the apples are tender and the topping has turned light golden brown. If the topping starts to become too brown, cover with aluminum foil and continue to bake until the apples are done.
Adam and Joanne's Tips
Gluten-free apple crisp: Use you favorite store-bought gluten-free flour blend instead of the all-purpose flour called for above. We are partial to Bob's Red Mill.
Use whole wheat flour: Replace the all-purpose flour with an equal amount of whole wheat flour or use white whole wheat flour.
Reduce the sugar: The sugar needed depends on how tart your apples are. We love the crisp to be slightly tart, so reducing the sugar with the apples and in the topping is an option.
Nutrition Facts: The nutrition facts provided below are estimates. We have used the USDA Supertracker recipe calculator to calculate approximate values. We assumed 1/4 cup of sugar for the apple filling.
If you make this recipe, snap a photo and hashtag it #inspiredtaste — We love to see your creations on Instagram and Facebook! Find us: @inspiredtaste
Nutrition Per Serving
Calories
304
/
Protein
3 g
/
Carbohydrate
48 g
/
Dietary Fiber
4 g
/
Total Sugars
30 g
/
Total Fat
12 g
/
Saturated Fat
7 g
/
Cholesterol
30 mg