You only need one bowl to make this easy blueberry muffins recipe with blueberries, flour, sugar, vanilla, and vegetable oil. We've been making these muffins for years and are always happy that we did.
Watch the Video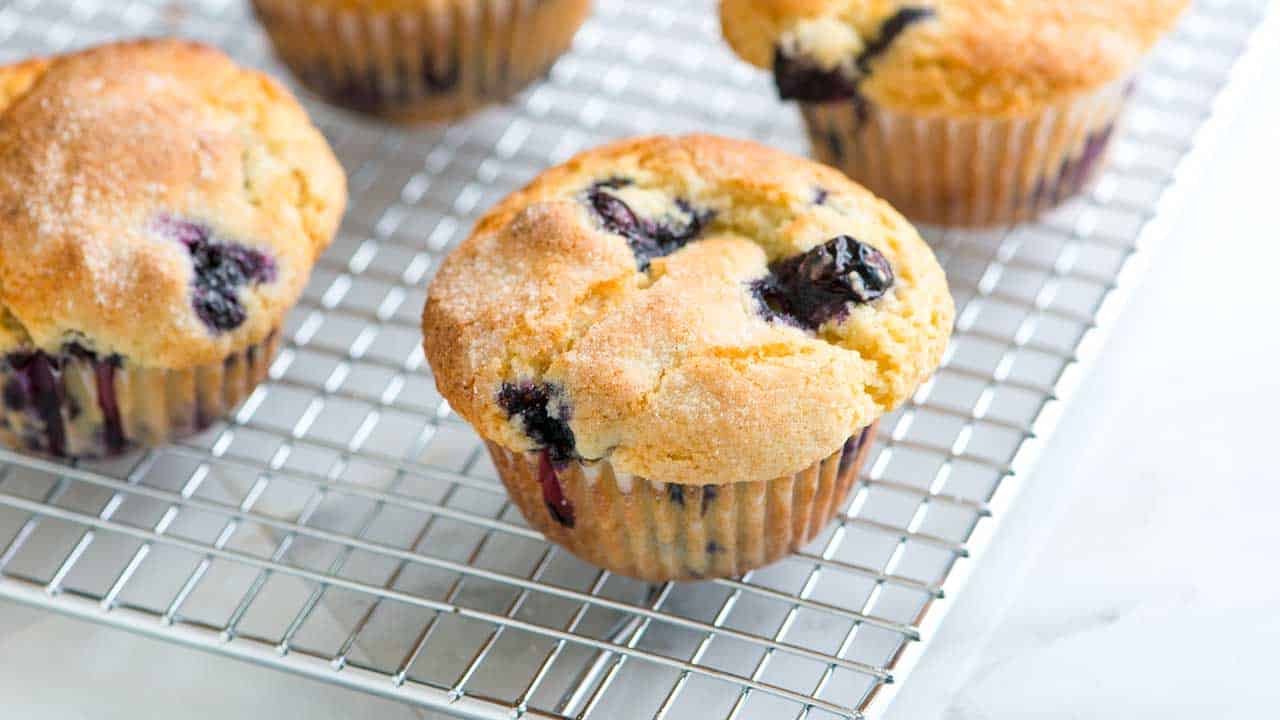 Related: See 12 must-try muffin recipes our family makes over and over again!
How to Make the Best Blueberry Muffins
These blueberry muffins are quick and easy with a moist and tender center bursting with blueberries and perfectly golden brown top. They are extra easy to make, too. For another spin on these muffins, try our lemon blueberry muffins recipe or for egg-free and dairy-free muffins, try these vegan blueberry muffins.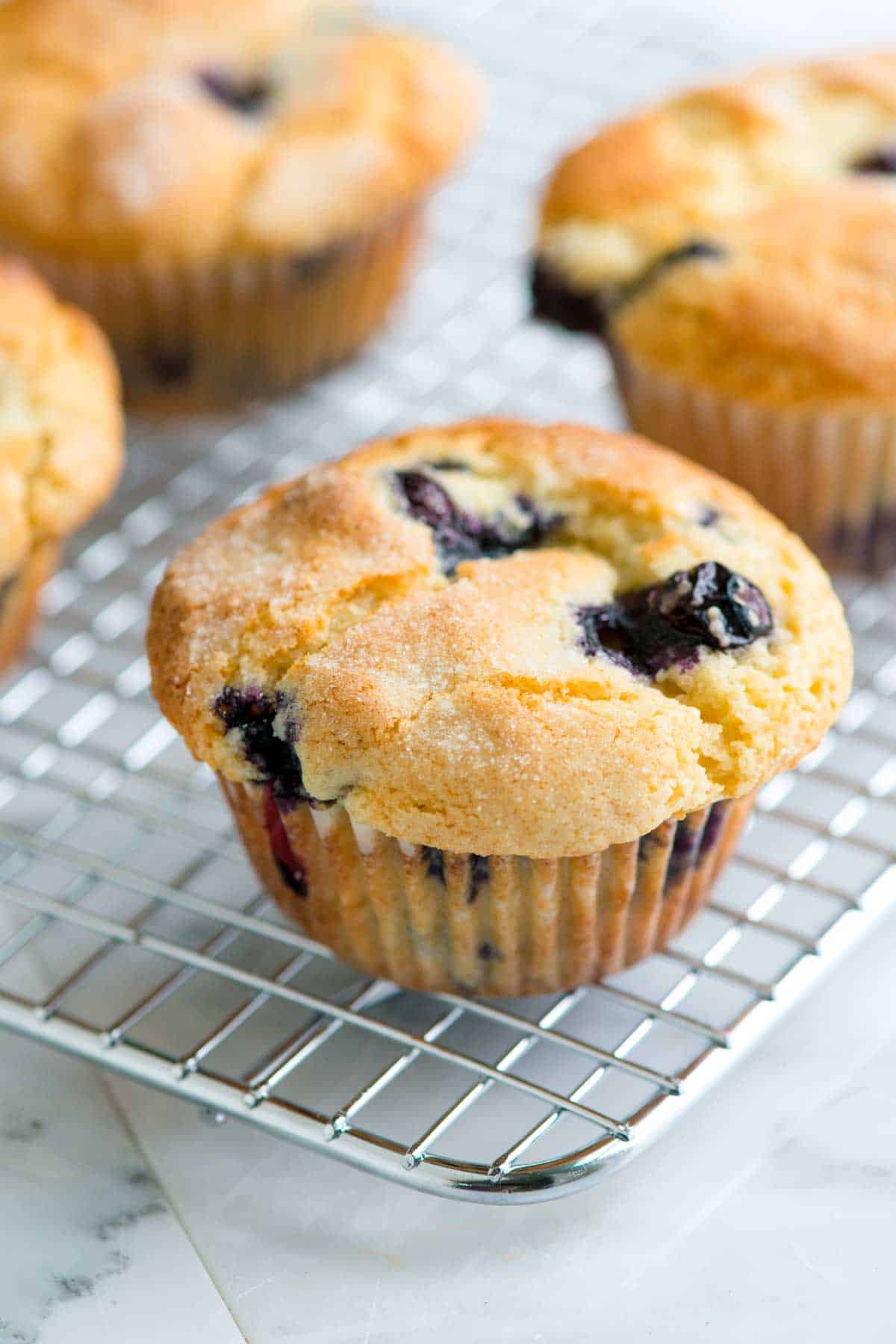 Blueberry Muffin Ingredients
Fresh or frozen blueberries work in this recipe. It's tricky to find sweet fresh blueberries all year round. Thankfully, this doesn't prevent us from getting our blueberry muffin fix! When using frozen blueberries, add them when they are still frozen.
We use all-purpose flour, but you can use 100% whole wheat flour or a combination of whole wheat and all-purpose flour.
A gluten-free flour blend also works. Just keep in mind that changing the flour from all-purpose will affect the texture of the muffins slightly.
Granulated sugar helps to make the blueberry muffins flavorful and tender.
You can swap for other sugars (brown sugar or coconut sugar, for example), but the texture of the bread will change slightly. I also love adding a sprinkle of sugar to the muffin tops just before baking, which turns into a crackly top.
Oil is my favorite fat to use when making these blueberry muffins. I usually use butter when baking since I love the flavor, but after testing these muffins with both oil and butter, we found that the oil made more tender muffins.
Milk is my go-to liquid for baking muffins, but if you are dairy-free, try homemade oat milk, unsweetened almond milk or coconut milk.
Egg provides structure and stability to the muffins. We use one egg. If you do not eat eggs, you can try using a flax egg instead.
Baking powder is our go-to leavener for these blueberry muffins.
Salt and vanilla extract add flavor to the bread and make them taste amazing.
How to Make Blueberry Muffins in Three Easy Steps
When you realize how easy these muffins are to make, you'll want to make them over and over again.
Step 1, Whisk flour, sugar, baking powder, and a little salt in a large bowl.
Step 2, Add oil, an egg, milk, and vanilla extract then stir with a fork until blended.
Step 3, Mix in the blueberries, divide the batter between muffin cups and bake.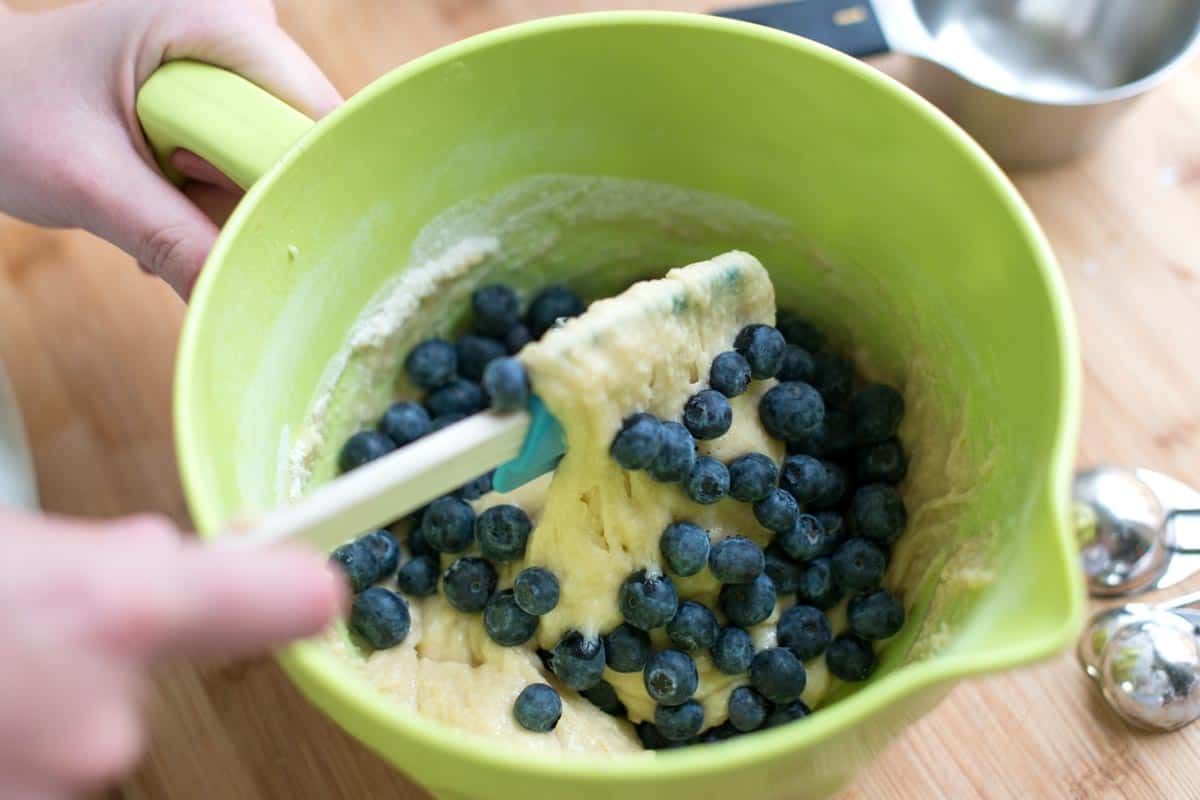 How to Make Mini Muffins
Our recipe can be used to make a variety of muffin sizes. Use our recipe to make the following:
Eight big-topped, bakery size muffins
Ten standard-size blueberry muffins
Twenty to twenty-two mini blueberry muffins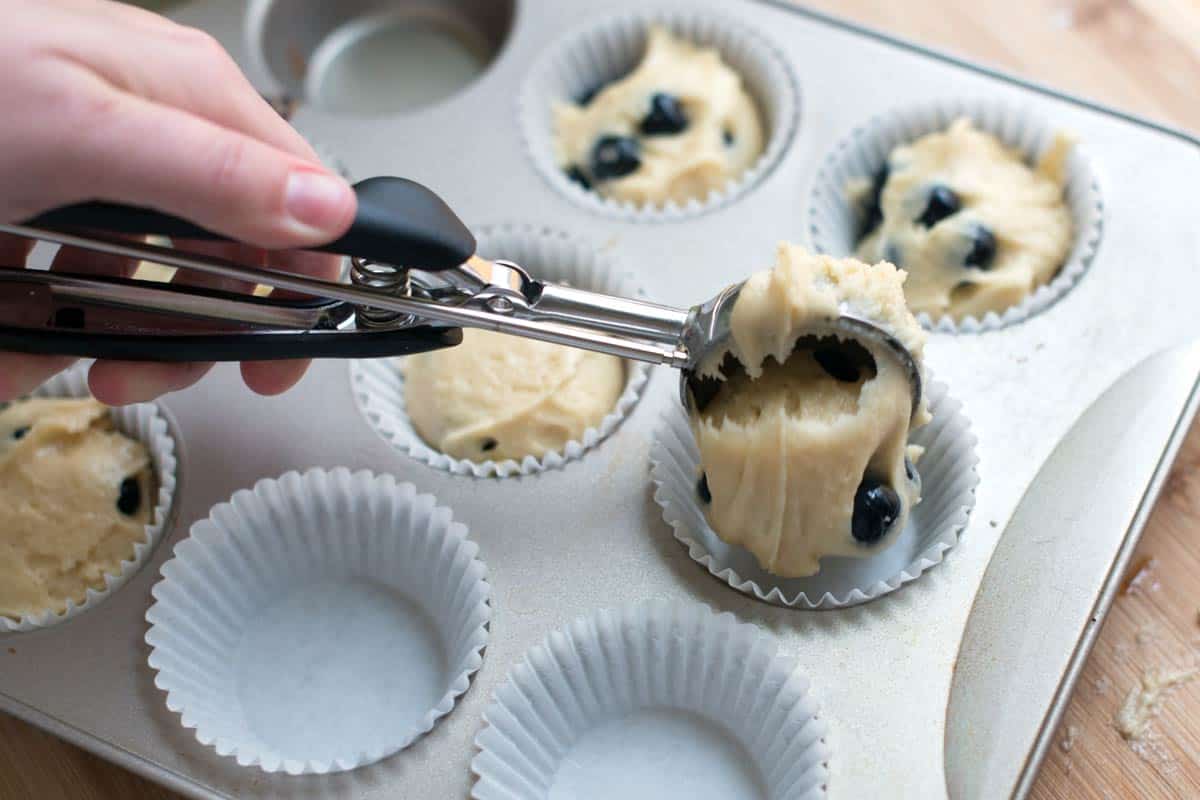 What Our Readers Are Saying
If you don't believe that our recipe helps you achieve the best blueberry muffins from scratch, take a look at what our readers are saying about the recipe! More reviews are in the comments section below.
"These are amazing! So simple and delicious." – Mary

"These are the best blueberry muffins ever! Perfect crusty top, moist and delicious. Easy to make and simple ingredients." – Trish

"Bakery quality! Best blueberry muffins I've ever made!" – Andrea
More Muffin Recipes
Since sharing this recipe and learning just how much you love them (see all the reviews below!). We have shared a few more recipes for muffins that use a very similar batter. Take a look at these:
For a slightly healthier take on these muffins, try our Healthy Banana Blueberry Muffins. We add whole grains, ripe bananas and reduce the sugar. Most importantly though, they taste great! Or try these vegan muffins.
Fresh Strawberry Muffins with a little spice from cinnamon and black pepper — the black pepper may seem odd, but it is delicious with fresh strawberries. The batter is very similar to this recipe!
Try our Classic Chocolate Chip Muffins with brown sugar, sour cream, a vanilla-scented batter and lots of chocolate chips. There's a little sour cream added to the batter to make it extra delicious, and you can even add blueberries or strawberries for a fruit-chocolate combination.
Try our Ginger Oatmeal Blueberry Muffins made with fresh ginger, fresh or frozen blueberries and oats. Plus a spoonful of vanilla-scented glaze to make everything that much better.
And while it isn't technically a muffin, this Easy Homemade Banana Bread Recipe with ripe bananas, flour, butter, eggs, and spices is a reader favorite! It has lots of helpful reader reviews. We also have a healthier take on banana bread here.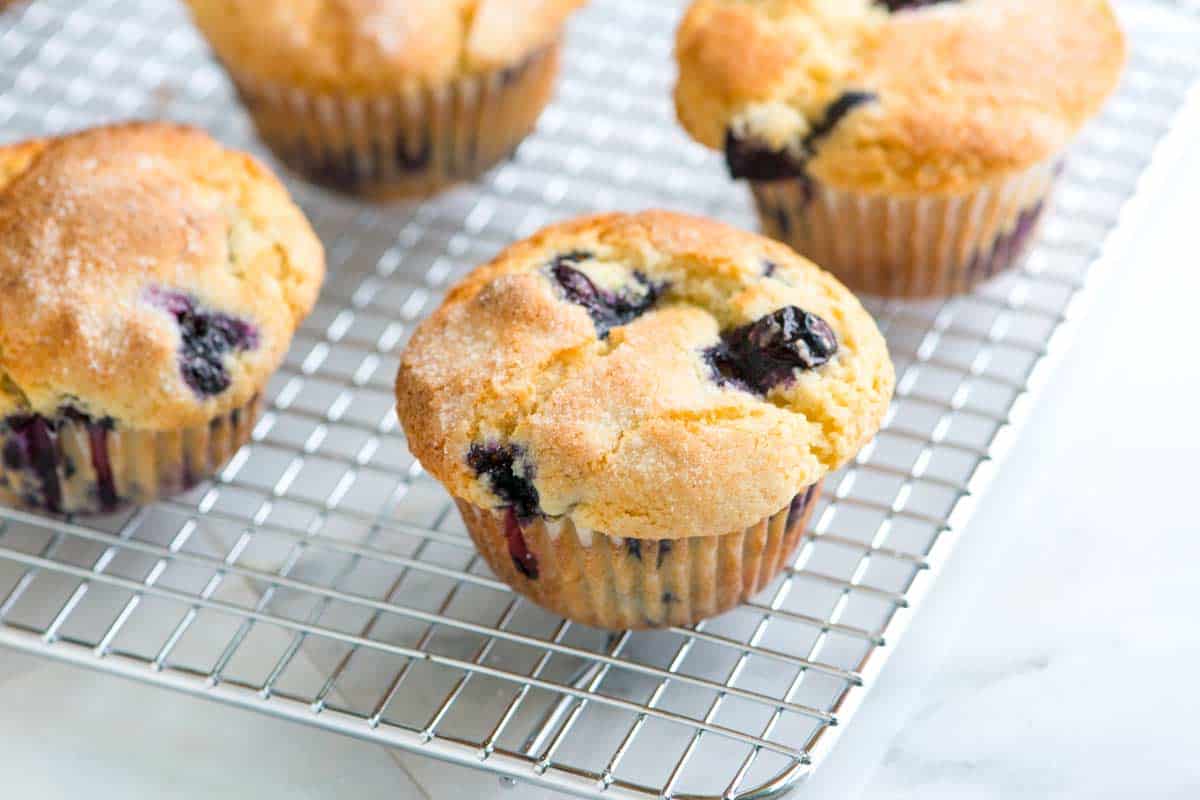 Quick and Easy Blueberry Muffins
This easy blueberry muffins recipe makes eight large, big-topped muffins, ten standard muffins or 20 to 22 mini muffins (see note below about baking time for mini muffins). Since most standard muffin tins have 12 muffin cups, if you plan on making the larger muffins, we recommend adding 1 to 2 tablespoons of water to the empty cups. This way the cups with water will heat up at the same rate as the cups with muffin batter, helping the muffins bake evenly.
Makes 8 large, big-topped muffins / 10 standard muffins / 20-22 mini muffins
Watch Us Make the Recipe
You Will Need
1 ½ cups (195 grams) all-purpose flour
3/4 cup (150 grams) granulated sugar, plus 1 tablespoon for muffin tops
1/4 teaspoon fine sea salt
2 teaspoons baking powder
1/3 cup (80 ml) neutral-flavored oil; canola, vegetable and grape seed are great
1 large egg
1/3 to 1/2 cup (80 ml – 120 ml) milk; dairy and non-dairy both work
1 ½ teaspoons vanilla extract
6 to 8 ounces fresh or frozen blueberries; see note below about frozen berries (about 1 cup)
Directions
Prepare Oven and Muffin Cups

1Heat oven to 400 degrees Fahrenheit. For big-topped muffins, line 8 standard-size muffin cups with paper liners. For standard-size muffins line 10 muffin cups. Fill the remaining cups with 1 to 2 tablespoons of water to help the muffins bake evenly.
Make Batter

1Whisk the flour, sugar, baking powder, and salt in a large bowl.

2Add oil to a measuring jug that holds at least 1 cup. Add the egg then fill the jug to the 1-cup line with milk (1/3 to 1/2 cup milk). Add vanilla and whisk to combine.

3Add milk mixture to the bowl with dry ingredients then use a fork to combine. Do not over mix. (The muffin batter will be quite thick — see note below for more details). Fold in the blueberries.
Bake Muffins

1Divide the batter between muffin cups. (If making big-topped muffins, the batter will come to the tops of the paper liners). Sprinkle a little sugar on top of each muffin.

2Bake muffins 15 to 20 minutes or until tops are no longer wet and a toothpick inserted into the middle of a muffin comes out with crumbs, not wet batter. Transfer to a cooling rack.

3To store, place them in a plastic bag, seal, and store at room temperature for 2 to 3 days. To freeze, wrap them tightly in aluminum foil or place them in freezer bags. Freeze for up to 3 months.
Adam and Joanne's Tips
You can make these with fresh or frozen blueberries – if you use frozen, do not thaw the blueberries.
For mini muffins, the baking time will be less — keep an eye on them while they bake and expect them to require 9 to 11 minutes.
Batter Thickness: The batter should be thick and "scoopable" — not runny and not dry or extra thick like dough. If the batter is too runny, add flour, a tablespoon at a time until correct consistency. If the batter is dry or too thick, add milk, a tablespoon at a time until the proper consistency.
Nutrition facts: The nutrition facts provided below are estimates. We have used the USDA database to calculate approximate values. Calculations are for one standard muffin (this recipe makes 10).
If you make this recipe, snap a photo and hashtag it #inspiredtaste — We love to see your creations on Instagram and Facebook! Find us: @inspiredtaste Recipe inspired by and adapted from Allrecipes.com
Nutrition Per Serving
Serving Size
1 muffin (10 total)
/
Calories
216
/
Total Fat
8.2g
/
Saturated Fat
1.2g
/
Cholesterol
19.4mg
/
Sodium
71.3mg
/
Carbohydrate
33.2g
/
Dietary Fiber
1g
/
Total Sugars
17.2g
/
Protein
2.9g
Recipe updated, originally posted December 2012. Since posting this in 2012, we have tweaked the recipe to be more clear and added a quick recipe video. – Adam and Joanne