You will love this incredibly moist carrot cake recipe with ultra-creamy cream cheese frosting. This is a must make! Jump to the Easy Carrot Cake Recipe or watch our quick recipe video below to see how we make it.
It wasn't until recently that we actually realized just how much we love carrot cake. It wasn't really something either of us grew up with. Working on a hunch, we started trying a bunch of recipes and cakes at local shops. We fell in love. We especially have fallen in love with this incredibly moist carrot cake recipe.
How To Make the Cake Extra Moist
What we love is that you can make this cake quickly and easily without lots of fancy equipment.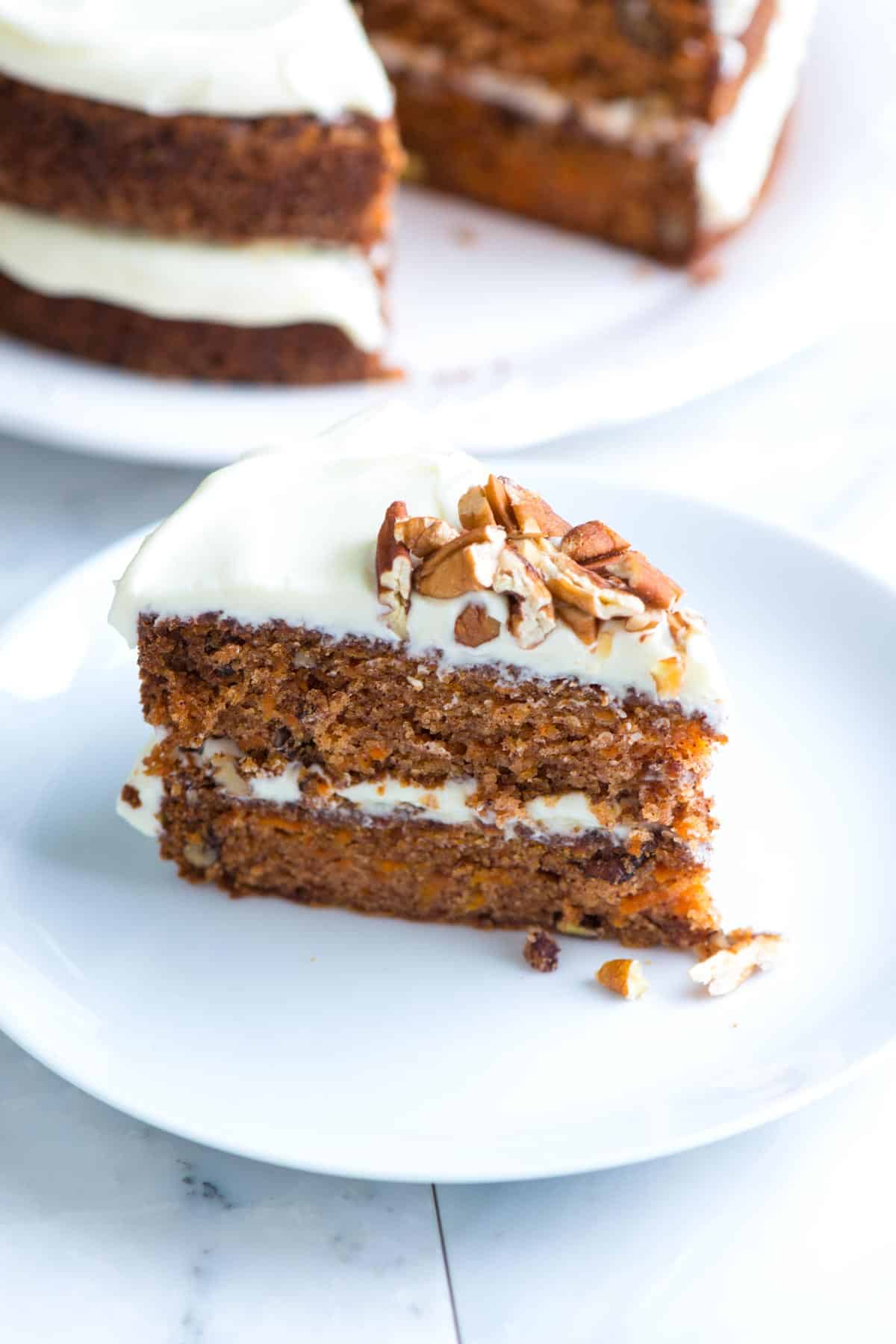 Just bowls, a whisk and spatula are all that's needed for the cake itself. It comes together really quickly. Simply whisk the dry ingredients together, whisk the wet ingredients together then combine. Add carrots and nuts and you're done.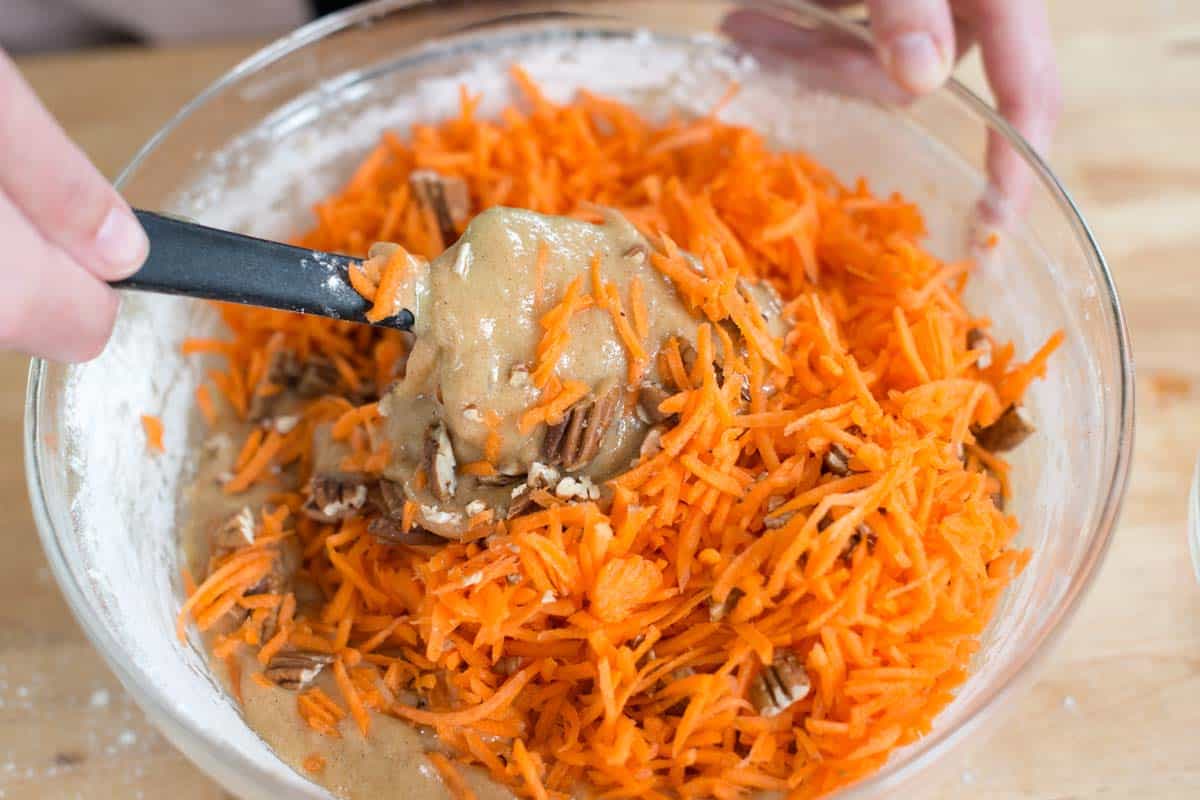 Add Lots of Carrots
Three whole cups of carrots are added to this cake. When we first tested it, we scaled that back to two cups since three cups just sounded a bit extreme. After baking and letting it cool, we were a little disappointed.
So if you're making the cake and start to second guess the amount of carrots called for in our recipe below, don't. All three cups are welcomed here, they make the cake.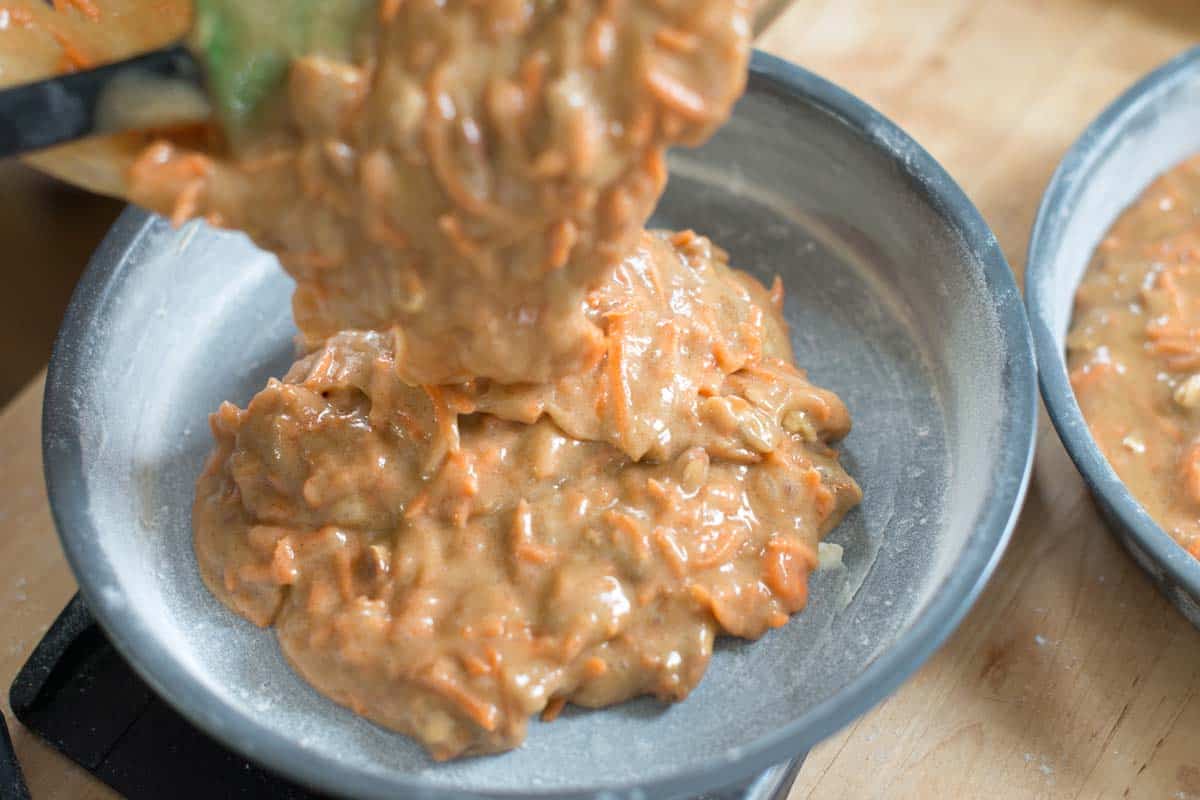 To bake, we divide the batter between two buttered and floured cake pans. The cake layers will bake in the oven for 35 to 40 minutes (they smell amazing). Once baked, we let the layers cool completely then add our extra creamy cream cheese frosting.
YOU MAY ALSO LIKE: This easy banana bread recipe with ripe bananas, flour, butter, eggs and spices. This one is so good, you'll want to make 2 loaves. Jump to the full Banana Bread Recipe.
Ultra-Creamy Frosting
The frosting is actually the same one we used to top our Guinness Chocolate Cake. It's made with cream cheese, powdered sugar and heavy cream and is absolutely delicious.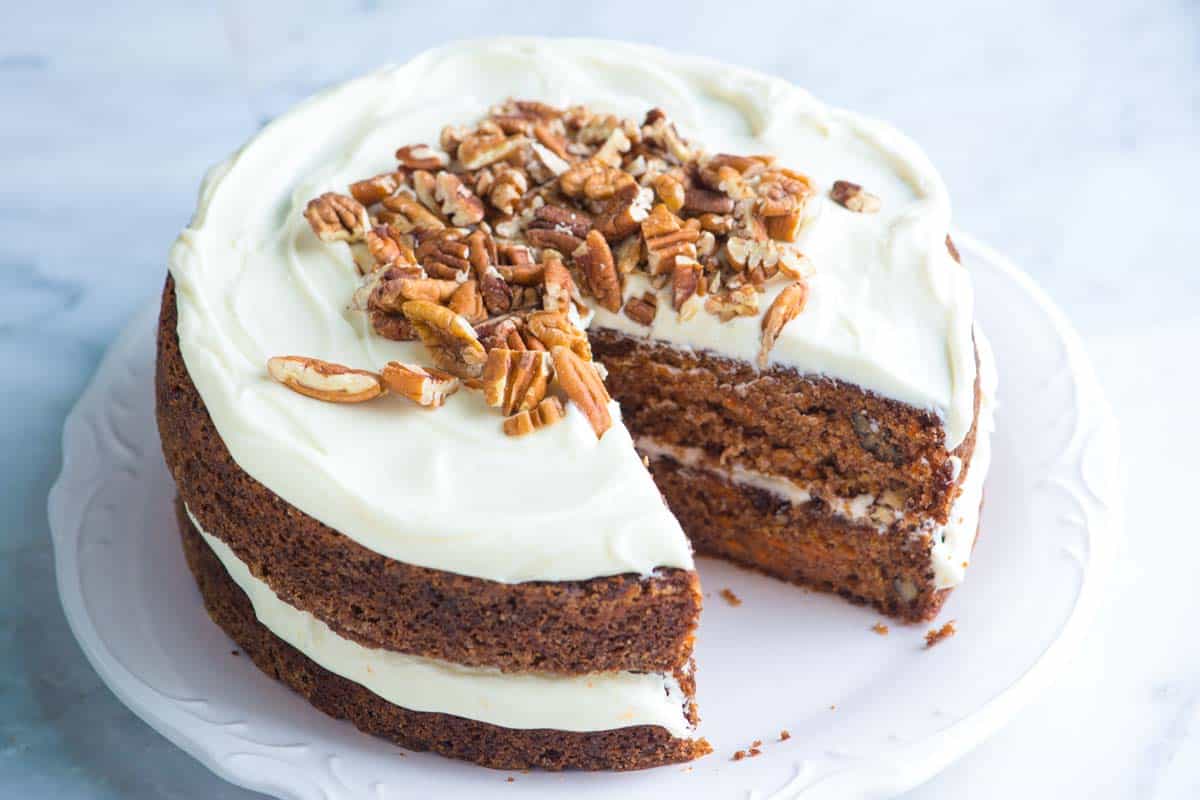 If you're not into frostings or if you don't have the ingredients on hand, try the cake as-is without any frosting at all. Or, sift a little powdered sugar on top. When Adam and I were testing this recipe, we skipped the frosting the first couple of times and actually fell in love with the cake completely plain.
YOU MAY ALSO LIKE: A lovely pineapple upside-down cake recipe that's extremely simple to make. Jump to the Fresh Pineapple Upside Down Cake Recipe.
Recipe updated, originally posted April 2014. Since posting this in 2014, we have tweaked the recipe to be more clear and added a quick recipe video. – Adam and Joanne
Incredibly Moist and Easy Carrot Cake Recipe
This carrot cake is incredibly moist and light. It's up to you when it comes to the grated carrots. You can hand grate for the finest carrot pieces that sort of melt into the cake batter. A food processor makes quick work of grating carrots, but the pieces will be slightly larger. This is what we do and find it works really well in the cake. A third option is to use pre-grated carrots from the store. They work very well and help with prep time. The cake is very forgiving. You can make this with or without nuts and raisins. We like using both granulated and brown sugar in this — you could just use granulated sugar, though.
**The creamy frosting recipe shared below is a soft frosting and is not ideal for frosting the entire cake. It is more of a stabilized whipped cream consistency than traditional cream cheese frosting.
Makes 1 (9-inch) double layer cake (16 to 22 slices) or 22 to 24 cupcakes
You Will Need
2 cups (260 grams) all-purpose flour
2 teaspoons baking soda
1 teaspoon kosher salt
1 1/2 teaspoons ground cinnamon
1 1/4 cups (295 ml) canola or other vegetable oil
1 cup (200 grams) granulated sugar
1 cup (200 grams) lightly packed brown sugar
1 teaspoon vanilla extract
4 large eggs
3 cups (300 grams) grated peeled carrots (5 to 6 medium carrots)
1 cup (100 grams) coarsely chopped pecans
1/2 cup (65 grams) raisins
Frosting
8 ounces (225 grams) cream cheese, at room temperature
1 1/4 cups (140 grams) powdered sugar
1/3 cup (80 ml) heavy whipping cream
1/2 cup (50 grams) coarsely chopped pecans, for topping cake
Directions
Make Batter

Heat the oven to 350º F. Grease two 9-inch round cake pans and line the bottom with parchment paper then grease the top of the paper. Or, grease and flour the bottom and sides of both pans.

In a medium bowl, whisk flour, baking soda, salt, and the cinnamon until well blended. In a separate bowl, whisk the oil, sugars and vanilla. Whisk in eggs, one at a time, until blended.

Switch to a large rubber spatula. Scrape the sides and bottom of the bowl then add the dry ingredients in 3 parts, stirring gently until they disappear and the batter is smooth. Stir in the carrots, nuts and raisins.

Bake Cake

Divide the batter between the prepared cake pans. Bake until the tops of the cake layers are springy when touched and when a toothpick inserted into the center of the cake comes out clean; 35 to 45 minutes.

Cool cakes in pans for 15 minutes then turn out onto cooling racks, peel off parchment paper and cool completely.

To Finish

In a large bowl, beat cream cheese with a handheld mixer on medium speed until creamy, about 1 minute. Beat in the powdered sugar, a 1/4 cup at a time until fluffy. Pour in cream and beat on medium speed for 1 minute. Chill covered until ready to frost cake.

When the cake layers are completely cool, frost the top of one cake layer, place the other cake layer on top. Decoratively swirl the top of the cake with remaining frosting, leaving the sides unfrosted. Scatter nuts on top.
Adam and Joanne's Tips
Preparing the Cake Pans: Even though it is a bit time consuming, don't skimp on prepping the pans. It's never fun to find your cake layer is stuck to the bottom of your pan. (If this does happen to you, leave the cake pan upside down and allow gravity to do its thing).
How to Make Carrot Cake Cupcakes: For cupcakes, we'd recommend baking for 14 to 18 minutes (or until a tester inserted into the center of one comes out clean). Then let them cool for a few minutes in the cupcake pan before transferring them to a cooling rack. The recipe should make about 24 cupcakes.
Using a bundt pan: We have never done this in our kitchen, but a 10-cup or 12-cup Bundt pan should be fine for this recipe. You will likely need to increase the baking time by about 30% in the 10-cup pan, somewhat less in the 12-cup.
Using a 9-inch by 13-inch pan rectangular pan: Simple add all the batter to the rectangular pan and bake. The bake time should be similar.
We use kosher salt. If you don't have it on hand, keep this in mind: 1 teaspoon fine sea or table salt = about 1 1/4 teaspoons kosher salt.
Recipe inspired and adapted from Smitten Kitchen's Recipe for Carrot Cake.
Nutrition facts: The nutrition facts provided below are estimates. We have used the USDA Supertracker recipe calculator to calculate approximate values. We assumed 22 slices of cake.
If you make this recipe, snap a photo and hashtag it #inspiredtaste — We love to see your creations on Instagram and Facebook! Find us: @inspiredtaste
Nutrition Per Serving:
Calories
384
/
Protein
4 g
/
Carbohydrate
40 g
/
Dietary Fiber
2 g
/
Total Sugars
29 g
/
Total Fat
24 g
/
Saturated Fat
5 g
/
Cholesterol
53 mg