Learn what sloe gin is and how to use it to make one of our favorite cocktails: the sloe gin fizz.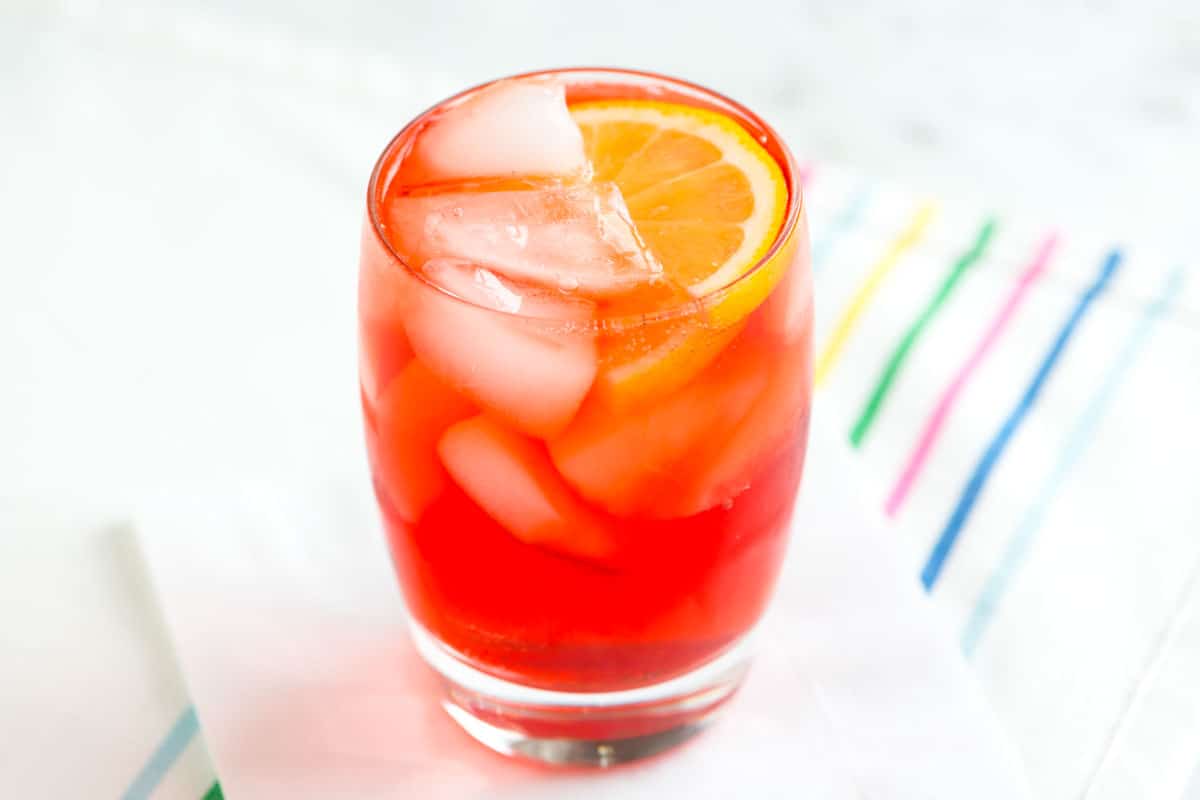 Have you ever tried a sloe gin fizz? It's refreshing and delightfully balances sweet against tart. It begins with Sloe Gin then we add fresh lemon, a little sugar and club soda. Cheery and simple.
What is Sloe Gin?
Sloe gin comes from across the pond in England and has everything to do with "sloe berries." They're small wild berries found across England. You wouldn't want to pick them off the bush, though. Apparently, they taste terrible.
In all their wisdom, people found a way to turn these tiny berries into something tasty. How? By soaking them in liquor, of course. The berries were soaked in gin along with a touch of sugar. And that's how Sloe Gin came to be.
Buying Sloe Gin
Today, you'll most likely find two varieties of Sloe Gin in the US. They're easy to tell apart since one is pricy and has a high alcohol content and the other is inexpensive and has an alcohol content closer to 30 proof.
Let's start with the more expensive variety. Two common Sloe Gins are Plymouth and Bitter Truth. Both of these are made in the style mentioned above – soaking sloe berries in high proof gin. Depending on where you live, these may be difficult to find. (It is for us, unless we buy online).
The less expensive sloe gins are lower in alcohol content and cost much less ($10-$15). In fact, you might even find that gin was never actually used and instead a neutral grain alcohol. Since these are much less in alcohol content, if you're using them, you'll want to also add regular gin to your cocktail. That helps with taste. (The less expensive sloe gins can be a bit sweeter). If you were to use the more expensive variety, there's no need to add any extra gin at all. We've provided instructions below in the recipe for both options.
One more thing, you can actually make your own Sloe Gin at home. If you're up to it, check out this recipe for Homemade Sloe Gin.
Did you enjoy our Sloe Gin Fizz Cocktail Recipe? If so, we bet you'll love these:
Sloe Gin Fizz Cocktail
A sloe gin fizz is refreshing and delightfully balances sweet against tart. It begins with Sloe Gin then we add fresh lemon, a little sugar and club soda.
You Will Need
1 ounce (2 tablespoons) sloe gin
1 ounce (2 tablespoons) gin
1 to 1 1/2 ounce (2 to 3 tablespoons) fresh lemon juice
1 teaspoon simple syrup or 1 to 2 teaspoons sugar
2 ounces (1/4 cup) club soda
Lemon slice for serving
Ice
Directions
1Add sloe gin, regular gin, 1/2 ounce of lemon juice and simple syrup (or sugar) to a cocktail shaker filled half way with ice. Shake vigorously until chilled. Taste then adjust with additional lemon or simple syrup/sugar. Shake.

2Strain cocktail into a glass filled with ice then top with club soda and garnish with lemon wedge.
Adam and Joanne's Tips
Note on Sloe Gin: Since there are two varieties of sloe gin that are available the US, the recipe changes based on which you have at home. The recipe above assumes that you are using the less expensive 30-proof variety of sloe gin. If you are using the more expensive, higher proof option, do not add additional gin, and instead increase the amount of sloe gin from 1 ounce to 2 ounces.
Note on simple syrup: We realize we are only asking you to use 1 teaspoon of simple syrup and if you are only making one or two drinks, you may not want to make simple syrup yourself. You can buy it or substitute regular sugar. If using sugar, you will need to stir or shake the gin, lemon juice and sugar well so that the sugar granules dissolve. If you do plan on making your own simple syrup, it is very easy and you can follow our instructions by seeing our article for how to make simple syrup.
Nutrition Facts: The nutrition facts provided below are estimates. We have used the USDA Supertracker recipe calculator to calculate approximate values.
If you make this recipe, snap a photo and hashtag it #inspiredtaste — We love to see your creations on Instagram and Facebook! Find us: @inspiredtaste
Nutrition Per Serving
Serving Size
1 drink
/
Calories
163
/
Protein
0 g
/
Carbohydrate
5 g
/
Dietary Fiber
0 g
/
Total Sugars
3 g
/
Total Fat
0 g
/
Saturated Fat
0 g
/
Cholesterol
0 mg
/
Sodium
2 mg