How to make silky smooth butternut squash soup. In this easy recipe, we roast butternut squash on top of garlic cloves and fresh thyme, and then blend it with stock for an ultra-flavorful soup. Jump to the Roasted Butternut Squash Soup Recipe or read on to see our tips for making it.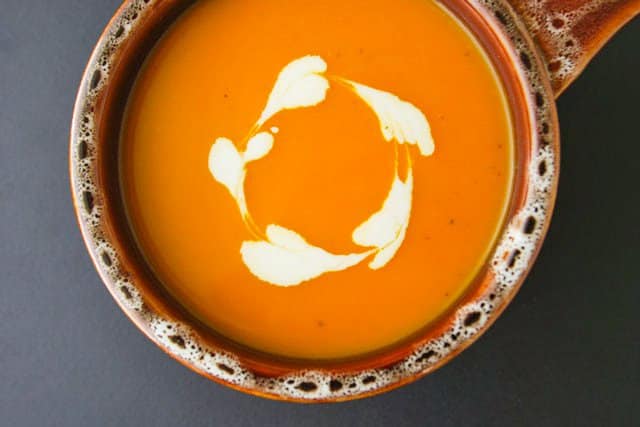 How to Make Butternut Squash Soup
This is a simple recipe and is just perfect for chilly days. By roasting the squash cut in half, we cut down on hands-on time. The squash happily roasts away in the oven and becomes sweet and tender.
The ingredient list is simple and pretty short. We will need a squash, garlic, and fresh herbs. I love thyme, but rosemary and sage are also really lovely in this soup. By roasting the squash with the garlic and herbs, it becomes fragrant and flavorful.
When the squash is tender and caramelized, it's time to blend. I love using a rich stock. For a vegetarian soup, try this homemade veggie stock. It is packed with so much flavor, we will often sip it by itself. For a chicken stock, I love using bone broth. (Here's our homemade bone broth.)
If you are using store-bought stock, try to use something that's a bit richer in flavor. I'll often reach for store-bought bone broths since they usually have more flavor than regular canned or boxed stock.
Since this recipe is so darn simple, you can play around with it as much as you like. Try other varieties of squash or use pumpkin in place of the butternut squash. Or add some roasted potatoes, onions or carrots. We use potatoes and carrots to make our popular vegetable soup.
We love adding a tiny splash of cream at the end, too. It really makes the soup silky-smooth. If you are vegan, a little unsweetened coconut milk is a lovely idea. Or, take a look at our dreamy butternut squash soup that's vegan and still unbelievably delicious.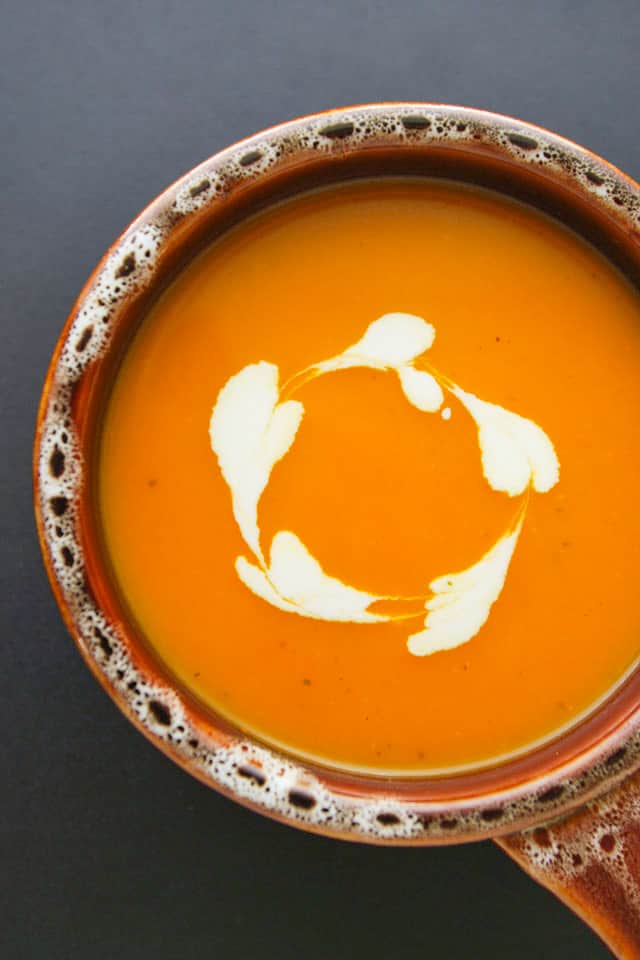 More Winter Squash Recipes
Recipe updated, originally posted October 2009. Since posting this in 2009, we have tweaked the recipe to be more clear. – Adam and Joanne
Easy Roasted Butternut Squash Soup
This butternut squash soup is very simple to make. Butternut squash is roasted whole on top of garlic cloves and fresh thyme until tender and sweet. Everything is then blended with vegetable stock until creamy. Since this recipe is so simple, you can play around with it as much as you like. Try other kinds of squash or pumpkin in place of the butternut squash. Or add some roasted potatoes, onions or carrots.
Makes approximately 6 servings
You Will Need
1 (2 1/2 to 3 pound) butternut squash
3/4 teaspoon fine sea salt or more to taste
1 tablespoon extra-virgin olive oil
Salt and fresh ground black pepper
3 sprigs fresh thyme, rosemary or sage
4 garlic cloves, with skins left on
4 to 5 cups low-sodium vegetable or chicken stock, see our homemade chicken stock recipe
1/4 cup cream, optional
Directions
1Heat the oven to 400 degrees F. Lightly oil a rimmed baking sheet or baking dish.

2Using a heavy chef's knife, cut squash in half, lengthwise. Scoop out and discard the seeds. Brush each half, inside and out, with olive oil. Season the squash all over with salt (about 1/2 teaspoon) and pepper.

3Make a bed of thyme and garlic cloves in the middle of the baking sheet. Place the squash, cut-side-down, on top of the thyme. Roast until the squash is completely tender, about 1 hour.

4Remove from the oven and let cool until easily handled. Scoop out the flesh and add to a large saucepan. Squeeze the roasted garlic from the skins and throw away the skins. Throw away the thyme.

5Pour 4 cups of stock into the saucepan and bring to a simmer. Using a blender or immersion blender, blend soup until completely smooth. Season to taste with salt and pepper. Return soup to saucepan and thin, if necessary, with additional stock until desired consistency is reached. Stir in cream (optional).
Adam and Joanne's Tips
Nutrition Per Serving
Calories
287
/
Protein
10 g
/
Carbohydrate
45 g
/
Dietary Fiber
7 g
/
Total Sugars
8 g
/
Total Fat
11 g
/
Saturated Fat
5 g
/
Cholesterol
20 mg
/
Sodium
546 mg