Here's an easy pesto pizza with butternut squash, mozzarella cheese and tomatoes. Jump to the Butternut Squash and Pesto Pizza Recipe or read on to see our tips for making it.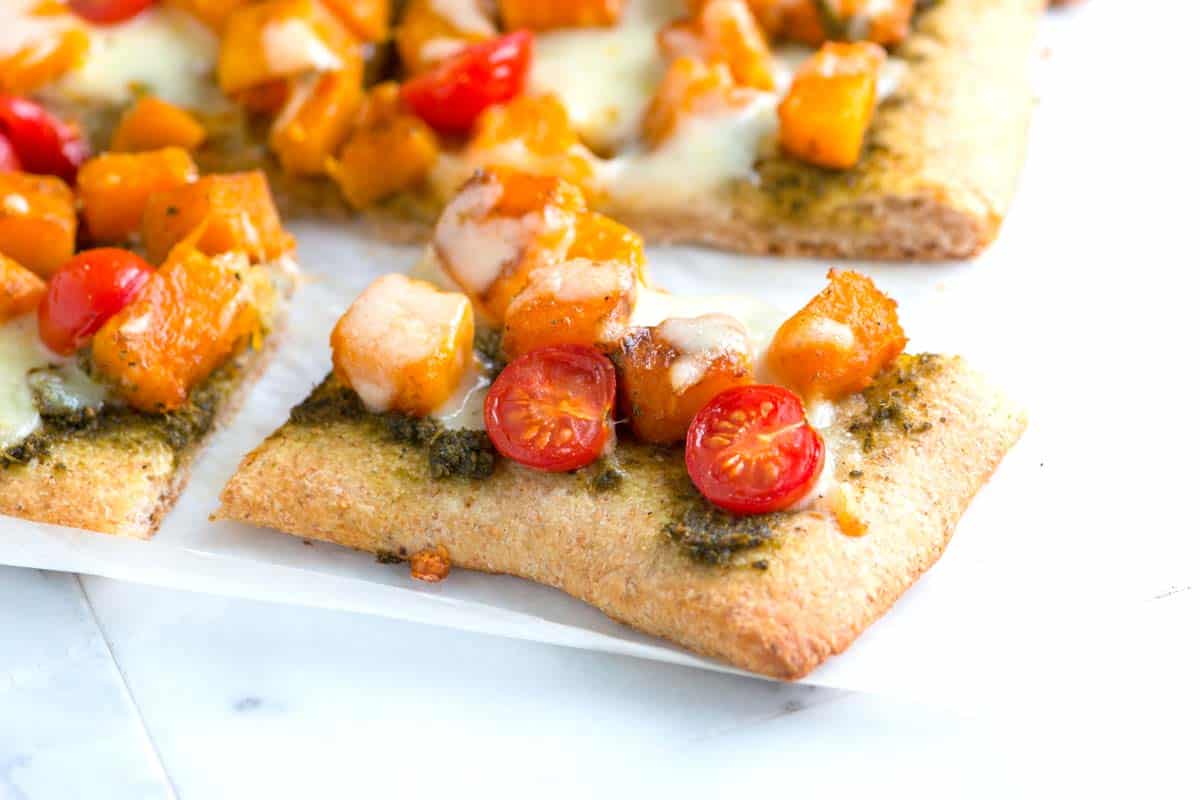 – This Recipe is Sponsored by Pillsbury –
We almost always have homemade or store-bought pesto in our kitchen. It adds so much flavor with little effort. We use it all the time and especially love using it as a substitute for tomato pizza sauce.
YOU MAY ALSO LIKE: Simple roasted butternut squash recipe with cinnamon, brown sugar and a little cayenne. Jump to the Roasted Butternut Squash Recipe.
How to Make Pizza with Pesto and Butternut Squash
This pizza is so fresh and full of flavor. Basil pesto brings a ton of flavor by itself, but when you add sweet butternut squash, bright tomatoes and mozzarella cheese everything really pops. You can even make this in 30 minutes (maybe less), making this a great weekday meal.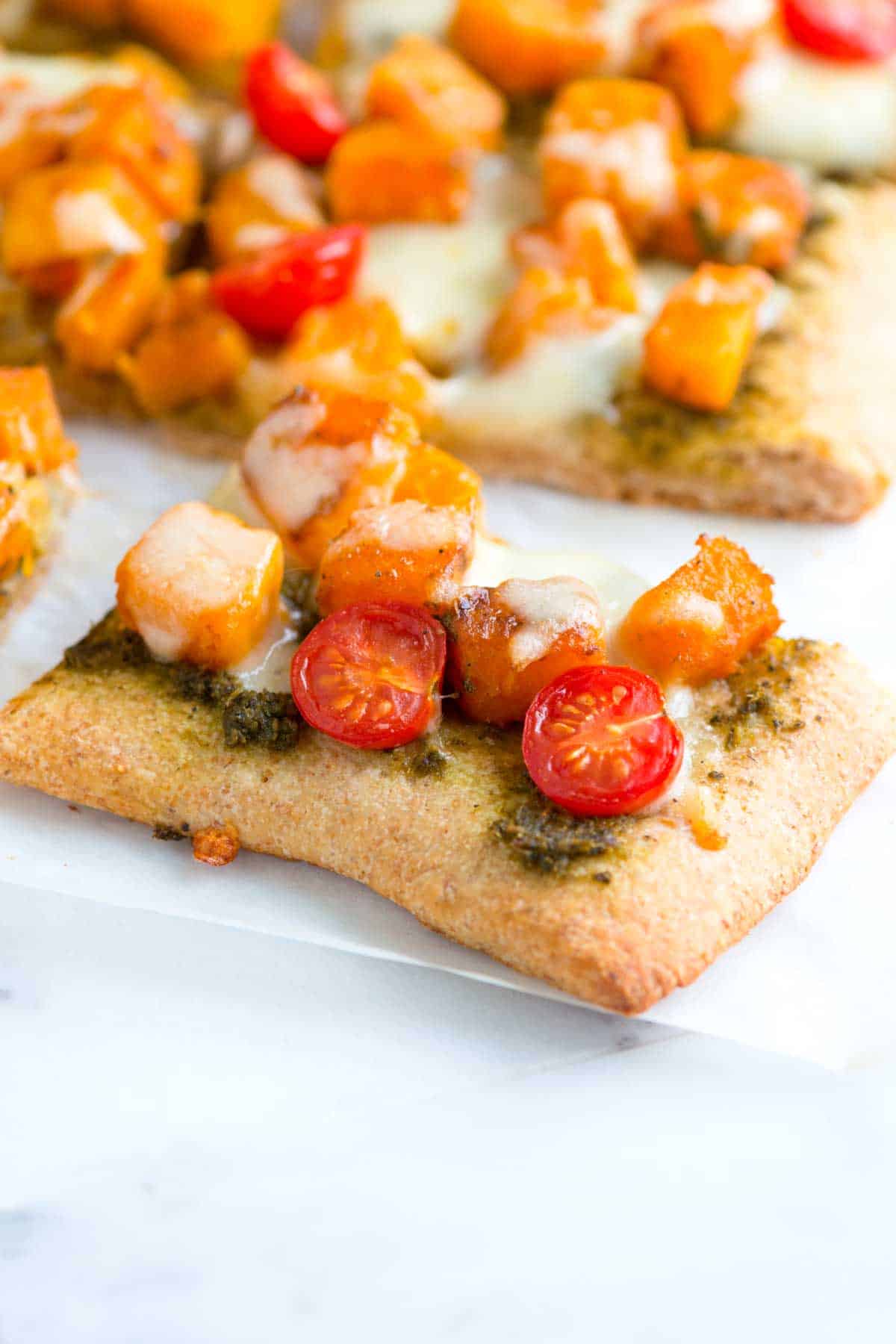 The pizza dough we used is actually from Pillsbury. You may have noticed one of their new products showing up in your grocery store – their new Artisan Pizza Crust with Whole Grain. If you can't find Pillsbury's pizza crust, feel free to use any store-bought pizza dough or homemade.
Keep this pizza meatless or add some roasted shrimp — here's my favorite way to cook them. I'd roast them separately then add them to the pizza once baked. This way the pizza cooks perfectly and the shrimp don't overcook.
YOU MAY ALSO LIKE: When it comes to the pesto, you don't have to use basil. Try replacing the basil with kale. We did this for our kale pesto pasta and loved it. Jump to the Kale Pesto Pasta Recipe.
Recipe updated, originally posted November 2012. Since posting this in 2012, we have tweaked the recipe to be more clear. – Adam and Joanne
Butternut Squash and Pesto Pizza Recipe
We usually have homemade or store-bought pesto in our kitchen. It adds so much flavor with little effort from you! This pizza recipe only calls for about half of a medium butternut squash. You can store raw cut butternut squash in the refrigerator up to 4 days; just make sure it is tightly covered. We used Pillsbury's wholegrain pizza crust for this, but feel free to use your favorite pizza dough recipe or another brand of pizza dough.
You Will Need
1 (13.8 ounce) can Pillsbury Artisan Crust with Wholegrain or substitute 12 ounces of refrigerated pizza dough
1 tablespoon extra-virgin olive oil
Half of a medium butternut squash, seeds removed and diced (3 cups)
1/2 teaspoon sea salt
1/2 cup (120 ml) vegetable or chicken stock
4 ounces mozzarella cheese, coarsely grated (about 1 cup)
3 tablespoons pesto, see our homemade pesto recipe
10 cherry tomatoes, halved
Directions
1Heat oven to 400 degrees F. Then spray a baking sheet (with sides) with cooking spray.

2Form pizza dough into a 15-inch by 10-inch rectangle (this doesn't have to be exact, just close). Place dough onto baking sheet then bake for 8 minutes.

3Meanwhile, heat the olive oil in a large skillet over medium heat. Add the butternut squash and a 1/2 teaspoon of salt. Cook, stirring occasionally, 4 to 6 minutes or until the squash begins to brown. Add the stock and cook another 5 minutes until the squash is easily pierced with a fork.

4Spread the pesto over the par-baked pizza crust then scatter the butternut squash, mozzarella cheese and cherry tomato halves on top. Bake the pizza until the cheese is melted and starts to bubble, 6 to 10 minutes.