How to make easy chocolate cupcakes with a sour cream chocolate frosting. The batter for these cupcakes combines butter, cocoa powder and sour cream, these chocolate cupcakes are light, chocolaty and moist. Jump to the Easy Double Chocolate Sour Cream Cupcakes Recipe or read on to see our tips for making them.
How to Make Double Chocolate Cupcakes From Scratch
There's no need to break out the mixer for these cupcakes or the frosting. Just a few bowls, a whisk and a spoon.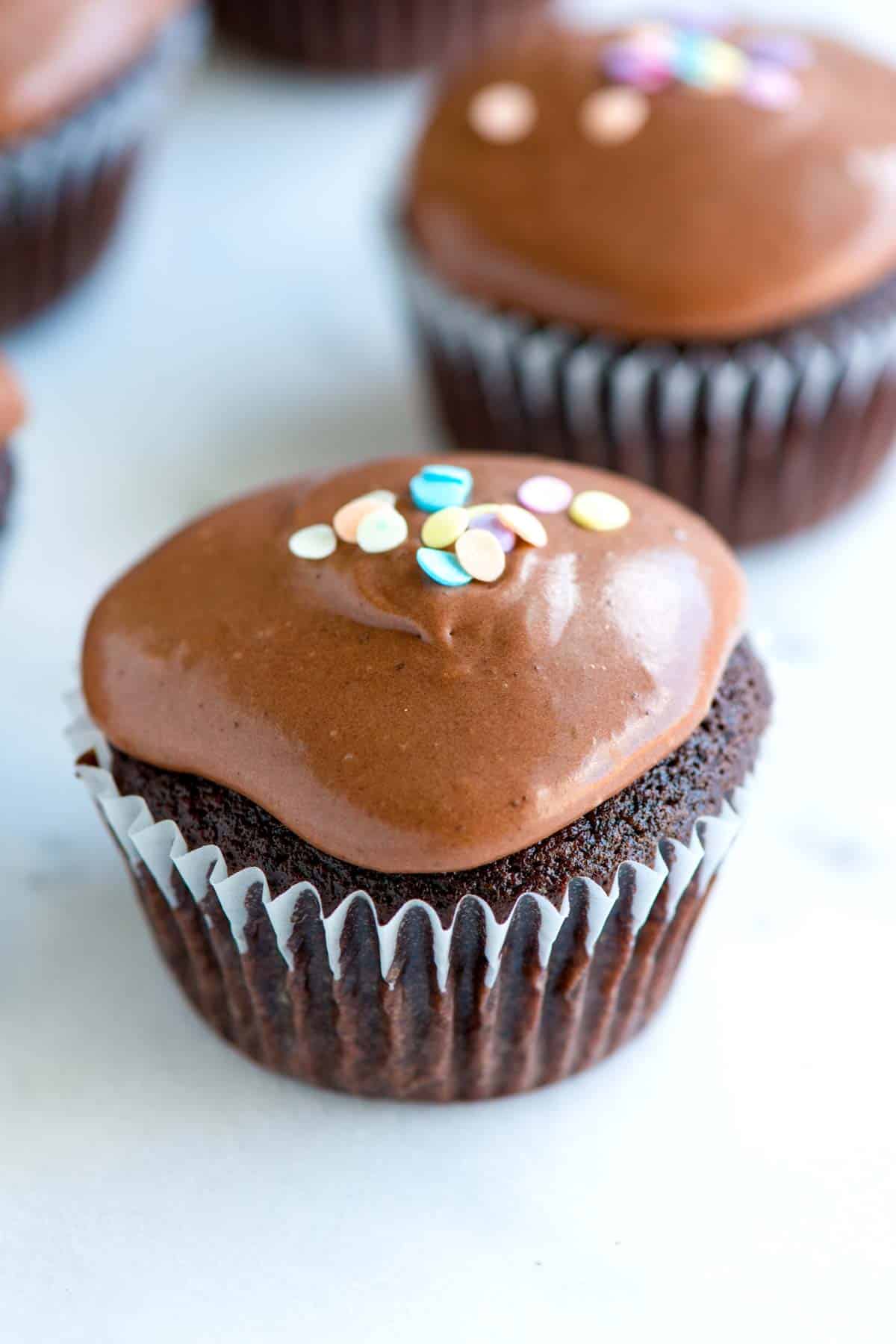 The cupcakes are simple — melt butter, add coffee and cocoa powder then whisk until smooth. Add flour, sugar and a few more ingredients like baking soda and salt then stir in sour cream, eggs and vanilla. Simple.
By the way, we know, coffee sounds a little odd, but trust us. You don't end up tasting the coffee, but you do taste the chocolate. That's right — coffee boosts the flavor of the cocoa powder, making these taste rich.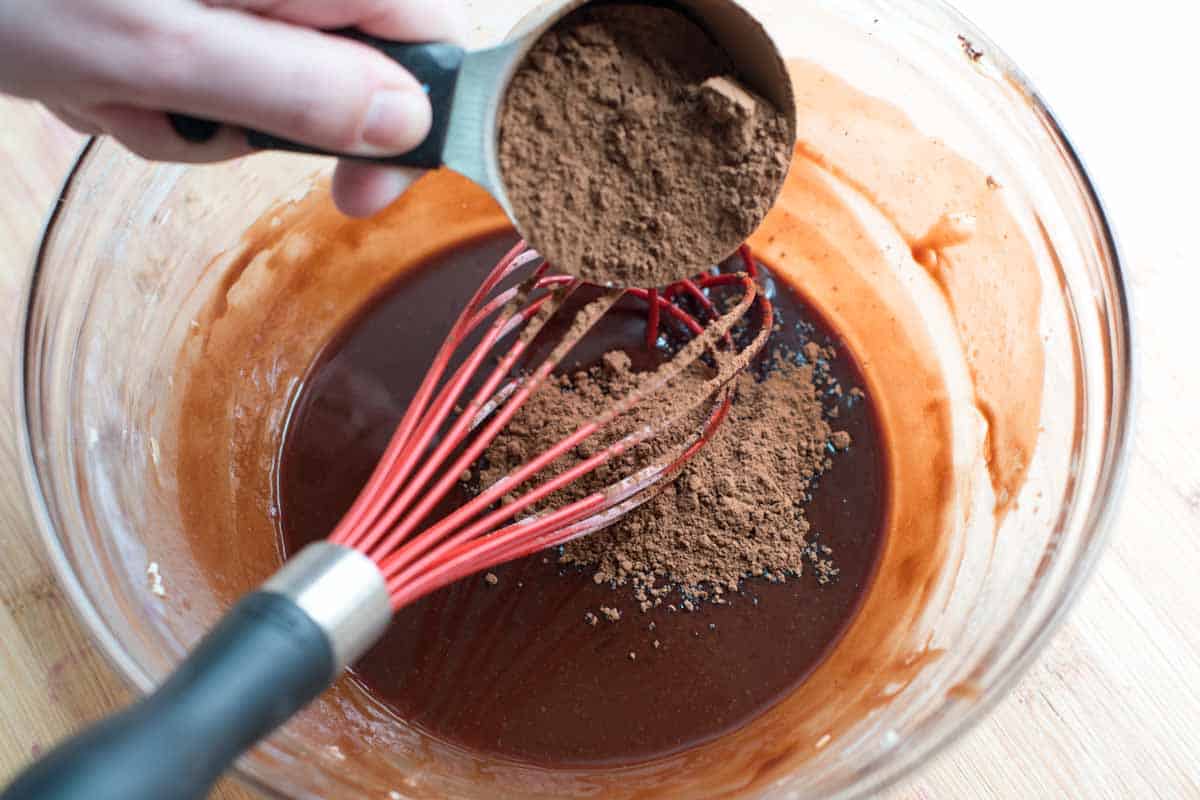 We love adding a sour cream chocolate frosting to these. If you've never had it, it tastes like a combination of chocolate pudding and buttercream. You don't pipe it onto the cupcakes and instead just spoon or spread it on top. The frosting then has enough powdered sugar in it to gently fall over the sides of the cupcake, but not so far that it's messy.
For more chocolate cake recipes, take a look at our favorite chocolate cupcakes recipe or this amazing chocolate cake.
Recipe updated, originally posted April 2013. Since posting this in 2013, we have tweaked the recipe to be more clear. – Adam and Joanne
Double Chocolate Cupcakes
These double chocolate cupcakes are so easy to make. They are light, but so chocolaty. We top each cupcake with a spoonful of sour cream chocolate frosting — a frosting that's between pudding and buttercream. It's rich, chocolaty and delicious.
We add coffee to this recipe — you don't really taste the coffee. It's there to bring out as much chocolate flavor as possible. If you don't want to use coffee, water will also work. Also, you can make the sour cream chocolate frosting a day in advance — just keep covered in the refrigerator.
You Will Need
Chocolate Cupcakes
12 tablespoons (170 grams or 1 1/2 sticks) unsalted butter
3/4 cup (175 ml) brewed coffee
1/2 cup (40 grams) unsweetened cocoa powder
1 1/2 cups (195 grams) all purpose flour
1 1/2 cups (300 grams) sugar
1 1/2 teaspoons baking soda
1/4 teaspoon sea salt
2 large eggs
1/2 cup (125 grams) sour cream
1 teaspoon vanilla extract
Sour Cream Frosting
4 tablespoons (55 grams or 1/2 stick) unsalted butter
1 ounce (30 grams) unsweetened chocolate, chopped
3 tablespoons unsweetened cocoa powder
1 teaspoon vanilla extract
1 cup (115 grams) powdered sugar
1/4 to 1/3 cup (60 to 80 grams) sour cream
Directions
Make Cupcakes

1Heat oven to 350 degrees F. Place paper baking cups in each of 18 regular-size muffin cups.

2Melt butter in a medium saucepan over medium heat then add coffee and warm through. Remove from heat then whisk in cocoa powder until smooth. Cool 1 minute.

3In a large bowl, whisk the flour, sugar, baking soda and salt in a large mixing bowl. In a small bowl, whisk together eggs, sour cream and the vanilla extract until well blended.

4Gently stir the cocoa and coffee mixture into the flour mixture until combined. You do not need to beat, just stir until incorporated. Add the egg and sour cream mixture and continue to stir until blended.
Bake Cupcakes

1Fill prepared muffin cups two-thirds full then bake until a tooth pick is inserted and comes out clean, 16 to 20 minutes. Cool in the pan for 5 minutes then transfer to a cooling rack and cool completely before frosting.
Make Frosting

1Melt the butter and chocolate in a small saucepan over low heat, stirring constantly until smooth. Transfer butter and chocolate to a medium bowl then whisk in the cocoa powder and vanilla extract.

2Whisk in the powdered sugar and 1/4 cup of the sour cream. The frosting should be loose, but spreadable. Add more sour cream as necessary. Refrigerate 30 minutes. (The frosting will thicken slightly after refrigeration).
Frost Cupcakes

1Check the consistency of the frosting — if it is a little too loose, refrigerate it for another 30 to 45 minutes. It thickens slightly when cold.

2To frost cupcakes, spoon or spread a generous tablespoon on top of each cooled cupcake.