Quick and simple sparkling cranberry cocktail with cranberry juice, orange liqueur and sparkling wine. Jump to the Sparkling Cranberry Cocktail or read on to see our tips for making it.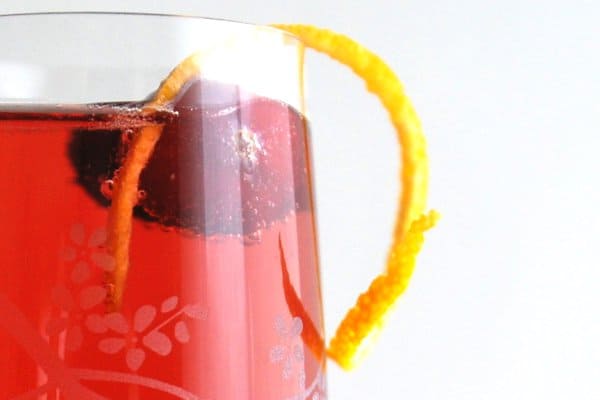 We don't like our cocktails to be too sweet. We use dry sparkling wine and let the orange liqueur and cranberry juice sweeten the drink ever so slightly.
Look for a moderately priced Champagne or dry sparkling wine. We usually will spend $15 to $20. The most classic option is to use Champagne, but an American sparking wine can work in its place if you are having trouble finding something appropriate. Cava from Spain or dry Prosecco from Italy are good options, as well.
Cranberry juice is perfect for this, but pomegranate or a cranberry juice blend would also work well. To make a perfect sparkling cocktail, add the juice and liqueur first then fill the glass with the Champagne or sparkling wine. This way, the drink mixes while you pour.
YOU MAY ALSO LIKE: This champagne cocktail recipe has everything we love about a classic cosmopolitan cocktail, but with the addition of bubbles. Jump to the Champagne Cosmopolitan Cocktail Recipe.
Recipe updated, originally posted December 2011. Since posting this in 2011, we have tweaked the recipe to be more clear. – Adam and Joanne
Sparkling Cranberry Cocktail
Make this cocktail non-alcoholic by omitting the orange liqueur and replacing the sparking wine with a dry sparkling soda or apple cider.
You Will Need
1/4 cup (60 ml) Grand Marnier or triple sec, optional
3 cups (750 ml) chilled cranberry juice
1 (750 ml) bottle chilled dry sparkling wine
Lemon peel for serving
Directions
1Add 2 to 3 teaspoons Grand Marnier to each flute. Fill halfway with cranberry juice. Fill each flute with sparkling wine. garnish the glass with lemon peel, and then serve immediately.