Ridiculously Easy Banana Bread
This is our favorite banana bread recipe! You'll need ripe bananas (three of them), flour, butter, eggs, brown sugar, and spices. It's so good, you'll want to make 2 loaves. So many great reviews! Jump to the Easy Banana Bread Recipe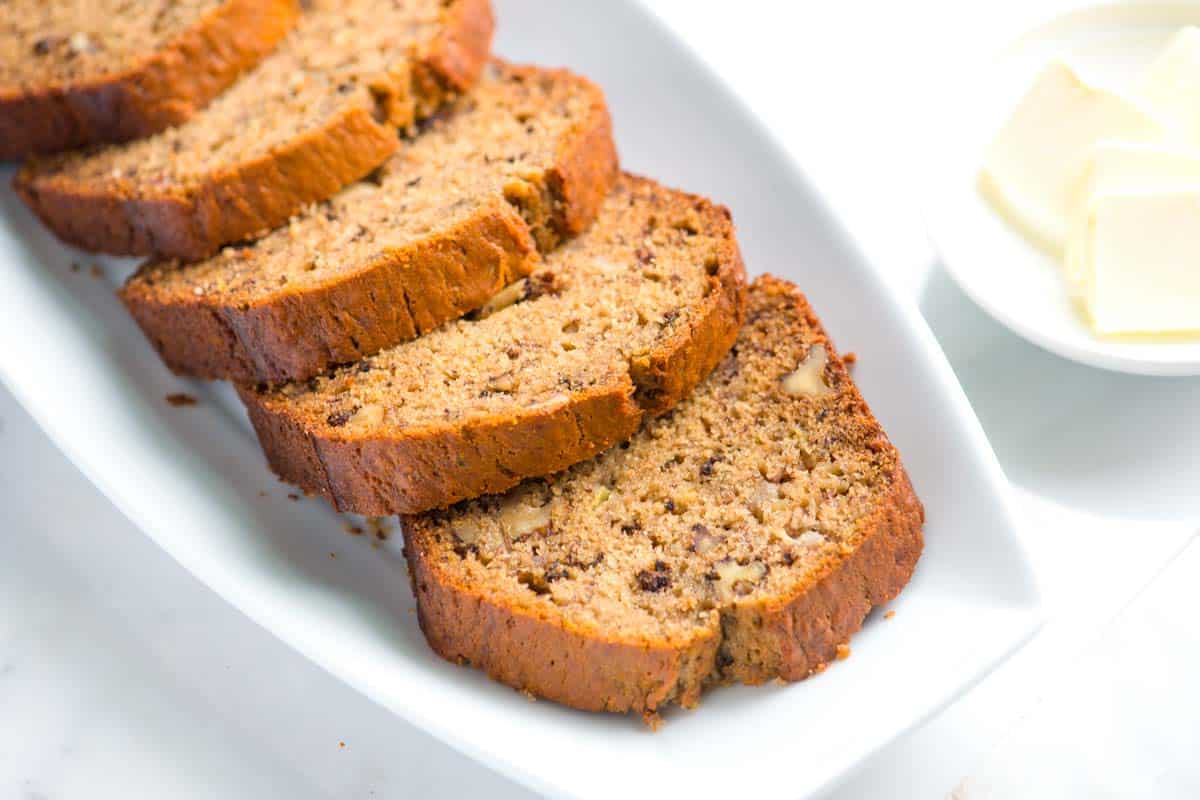 Our Tips for Making the Best Banana Bread
We've been making this classic, moist and utterly delicious banana bread for years and we knew we couldn't miss the opportunity to share it with you. There are no surprises in our recipe — you'll need mashed bananas ( 3 medium bananas are perfect), flour, butter, brown sugar, eggs, baking soda, and spices.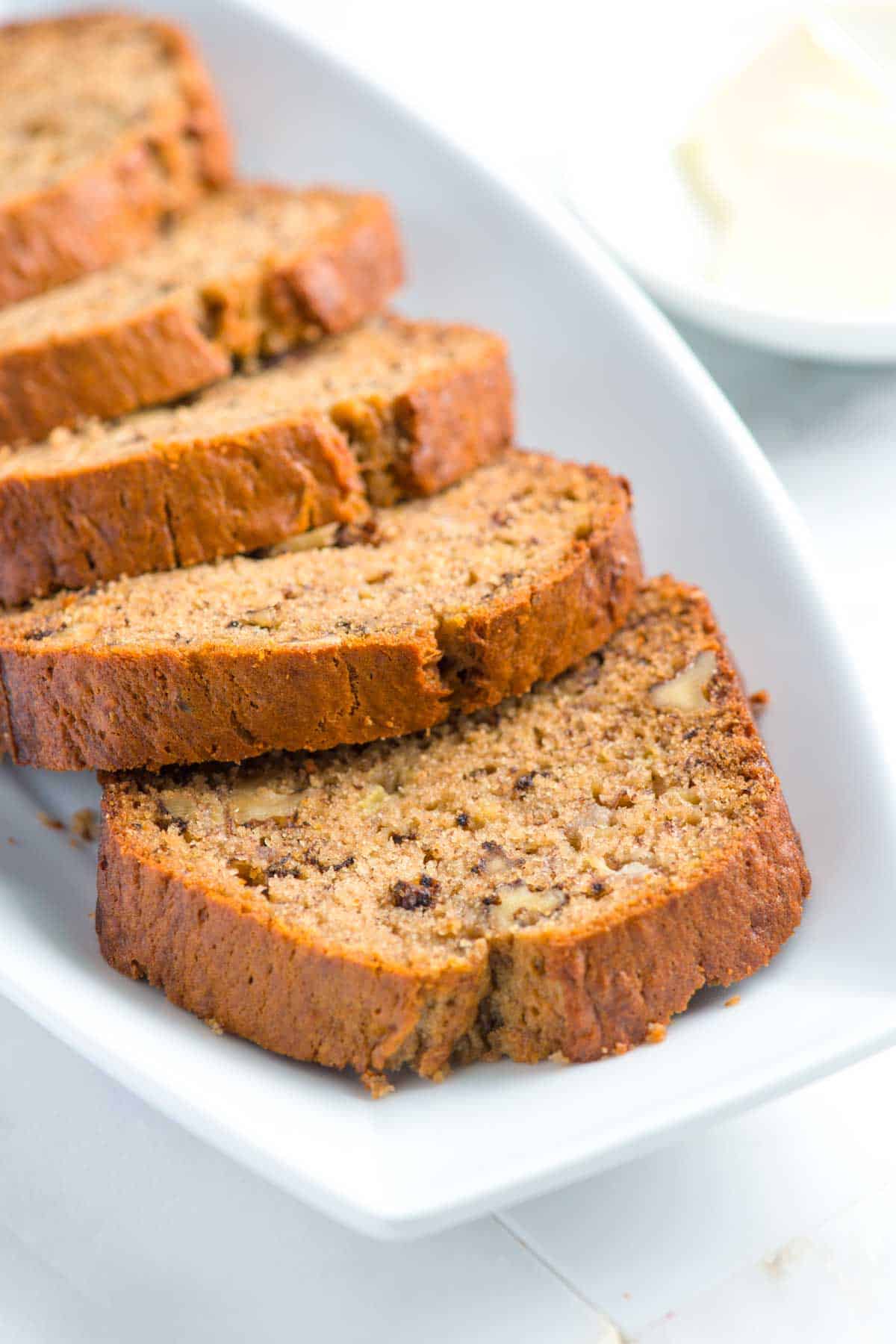 We love banana nut bread, so we almost always add chopped and toasted walnuts or pecans. If you don't like to add nuts, leave them out! It's no problem. Another option is to add chocolate chips and make chocolate chip banana bread. The chocolate banana combo is amazing.
If that gets you excited, you might also want to take a look at our banana chip muffins, which are packed full of chocolate chips. Just in case you are looking for something a little lighter? You might want to check out our healthier banana bread. The recipe calls for lower sugar, olive oil instead of butter, and adds whole grains.
Use ripe bananas. There is no point in baking up a batch of banana bread unless you are using ripe bananas. In fact, if you can wait a day for browned, overripe and speckled bananas, it's even better (I really don't think bananas can be too ripe for this). If your bananas are still green, wait a day or two. You won't regret it.
Quick tip: How to quickly ripen bananas
If you're sitting there with unripe bananas and absolutely need to bake banana bread, there are a couple of tricks for speeding up the ripening process:
Add to a paper bag. If you can wait a day or two, throw the bananas into a brown paper bag. Bananas release ethylene (a ripening hormone). If you can place the bag in a warmer area of your home, the process will go even quicker.
Bake them. For a really quick option, you can bake bananas in their peel to ripen them. This trick works best when the bananas aren't completely green and instead are already starting to ripen. To do it, line unpeeled bananas on a baking sheet and bake in a 300F oven until they look shiny and black (15 to 30 minutes). Don't worry if some banana or juices leak out while they bake.
It's the bananas that make the bread so moist, sweet and flavorful. Once you're ready with your bananas, the rest of the recipe comes together quickly.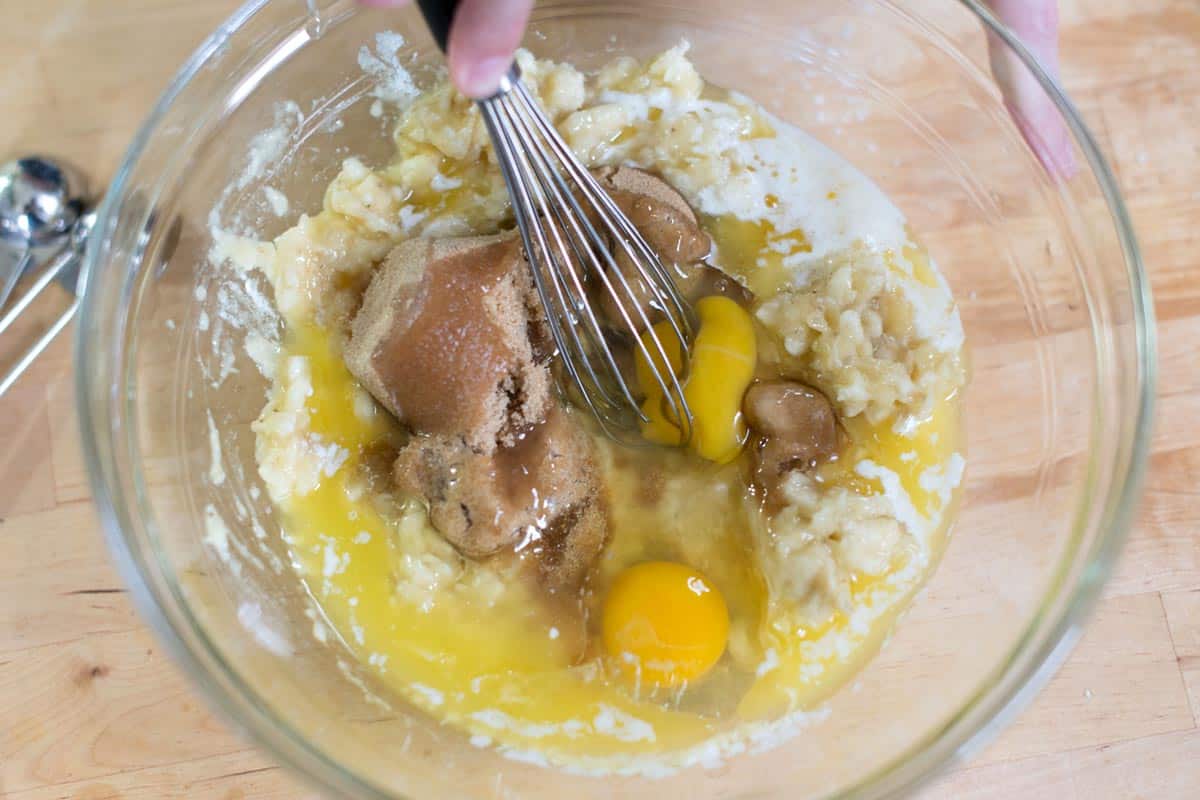 Ingredients you will need
Other than ripe bananas, you need a few more simple ingredients:
We use all-purpose flour, but you can use 100% whole wheat flour or a combination of whole wheat and all-purpose flour. A gluten-free flour blend also works. Just keep in mind that changing the flour from all-purpose will affect the texture of the bread slightly.
Baking soda is our go-to leavener for banana bread. Since posting this recipe, quite a few of our readers have asked if you can make the bread without baking soda and instead use baking powder. While baking powder and baking soda are both excellent leaveners in baking, they are not always interchangeable. While I don't consider baking powder a perfect substitute in this case, if you are in a pinch, you can try substituting 2 teaspoons of baking powder for the 1/2 teaspoon of baking soda we call for in the recipe below. The bread may not brown as well and the texture will be slightly different.
Salt, vanilla extract, and cinnamon add flavor to the bread and make it taste amazing.
Butter is my favorite fat to use when making banana bread since it adds a luscious, buttery flavor to the baked bread. That being said, olive oil is an excellent substitute, take a look at our healthier banana bread that calls for olive oil instead of butter.
Brown sugar helps to make the bread flavorful and extra moist. You can swap other sugars (white granulated sugar or coconut sugar, for example), but the texture of the bread will change slightly.
Eggs provide structure and stability to the bread. We use two eggs. If you do not eat eggs, you can try using two flax eggs instead.
How to mash the bananas
You don't need a mixer to mash bananas — a fork works perfectly fine.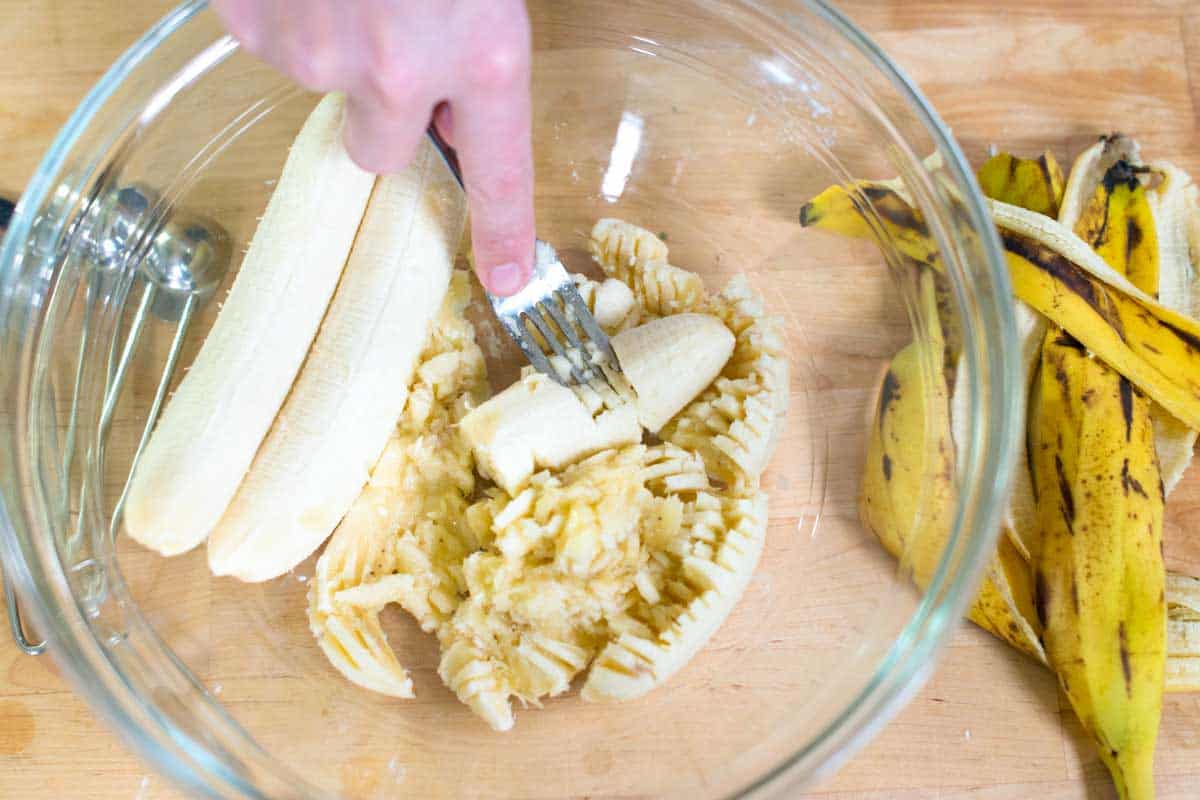 Mixing the batter
You only need a whisk or spatula for the batter. Treat the bread batter like muffin or pancake batter and try not to over mix. You're only looking to mix everything together until you no longer see streaks of flour. This way, the banana bread stays on the lighter, moister side instead of heavy and flat.
How long does it take to bake?
The bread bakes for about one hour. Even though that seems like a long time to wait, the smell of banana bread baking in the oven is to die for. Definitely top 10 on our list of best kitchen smells!
Even more tips
When I'm baking banana bread, I expect it to come out perfectly (and I'm sure you do, too). Here are our best tips for baking quick breads:
Grease the loaf pan and place the pan on an insulated baking sheet or on two regular baking sheets stacked on top of the other. This is a trick we picked up years ago. The insulated sheet (which two baking sheets on top of each other replicates), helps the bottom of the bread bake evenly so it doesn't over brown.
For glass pans, reduce the temperature. If you are using a glass loaf pan, reduce the oven temperature by 25 degrees Fahrenheit.
How can I tell when it's done? You can tell when banana bread is done when you can pierce the bread with a long cake tester and it comes out clean (you can also use a long toothpick or knife).
What if the bread is browning too quickly? If, during baking, the top of the bread looks like it is getting too brown, cover loosely with aluminum foil and continue to bake until done.
Cool to room temperature. Since the loaf continues to cook as it cools, it is best to allow it to cool to room temperature. I cool the bread in the pan for 5 to 10 minutes before turning it out onto a wire rack where it can cool completely.
Storing banana bread
Banana bread actually tastes better on day two — this is also the case with our easy spiced apple bread! Here are our tips for storing it:
Store at room temperature up to two days.
Store, wrapped, in the refrigerator up to a week.
Freeze tightly wrapped slices in freezer bags for two to three months.
What our readers are saying
If you don't believe that our recipe helps you achieve the perfect banana bread loaf at home, take a look at what our readers are saying about the recipe! More reviews are in the comments section below.
"Best banana bread I've ever had." – Kalia

"I made this today. Definitely the BEST banana bread I've ever made and I've made a lot of it. I do a lot of baking, this is delicious!" – Diane

"Super-good! Moist, flavorful, baked in no time! This is my new favorite banana bread recipe" – Julie

"The best banana bread recipe I've used so far and I've used at least 10 different recipes. Moist, not too sweet, soft. Perfection!" – Eva
More Banana Recipes
Recipe updated, originally posted January 2014. Since posting this in 2014, we have tweaked the recipe to be more clear and added a quick recipe video. – Adam and Joanne
Ridiculously Easy Banana Bread
For the best, most flavorful homemade banana bread, the bananas need to be ripe — overripe, brown and speckled is even better. Nuts and chocolate chips are completely optional for this.
A note on pan size: We use a 8 1/2- by 4 1/2-inch loaf pan; if you only have a 9- by 5-inch pan, start checking for doneness 5 to 10 minutes earlier.
Makes 1 loaf, approximately 10 slices
Watch Us Make the Recipe
You Will Need
1 1/2 cups (195 grams) all-purpose flour
1 teaspoon baking soda
1/4 teaspoon fine sea salt
3/4 teaspoon ground cinnamon
3 medium bananas, heavily speckled or even black bananas are best (about 1 1/2 cups mashed)
8 tablespoons (115 grams or 1 stick) unsalted butter, melted and cooled
3/4 cup (150 grams) packed light brown sugar
2 large eggs, lightly beaten
1 teaspoon vanilla extract
1/2 cup (50 grams) walnuts or pecans, toasted and chopped, optional
1/2 cup chocolate chips, optional
Directions
Prepare Batter

Center a rack in the oven and heat to 350 degrees F. Butter and flour an 8 1/2-inch-by-4 1/2-inch loaf pan.

Place the pan on an insulated baking sheet or on two regular baking sheets stacked on top of the other.

Whisk the flour, baking soda, salt, and cinnamon together, set aside. In the bottom of a medium bowl, mash bananas into a chunky paste. Whisk the melted butter, brown sugar, eggs and vanilla into the bananas until blended.

Switch to a large rubber spatula. Scrape the sides and bottom of the bowl then add the dry ingredients in 3 parts, stirring gently until they disappear and the batter is smooth. Stir in nuts and/or chocolate chips.

To Finish

Pour batter into the pan and smooth the top. Bake 55 to 75 minutes, or until a knife inserted into the center of the bread comes out clean.

After 30 minutes in the oven, check the bread for color. If it looks like it is browning too quickly, loosely cover with aluminum foil.

When the bread is done, transfer it, in the pan, to a wire rack to cool for 5 minutes. Unmold the bread and place right side up on the rack. Cool completely.
Adam and Joanne's Tips
It's best to wrap the bread tightly in plastic wrap and store at room temperature overnight or in the refrigerator for up to a week. (Since it's just the two of us, we store in the refrigerator then when we want a slice we'll give it a couple of minutes in our toaster oven to warm up).
Vegan / egg-free banana bread: Replace the eggs with flax eggs. To make 2 flax eggs, mix 2 tablespoons flaxseed meal (ground raw flaxseed) with 5 tablespoons water. Set it aside for about 5 minutes to thicken then use to replace the eggs in the recipe.
Nutrition facts: The nutrition facts provided below are estimates. We have used the USDA database to calculate approximate values.
If you make this recipe, snap a photo and hashtag it #inspiredtaste — We love to see your creations on Instagram and Facebook! Find us: @inspiredtaste
Nutrition Per Serving:
Serving Size
1 slice
/
Calories
258
/
Protein
4 g
/
Carbohydrate
39 g
/
Dietary Fiber
1 g
/
Total Sugars
20 g
/
Total Fat
10 g
/
Saturated Fat
6 g
/
Cholesterol
61 mg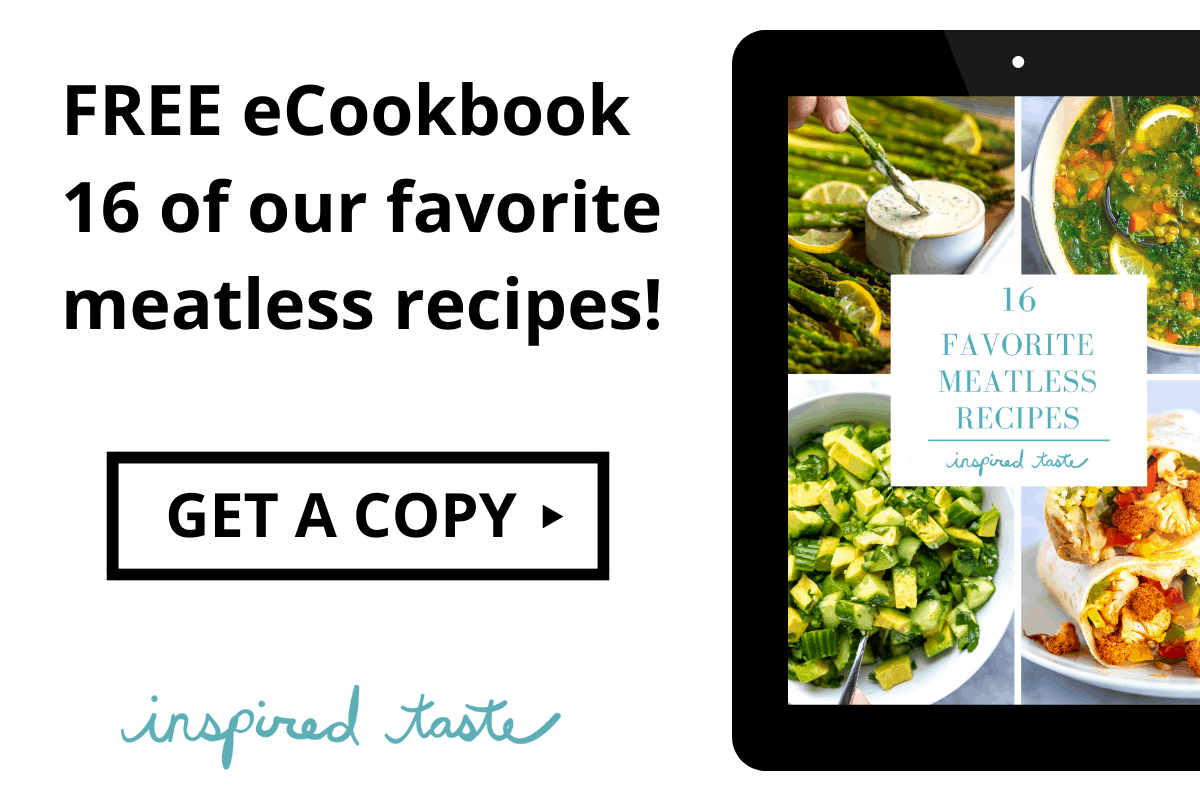 Don't Miss Our Latest Recipes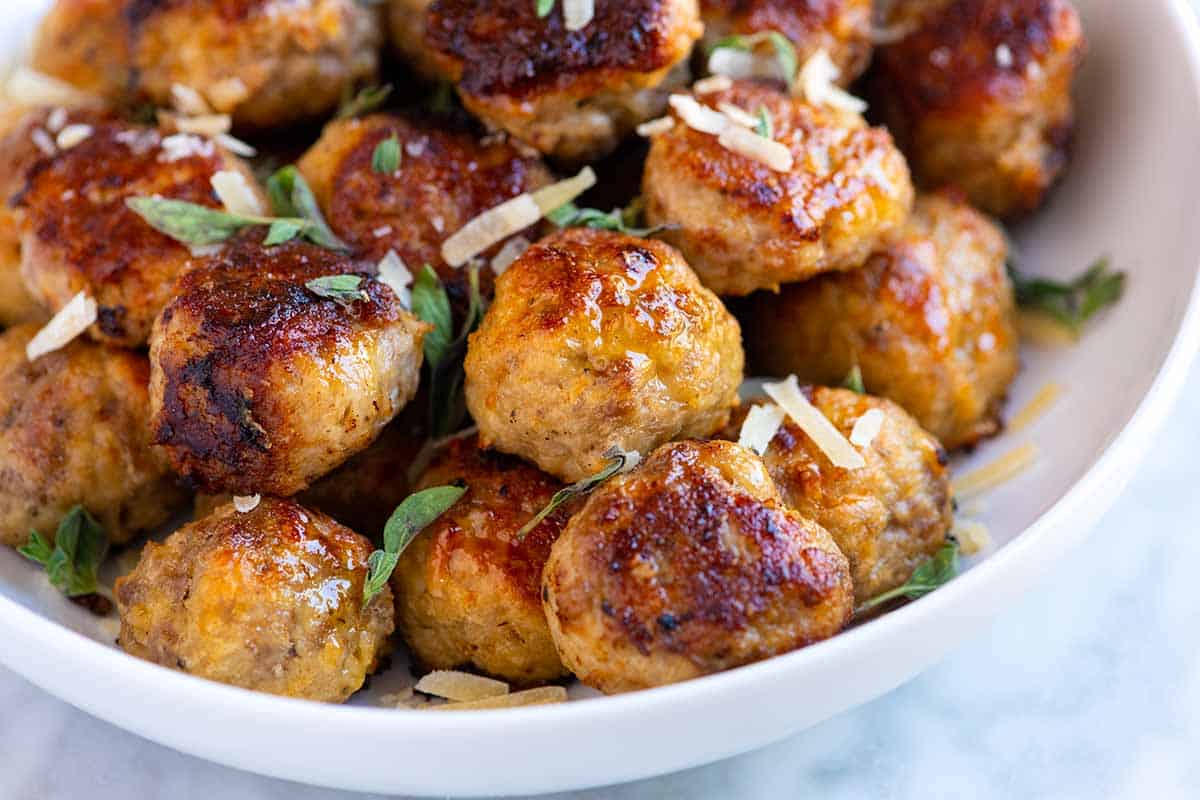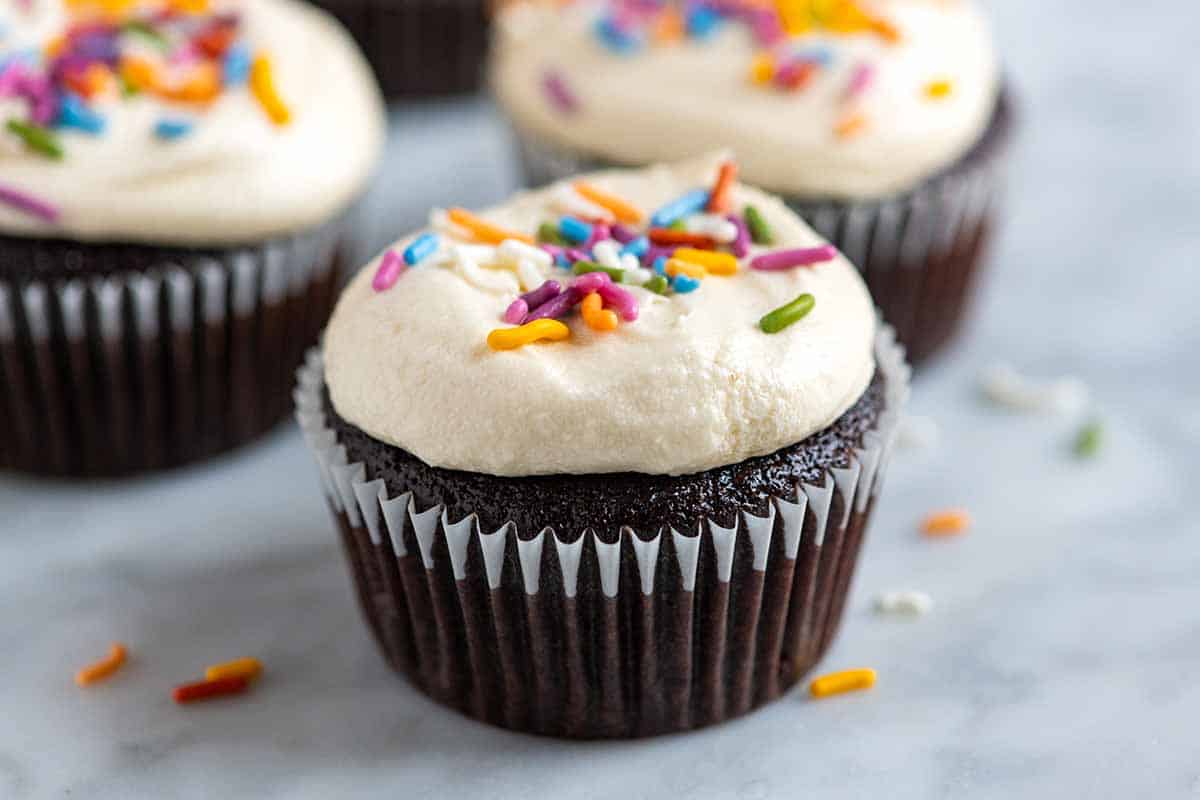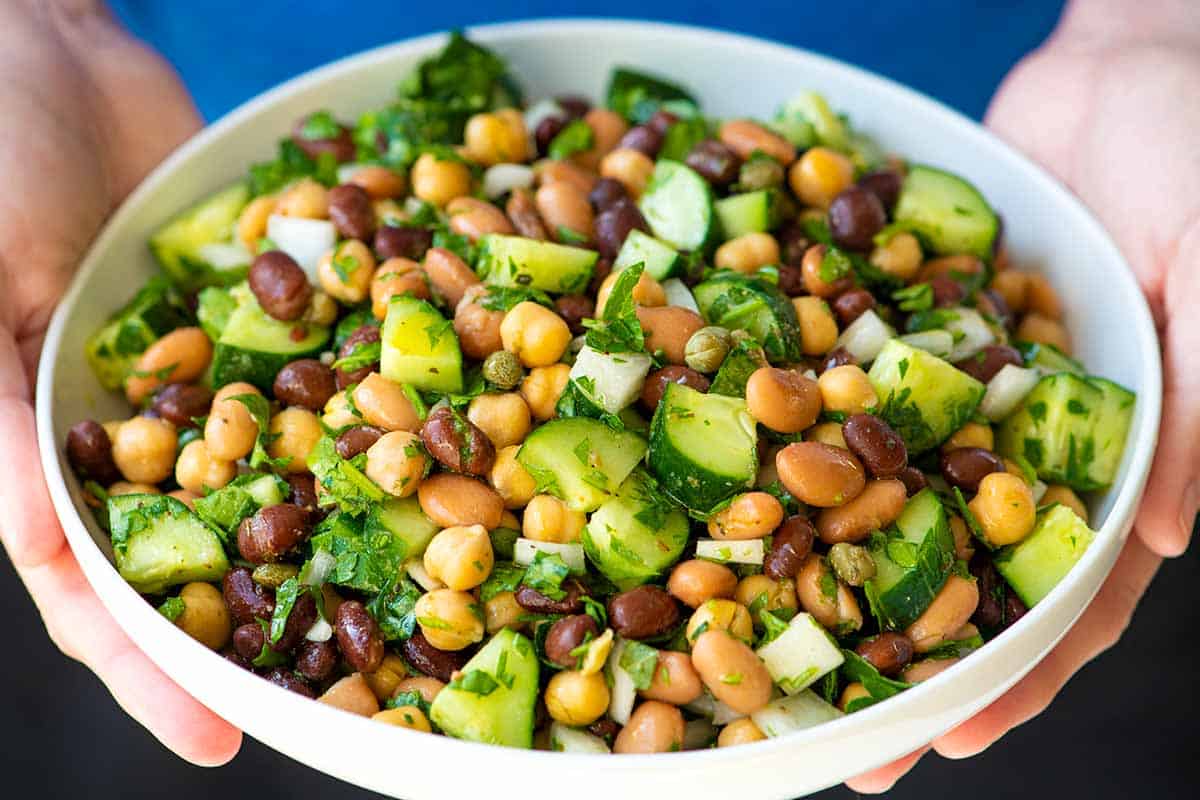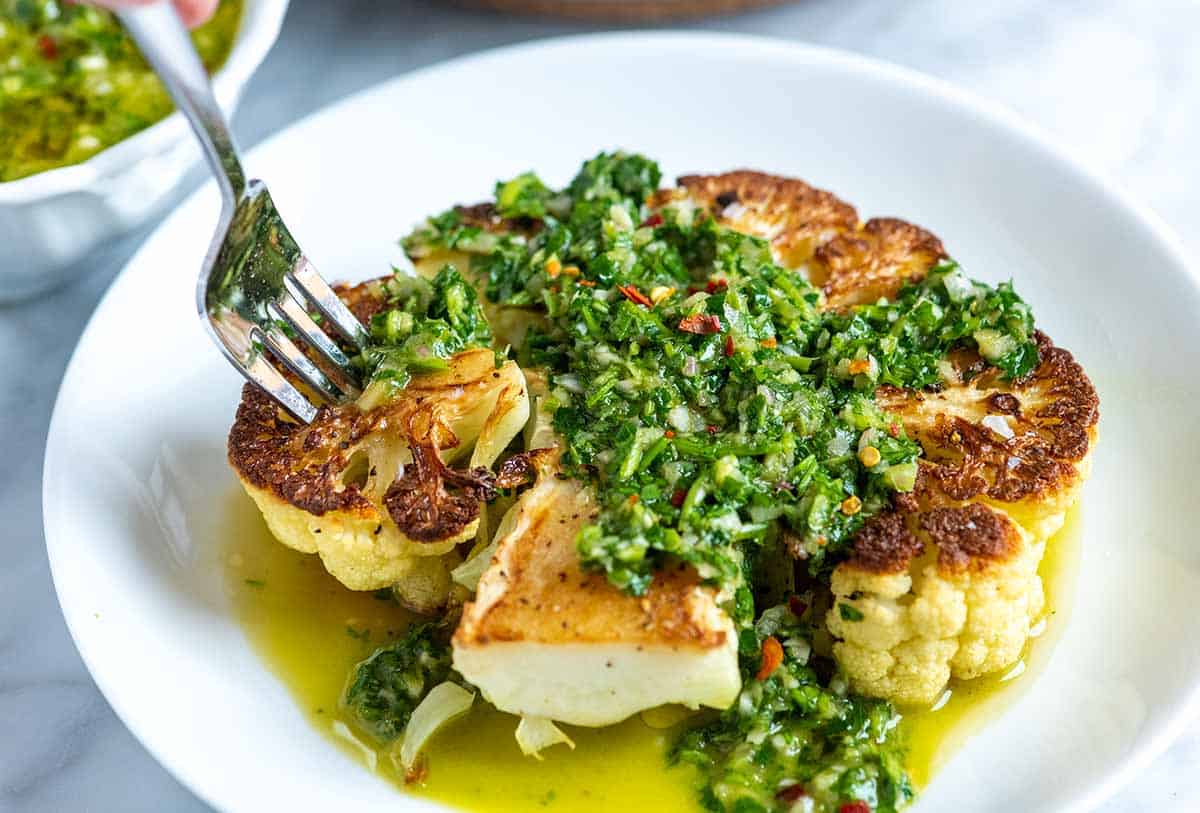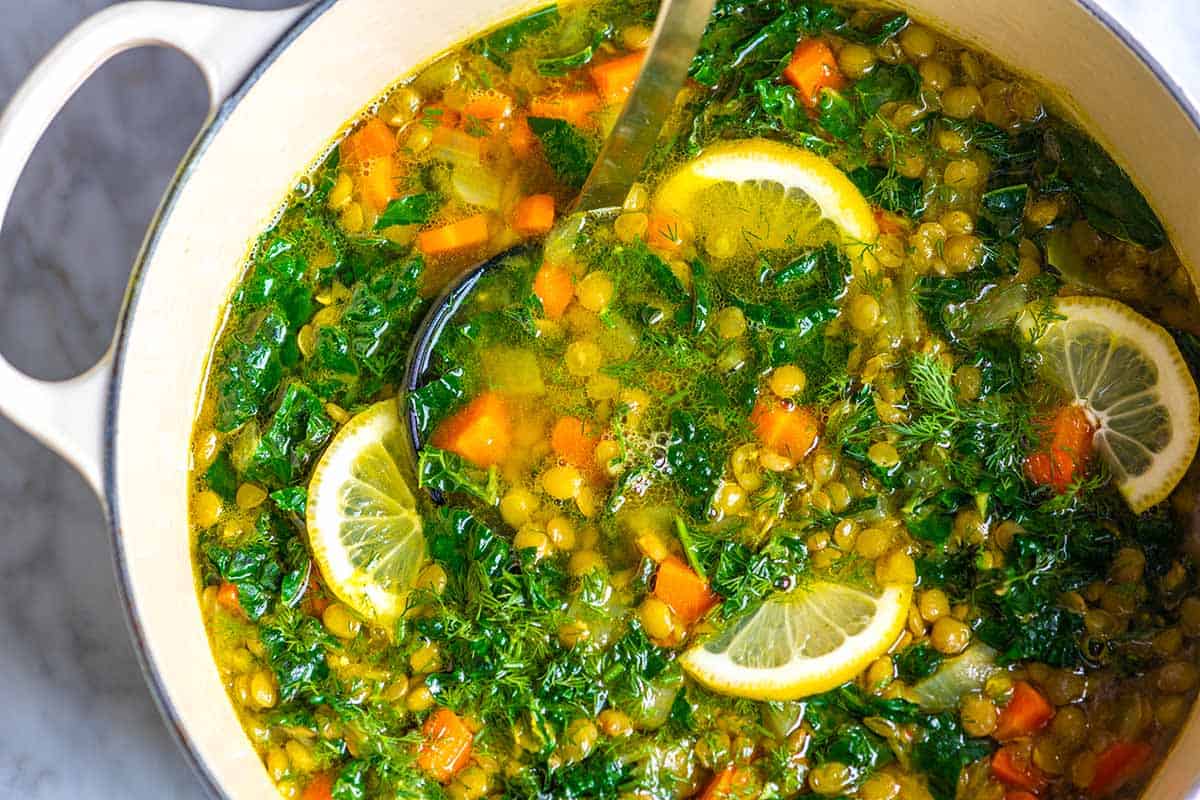 Tour Our New Kitchen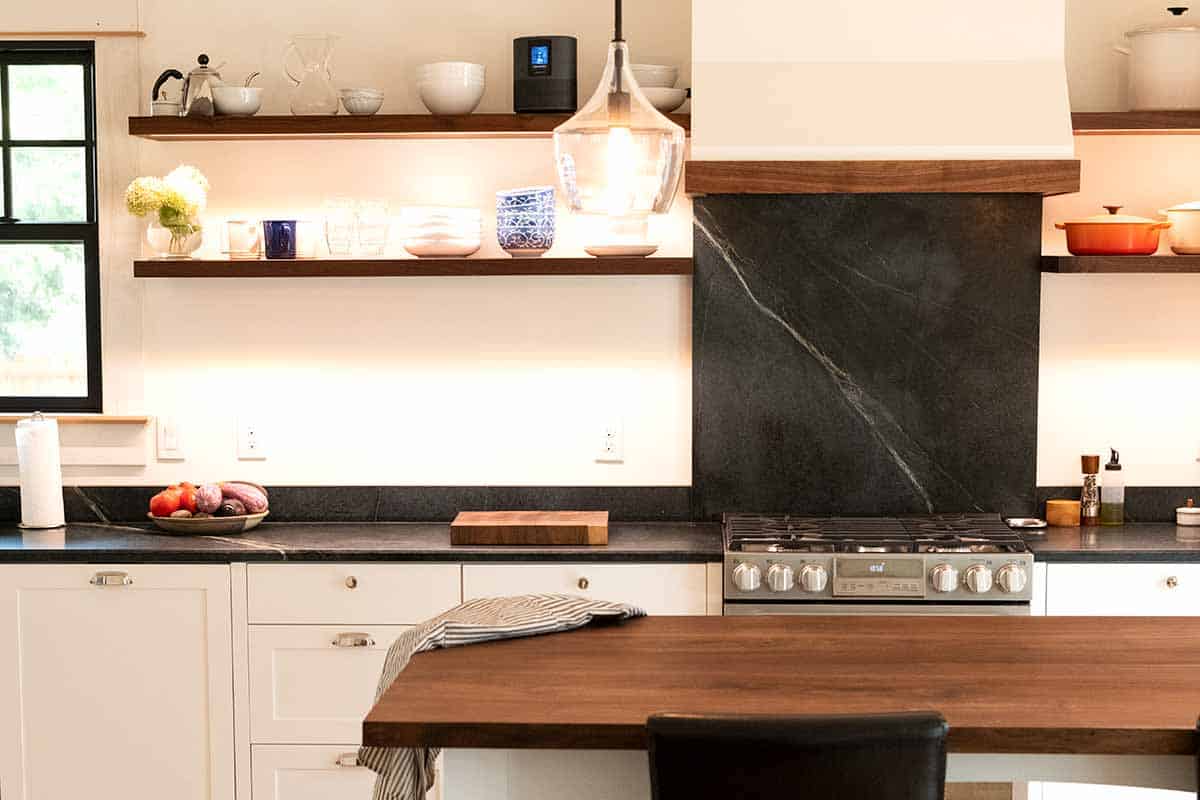 Previous Post: Cinnamon Spiced Apple Bread
Next Post: Easy Vegan Blueberry Muffins