Homemade ketchup is a must make. It's so simple, flavorful and easy to spice up or change up based on what you love.
Watch the Video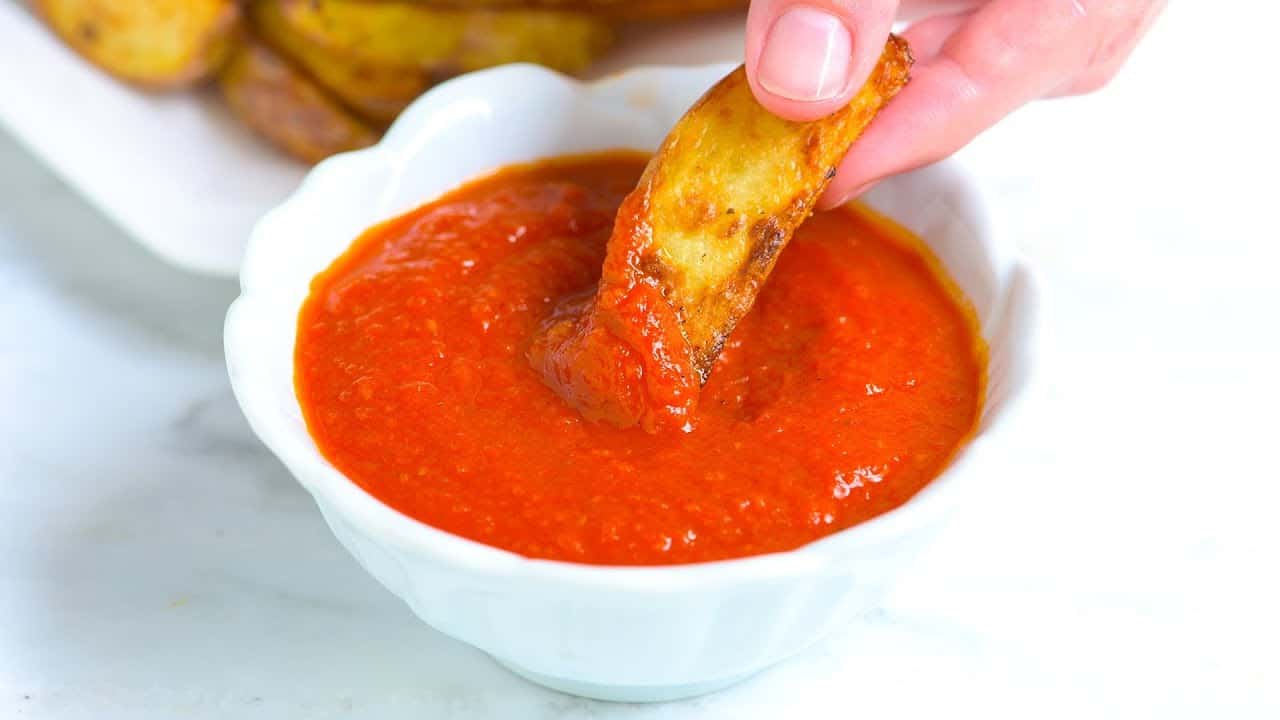 Related: We love these baked french fries.
How to Make Seriously Good Ketchup from Scratch
If you're up for cooking an onion until sweet, adding tomatoes and some spices then simmering until thick and shiny, then you're up for making your very own version of homemade ketchup. You're looking at just over half an hour from start to finish and the ketchup will last about 1 month — although, we've never been able to stay away from it that long. Sure grabbing the store-bought bottle is easier, but we wouldn't be telling you to make your own ketchup if the taste wasn't worth it.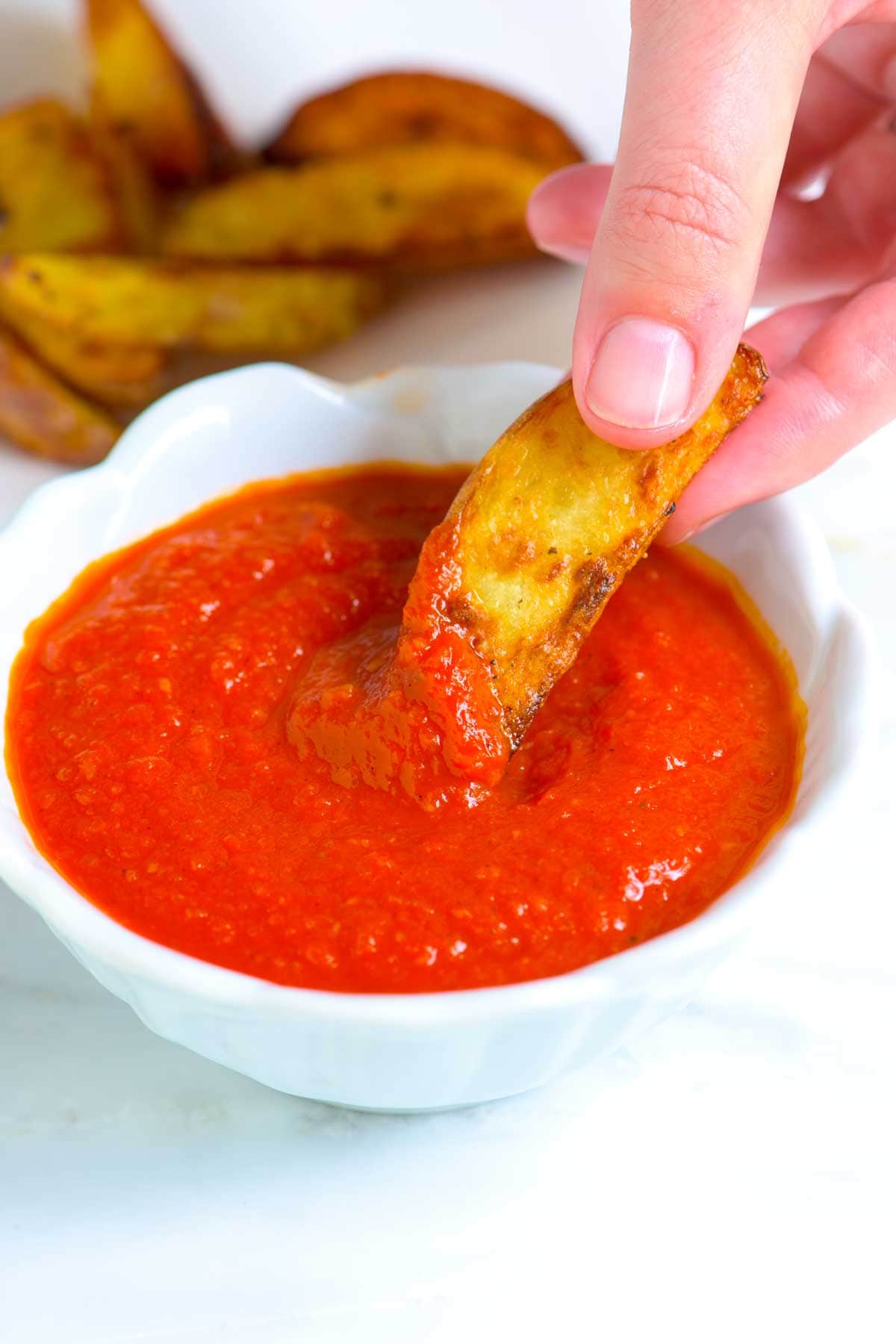 This tastes so much better than anything you can buy at the store. Plus, you get to tell your friends that you made it — all by yourself. They'll think you are awesome (because you are!).
Ketchup starts with an onion that's been cooked in a little oil over medium heat until soft, sweet and lightly browned. Then we add a generous amount of garlic, fresh ginger, red pepper flakes and allspice.
Since the spices are added before any liquid, they toast and become even more flavorful than they were to begin with. Think about the difference of toasted almonds and blanched almonds. Both are almonds, but they taste different. The toasted nuts are nuttier, buttery and more flavorful. Same thing goes with spices.
Tomato paste goes in next — that's to make the ketchup taste extra rich. We like to cook it a bit before adding anything else. It should transform from bright red to a burnt orange color.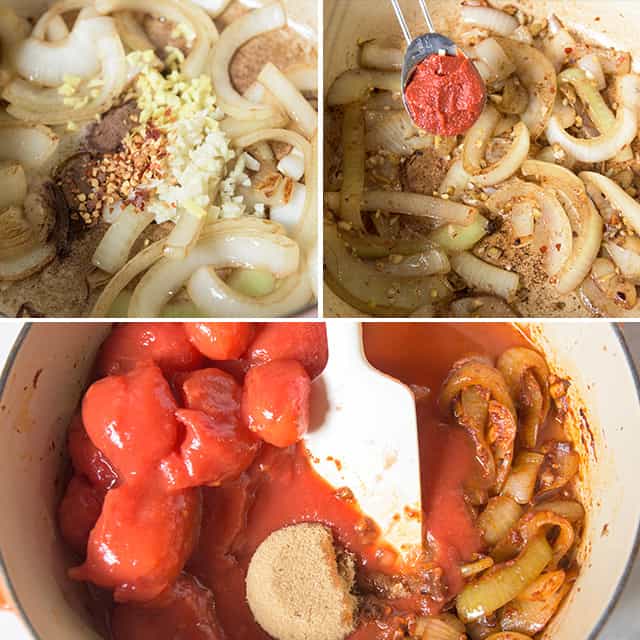 Then comes the rest — a big can of tomatoes, brown sugar, apple cider vinegar and some salt. We let everything cook at a low simmer until thickened and shiny. This is a great time to grab a spoon! I know it's ketchup, but we happily eat this stuff by the spoonful. Once it's done, blend it up. You can blend as much or as little as you like — we like it pretty smooth so we break out our blender, but an immersion blender works perfectly well.
Blending hot liquids can be a little tricky. If you plan to use a blender, keep the following tips in mind:
Fill the blender less than halfway when what you are blending is hot — so you'll probably need to do this in a couple batches.
Before hitting any buttons, remove the center insert in the lid, grab a kitchen towel and cover the hole then blend away. This helps release some of the steam generated by the hot liquid and prevents any chance of hot liquid flying all over you and your kitchen.
Once you're happy with the consistency, throw it into a container or jar and keep in the fridge up to one month.
What To Serve With Ketchup
Perfect Baked Sweet Potato Fries that are caramelized and crispy on the outside and tender on the inside. No fryer needed here.
Rosemary Roasted Potato Wedges are so simple to make! Try substituting other herbs and spices for the rosemary, there are so many options.
Crispy Baked Portobello Fries that are juicy on the inside and crispy on the outside. We lightly bread them in breadcrumbs. They are so easy to make and truly delicious.
Homemade Baked Tater Tots are easier than you might think. Say goodbye to that store-bought bag.
Crispy Baked Fish Sticks that are flaky and tender on the inside and crispy on the outside.
Ridiculously Easy Homemade Chicken Nuggets made with crushed potato chips as the crunchy breading.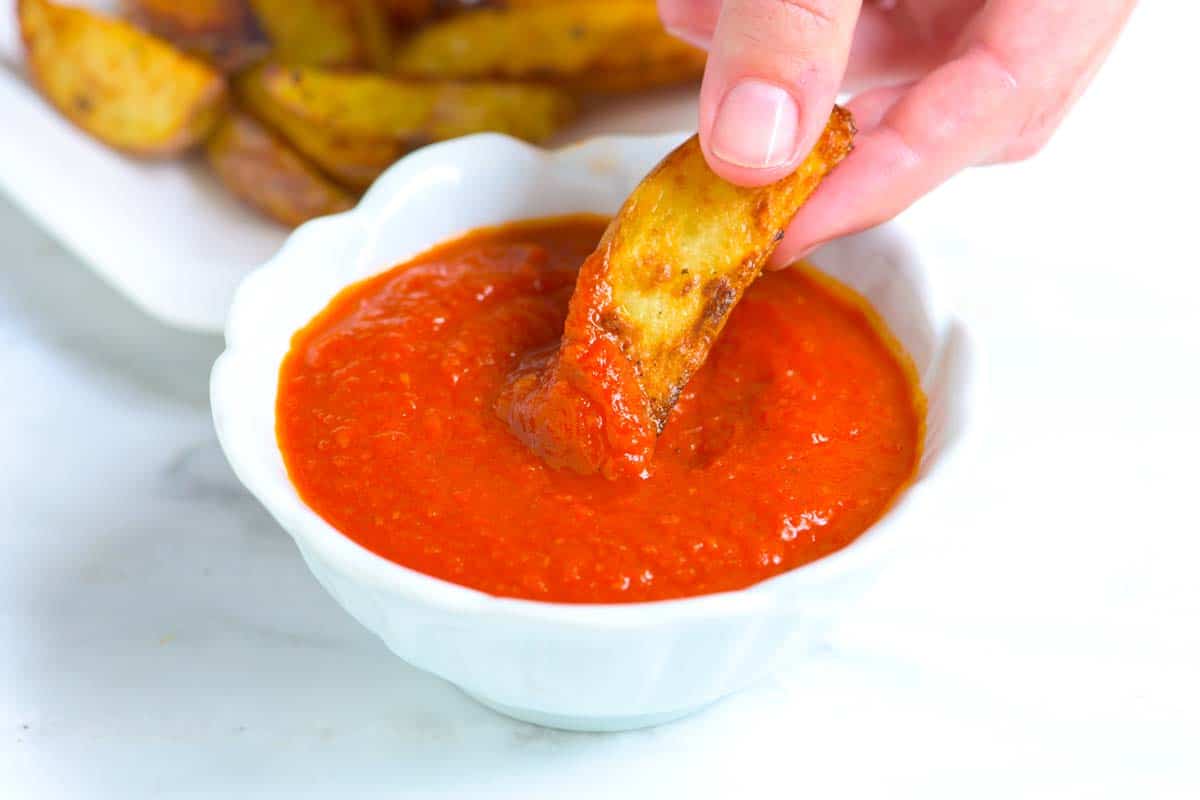 Seriously Good Homemade Ketchup
Ketchup is very simple to make and is so much more flavorful than anything you can buy at the store. We don't like it to be too sweet and like to add only 3 to 4 tablespoons of sugar to the pot, but if you prefer, add a little more to make the ketchup sweeter. The sweetness of tomatoes can range, too, so it really is best to taste the ketchup and add the sugar to taste.
You can also play around with flavors, this version has a kick of spice from crushed red pepper flakes, but you could add fresh jalapeño, chipotle or hot sauce to transform it into spicy ketchup. Other spices are nice, too — try curry powder or garam masala for an Indian-spiced version.
Makes approximately 3 cups
Watch Us Make the Recipe
You Will Need
1 tablespoon extra-virgin olive oil
1 medium onion, sliced into half moons
2 garlic cloves, chopped (about 1 tablespoon)
One 1-inch piece of ginger, peeled and chopped
1/4 teaspoon to 1/2 teaspoon crushed red pepper flakes, optional for spicy ketchup
1/4 teaspoon ground allspice
2 tablespoons tomato paste
1 (28-ounce) can whole tomatoes in juice
2 to 5 tablespoons brown sugar, depending on how sweet you like your ketchup
1/4 cup apple cider vinegar
Salt and fresh ground black pepper
Directions
1Heat oil over medium heat then add onions and cook until they are softened, sweet and lightly browned, about 8 minutes. Add the garlic, ginger, red pepper flakes and allspice then cook, stirring often, for 2 minutes.

2Add the tomato paste and cook, stirring often, until it turns from red to a burnt orange color, about 2 minutes.

3Add the can of tomatoes with juice, 2 tablespoons brown sugar, cider vinegar, a generous pinch of salt, and a few grinds of black pepper. Stir, and then taste to check and see if you need to add more sugar (we usually end up adding a total of 3 to 4 tablespoons).

4Bring to a simmer, reduce the heat slightly and cook at a low simmer, stirring occasionally, until thickened and shiny, about 20 minutes. Taste then adjust with more sugar, salt or pepper.

5Blend until smooth, let cool to room temperature then refrigerate up to one month.
Adam and Joanne's Tips
Use fresh tomatoes: 1 large can of tomatoes is about 3 cups of fresh tomatoes. Use about 3 cups of chopped fresh tomatoes as a substitute.
A note about blending: You can use an immersion blender or regular blender. If you use a regular blender, it is best to blend in batches and not fill the blender as much as you usually would since the ketchup is so hot. We like to remove the center insert of the lid and cover it with a kitchen towel while blending — this helps some of the steam release and prevents the lid from popping off (which can be a big, hot mess).
Nutrition Facts: The nutrition facts provided below are estimates. We have used the USDA Supertracker recipe calculator to calculate approximate values. We assumed 1/4 cup of the brown sugar.
If you make this recipe, snap a photo and hashtag it #inspiredtaste — We love to see your creations on Instagram and Facebook! Find us: @inspiredtaste
Nutrition Per Serving
Serving Size
2 tablespoons
/
Calories
23
/
Protein
0 g
/
Carbohydrate
4 g
/
Dietary Fiber
1 g
/
Total Sugars
3 g
/
Total Fat
1 g
/
Saturated Fat
0 g
/
Cholesterol
0 mg