Learn our best tips for making a better hamburger including the best meat to use, how to cook them, and when to know they are done.
Watch the Video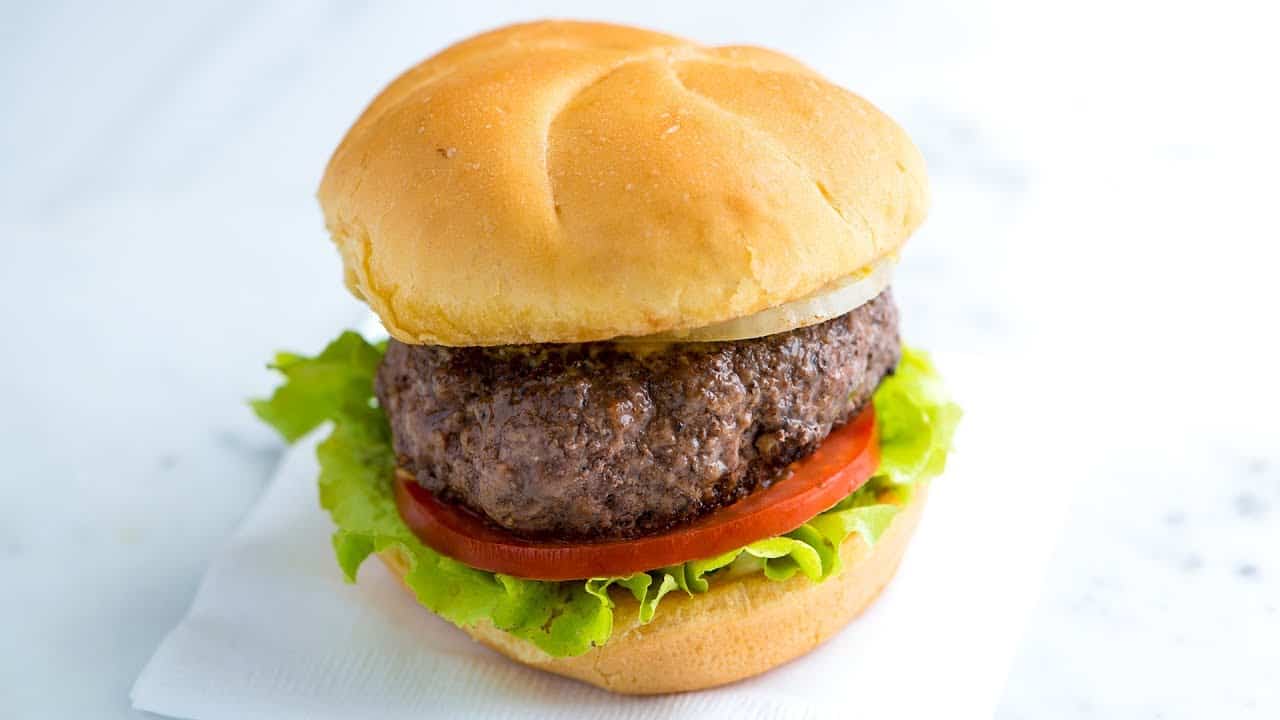 Related: We love these juicy turkey burgers.
How to Make the Best Hamburgers
We love a good burger. So, we spent a few days and did a little research to figure out our favorite way to make the best hamburgers. There are no "rules" to making burgers. There are many approaches out there for how to make the best burger — most of what we mention below can be used across them all.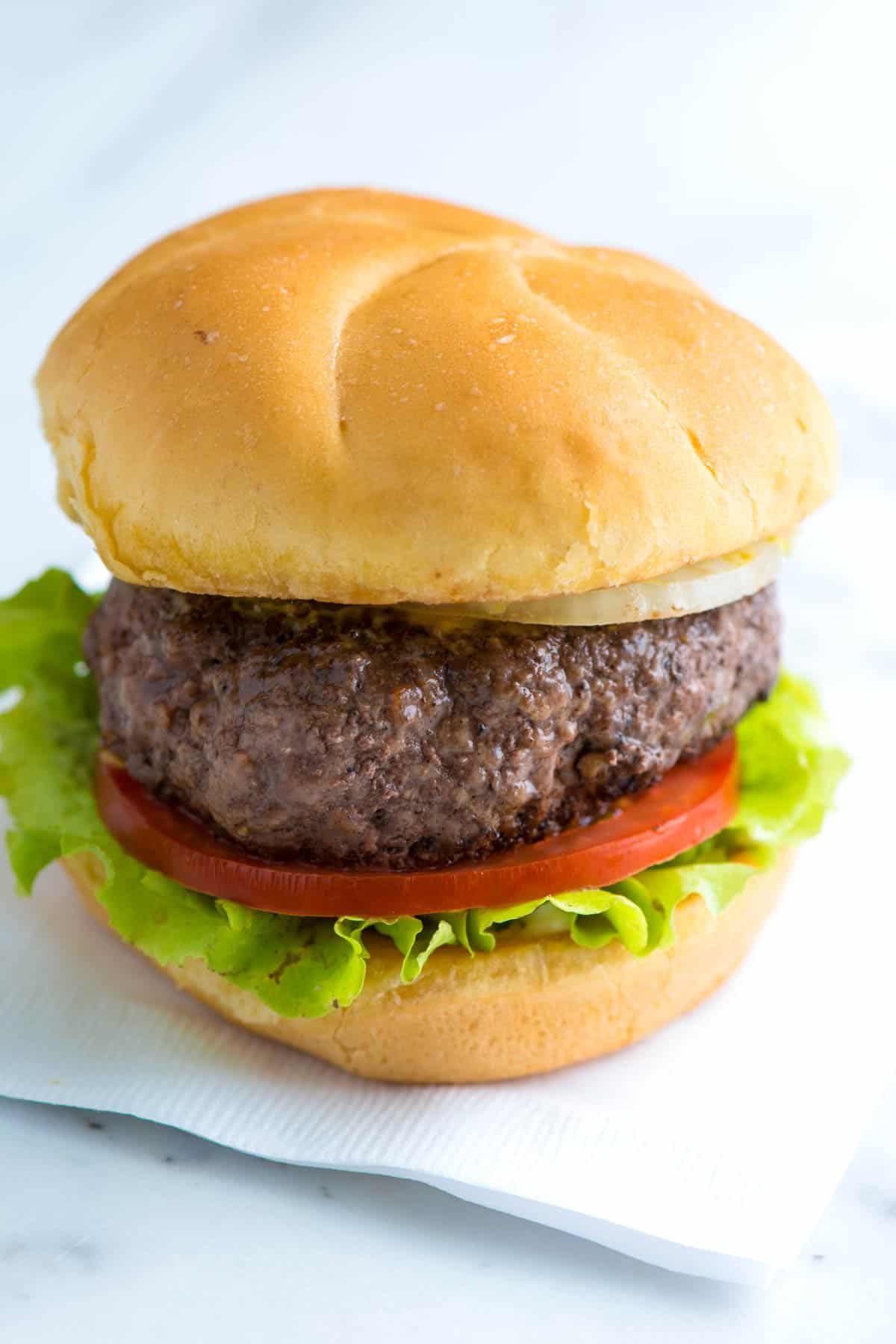 It may sound crazy, but quality meat, salt, and pepper is all we add to our simple burger recipe.
We've tried adding extras — olive oil, cream, mustard, and grated onion to name a few. While we liked some, none were as good as simply seasoned burger patties cooked in a little butter. Just in case you're wondering what the extras did, here's a quick summary:
Olive oil didn't really add much and the texture went a little funny, they became a little grainy. Cream made the meat tender. We both really liked it, but not enough to specifically buy a whole carton of cream for a tablespoon (that's all you needed to add). We loved the flavor of the mustard — we used Dijon and the onion was too strong for us.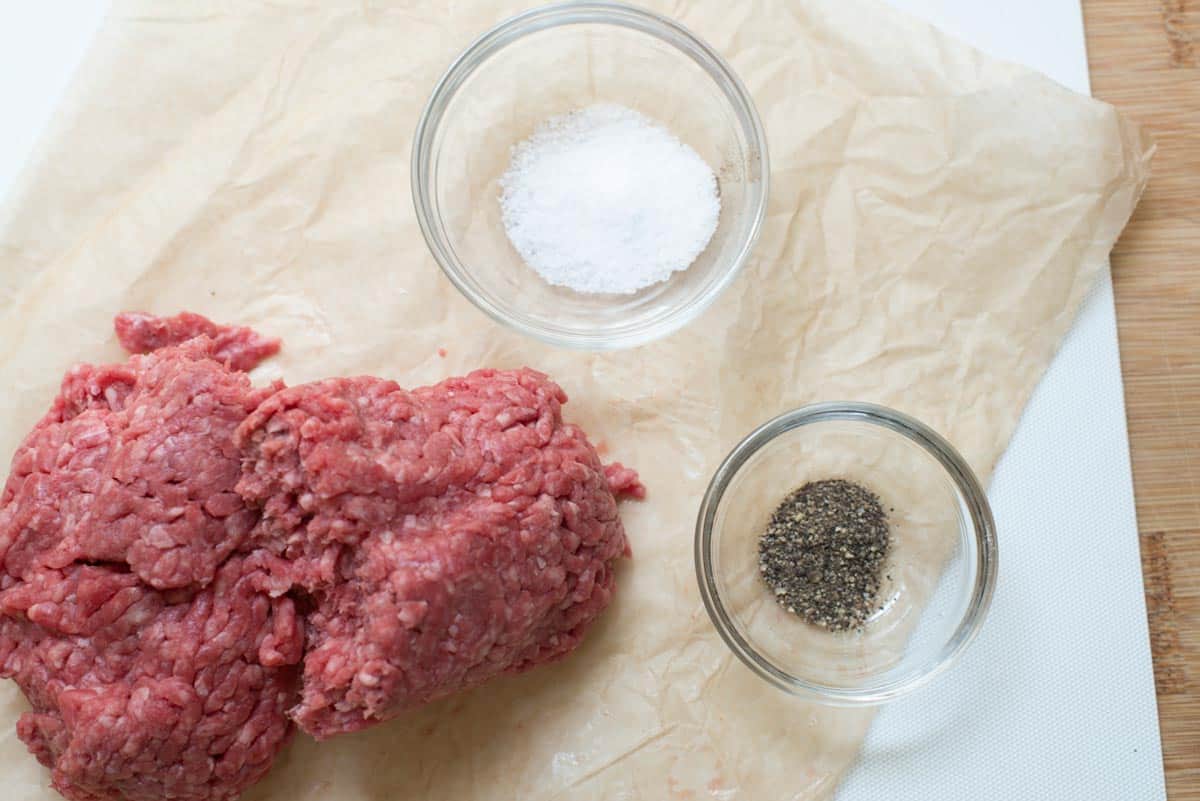 So, even though we did like a few of the additions, in the end we came full circle and simple won. Think about a great steak — it's most likely only been seasoned with salt and pepper. For us, hamburgers are the same.
The Best Meat For Burgers
For ease, we stick to ground chuck. You can get creative and use a combination of ground chuck and sirloin, though. (Some even grind up a little bacon and add it — that can't be bad, right?). In a perfect world, we'd grind our own meat. This way, you always know the quality and it's fresh. If you have the time and equipment (KitchenAid has a grinder attachment) then go for it, you won't be disappointed.
We usually go for the next best thing — we buy the highest quality ground meat we can.
Around us, that means a trip to the meat counter at Whole Foods, but if you have a butcher close by or another store you trust, go there. Choose meat with 15 to 20 percent fat. Any lower and you'll loose some flavor and you risk the burgers becoming dry.
How to Form Perfect Hamburger Patties
We like 5 to 6 ounce burgers — they're big, but not overwhelming. A kitchen scale can be useful for dividing the meat.
Here's a trick — have you ever had a burger puff up in the middle while it was cooking? Before cooking, add a dimple to the middle of each burger. This stops it from puffing up in the middle and keeps things uniform.
One more thing, there's no need to mix the salt and pepper into the meat. Just season the top and bottom (like a steak). The more you fuss hamburger meat, the tougher it will become when cooked. By the way, we season our burgers liberally.
Check out these over-the-top burgers: Queso Blanco Hamburger or our "Denver" Hamburger.
The Best Way to Cook Hamburgers
Our favorite way to cook burgers is in a cast iron skillet or on a flat top grill. We heat it over medium heat, add some butter and cook the burgers 2 to 3 minutes on each side. Done.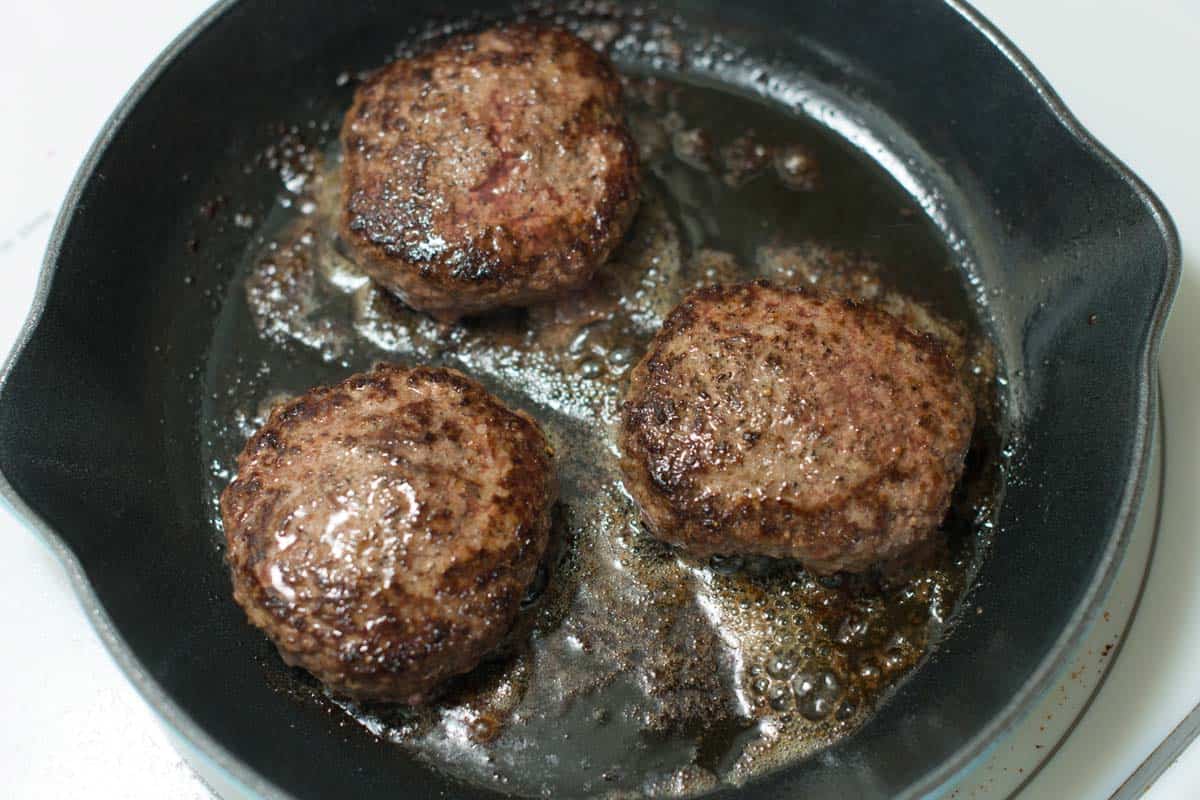 If you're partial to grilling, go for it. If you feel like it, we've taken our cast iron skillet to the grill with us — we just love the sear you get on the skillet compared to grates. No matter how you cook it, make sure you allow the patties to rest for a few minutes.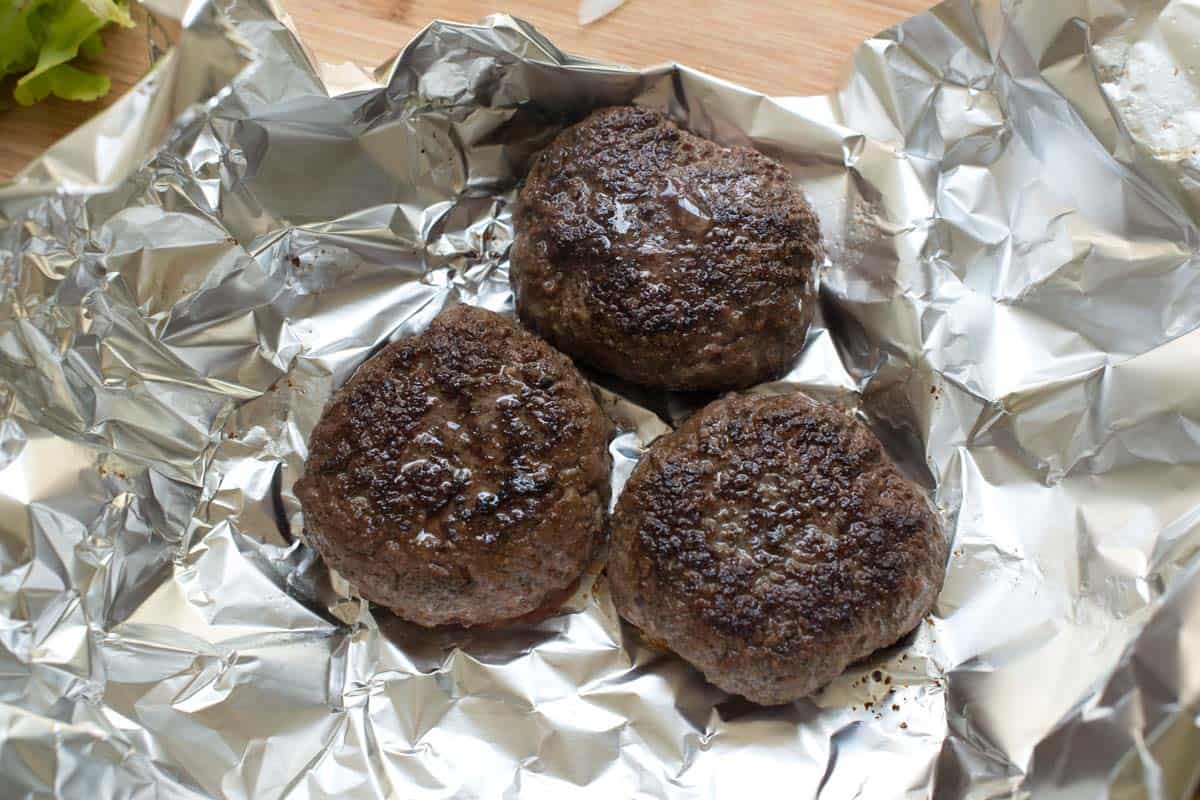 Just look at that — moist, juicy and not too packed. A perfect burger.
How to Tell When a Burger is Done
In the photo below, you're looking at somewhere between medium-well and well. We really like to shoot for medium. A great way to do this is to use a meat thermometer. I've shared the temperature of burgers when they are rare, medium-rare, medium, medium-well, and well-done below.
Rare: Red in the center, 120 degrees F (50C) and below
Medium-Rare: Very Pink in the center, 130 degrees F (55C)
Medium: Pink in the center, 140 degrees F (60C)
Medium-Well: Grayish Pink in the center, 150 degrees F (65C)
Well Done: Gray, No Pink in the center, 160 degrees F (70C) and above
Note: The USDA suggests cooking ground beef to 160 degrees F, this is well-done. That's just too done for us, which gives even more reason to buy the highest quality meat you can.
What to Serve With Burgers
More Burger Recipes
The Best Easy Hamburger
We keep homemade hamburgers simple and use quality meat, salt and pepper. When forming the hamburger patties, be careful not to over work the mixture since this can make the burgers tough when cooked.
Makes 3 (1/3 pound) hamburgers
Watch Us Make the Recipe
You Will Need
1 pound (450 grams) ground beef chuck or round
Salt and fresh ground black pepper
Butter, as needed
Directions
1Take the beef out of the refrigerator and allow it to sit at room temperature for about 5 minutes before forming the patties. Form beef into three 5 to 6 ounce hamburger patties. Use your thumb to imprint a dimple into the middle of each burger. (This prevents the middle of the burgers from puffing up while cooking). Season both sides of the hamburgers with salt and pepper.

2Melt 1 tablespoon of butter in a cast iron pan over medium heat. Cook hamburger patties 3 to 4 minutes on each side, depending on how well done you like it.

3Rest burgers covered loosely with aluminum foil for 5 minutes then serve on a buttered bun with lettuce, tomatoes and onion (or how you like it).
Adam and Joanne's Tips
Burger Doneness: Rare = 120 degrees F; Medium-Rare = 130 degrees F; Medium = 140 degrees F; Medium-Well = 150 degrees F; Well Done = 160 degrees F
Nutrition facts: The nutrition facts provided below are estimates. We have used the USDA Supertracker recipe calculator to calculate approximate values.
If you make this recipe, snap a photo and hashtag it #inspiredtaste — We love to see your creations on Instagram and Facebook! Find us: @inspiredtaste
Nutrition Per Serving
Calories
276
/
Protein
24 g
/
Carbohydrate
0 g
/
Dietary Fiber
0 g
/
Total Sugars
0 g
/
Total Fat
20 g
/
Saturated Fat
8 g
/
Cholesterol
95 mg