A recap of our road trip to Seattle, Washington from Walla Walla. An absolute must visit for incredible food, hospitality and easy access to nature.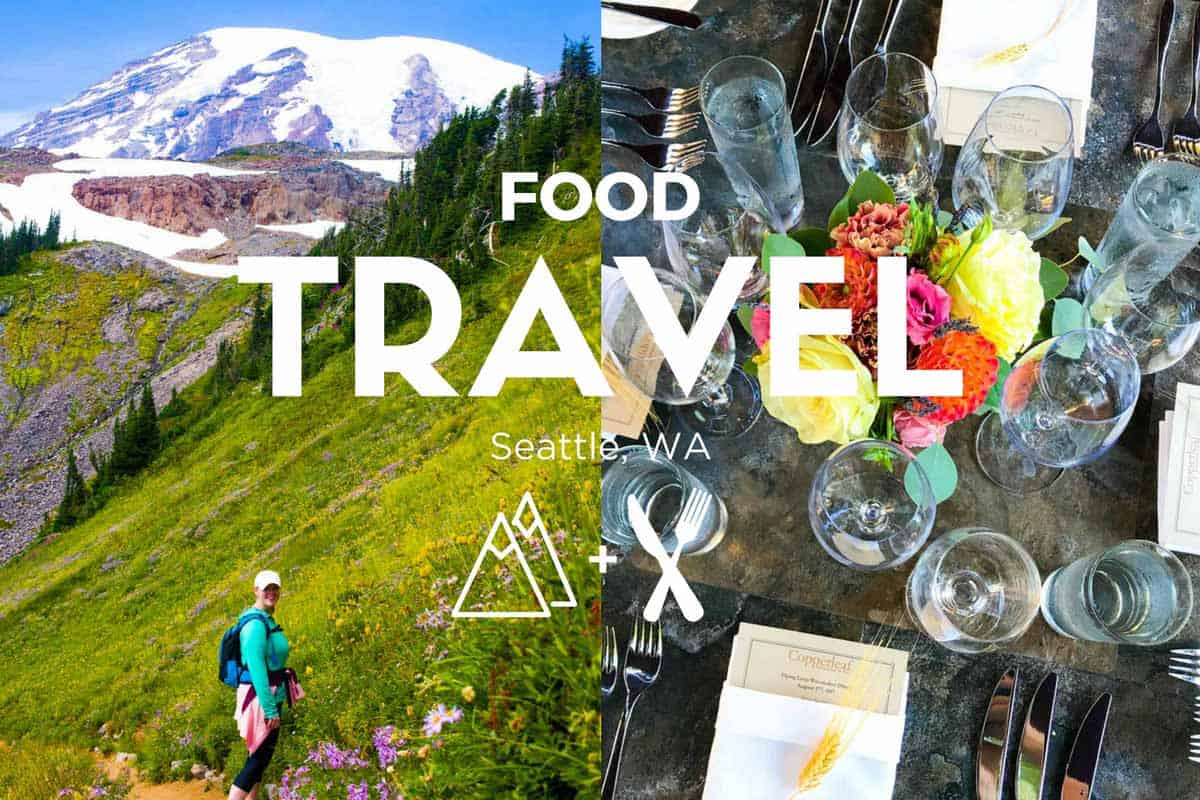 Be sure to check out our nifty Google map that shows you everywhere we went so you can visit yourself. It works great on a phone. Click here or the map to check it out!
It wasn't until I was packing that I realized how unique this trip was. On one side of my suitcase there were hiking boots and cliff bars and on the other a pair of black stiletto shoes and makeup.
We lived in Seattle for about a year before moving east to Walla Walla, but in that year, it became obvious that Seattleites know how to have fun. There's everything you could want in the city including some of the best food we've ever eaten. Then within an hour or so (sometimes closer), there are outdoor activities and hiking trails that will blow your mind. The beauty here is real.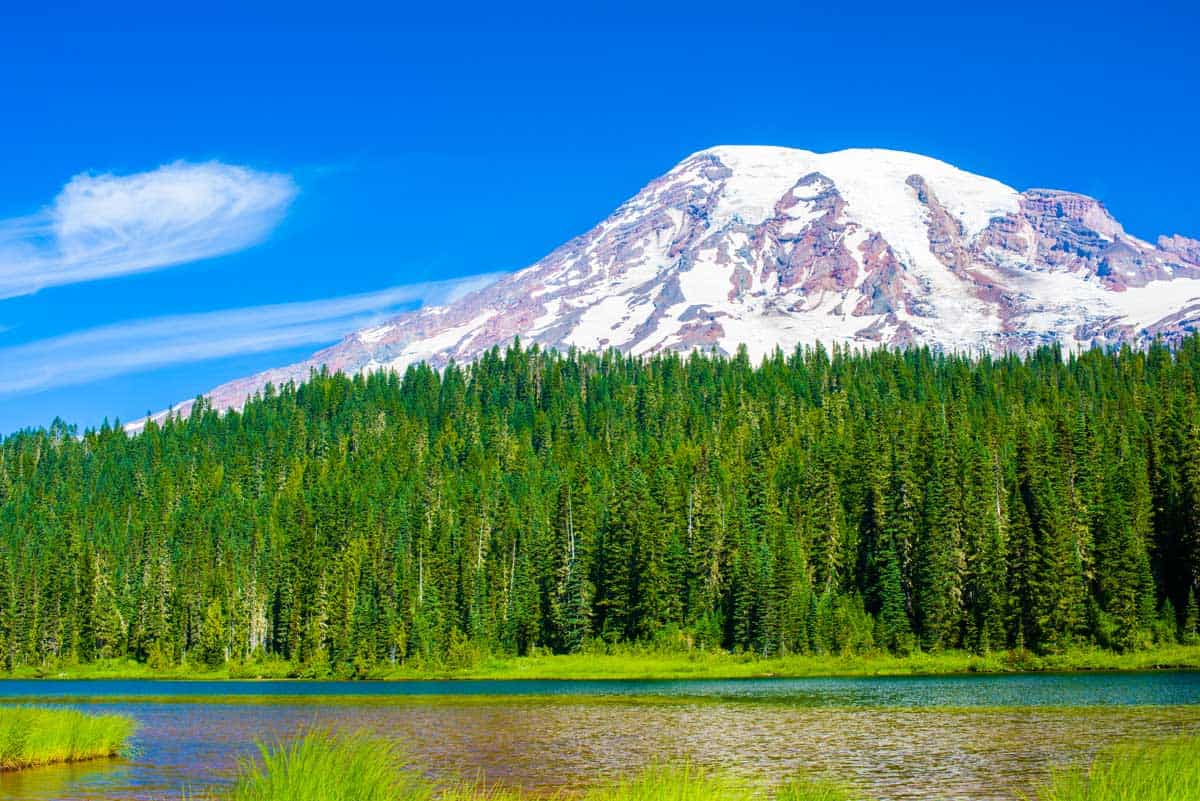 Planning for this started after learning about Cedarbrook Lodge. I'll tell you all about it below, but for now I'll just mention that if you love great food, privacy and staying in an oasis, this one is for you. We were heading there to take part in one of their summer dining events. Throughout the summer, Copperleaf restaurant — which is in the hotel — works with wineries and breweries to create unique paired dinners that highlight seasonal produce, the Pacific Northwest and a specific winery or brewery. We were invited to a special dinner highlighting Flying Leap Vineyards, a small winery from Arizona. Not ever having had the chance to try Arizona wine, we were intrigued and very excited.
Day 1
Since we knew we would end our trip with a multi-course wine paired dinner, we thought getting some exercise first would be a good idea. Also, we have been planning on taking a trip to Mount Rainier National Park for ages. Since you have to go through the mountains to get to Seattle from Walla Walla, this seemed like the perfect opportunity.
After a quick drive and chatting with a park ranger (what a cool job!), we headed out on our first baby hike. We hiked Carter Falls, which was pretty easy and didn't have a lot of elevation gain (although after sitting in the car for a few hours, it didn't quite feel that way).
This was a teaser, because tomorrow we planned to hike the Skyline Trail, a 5.5-mile hike with 1700 feet of elevation gain. Considering we're usually sitting writing recipes for you, that seemed like a lot to us.
That night we stayed in an Airbnb in Enumclaw (here's some travel credit for your first trip!) , just over an hour from the park, saving our luxury stay at Cedarbrook Lodge for later in the trip. (Although, you absolutely can drive to Mount Rainier from Cedarbrook! It's just over an hour away.)
Enumclaw is a cute little town with a main street and lots of little shops and restaurants. We found Kelly's Mercantile and enjoyed a light dinner with drinks.
Day 2
Day two was the day. We were finally going to hike the Skyline Trail. It was everything we ever imagined and more. I'm honestly not sure I have enough words in my vocabulary to share how beautiful it was. You start with a pretty intense incline, but then it calms out a bit and you start to see "the Mountain" and all her glory. We hiked through meadows filled with wild flowers, next to a glacier, past waterfalls and mountain streams then over some snow before coming back down. It was glorious.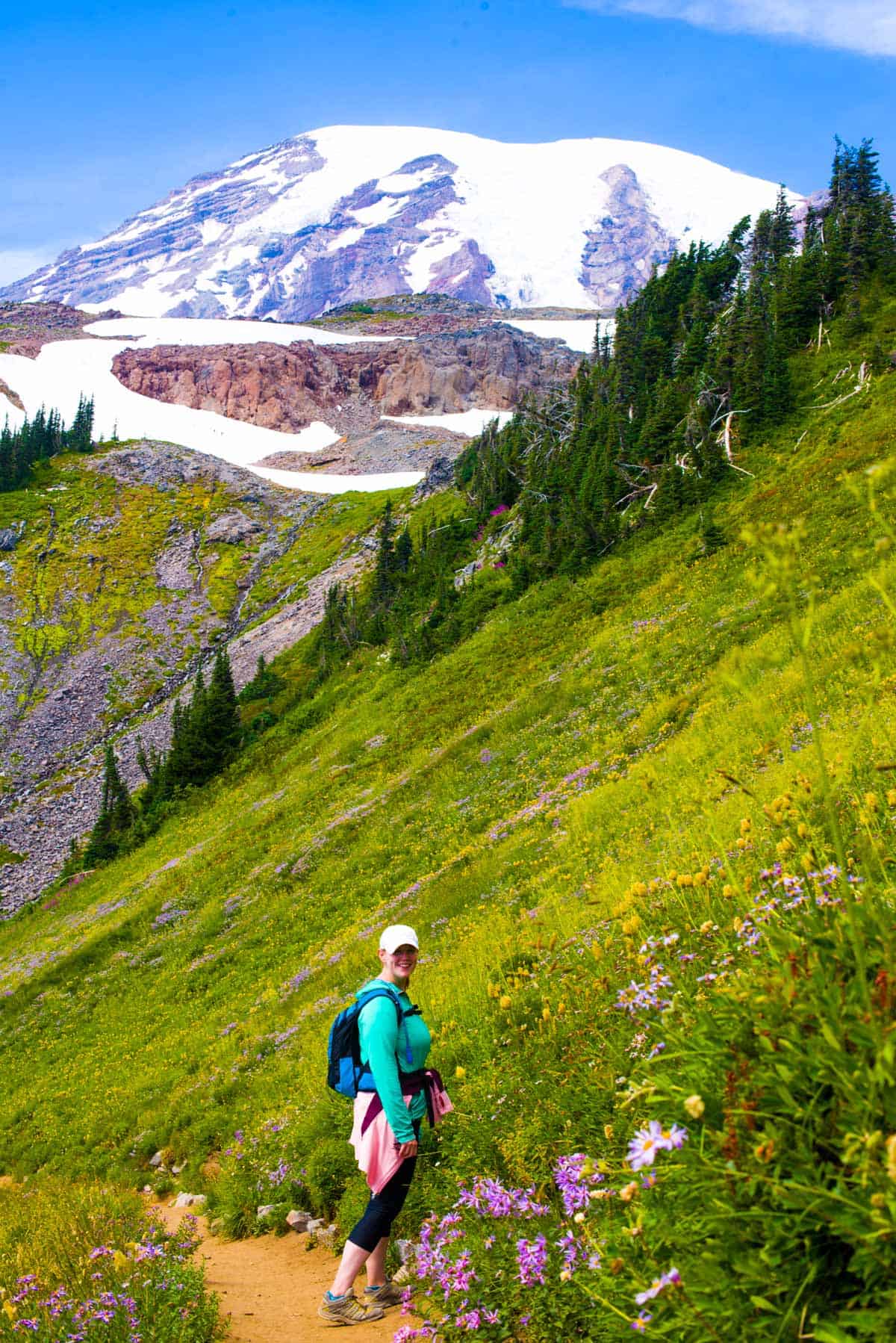 Day 3
The next morning we woke still beaming from hiking the day before, but wow did our legs hurt. It was time to drive to Cedarbrook Lodge and I'm not embarrassed to tell you that we could not wait to take a dip in their hot tub!
Check-in was a breeze and just looking around the lobby put us at ease. The kind people at Cedarbrook knew how to get to our hearts, our room was in the Alder Building and looked over the chef's vegetable garden. It was beautiful. The bed was big and comfy plus there was a generously sized tub in the bathroom (yes, yes and yes!). Oh, bonus, the spa in the hotel has a free bath salts bar. You can go in and make your own blend for free.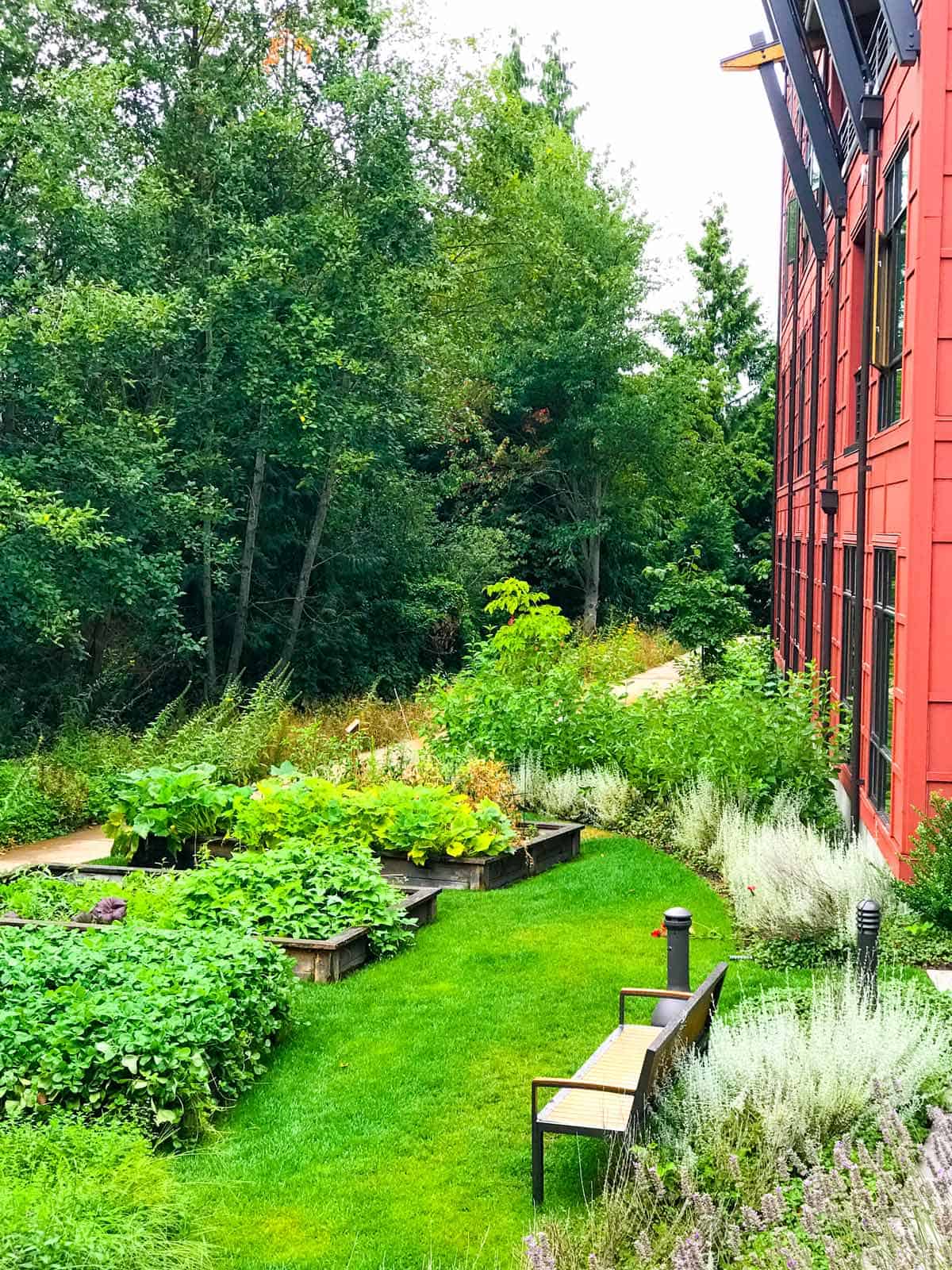 Not wanting to wait any longer, we slipped into our bathing suits and went hunting for the hot tub. On our way, we noticed one of the "Living Rooms" — this was cool. Each wing of the hotel has one stocked with water, string cheese and malt balls! There was a TV and lots of comfy seating, too. So after grabbing some cheese and chocolate, we were off again on the search for the tub.
The grounds of Cedarbrook are gorgeous and lush. It feels like an oasis, like you aren't near anything. The things is, though, it's only 5 minutes from the airport. How did they do that?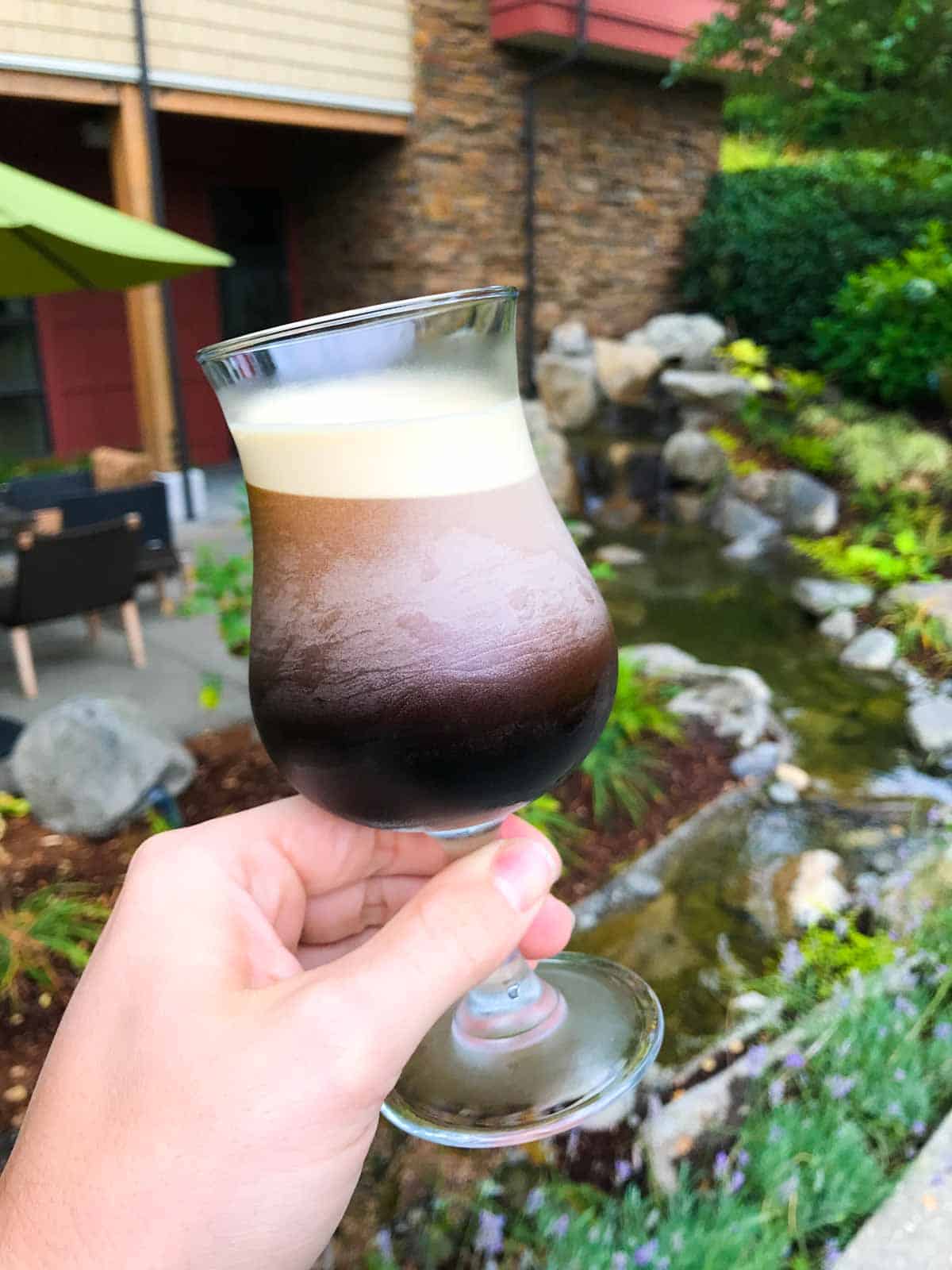 That night, we had planned to keep it low key and eat something light from the bar. After seeing the outdoor patio and the Chef's tasting menu, that all changed and we went for it, wine pairing and all.
Everything was beautifully prepared and thoughtful. There were two tasting menus to choose from and one was vegetarian. I loved that! I went with the vegetarian menu and Adam had the other. Both were excellent and we were stealing bites from each others plates throughout the meal.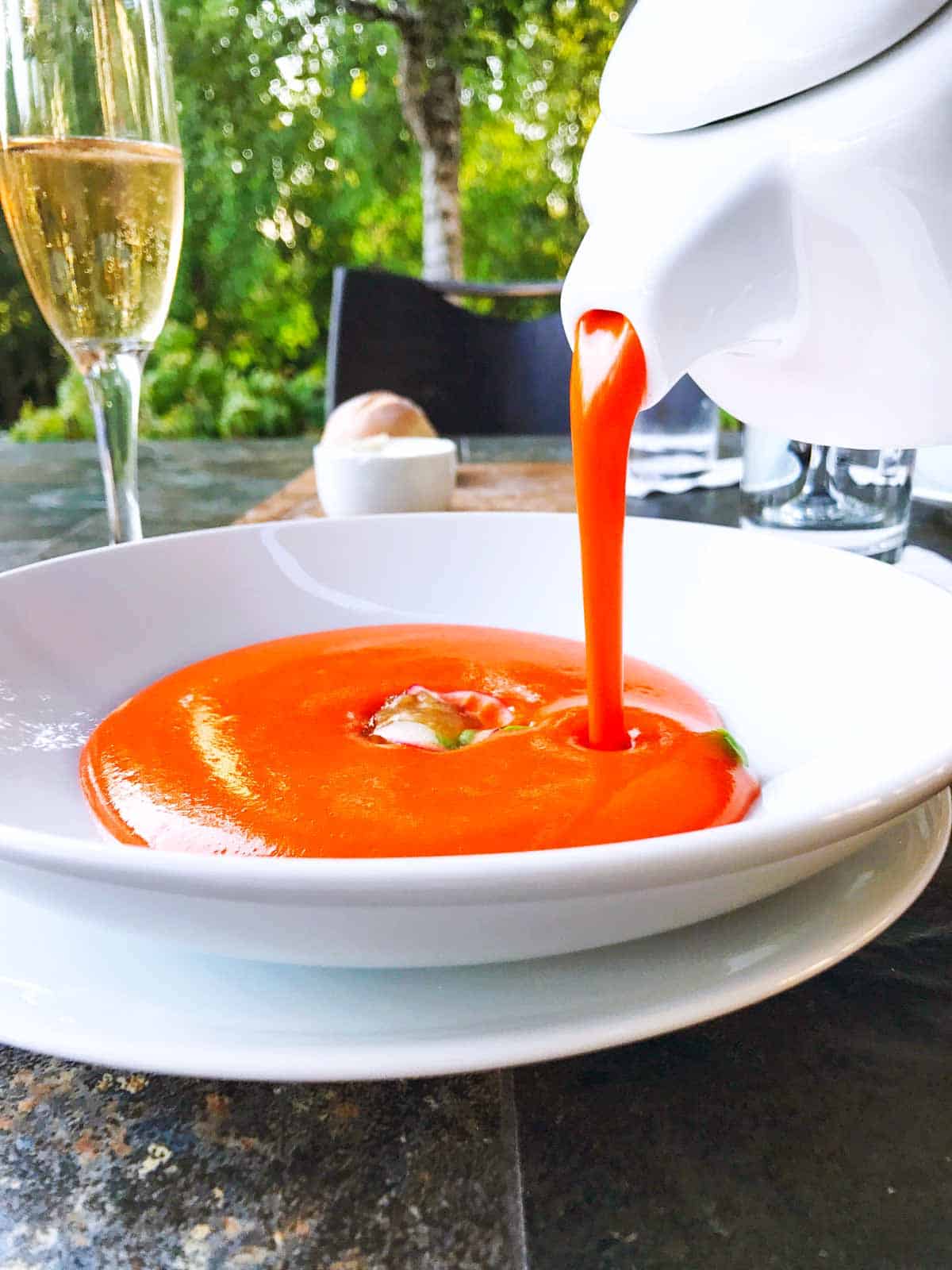 Day 4
Day four started right with a Northwest-inspired breakfast at the hotel. The breakfast is included in your room rate so don't miss out. After filling up on scrambled eggs and smoked salmon, we hopped into the hotel's free shuttle and got a ride to the Light Rail station, only 5 minutes away.
We took the light rail straight into downtown Seattle. We wandered through Pikes Place Market and headed up the hill to one of our favorite restaurants in Seattle, Le Pichet. We sat at the bar and enjoyed a light lunch, struggling not to order too much. The summer dining series was later that evening so restraint was required. By the way, whenever we are dining at Le Pichet, we always order the green salad with hazelnuts and can't say no to the charcuterie board. Ask that the chef chooses what goes on there, we've never been disappointed.
Just before heading back to Cedarbrook we grabbed a coffee at Anchor Coffee Co. Just as we were ordering, a fresh batch of mini banana loaves came in sight, so we grabbed one of those, too. With coffee in hand, it was back to Cedarbrook Lodge with just a little time to get ready for dinner. We took a quick dip in the hot tub again and got ready for the night.
Dinner was on the patio and it was set up beautifully. We were greeted by Mark Beres, the President and Co-founder of Flying Leap Vineyards. He sent us to get a martini made with their own vodka distilled from grapes. It was very smooth and smelled lovely. While we sipped our martinis Mark explained that Flying Leap Vineyards is based in Santa Cruz County, AZ and was started by himself and two friends. All three founders are Air Force Academy graduates and Veterans.
It was time for dinner, so we — along with 20 or so fellow diners — found our seats and prepared for the meal to come.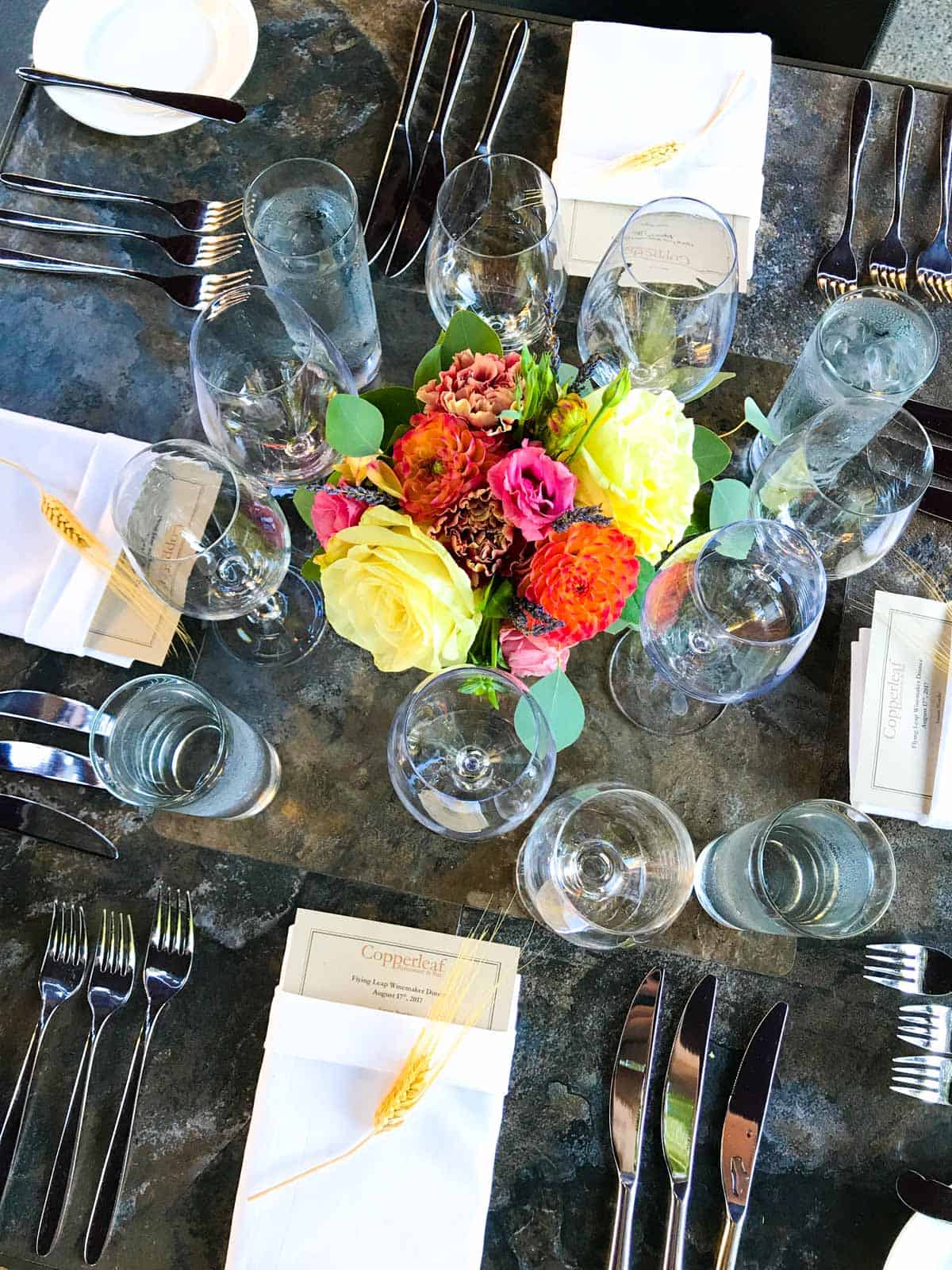 Every dish was expertly paired with one of Mark's wines. Our favorite pairing was with a dish of Oregon quail that had been roasted in brown butter and served with grilled romaine lettuce, toasted pistachios and blackberry jus.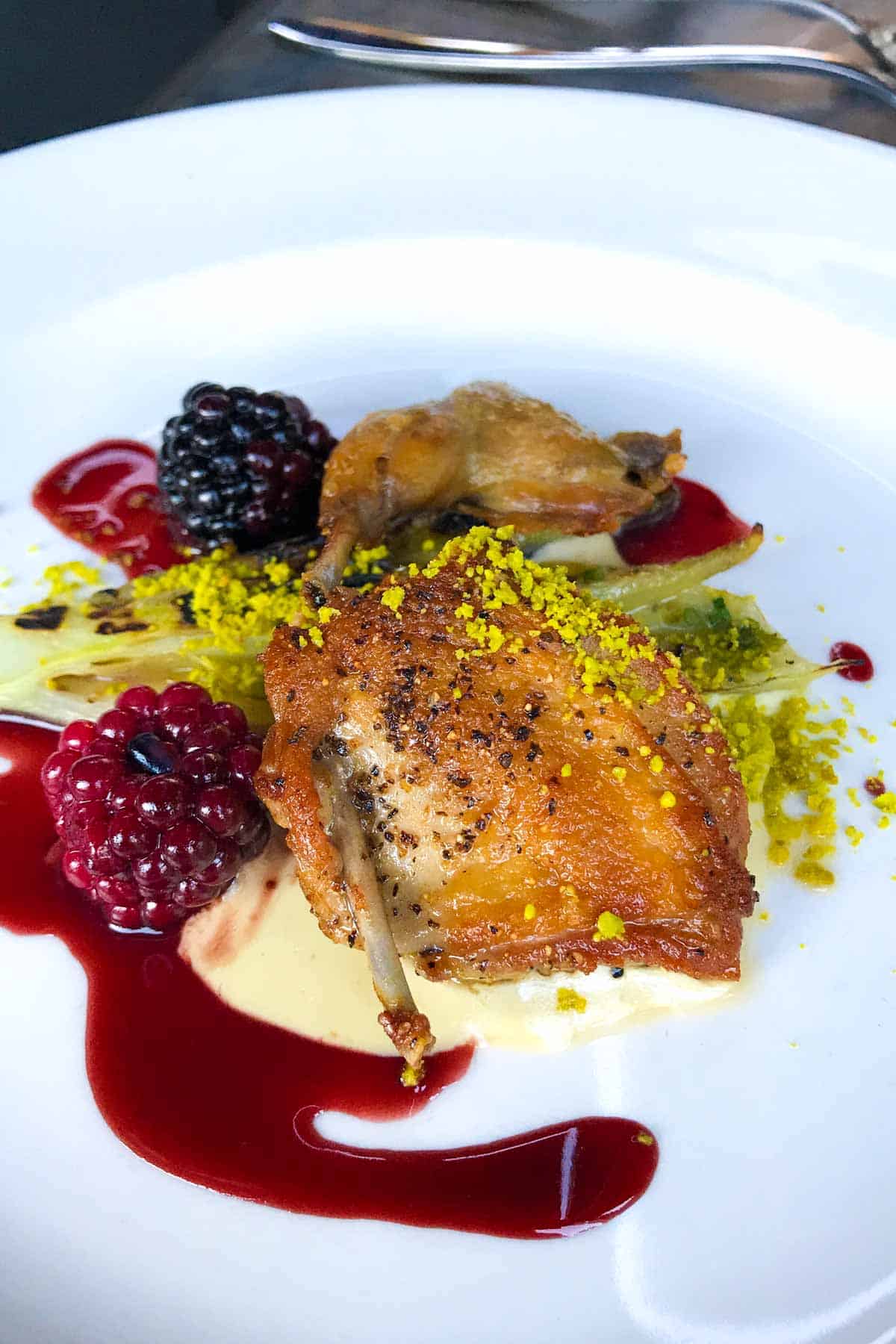 The quail was paired with my favorite wine of the night — the 2015 Flying Leap Escape, a blend of Grenache Blanc and Marsanne. I also found the name fitting, because this meal, this place, it was an escape. We had to keep reminding ourselves that we were only minutes from an International airport, interstates, and not too far from Seattle.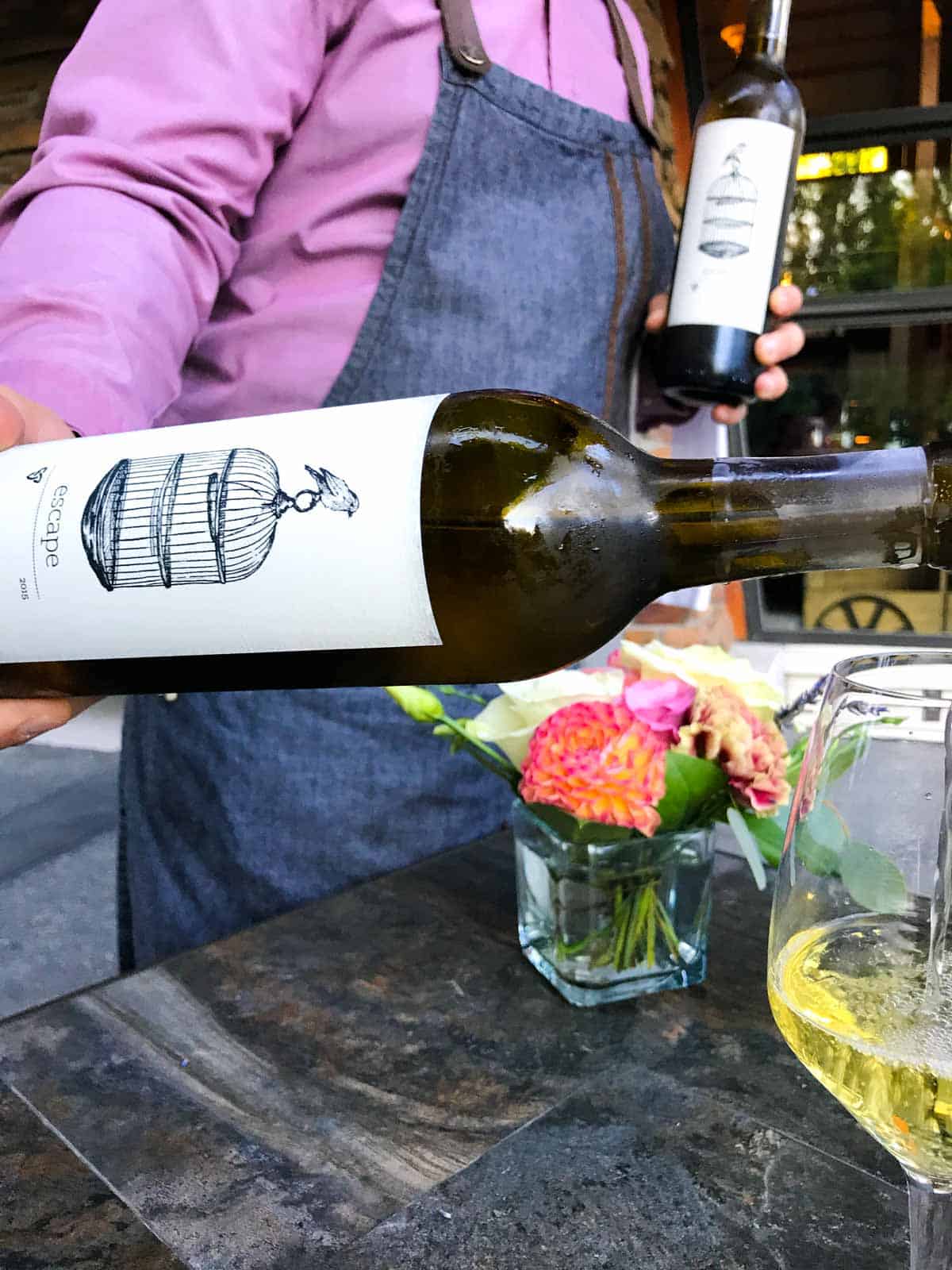 Day 5
After such an incredible meal the night before, we were sad to leave Cedarbrook Lodge. We sneaked in another breakfast and checked the events page to plan when we could come back. Their 7th Annual Heirloom Tomato Fest is coming up on September 10th, which looks amazing. If you can't make that, scroll through their events — here's a link — there's always something delicious happening. We highly recommend a trip. Hey, maybe we'll see you there!
Disclosure: Cedarbrook lodge hosted our lodging and dining during our stay at the hotel. We have not been compensated to write this post. All opinions are our own.
Hi there and thanks for visiting! If you enjoyed this then follow us on Instagram. We share lots of extra photos and videos when traveling plus you'll get to see our foodie side!