A recap of our trip to Mendocino County, California. An absolute must visit for slowing down and taking in gorgeous pacific bluff views.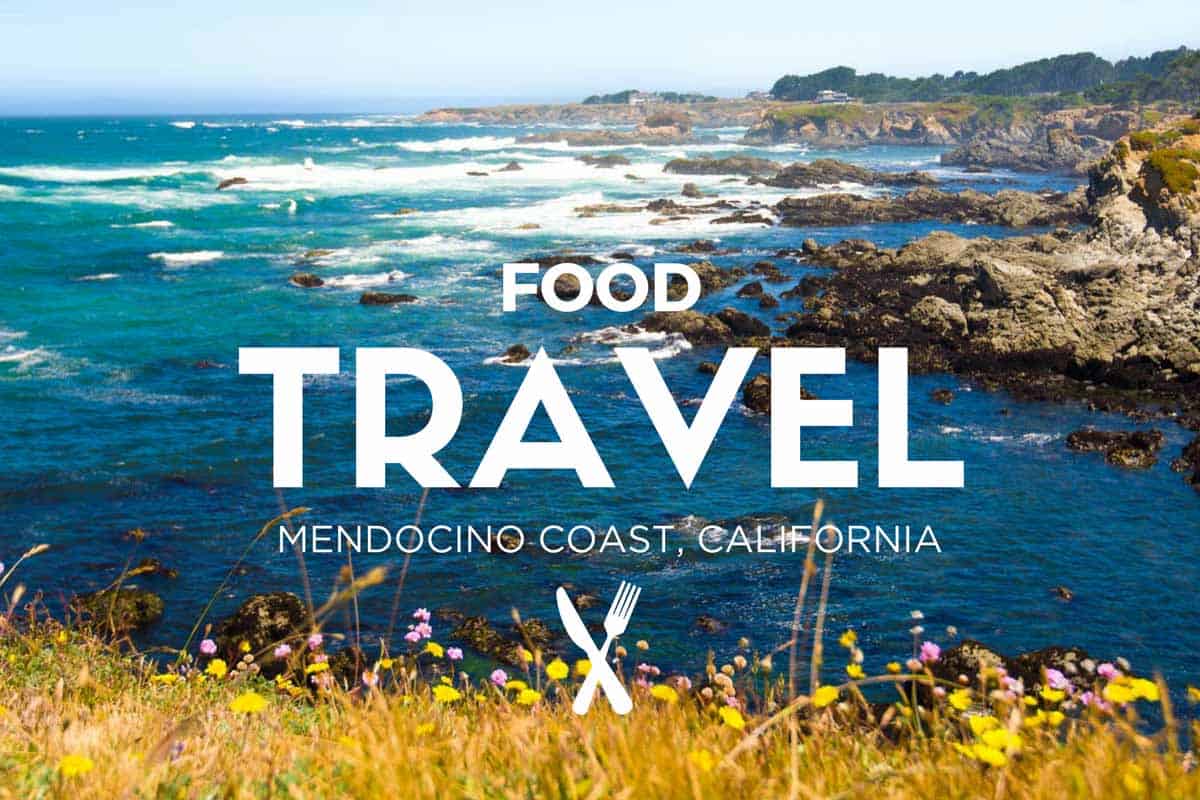 Recently Joanne and I took a five day trip to the Mendocino Coast. We've driven through before, but never had the chance to slow down and actually take in all its beauty. A stay at two quaint hotels (more on them below), both with undeniably perfect decks really helped us frame our trip. We enjoyed coffee by the sea, wine in Anderson Valley and happily hiked the bluffs.
If you're in need of a relaxed getaway and don't mind the more than occasional cell phone service blackout then Mendocino is for you! I must admit, not having cellphone service at first was, well it was just weird. After a few hours though, it was welcomed.
I've split our trip into days below. There's lots of things to do while visiting the Mendocino coast, but our goal wasn't centered around doing it all. The majority of the time was laid back and quiet.
Be sure to check out our nifty Google map that shows you everywhere we went so you can visit yourself. It works great on a phone. Click here or the map to check it out!
Day 1
If you don't know already, we live in Walla Walla, Washington. Where's that, you ask? It's about 4 hours east of Seattle and Portland. It's also smack dab in Washington wine country. Come visit, it's absolutely perfect if you love wine, food and friendly little towns.
It's a small town, but we have an airport. So in lieu of driving, we hopped on a quick flight (via Alaska Airlines) to Seattle. From there, we flew to San Francisco. Have you ever flown into SFO? I love landing after flying over the water. We rented a car from the airport (we use Dollar. Here's a tip: become an express member, it lets you skip the line and head straight to the car. A real bonus in such a busy airport!)
From the city, it takes 4 to 5 hours to get to Mendocino. (Yes, you can go via the Golden Gate Bridge!) We went straight there, but you can also drive up the coast the whole way, which is slightly longer, but beautiful! Or you can stop for a night in wine country. You go right through Sonoma County.
We stopped in Cloverdale for coffee and a snack. Cloverdale is another adorable small town located just before the turn to start heading towards the coast — If you're there, Plank coffeehouse is excellent as well as Savvy on First (great sandwiches).
After driving through redwoods and Anderson Valley, we arrived at our first hotel of the trip, The Little River Inn. You can't miss it — it's bright white and absolutely charming from the road. The gardens made Joanne envious (they have lots of daisies lining the entrance, her favorite). After a quick and friendly check in, we hurried to our room. It seems like most (if not all) of the rooms have a deck or patio overlooking the coast. Our room was on the second floor which gave us an incredible view. It's safe to say that not much happened the rest of that day. Although, the rocking chairs on our deck were most certainly used.
Day 2
Day two started right. The Little River Inn has room service with a really nice selection. You could order just about anything, but we went simple with poached eggs, bacon, toast and fresh fruit. It was wonderful to enjoy it while sitting on the deck. After a leisurely breakfast and more time on the rocking chairs we got dressed and headed out to the Mendocino Botanical Gardens. (Did I mention we liked the deck with rocking chairs!?)
We've driven by the botanical gardens before and to be honest, didn't make much of an effort to stop. Thankfully, this time we were tipped off by a local who told us that we should absolutely make the stop. The gardens are vast and have pretty much anything you could want — there's a Dahlia garden, rose garden, succulent garden, a vegetable garden and orchard plus much more! We spent quite a bit of time walking through the gardens and even had the chance to chat with a few friendly locals who come to the gardens regularly for their exercise.
Our favorite spot was the bluffs. As you meander through the various gardens and forest you start to hear waves crashing. All of a sudden the forest opens up and you are right there. The view is stunning. Oh, and that's all for a $15 admission fee. Winner!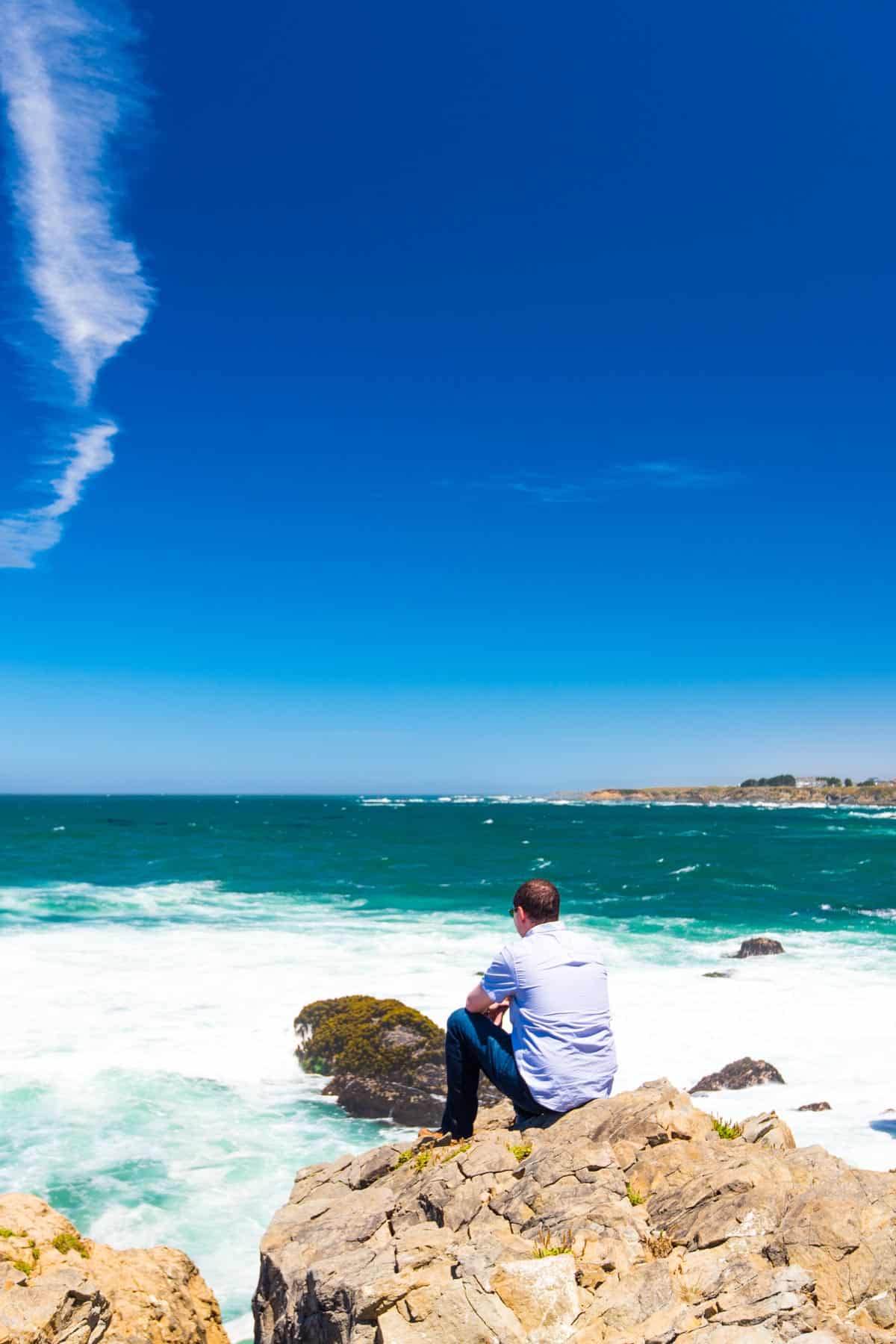 The gardens do have a little cafe, but we skipped that for lunch in the town of Mendocino. It was a little busy when we were there, but parking was still relatively easy. Lunch was at Cafe Beaujolais. Joanne ordered steak frites and I had the Cioppino, both were quite good and refueled us for some time spent in Mendocino. The town is quirky with so many interesting homes and gardens. It's also situated right on one of the bluffs so the views are outstanding. It's also got a couple of grocery stores and markets, which if you are like us are a must visit while traveling. We love eating out, but sometimes a little picnic in our room or on the beach is just what we need.
Dinner that night was at the bar in The Little River Inn. It's called Ole's Whale Watch Bar and you better believe we were watching. No whales though, I think we were off by a few months. We ordered lots of oysters, a beautiful steak and enjoyed a glass (or two) of sparkling wine from Anderson Valley wine country (just under an hour away). The wine list was mostly local and while we stayed with the wine, the cocktails being served from the bar looked excellent.
Day 3
After another excellent in-room breakfast at the Little River Inn — Adam upgraded to Eggs Benedict (so good) we headed to Anderson Valley. I told you that we live in wine country and that isn't a coincidence. It's a little passion of ours so whenever we're able to try and taste new areas, it's game on. Anderson Valley is an easy drive away from the coast. You drive right through the Navarro River Redwoods State Park to get there so the views definitely don't disappoint! The only downside was the occasional truck or RV slowing traffic down. It's trees on both sides of the road the whole way, so any slow vehicles cause a bit of a problem. That said, it's beautiful and also smells incredible — think sweet pine with salty air. Roll the windows down while you're there, it's worth it!
Our first visit was Lula Cellars, a boutique winery specializing in pinot noir (although we did love the sauvignon blanc, too). Dan hosted us along with his hilariously friendly lab, Honey. Both hosts plus the wines makes it a must visit. It was relaxed and unpretentious.
Right next door is Handley Cellars. The grounds and tasting room are much bigger. We tasted through many pinot noirs (the king variety in Anderson Valley) as well as some really nice whites. For lunch, we made a stop into Stone and Embers — great name, right? The place was quaint and not busy while we were there (although we could see that it could get that way). We sat at the counter and watched our pizza (very good) being made and cooked in the wood fire oven right in front of us. Next door there were a few small tasting rooms — we didn't have a chance to try them all, but plan on it for next time.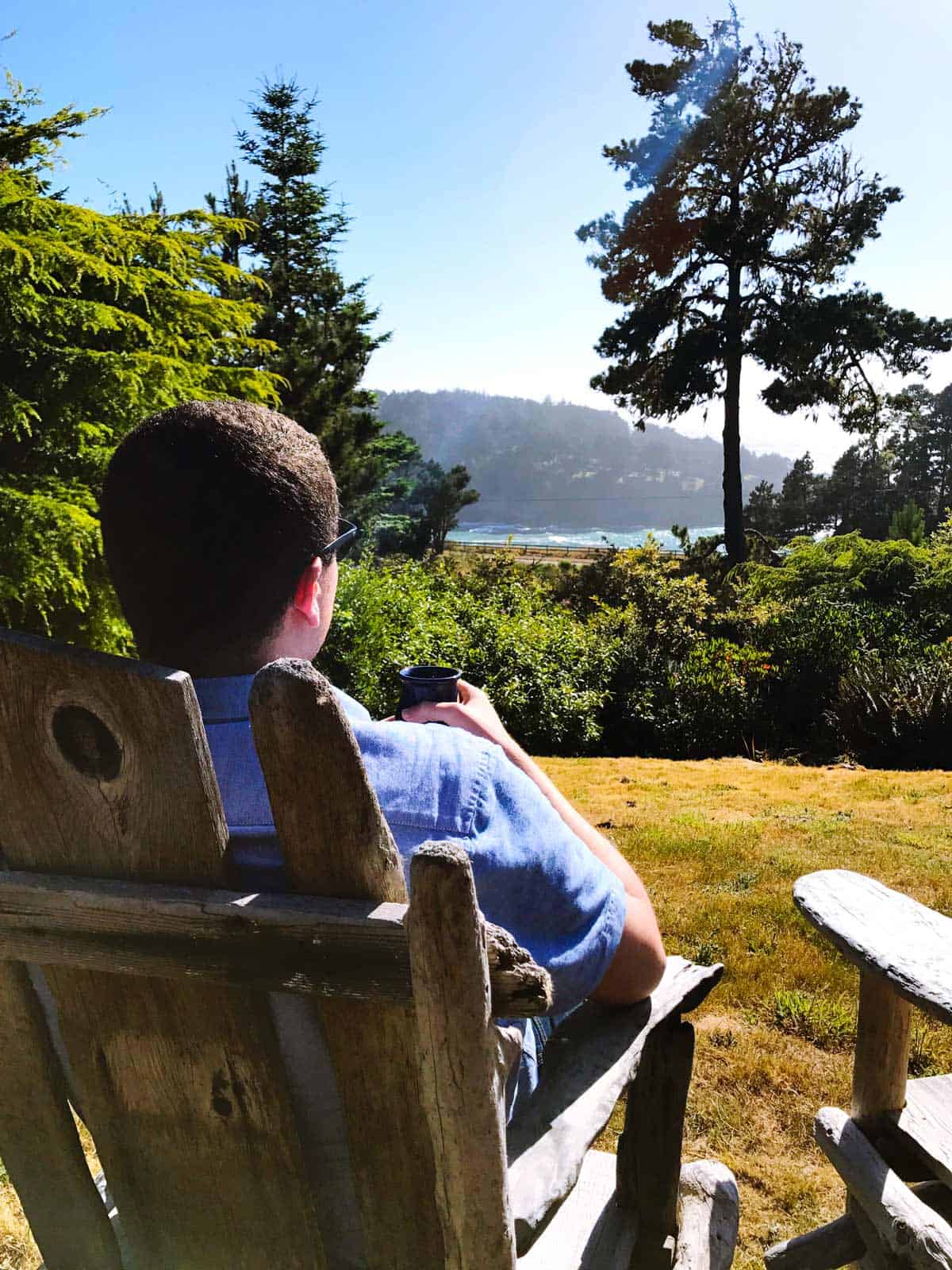 Back on the coast, we checked into our second hotel of the trip, The Brewery Gulch Inn. It's rustic while still feeling luxurious and special. Every night they host a wine happy hour with light fare that's complimentary with your room rate! When we heard bout this, we expected a small selection of cheeses and snacks, but that's not what the chef at the Brewery Gulch Inn had in mind. The spread was delicious — garlicky shrimp with perfectly cooked asparagus and a nice selection of local wines to go along with it all. The selection was plenty for dinner. It's safe to say that you really don't need to leave the inn for dinner if you didn't want to. And I have to be honest, once you see how pretty the inn is, you won't want to leave. They've got it all covered! Oh and if you miss the dinner hour, there is a selection of coffees, teas, fruit and treats out in the lobby throughout the day.
We enjoyed our shrimp and mingled with the other guests for a bit, but really wanted to enjoy the room so we headed up to our room for the night. It was gorgeous and had a lovely deck, too. We were further away from the water this time, but it didn't matter. The views were still stunning. This seems to be a theme on the Mendocino Coast. I'm not sure there's a bad view out there.
Day 4
The Brewery Gulch Inn has incredible breakfasts which, just like the light dinner and wine hour, are complimentary with your room rate. You can join other guests downstairs or have it delivered to your room. That's what we did — more time in our PJs! Every day they have a special omelet of the day and a Benedict of the day. That's on top of their already extensive and mouth-watering menu. Adam ordered the Benedict of the day and I went with two eggs, bacon, delicious breakfast potatoes and toast. Along side our meals were fresh fruit and locally roasted coffee. It was all wonderful — and let's not forget, it's complimentary with your room rate!!
Day four was spent back in wine country (I told you we like wine). Our first stop was at Goldeneye — highly recommend — where we sat on their gorgeous patio and sipped on a variety of pinto noir from the area. The tasting is done in the form of a flight, which was nice since you can take your time and really take in their views. You're right in front of their vineyard.
We were lucky enough to catch some time with the wine maker, Michael Accuroso. It was fascinating listening to him talk about the different areas in the valley that they source from.
We ended up walking away with a bottle of pinot noir from The Narrows Vineyard. Many of the wines we tasted were reasonably priced. The Narrows pinot was on the upper end, but wow it's good. We also loved the rose! In fact, Joanne mentioned that she wished we snagged a few bottles. I guess we'll be going back.
For lunch we went across the road and ordered a sandwich from Lemons Philo Market. It was cheap, really generous and just perfect for a picnic at one of the local wineries. We went to Roederer Estates, the biggest producer in the area. It's definitely worth a visit, but couple it with stopping into one of the smaller wineries. That way, you get the whole picture of what makes Anderson Valley so special. Roederer makes sparkling wine as well as still wine. We were much more into the sparkling wine and really enjoyed the Brut Rose. Sharing a bottle with friends on their patio is an excellent idea!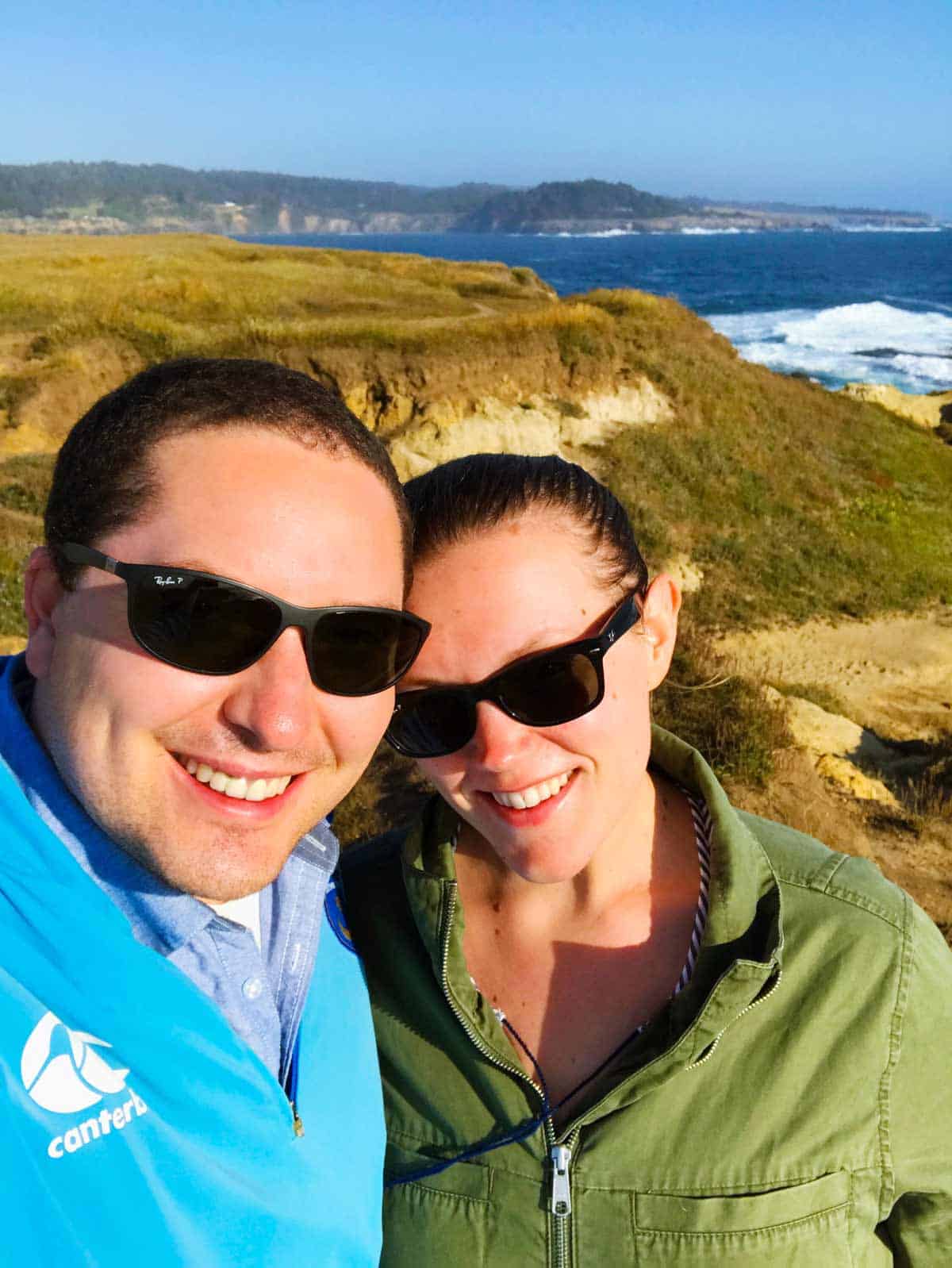 Before heading back to the hotel, we stopped in the town of Mendocino and explored the Mendocino Headlands State Park. It's just gorgeous. We hit it just as the sun was going down, making it even more breathtaking. Spending some time there is a must. That night we were tired and stayed around the hotel and enjoyed a small plate from the light buffet and supplemented with a few snacks in our room including a local cheese from Penny Royal Farm. As we were heading to the room, I noticed they had a DVD section. I'm not embarrassed to tell you that we watched Minions that night and it was awesome.
Day 5
Our flight wasn't too early, but it is quite a drive back to San Francisco. We lounged in the room with another delicious in-room breakfast. We were sad to leave and took in the last views of the coast as we drove back to the airport for our flight home. Such a great trip!
Disclosure: Both hotels, The Little River Inn and Brewery Gulch Inn hosted our lodging during our trip to the Mendocino Coast. The fees for our stop into the Botanical Gardens and Lula Cellars were also waved. We have not been compensated to write this post. All opinions are our own.
Hi there and thanks for visiting! If you enjoyed this then follow us on Instagram. We share lots of extra photos and videos when traveling plus you'll get to see our foodie side!