A recap of our weekend in British Columbia's South Okanagan Wine Country. An absolute must visit for interesting bold Canadian wine, spectacular views and fine dining.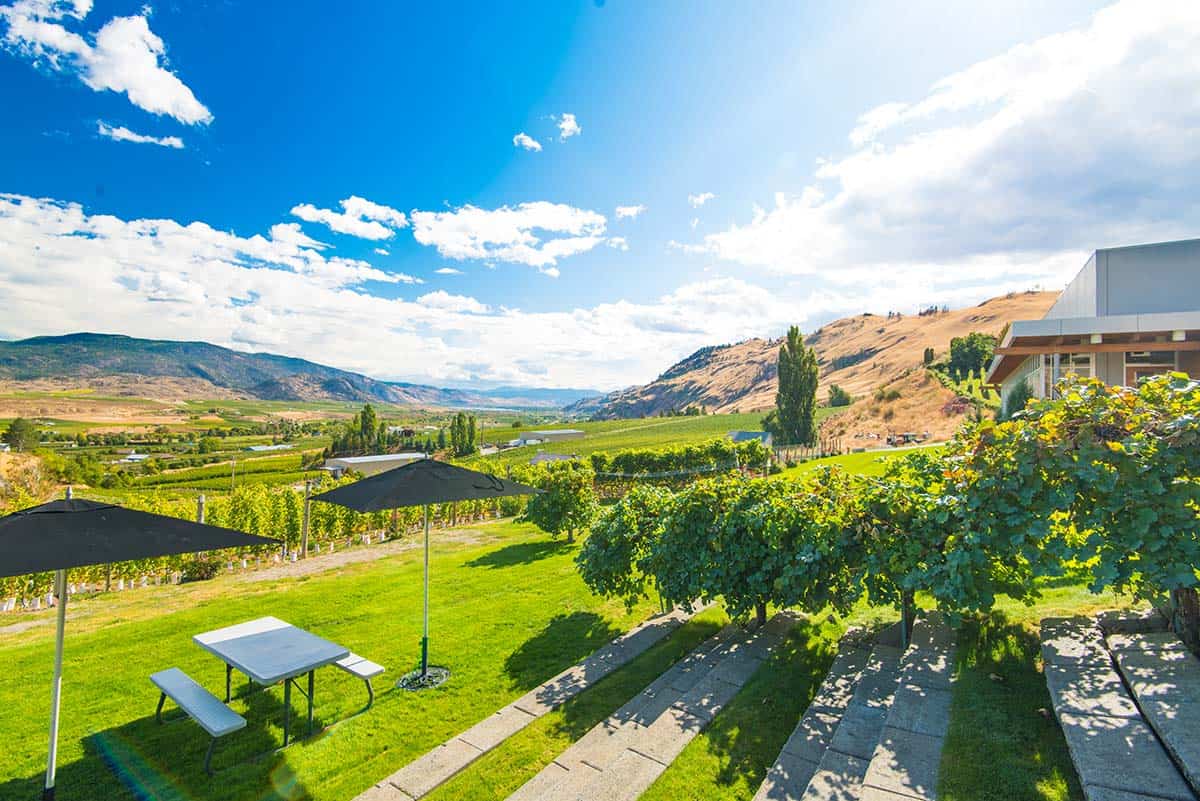 We're attracted to wine country — so much so that we live in wine country. We love how rows of vines pierce the landscapes, roll through valleys and over hills. I've never met a wine region I didn't like, but let me tell you, British Columbia's South Okanagan Wine Country is gorgeous. It's drop dead beautiful.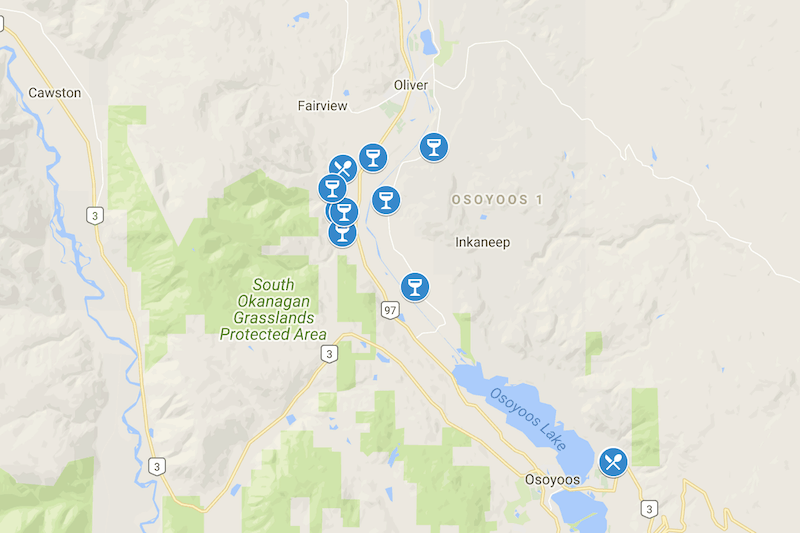 Be sure to check out our nifty Google map that shows you everywhere we went so you can visit yourself. It works great on a phone. Click here or the map to check it out!
From our home in Walla Walla, WA, the Osoyoos Wine Region of British Columbia is a 5 hour drive. That's close to how long it takes from Seattle and even Vancouver, which is a little quicker.
The moment you cross the USA/Canada Border you're in Canadian wine country. We spent three days in the Fall and cannot wait to go back to explore more. Fall was gorgeous, but with all the water sports to be had on Lake Osoyoos, late Spring and Summer would be a blast.
I'll share a few highlights of our trip, but you can also follow along with our Google Map. Adam added all the stops we made on our trip.
We also recommend checking out the Oliver Osoyoos Winery Association website. They helped get us out to Oliver Osoyoos Wine Country and had lots of fantastic suggestions for us.
We stayed at Spirit Ridge Lake Resort and were so glad we did. When we travel, we'll often choose AirBNBs so we have a kitchen (yes, we do actually cook on vacation). I'm a snacker, you guys! Having that kitchen comes in handy. Luckily, Spirit Ridge gets that. The rooms at Spirit Ridge have kitchens so we got the best of both worlds: hotel amenities and the use of a kitchen!
The rooms also have incredible views. That's the view from our balcony overlooking their own vineyards, the lake and ridges. Quite the view to wake up to. The grounds were also beautiful and generous, not to mention they have more than one hot tub (a must when visiting wine country, right?).
We had dinner at the restaurant onsite: Mica Restaurant. The dining room is pretty, but we loved the option for dining outside on their deck. Even though it was a little chilly, they were prepared with outdoor heaters (so thoughtful). The food was excellent. A few favorites were the salt and pepper calamari (so tender), the ahi tacos and the foraged mushroom toast. The menu is seasonal so ask your server what's best when you visit.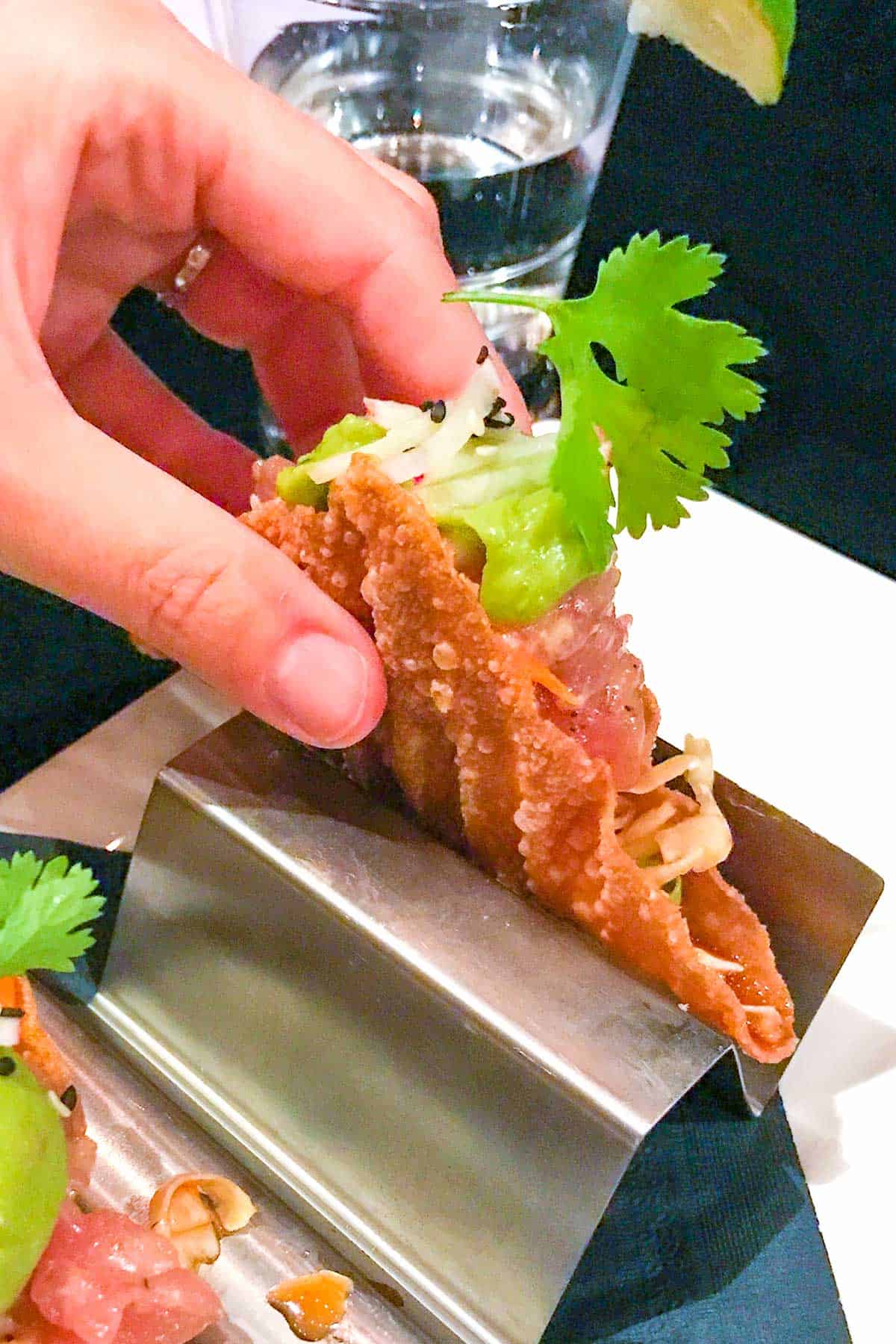 Over the weekend, we stopped into a few tasting rooms. Platinum Bench was fun and unexpected. Each wine is paired with freshly baked artisan bread. The bread is made right there at the winery. We loved the wine and the bread was fabulous. We even bought extra bread to take with us for our next adventure. It's the perfect first stop. Relax, have your tasting then buy a couple loaves of fresh baked bread and some local cheeses to take to your next destination. We loved it.
The view from Road 13 Vineyards is stunning. We took the photo at the top of this article from their property. They are one of the vineyards located on what's called The Golden Mile, a unique and ideal growing area for grapes. It's located off the valley floor, which means the temperatures reached in The Golden Mile can be warmer than at the valley floor. It also means you get a spectacular view. Great wines and a great view, the perfect combination!
Another favorite was vinAmité Cellars. Inside you are greeted by a sleek and friendly tasting lounge. Have your tasting their then move onto the deck overlooking their vineyards for a glass or flight of wine and one of their amazing cheese and charcuterie platter.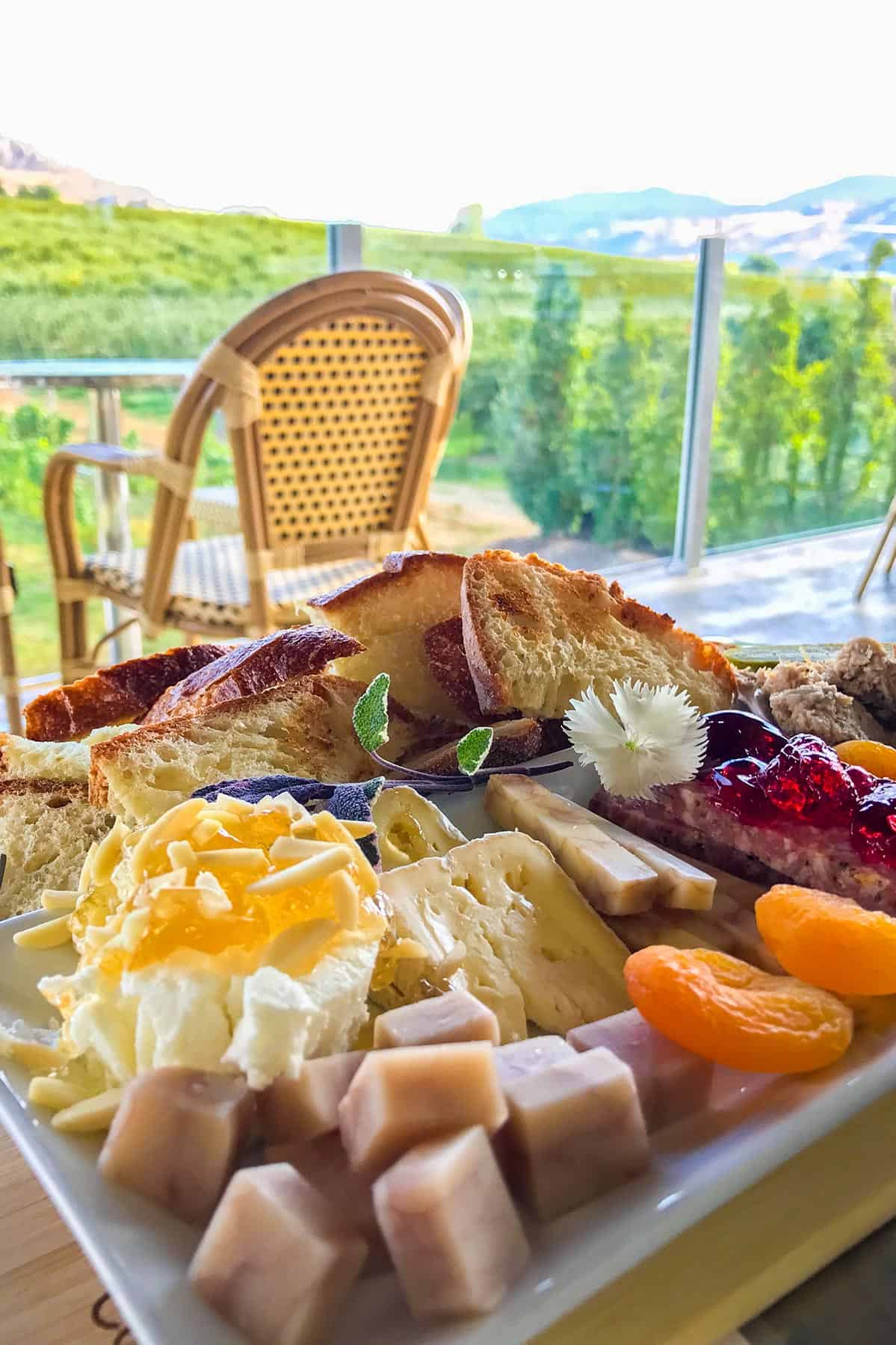 Most of the tasting rooms are open to walk-ins, but a few recommend reservations. Don't let that deter you. We called ahead to experience Culmina Estate Winery and were so glad that we did. They have some of the highest planted vines in the area and make some pretty incredible wines. The tasting is seated, friendly and low-key. We loved it. On your way or way down from Culmina, stop into the Checkmate tasting room. They specialize in Chardonnay and Merlot and host the tastings in an absolutely stunning space. It's worth a stop, for sure.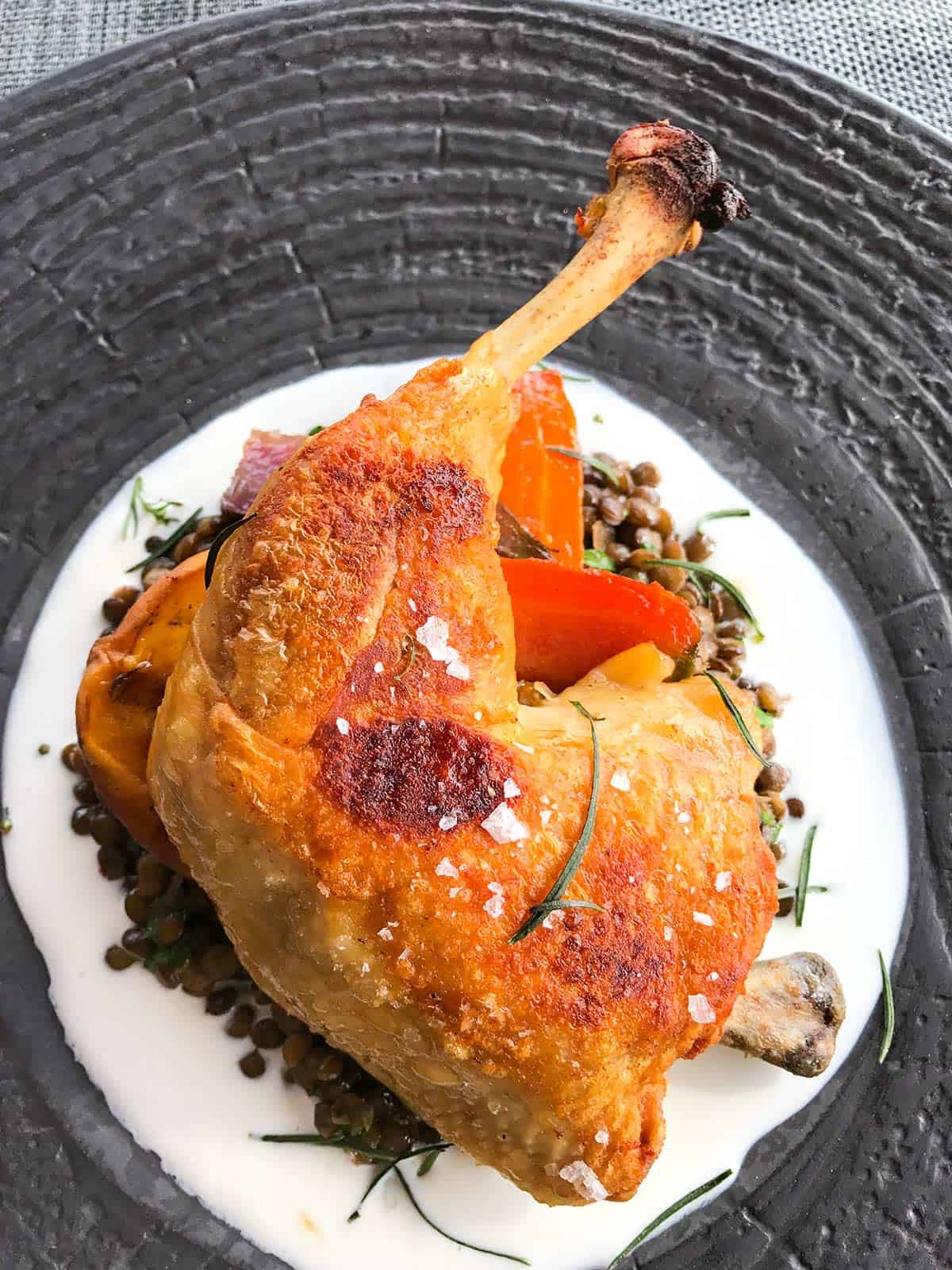 Now to one of our favorites: lunch at Miradoro located at Tinhorn Creek. First, the view. It's unreal. See the photo below? It's in our top five most beautiful vistas while dining at a restaurant, for sure. Adam's crisp confit chicken leg with butter milk and black lentils stole the show. I love trying new things when we travel, but I've got to say, every time we're in the area in the future, Miradoro is on the list.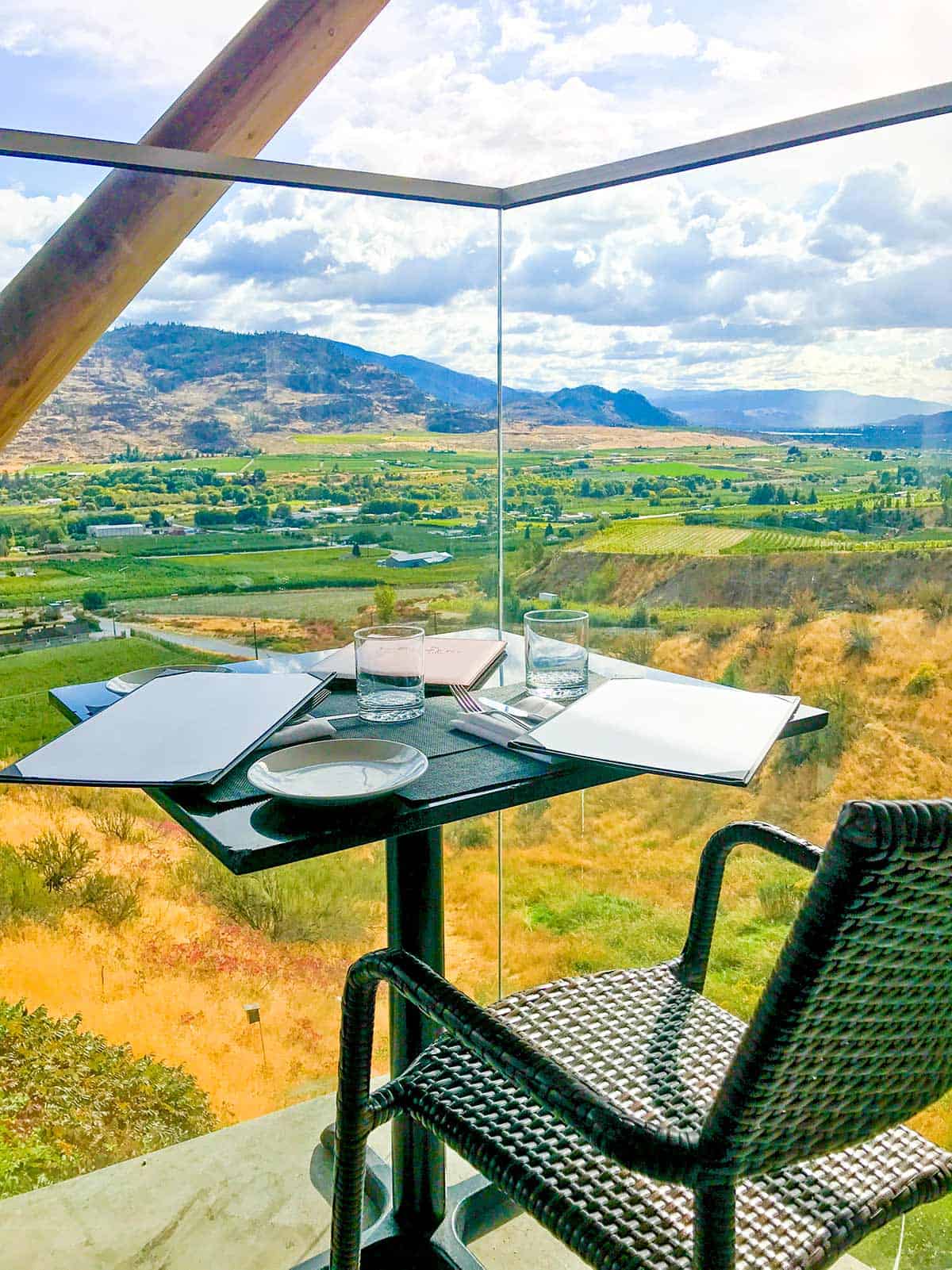 Disclosure: Spirit Ridge hosted our lodging during our trip. We would like to thank the Oliver Osoyoos Winery Association who helped put our trip together and introduced us to British Columbia's South Okanagan Wine Country. We only work with businesses that we love and only share suggestions that we would encourage friends and family to enjoy. All opinions are our own.