In all our time exploring Seattle, we had never been to Kirkland, Washington. After recently spending a weekend there, we left kicking ourselves that it had taken us so long to go. Here's what we did and why we think you should take a trip to Kirkland, too.
Kirkland is on the eastern side of Lake Washington and only 12 miles from Downtown Seattle. We stayed right in town at the luxurious Heathman Hotel. The great thing about Kirkland, is the moment you park, you can forget about your car and explore by foot or bike. Since our hotel was right in town, we found it to be a fantastic jumping off point for exploring the area. The rooms were comfy, too. They even stocked it with a kettle and French press coffee pot. If you're like us, then you need that first cup of coffee in the morning so the upgraded coffee situation was a major plus. If you don't feel like making it, simply walk across the road to the French Bakery for coffee or to Green E Juice for a freshly made juice or smoothie — both places were fantastic.
Be sure to check out our nifty Google map that shows you everywhere we went so you can visit yourself. It works great on a phone. Click here or the map to check it out!
The Heathman Hotel has adorable and complimentary bikes for guests to use. If you aren't staying there, we did notice quite a few bike shops that had rentals, as well.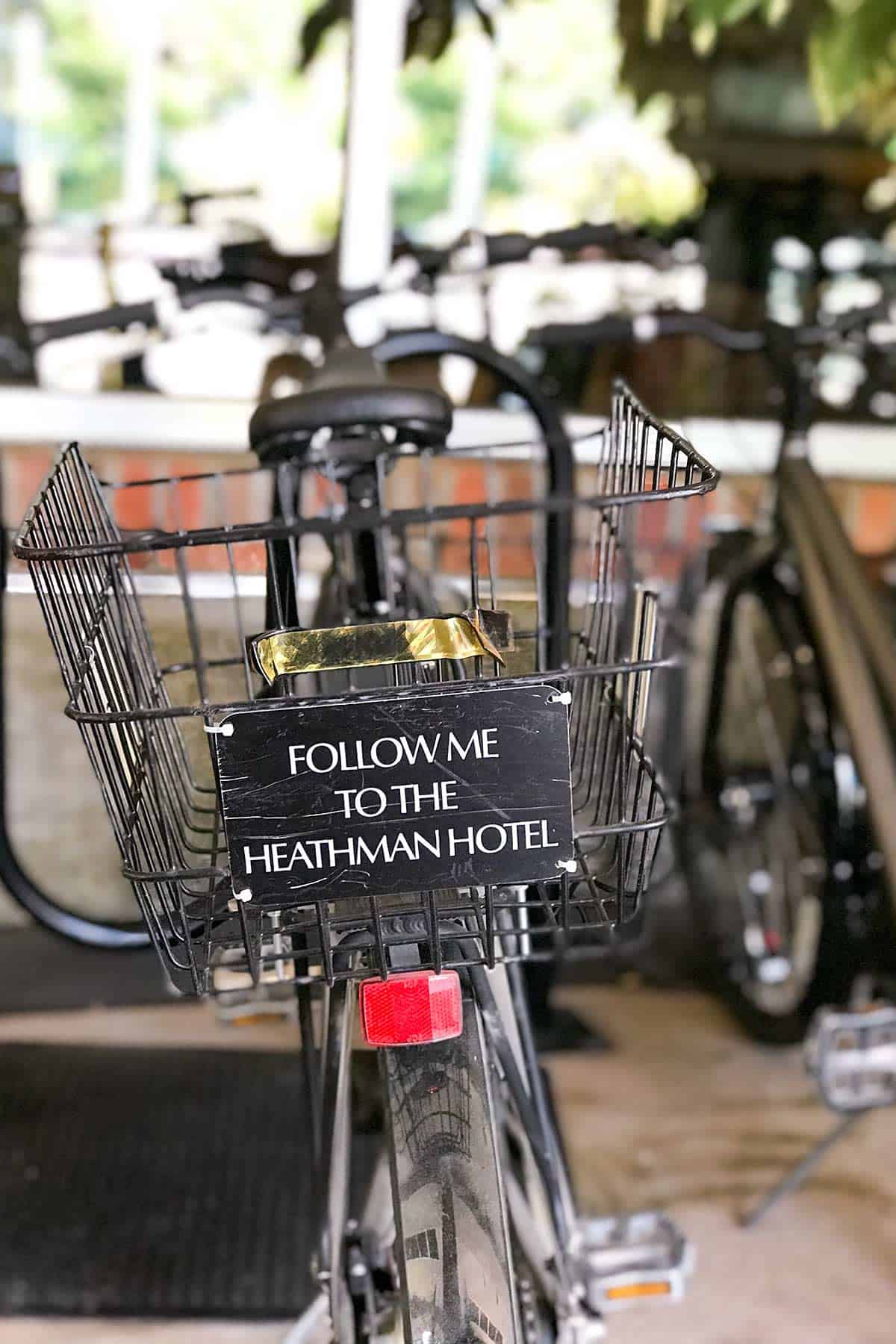 We were in town during Kirkland Uncorked. The three-day event brought together local wineries, food trucks and artisans. After speaking with a few locals, we found out that similar events, wine walks and art strolls are common in Kirkland. So make sure you check Explore Kirkland before you go to see what's happening while you are there.
If you're there during the warmer months, you must go and explore the waterfront parks and Lake Washington. Lots of shops rent out kayaks and paddle boards and I'm sure you can find a few that offer motorized water sports, too.
Do what we did and follow in the footsteps of the local kids. We spent an afternoon jumping off the docks and swimming. We felt like we were 10 again and it was a blast. We've heard swimming in Lake Washington is a quintessential Seattle experience. Kirkland provides an excellent opportunity to do it. The area is so walk and bike friendly, it's easy to find a small beach or safe docks with ladders to spend an afternoon.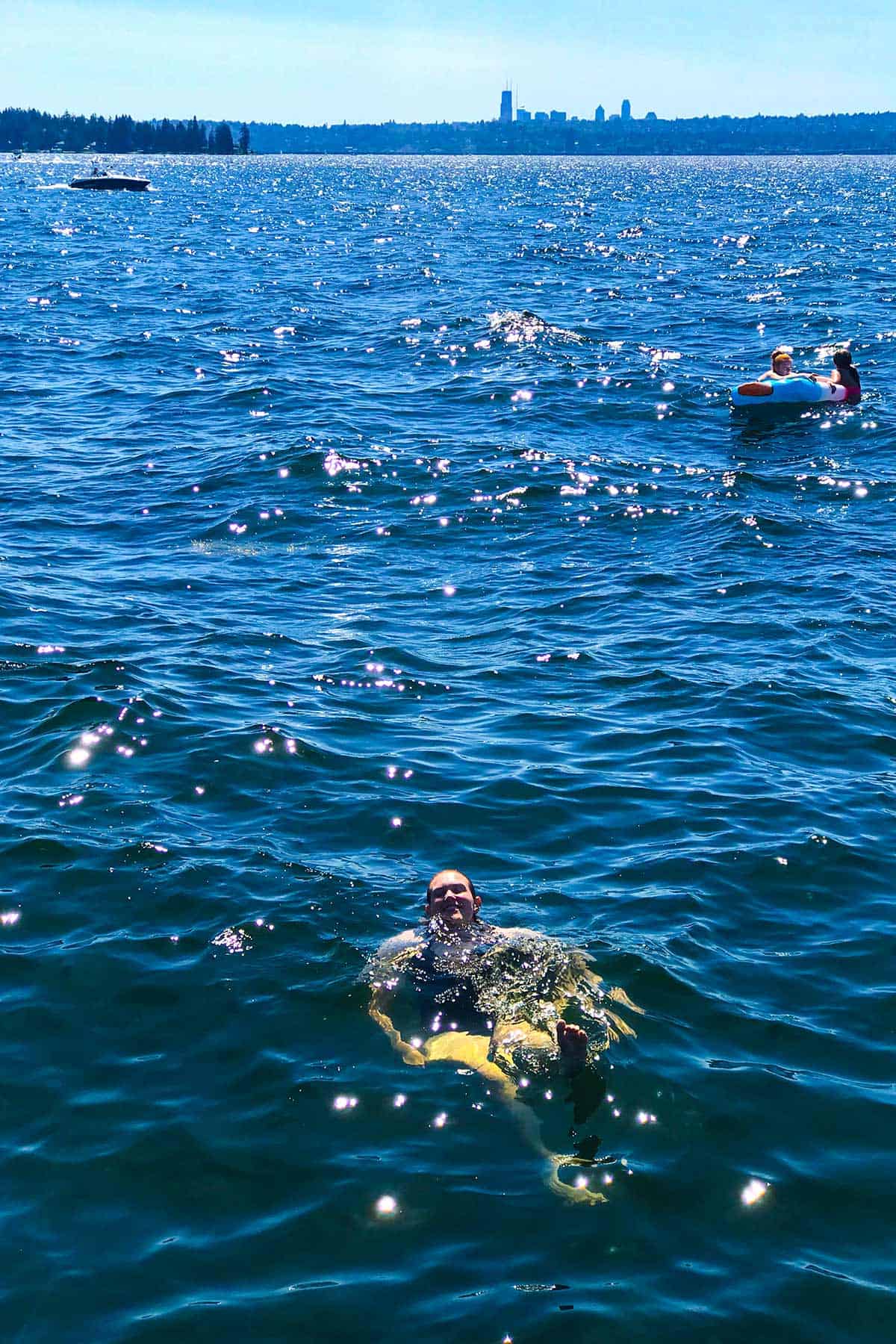 With it's restaurant-lined streets, Kirkland has lots to choose from for dining. We loved how many of the restaurants had garage or sliding doors that opened onto the streets. The area feels so open and lively.
Taking a stroll down Park Lane is a must. It's right in the middle of town. Park Lane is an award-winning street lined with art sculptures, galleries and restaurants. Head into Cactus for a margarita and Mexican-inspired eats or go next door to Park Lane Public House for happy hour featuring local beers and wine. For dessert, walk over to Lady Yum. Steps away from Park Lane, Lady Yum sells some of the best macarons we've had. They even sell wines and champagne by the glass to enjoy with your macaron (genius).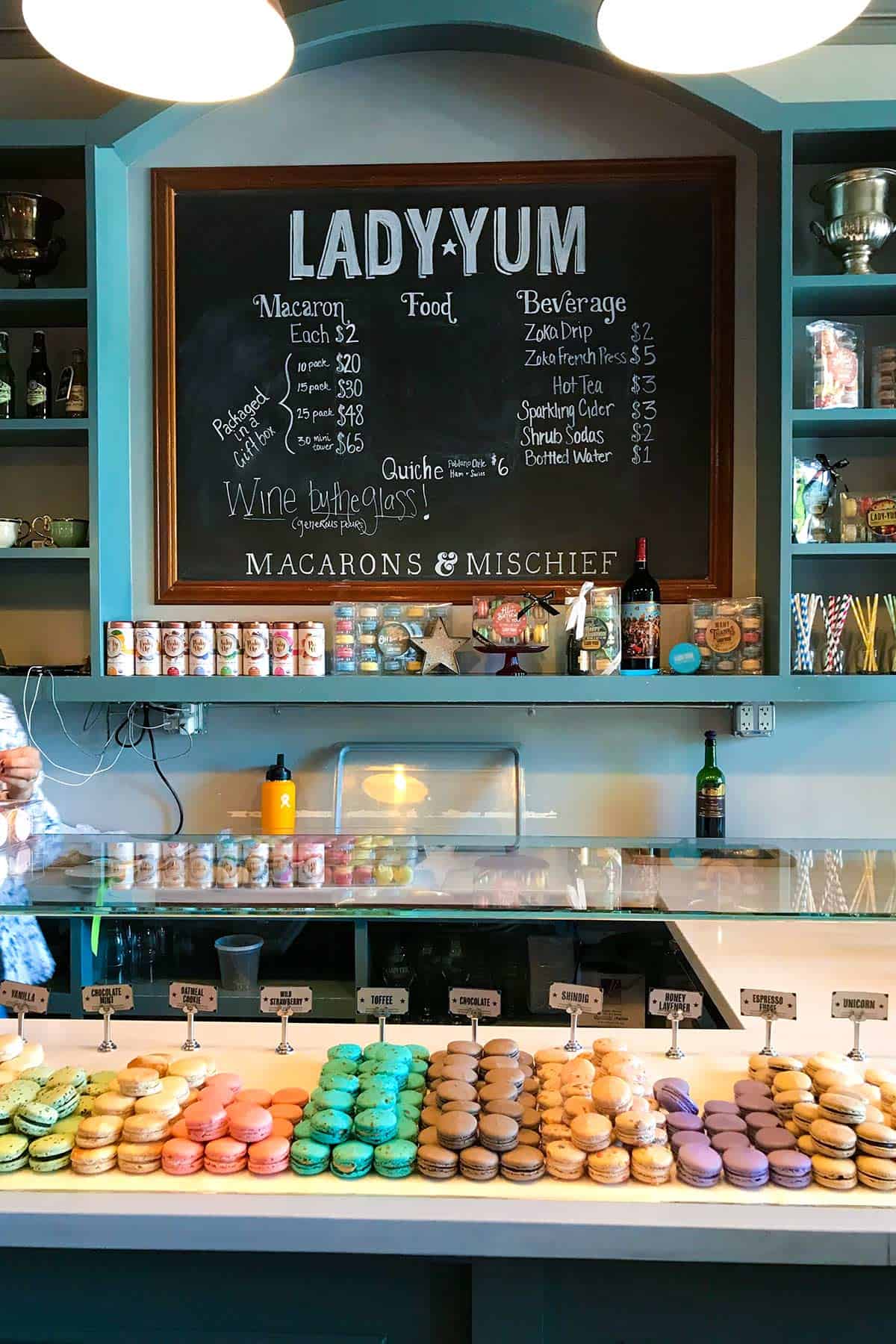 There are lots of options for a fancier dinner, we ate at Trellis Restaurant located on the first floor of The Heathman Hotel. We loved our dinner of Pacific Northwest inspired fare, especially the scallops with pea shoots!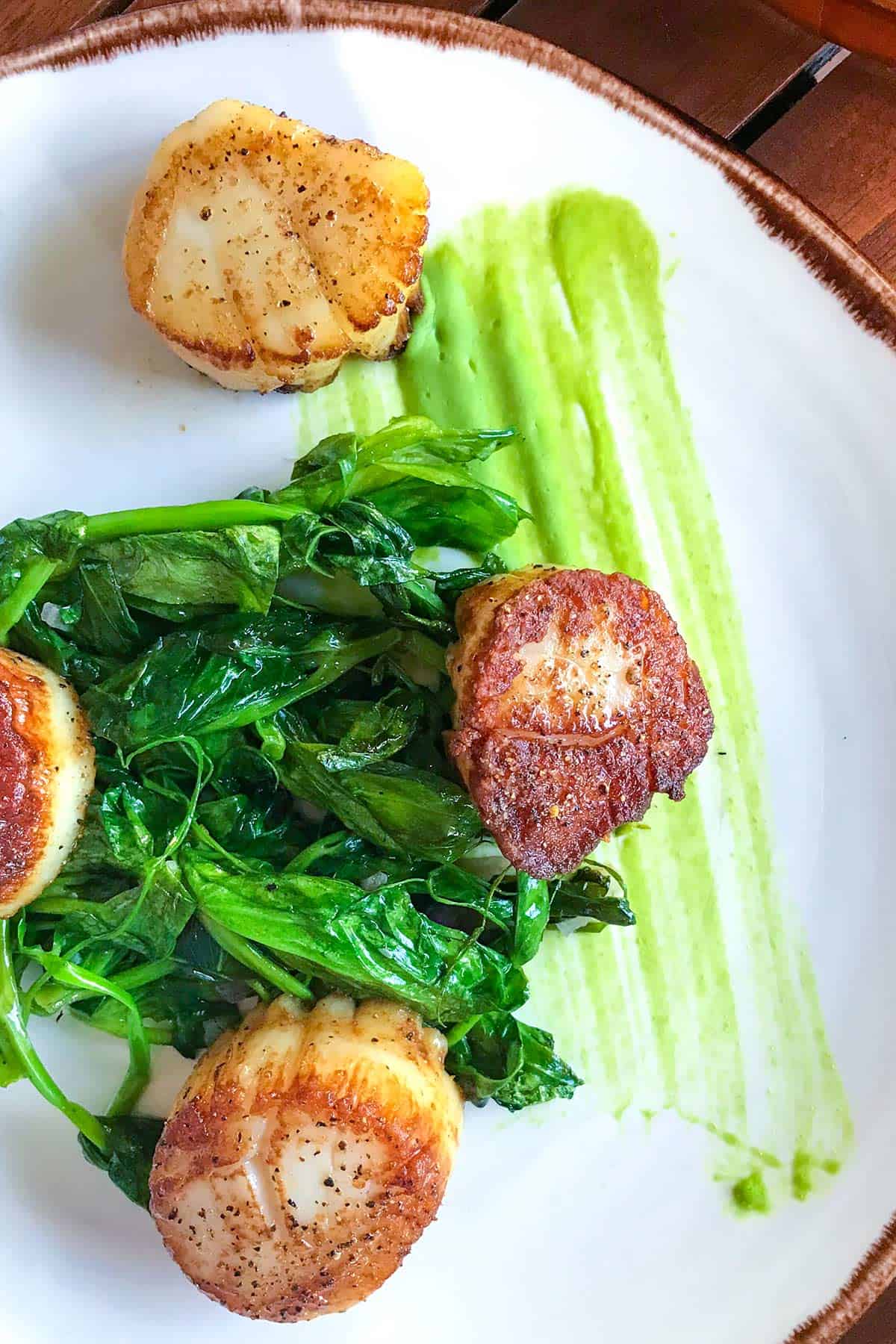 It's no secret that we ate well in Kirkland, in fact, we found one the best brunch spots we've ever experienced. I mean it, you guys. DERU Market, located off the beaten path in a neighborhood of homes, was incredible. Everything on the menu looked fantastic, but the seasonal brioche French Toast is a must. Ours had peaches and whipped cream, but depending on the season you might find a different fruit piled on top. We'll be thinking of that brunch for a long time.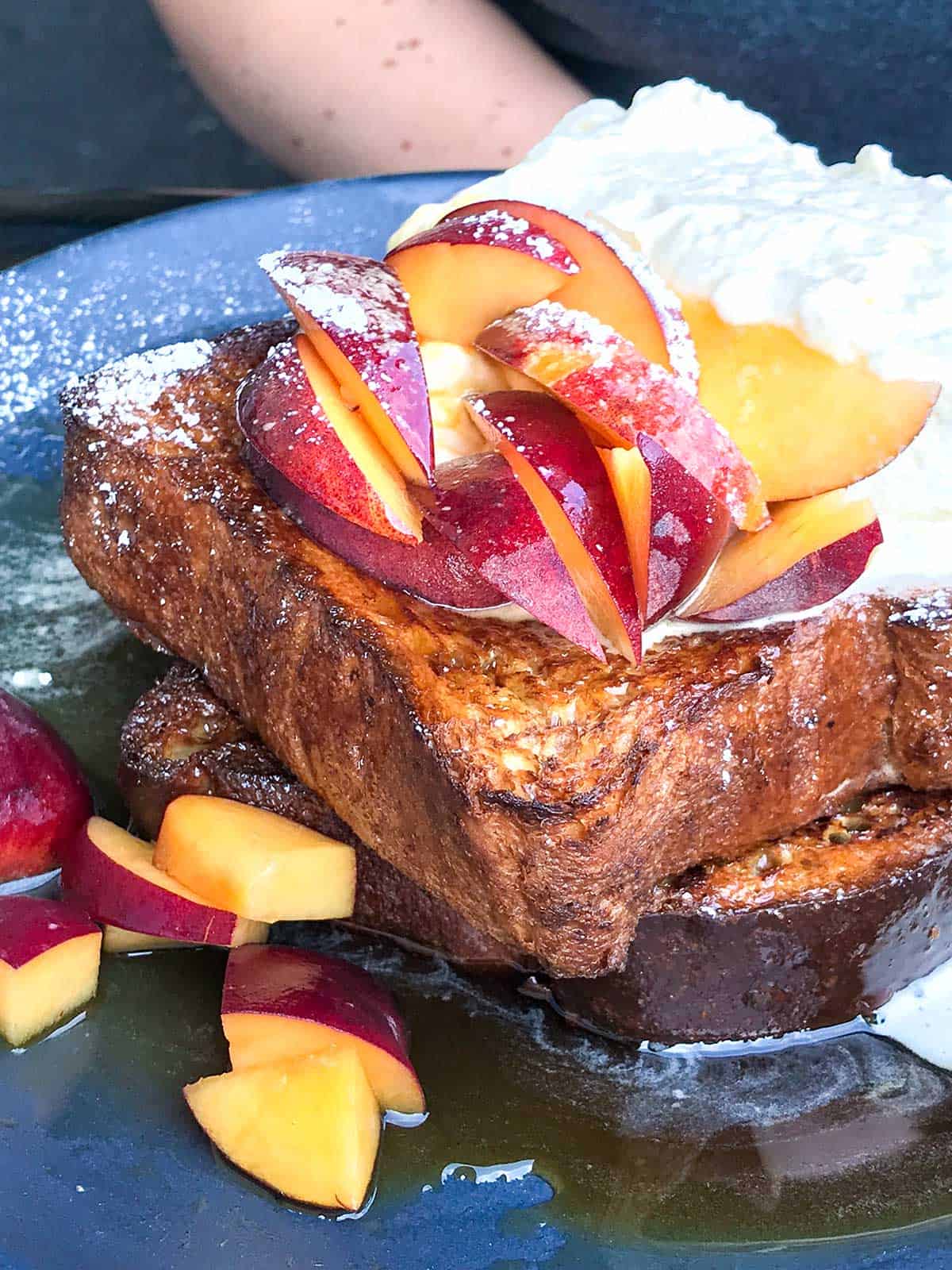 We loved our time exploring Kirkland, WA and are craving another jump off the dock into the lake. If you're looking for a mini getaway, Kirkland's a great option. It's easy to get to and once you are there, simple to get around. Lively restaurants, vibrant art-lined streets and easy lake access makes Kirkland a total winner.
Disclosure: The Heathman Hotel hosted our lodging during our trip. We would like to thank Explore Kirkland who helped put our trip together and introduced us to all there is to do in Kirkland, WA. We only work with businesses that we love and only share suggestions that we would encourage friends and family to enjoy. All opinions are our own.