How to make a delicious chorizo and eggs breakfast skillet perfect for breakfast, brunch, and even dinner! Thanks to chorizo sausage, this skillet is loaded with flavor and it can be made in under 20 minutes.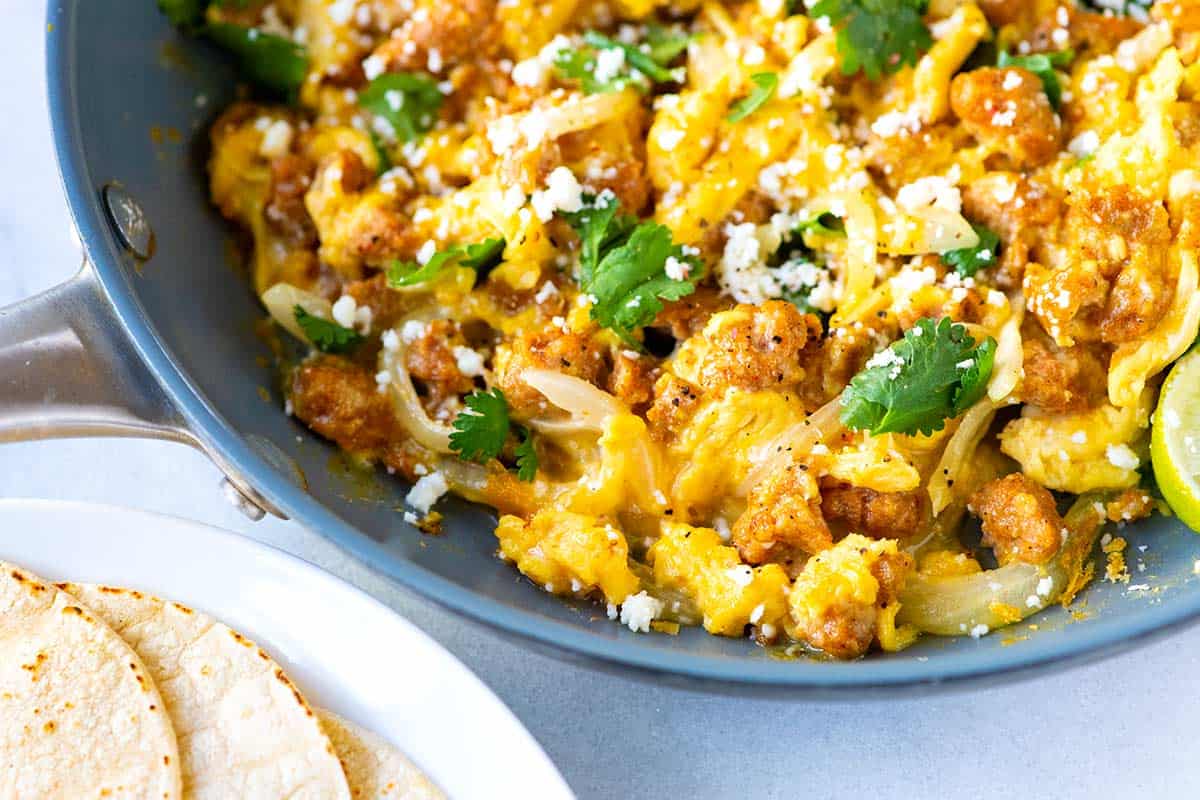 Chorizo is one of our favorite ingredients to cook with. It's ultra-flavorful, spicy, and perfect with eggs. We pile the chorizo and eggs into warm tortillas for amazing breakfast tacos.
What is Chorizo?
Chorizo is a flavorful, spice-packed pork sausage. It comes in two forms: fresh (or raw) sausage and cured (or dried) sausage. It is used in many cuisines including Spanish, Mexican, Puerto Rican, South American, and Portuguese. Both versions are highly seasoned and can be spicy (the spiciness can vary depending on who's making it).
Fresh chorizo is often called Mexican chorizo and resembles the texture of Italian sausage. It's sold in casings and as bulk sausage.
Dried chorizo is called Spanish chorizo and resembles hard salami. You can slice and eat it with no cooking required.
While both forms of chorizo are delicious, they aren't interchangeable. For this breakfast skillet, we're using fresh chorizo. Here are a few more ways to use Mexican (raw) chorizo sausage:
Swap regular bratwurst sausages for chorizo links and cook on the grill and serve in buns topped with pickled onions, cotija cheese (or queso fresco), and a squeeze of fresh lime.
Fill mushroom caps with raw chorizo and bake for spicy and flavorful stuffed mushrooms.
Remove the sausage from the casings and cook in a skillet until crisp. Use this and the rendered fat as a base for soups, chili, stews, and stewed greens.
Spanish chorizo can be used in many dishes, too. Here are a few of our favorite ways to use it:
Slice and serve with cheese (I love Manchego) and olives.
Crisp in a skillet — just as you would when crisping up prosciutto. Add the crispy sausage to salads, rice dishes or vegetables.
Render chorizo in a pot before steaming mussels. We have this white wine mussels recipe on the blog. Adding a bit of chorizo adds color, spice, and meatiness.
Making the Best Chorizo and Eggs
This chorizo and scrambled eggs recipe couldn't be simpler. It's also one of our favorite meals. We make it for breakfast and even dinner.
Start by removing fresh sausage from the casings. Add the raw sausage to a hot pan and cook until the fat renders and the sausage is browned. As it cooks, use a spoon to break it into pieces.
When the sausage is cooked, check the pan. If there's lots of rendered fat, consider removing some. Some fat is a good thing. It has lots of flavors! Too much, though, and the eggs will be greasy.
Now for the eggs — we've talked about scrambled eggs before. For the best scrambled eggs, you want to use medium-low heat. If the pan is very hot from cooking the sausage, wait a minute or two before adding the eggs.
When the eggs are cooked, serve the whole dish family style with fresh lime, cilantro, a sprinkle of salty cheese (we love cotija cheese), and warm tortillas.
Easy Chorizo and Eggs
Chorizo and eggs are a fantastic combination and work perfectly for this easy breakfast skillet. Chorizo is a flavorful, spice-packed pork sausage. It comes in two forms: fresh sausage and cured sausage. For this breakfast skillet, use fresh chorizo.
You Will Need
6 ounces fresh chorizo sausage, casings removed
1/2 cup sliced onion
6 large eggs
Pinch salt
Handful cilantro leaves
Cotija cheese or Queso fresco for serving
Lime wedges, for serving
Tortillas, warmed for serving
Directions
1Heat a wide non-stick skillet over medium-low. Add the chorizo and cook, breaking it up with a wooden spoon, for 5 minutes. Stir in the sliced onions and cook, stirring every once and a while, until the sausage is cooked through and crispy, another 5 to 6 minutes more.

2Meanwhile, crack eggs into a bowl, add a pinch of salt and whisk until well blended.

3Take the pan off of the heat for a minute, so it cools slightly. Check how much fat has rendered from the sausage. If it is more than a tablespoon, remove some from the pan.

4Place the pan back over medium-low heat. Pour in the eggs and immediately use a silicone spatula to swirl in small circles around the pan, without stopping, until the eggs look slightly thickened, and small curds begin to form; about 30 seconds. Change from making circles to making long sweeps across the pan until you see larger, creamy curds; about 20 seconds (see us do this in our scrambled eggs video).

5When the eggs are softly set and slightly runny in places, remove the pan from the heat and leave for a few seconds to finish cooking. Give a final stir and serve with the tortillas and a few lime wedges, as well as some cilantro leaves and cheese scattered on top.
Adam and Joanne's Tips
If you cannot find chorizo, try Italian sausage as a substitute.
Nutrition facts: The nutrition facts provided below are estimates. We have used the USDA database to calculate approximate values. We did not include tortillas.
If you make this recipe, snap a photo and hashtag it #inspiredtaste — We love to see your creations on Instagram and Facebook! Find us: @inspiredtaste
Nutrition Per Serving
Serving Size
1/4 of the skillet
/
Calories
336
/
Total Fat
24.5g
/
Saturated Fat
7.3g
/
Cholesterol
354mg
/
Sodium
725.9mg
/
Carbohydrate
2.1g
/
Dietary Fiber
0.4g
/
Total Sugars
1g
/
Protein
25g