This easy and budget-friendly chicken ragu is ready to enjoy in just under 30 minutes. This recipe comes together quickly thanks to ground chicken, making it perfect for busy nights. Our family adores serving this flavorful ragu over a bed of spaghetti.
Related: We also love this easy weeknight friendly spaghetti and meat sauce that's made completely from scratch
How to Make 30-Minute Ragu with Ground Chicken
While some ragu recipes require more time, we've simplified this version with a few shortcuts. We enhance store-bought or pre-made marinara sauce by infusing it with garlic, rosemary, and red wine.
Instead of using chicken parts like thighs or breasts, we use ground chicken. This recipe is an excellent choice for those hectic evenings with limited time.
In the recipe provided below, we specifically use ground chicken. However, feel free to experiment with ground turkey, beef, pork, or fresh sausage, as they all work well in this recipe.
To prepare the sauce, cook onions, carrots, and celery until they become tender and sweet. Stir in rosemary and garlic, allowing the flavors to become fragrant. Once the vegetables are ready, add the ground chicken and cook until nicely browned.
Next, pour in some wine (dry red or white wine will both work). If you don't have wine on hand, don't worry! You can substitute it with chicken or turkey broth.
After adding the wine (or broth), incorporate the marinara sauce. When it comes to the marinara sauce, you have a few options.
You can make a homemade sauce using recipes like this flavorful red pasta sauce or this simple marinara. Alternatively, you can use your favorite store-bought jar of sauce (I personally enjoy Rao's sauces).
Let the sauce simmer for approximately 10 minutes, and then serve it over pasta or for a lower carb option, try making zucchini noodles. There's a tutorial for making them in this recipe for zucchini pasta.
Enjoy your homemade ragu with ground chicken served over pasta, such as spaghetti. You can also use it as a delicious filling for baked pasta dishes or even transform it into a sandwich reminiscent of Sloppy Joe's. If you want more recipe ideas, consider scrolling through our list of must-try pasta recipes!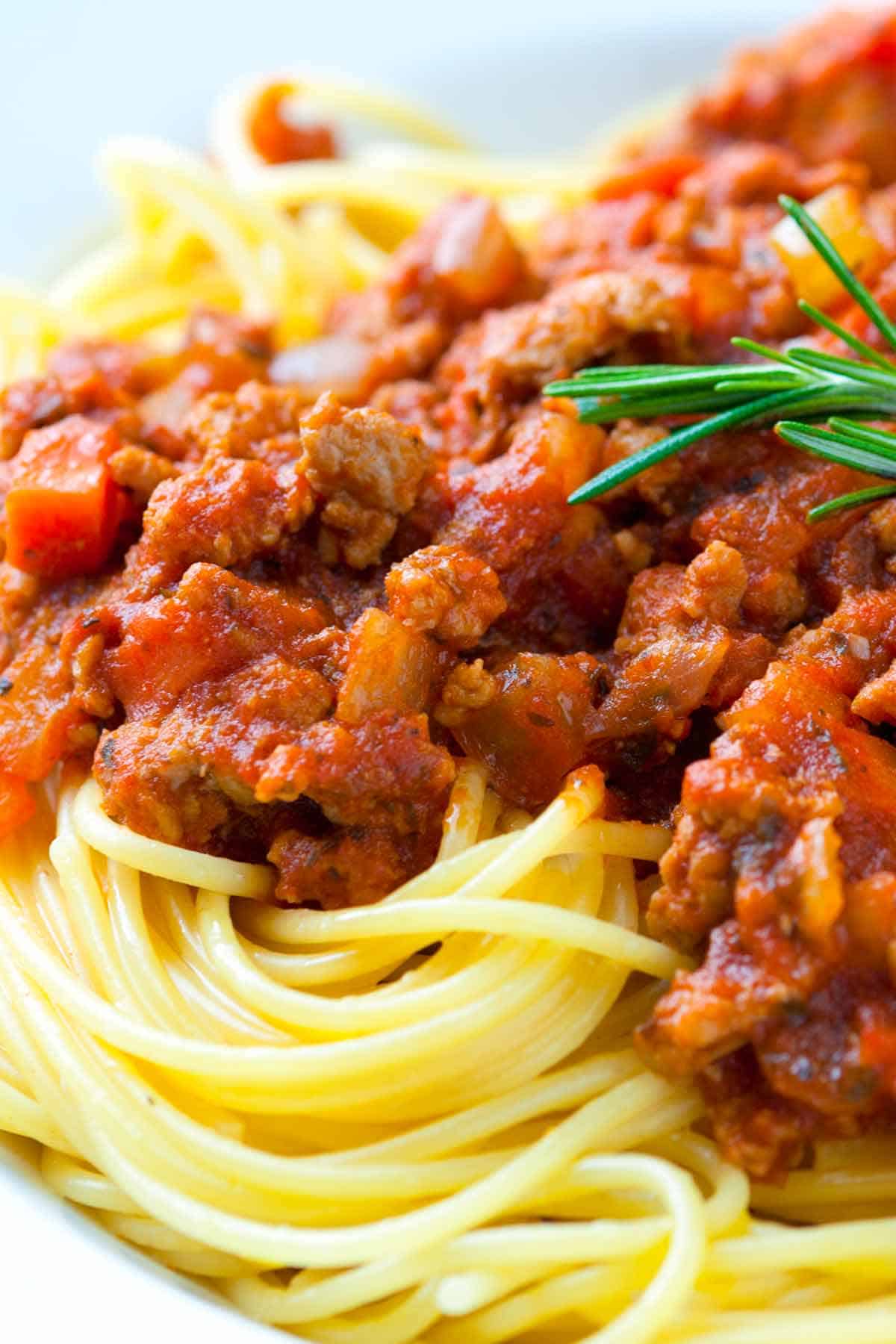 Easy Chicken Ragu
In less than 30 minutes, you can whip up this satisfying chicken ragu. While our recipe calls for ground chicken, use ground beef, turkey, pork, or fresh sausage as substitutes. If you prefer not to include wine, you can easily substitute it with chicken, vegetable, or turkey broth.
You Will Need
8 ounces dry pasta, such as spaghetti or linguini
1 tablespoon extra-virgin olive oil
1/2 medium onion, chopped
2 medium carrots, peeled and chopped
1 medium stalk celery, chopped
1 teaspoon finely chopped fresh rosemary or 1/4 teaspoon dried rosemary leaves
1 clove garlic, finely minced
1 pound ground chicken
1/4 cup dry red or white wine
3 cups marinara sauce, see our homemade marinara sauce recipe or substitute with one 26-ounce jar store-bought sauce
Salt and fresh ground pepper, to taste
Directions
1Bring a large pot of salted water to a boil. Add the pasta and cook according to the package directions. Once cooked, drain the pasta.

2In the meantime, heat olive oil in a large skillet with high sides. Add onions, carrots, and celery, and cook until the onions become translucent approximately 5 minutes.

3Stir in the garlic and rosemary, then add the ground chicken. Cook the chicken until it is browned, which should take about 10 minutes. While cooking, use a wooden spoon to break the chicken into small pieces in the pan.

4Season with 1/4 teaspoon of salt and a few grinds of black pepper.

5Pour in the wine (or broth) and cook for 1 minute.

6Add the marinara sauce to the skillet and cook until it reduces slightly, around 10 minutes.

7Taste the sauce and adjust the seasoning with salt and/or pepper as desired. Serve the sauce over the cooked pasta.
Adam and Joanne's Tips
Nutrition Per Serving
Serving Size
1/4 of the recipe
/
Calories
555
/
Total Fat
20.3g
/
Saturated Fat
3.3g
/
Cholesterol
96.3mg
/
Sodium
861mg
/
Carbohydrate
59.9g
/
Dietary Fiber
6.3g
/
Total Sugars
9.8g
/
Protein
30.5g
Recipe updated, originally posted February 2012. Since posting this in 2012, we have tweaked the recipe to be more clear. – Adam and Joanne