How to make delicious peanut butter cookies that are naturally free of flour, butter, and dairy. One of our favorite cookies!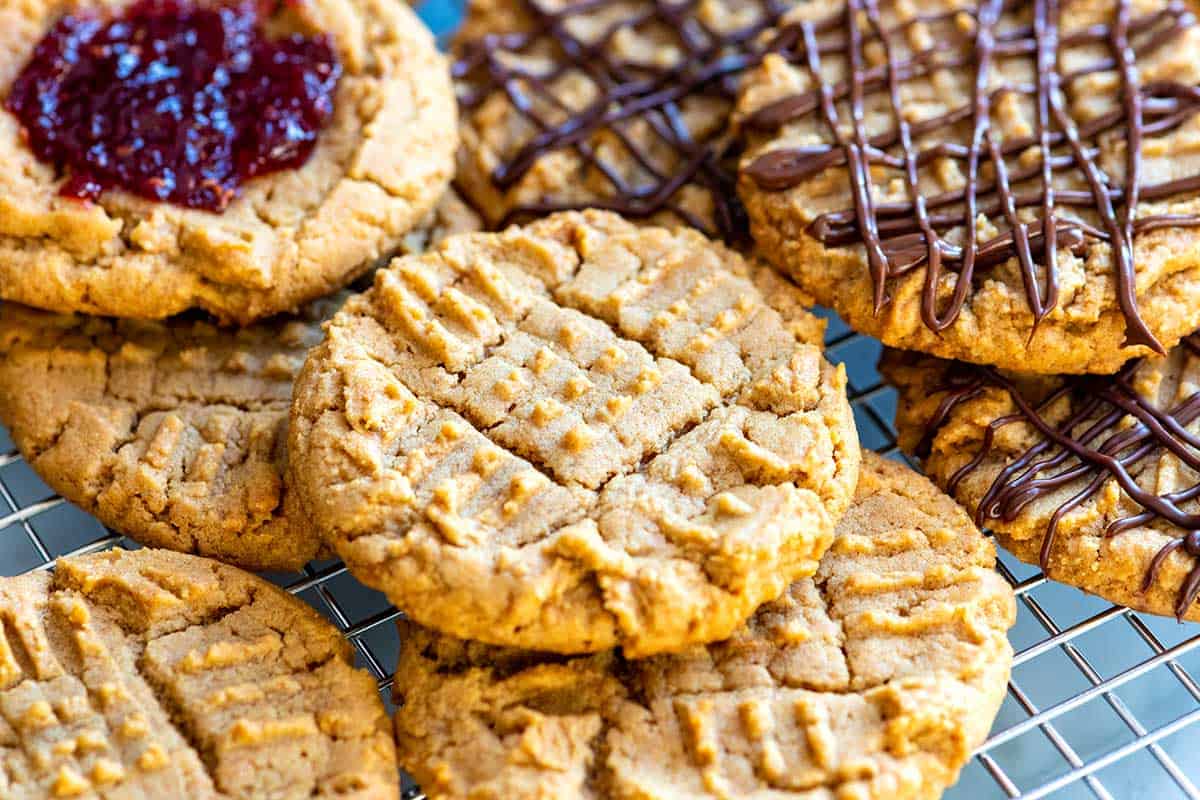 Our recipe is based on an old-fashioned three ingredient peanut butter cookie recipe which only calls for peanut butter, sugar, and eggs. By taking that simple recipe and adding a few extra ingredients, you can make fantastic peanut butter cookies everyone will love.
If you love peanut butter cookies, take a look at our recipe for edible peanut butter cookie dough!
How to Make the Best Flourless Peanut Butter Cookies
When we first made these easy cookies without flour, we were skeptical. How can you make cookies with no flour? Well, thanks to peanut butter, you can, and they are amazing!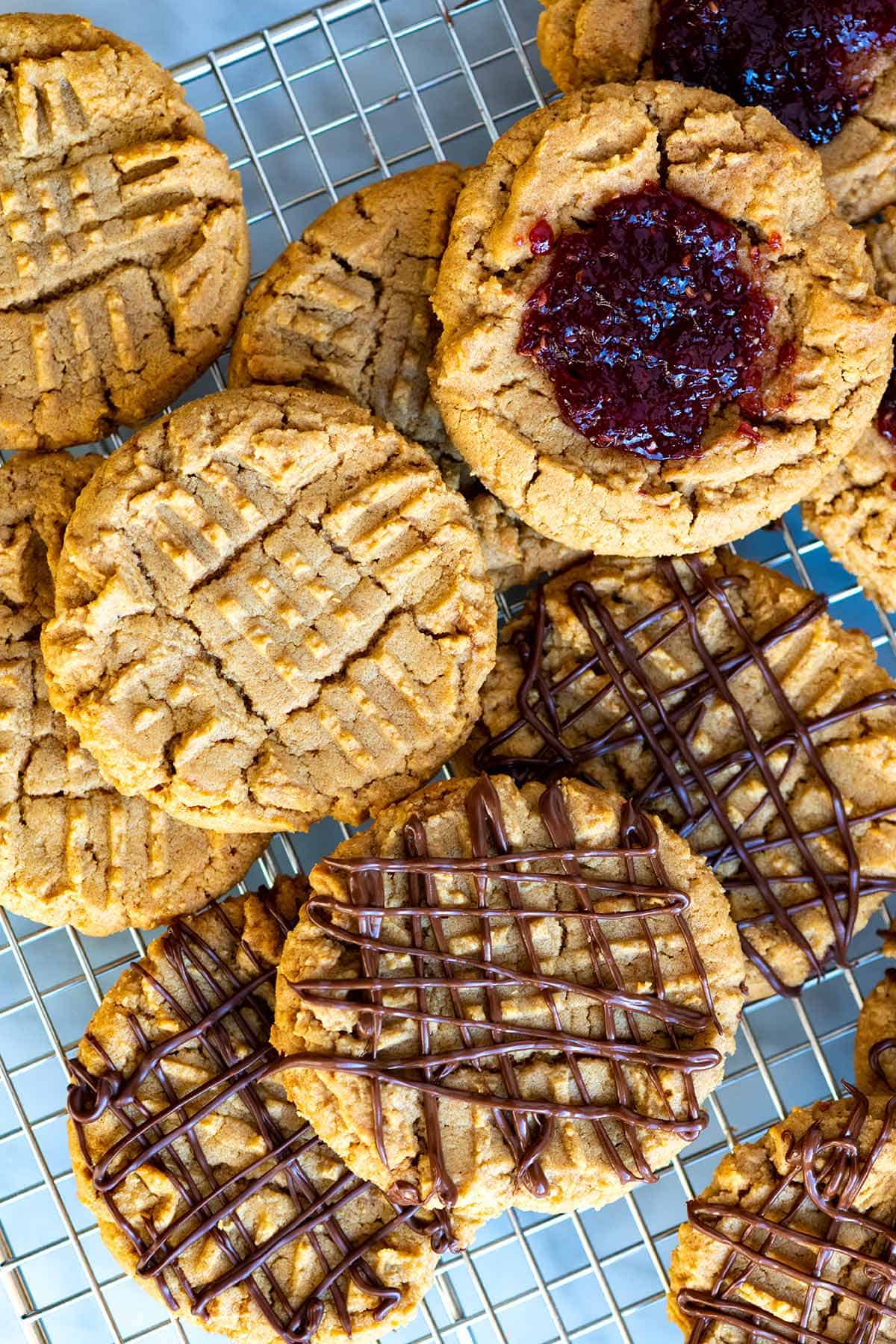 To make the best peanut butter cookies that are soft, extra peanut buttery, and delicious you will need the following main ingredients:
Peanut Butter — You can use crunchy or creamy PB. For the best results use very well stirred peanut butter or the jarred peanut butter sold pre-mixed at the store. For cookies that are completely from scratch, try making your own homemade peanut butter (just make sure it is well stirred before making the cookie dough). You can also swap the peanut butter for almond butter.
Egg — We use one egg for 1 cup of peanut butter, which adds structure, flavor, and moisture to the cookies. For very soft peanut butter cookies, add one more egg. If you add an egg, the dough will be stickier.
Sugar — You can use pretty much any sugar here. We love a combination of white granulated sugar and brown sugar. The combination makes the cookies taste great with the right amount of sweetness. As a base recipe, we use 3/4 cup of sugar, but for a cookie that's slightly less sweet, you can reduce the sugar down to 1/2 cup without any issues.
Baking Soda — Baking soda helps the cookies brown nicely, adds texture, and makes the cookies taste better. If you are wondering whether or not you can make peanut butter cookies without baking soda, you can! They will be softer and more cake-like in the middle.
From there, you can make the cookies extra delicious with these optional ingredients:
Salt — We're firm believers in adding salt to sweet recipes. For these cookies, taste your peanut butter first. If it's on the salty side, you may not need to add much salt at all. A small pinch should do it.
Vanilla extract — It's rare to see us making cookies without a splash of vanilla. It adds a lovely richness to sweet recipes.
Molasses — This is an optional ingredient and not seen too often in peanut butter cookies. That said, if you have some in the kitchen, try adding 1/2 to 1 teaspoon of molasses to the cookie dough. It adds color, richness and a little tanginess which cuts through the sugar.
Cinnamon — Here's another unusual ingredient, but I love the combination of cinnamon and peanut butter.
Crushed peanuts — For extra crunchy cookies, stir in 1/4 cup of crushed peanuts to the cookie dough.
Chocolate chips — For peanut butter chocolate chip cookies, stir in about 1/3 cup of chocolate chips.
The cookies are excellent plain, but as you can see from our photos, you can have some fun and make jam filled or chocolate drizzled cookies. We've given all the details in the recipe below.
Can I Make the Dough in Advance?
Peanut butter cookie dough will keep in the refrigerator up to 3 days. Even though you can bake straight away, chilling cookie dough makes better cookies. You can also freeze the cookie dough.
Since it's just the two of us, we freeze cookie dough all the time. Frozen cookie dough will last in the freezer up to 3 months. Here's how to do it:
Line a baking sheet with parchment paper
Prepare the cookie dough as usual
Scoop out cookie dough mounds onto the baking sheet. You can crowd the cookie mounds together, just do not let them touch
Freeze until hard
Transfer the frozen dough mounds to an airtight container or plastic bag. Store in the freezer up to 3 months
When a craving hits, bake the frozen cookies without thawing. It will add an extra 2 to 5 minutes of bake time
If you loved these cookies, here are some more easy cookie recipes to try:
Ridiculously Easy Peanut Butter Cookies
Make a batch of these flourless peanut butter cookies in less than 15 minutes! They are soft and absolutely delicious plain, with a dollop of jam or a drizzle of chocolate on top. We prefer these with a blend of granulated and brown sugar, but you can use just one type of sugar. (We use 1/2 cup brown sugar and 1/4 cup white)
**If making the jam-filled cookies, it is best to add the jam the day of serving. If left overnight, the cookies will soften too much from the extra moisture. Store plain cookies and chocolate drizzled cookies in an airtight container up to 2 days or freeze wrapped individually up to 3 months.
You Will Need
1 cup peanut butter, creamy or chunky, see notes
1 large egg
3/4 cup sugar, use granulated, brown sugar or a blend
1 teaspoon baking soda
1/2 teaspoon vanilla extract
1/2 teaspoon molasses, optional
1/4 teaspoon ground cinnamon, optional
Pinch of salt, to taste, see notes
Directions
1Heat the oven to 350 degrees Fahrenheit. Line two baking sheets with parchment paper or use silicone baking mats.

2In a medium bowl, mix the peanut butter, egg, sugar, baking soda, a pinch of salt, vanilla, molasses (optional), and the cinnamon (optional) together until blended and scoopable.

3Scoop or roll into 1-inch balls and place two inches apart on the prepared baking sheets. Press the mounds down with the back of a spoon or the tines of a fork to flatten the cookie out a bit.

4Bake until the outer edges are starting to turn light brown and the tops look dry, 8 to 11 minutes. Cool the cookies on the baking sheet, without moving them, for 10 minutes. Transfer the cookies to a cooling rack to cool completely. (The cookies will firm up as they cool).
Jam or Chocolate Peanut Butter Cookies

1For jam-filled peanut butter cookies, before baking, use a spoon to make a small indent in the middle of the cookie dough balls. When the cookies are baked and cool, spread a teaspoon of jam into the middle of each cookie.

2For the chocolate drizzled cookies, when the cookies are baked and cool, melt 1/3 cup chocolate chips and drizzle over cookies. For chocolate-peanut butter drizzled cookies, add one tablespoon of peanut butter to the chocolate chips before melting.
Adam and Joanne's Tips
Best peanut butter to use: For the best results use very well stirred peanut butter or the jarred peanut butter sold pre-mixed at the store.
Salt: Before making the cookies, taste your peanut butter. If it is on the saltier side, you may not need to need to add the additional pinch of salt to the cookie dough.
Reduced sugar peanut butter cookies: Use 1/2 cup sugar. The cookies will be a little stickier and won't be as easy to indent with the fork. They still bake well and taste great, just not as sweet.
If you make this recipe, snap a photo and hashtag it #inspiredtaste — We love to see your creations on Instagram and Facebook! Find us: @inspiredtaste
Nutrition Per Serving
Serving Size
1 cookie
/
Calories
128
/
Total Fat
8.6g
/
Saturated Fat
1.8g
/
Cholesterol
11.6mg
/
Sodium
163.5mg
/
Total Carbohydrate
10.5g
/
Dietary Fiber
0.8g
/
Total Sugars
8.5g
/
Protein
4g