You will love this easy potato soup recipe with potatoes and veggies, all simmered in a delicious creamy broth. This potato soup is pure comfort food and loaded with flavor.
Watch the video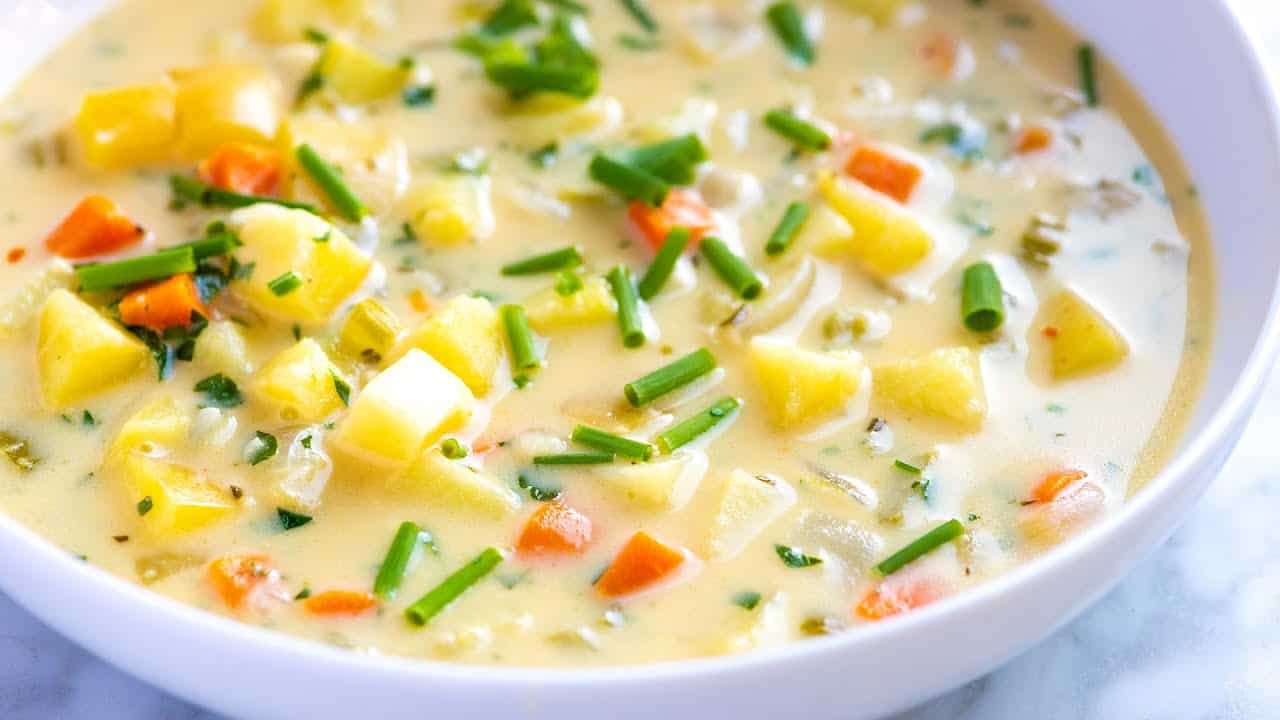 ⭐️ Try our creamy potato and leek soup!
Why we love this easy potato soup
Our recipe for potato soup is so simple to make. It's pure comfort food, but not so rich that you can't enjoy it regularly. I also love that you have two options for serving this soup. Like our photos, you can keep it on the brothy side or blend it for a thick and creamy potato soup. For more potato soup recipes, see our sausage and potato soup or this creamy potato leek soup.
Key ingredients for potato soup
The best potatoes for soup are Yukon Gold potatoes. You can use any potato in our recipe, but we highly recommend using Yukon Gold potatoes. There's no need to peel them, and when cooked, they are buttery and almost melt in your mouth. They also work wonders for mashed potatoes and potato salad. If you cannot find them, baby red or white potatoes are excellent substitutes.
Veggies: This is potato soup, but we love adding a few cups of extra veggies. Onions are a must, carrots add color and some sweetness, and chopped celery adds flavor and texture.
Butter and flour: The combination of butter and flour thickens our soup. Unsalted butter or salted butter works just fine for this recipe. You will need to season with salt to taste. If you need the soup to be gluten-free, no problem! We've added tips for omitting the flour in the recipe below.
Stock/Broth: For the best potato soup, use good quality chicken stock from the store or use homemade. When reaching for store-bought broth, we go for low-sodium. We also look for a store-bought broth that's darker in color (usually means more flavor), and since it usually has more of a backbone, we like to buy boxed bone broth (we use homemade bone broth sometimes, too).
Cream: We add a little cream at the end of cooking. The chicken stock adds flavor, and the cream makes the broth creamy and more luxurious (we use the same trick when making our favorite creamy chicken noodle soup). Using cream isn't the only option, though. You can also try half-and-half, sour cream, cream cheese, or plain yogurt in its place.
Cheese: Cheese is an optional ingredient, but if you have some on hand, it adds a lovely richness to the soup. For cheesy potato soup that rivals cheesy baked potatoes, use sharp cheddar. We also love stirring in Gruyère (we use this when making mac and cheese), and parmesan adds lots of flavor.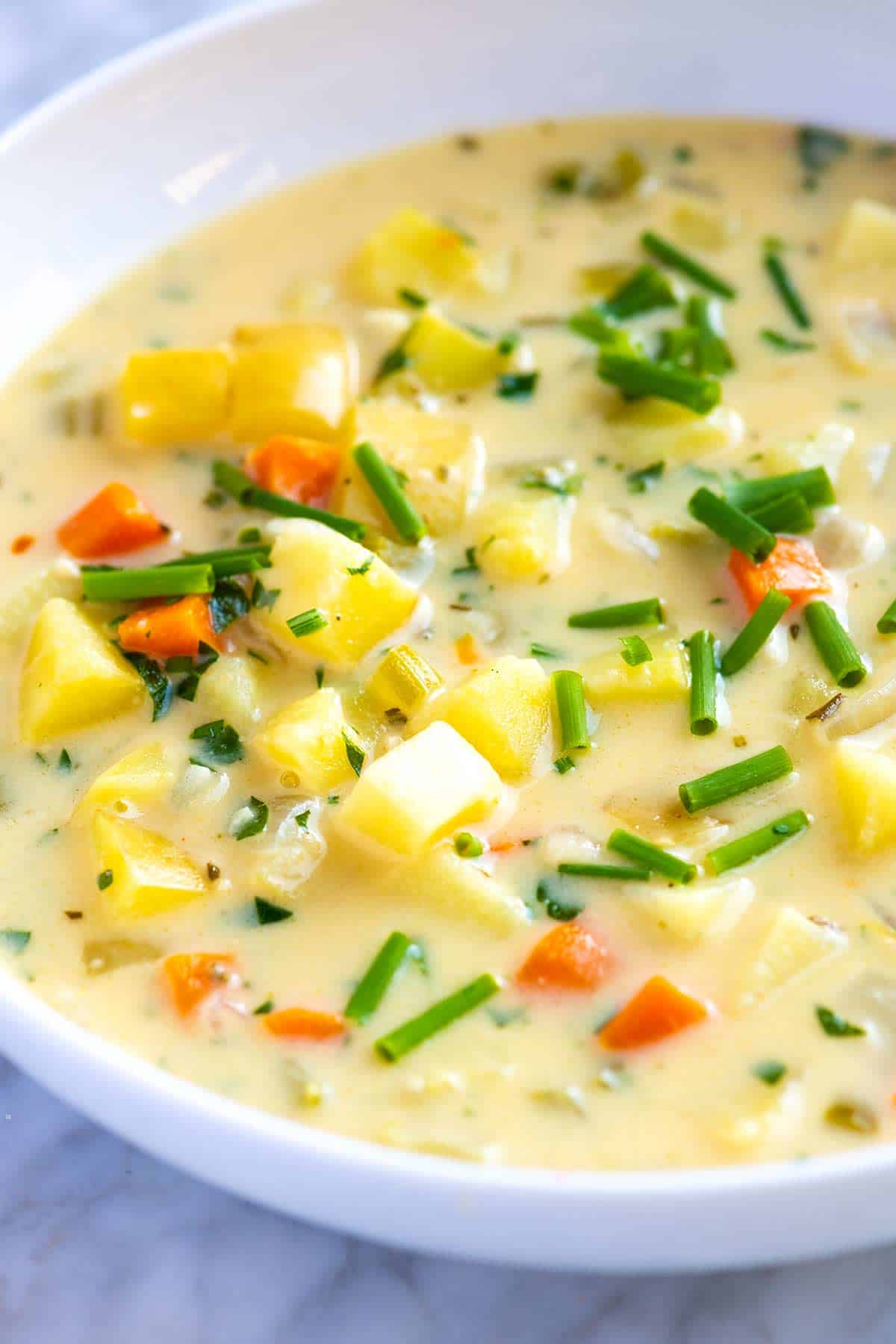 Recipe overview. How to make potato soup in 4 easy steps
Making potato soup from scratch is simple. Bonus: it all happens in one pot! Here's an overview of how to make it (the full potato soup recipe is below).
Cook veggies with garlic and rosemary in butter.
Stir in the flour and cook until toasty. (It's the flour that thickens the soup.)
Pour in the broth and add potatoes.
Simmer for 20 minutes, then stir in cream and cheese (optional).
⭐️ There are two ways to serve this soup: brothy or blended. We love both, and making them is the same except for the last step. For a thick, luxurious, and blended soup, use a potato masher or immersion blender to puree or mash about half of the potatoes to thicken it.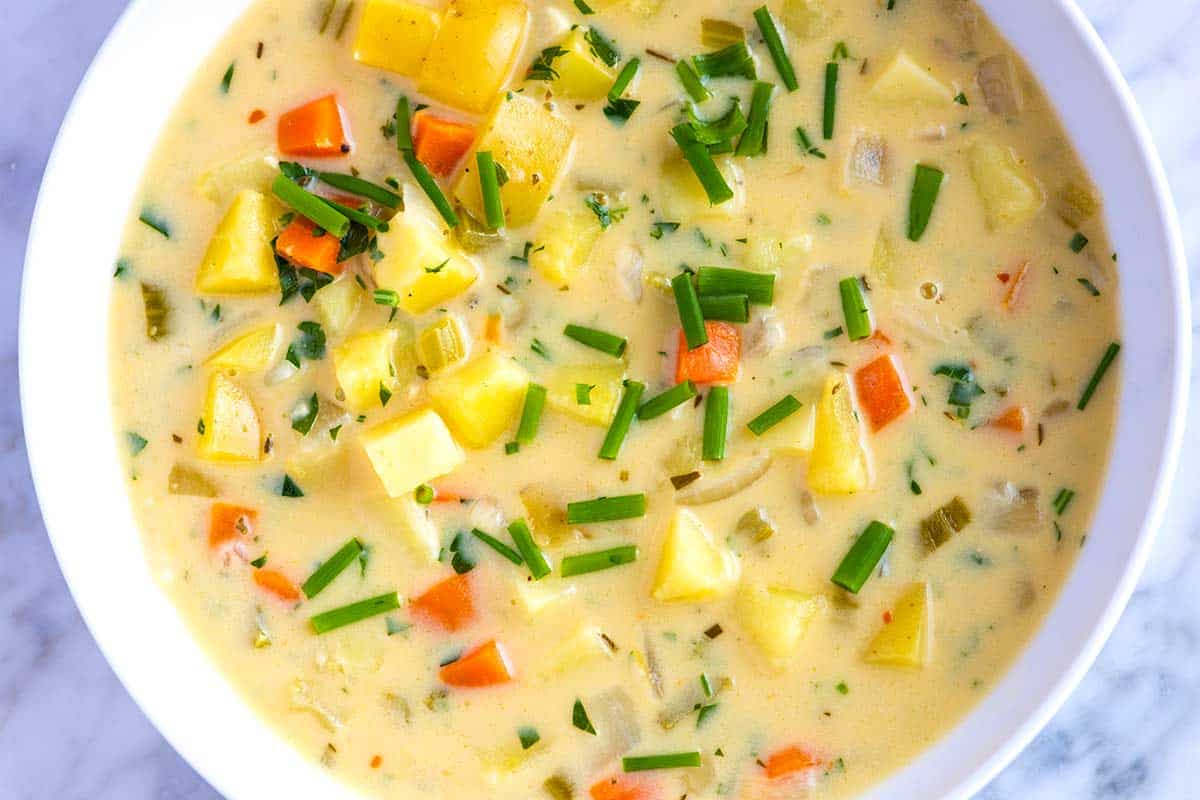 How to thicken potato soup
To thicken potato soup, you can blend a portion or all of the soup ingredients. This potato soup is delicious when blended into a thick, creamy soup. For somewhere between a thick soup and a brothy soup, try blending 2 cups and then adding it back into the pot.
Can you freeze potato soup?
You can freeze potato soup for up to 3 months. Since potatoes don't freeze that well, we've found that freezing this potato soup recipe after blending into a creamy soup is best.
What goes with potato soup?
Bread is essential for dipping! I love this focaccia bread, our easy flatbread or a crusty piece of sourdough with some butter.
Salad helps to balance the richness of our soup. Try this simple strawberry balsamic salad, our homemade Caesar, or our go-to Greek salad.
You can also load up your potato soup with extra toppings. Here are some of our favorite potato soup toppings:
Shredded or crumbled cheese
Cooked and crumbled bacon or sausage, here's how we cook bacon in the oven
Sour cream and chives (like a loaded baked potato)
Crispy onions or shallots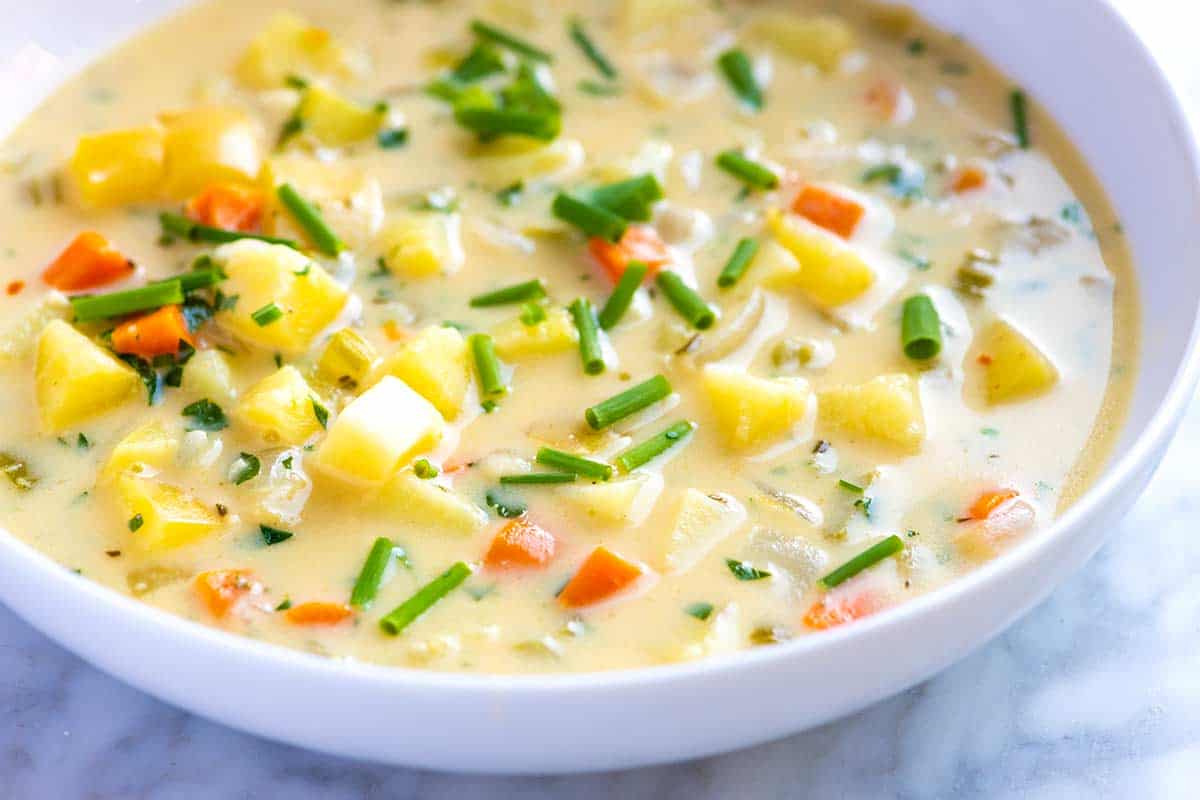 Easy Creamy Potato Soup
We love this easy homemade potato soup recipe with potatoes and veggies simmered in a creamy broth. For the best potato soup, use Yukon Gold potatoes. They have thin skins, so it is not necessary to peel them. They also become buttery and soft when cooked.
Makes about 7 cups of soup or 4 to 6 servings
Watch Us Make the Recipe
You Will Need
3 tablespoons butter or olive oil
2 cups chopped onion (1 medium)
1 cup chopped carrot (2 medium)
1 cup chopped celery (2 to 3 stalks)
1 tablespoon minced garlic (3 cloves)
1 teaspoon chopped fresh rosemary or 1/4 teaspoon dried rosemary
1/4 teaspoon crushed red pepper flakes
3 tablespoons all-purpose flour
4 cups stock or broth, see our chicken stock or vegetable broth
4 cups chopped potatoes, cubed (1 ½ pounds or 3 to 4 medium)
1 bay leaf
Salt and fresh ground black pepper
1/4 cup cream, half and half, sour cream or plain yogurt
1 cup (2 ounces) shredded cheese like sharp cheddar or gruyere, optional
For serving (optional): Chopped parsley, chives or scallions, extra shredded cheese, sour cream, crumbled cooked bacon, hot sauce
Directions
1Melt the butter over medium heat in a large, heavy-bottomed pot (like a Dutch oven). When the butter is melted, stir in the onions, carrots, and celery. Cook, stirring occasionally, until they begin to soften; 5 to 6 minutes.

2Stir in the garlic, rosemary, red pepper flakes, 1/2 teaspoon of salt, and 1/4 teaspoon of black pepper, and then cook, stirring everything around the pot, for 30 seconds.

3Scatter the flour over the vegetables and cook, stirring, until it looks medium blonde in color; about 1 minute. It will smell toasty, like browned butter.

4Slowly whisk in 2 cups of the stock, ensuring no lumps of flour remain. It will be thick.

5Pour in the remaining stock and whisk until blended. Increase the heat to a boil, then reduce to a simmer.

6Add the potatoes and bay leaf, then cook, partially covered, until the potatoes are fork-tender, about 20 minutes.

7Turn the heat down to low, remove the bay leaf, and stir in the cream and cheese.

8Taste for seasoning, then adjust with more salt and pepper as needed. Serve with fresh herbs on top. For a thick and blended soup, use a potato masher to mash or an immersion blender to blend about half of the potatoes (Joanne's favorite way to serve the soup).
Adam and Joanne's Tips
Make it gluten-free: Do not use the flour and instead whisk a tablespoon of cornstarch into the cream (or use milk) and add it to the soup (the cornstarch acts as a thickener). Or leave out flour and the cornstarch and blend about half of the soup to thicken it.
Vegan potato soup: Use plant-based butter or olive oil, veggie broth, and skip the cream at the end.
Nutrition facts: The nutrition facts provided below are estimates. We have used the USDA database to calculate approximate values.
Nutrition Per Serving
Serving Size
About 1 cup
/
Calories
224
/
Total Fat
11.8g
/
Saturated Fat
6.9g
/
Cholesterol
30.7mg
/
Sodium
302.2mg
/
Carbohydrate
23.9g
/
Dietary Fiber
3.6g
/
Total Sugars
3.9g
/
Protein
7.4g