Meet my go-to lentil soup recipe! I make this soup with lentils, carrots, turmeric, and fresh lemon whenever I'm in need of some healthy comfort food. It's savory, satisfying, and utterly delicious.
Watch the Video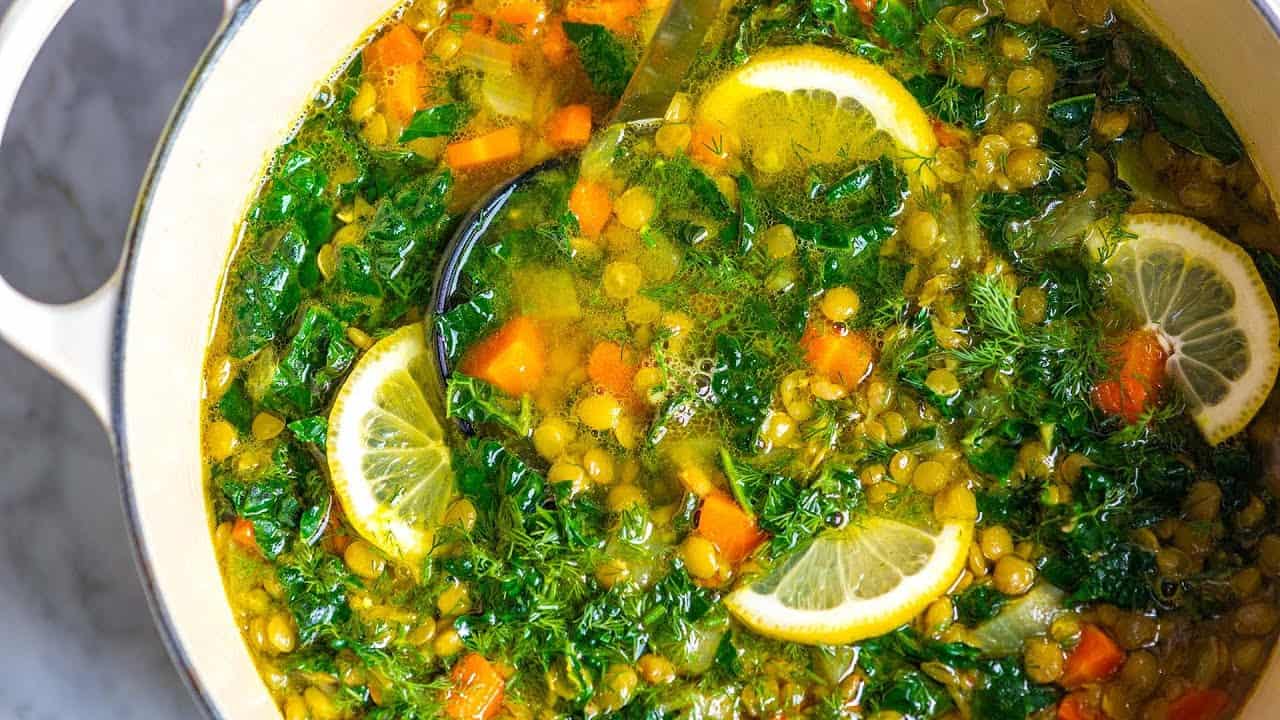 Related: We love this homemade veggie soup!
What You'll Need To Make My Favorite Lentil Soup
The first time I had lentil soup I wasn't really expecting to like it. I thought it was going to be bland and boring, but thanks to a combination of spices and fresh lemon, it tasted amazing (almost addictive) and so comforting. I make this soup during every season, it's that good!
The ingredients needed to make lentil soup are simple and most are probably sitting in your kitchen already. Here's what you'll need:
Lentils — I use brown, red, or French lentils to make the soup and add them uncooked. The lentils cook up to be soft, plus I love the nutritional benefits of lentils. They are high in fiber, B vitamins, iron, protein, and are low in fat.
Garlic, onion and carrots add nutrients, texture, and color to the soup.
Ground cumin, ground coriander, and ground turmeric add spice and color.
Broth — For a vegetarian/vegan lentil soup, use veggie broth (here's our recipe) or use chicken broth (here's how we make it).
Kale or spinach add even more nutrition to the soup.
Fresh lemon is a must for this soup. It makes all the flavors really pop. I even add slices of lemon to the bowls when serving.
Fresh herbs are optional, but when I have it on hand I love adding a handful of fresh dill or parsley.
Love lentils? We love lentils and have devoted an entire article about them. Read all about the different varieties of lentils as well as how to cook them. See our Ultimate Guide to Lentils. We also use them to make these vegan eatballs (I love them!).
The Steps for Making The Best Lentil Soup
Like quite a few of the soup recipes on Inspired Taste, this lentil soup is very simple to make. Let's quickly walk through the steps:
Step 1: Cook onions and carrots in a large pot (I use my Dutch oven) until they begin to soften and are starting to smell sweet. If you have them in the fridge, celery or fennel would be lovely added to the pot, too.
Step 2: Stir in garlic, cumin, coriander, and turmeric. I only cook the aromatics for 30 seconds or so. This short time allows the garlic and spices to warm up, which I think helps them release even more flavor to the soup.
Step 3: Rinse and pick through the lentils. I add the lentils dry (uncooked) to the pot, but before doing that, I make sure to rinse them under running water. I also quickly look through them to make sure anything that isn't a lentil is removed (sometimes other beans or grains sneak in, especially when you get them from the bulk aisle).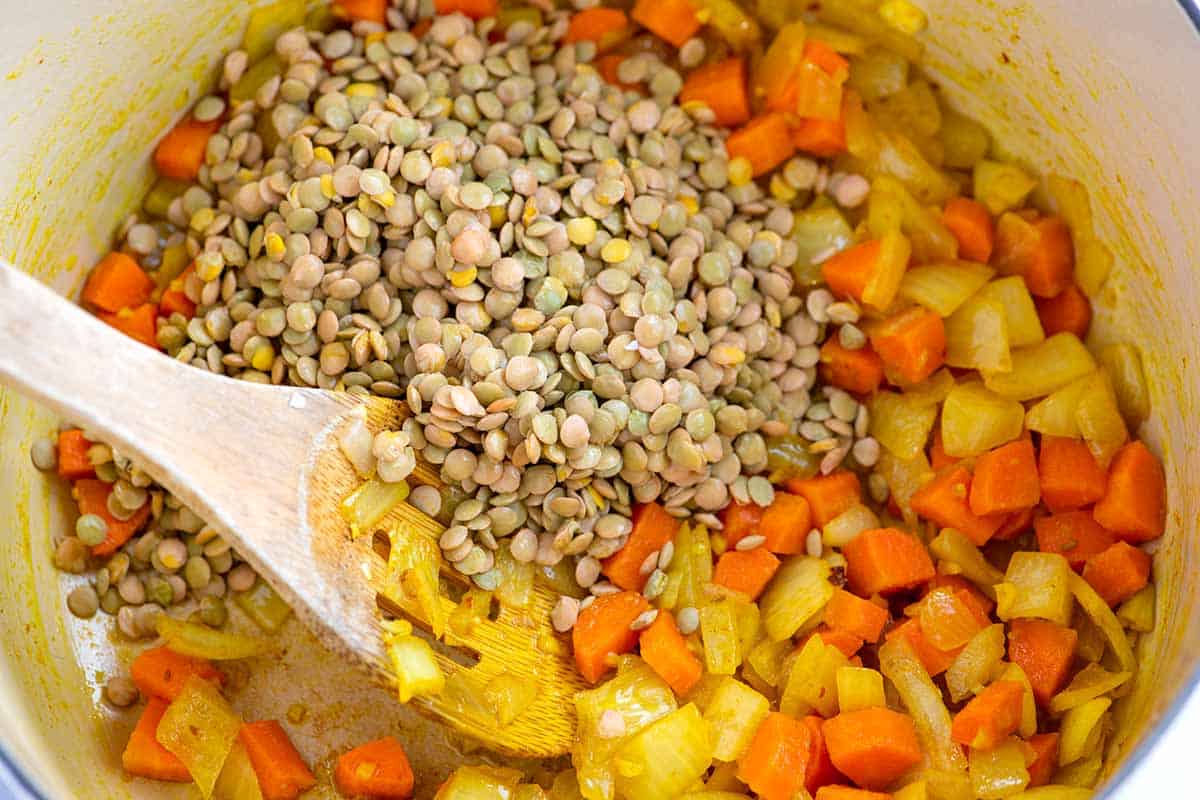 Step 4: Add the lentils and broth. With almost all the soup ingredients in the pot, I bring the soup to a simmer and cook, partially covered, until the lentils are soft. This takes 30 to 40 minutes.
Step 5: Taste and season the soup then stir in greens. Whether you use kale or spinach in the soup, you only need to cook them for a few minutes before serving.
Step 6: Add fresh lemon juice and fresh herbs. Just before serving, I squeeze lots of fresh lemon juice into the soup. This brightens all the flavors and really makes the soup taste fresh and fantastic. Fresh herbs like dill or parsley are also a nice touch.
As you can see from our photos, I add slices of lemon to the soup, too. This is completely optional, but it does add even more lemony flavor and cues whoever you are serving the soup to that we've added lemon.
Should I Blend Lentil Soup?
Whether you blend the soup is entirely up to you. Lots of recipes for lentil soup call for blending all or part of the soup the thicken it. I don't usually do this since I think the soup is thick enough and I enjoy the combination of broth and the texture of whole cooked lentils.
If you do want to blend the soup, use an immersion blender or a stand blender with the stopper removed and a paper towel placed over the hole. This way, as you blend the hot liquid, steam can be released (not doing this can cause quite a mess).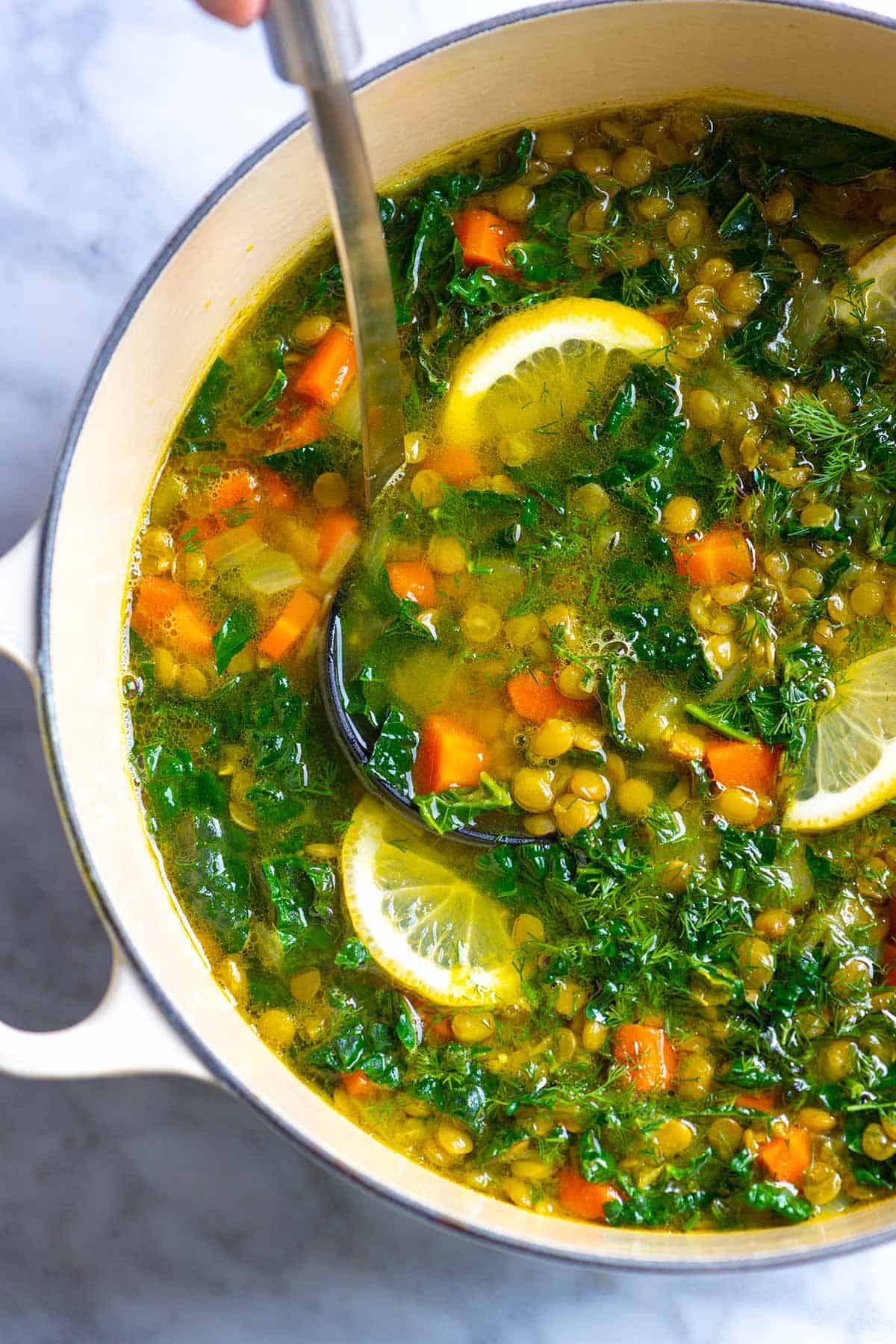 Make Ahead and Storing
Lentil soup will keep well for up to four days in the fridge and in my opinion, gets better over time. You might find that the lentils absorb some of the extra liquid in the soup as it sits in the fridge. To bring it back to more of a soup-like consistency, simply add a splash of water or broth before reheating.
You can also freeze the soup. It should keep for several months. Simply defrost and reheat before serving.
More Easy Soup Recipes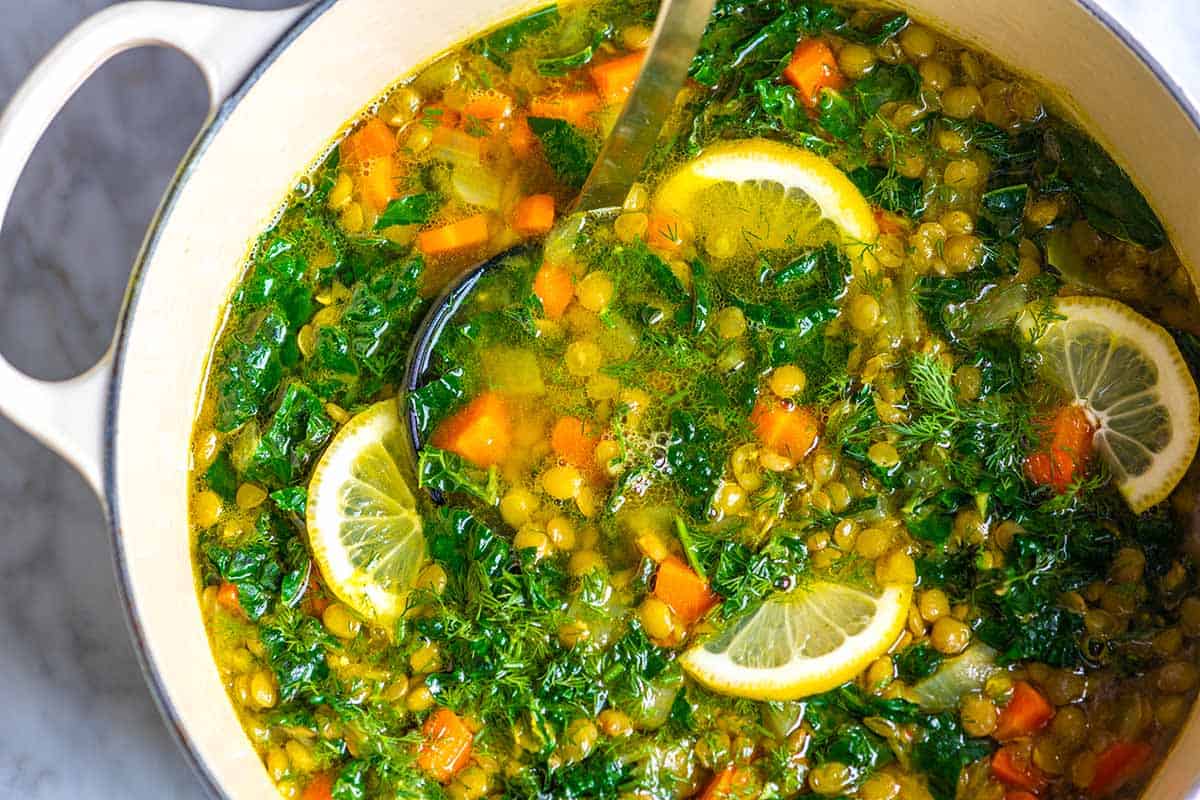 Lentil Soup with Lemon and Turmeric
This is our favorite lentil soup recipe. I make this soup with lentils, carrots, turmeric, and fresh lemon whenever we are in need of some healthy comfort food. It's savory, satisfying, and utterly delicious. I like quite a bit of fresh lemon in this soup and actually serve the soup with slices of lemon. This adds even more lemony flavor and shows that lemon was added to the soup.
Watch Us Make the Recipe
You Will Need
2 tablespoons olive oil
2 cups finely chopped onion (1 medium onion)
1 1/2 cups chopped carrot (2 large carrots)
2 teaspoons minced garlic (3 cloves)
1 teaspoon ground cumin
1/2 teaspoon ground coriander
1/2 teaspoon fresh ground black pepper
1/2 teaspoon ground turmeric
2 cups (12 ounces) lentils, picked and rinsed
8 cups chicken or vegetable broth
2 heaping cups shredded kale or spinach
1 to 2 lemons
1/4 cup chopped fresh herbs like parsley or dill, optional
Fine sea salt, to taste
Directions
1Heat the oil in a large pot (like a Dutch oven) over medium heat. Add the onions, carrot, and 1/4 teaspoon of salt and cook, stirring occasionally until they are softened and starting to smell sweet, about 5 to 7 minutes. Stir in the garlic, cumin, coriander, black pepper, and turmeric and cook for 30 seconds.

2Stir in the lentils and broth. Increase the heat to high and bring just to a boil. Taste then adjust with salt (we add between 1/2 and 1 teaspoon depending on how well seasoned the broth is). Reduce the heat to a simmer and cook, partially covered, until the lentils are tender, 35 to 40 minutes.

3Uncover the pot and stir in the kale (or spinach) and cook, uncovered, another 5 minutes. Take the soup off of the heat, and then stir in the juice of half a lemon and the fresh herbs. Taste the soup, and then season with additional salt and/or lemon juice. (I like quite a bit of lemon.)

4Serve or if you prefer the soup to be blended, use an immersion blender to blend until your desired consistency. Alternatively, you can use a stand blender to blend all or part of the soup. For even more lemon flavor, serve with a few lemon slices.
Adam and Joanne's Tips
The soup will keep stored in the refrigerator up to four days and in the freezer for several months. If when reheating the soup, it seems too thick or dry, add a splash of extra broth or water.
For some extra flavor, cook bulk sausage or ham with the onions and carrots.
Nutrition facts: The nutrition facts provided below are estimates. We have used the USDA database to calculate approximate values. Sodium will vary depending on the broth used.
If you make this recipe, snap a photo and hashtag it #inspiredtaste — We love to see your creations on Instagram and Facebook! Find us: @inspiredtaste
Nutrition Per Serving
Serving Size
1/6 of the recipe
/
Calories
298
/
Total Fat
5.5g
/
Saturated Fat
0.8g
/
Cholesterol
0mg
/
Sodium
1155.9mg
/
Total Carbohydrate
45.3g
/
Dietary Fiber
8g
/
Total Sugars
5.2g
/
Protein
19.5g