We've finally sorted through all the photos we took and are excited to tell you all about our glamping adventure on San Juan Island, Washington.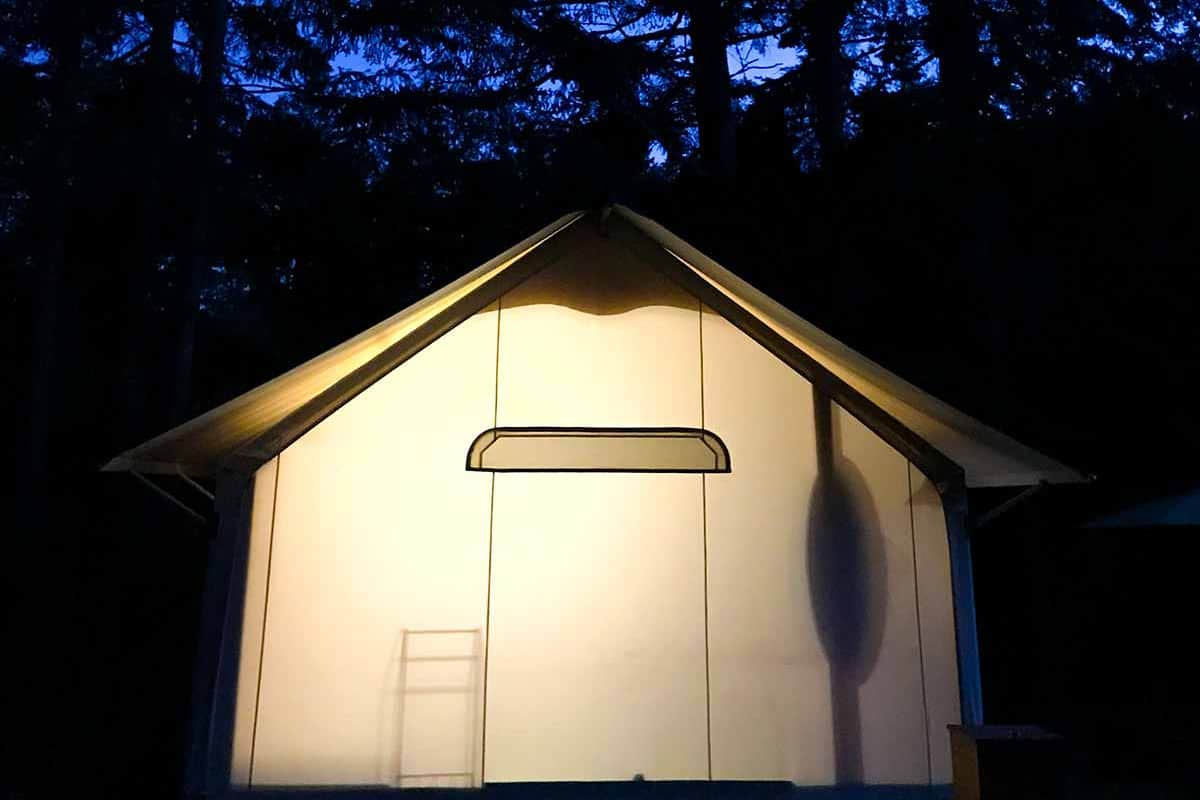 As many of you saw on Instagram, Adam and I spent some time on San Juan Island last summer. There are 172 named islands and reefs in San Juan County, which makes the area a stunning place to visit.
Of those islands and reefs, three islands are accessible by ferry: San Juan Island, Orcas Island, and Lopez Island. You might remember we visited The San Juans a couple of years ago. That time, we spend most of our time on Orcas and Lopez. We loved our time there and are so happy that this time, we had the opportunity to spend time on San Juan Island.
It was beautiful!
Here's a Google map showing you everywhere we went during our trip.
The morning of our first day, we were both beaming. We were about to drive onto a ferry headed to one of our favorite places to visit in Washington State. We were also about to check off an item on our travel bucket list. We were going GLAMPING.
What is Glamping?
Have you ever heard of glamping? It's basically the best thing, ever, and thanks to Lakedale Resort we can tell you all about it.
Glamping makes camping more luxurious. Take all the fun and adventure of camping, then add a warm, cozy, and comfortable bed, a beautiful decked out canvas tent, a bathroom (a major win for me), and a serene deck that overlooks nature.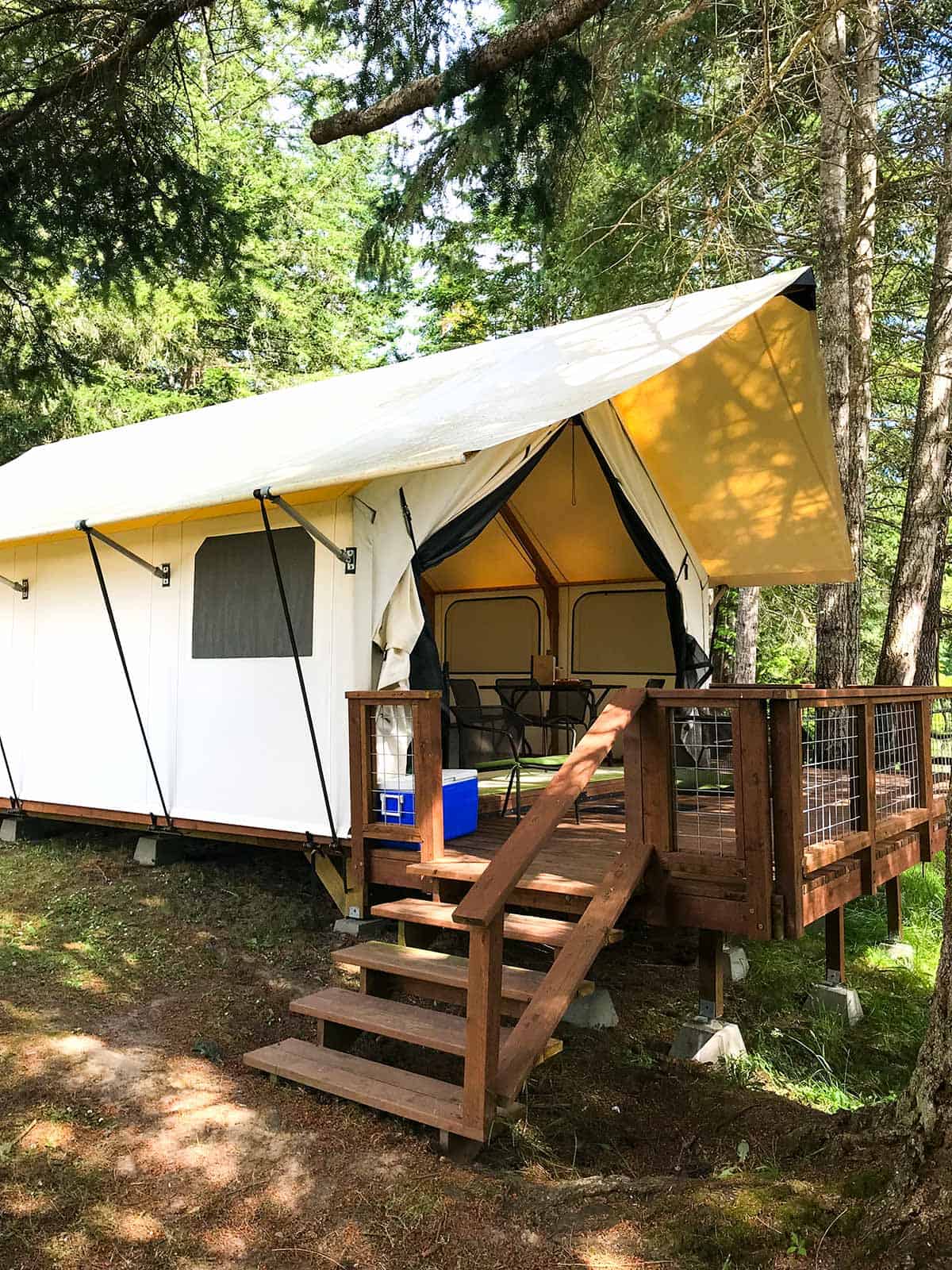 Now, don't get me wrong, I love traditional camping and getting a bit dirty, but let me tell you, glamping is FUN. We spent most of our time outside, sat around our firepit, made s'mores, and walked around the lake in the mornings.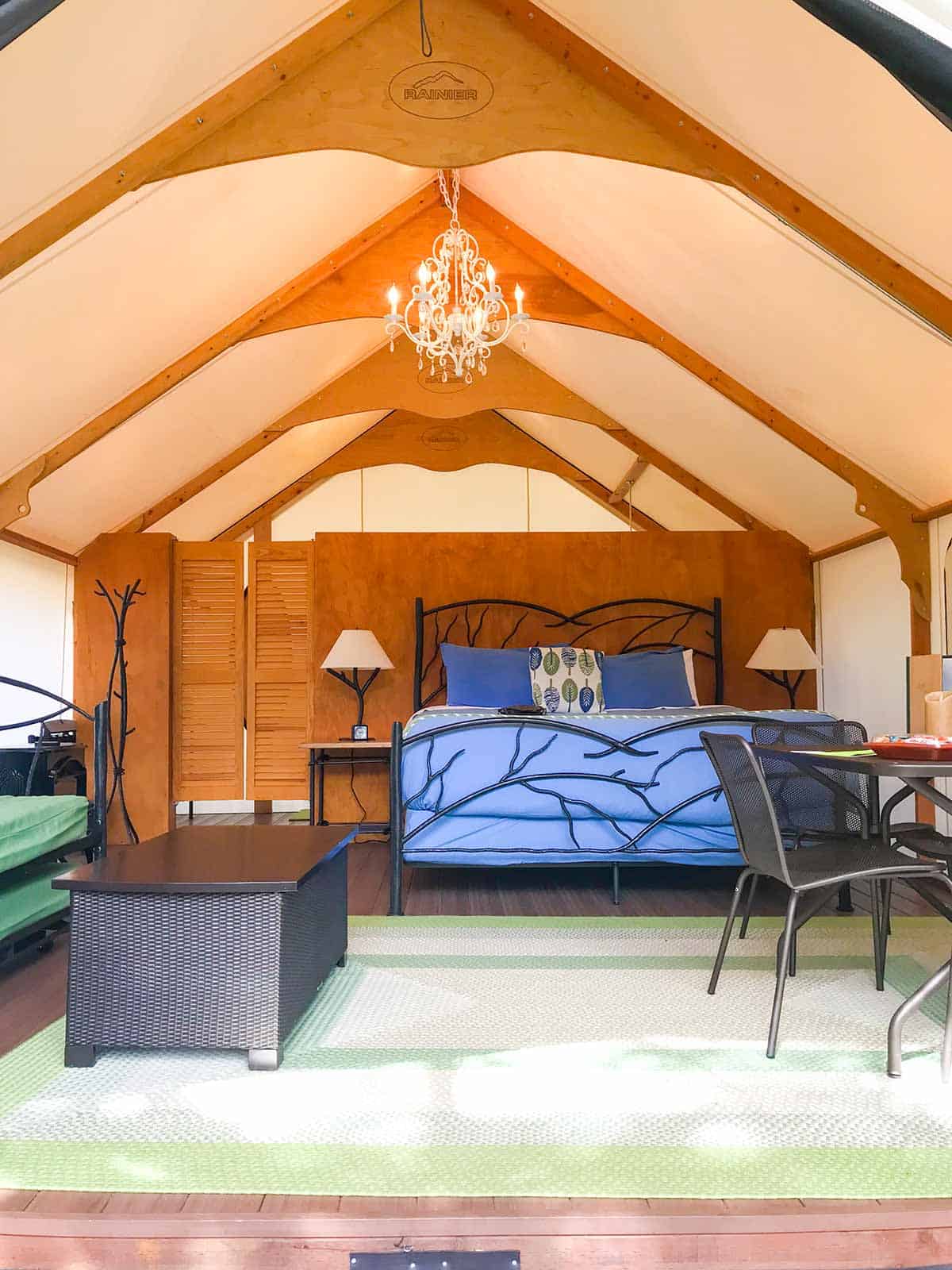 Then when we were ready to head out and explore the island, we were able to shower and dress so we looked somewhat presentable.
Glamping blends the outdoors and the laid back feel of camping with the ease and amenities of a hotel. I'd take my cozy warm canvas tent over a hotel room any day!
You have to try it and, personally, we think you should try it at Lakedale Resort. It was an amazing experience!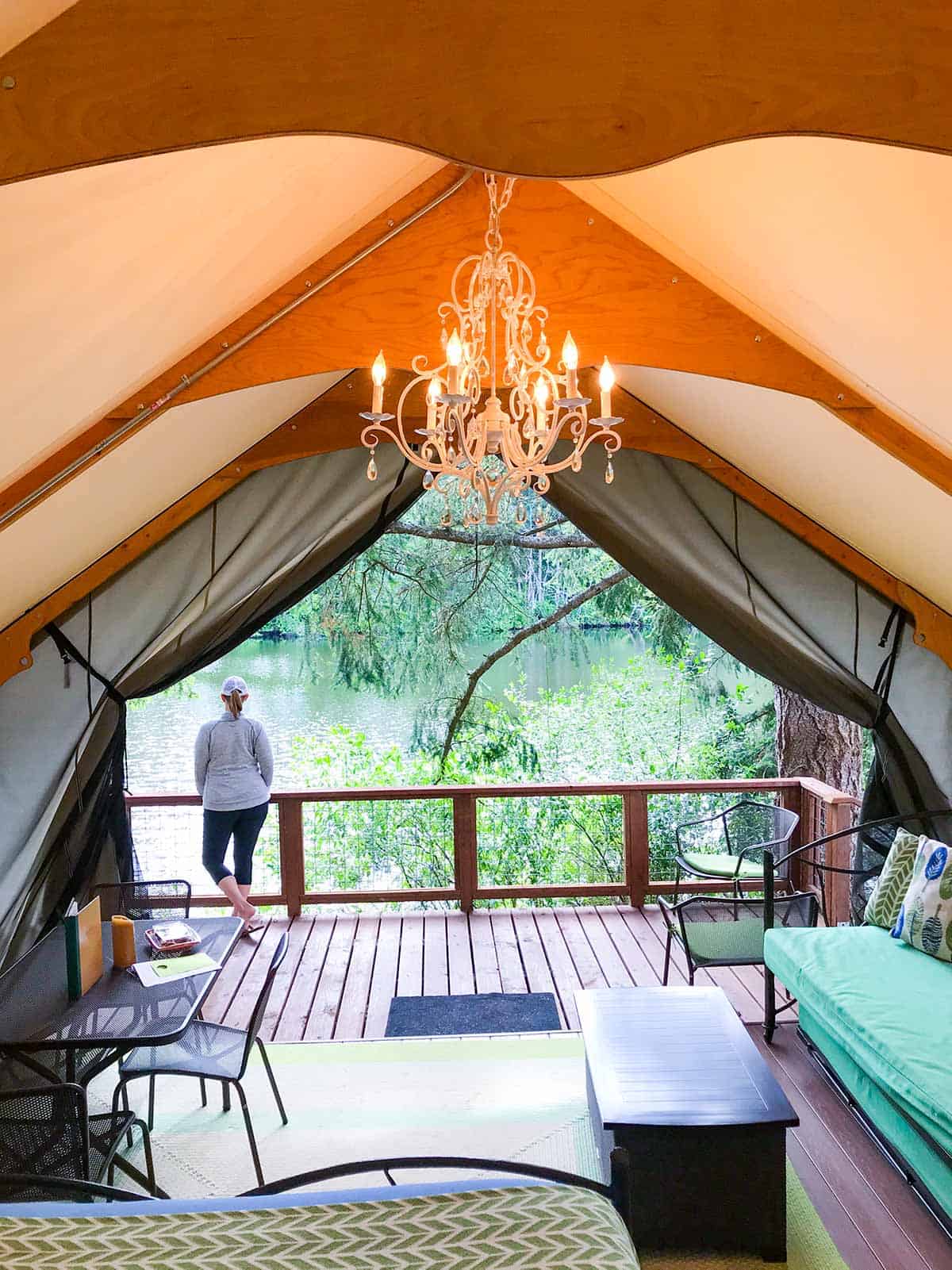 Oh, and before I show you a few things we did on the Island, you should know that Lakedale doesn't only have canvas cottages. They have camping sites, RV sites, an airstream (so cool), canvas cabins (a little less luxurious than the cottage), log cabins, a lodge, and my personal favorite, YURTS with hot tubs!
Now you know where to find me this summer, right? In my yurt. Wait, no. I'll be in my yurt's hot tub ?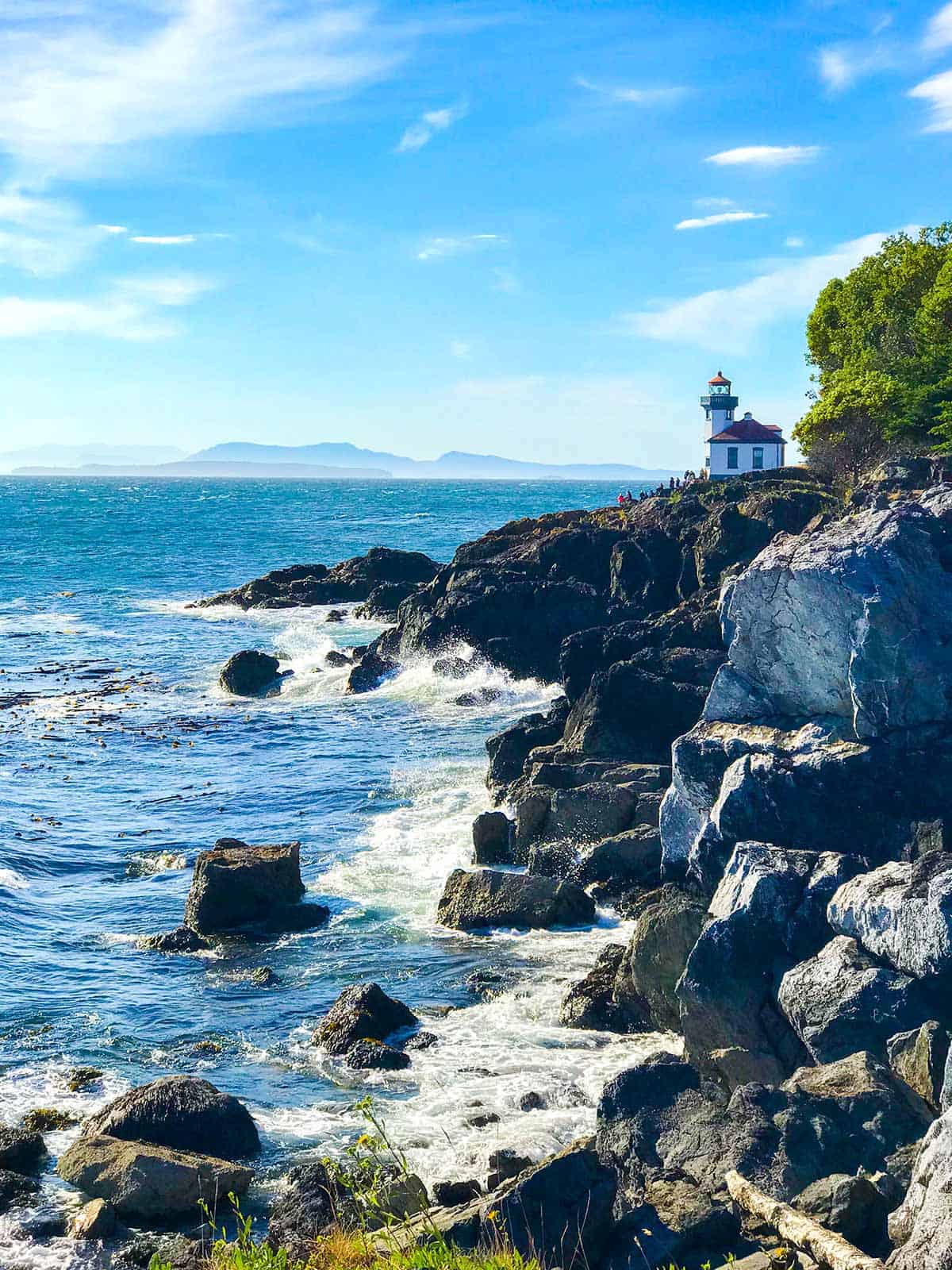 What we did on San Juan Island
Our first day on San Juan Island was devoted to whales. You see, The San Juan Islands are notorious for whale watching. (By notorious, I mean one of the best places in the world).
As our ferry was docking, we caught a glimpse of some Orca whales (woah). We took note of the direction they were heading and the moment we could drive off the ferry, we headed in the same direction as the whale pod (did I mention you can take your car onto the Islands?).
As luck would have it, we finally caught up to them and watched as they surfed waves past us. We didn't know it at the time, but the area we caught up with them overlooked the Haro Straight and is one of the best places to whale watch from land.
We saw eight or so whales that day but had a hard time getting a photo. (We did take some video footage, which we shared on Instagram — check our story highlights to watch.)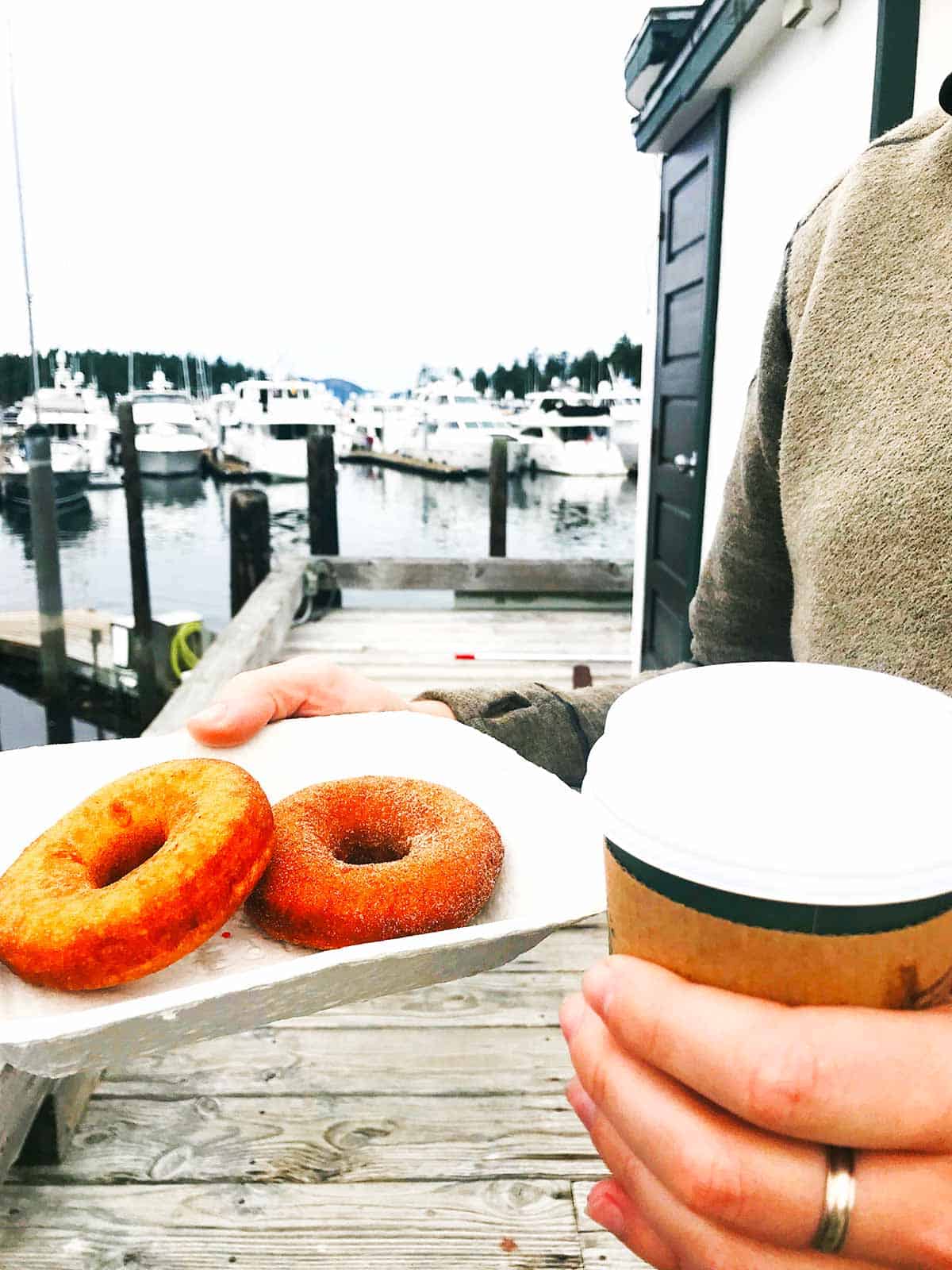 After so much excitement, we needed a snack so we headed over to Roche Harbor and treated ourselves to donuts from Lime Kiln Cafe (so good) and a big serving of spiced shrimp from Madrona Bar and Grill — pretty much my dream lunch.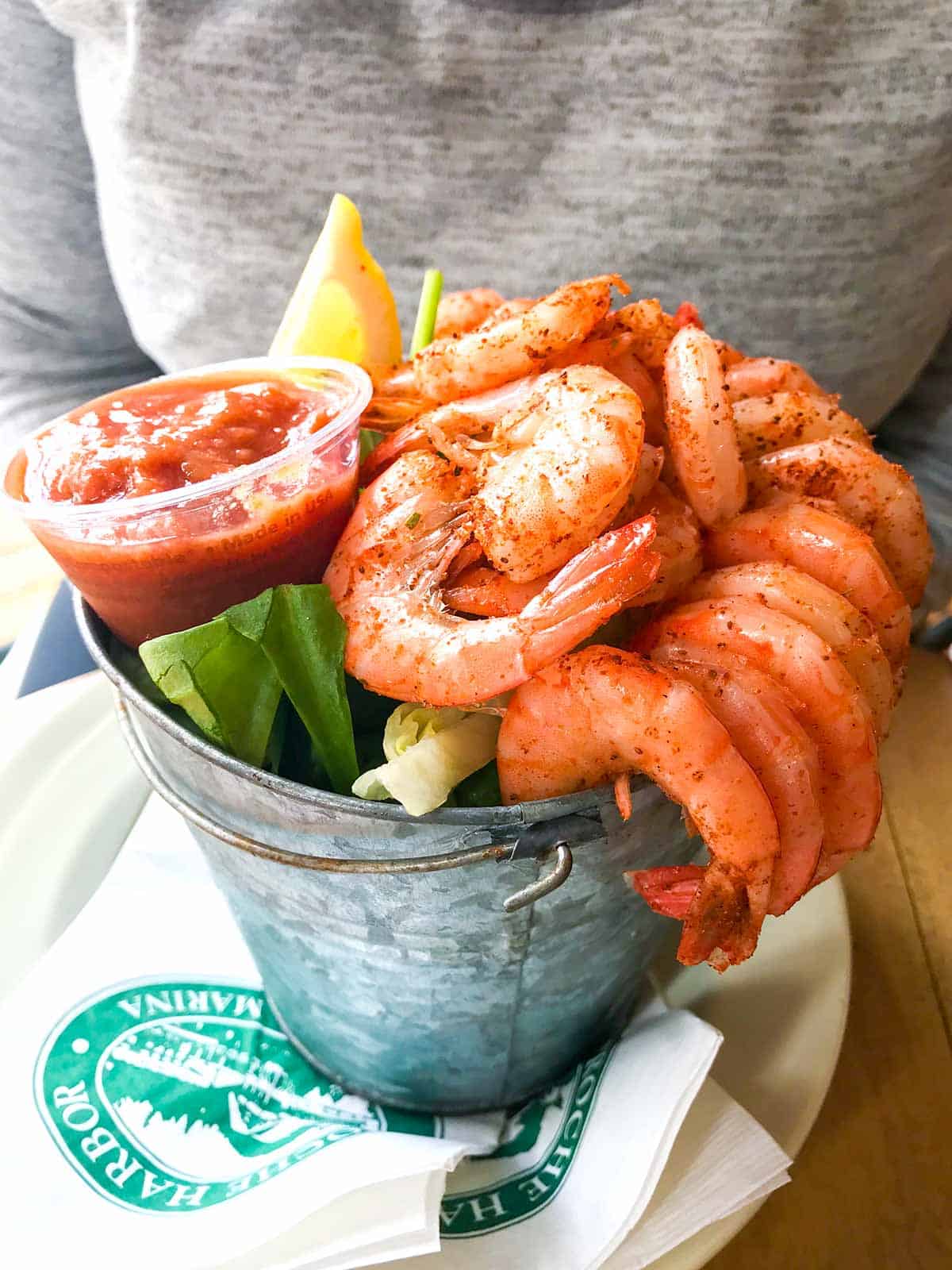 The next day, we wanted to get out onto the water. We brought our kayak with us, but there are lots of rental options and even guided tours.
We wanted to venture out by ourselves and hoped to see more whales, but no luck. We had a great time, anyway. Exploring San Juan Island by land is fun, but the absolute best way to see it is to get on the water.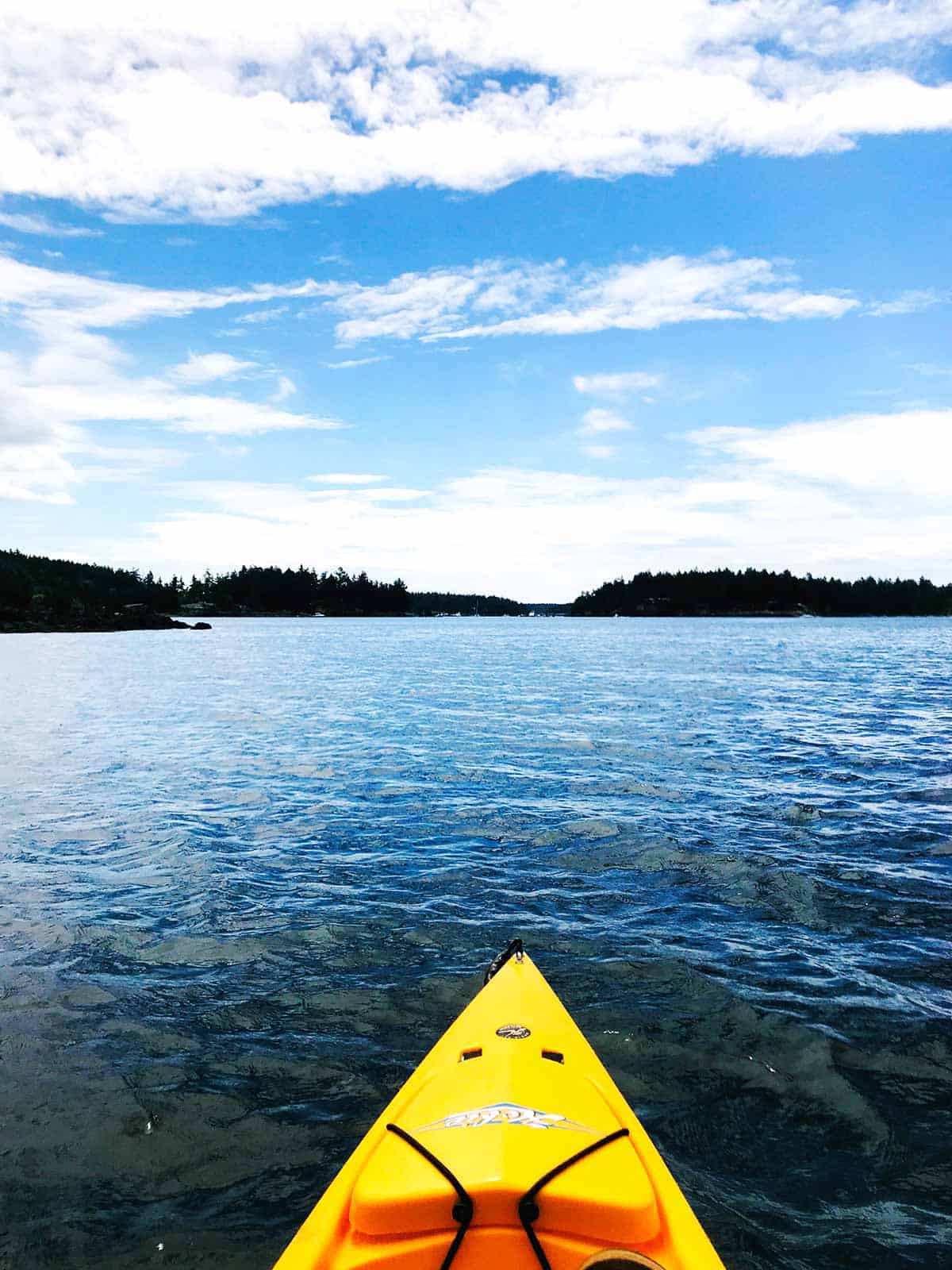 After working up our appetites, it was time for more seafood! We stumbled across Westcott Bay Shellfish (thanks to a sign on the side of the road) and ordered a bunch of grilled oysters and steamed clams. Such a great stop!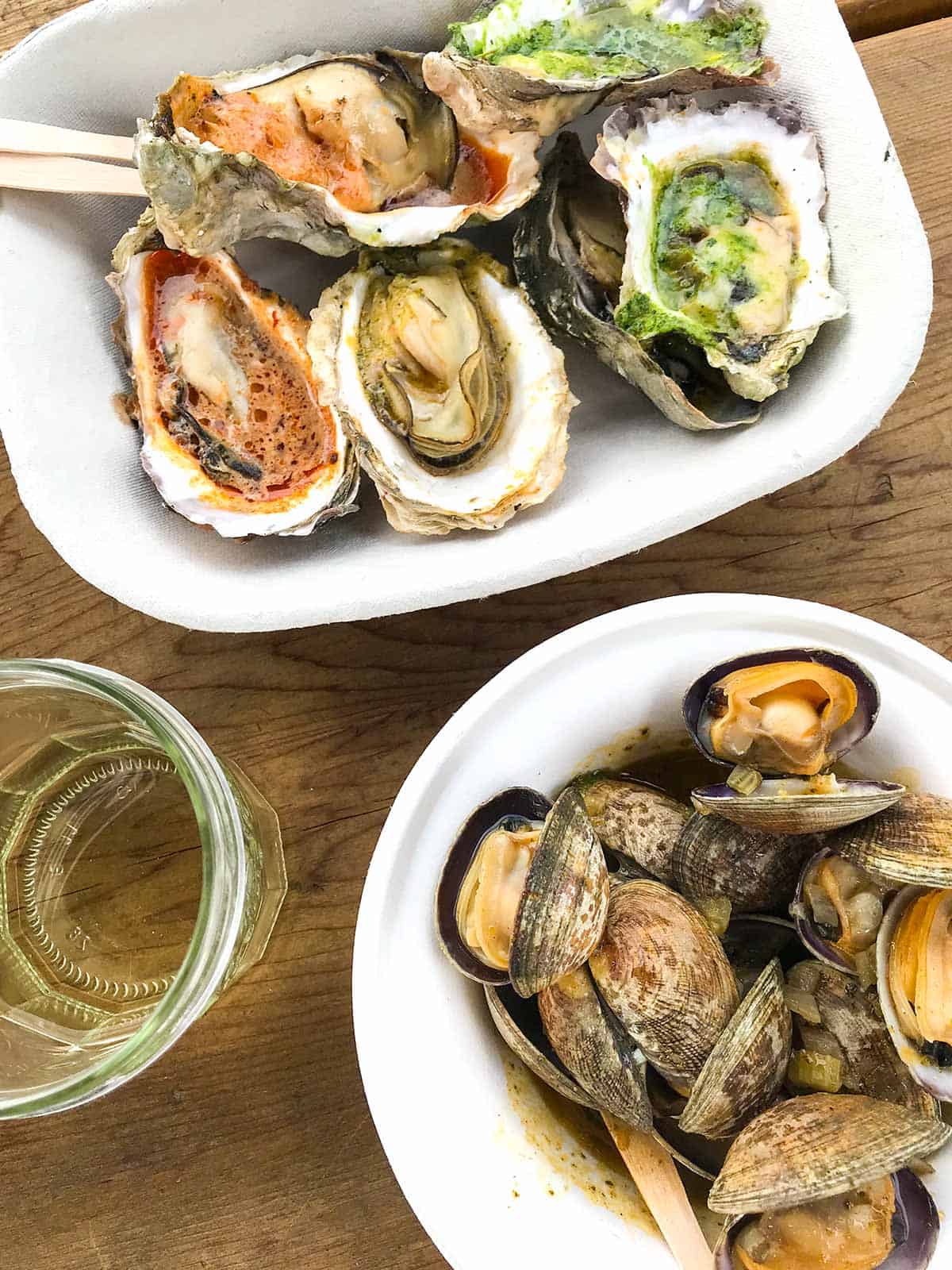 That evening we headed back to Lakedale Resort early, because we reserved two spots in their Gourmet Glamping series. Instead of staying by our tent, we were to join an intimate group of fellow glampers for a multi-course menu paired with award-winning Washington State wine. (Twist my arm, why don't you.)
The food was prepared and cooked in front of us and because we were glamping, it was all cooked over firepits. The chef for our evening was Executive Chef Michael Wieczorek of Chrysalis Inn & Spa and the featured winery was Gilbert Cellars from Yakima, WA.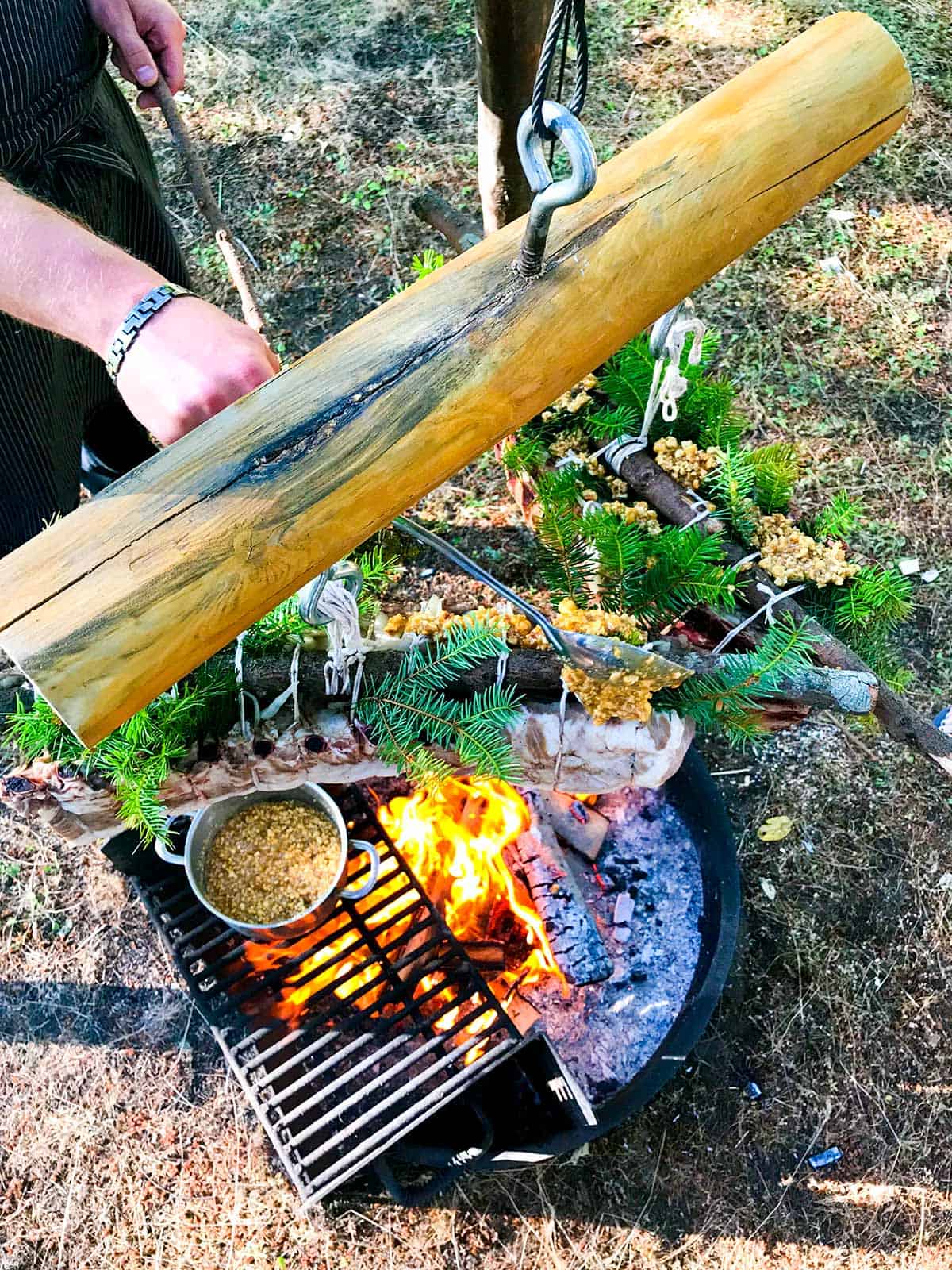 The food was insanely good. Chef Wieczorek included us in the cooking process, which made the whole evening so much more fun.
With full bellies, we walked back to our tent and saw this. If this photo isn't enough to make you want to go glamping, then I'm not sure what is.
The whole experience was so dreamy. (Especially since inside that tent lies a comfy king bed, warm linens, and a shower!)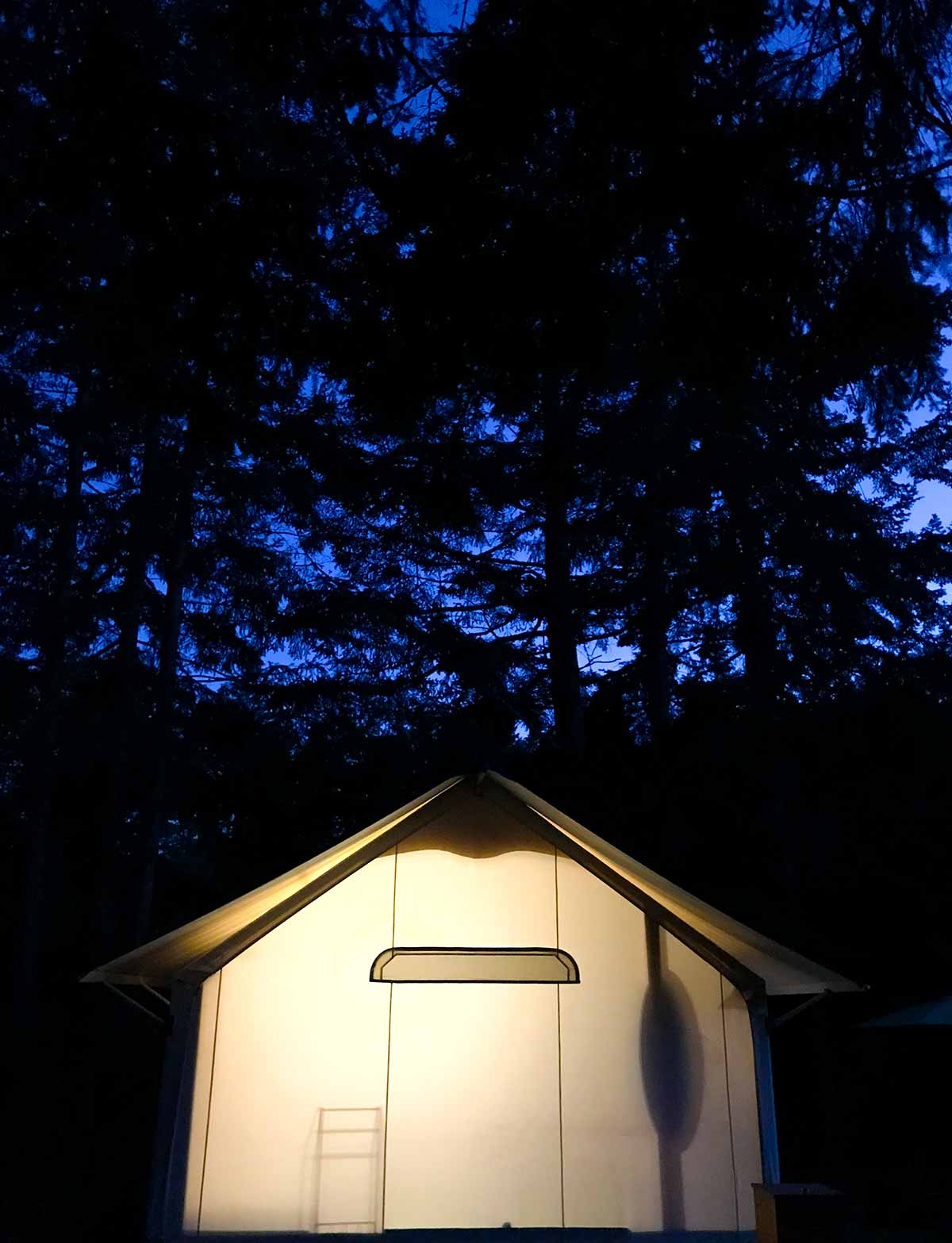 The next morning, it was time to leave San Juan Island. Boy did we wish we had more time. As we waited for our ferry back to the mainland, we enjoyed one last bite to eat. Just across from the ferry terminal, there's a cute little coffee shop with pretty tasty bagel sandwiches. Perfect for our ferry ride back!
Disclosure: Lakedale Resort hosted our lodging during our trip. We are already planning another visit (unsponsored) since we loved our time at Lakedale so much. We only work with businesses that we love and only share suggestions that we would encourage friends and family to enjoy. All opinions are our own.
If you enjoyed this then follow us on Instagram. We share lots of extra photos and videos when traveling plus you'll get to see our foodie side!