We have wanted to visit San Juan Islands, Washington for a long time — even before we moved to Washington state. The San Juans are a collection of islands to the north of Seattle, WA.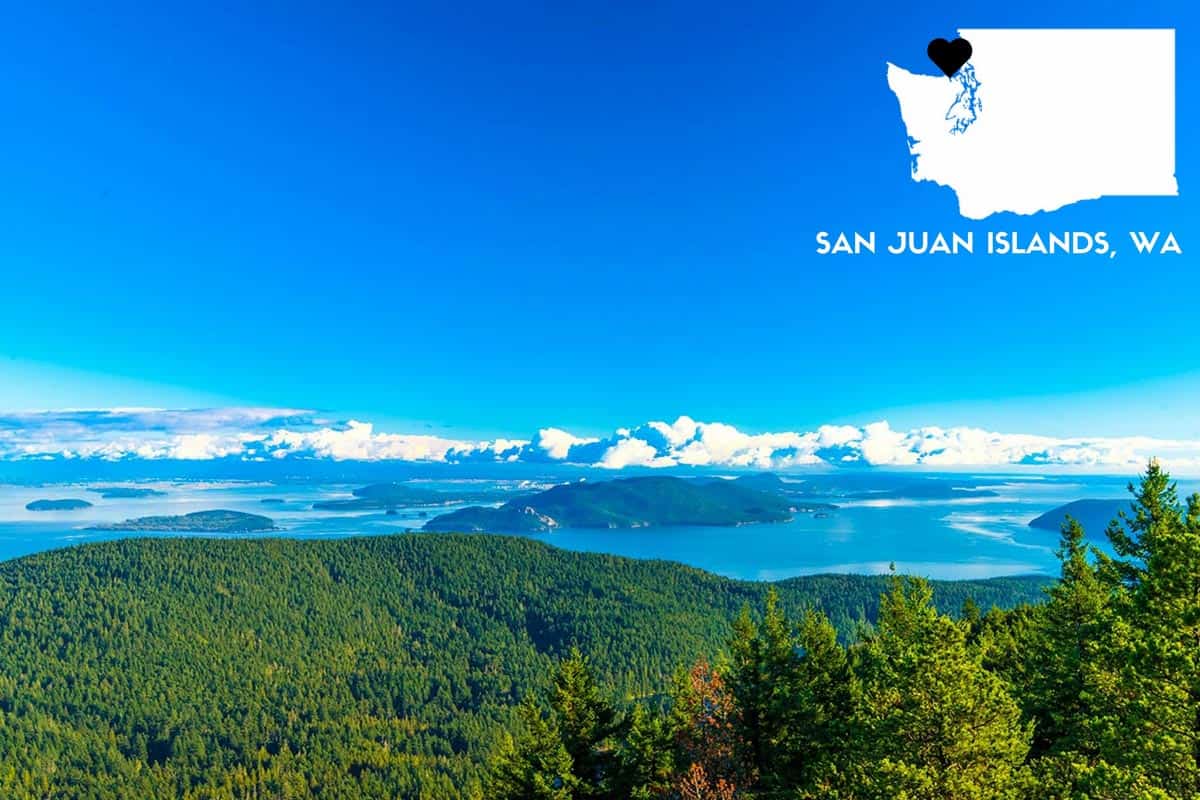 We both adore island travel. No matter the island, visiting an island means you leave everything behind. The pace slows and you can relax. The San Juan Islands are no different. They may only be an hour away, but the moment you step onto one of the islands, you are on island time.
Be sure to check out our nifty Google map that shows you everywhere we went so you can visit yourself. It works great on a phone.
How to Get to the San Juan Islands
Getting to the San Juans is fun. You can get there by ferry or by a small plane. This time, we relied on the ferry system and were so glad that we did. It meant we could take our car, which was useful when exploring the islands. It also gave us the most mesmerizing ride — ferry rides are magical in the San Juan Islands.
There are four main islands in the San Juans — San Juan Island, Orcas Island, Lopez Island and Shaw Island. This time we spent three nights on Orcas and one night on Lopez. I'd be lying if I said that was enough time, we both cannot wait to go back.
Since we live in Walla Walla, WA, we drove to the ferry terminal in Anacortes — about 5 hours for us. From there, we drove onto a ferry and sailed away to Orcas Island. The ride takes around 50 minutes and if you're on the ferry during the day, the views are endless.
Pro Tip: Make sure you reserve your ferry time, especially during busier times like summer and weekends. It's free to reserve and you can do it online here.
Exploring Orcas Island, Washington
For our first two nights, we stayed at an adorable little Airbnb in the tiny town of Orcas on Orcas Island (here's some travel credit for your first trip!). The Airbnb was just up the road from the ferry terminal which gave us exciting views of the ferries as they come and go. I have a thing for ferries, have you noticed? Adam actually found me a shirt that read "I believe in ferries." I want that shirt.
Anyway, our first day was a fun one. We walked onto the ferry — it's free for walkers — and sailed through the islands to Friday Harbor on San Juan Island. About 5 minutes into the ride, we heard music.
If the fairy tail-like views from the ferry windows and seals popping in and out of the water around us wasn't enough, a string quartet began to perform. Just magical. This doesn't happen all the time, but wow was it special. It just so happened that we were there during the Orcas Island Chamber Music Festival.
I could have stayed on that ferry all day, but it was time to explore Friday Harbor. The Friday Harbor ferry landing pops you right into town where you'll find many restaurants, shops and cafes. We stopped into two little cafes while we were there. Cafe Demeter on Nichols Street was quaint and had lots of delicious treats to choose from. I picked up a ginger cookie and Adam went for a croissant.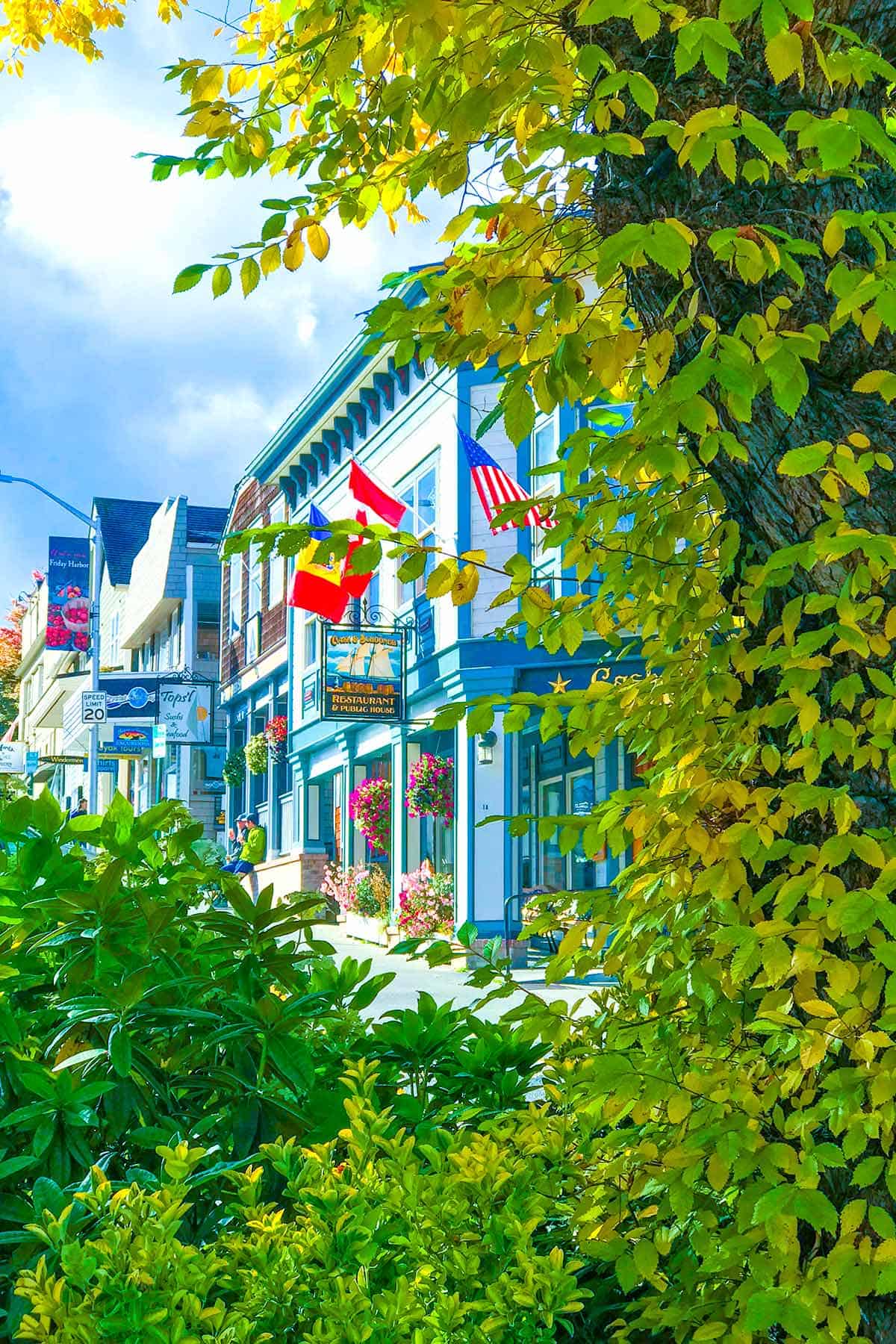 Across the street, we stopped into Cynthia's for a coffee to go as well as another treat (I couldn't help myself). Armed with coffee, we wandered around town passing so many little boutiques and restaurants.
A stop in to Pelindada Lavender Shop is a must — you won't believe how many ways they've thought to use lavender. We bought some herbs de Provence which we use when roasting vegetables as well as their lavender hydrosol which I use as a natural cleaner for the kitchen (I especially love it for the cutting board). After a quick lunch at Cask and Schooner, we hopped back onto the ferry to get back to Orcas.
Have you ever been glamping? We went glamping on San Juan Island and loved it. Click over to see where we stayed and what we did while we were there.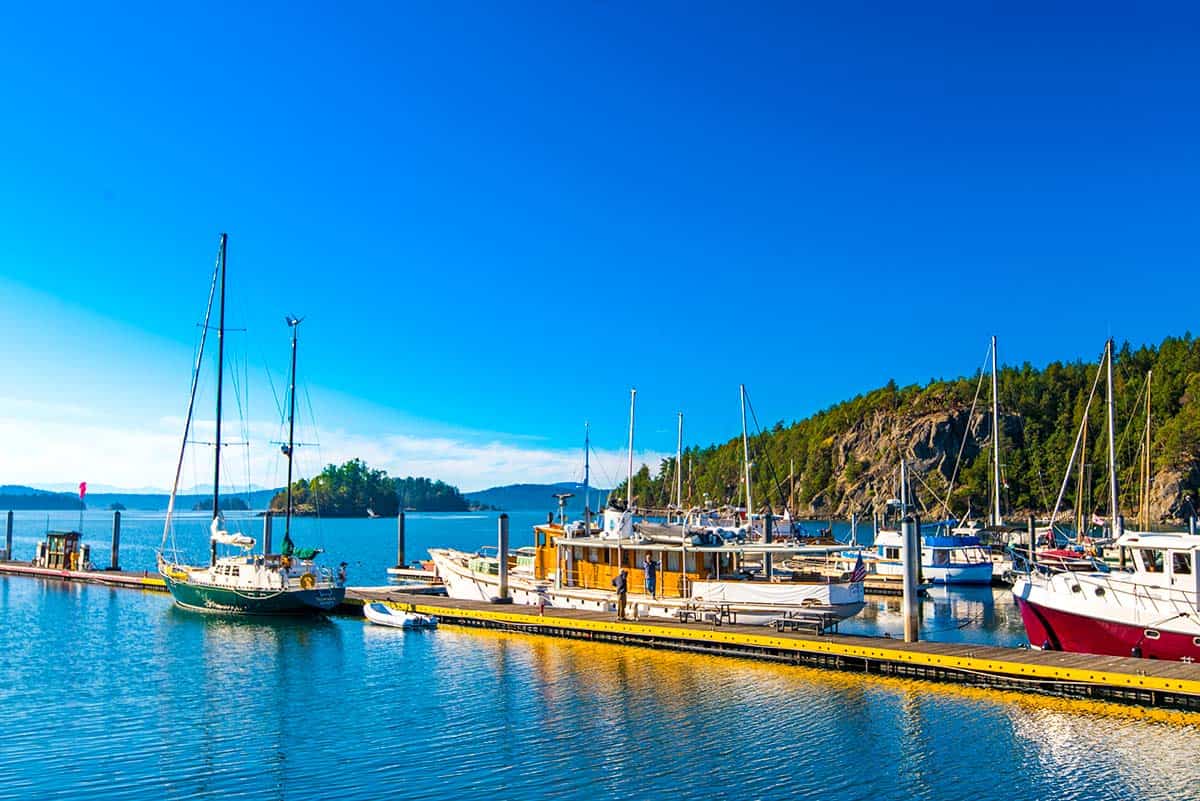 We had a dinner reservation at the Mansion Restaurant at Rosario Resort and Spa. The restaurant is part of a lovely resort with a pretty spectacular view. The food was excellent and carefully sourced from local farmers and producers — I especially loved the rigatoni with house-made pasta and lamb sauce. We also fell head over heels for their cocktail menu. I ordered the Northern Exposure cocktail which had vodka, gin, jasmine, Samish bay Greek yogurt, dill and lime. I know it may sound a little strange, but I swear, it's one of the best cocktails I've ever had.
On our third day, we checked into SeaStar Lofts in Eastsound, Orcas. Eastsound is an absolute must visit. It's a tiny town just packed to the brim with coffee shops, restaurants and boutiques. Brown Bear Baking was an immediate favorite. The coffee was excellent and I could spend hours talking about how incredible the pastries looked.
That day, we stopped into the local food co-op (also in Eastsound) and picked up a smoothie. From there, we drove a little further around the island to see Moran State Park. It's a gorgeous park full of trails. We drove up to Mt. Constitution, which is the highest peak in the San Juans. The view was incredible at the top.
On our way back from the park we stopped into a local brewery. We fell in love immediately, it's called Island Hoppin' Brewery and had lots of options on tap. We ordered a sample tray and sipped alongside the locals.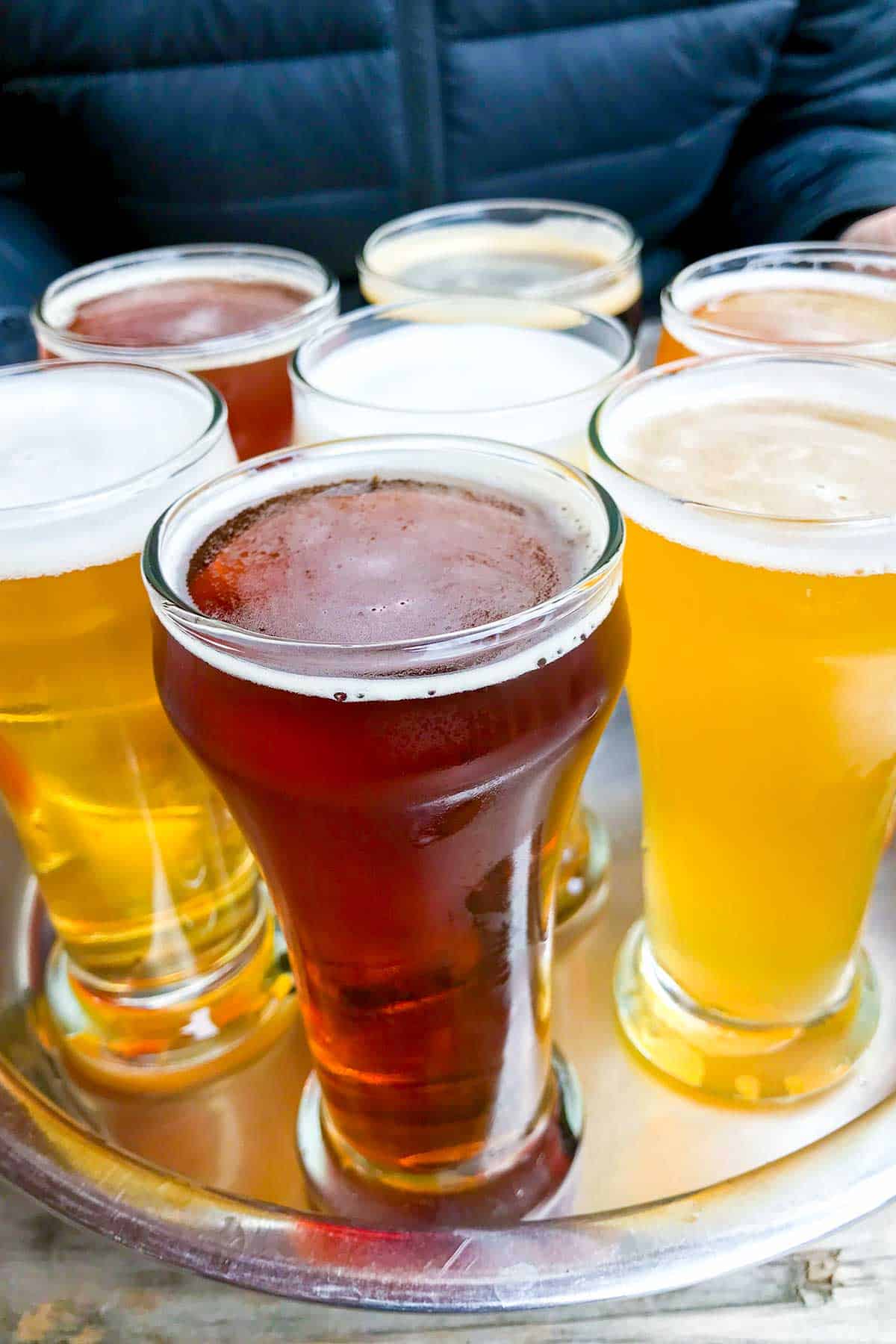 After another stop into Brown Bear (I told you we fell in love), we spent some time in our hotel suite. Sea Star Lofts are located right in the middle of Eastsound and even have a couple suites with water views. In our room there was a full kitchen with everything you would ever need.
That night, we checked out The Barnacle. This might be one of our favorite stops on Orcas. It's down the street from Sea Star, so we walked. It's cozy and welcoming. The list of handcrafted cocktails took us a while to look through (everything sounded so delicious). We finally made our choices and ordered a cheese platter featuring local eats to go alongside our drinks.
The next day, before heading to Lopez Island, we had brunch at New Leaf Cafe. I ordered the crab cakes Benedict and Adam went with a simple breakfast of eggs, bacon and toast. It was all delicious and the view over the inlet made everything taste even better.
Lopez Island, Washington
Our last night in the San Juans was on Lopez Island. It's quieter than San Juan and Orcas islands, but just as interesting. The moment we got off the ferry, we headed to Sunnyfield farm where they raise goats and make the most delicious cheeses and yogurt. If you're on Lopez, stopping into a local farm stand or two is a must. Sunnyfield has one open most days, so stop in, you won't regret it.
Pro Tip: Lopez Island has many farms and farm stands. Bring cash along since not everyone has credit card machines. Here's a list of local farms to explore.
That evening we checked into Lopez Farm Cottages and I have to tell you, our cottage was one of the most lovely places we've stayed in a while. It's unbelievably quiet (other than the sheep, deer and rabbits hopping around). There's a fireplace in the cottage and even a hot tub under large pine trees.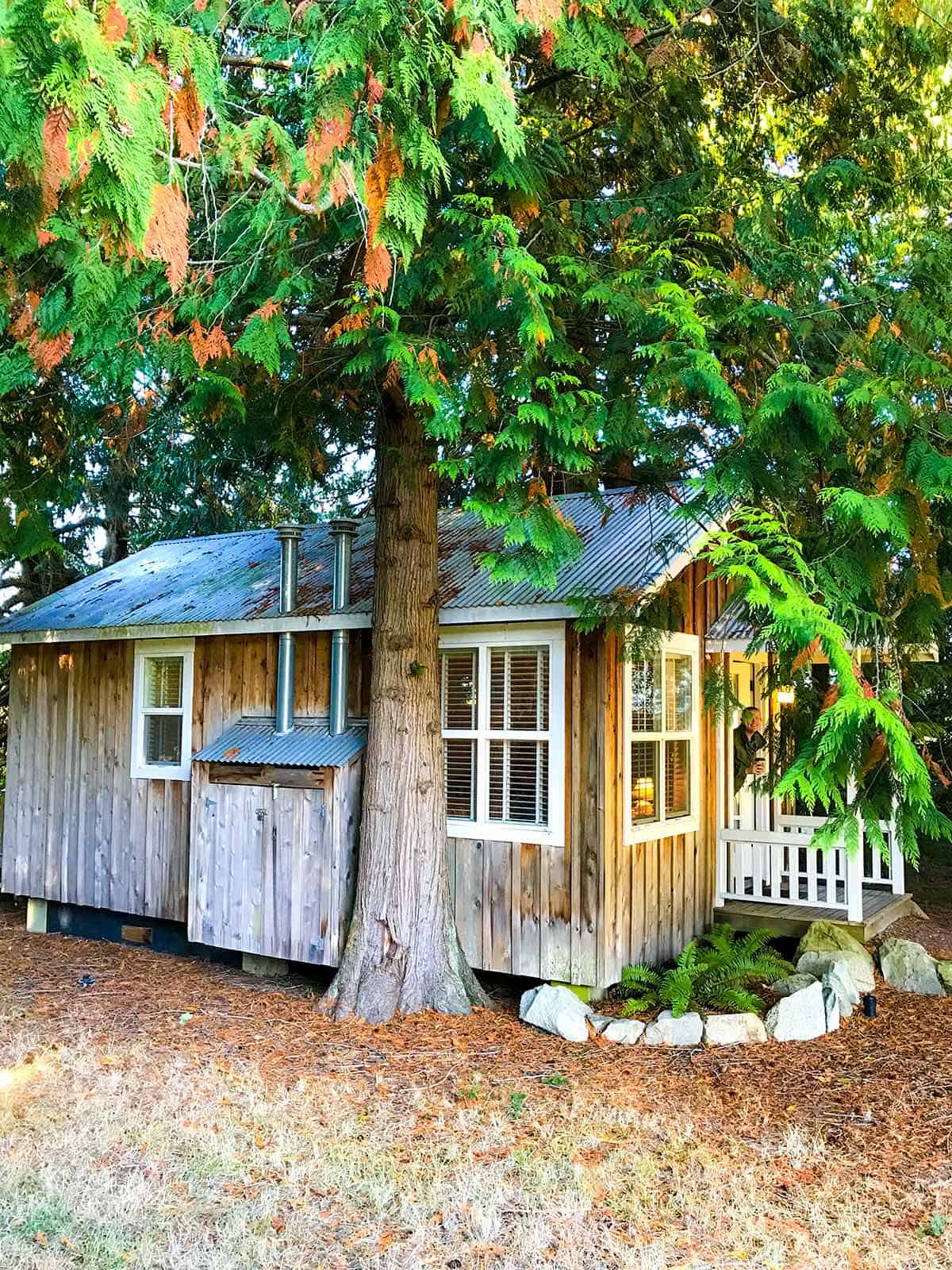 We could have stayed around our cottage for hours, but we had a dinner reservation at Ursa Minor. Everything about Ursa Minor was thoughtful. The moment you walk in you feel welcomed. I adored the big windows overlooking the water as well as those incredible beams overhead. Chef Nick Coffey's menu was imaginative and took care to source as locally as possible. We fell in love — the beautiful decor, the imaginative menu and locally (even micro locally) sourced ingredients. It doesn't get much better. I mean, do you see that photo? Just gorgeous.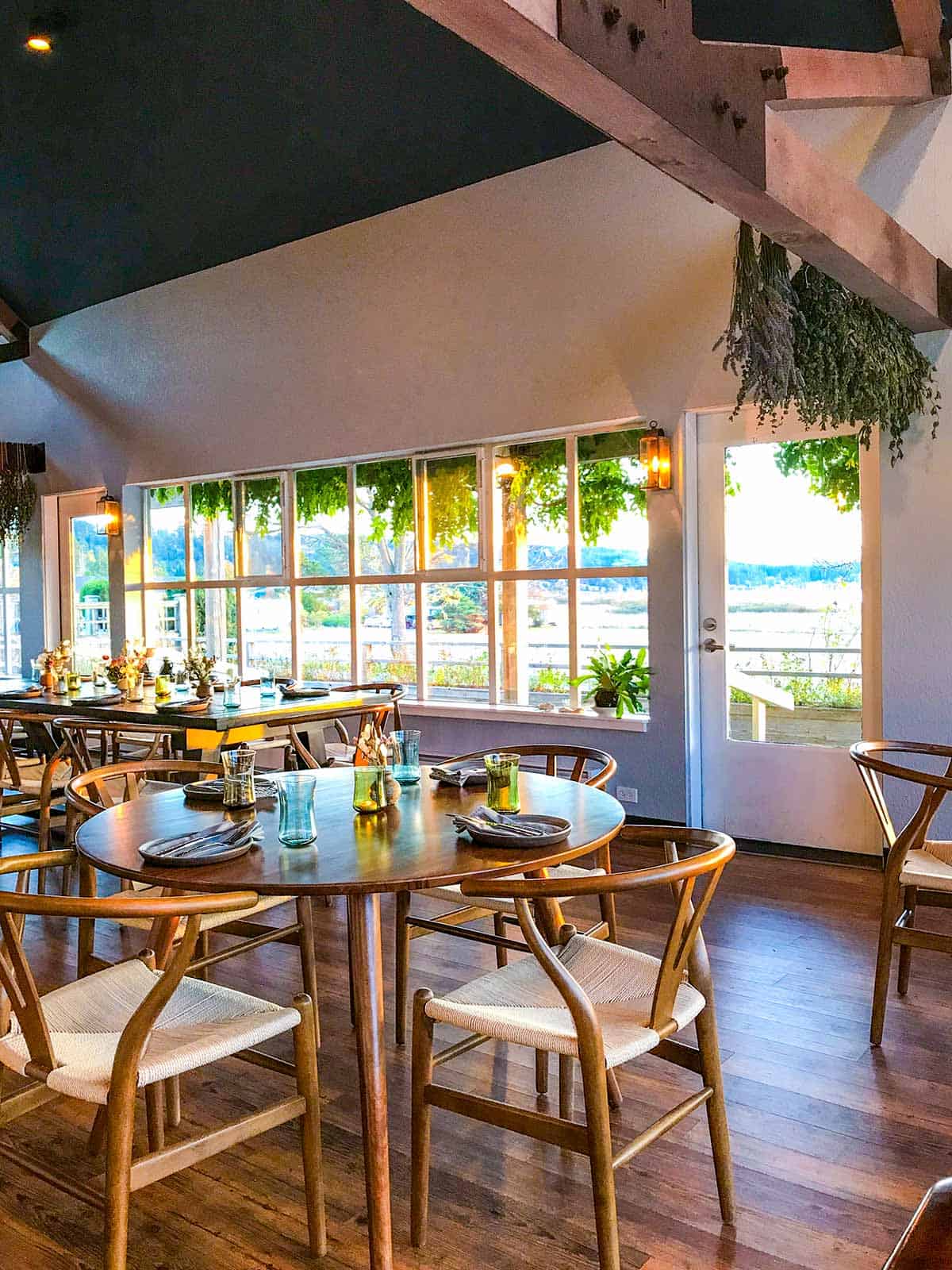 We ordered a variety of dishes. Two favorites were the island green salad with goat feta, grapes, and olives. It was so good, I wish I had it every day. We also ordered the salmon with cultured cream, beets and green strawberries. We loved it. Dessert made us happy, too. Their hay ice cream was involved and it was awesome.
After such an incredible dinner, we went back to our cottage. The next morning, after a coffee from Isabel's, we slowly meandered to the ferry terminal to go home.
What a trip! We cannot wait to go back. Next time, we want to get in the water and go kayaking. Maybe even kayaking with whales (whoa). Whale watching in the San Juan Islands is a must. There's so much to do, see and eat in the San Juan Islands, I think we might just make it a yearly expedition.
Disclosure: Both hotels, Seastar Lofts and Lopez Farm Cottages hosted our lodging during our trip. Rosarios was very kind and hosted our dinner. Ursa Minor also kindly hosted us for dinner. We would like to thank Visit San Juan Islands (especially Barbara) who helped put our trip together and introduced us to the San Juans. We only work with businesses that we love and only share suggestions that we would encourage friends and family to enjoy. All opinions are our own.
If you enjoyed this then follow us on Instagram. We share lots of extra photos and videos when traveling plus you'll get to see our foodie side!
Article updated, originally posted November 2017.