Watermelon salad is light and fresh with an almost addictive salty-sweet combination of flavors. The moment you see how easy this watermelon salad with herbs and feta is to make, you'll be making it all summer long. Jump to the Watermelon Salad Recipe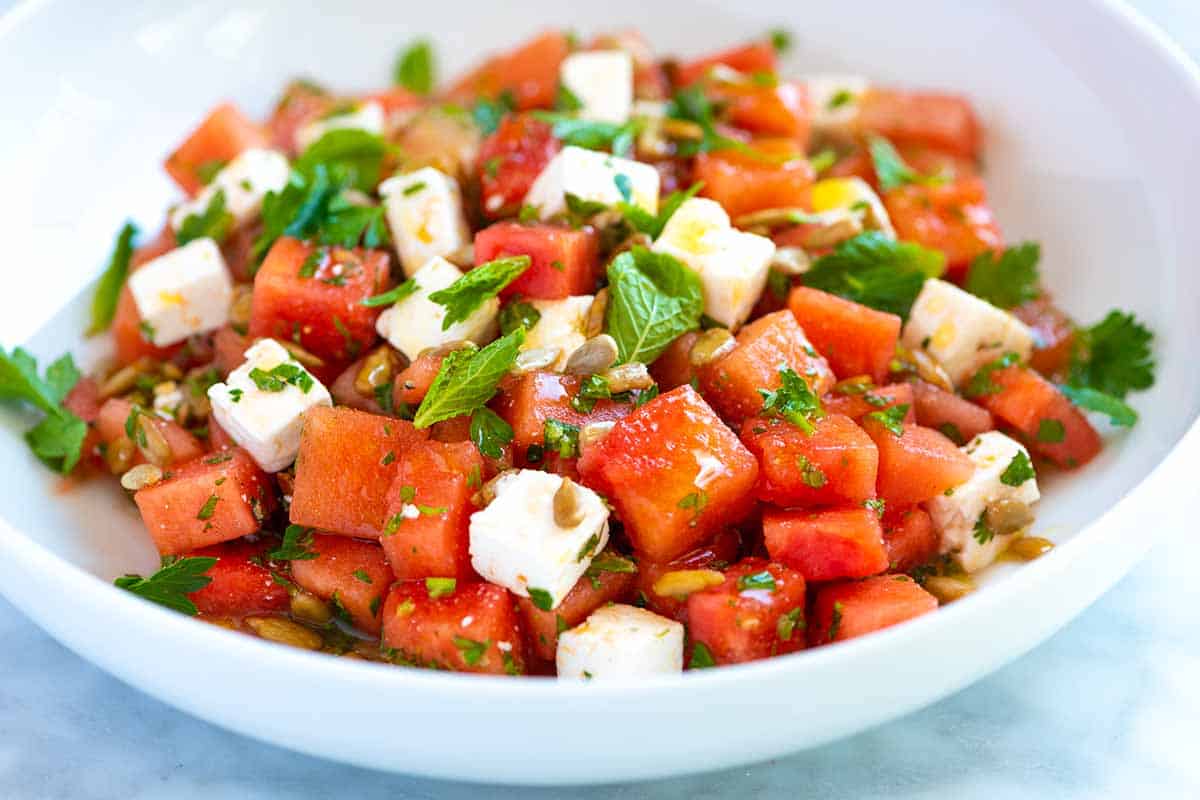 How to Make Watermelon Salad
Our favorite watermelon salad is as simple as throwing ingredients into a bowl and tossing. Really, it's that simple. For the best watermelon salad, we want to start with a firm, ripe watermelon. Since it makes the prep time quick and easy, I prefer to use seedless watermelons for this, but seeded watermelons will work if that's what you have. Scroll down to learn the three easy steps I follow when choosing watermelons.
How to tell when a watermelon is ripe in 3 steps
Pick the watermelon up. Watermelons should feel heavy for their size. It should also feel firm, if the outside of the melon feels squishy or soft, it's most likely overripe.
Look for a creamy yellow spot. This is where the watermelon would have been resting on the ground. If the spot has a creamy yellow color, it's ripe!
Give it a good tap. Ripe watermelons will have a deep hollow sound, when tapped. Under or over ripe watermelons will sound dull.
How to cut the watermelon
There are a few options when cutting the watermelon for this easy salad. I like to cut the melon into cubes, but wedges and even balls (made using a melon baller) work, as well. If you're new to cutting melons, watch the beginning of our recipe video. We walk you through the whole process.
Whenever I'm cutting melons, I always slice the ends away first. This way, I have a firm service that isn't wobbly. From there, I slide my knife down the melon and remove the rind. If your melon is large, you can cut it in half or even quarters before removing the rind to make it more manageable. Just always try to keep a solid, flat surface so the melon doesn't move around on you while you cut.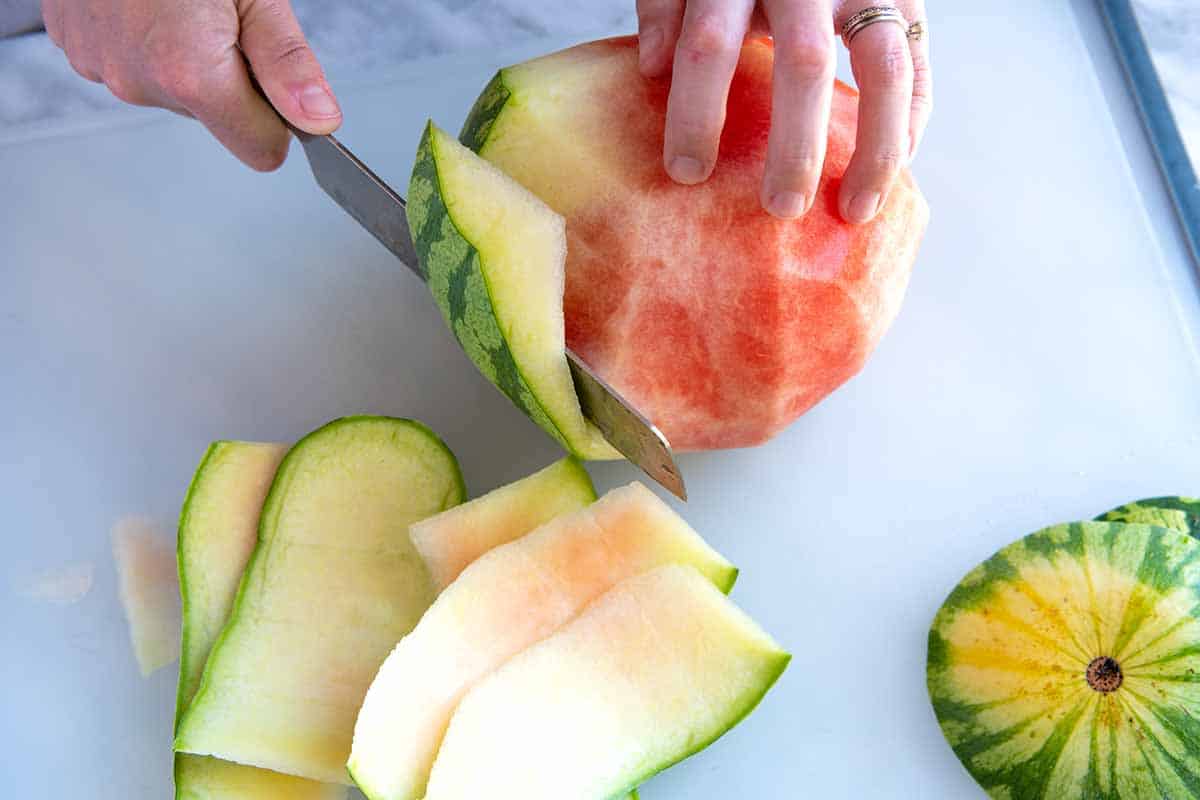 Once the rind is removed, you can cut the melon into whatever size or shape you like. I chop the melon into 1-inch cubes, but thin wedges would be a pretty alternative. Another option, as mentioned above, is to use a melon baller. If you do this, there is no need to remove the melon's peel.
Putting the salad together
For the salad, I combine the following simple ingredients:
Cubed watermelon
Lots of fresh herbs (I love parsley and mint)
Feta cheese (I cube the cheese, but crumbled works, too)
Toasted sunflower seeds (other nuts/seeds work, too)
Red wine vinegar
Extra virgin olive oil
Salt and fresh ground black pepper
The salad can be served straight away or left, covered in the fridge, for a day or two. It's delicious!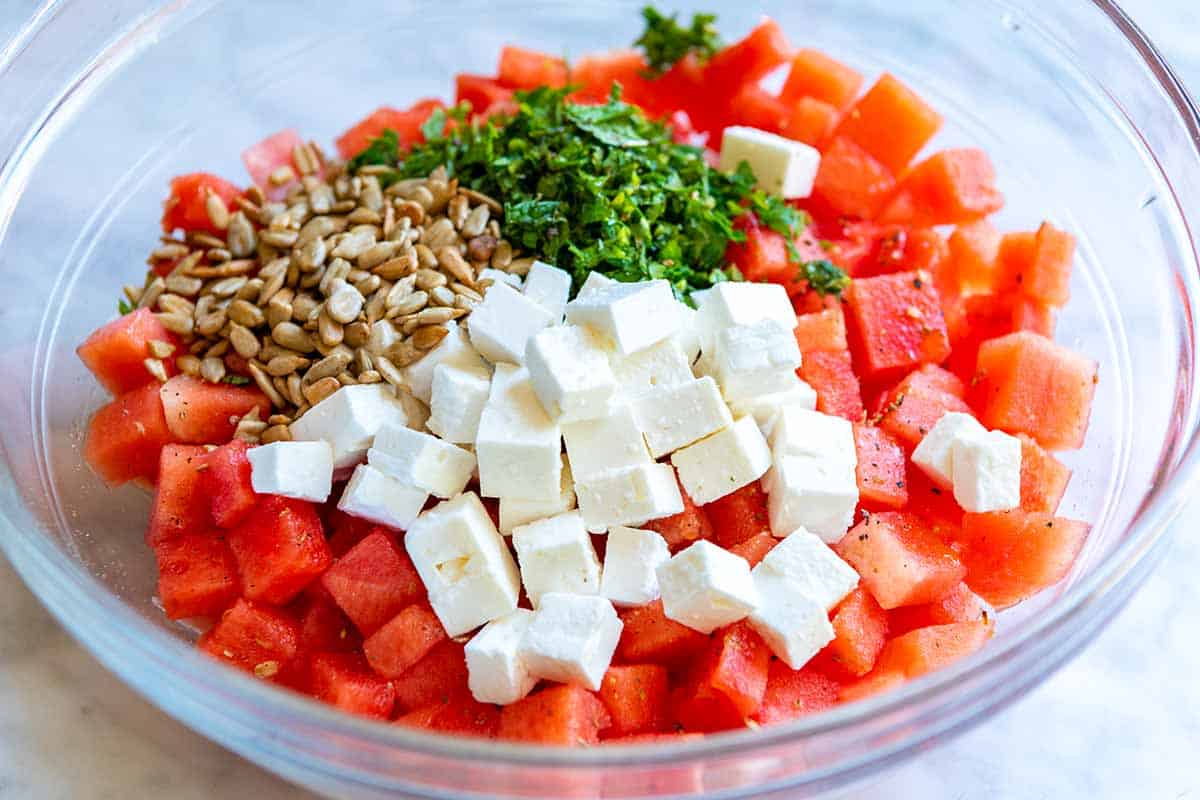 Watermelon salad variations
I've not met a watermelon salad that I didn't love so it seems appropriate to encourage you to experiment with other variations. I am sure there are more than what's shared in the list below, but here are a few of our favorites:
Swap feta cheese for crumbly, creamy goat cheese and make a watermelon and goat cheese salad. Other crumbly and salty cheeses like queso fresco or ricotta salata would be nice, too.
Substitute fresh basil or cilantro for the mint and parsley. Or, increase the variety of herbs you add for an extra herby, summery salad.
Swap out red wine vinegar for other acids. Fresh lemon juice, fresh lime juice, and sherry vinegar are all excellent options. A drizzle of thick, sweet high-quality balsamic vinegar or balsamic vinaigrette is also lovely.
Add more crunch with cucumber for a watermelon and cucumber salad. Thinly sliced sweet onion is also nice. We use both to make this chopped tomato and cucumber salad, which could very easily be adapted to include watermelon.
Add a little brininess with sliced olives, Kalamata olives are especially nice in this salad.
For a completely plant-based (and vegan) salad, swap the cheese for avocado. Another idea is to take this avocado and cucumber saladand add diced watermelon.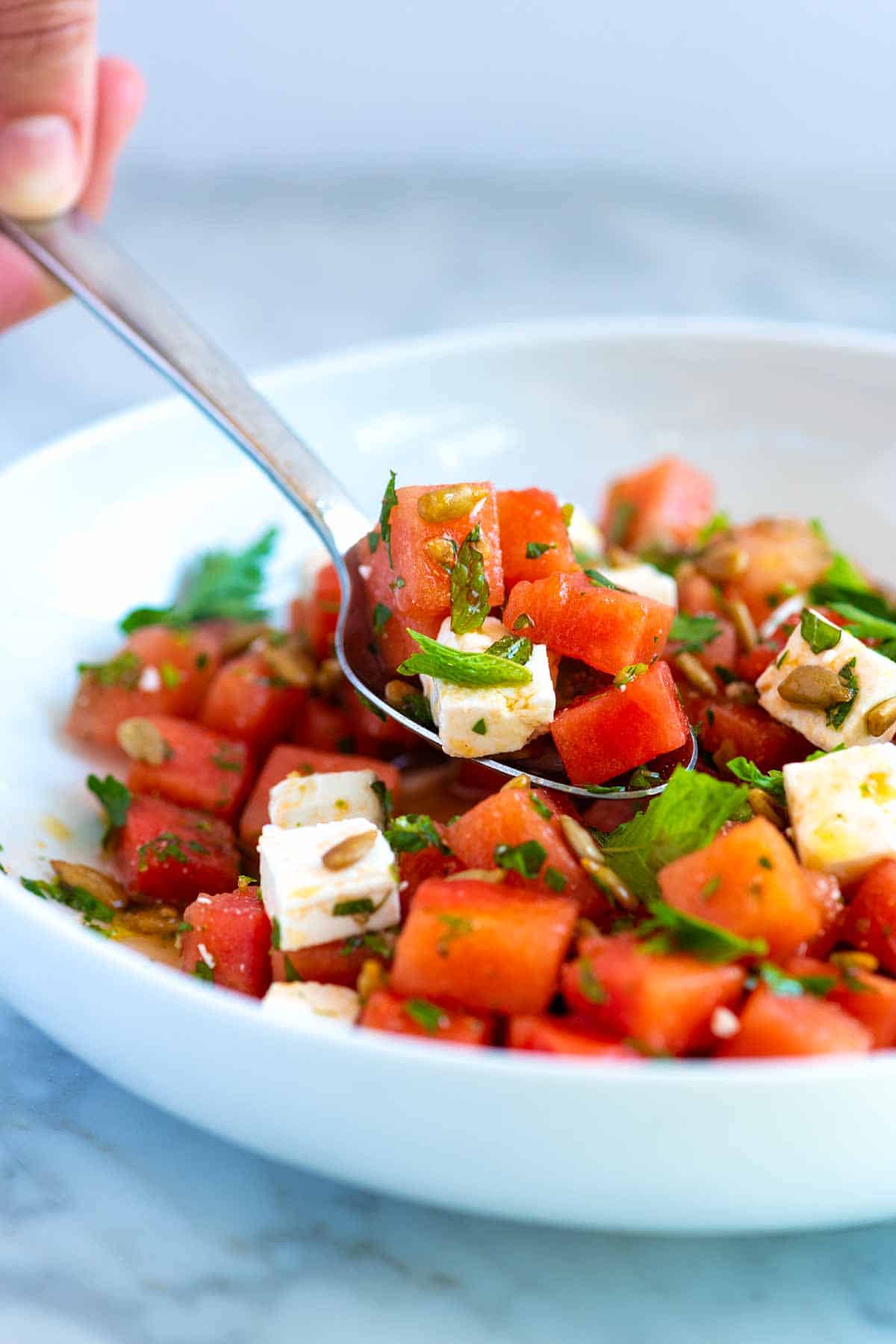 More summer salads
Our Favorite Watermelon Salad
Our favorite watermelon salad is light, fresh, and thanks to the salty-sweet combination of flavors, it's almost addictive. The moment you see how easy this watermelon salad with herbs and feta is to make, you'll be making it all summer long. This is our basic recipe, for more variations and optional ingredients, take a look at the article above.
Watch Us Make the Recipe
You Will Need
6 cups cubed watermelon, see notes
1/2 cup fresh herbs, we like a combination of mint and parsley, plus more for garnish
4 ounces feta cheese, cubed, we prefer sheep's milk feta (about 1 cup)
3 tablespoons sunflower seeds, toasted
1 1/2 tablespoons red wine vinegar
1 1/2 tablespoons extra-virgin olive oil
1/4 teaspoon fine sea salt
Fresh ground black pepper, to taste
Directions
1To toast the sunflower seeds, add them to a dry skillet over medium-low heat. Cook, swirling and shaking the seeds around the pan until they smell fragrant and toasty, about 2 minutes.

2Add watermelon, chopped herbs, feta cheese, and toasted sunflower seeds to a large salad bowl.

3Drizzle the salad with red-wine vinegar and olive oil as well as a pinch of salt and fresh ground black pepper. Toss and serve with torn or small herb leaves on top or cover and refrigerate up to 2 days.
Adam and Joanne's Tips
One 8-pound seedless watermelon equals about 12 cups of watermelon cubes. This recipe would require half of an 8-pound watermelon.
Nutrition Facts: The nutrition facts provided below are estimates. We have used the USDA database to calculate approximate values.
Nutrition Per Serving
Serving Size
1/6 of the salad (about 1 cup)
/
Calories
160
/
Total Fat
10.3g
/
Saturated Fat
3.6g
/
Cholesterol
16.9mg
/
Sodium
284.3mg
/
Carbohydrate
14.4g
/
Dietary Fiber
1.8g
/
Total Sugars
10.4g
/
Protein
5g