The secret to quick and easy chocolate chip cookies lies in melted butter! No need to beat the butter or chill the dough – these cookies come together in minutes. They boast a delightful combination of soft centers, chewy middles, and a touch of crispness around the edges. This is our go-to recipe for foolproof chocolate chip cookies!
Watch the Video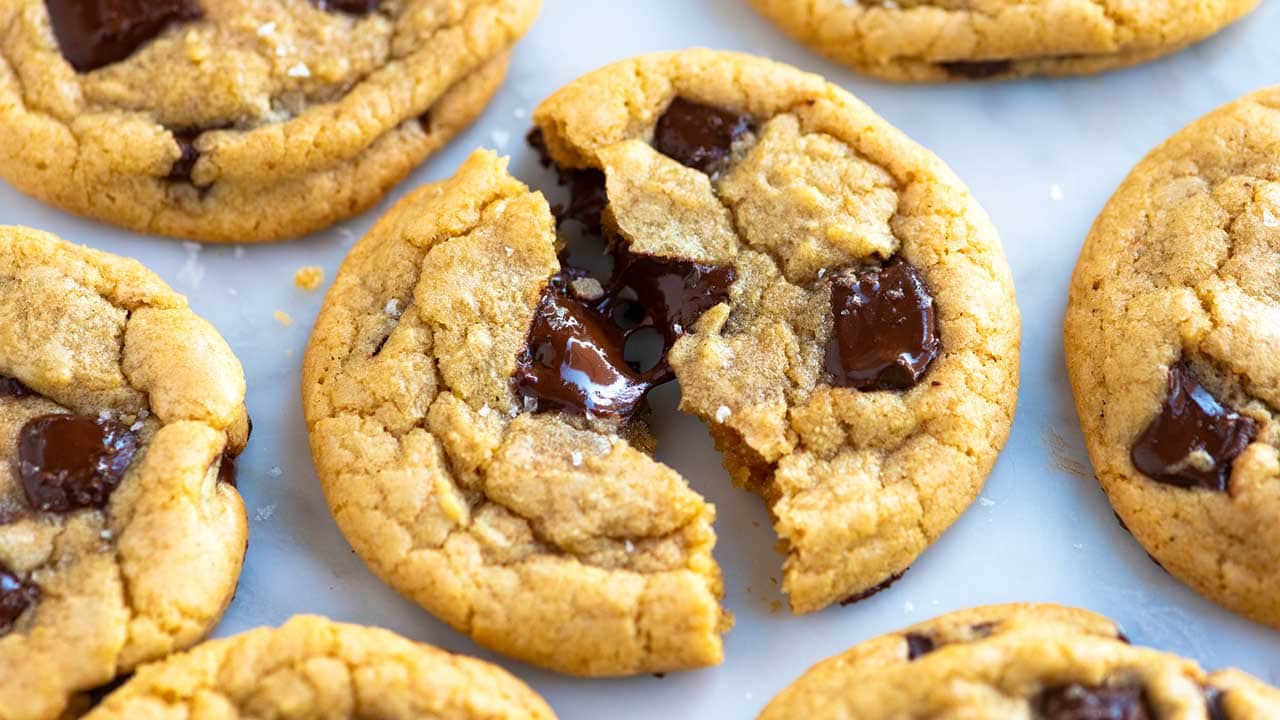 The Easiest Chocolate Chip Cookies From Scratch
There are many chocolate chip cookie recipes out there, but this is the one I return to again and again. While we've already shared a fantastic chocolate chip cookie recipe that we still adore (which you should try soon), these cookies made with melted butter offer a quicker preparation time without sacrificing taste.
This simple cookie recipe not only saves you from washing extra dishes but it also eliminates the need to soften butter and allows for optional chilling of the dough. You can even freeze the batter for baking cookies on another day. Trust me, these cookies just might be the best ever!
Let's discuss the essential ingredients for making delicious chocolate chip cookies. While our ingredient list may look similar to the other recipe on our blog, the method of combining them sets these cookies apart. You'll need flour, baking soda, salt, melted butter, sugar, vanilla extract, eggs, and plenty of chocolate chips.
Melted butter is the key to the simplicity of this recipe. Not only does melted butter make the recipe easier, but it also allows you to brown the butter, imparting a delightful nutty richness to the cookies. It's worth noting that browning the butter is optional, as the cookies turn out fantastic with plain melted butter. We use the same trick when making our extra easy oatmeal cookies.
We use granulated and brown sugar, which may seem like a lot, but each type of sugar plays a distinct role in enhancing the flavor and texture of the baked cookies. The granulated sugar sweetens the batter and keeps the cookie edges crispy. While the brown sugar adds a caramel-like flavor and helps keep the centers soft and chewy.
Unlike our other recipe, these cookies call for 1 whole egg and 1 egg yolk. By excluding the egg white of the second egg, we bump up the richness of the cookie dough. This combination also ensures the cookies spread perfectly during baking and have crispy edges and chewy centers.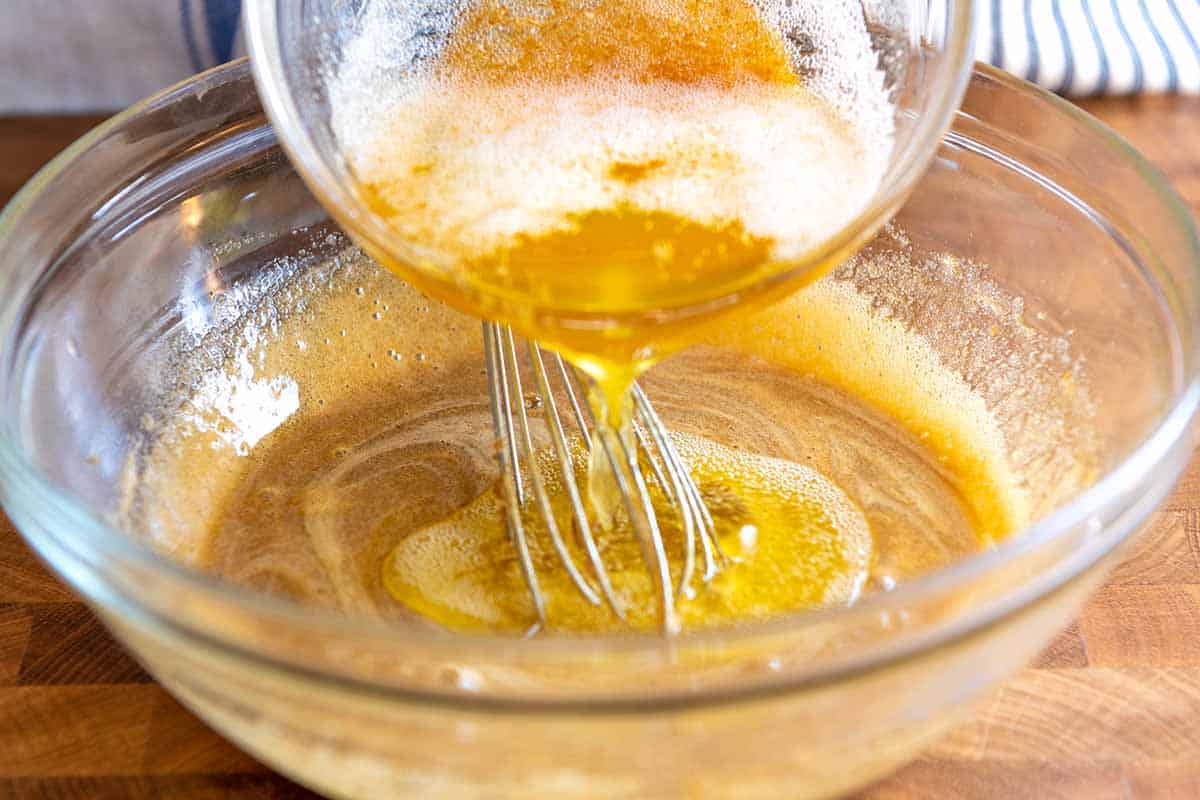 Cookies in Three Easy Steps
By following these three simple steps, you'll have the perfect cookie dough ready to be baked whenever you want a freshly baked cookie! I'll share freezing instructions below to save some cookie dough for another day.
Whisk together the dry ingredients in a bowl: flour, baking soda, and salt.
In a separate bowl, whisk together the sugars, egg, egg yolk, vanilla extract, and the melted (or browned) butter until well combined.
Combine the two mixtures by pouring the wet ingredients into the bowl with the dry ingredients. Stir until all the ingredients are fully incorporated. At this point, you can also add chocolate chips or chocolate chunks.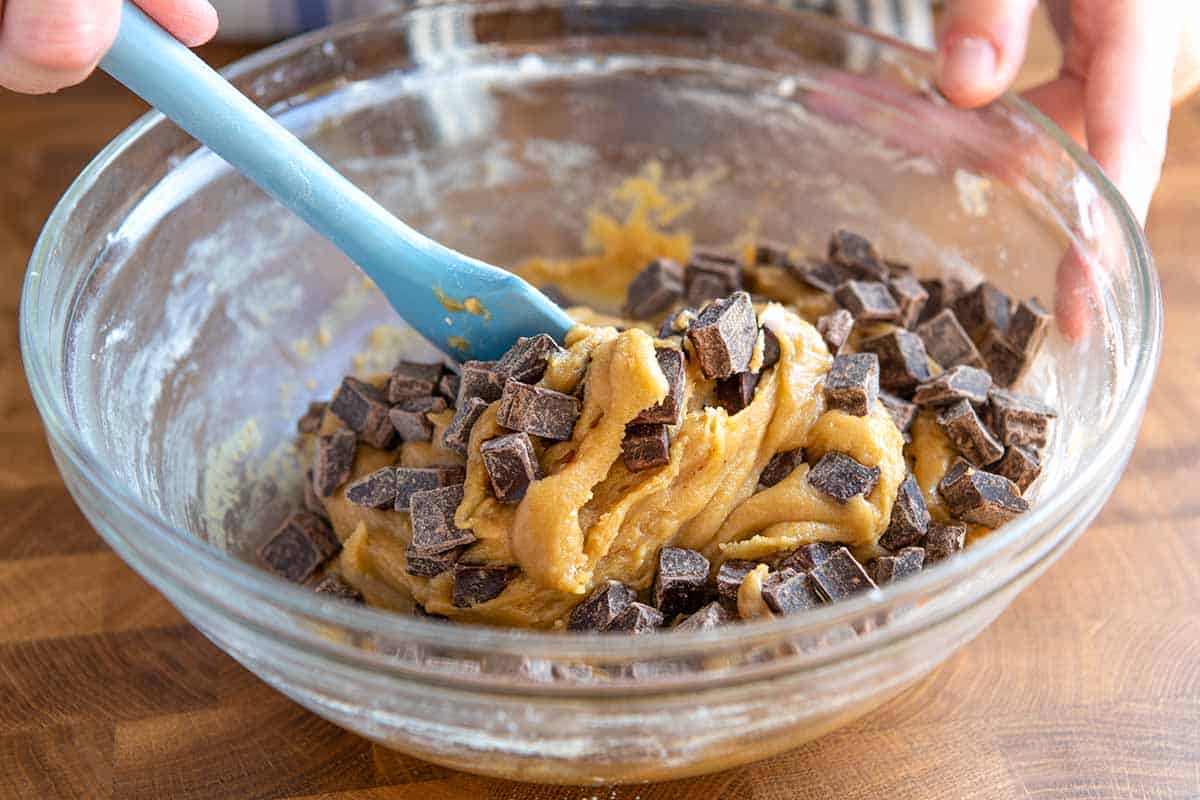 Once your cookie dough is ready, you can customize the size of your cookies. Here are a couple of options:
For extra-large cookies: Scoop about 3 to 4 tablespoons of dough for each cookie, resulting in generously sized cookies.
For smaller cookies (as shown in our photos): Use approximately 1 1/2 tablespoons of cookie dough per cookie.
Here's a helpful tip! Before baking the cookies, take a moment to add a few extra pieces of chocolate on top of each mound of dough. By doing this, when the cookies bake, you'll end up with deliciously gooey pockets of chocolate visible on the top of each cookie.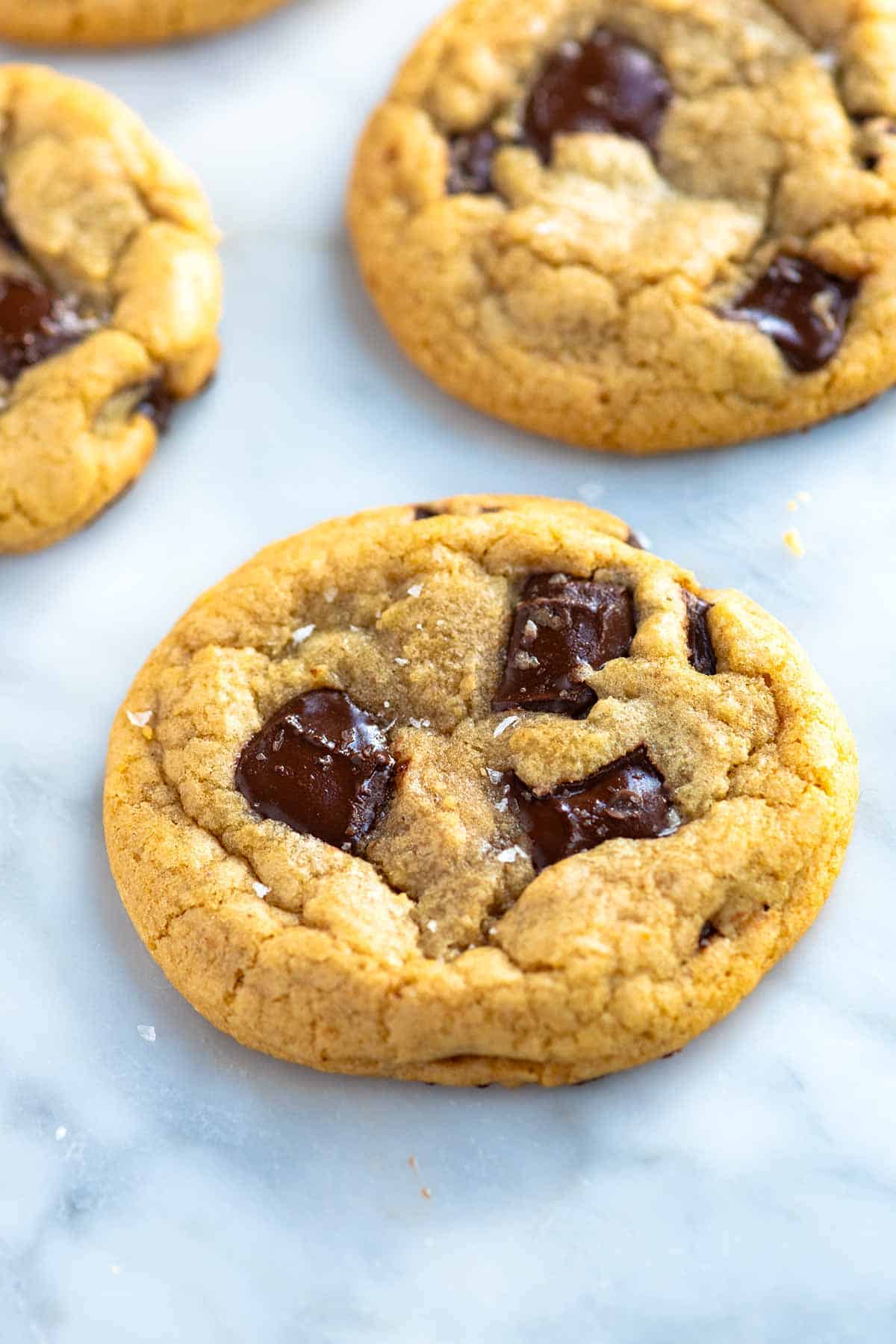 Related: Easy Chewy Double Chocolate Cookies
Make Ahead and Freezing The Cookies
You can store this chocolate chip cookie dough in the refrigerator for up to 3 days. I recommend scooping the dough into cookie dough balls before chilling to make baking quicker and more convenient. While these cookies are already fantastic when baked right away, there's an added benefit to preparing the dough in advance and chilling it. Chilling the cookie dough enhances the chewiness, thickness, and overall flavor of the baked cookies.
If you'd like to freeze the cookie dough, follow these simple steps:
Line a baking sheet with parchment paper.
Scoop out cookie dough mounds onto the baking sheet. You can crowd the cookie mounds together, just do not let them touch.
Place the baking sheet in the freezer and allow the dough mounds to freeze until they become firm.
Once frozen, transfer the dough mounds to an airtight container or a plastic bag. Store them in the freezer for up to 3 months.
When you're ready to bake one or more cookies, place the frozen dough mounds directly onto a lined baking sheet, allowing space for spreading. Then, bake the cookies, adding 3 to 5 minutes to the original baking time noted in our recipe.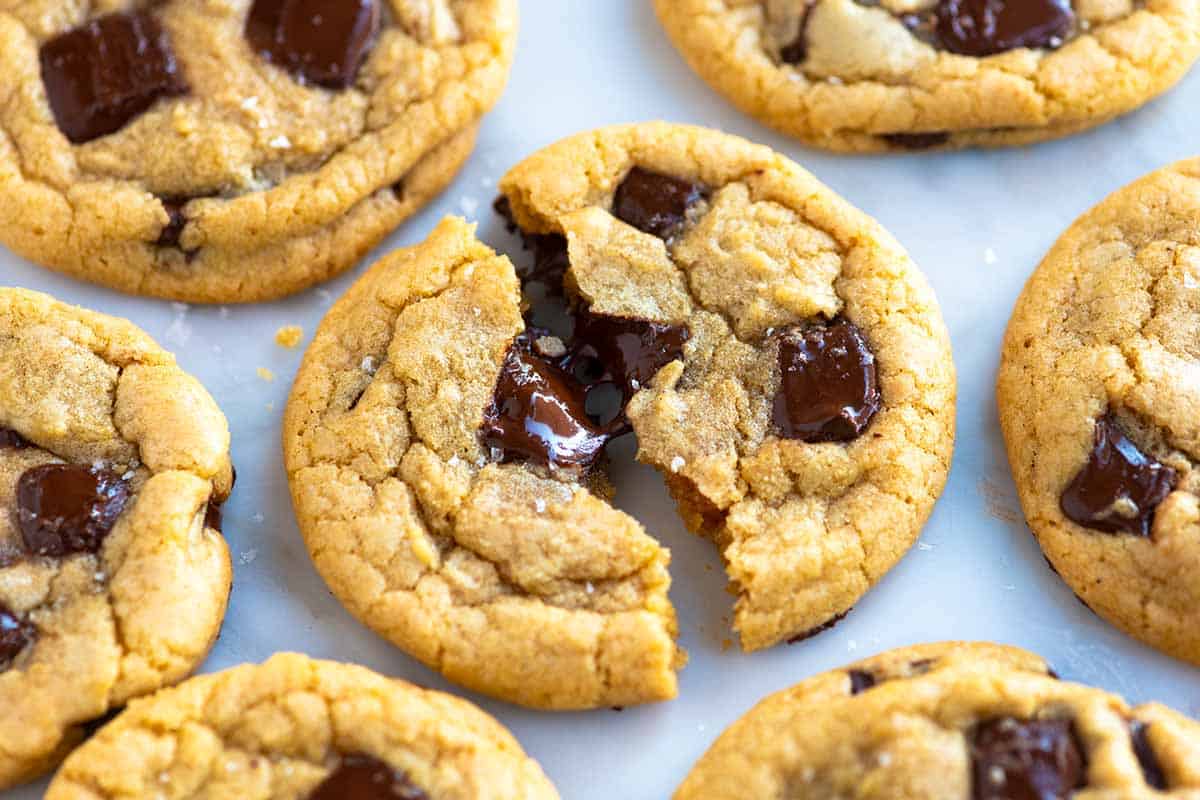 Related: Extra Easy Oatmeal Cookies (also made with melted butter)
Extra Easy Chocolate Chip Cookies
Melted butter is the secret to making quick and easy chocolate chip cookies! These cookies are soft in the center, chewy around the middle, and a little crispy around the edges. If you have an extra five minutes to spare when making these cookies, try browning your butter before adding it to the cookie batter. Browned butter adds a nutty richness to the cookies. (Here's our tutorial for browning butter and we provide instructions below)
Watch Us Make the Recipe
You Will Need
1 ¾ cups (220 grams) all-purpose flour
1/2 teaspoon baking soda
1/2 teaspoon fine sea salt
10 tablespoons (140 grams) unsalted butter
3/4 cup (150 grams) packed brown sugar
1/2 cup (100 grams) granulated sugar
1 large egg
1 large egg yolk
2 teaspoons vanilla extract
1/2 tsp espresso powder, optional, see notes
1 ¾ cups (8 ounces) semisweet chocolate chips or chunks
Flaky sea salt, optional for sprinkling over baked cookies
Directions
Prepare the Butter

1You can use regular melted butter or browned butter for this chocolate chip cookie recipe.

2For regular melted butter, melt the butter in the microwave or on the stove, and then cool. When cool to the touch, use the melted butter in the recipe below.

3For browned butter (our favorite), melt the butter in a light-colored skillet over medium heat. Swirl the pan occasionally to be sure the butter is melting evenly. As it melts, the butter will begin to foam and the color will change from light yellow to golden, and finally to brown. This only takes a minute or two.

4When the browned butter smells nutty and the butter is a light golden brown, transfer the browned butter to a heatproof bowl to cool. When cool to the touch, use the browned butter in the recipe below.
Prepare Cookie Batter

1In a medium bowl, whisk the flour, baking soda, and salt together. Set aside.

2In a large bowl, whisk the sugars, whole egg, egg yolk, vanilla, and the melted butter or browned butter together. Whisk in espresso powder (optional).

3Switch to a large rubber spatula, and then add the dry ingredients in 3 parts, stirring gently until they disappear. Fold in most of the chocolate chips, saving a handful for adding to the tops of each scooped cookie before baking.
Bake Cookies

1Heat oven to 325 degrees Fahrenheit (160C) and line a cookie sheet with parchment paper or a silicone baking mat.

2Drop 1 1/2 tablespoon-mounds or use a medium cookie scoop onto baking sheets. Leave 2 inches between the cookies to allow for spreading. (For larger cookies, use 3 to 4 tablespoons of dough and space them apart by 3 inches.) Press a few extra pieces of chocolate into the tops of each cookie dough mound.

3Bake the cookies, one sheet at a time and rotate once during cooking, for 12 to 16 minutes. The cookies should be golden brown around the edges but light in the middles. Let the cookies cool on the baking sheet for 5 minutes then transfer to a wire rack to cool completely. Before serving, sprinkle a few flakes of sea salt over each cookie (optional).

4Store the baked cookies in an airtight container for up to 3 days at room temperature or up to a week in the refrigerator.
Adam and Joanne's Tips
Espresso powder is an optional ingredient. It adds a little extra richness and flavor to the cookies. We don't add enough to make them taste like coffee, but just enough to make them taste extra special. We use Medaglia D'Oro Espresso, which we purchased from a specialty kitchen store (I've also seen it online). In a pinch, instant coffee granules can be used, but use slightly less.
Browning Butter: A full tutorial is found here to help you out.
Nutrition Per Serving
Serving Size
1 cookie
/
Calories
217
/
Total Fat
10.6g
/
Saturated Fat
6.4g
/
Cholesterol
37.5mg
/
Sodium
106.9mg
/
Dietary Fiber
1.2g
/
Total Sugars
18.7g
/
Protein
2.7g