Our favorite cornbread recipe! This easy homemade cornbread has golden-brown edges and a moist and buttery center. It bakes perfectly in a 10-inch cast-iron skillet or an 8-inch or 9-inch baking pan (square or round).
Watch the Video
Cornbread varies depending on where you are. This easy recipe falls right in the middle. Some people love sweet cornbread, while others wouldn't even think of adding sugar to their batch. Our cornbread has some sugar, but it isn't overly sweet. Instead, we add just enough for a tender, moist crumb. I love this cornbread so much that I have a hard time stopping myself from going back for a second slice.
It's incredibly flavorful thanks to the cornmeal and tastes buttery thanks to some melted butter swirled into the batter. I love it, especially served next to a bowl of homemade chili.
What is Cornmeal?
Cornmeal is the main ingredient in cornbread. It adds a lovely corn flavor, texture, and when you use yellow cornmeal, that beautiful yellow color. Cornmeal is dried and ground corn — most likely dent corn.
You can buy cornmeal in various grinds such as fine, medium, and coarse. For this cornbread recipe, we prefer the results when we use fine or medium cornmeal.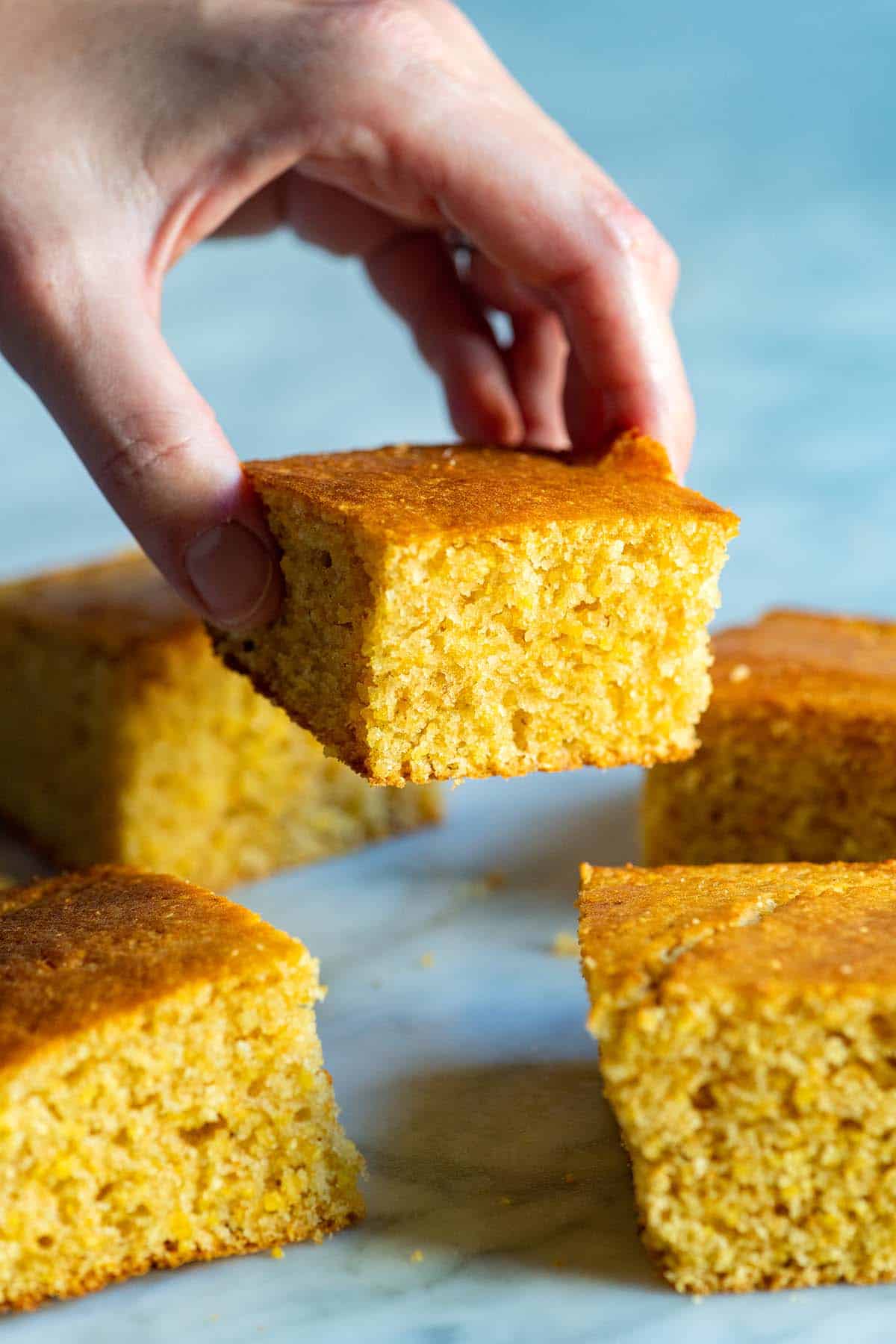 How to Make Cornbread From Scratch
Cornbread is simple to make and doesn't break the bank in the ingredient department. Here's an explanation of the main ingredients you will need to make it:
Cornmeal: You can use any grind of cornmeal (fine, medium, or coarse), but we prefer fine or medium grind. I especially enjoy the flavor of stone-ground cornmeal by Bob's Red Mill. Note, bags labeled as polenta are likely cornmeal. If you already have polenta at home, you can use it to make cornbread.
Butter and oil: We use two fats in our cornmeal recipe. Butter adds flavor and color, while oil keeps the crumb tender and moist.
Brown Sugar: We add some sugar to our cornbread and prefer to use brown sugar. The flavor combination of cornmeal and brown sugar works well. If you only have white sugar, that's okay. You can still use it; only keep in mind that you will lose some flavor and moisture.
Milk or Buttermilk: Both milk and buttermilk work in this recipe, and to be honest, I don't have a preference. We assumed that we would prefer buttermilk when testing this recipe, but cornbread made with milk is still delicious and just as crave-worthy as when made with buttermilk. See what you think and try both. I'm curious to see if there is a reader favorite.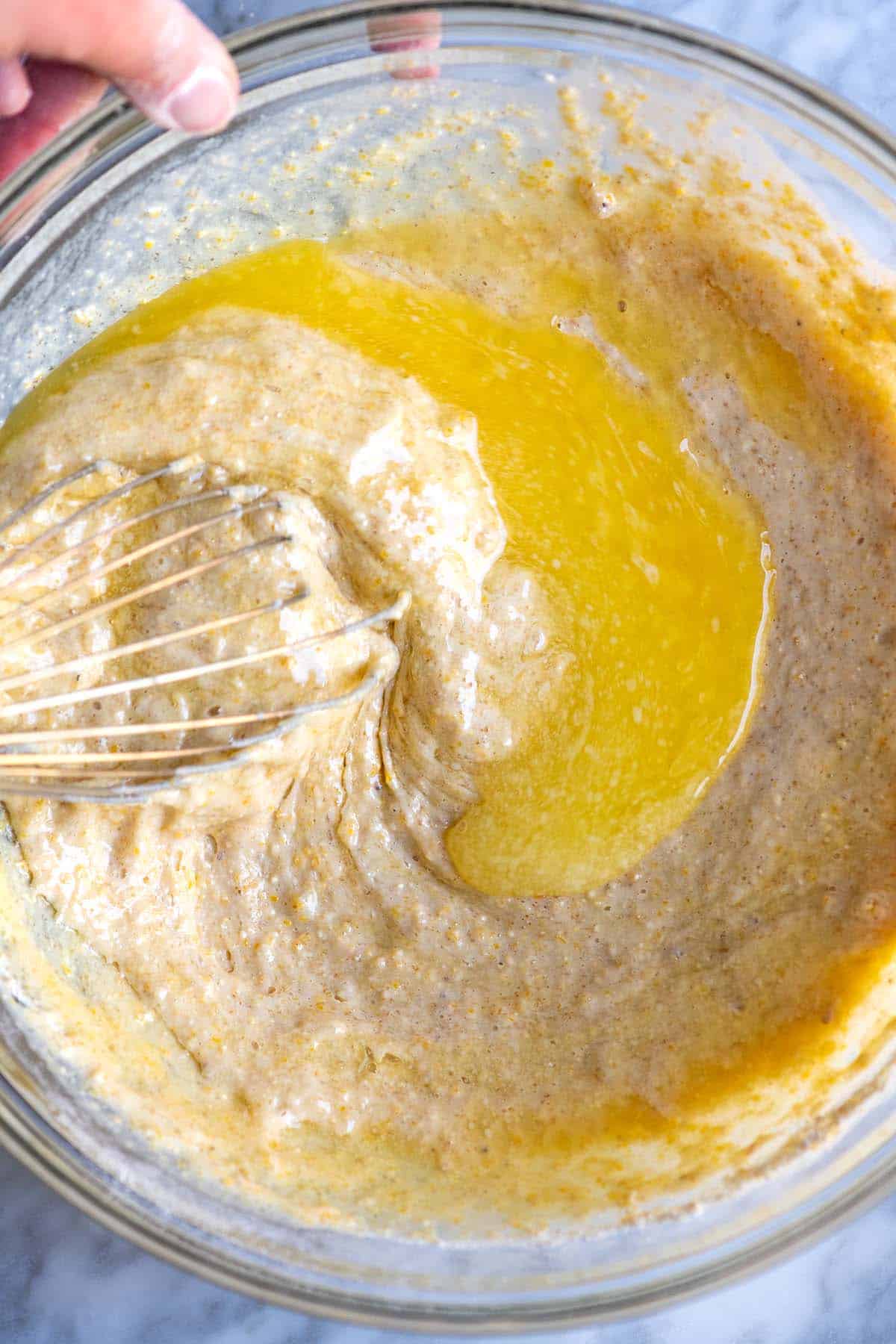 Our Tips for the Best Cornbread
Use flavorful cornmeal. We love stone-ground cornmeal for its texture and flavor. That's because stone-ground cornmeal still has the germ and bran left. We use Bob's Red Mill cornmeal, but when shopping for stone-ground, look for "stone-ground" or "whole grain" on the package.
Use butter in the batter. Our recipe below calls for 1/4-cup of butter, which adds flavor and color that you don't achieve with oil alone.
Use oil in the batter. I know I just said use butter, but we also recommend using oil. The combination of oil and melted butter in cornbread batter guarantees the best flavor and a moist and tender crumb.
Let the batter sit before baking. I stumbled on to this trick after a few tests. We found that if you leave the batter to sit at room temperature for 10 to 15 minutes before baking it, the cornmeal has some extra time to absorb flavor from the other ingredients and the leaveners (baking powder and baking soda) get a head start.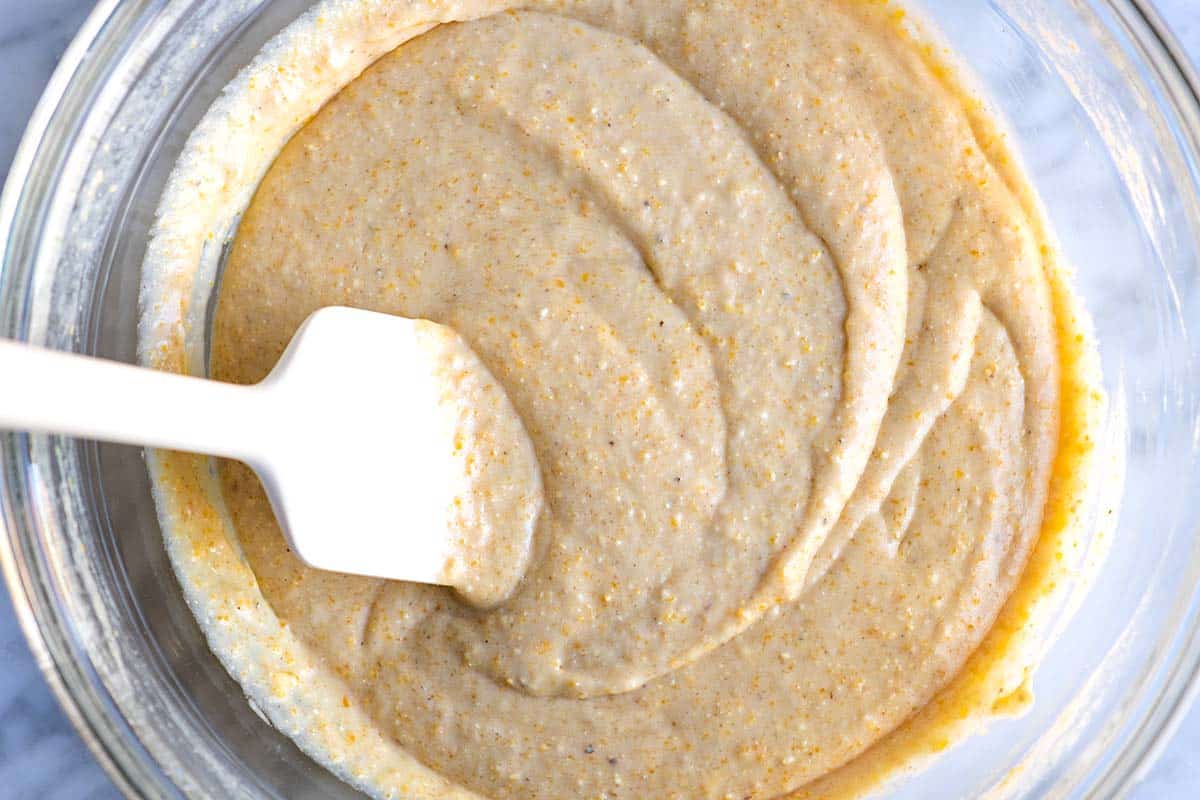 Now, we have not tested how long you can leave the batter past 15 minutes, but I'd imagine that as long as you bake the cornbread that day, you will still have good results. (I don't think that letting it sit any longer than 15 minutes will improve the baked cornbread anymore, but as I said, we did not test this.)
Preheat the skillet or baking pan: Before adding the cornbread batter, we preheat the pan for about 5 minutes. This trick works best when making skillet cornbread, but you can use the same method when baking the batter in a pan. Using a preheated skillet or pan helps with that crispy, golden brown crust.
What to Serve With Cornbread
I am delighted eating a slice of this tender, moist cornbread by itself, but here are a few favorite dishes to serve it with: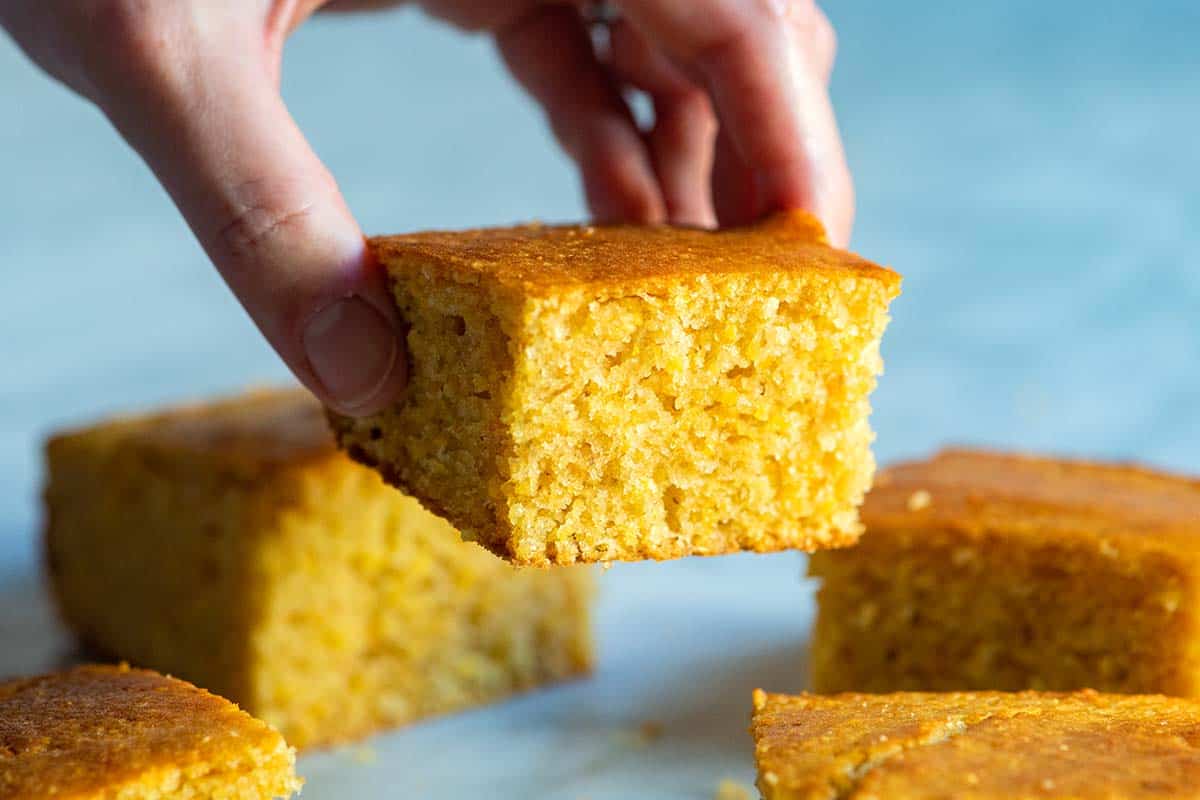 Our Best Homemade Cornbread
This easy homemade cornbread has golden-brown edges and a moist and buttery center. It bakes perfectly in a 10-inch cast-iron skillet or an 8-inch or 9-inch baking pan (square or round). Tips for vegan cornbread (without butter, egg, and milk) and gluten-free substitutions are in the tips section below the recipe.
Watch Us Make the Recipe
You Will Need
4 tablespoons unsalted butter, melted
1 cup (138 grams) fine or medium ground cornmeal
1 cup (130 grams) all-purpose flour
2 teaspoons baking powder
1/2 teaspoon baking soda
1/2 teaspoon fine sea salt
1/3 cup (67 grams) packed light or dark brown sugar
1 cup whole milk or buttermilk
4 tablespoons vegetable oil, divided
1 large egg
Directions
1Heat the oven to 400 degrees Fahrenheit. Note: We recommend allowing cornbread batter to sit for 10 to 15 minutes before baking, so if you prefer, you can delay heating the oven until you make the batter.

2Melt the butter, and then set aside to cool slightly.

3Whisk the cornmeal, flour, baking powder, baking soda, salt, and brown sugar in a medium bowl until well blended.

4Whisk milk (or buttermilk) with three tablespoons of vegetable oil and the egg, and then pour into the bowl with cornmeal and flour. Gently stir or whisk until the batter is mostly blended. Add the melted butter, and then stir until the batter is blended.

5Set the cornbread batter aside for 10 minutes before baking. If you waited to preheat your oven, this is an excellent time to turn it on.

6Two to three minutes before baking the cornbread, place a 10-inch cast-iron skillet or 9-inch baking pan in the oven to heat.

7Carefully remove the hot skillet or baking pan from the oven. Add the remaining tablespoon of oil and swirl it around the pan.

8Gently add the batter to the oiled pan. Smooth the top, and then bake for 20 to 25 minutes, or until the center is firm and a toothpick inserted into the center comes out clean.

9Allow the cornbread to cool for 10 minutes before slicing and serving.
Adam and Joanne's Tips
Gluten-free cornbread: Substitute a gluten-free flour blend for the all-purpose flour. Make sure that all other ingredients are certified gluten-free. The cornmeal, for example, may have been processed in a facility that processes wheat.
Vegan cornbread: Use aquafaba (3 tablespoons) or a flax egg as a substitute for the egg, unsweetened non-dairy milk, and a vegan butter.
Nutrition facts: The nutrition facts provided below are estimates. We have used the USDA database to calculate approximate values. We used whole milk in our calculations.
If you make this recipe, snap a photo and hashtag it #inspiredtaste — We love to see your creations on Instagram and Facebook! Find us: @inspiredtaste
Nutrition Per Serving
Serving Size
1 slice (12 slices total)
/
Calories
188
/
Total Fat
9.9g
/
Saturated Fat
6.7g
/
Cholesterol
27.7mg
/
Sodium
169.8mg
/
Carbohydrate
22.9g
/
Dietary Fiber
1.1g
/
Total Sugars
6.5g
/
Protein
3.1g