One of my favorite kale recipes! See how to make delicious sautéed kale with fresh lemon and garlic. Simple, quick, and delicious! Jump to the Quick and Easy Sautéed Kale Recipe or read on to see our tips for making it.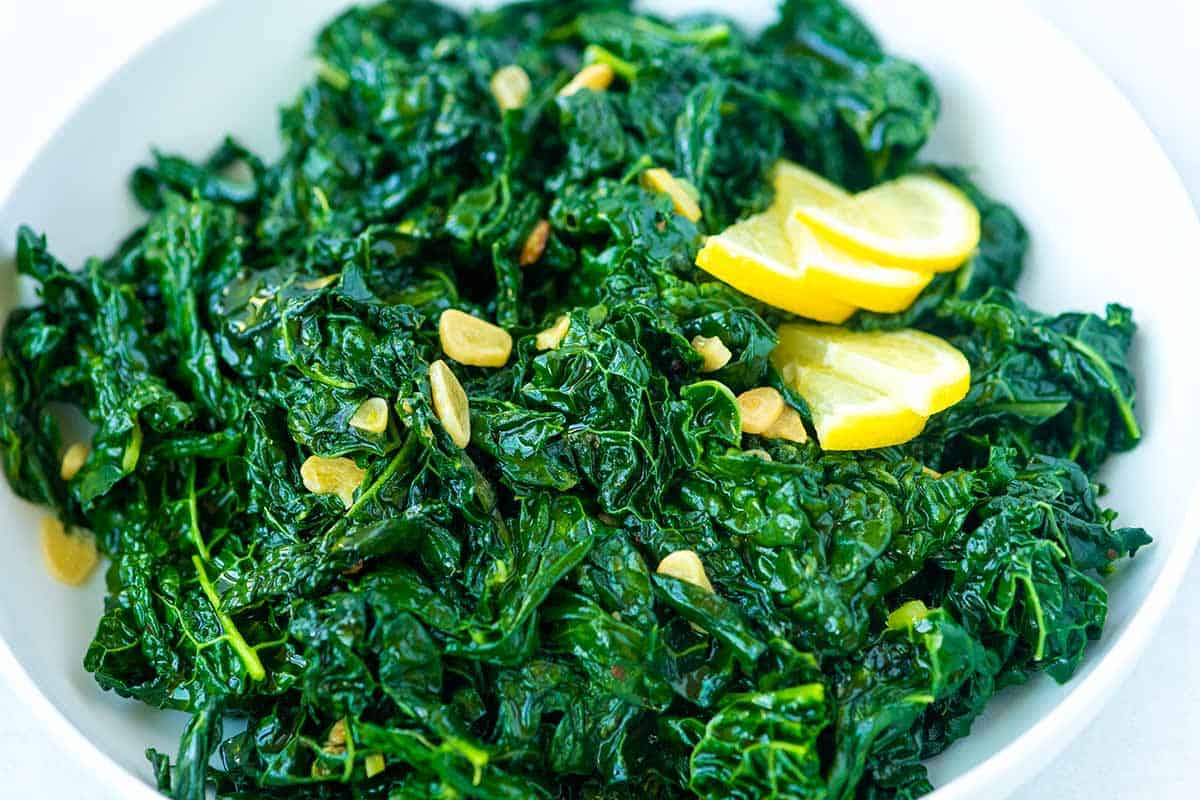 This is a simple, delicious, and healthy recipe for cooking kale. It's also my go-to method. If you have never sautéed kale before, you need to start.
As the kale cooks in the pan, it wilts, turns tender, and becomes sweet. Kale may sound like a boring side, but this is one of our favorite sides to make. It's fast and so simple. If you have spinach instead of kale, check out our lemony sautéed spinach recipe and keep in mind that you can use this recipe for cabbage and Brussels sprouts!
Kale is a nutrient powerhouse. It's good for you with high levels of vitamin A, K, B6 and C. Not to mention, when cooked properly, it tastes fantastic.
There are a few types of kale, all of which can be used in this recipe:
Curly kale is what we see most often in the grocery store. It has bright green leaves that look like ruffles.
Dinosaur kale is my favorite variety of kale. The leaves are more flat, leaf shaped and are a darker green color.
Redbor kale has ruffled leaves, but instead of being green, they range from red to purple.
Russian kale has purple stems and flat dark green leaves.
Whichever variety of kale I'm cooking with, I like to remove the leaves from the stems. You can either cut the leaves from the stems or pull them away. I find stripping the leaves by hand is easiest. If you are cooking baby kale, removing the leaves from the stems is not necessary.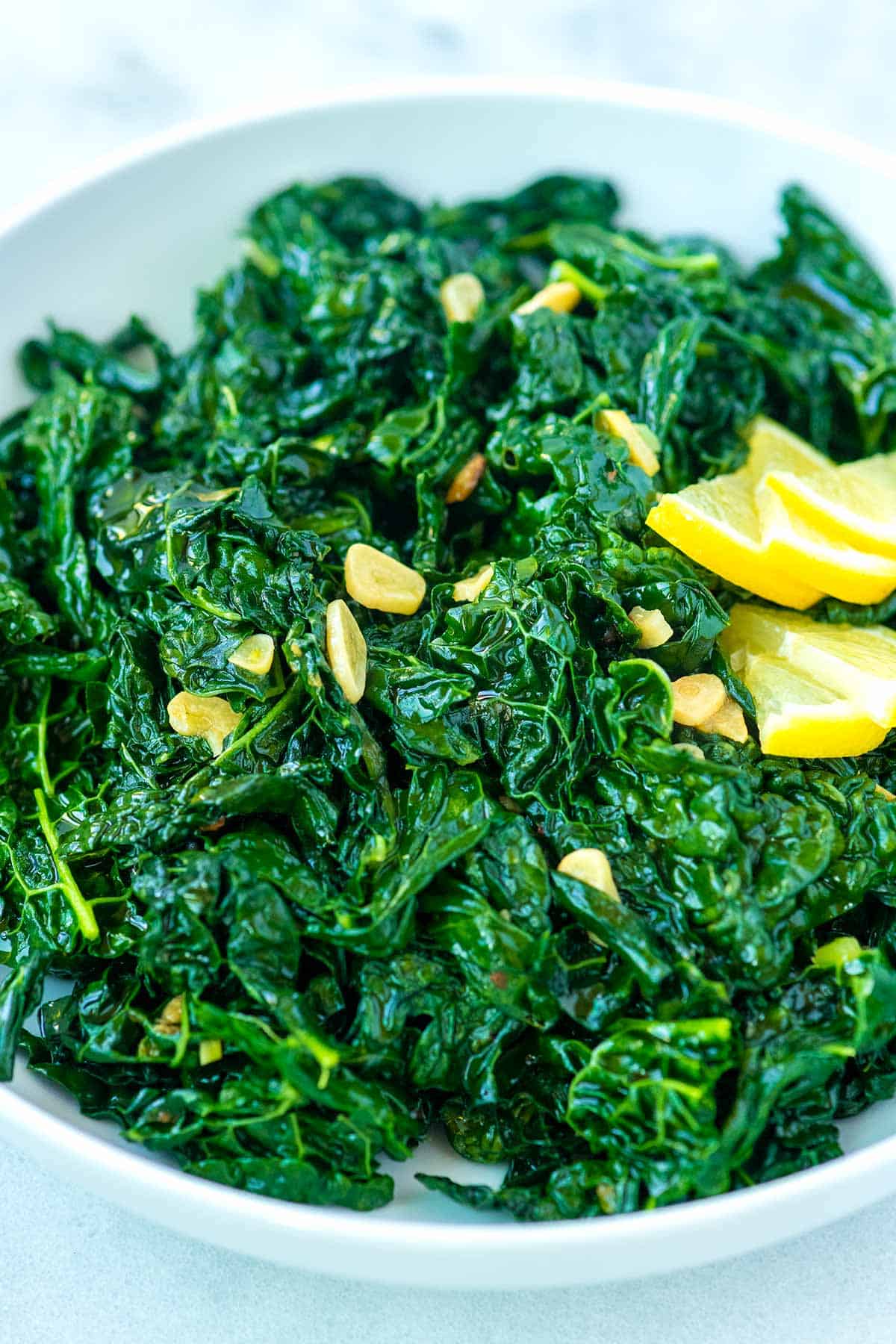 We love kale in many forms, but our favorite way to cook it is to sauté it in a little fat on the stove and then add some broth to wilt the kale down. In this easy recipe, we stay on the healthier side and cook the kale in olive oil, but you can swap the olive oil for other fats. Try butter, coconut oil or nut oils like walnut. You can even cook a few pieces of bacon before the kale and use the rendered bacon fat for extra flavor.
Making The Recipe
Making this kale recipe could not be simpler. Heat some fat in a skillet, add garlic, chopped kale, a bit of salt and pepper, broth, and then cook until bright green, wilted, and tender. The broth helps to steam the kale, which tones down some of the bitterness kale can have.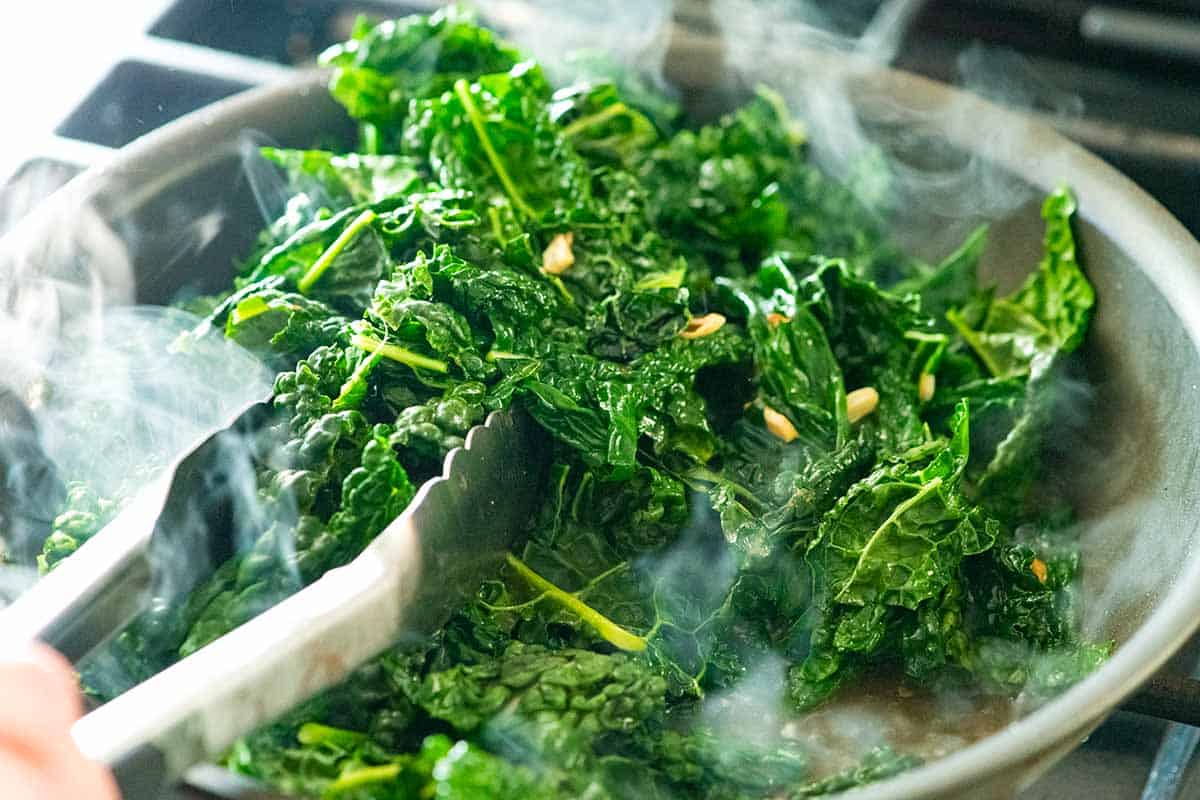 Simply sautéed kale cooked with olive oil, broth, salt and garlic is quite delicious, but when we have it in the kitchen, we love to add a little fresh lemon juice at the end.
It just brightens up the dish. If you don't have a lemon, apple cider vinegar or even balsamic vinegar is an excellent substitute.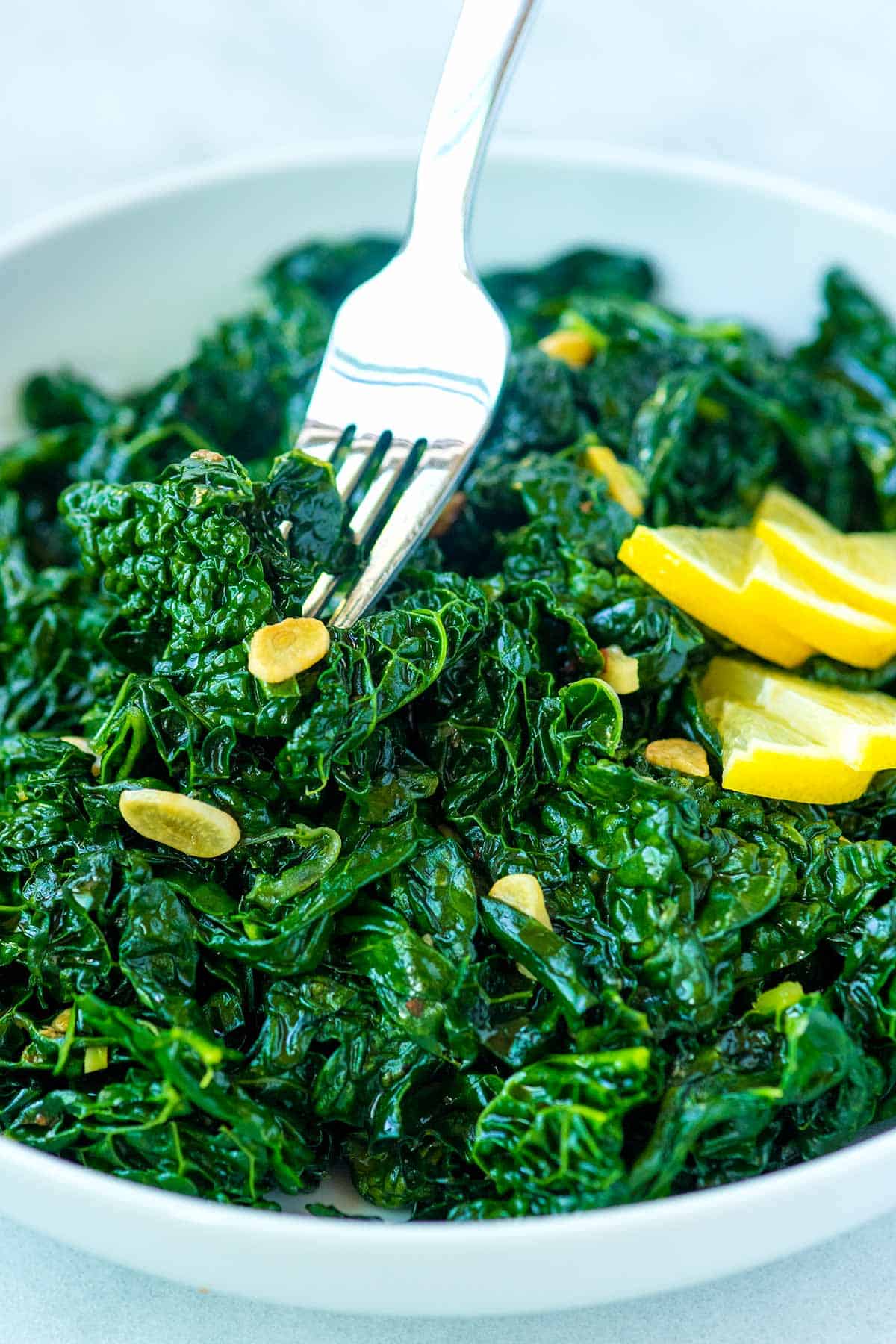 More Kale Recipes
Lemon Garlic Sauteed Kale
This easy, healthy recipe for sautéed kale is delicious. As the kale cooks in the pan, it wilts, turns bight green, and becomes tender. Kale may sound like a boring side, but this is one of our favorite side dishes to make.
You Will Need
3 tablespoons extra-virgin olive oil
3 cloves garlic, peeled and sliced
Pinch red pepper flakes
1 large bunch kale (7 to 8 cups chopped leaves)
1/2 cup stock, white wine or water, plus more as needed
1/4 teaspoon fine sea salt or more to taste
Half of a lemon
Directions
1Rinse the kale, and then pull the leaves from the stems. Discard the stems or save to add to homemade stock another day. Coarsely chop kale leaves into randomly shaped pieces, about 2 inches large.

2Heat the olive oil in a wide skillet over medium-high heat. When the oil shimmers, add the garlic and red pepper flakes. Cook, stirring often, until the garlic is soft, but before it browns.

3Add the chopped kale leaves, stock, and 1/4 teaspoon of salt. Cook, tossing the kale around the pan occasionally, until the kale turns bright green, is soft and is wilted, about 7 to 8 minutes. If before the kale is tender, the liquid evaporates, add a little bit more to the pan.

4Taste and adjust with additional salt, and then finish by stirring in the juice from half a lemon.
Adam and Joanne's Tips
Nutrition Per Serving
Serving Size
1/4 of the dish
/
Calories
118
/
Total Fat
11.1g
/
Saturated Fat
1.6g
/
Cholesterol
0.9mg
/
Sodium
197.8mg
/
Carbohydrate
4.4g
/
Dietary Fiber
1g
/
Total Sugars
1.2g
/
Protein
2g