One of our favorite ways to enjoy Brussels sprouts! See how to make delicious sautéed Brussels sprouts with fresh garlic and balsamic vinegar. Simple, quick, and delicious!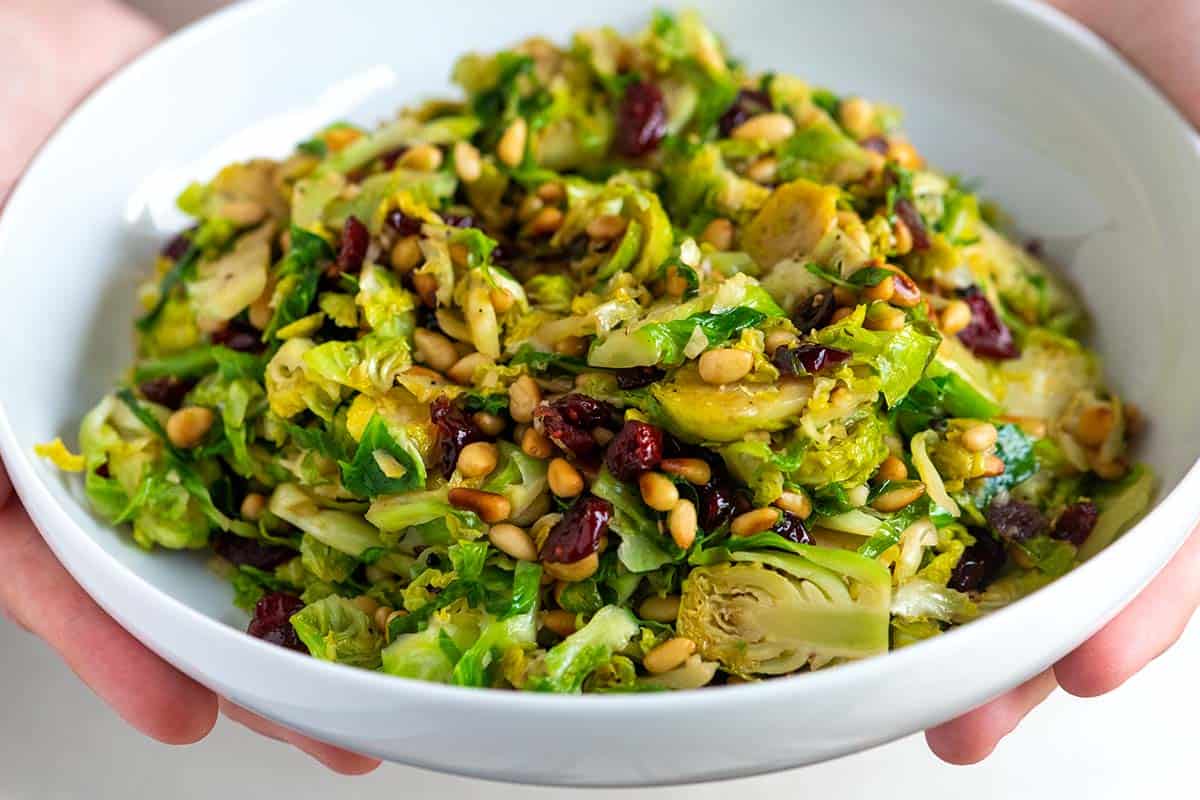 We Love This Brussels Sprouts Recipe
This is a simple, delicious, and healthy recipe for cooking Brussels sprouts. It's also my go-to method. If you have never sautéed them before, you need to start. We slice them thinly, and then as the sprouts cook in the pan, they wilt down, turn tender, and become sweet.
Brussels sprouts are underrated and a nutrient powerhouse. They are good for you with high levels of vitamin C, vitamin K, and are antioxidant-rich.
To cook them, we shred and sauté the sprouts in a little fat on the stove. This recipe is excellent with butter, olive oil, coconut oil or nut oils like walnut. You can even cook a few pieces of sausage or bacon before adding the shredded Brussels sprouts and use the rendered fat for extra flavor — we do this when making our easy bacon fried cabbage.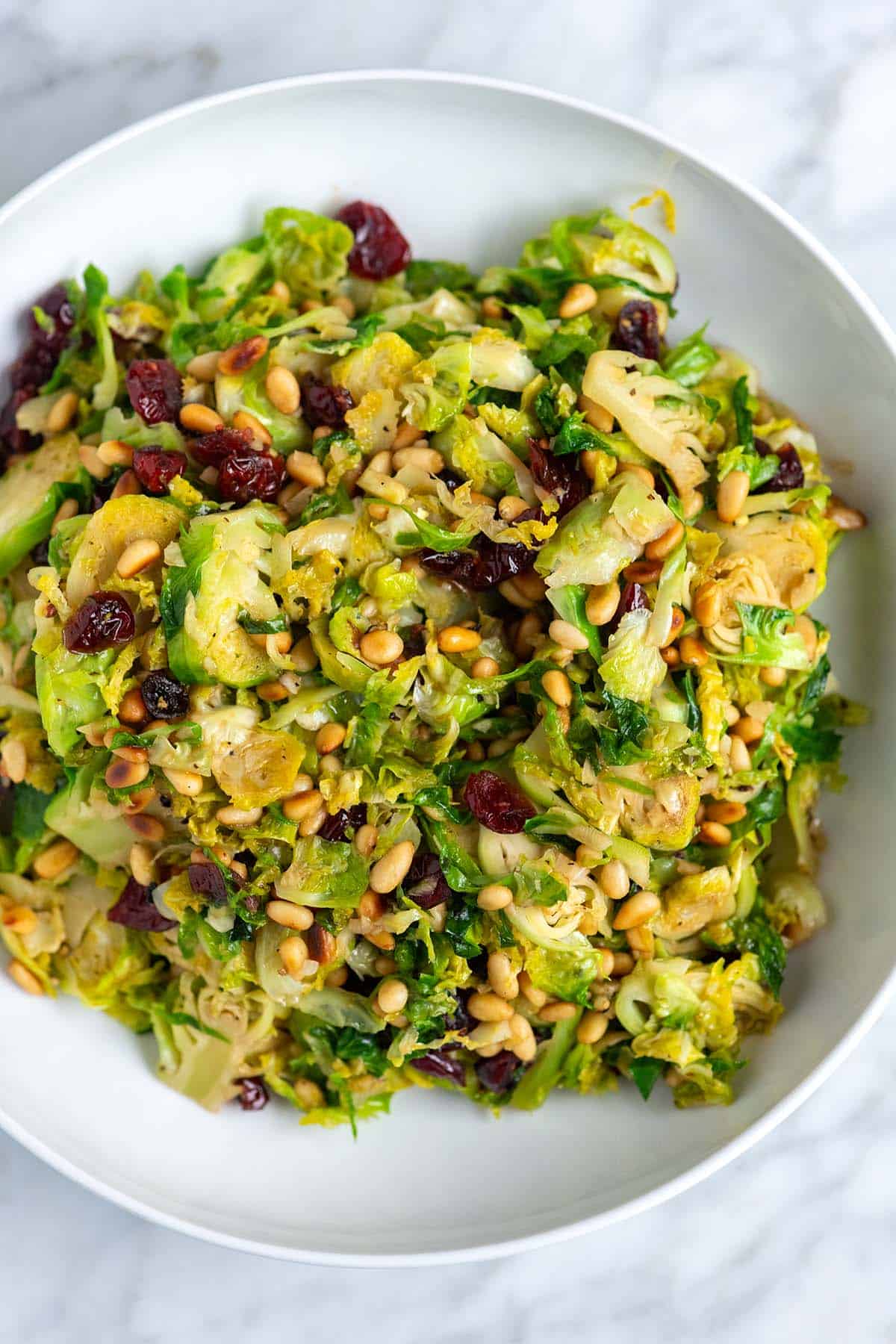 Making The Recipe
Making this Brussels sprouts recipe could not be simpler. Heat some fat in a skillet, add shredded sprouts (I've shared my tips for cutting them below), a bit of salt and pepper, and then cook until wilted and sweet.
Simply sautéed sprouts cooked with butter, salt, and a bit of pepper are quite delicious, but when we have them in the kitchen, we love to add a few more ingredients:
A heaping spoonful of minced garlic
A splash of good-quality, thick balsamic vinegar
Dried cranberries
Toasted nuts or seeds (try pine nuts, sliced almonds, sunflower seeds, or pepitas)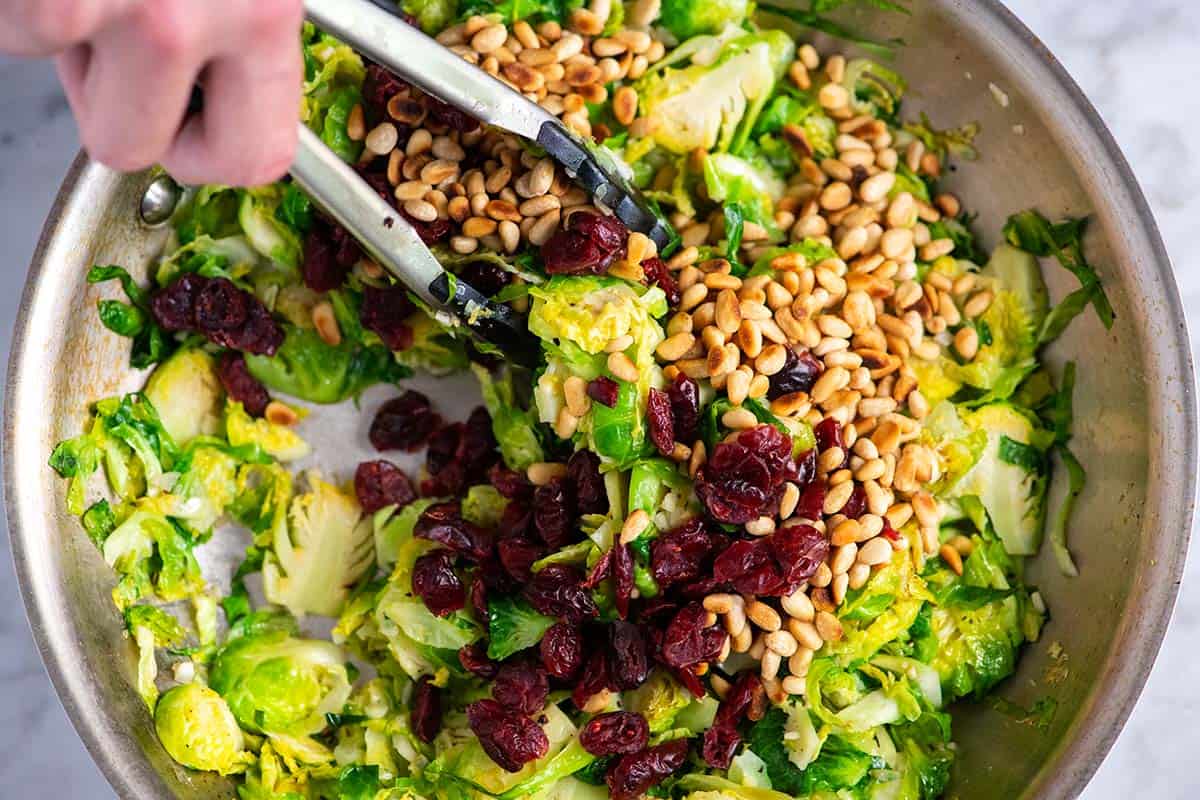 If you love sautéed veggies as much as we do, try our lemon garlic sautéed cabbage, garlic butter sautéed green beans, easy sautéed kale, easy sautéed veggies, or this lemony sautéed spinach!
How to Shred Brussels Sprouts
To shred Brussels sprouts, follow these easy steps:
Remove any tattered, tough, or bruised outer leaves.
Slice into discs or cut in half lengthwise, place the sprouts cut-side-down and slice cross-wise — this creates shreds.
More: If you love Brussels sprouts, take a look at our Garlic Roasted Brussels Sprouts with Ham
Easy Sauteed Brussels Sprouts
This easy recipe for sautéed Brussels sprouts is delicious. As the sprouts cook in the pan, they wilt down, turn tender, and become sweet. We love a combination of dried cranberries and pine nuts for this, but other dried fruit and nuts (or seeds) work.
*Use a good-quality, thick balsamic vinegar for this recipe or use a balsamic glaze.
You Will Need
1 pound Brussels sprouts
2 tablespoons butter or olive oil
3 medium garlic cloves, minced (1 tablespoon)
1/2 teaspoon fine sea salt or more to taste
1/2 teaspoon fresh ground black pepper
1 tablespoon good-quality, thick balsamic vinegar
1/2 cup dried cranberries
1/2 cup pine nuts, lightly toasted
Directions
Prepare Brussels Sprouts

1Remove any tattered, tough, or bruised outer leaves. Thinly slice each Brussels sprout into discs. Alternatively, you can shred them. To do this, cut each sprout in half lengthwise, and then place them cut-side-down and slice into shreds.
Sauté Brussels Sprouts

1Melt the butter in a large skillet or Dutch oven over medium-high heat. Add the shredded Brussels sprouts, garlic, pepper, and the salt. It might seem like too much for the pan, but as it cooks, the sprouts will wilt down.

2Cook, stirring occasionally until the Brussels sprouts are bright green, tender, and you start to notice a few shreds turning light brown; 4 to 6 minutes.

3Turn the heat to low, and then stir in about half of the balsamic vinegar, all of the cranberries, and all of the pine nuts. Taste, and then season with more balsamic vinegar, salt, and pepper as needed.
Adam and Joanne's Tips
Nutrition Per Serving
Serving Size
1/6 of the recipe
/
Calories
180
/
Total Fat
10.7g
/
Saturated Fat
3.5g
/
Cholesterol
10.2mg
/
Sodium
222.5mg
/
Carbohydrate
20.9g
/
Dietary Fiber
4.8g
/
Total Sugars
11.8g
/
Protein
4g