This cinnamon apple bread is very simple to make, makes your kitchen smell amazing and stores well. You will need two large apples to make it. Jump to the Easy Apple Bread Recipe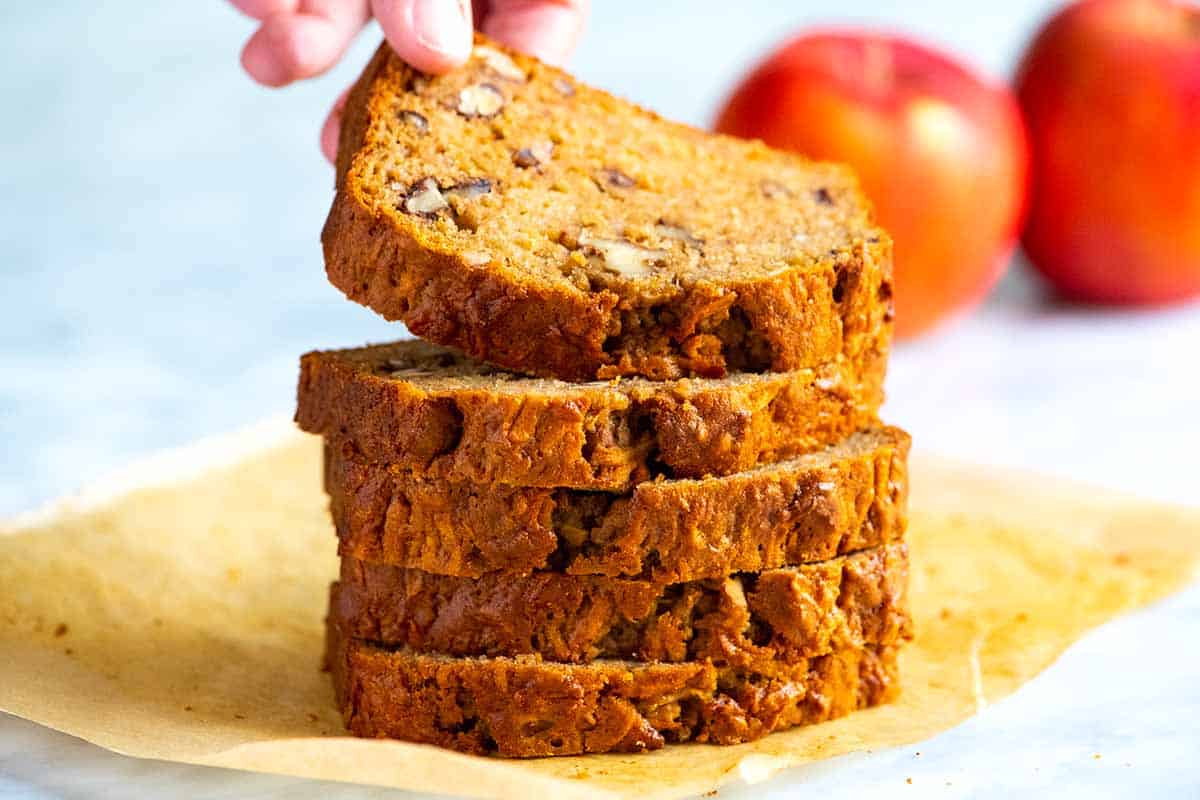 How to Make Apple Bread
This cinnamon apple quick bread recipe is easy! The ingredients are pretty straightforward. In addition to apples (we've shared more on choosing apples for baking below), you will also need some basic ingredients (the full recipe with ingredient amounts is below in the recipe area):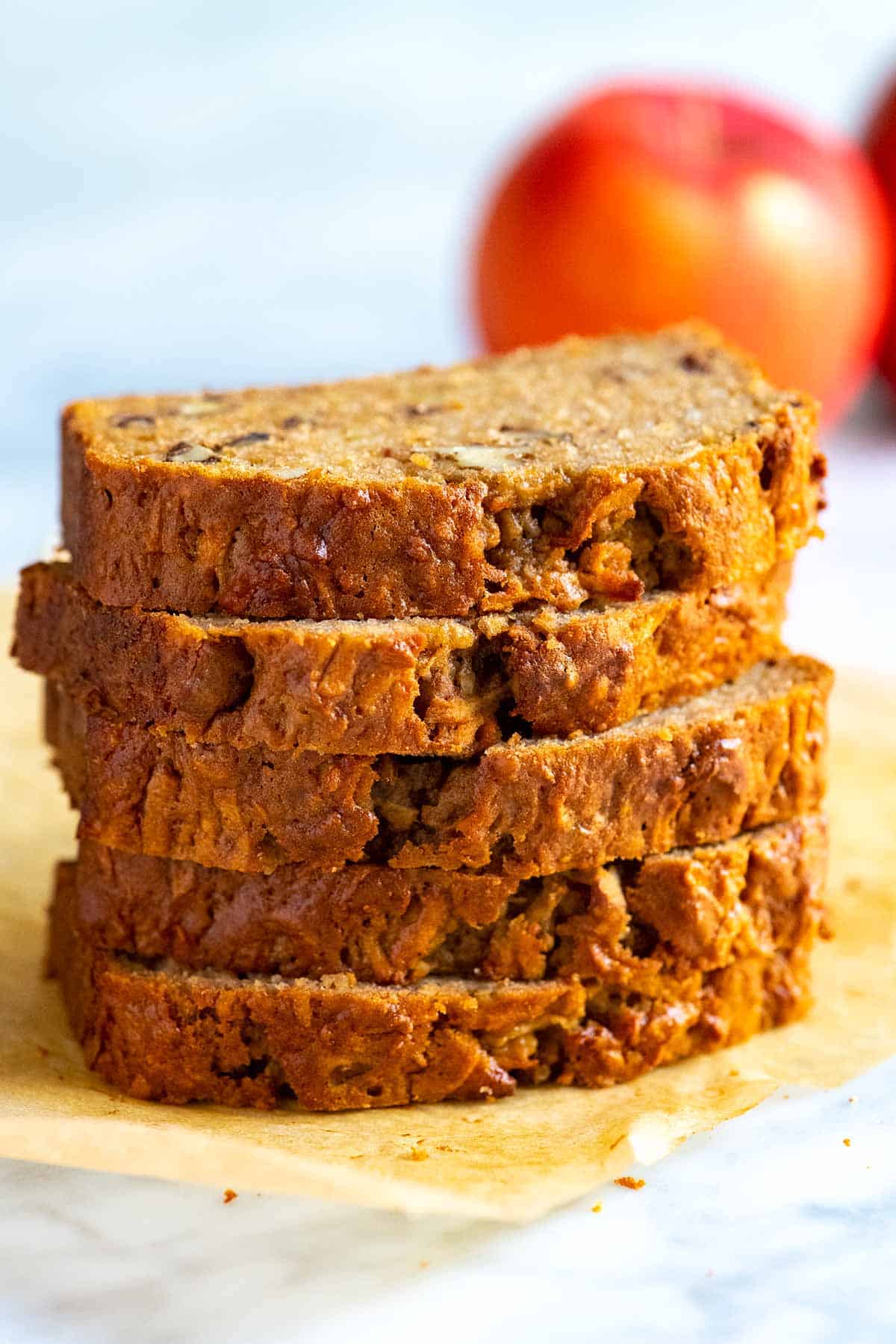 Sugar: We use both granulated and brown sugar in this. You can chose to use one or the other, but we've found the combination makes quick bread that's moist and flavorful in the middle and golden brown on top.
Spices: We use a generous amount of ground cinnamon as well as a bit of ground ginger, nutmeg and salt.
Neutral oil: By neutral oil, I mean one that's not very flavorful. Vegetable oil, avocado oil, grape seed oil, and even a very lightly flavored olive oil will work in this recipe.
Eggs: We use two eggs in the bread — just like when we make banana bread. They add structure, flavor and a dense, moist crumb to the inside of the bread.
Flour, baking powder and baking soda: All-purpose is our go-to, but swapping part or all of the flour for whole wheat will work (like what we did in this healthy banana bread). This bread is packed with apples, so we also need the help of both baking soda and baking powder to help it rise in the oven.
Vanilla and almond extract: It's unlikely that we bake something around here without vanilla extract, but in this bread, we also like to add a tiny bit of almond extract. We don't add enough to make the bread taste like almonds, but instead add just enough to make the bread taste sweeter and warmer. If you don't have almond extract, you can still make the bread, but if you feel like experimenting, pick up a bottle and try it. I love it.
Nuts: These are optional, but add a nice texture to the bread. Any nuts will work. In the photos, I used a combination of pecans and walnuts, but use what you have on hand.
Making the bread
You don't need any fancy equipment to make this apple bread. Start by letting shredded apples sit with the sugar, salt and spices. As the apples sit, the sugar and salt work on them to help them release their delicious liquid — we use this same strategy when making our favorite Apple Pie. It's this liquid that then is mixed with the remaining ingredients to make such a flavorful, moist bread.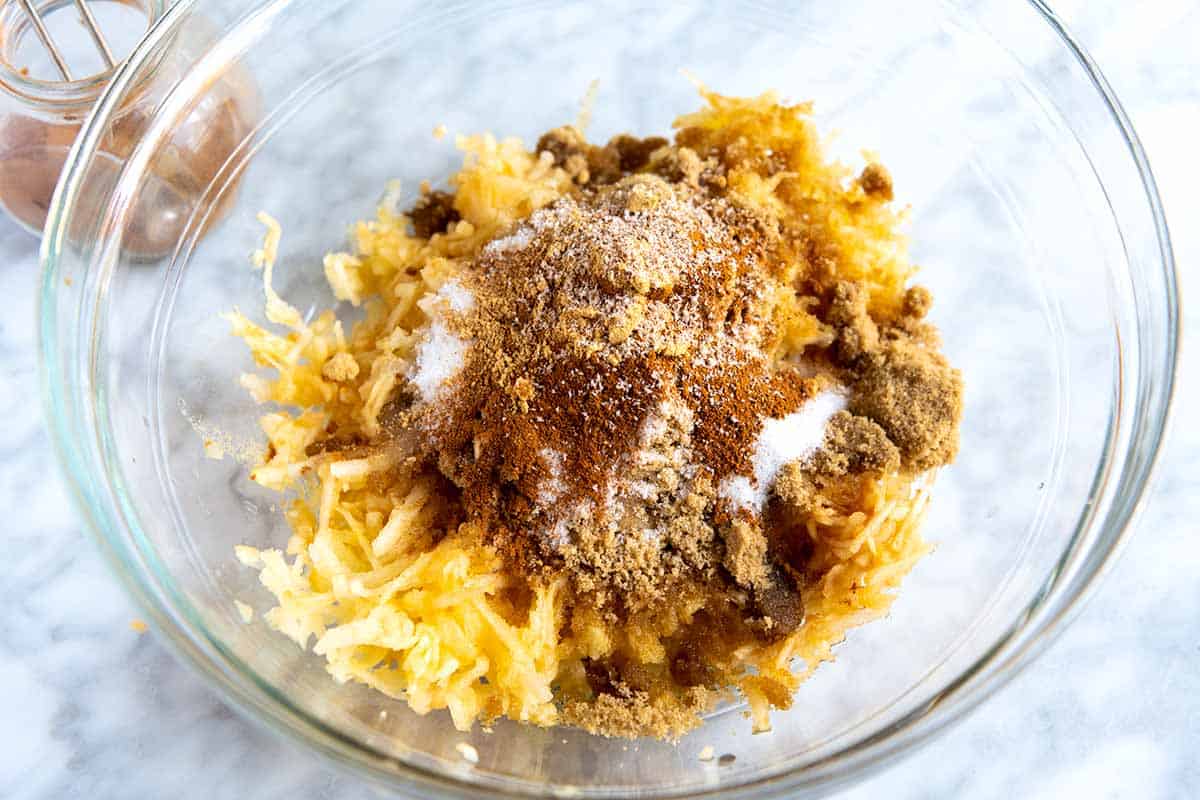 After 10 to 15 minutes, you can stir in the remaining ingredients, pour into a loaf pan and bake.
When the bread is done, let it cool completely. I know this is hard (I struggle with it every darn time I make it), but letting the bread cool all the way allows the bread to finish baking inside and prevents the middle from being too moist and gummy.
A note on loaf pan sizes: I prefer to bake this bread in a smaller 8 1/2-inch by 4 1/2-inch loaf pan. I find the bread bakes to be nice and tall in this pan size. If you only have a 9-inch by 5-inch pan, you can still bake the bread in it. The bread will take a little less time to bake in the larger pan. When using the larger pan, start checking for doneness 5 to 10 minutes earlier.
What are the best apples for baking?
To make this apple bread, we use approximately 1 pound of apples. We especially love the following varieties of apples for baking (this is the same list we use when making Homemade Apple Pie, Sautéed Apples, or this simple Applesauce):
Granny Smith — Your standard, never-fails baking apple. Tart, crisp, and they keep their structure after time in the oven.
Honeycrisp — Extra crisp and always holds firm after baking. One of our favorites!
Jonagold — Tart with a bit of sweetness. They also hold up well in the oven.
Braeburn — Crisp, sweet apples that hold up well in pie and other baked desserts.
Mutsu — Big apples that look like a large Golden Delicious. Has a sweet honey flavor and holds up well in baked goods.
Pink Lady — A good balance of sweet and tart. Will also hold its shape when baked.
Golden Delicious — Sweet and flavorful apple that's very versatile. Will hold up when baked, but will become softer than some of the varieties mentioned above.
Jazz — Sweet and crisp flavor. Will hold up nicely in pie.
How many apples are in one pound?
One loaf of apple bread will require one pound of apples. There are approximately three medium apples in one pound (or two large apples in one pound). Once peeled and shredded, one pound of apples will fill approximately 3 cups.
With this apple bread recipe, if you have a little less or a little more shredded apple, you should be okay.
Storing the bread
Just like baked banana bread, this apple bread tastes even better on day two and three than on the first day you make it. I like to wrap the bread in some foil or store in an airtight container and leave it on the counter for a few days. If I'm planning on serving it later in the week or have made an extra loaf, I freeze it.
Store apple bread in an airtight container for up to 4 days at room temperature and in the freezer for up to 1 month (maybe longer). When freezing the bread, make sure that you wrap it well to prevent any freezer smells from seeping into the bread.
More quick breads to look at
Cinnamon Spiced Apple Bread
This cinnamon apple bread is very simple to make, makes your kitchen smell amazing and stores well. You will need two large apples to make it. We have provided lots of tips for the best apples for baking in our article above.
A note on pan size: We use a 8 1/2-inch by 4 1/2-inch loaf pan; if you only have a 9-inch by 5-inch pan, start checking for doneness 5 to 10 minutes earlier.
Makes one loaf (10 slices)
Watch Us Make the Recipe
You Will Need
2 large baking apples, peeled (about 1 pound)
2 tablespoons (25 grams) granulated sugar
1/2 cup (100 grams) brown sugar
1/4 teaspoon fine sea salt
1 1/4 teaspoons ground cinnamon
1/4 teaspoon ground ginger
1/4 teaspoon freshly grated nutmeg
1 1/2 cups (189 grams) all-purpose flour
1 teaspoon baking powder
1/2 teaspoon baking soda
1/4 cup neutral oil like vegetable oil or grape seed oil
2 large eggs, lightly beaten
1 teaspoon pure vanilla extract
1/4 teaspoon almond extract, optional
2/3 cup (85 grams or 3 ounces) nuts, chopped, optional
Directions
Prepare Batter

1Center a rack in the oven and heat to 350 degrees Fahrenheit. Butter and flour an 8 1/2-inch-by-4 1/2-inch loaf pan or line the loaf pan with parchment paper and lightly spray or grease with oil.

2Peel and core the apples then use a box grater and shred them. Add the shredded apples to a large bowl.

3Add the granulated sugar, brown sugar, salt, cinnamon, ginger, and nutmeg to the apples and mix well. Set the bowl aside for 10 to 15 minutes. As they sit, the apples will release quite a bit of liquid.

4While the apples sit with the sugar and spices, prepare the dry ingredients. In a medium bowl, whisk or sift the flour, baking powder and baking soda together.

5When the apples are ready, stir in the oil, beaten eggs, vanilla, and almond extract until well blended.

6Use a large rubber spatula to scrape the sides and bottom of the bowl then add the dry ingredients in three parts, stirring gently until they disappear and the batter is smooth. Stir in nuts.
To Finish

1Pour batter into the pan and smooth the top. Bake 55 to 75 minutes, or until a knife inserted into the center of the bread comes out clean.

2After 30 minutes in the oven, check the bread for color. If it looks like it is browning too quickly, loosely cover with aluminum foil.

3When the bread is done, transfer it, in the pan, to a wire rack to cool for 5 minutes. Unmold the bread and place right side up on the rack. Cool completely before slicing.

4Store apple bread in an airtight container for up to 4 days at room temperature and in the freezer for up to 1 month (maybe longer). When freezing the bread, make sure that you wrap it well to prevent any freezer smells from seeping into the bread.
Adam and Joanne's Tips
Tip for evening baking: Place the loaf pan on an insulated baking sheet or on two regular baking sheets stacked on top of the other and slide into the oven (we do this in our video).
Nuts: We love using pecans or walnuts in this bread, but hazelnuts and almonds would also be lovely. Use one or a combination of nuts. You can also leave them out completely.
Vegan/egg-free apple bread: You should be able to replace the eggs with two flax eggs. We have not tested this in our own kitchen, yet.
Nutrition facts: The nutrition facts provided below are estimates. We have used the USDA database to calculate approximate values.
If you make this recipe, snap a photo and hashtag it #inspiredtaste — We love to see your creations on Instagram and Facebook! Find us: @inspiredtaste
Nutrition Per Serving
Serving Size
1 slice
/
Calories
261
/
Total Fat
12.2g
/
Saturated Fat
5.3g
/
Cholesterol
37.2mg
/
Sodium
139.9mg
/
Carbohydrate
35.2g
/
Dietary Fiber
1.9g
/
Total Sugars
17.9g
/
Protein
4.6g