How to make chicken sandwiches with lime mayonnaise and pickled jalapeños. Jump to the recipe for Spicy Shredded Chicken Sandwiches with Lime Mayonnaise or read on to see our tips for making them.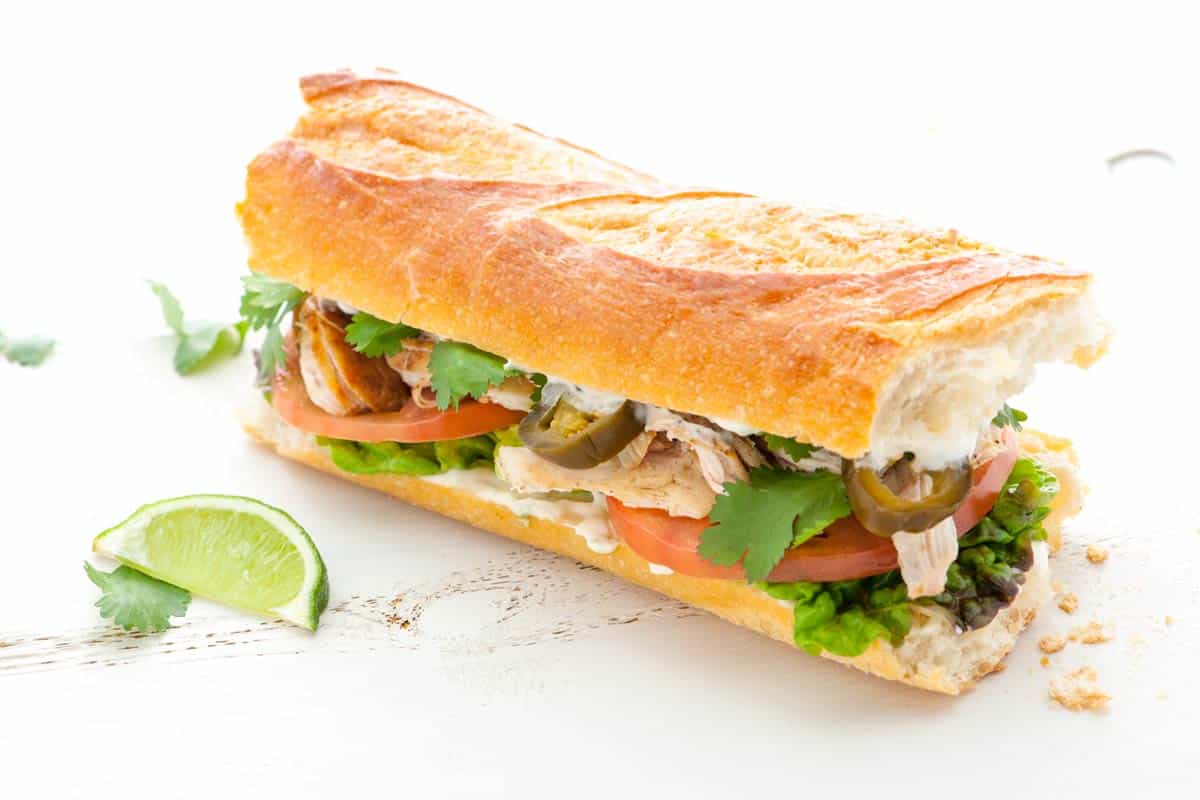 I love these easy chicken sandwiches — they are full of flavor and are loosely inspired by a Vietnamese Bánh mì sandwich. They usually include some kind of protein, a delicious mayo spread and lots of pickled vegetables.
YOU MAY ALSO LIKE: Avocado adds a twist to classic egg salad. Easy avocado egg salad recipe with celery, fresh herbs and lemon juice. Jump to the Avocado Egg Salad Recipe.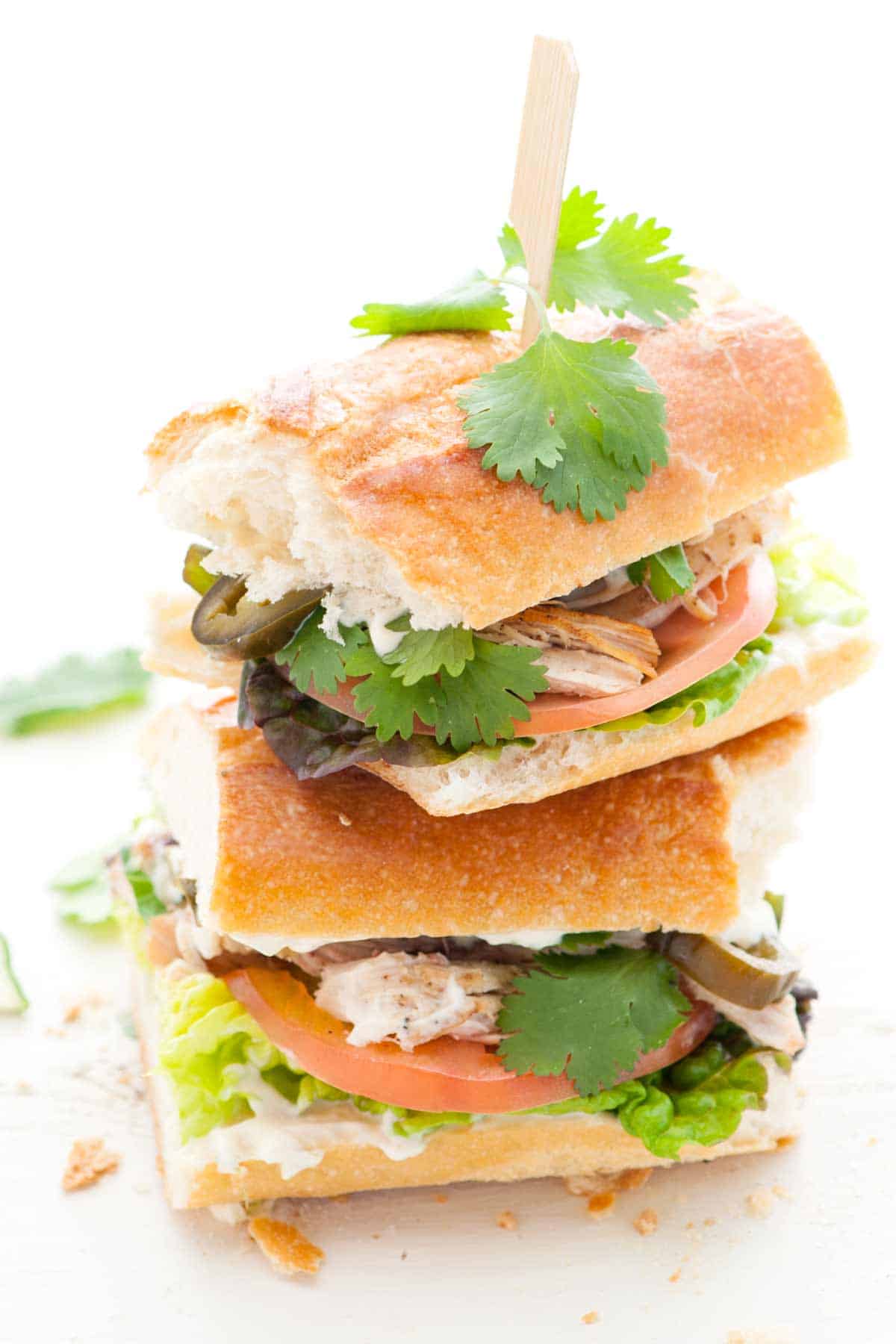 In this case, we used warm shredded chicken for the protein. Whenever we need shredded chicken we go straight to our Tender and Flavorful Shredded Chicken Recipe — it takes about 1 hour and makes the best shredded chicken.
YOU MAY ALSO LIKE: This shredded chicken recipe is very simple to make and can be used 100 different ways. Jump to the Shredded Chicken Recipe.
Then we make a flavored mayonnaise — you can start with store-bought mayo or make your own. It's flavored with lime juice, zest and a little salt. It's simple, but so flavorful in these sandwiches. Finally we add lots of crisp lettuce, tomato, cilantro and a bunch of spicy pickled jalapeños.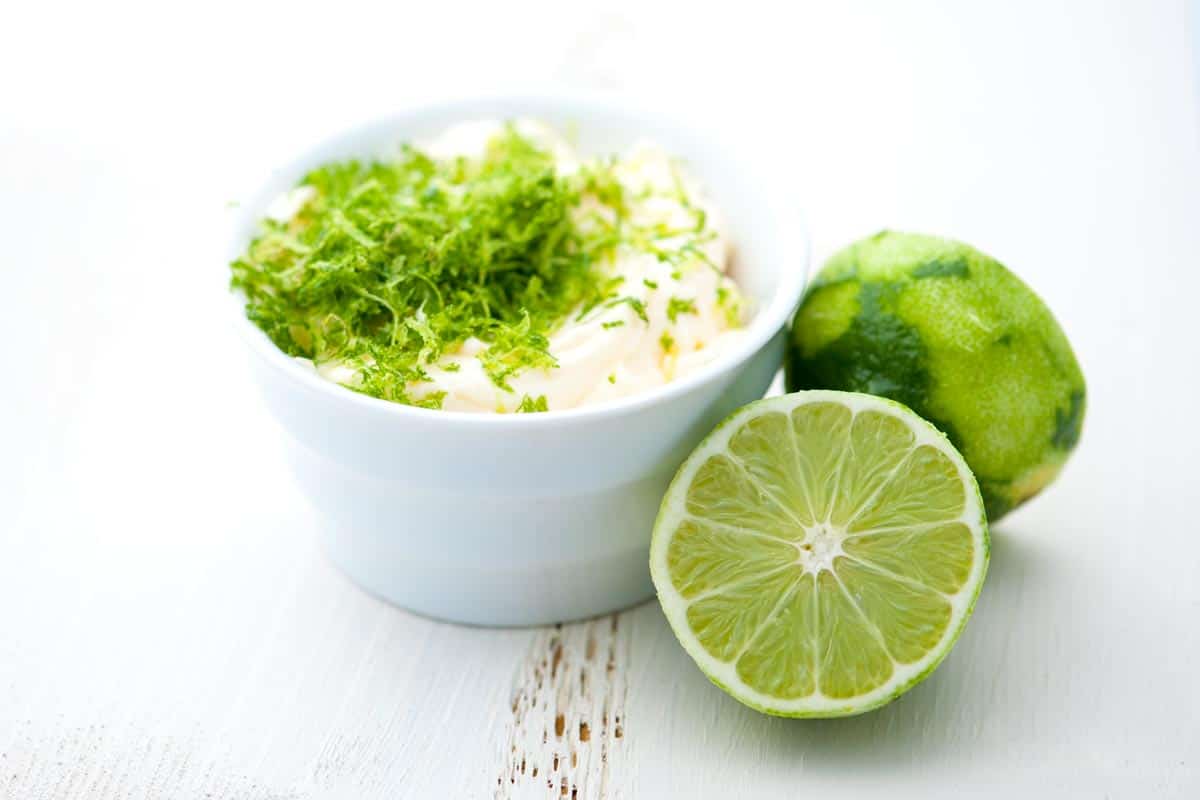 Recipe updated, originally posted February 2011. Since posting this in 2011, we have tweaked the recipe to be more clear. – Adam and Joanne
Spicy Shredded Chicken Sandwiches with Lime Mayonnaise
You can buy precooked rotisserie chicken and shred it for these sandwiches. Or, if you have the time, make your own shredded chicken. Here's our favorite recipe that makes unbelievably tender chicken.
You Will Need
1/2 cup mayonnaise, see our recipe for homemade mayonnaise
1 lime
Salt and fresh ground black pepper
1 baguette
1 cup shredded chicken, warmed
4 red lettuce leaves
4 slices tomato
Handful of cilantro leaves
1/4 cup pickled jalapeño slices or more
Directions
Make Lime Mayo

1In a bowl, stir the mayonnaise with the zest and juice of one lime. Season with salt and black pepper to taste.
Make Sandwiches

1Slice the baguette in half to make two smaller baguettes then slit them lengthwise, and then use your fingers to hollow out the insides, making a trough in both halves.

2Generously spread the inside of the bread with mayonnaise. Start from the bottom portion of bread, layer the rest of the ingredients. Close the sandwiches then cut in half for easy eating.