These peanut butter granola bars with rolled oats, peanut butter, and maple syrup are easy to make and taste amazing! They are nutritious, naturally vegan, gluten-free, and have around 8 grams of protein per bar. We love them!
Watch the Video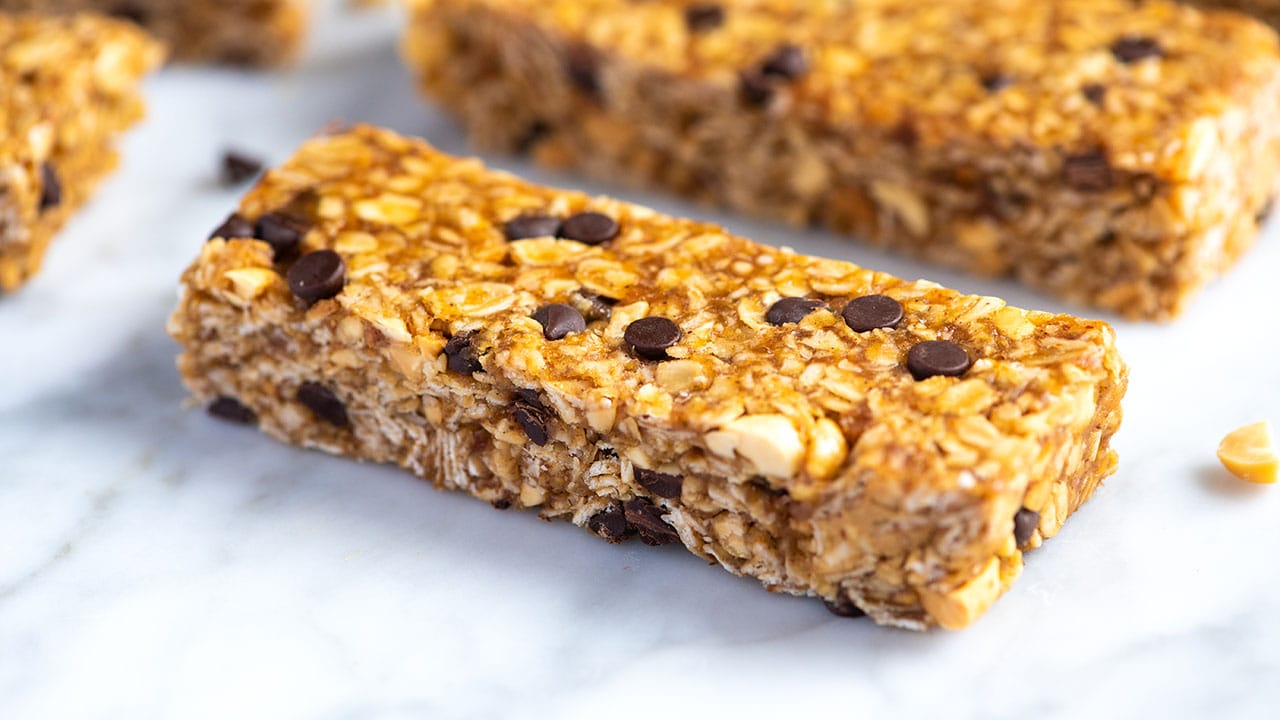 We knew we had a winner of a recipe when both Adam and I kept going back to these bars in the fridge. They taste great thanks to peanut butter and maple syrup, but they also make an excellent healthy snack. We didn't set up to create an energy bar, but thanks to peanut butter, oats, and flaxseed meal, these peanut butter bars do the trick! In addition to healthy fats, you will find around 8 grams of protein and just over 4 grams of fiber in one bar.
Some granola bars taste amazing, but all the energy you get from them disappears quickly after eating them. These bars are different. They stick with you a bit longer. I've loved them as a healthier afternoon snack to get me to dinner. I'd imagine they'd also be perfect for school or work lunch boxes.
There are a few similarities between these peanut butter bars and our original granola bars recipe. So if you've tried that recipe and enjoyed it, we highly recommend putting a batch of these bars together.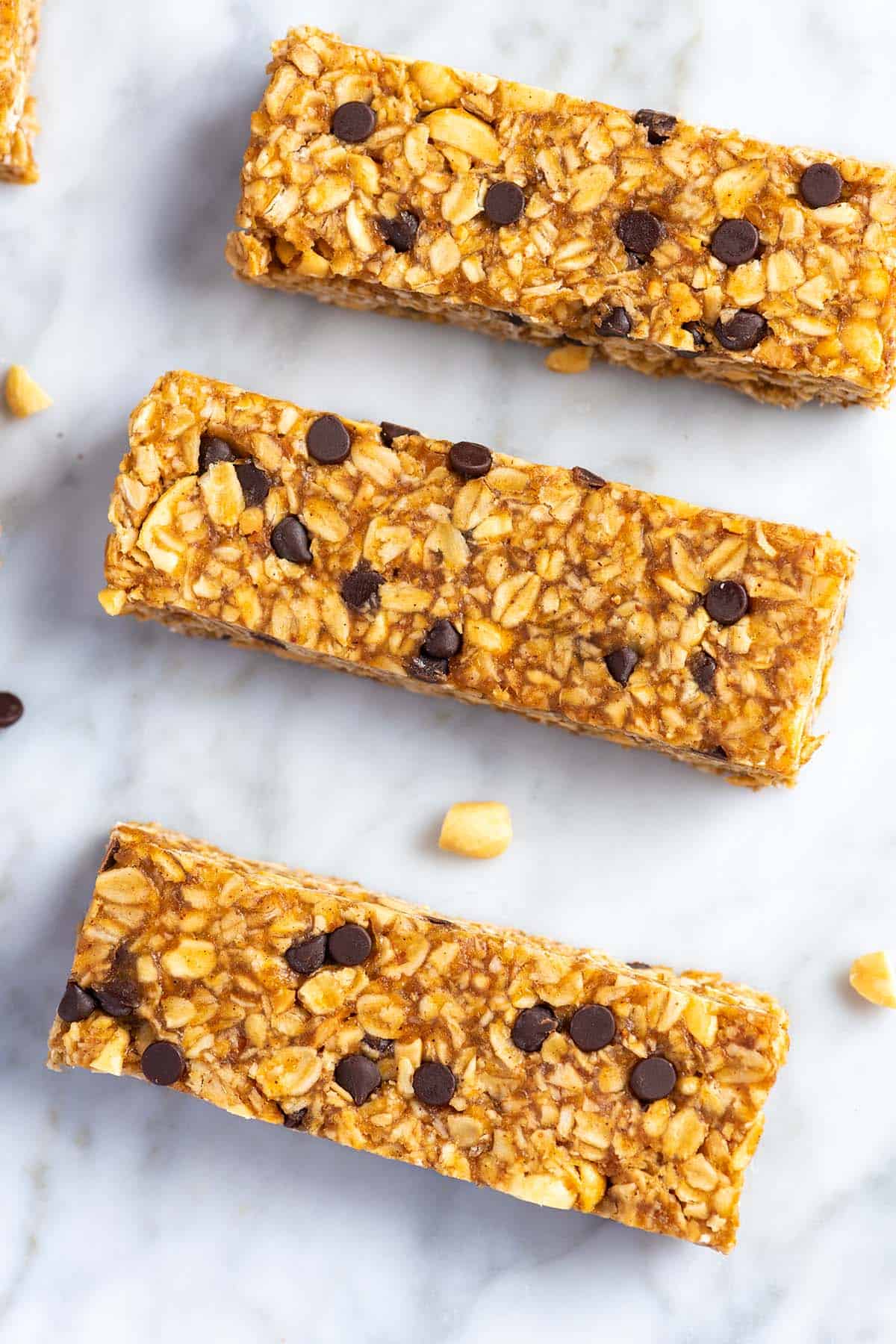 Making Peanut Butter Granola Bars
For the base, you need rolled oats, flax eggs (explained below), peanut butter (try homemade peanut butter), maple syrup, cinnamon, and vanilla. The flax eggs help to hold the bars together and add a serious nutritional boost. Here's a link to our article about flax eggs if you are interested.
To make flax eggs — this recipe needs two — you stir together flaxseed meal and water. You can do the same with chia seeds. Then set the mixture aside for 10 minutes so that the flax absorbs the water. It's easy.
While the flax eggs sit, you can get the other ingredients together. For the best, most flavorful bars, toast the oats and peanuts before mixing with the peanut butter. To do it, spread the oats and peanuts onto a baking sheet and slide them into a hot oven until they take on a light golden color.
When the oats and peanuts are toasted and the flax eggs are ready, you can stir them into a mixture of peanut butter, maple syrup (or honey), cinnamon, and vanilla. The mixture is a bit sticky, but that's a good thing! All that stickiness is why the bars stay together when you take a bite.
Press the granola bar mixture into a lined baking dish and refrigerate for a couple of hours. The time in the fridge is essential since it gives the oats some time to absorb moisture and flavor from the peanut butter.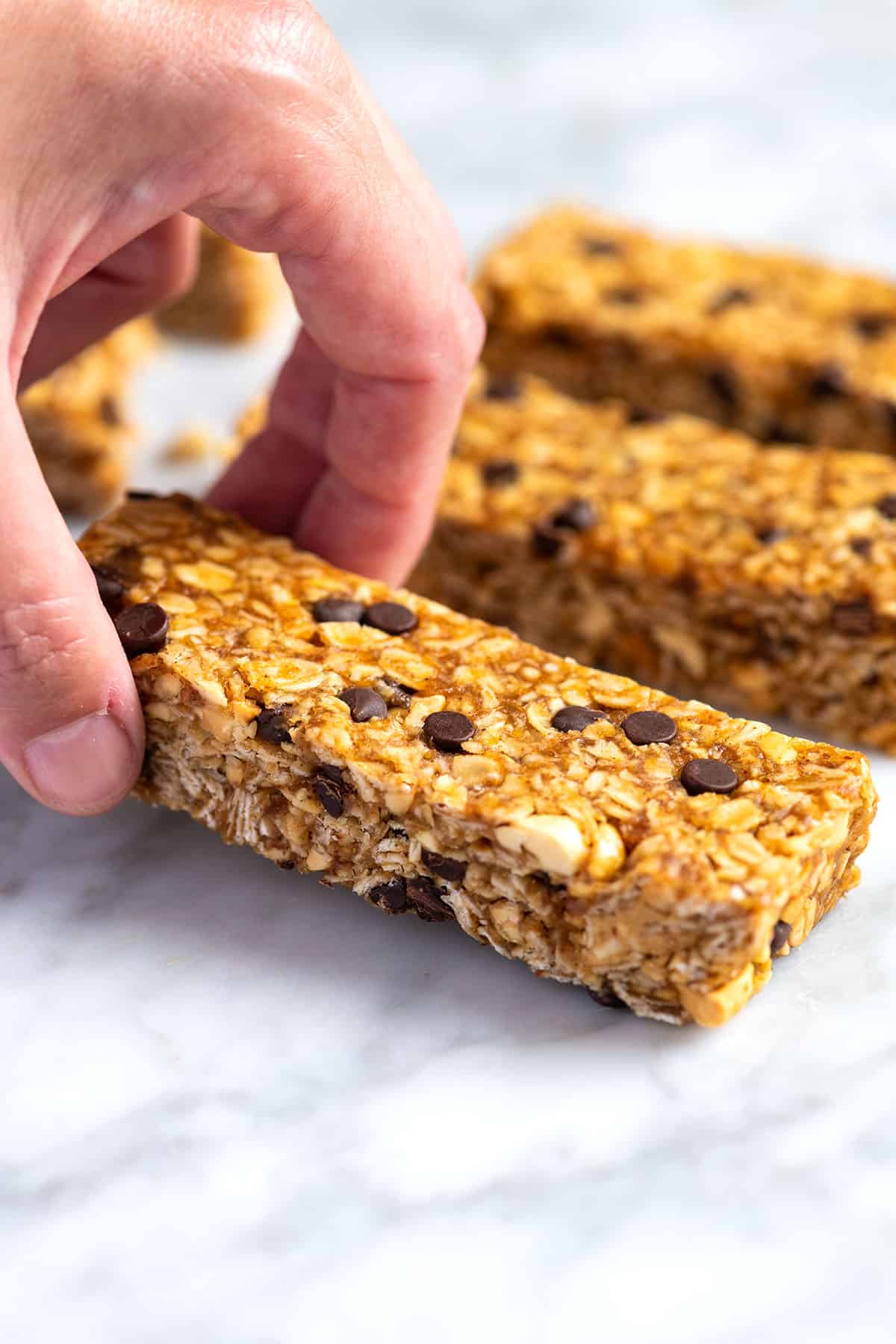 Tips for Success
(1) Take care when pressing the granola mixture into the pan. We want to really press the mixture down into the pan. After making countless batches of homemade granola bars, I've found that placing a piece of parchment on top of the granola and then using the bottom of a measuring cup or glass works nicely to press them down into the pan.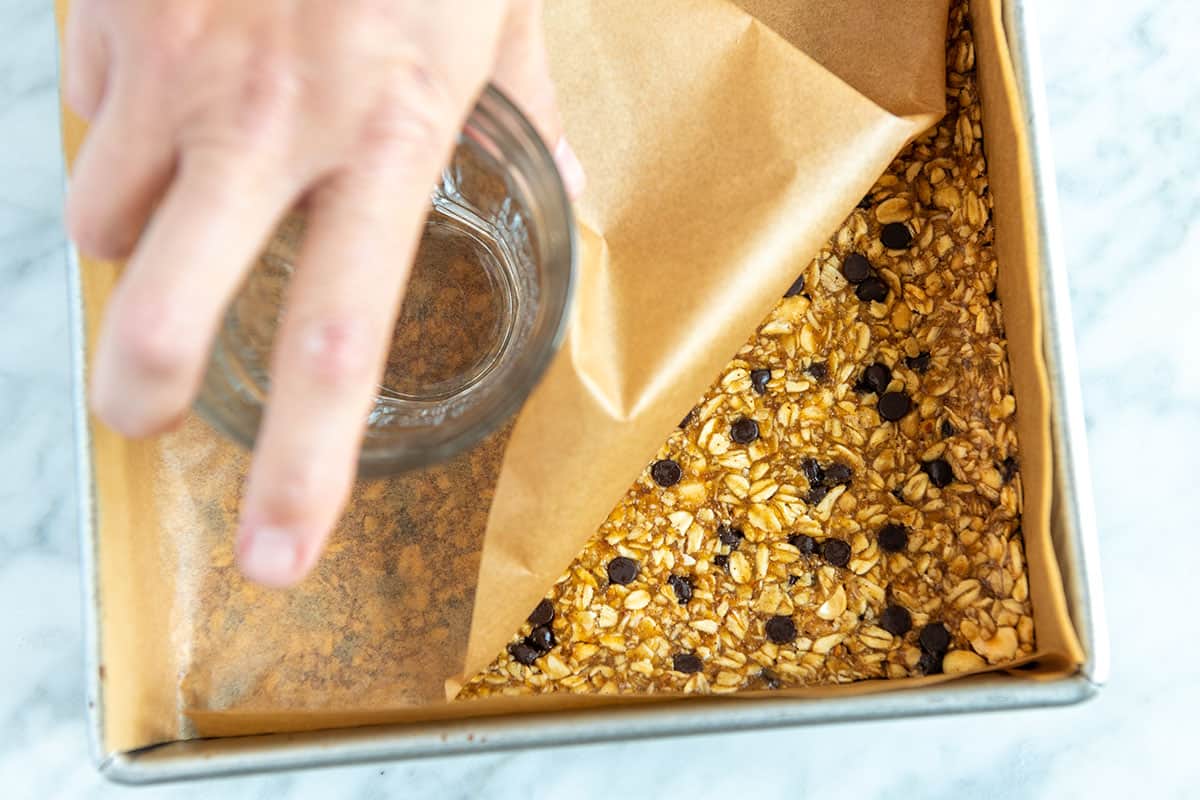 (2) Add some mini chocolate chips. You can see from our photos that we added mini chocolate chips to our mixture. Mini chocolate chips — or chocolate that's been chopped very small — is best. Larger chips or chunks get in the way of holding the bars together.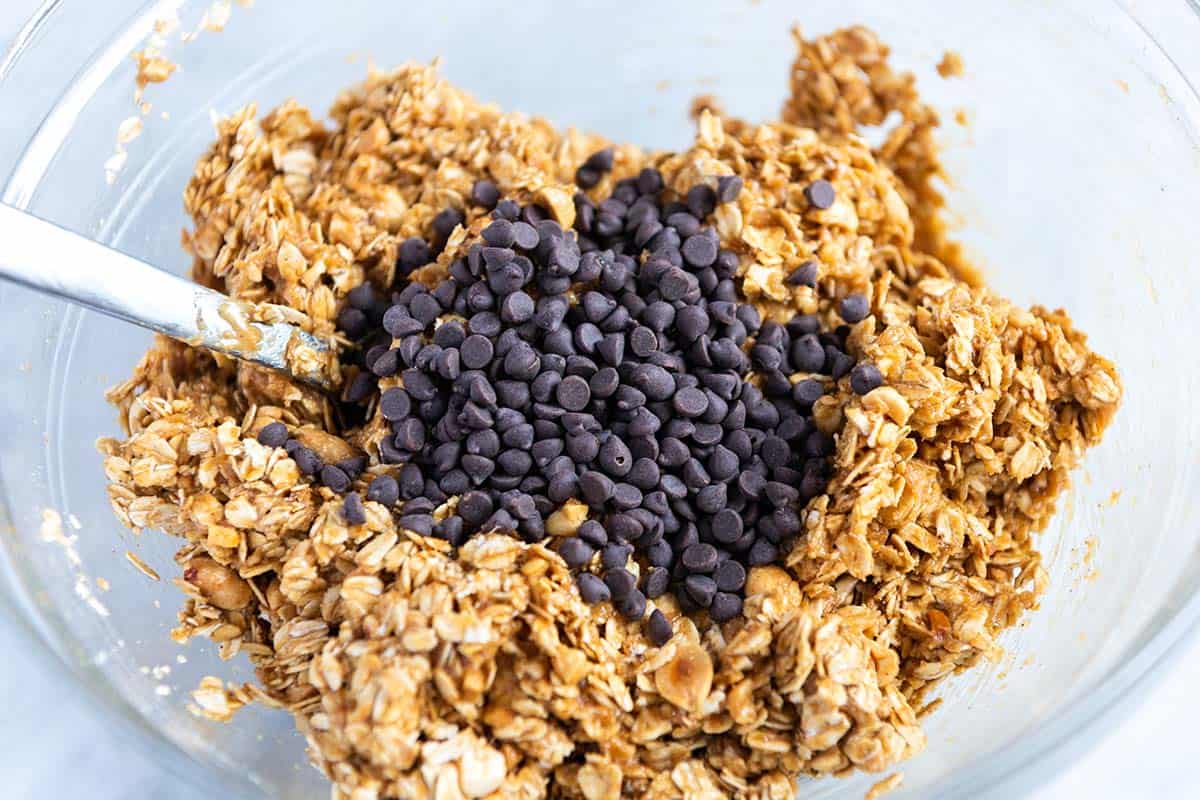 (3) Chill the bars for two hours before cutting them. This time the fridge does a couple of things: First, it hardens the mixture, which makes it easier to cut the granola into bars. Second, as the oats sit with the maple-peanut butter mixture, it absorbs moisture and flavor. I typically store my bars in the fridge. They last about a week.
(4) Consider the type of peanut butter you are using. We've made these bars with homemade peanut butter, natural unsweetened peanut butter that needs stirring (Adam's brand), and a more commonly available no-stir natural peanut butter (Natural Jif). Of all the options, the no-stir peanut butter made the stickiest mixture, which helps the bars stay together. Homemade peanut butter and the store-bought jar that requires stirring tasted the best but were a little drier. If you are worried your mixture is too dry when making the bars feel free to increase the peanut butter by 1/4 cup.
If you love this recipe, try this:
If you love peanut butter, try making it from scratch. It's easier than you might think and tastes incredible. Here's our Homemade Peanut Butter Recipe. We also have recipes for Homemade Almond Butter and Homemade Cashew Butter (all of which can be used in this granola bars recipe).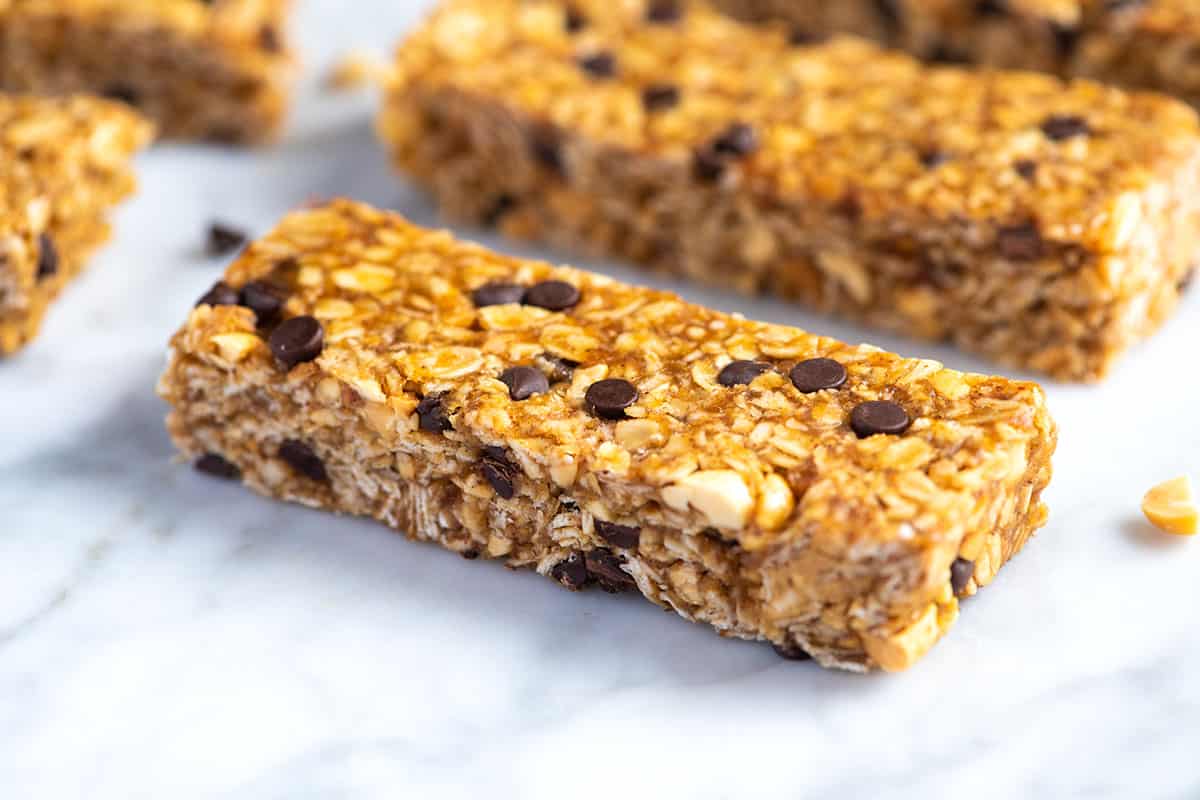 Easy Peanut Butter Granola Bars
These peanut butter granola bars with rolled oats, peanut butter, and maple syrup are easy to make and taste amazing! They are naturally vegan, gluten-free, nutritious, and have around 8 grams of protein per bar.
Watch Us Make the Recipe
You Will Need
3 cups (385 grams) old-fashioned rolled oats
1/2 cup (70 grams) unsalted peanuts, chopped
3 tablespoons flaxseed meal
6 tablespoons water
3/4 cup (190 grams) natural unsweetened peanut butter
1/3 cup (110 grams) pure maple syrup
1 teaspoon cinnamon
1 teaspoon vanilla extract
1/4 cup + 1 tablespoon (60 grams) mini chocolate chips or finely chopped chocolate
1/4 teaspoon fine sea salt, optional, see notes
Directions
Make Bars

1Heat the oven to 350° Fahrenheit. Line the bottom and sides of an 8-inch or 9-inch square pan with aluminum foil or use parchment paper.

2Spread the oats and chopped peanuts onto a baking sheet, and then bake for 5 minutes, stir and then bake another 3 to 5 minutes or until lightly toasted. Allow to cool.

3While the oats and peanuts bake, make flax eggs by stirring three tablespoons of flaxseed meal with six tablespoons of water in a small bowl. Place the bowl into the refrigerator for about 10 minutes. In this time, the flaxseed meal will absorb most, if not all, of the water.

4In a large bowl, stir together the peanut butter, maple syrup, cinnamon, vanilla, and flax eggs.

5When the oats and peanuts have cooled, stir them into the peanut butter mixture. The mixture will be sticky, be sure to thoroughly mix everything so that all the oats are well coated. If the mixture seems unusually dry, consider adding up to 1/4 cup more peanut butter.

6Stir in 1/4 cup of the chocolate chips — save the remaining tablespoon for the tops of the bars.

7Transfer the granola bar mixture to the prepared pan, and then use a rubber spatula or damp fingertips to press the mixture into the pan. Press hard here. This way, the bars will stay together once cooled and cut. One trick is to add a sheet of parchment paper on top and then use the bottom of a glass or measuring cup to really press the oat mixture down into the pan.

8Scatter the remaining tablespoon of chocolate chips over the pressed granola mixture, and then use a rubber spatula to push them into the top. Cover, and then refrigerate for at least 2 hours. If you are in a rush, you can freeze them for about 30 minutes. The bars will be too soft if cut before they are fully chilled.

9Remove the chilled block of granola mixture from the pan, then peel away the foil or parchment. Cut into 12 bars.
Storing

1Store granola bars in an airtight container for up to one week. For the softest bars, keep them at room temperature. For slightly harder bars, store in the fridge. Bars will keep in the freezer for up to three months when wrapped well.
Adam and Joanne's Tips
While we have had the best results with peanut butter, you can try substituting the peanut butter for another nut butter like almond butter or cashew butter. You should also be able to make them nut-free and use sunflower seed butter (for nut-free bars, you will also need to remove the peanuts).

Honey works well in these bars. Use the same amount of honey as maple syrup called for in the recipe above.

If the nut butter is unsalted, consider adding 1/4 teaspoon salt to the granola bar mixture.
Nutrition facts: The nutrition facts provided below are estimates. We have used the USDA database to calculate approximate values.
If you make this recipe, snap a photo and hashtag it #inspiredtaste — We love to see your creations on Instagram and Facebook! Find us: @inspiredtaste
Nutrition Per Serving
Serving Size
1 bar (12 total)
/
Calories
262
/
Total Fat
12.7g
/
Saturated Fat
3.2g
/
Cholesterol
0mg
/
Sodium
4.5mg
/
Carbohydrate
27.4g
/
Dietary Fiber
4.3g
/
Total Sugars
10.1g
/
Protein
8.4g