Looking for a delicious and easy crab dip recipe? Look no further! This creamy crab dip is perfect for any party or gathering. Made with fresh crabmeat, cream cheese, cheddar cheese, and a blend of seasonings, this dip is sure to impress. Serve it hot or cold with bread, crackers, chips, or vegetables.
Watch The Video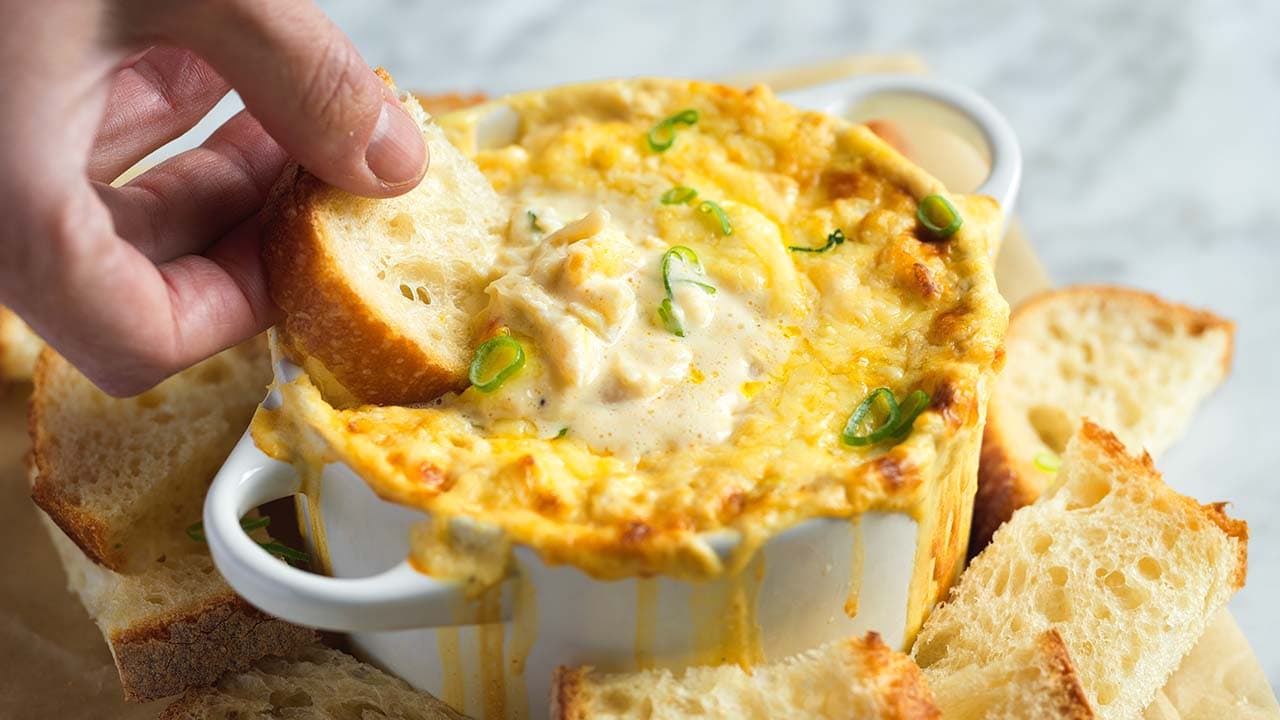 ⭐️ Try our easy smoked salmon dip. It's so delicious and creamy!
Making Our Favorite Crab Dip
Not all crab dips are created equal. Growing up in Maryland, We've tried our fair share of crab dips and often find that they are too heavy and aren't made with enough crab. That's why I'm excited to share this recipe with you – it calls for a generous 8 ounces of crabmeat and just enough cheese to create the perfect balance of flavor and texture. If you love crab, try these cream cheese and crab wontons (Crab Rangoon).
To make it, stir everything but the crab together — cream, spices, green onion, sour cream, and cream cheese.
Then gently fold in the crab so there are still some lovely big pieces left in the dip.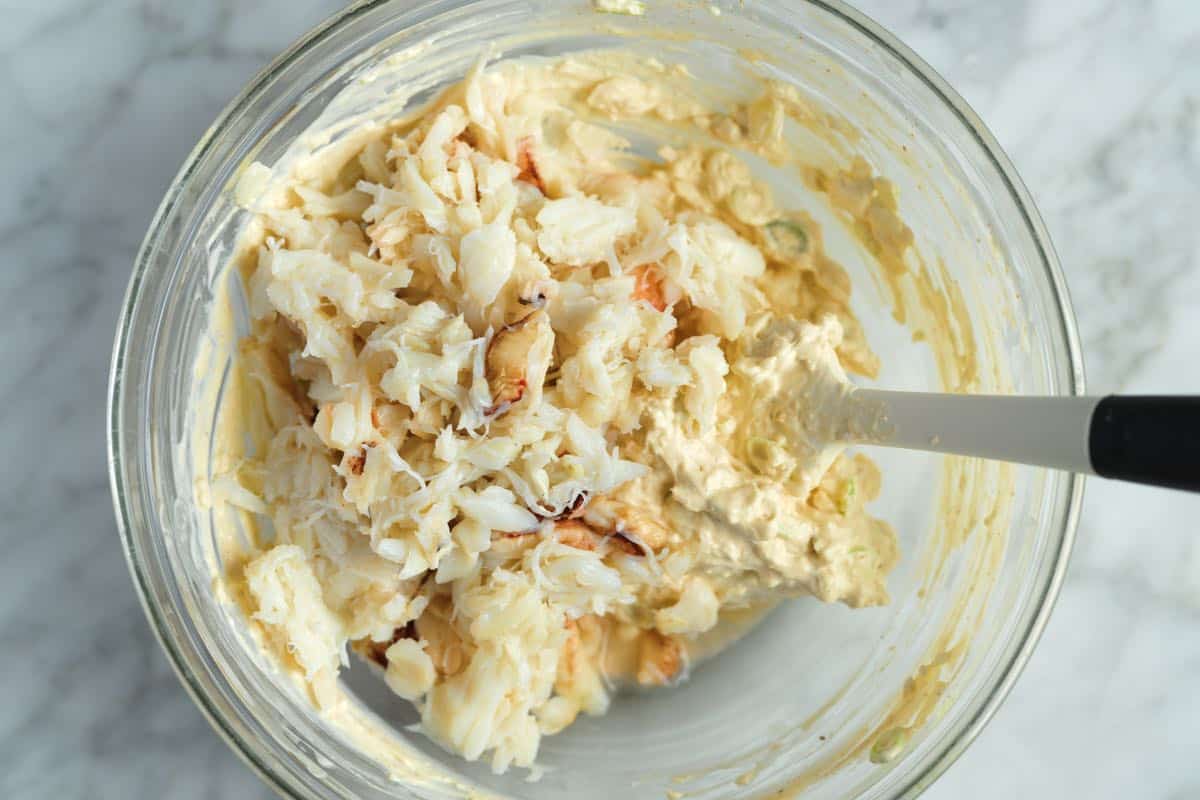 From there, you can serve it cold or bake it in the oven until hot and bubbly.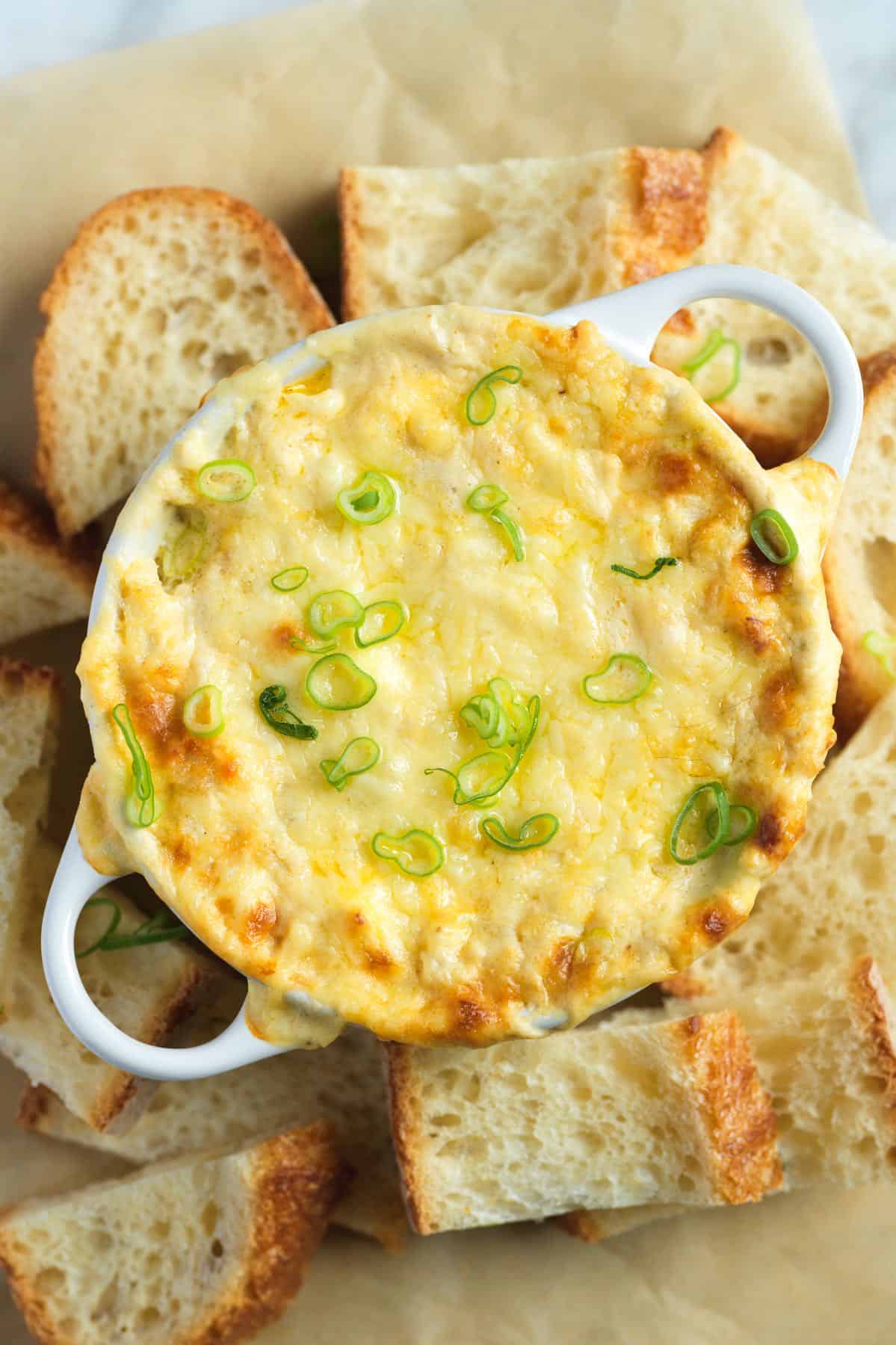 Related: Maryland-Style Crab Cakes
Tips For the Best Homemade Crab Dip
Use fresh crabmeat. We have made this recipe with Blue Crab and Dungeness Crab. Both varieties of crab work beautifully. The same goes for our favorite homemade crab cakes. We do not recommend imitation crabmeat for this recipe.
Don't overdo the cheese. We want to taste the crab, so watch out that you don't overdo the cream cheese and cheddar. We want enough to make the dip creamy but not too much to overpower the sweet crabmeat. So in our recipe, we use twice as much crab as cream cheese.
Hold back on the seasonings. We love adding dry mustard powder, Old Bay seasoning, and Worcestershire (or Pickapeppa) to the dip. However, our recipe calls for much less of each seasoning than other recipes you might find. This is so the seasonings don't overpower the dip. Remember that we want to taste the crab, not cover it up.
Watch the salt. We rarely find the need to add salt to our dip since there's enough added through Old Bay, Worcestershire (or Pickapeppa), and the crab itself. If you taste the dip and feel it needs a bit of salt, go for it, but definitely add based on taste, don't assume it needs it.
Related: Creamy Spinach and Artichoke Dip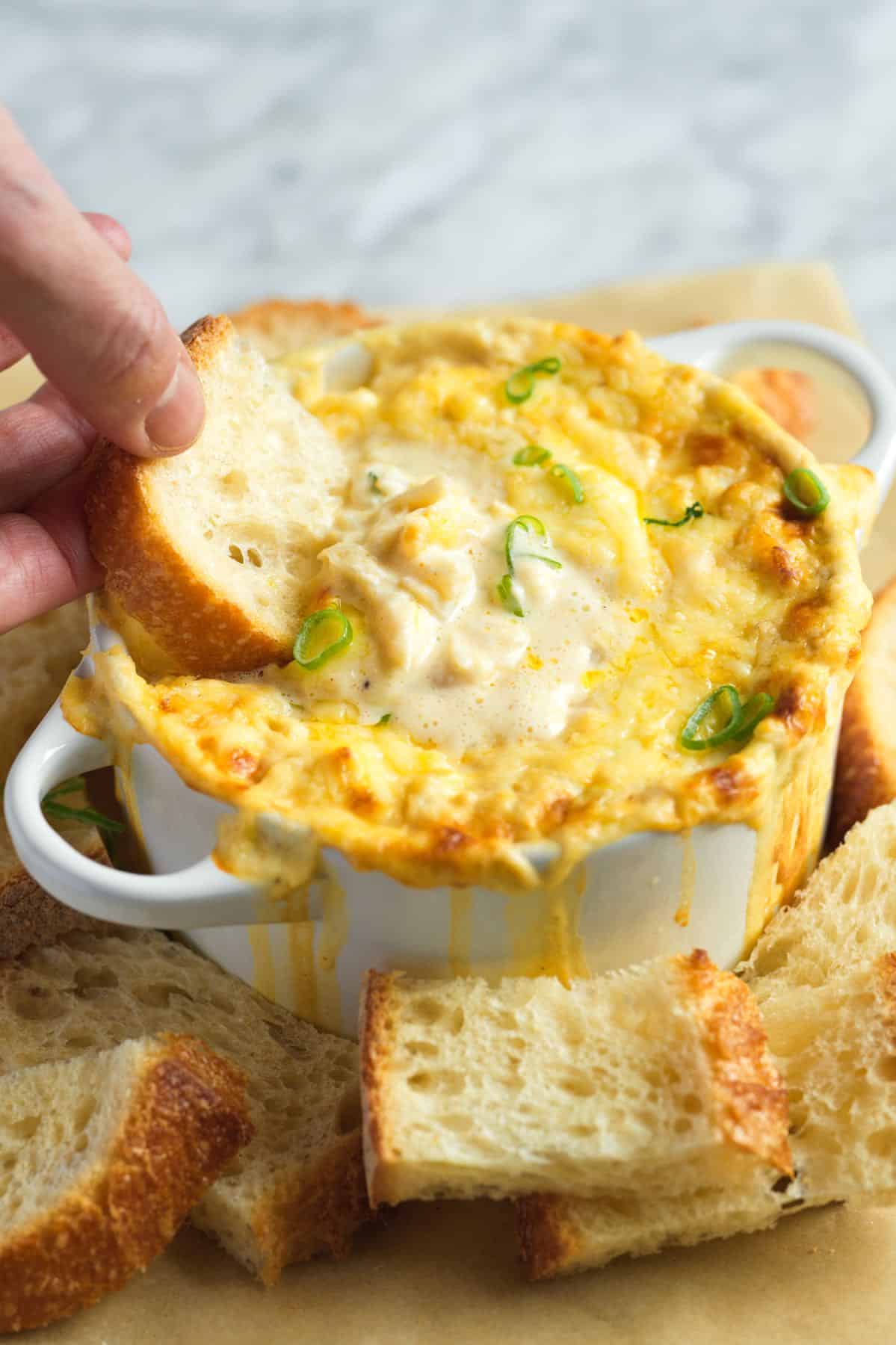 How to Serve Crab Dip
You can serve this dip hot or cold — both are delicious. For hot crab dip, bake it in the oven for about 20 minutes or until it is bubbly. I love dipping sliced rustic bread when it is served hot. On the other hand, the dip is excellent with crackers, tortilla chips, and raw vegetables when it's cold.
This crab dip recipe is part of our chef series, where we share recipes from our friend and renowned chef, Richard Hattaway. We love how crab shines in this recipe and know that you will love it as much as we do.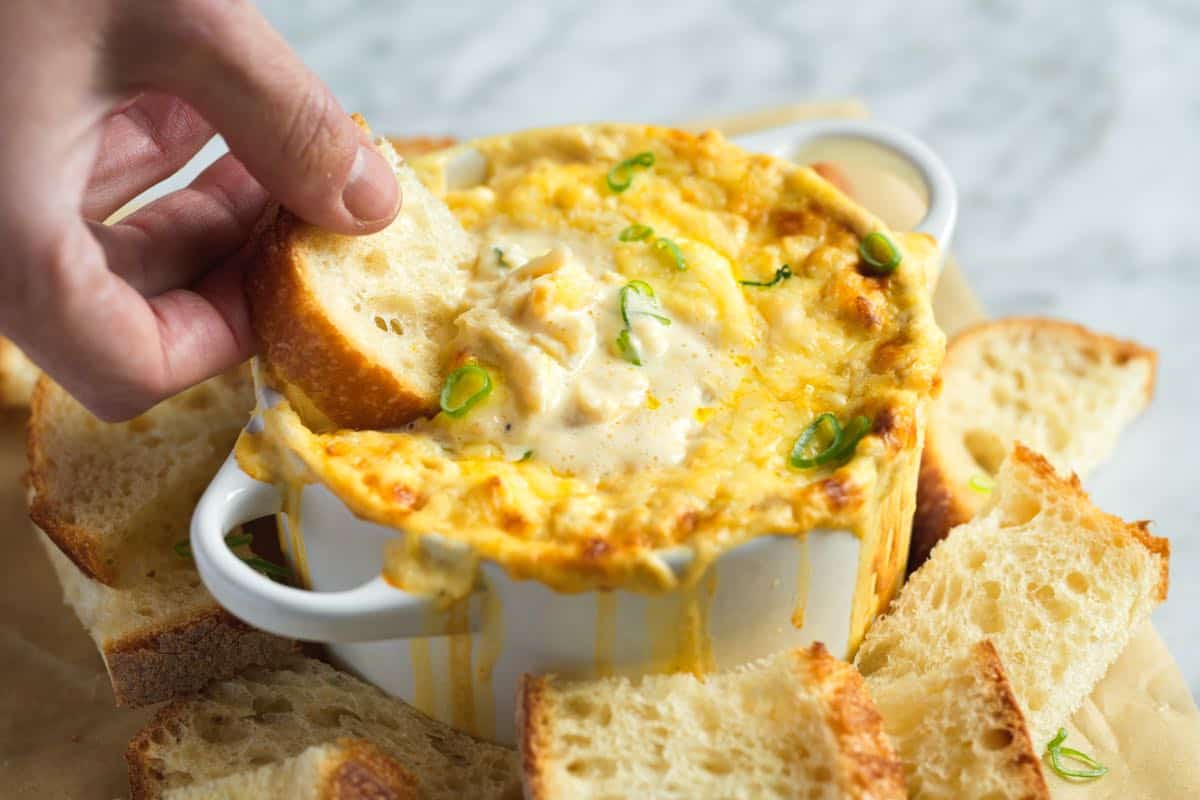 Easy Crab Dip (Hot or Cold!)
This creamy crab dip is perfect for any party or gathering. Serve it hot or cold — both are delicious. When baking this crab dip, make sure that you allow the dip to cool on the counter for 10 minutes before serving so it can thicken up a little.
Watch Us Make the Recipe
You Will Need
8 ounces (226 grams) crabmeat, fresh or pasteurized, from Blue Crabs or Dungeness Crabs
1/2 cup (4 ounces) cream cheese, softened
1/4 cup (2 ounces) heavy cream
2 tablespoons (1 ounce) sour cream
1 green onion, sliced, whites and greens separated
1/2 teaspoon Pickapepper or Worcestershire sauce, see notes
1/4 teaspoon Old Bay seasoning
1/4 teaspoon Coleman's mustard powder
5 tablespoons (1 ¼ ounces) English or Irish cheddar, shredded, divided, see notes
Directions
1For hot crab dip, heat the oven to 350° Fahrenheit. Place a small baking dish on a parchment paper-lined baking sheet. An 8-ounce to 10-ounce dish is perfect.

2Drain the crabmeat, if necessary, and pick through it for any rogue shells.

3Whisk the heavy cream with the Pickapeppa (or Worcestershire), mustard powder, and Old Bay seasoning to remove lumps.

4Switch to a spoon and stir in the cream cheese, sour cream, white and light green parts of the green onion, and two tablespoons of the shredded cheddar.

5Gently fold in the crabmeat, being careful to keep as many larger lumps of crab intact.

6Spoon dip into the baking dish and top with the remaining shredded cheese (about 3 tablespoons).

7Bake for 20 to 30 minutes or until hot and bubbly. Allow to cool on the counter for 10 minutes, and then serve with the green parts of the green onion on top.

8For cold crab dip, stir in the additional 3 tablespoons of cheddar, spoon into a small serving dish, and serve with the green parts of the green onion on top.
Adam and Joanne's Tips
Pickapepper and Worcestershire sauce are umami-rich condiments used as a seasoning in soups, stews, and sauces. Pickapepper is a little thinner and a bit sweeter than the more savory Worcestershire, but in most circumstances, they are interchangeable.
English-style and Irish-style cheddar is a bit sweeter than American-style cheddar. A great example in most US grocery stores is Kerrygold Dubliner cheese or Coastal English cheddar (we find it at Costco). White American cheddar cheese can be used as a substitute.
Nutrition facts: The nutrition facts provided below are estimates. We have used the USDA database to calculate approximate values.
If you make this recipe, snap a photo and hashtag it #inspiredtaste — We love to see your creations on Instagram and Facebook! Find us: @inspiredtaste
Nutrition Per Serving
Serving Size
1/4 of the recipe (about 1/4 cup)
/
Calories
206
/
Total Fat
17.2g
/
Saturated Fat
10.1g
/
Cholesterol
78.7mg
/
Sodium
288.4mg
/
Carbohydrate
2.8g
/
Dietary Fiber
0g
/
Total Sugars
1.5g
/
Protein
10.1g