This is my favorite hummus recipe! With a few simple tricks, you really can make creamy smooth homemade hummus and yes, we really do think it's better than store-bought.
Watch the Video
Related: We love this easy roasted red pepper hummus
Our #1 Secret for Smooth Hummus
The secret to the smoothest, most luxurious hummus is the order in which you add ingredients to your food processor. Seriously, it's that easy. Add tahini and lemon juice to your food processor, and then turn it on and process for a minute or until they whip up into a creamy paste. Watch our video and see how whipped and creamy they get.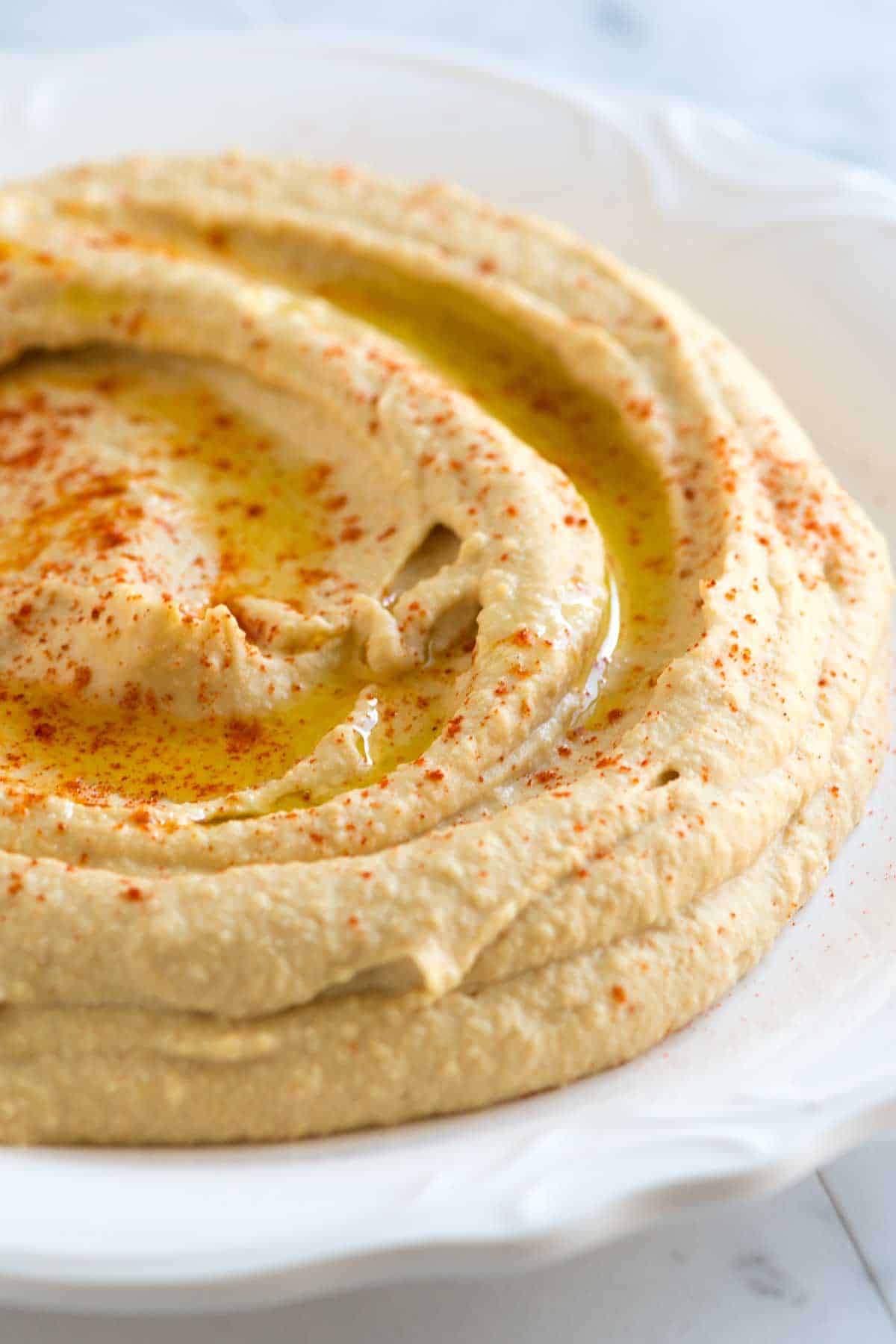 How to Make Smooth Hummus From Scratch
In the past, if we were in the grocery store you could almost bet that one of us would throw a tub of hummus into our cart. That was until we figured out this simple hummus recipe that we honestly believe is better than anything we could have found at the store. Bonus it's made with real and healthy ingredients, plus it is vegan!
We love making dips and have shared quite a few of them over the years. Here are a few more recipes: take a look at our roasted red pepper hummus, this black bean dip, our roasted eggplant dip (baba ganoush), or this creamy cheesy bean dip.
What is Hummus?
Just so we are all on the same page, let's talk about what hummus is. Hummus is a delicious spread or dip made from chickpeas, tahini, lemon, and spices. It's commonly eaten in the Middle East and the Mediterranean. Here in the United States, you can find store-bought versions at the grocery store, but we think you should skip those and make your own. Let me show you how!
Hummus Ingredients
Chickpeas (or garbanzo beans) are the base for hummus. The softened beans break down into a smooth paste. You can use canned or home-cooked chickpeas in our recipe. I use them interchangeably and give home-cooked chickpeas a slight edge when it comes to the flavor. Here's my method for cooking dried chickpeas.
Tahini is a paste made from ground sesame seeds. It makes the hummus taste incredible. You can buy tahini at the store or you can make it yourself. To make hummus that's 100% from scratch, we use homemade tahini. It's easy to make yourself. Here's our tahini recipe with a video showing how to make it. It lasts up to a month in your refrigerator. Our tahini recipe makes enough tahini for two batches of hummus.
Making hummus without tahini: In the hummus-loving world, there are two camps. Some love the zesty, tangy flavor of tahini, while others can go without it. We like it both ways, but for the best hummus rivaling our favorite brands in the store, include tahini. If you want to make hummus without tahini, leave it out. A chickpea purée without it is still quite delicious. Just add more olive oil. Another option is to use a natural unsweetened creamy peanut butter in its place.
Fresh lemon juice is important for excellent hummus. Bottled lemon juice does not taste nearly as good.
Fresh garlic adds a little spice and zest. I add one small clove and find it's just right. You can also experiment with using roasted garlic for roasted garlic hummus. You can see how we roast garlic here.
Ground cumin and salt help to make it taste amazing and the ground cumin adds a little more spice and richness.
Olive oil makes the texture of the hummus luxurious. We also add a little drizzle to the top of the swirly hummus when we serve it. I really like using fruity, light flavored olive oils when making hummus.
In addition to the ingredients above, you can add more flavor and ingredients to your hummus. I love adding roasted red peppers for a red pepper hummus, but olives, pine nuts, and extra spices are also great options.
So, What's the Secret for Making the Best Hummus?
As I mentioned above, it's the order in which you add ingredients to your food processor. Seriously, it's that easy. Tahini and lemon juice go in first. Then before you add anything else, turn on the food processor and let it run for a minute or so.
See the photos below? In the first one, we're pouring tahini into a clean food processor. After a minute of being whirled, whipped, and creamed in the food processor it turns into the paste you see in the next photo. It's lighter in color and much thicker.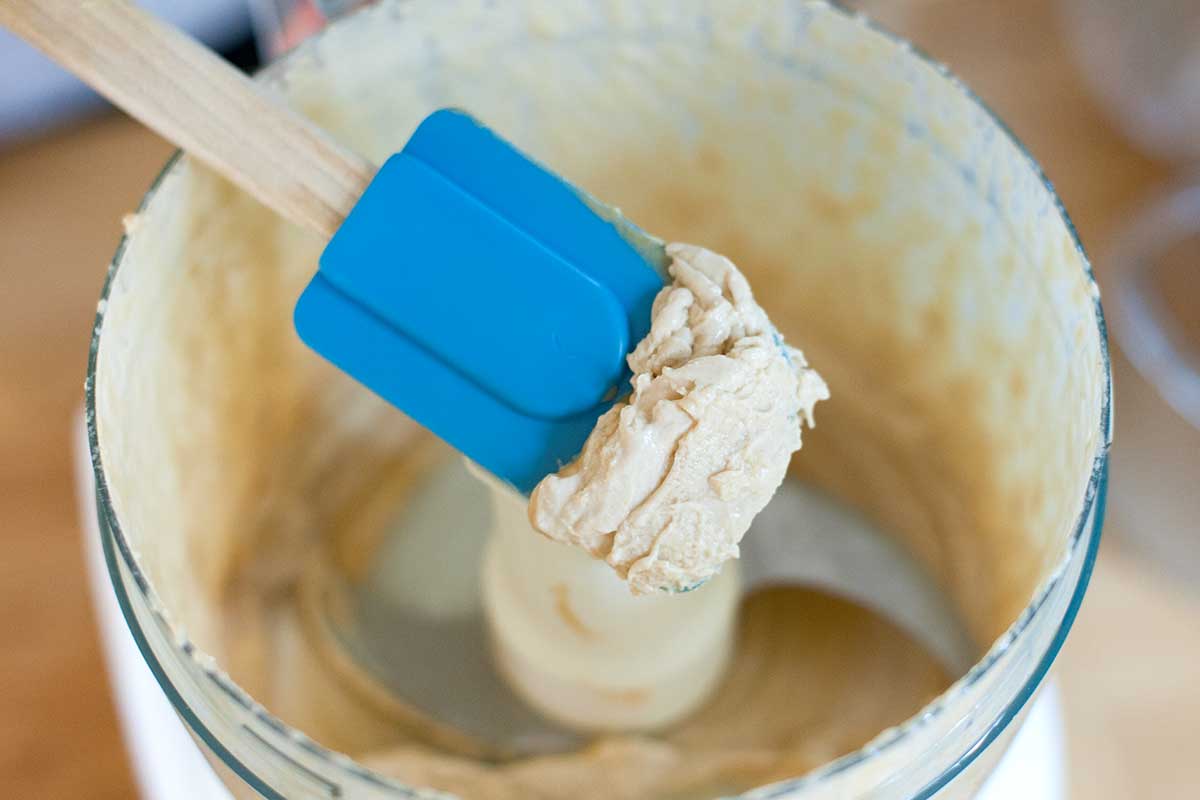 From here, you can add ingredients as you will, but make sure you stand back and let that food processor run — we're talking a minute of running after adding each ingredient.
Cold water (or aquafaba — explained below) is our last trick for fluffy, creamy, whipped hummus. After all the ingredients are added and we've processed into a smooth paste, I love to drizzle in some extra liquid with the processor still running. The liquid (and extra process time) turns the already pretty smooth mixture into a fluffy, luxurious dip!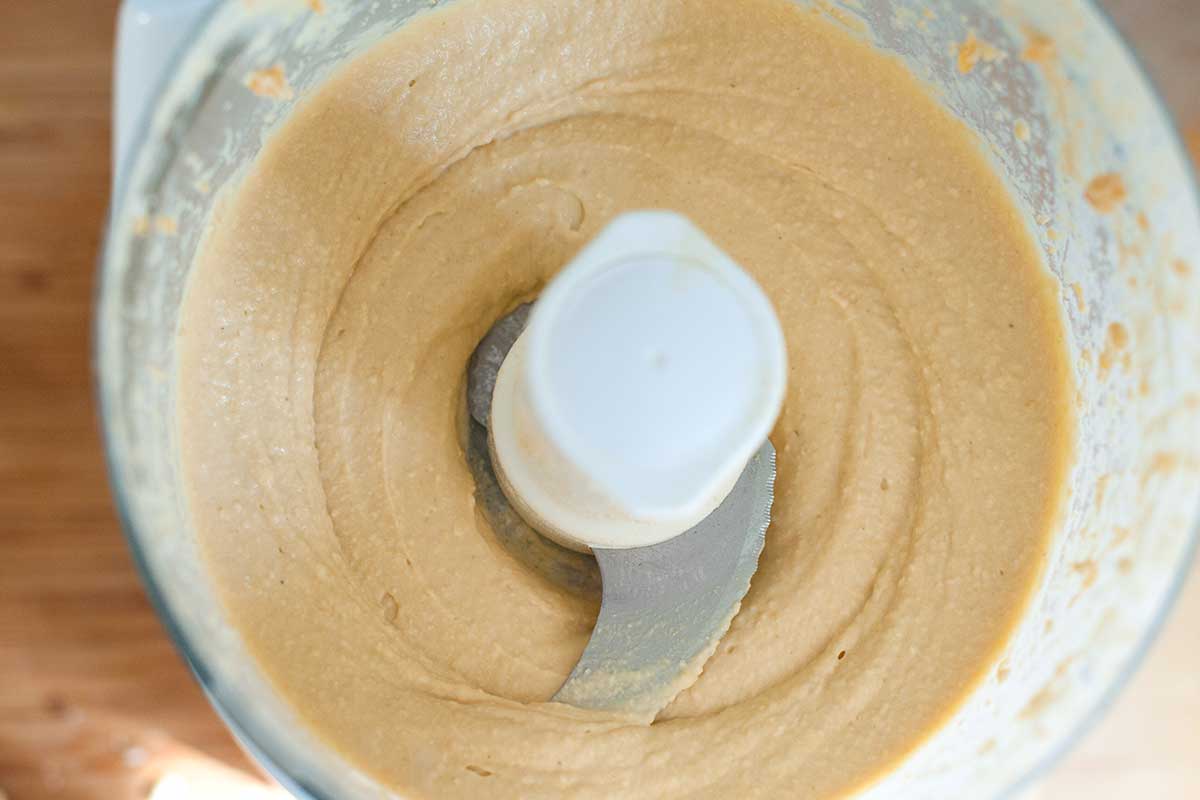 What is aquafaba? Aquafaba is the liquid in a can of chickpeas or the cooking liquid left after cooking dried chickpeas. This starchy liquid can be used for a variety of things (see our deep dive into aquafaba here). During the last step of making hummus, we like to add some kind of liquid. In our video, we use water, but you can absolutely use aquafaba instead.
When whipped, aquafaba turns light and fluffy, so it is perfect for making light and fluffy hummus. I do have one caution, though. Taste the aquafaba first. Depending on the seasoning you added when cooking chickpeas or the brand of canned chickpeas you've used, the liquid can be salty. This is okay, but you might want to hold back some salt when making the hummus until you've added the aquafaba. This way, you can make sure that you don't over salt.
Do You Need to Peel the Chickpeas?
Another trick for the smoothest hummus is to remove the skins of each chickpea. We've done it. For one can of chickpeas, you're looking at about ten minutes to remove all the skins. We really didn't want to add the extra time to our hummus recipe below, but just to make sure, we tried it both ways — skinless chickpeas and chickpeas right out of the can.
In the photo below, the spoon of hummus on the left used skinless chickpeas. The right came from chickpeas straight out the can.
You can see, even from this photo that the skinless chickpeas made for a slightly smoother hummus, but in our opinion it really wasn't enough of a difference to warrant ten minutes of skinning chickpeas.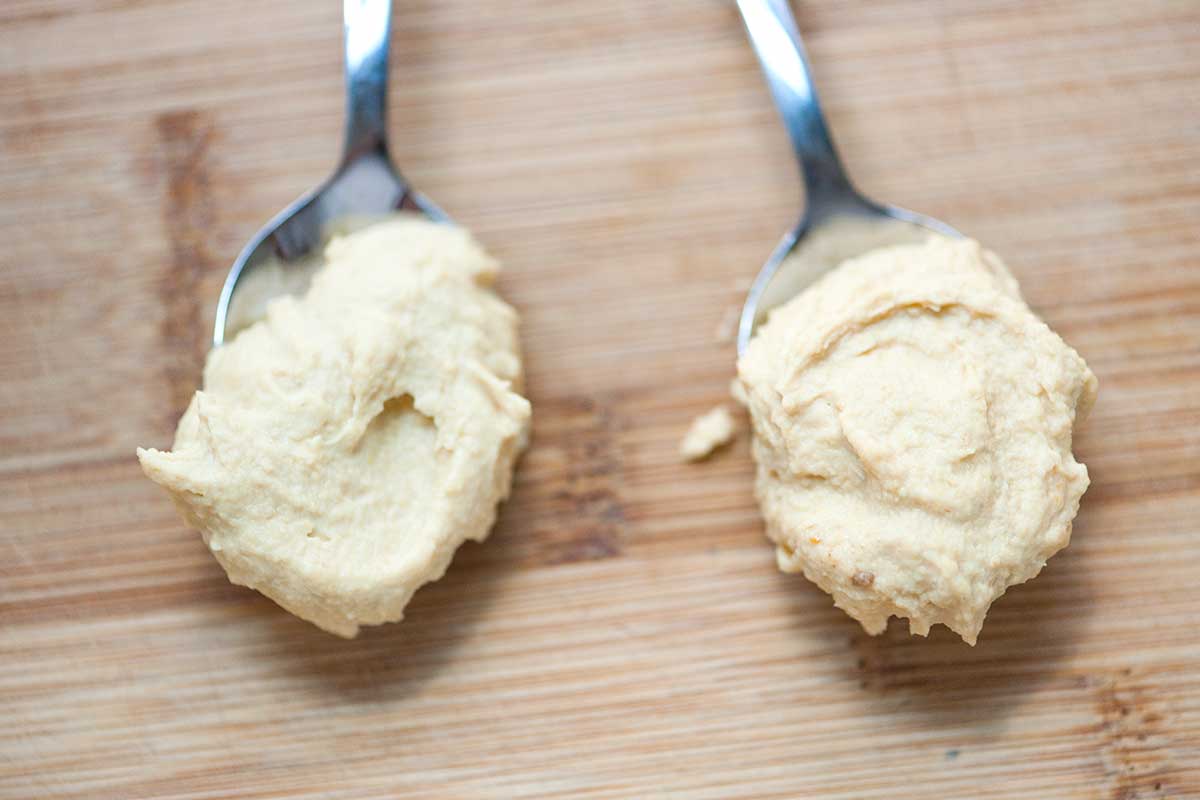 Did you know it's easy to cook dried chickpeas? You can use canned or home-cooked chickpeas for this hummus recipe. To see how we cook dried chickpeas, see our simple tutorial here. We have included three methods including how to do it in a slow cooker.
What Our Readers are Saying
If you don't believe that our recipe helps you achieve perfect hummus at home, take a look at what our readers are saying about the recipe! More reviews are in the comments section below.
"What a great recipe! My hummus turned out just perfect!" – Kelsey


"This is the best hummus recipe I have ever used." – Denise


"This recipe is exactly what it promises to be, better than store-bought. I'd go so far as to say it's the best hummus I've had and who would have thought it'd be so easy to make." – Gabriella


"I have made hummus forever and never, ever had this wonderful, creamy and delicious result. Thanks so much!" -Cindy
More Easy Hummus Recipes
Did you enjoy our easy hummus recipe? Might we suggest you take a look at more of our easy appetizer recipes.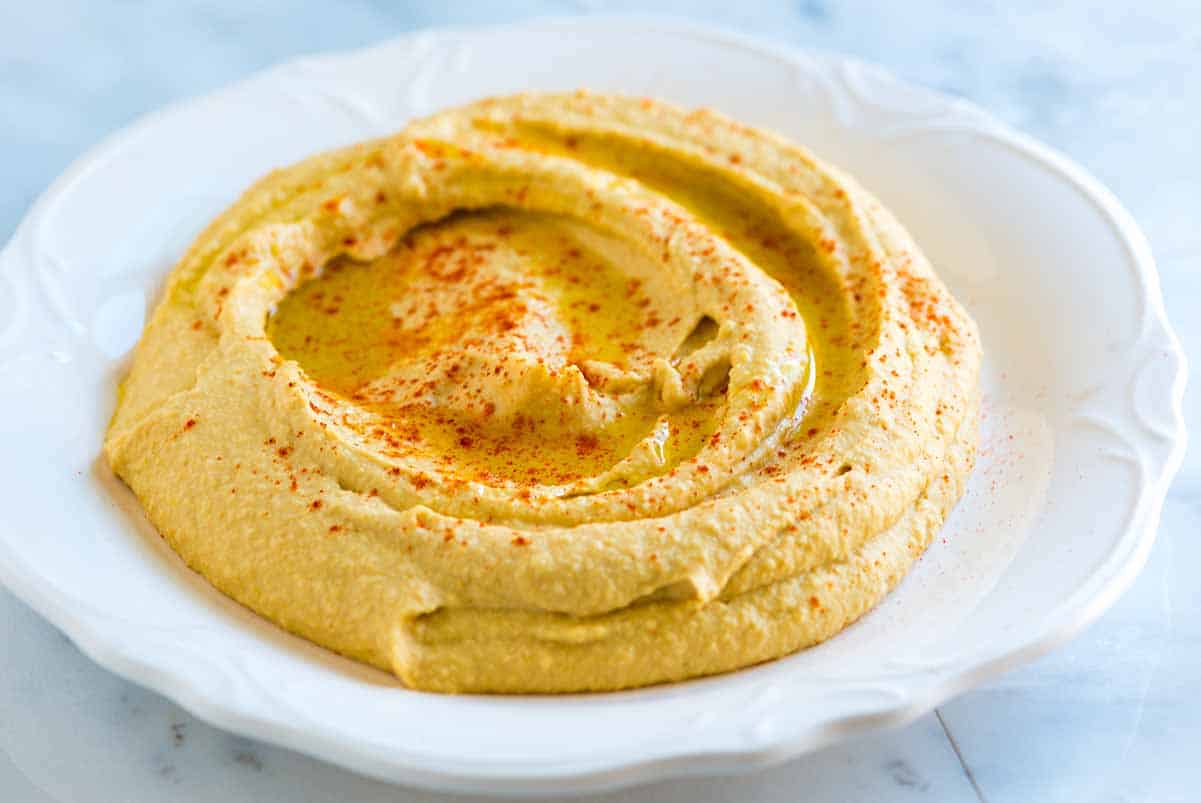 Easy Hummus (Better Than Store-Bought)
Homemade hummus is very easy to make and it tastes much better than anything you can buy at the store. If you don't have any tahini, a paste made from sesame seeds, you can try making it yourself (see our Easy Homemade Tahini Recipe) or leave it out. A chickpea purée without it is still quite delicious. Just add more olive oil. We love serving this with flatbread — here's our easy flatbread recipe from scratch.
Makes 6 servings or about 1 1/2 cups
Watch Us Make the Recipe
You Will Need
1 (15-ounce) can chickpeas or 1 ½ cups (250 grams) cooked chickpeas
1/4 cup (60 ml) fresh lemon juice, 1 large lemon
1/4 cup (60 ml) well-stirred tahini, see our homemade tahini recipe
1 small garlic clove, minced
2 tablespoons (30 ml) extra-virgin olive oil, plus more for serving
1/2 teaspoon ground cumin
Salt to taste
2 to 3 tablespoons (30 to 45 ml) water or aquafaba, see notes
Dash ground paprika or sumac, for serving
Directions
1In the bowl of a food processor, combine the tahini and lemon juice and process for 1 minute, scrape the sides and bottom of the bowl then process for 30 seconds more. This extra time helps "whip" or "cream" the tahini, making the hummus smooth and creamy.

2Add the olive oil, minced garlic, cumin, and a 1/2 teaspoon of salt to the whipped tahini and lemon juice. Process for 30 seconds, scrape the sides and bottom of the bowl then process another 30 seconds or until well blended. Open, drain, and rinse the chickpeas. Add half of the chickpeas to the food processor and process for 1 minute. Scrape sides and bottom of the bowl, then add remaining chickpeas and process until thick and quite smooth; 1 to 2 minutes.

3Most likely the hummus will be too thick or still have tiny bits of chickpea. To fix this, with the food processor turned on, slowly add 2 to 3 tablespoons of water until you reach the perfect consistency.

4Taste for salt and adjust as needed. Serve hummus with a drizzle of olive oil and dash of paprika. Store homemade hummus in an airtight container and refrigerate up to one week.
Adam and Joanne's Tips
How to Cook Chickpeas: You can use canned or home-cooked chickpeas for this recipe. To see how we cook dried chickpeas, see our simple tutorial here. We have included three methods including how to do it in a slow cooker.
If you love a strong garlic flavor in hummus, you might want to increase the garlic by a clove or you can add roasted garlic — here's how we roast garlic.
Aquafaba is the starchy liquid in a can of beans (or the bean cooking liquid). You can use this instead of water in the last step of the recipe. Before using, taste the liquid to see how salty it is. If it is salty, consider holding some of the salt called for in the ingredient list back, and then season to taste after adding the aquafaba.
Nutrition facts: The nutrition facts provided below are estimates. We have used the USDA Supertracker recipe calculator to calculate approximate values.
Nutrition Per Serving
Serving Size
1/4 cup
/
Calories
190
/
Protein
6 g
/
Carbohydrate
18 g
/
Dietary Fiber
5 g
/
Total Sugars
3 g
/
Total Fat
11 g
/
Saturated Fat
2 g
/
Cholesterol
0 mg