Oyster mignonette made with rice wine vinegar, shallot, fresh herbs, and pepper. It's gorgeous and tastes fantastic with fresh raw oysters. Bonus, it's even delicious spooned over grilled meats.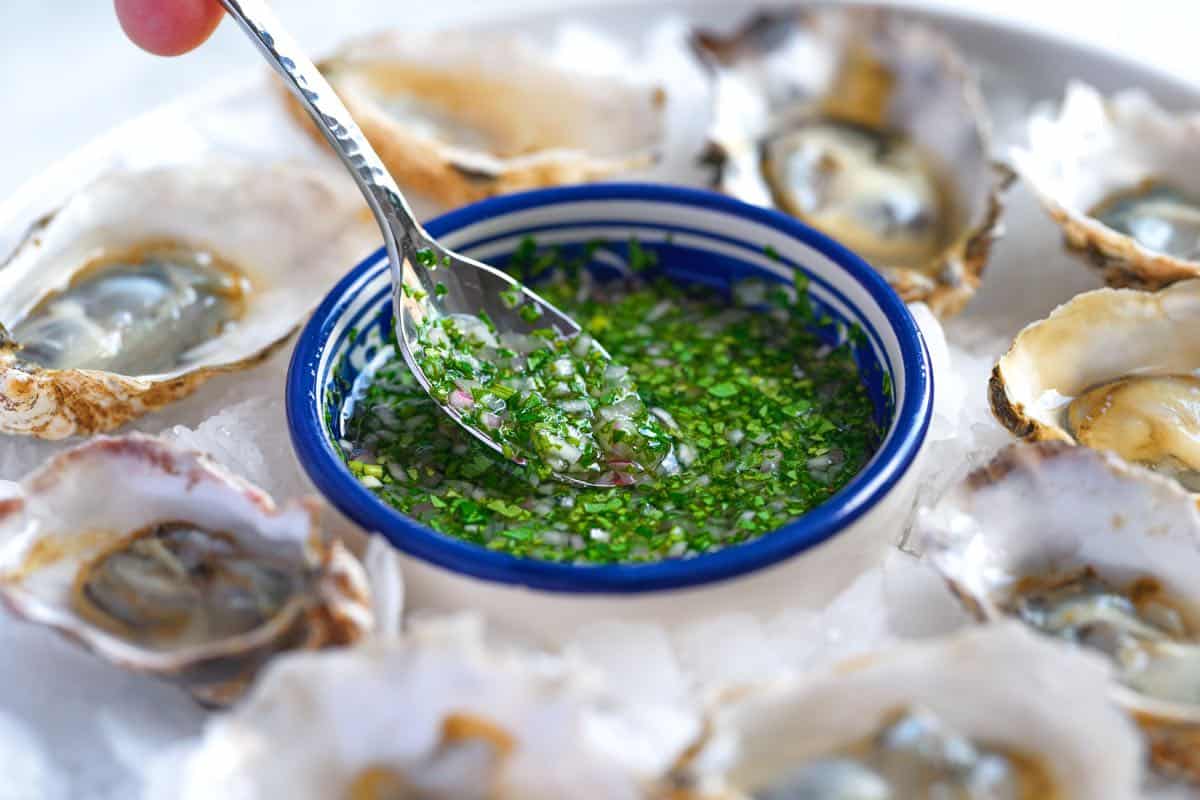 We shared our essential mignonette sauce a few weeks back, combining red wine vinegar, shallot, and pepper. Now we want to introduce you to this herby mignonette. It's excellent with fresh raw oysters and doubles as a reverse marinade for grilled or baked meats. (A reverse marinade is soaking meat in a sauce after it's cooked–a common practice when grilling.)
This sauce is all about balance. Unlike our basic recipe, which is more acidic thanks to vinegar, this mignonette combines seasoned and unseasoned rice vinegar.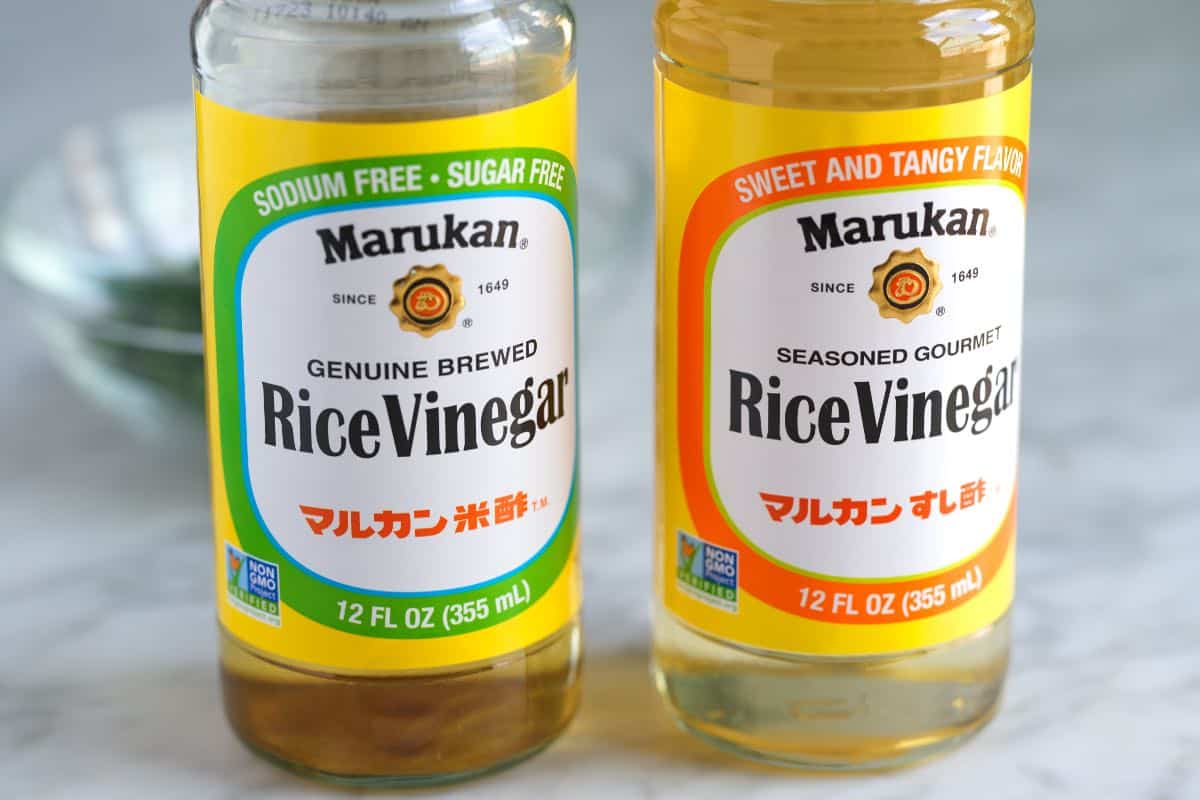 The unseasoned vinegar is more acidic (like red wine vinegar), while seasoned vinegar adds salt and sugar, adding a sweeter note to the sauce. This extra sweet note works beautifully for oysters, especially the slightly sweeter, less salty oysters we get here on the West Coast of the US. (I'd wager this would be excellent with just about any oyster you can access.)
Like other mignonette recipes, this lasts for a while in the fridge. It gets better and better over time since the shallots have time to mellow and pickle. Keep in mind that the green herbs will lose some vibrancy over time. I'm not too concerned about it, but if you'd like a bright green pop of color (like in our photos), you can always add the herbs an hour or so before serving, but make the base mignonette a few days in advance.
Making the sauce is simple. Finely mince shallot and herbs — take your time when mincing so that everything is tiny. Then mix in both kinds of vinegar (seasoned and unseasoned) and a pinch of pepper.
This mignonette recipe comes from Richard Hattaway, a renowned chef and friend. We already have a classic recipe on the blog, but we love how he incorporated rice wine vinegar and herbs for this version. It's beautiful and tastes fantastic.
Frequently Asked Questions
How is mignonette sauce typically used? I serve this sauce alongside freshly shucked oysters. You can serve this sauce alone or provide additional options for your friends and family, like fresh lemon wedges and this classic mignonette.
Can I customize the flavors in the sauce? Of course, this is your sauce, after all. As written, this sauce tastes sweet and herby. If you'd prefer a more acidic sauce, reduce the seasoned rice vinegar a bit (that's what's making the sauce taste sweet.) We love tarragon, but if this isn't your favorite herb, you can leave it out or substitute it for more parsley.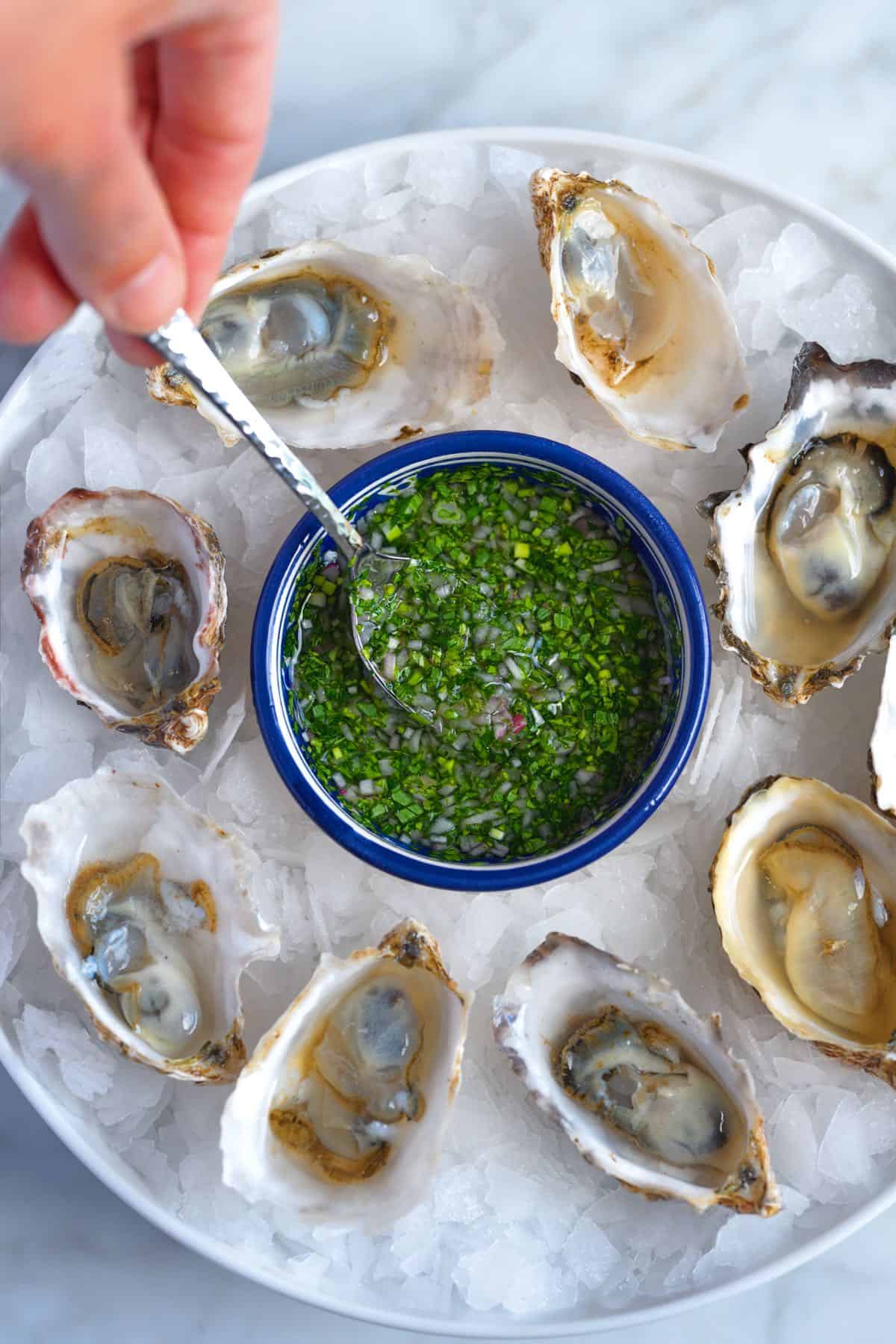 How long does mignonette sauce last? Quite a while, but be mindful that the bright green color of the herbs will dull over time. I've had this in the fridge for a week and still enjoyed it.
Can I use the sauce for other dishes besides seafood? Absolutely! Try spooning some sauce over cooked shrimp or fish. It's also delicious with grilled or seared meats like chicken and steak. Think of it like a chimichurri sauce or reverse marinade.
Herb Mignonette
Oyster mignonette made with rice wine vinegar, shallot, fresh herbs, and pepper. It's gorgeous and tastes fantastic with fresh raw oysters. Bonus, it's even delicious spooned over grilled meats. Scroll to the notes & tips section for an explanation of rice vinegar vs. seasoned rice vinegar as well as a DIY seasoned rice vinegar recipe if you do not have it on hand.
You Will Need
1 1/2 ounces (3 tablespoons) rice vinegar
3 ounces (6 tablespoons) seasoned rice vinegar
7 tablespoons minced shallot, 1 medium-to-large shallot
2 tablespoons minced parsley
2 tablespoons finely chopped tarragon
Pinch fresh ground black pepper
Directions
1Combine the rice vinegar, seasoned rice vinegar, shallot, parsley, tarragon, and pepper in a non-reactive bowl or glass jar. Taste, and adjust with more pepper. Remember that the vinegar will taste its strongest at first but will mellow as it sits with the shallots in the refrigerator.

2Refrigerate for at least an hour before serving with oysters so that the shallots have a chance to pickle and mellow. The mignonette will last up to a week in the refrigerator. It will mellow even more over time, but I enjoy that! If you taste the sauce after some time in the fridge, and find that it has lost its zestiness, add a splash of fresh vinegar.

3Shuck your oysters and serve with the mignonette sauce in a small ramekin. Place a small spoonful of the sauce (I go heavy on the shallots) and add to a raw oyster before eating. Then repeat!
Adam and Joanne's Tips
Rice Vinegar vs. Seasoned Rice Vinegar: Seasoned rice vinegar is plain rice vinegar with salt and sugar added. It's an excellent condiment to have on hand for marinades, sauces, and dressings. It is sold next to rice vinegar in most grocery stores.
Homemade Seasoned Rice Vinegar: Combine 1/2 cup unseasoned rice vinegar, 1/4 cup sugar, and one tablespoon of fine salt in a bowl. Let sit for five minutes, and then whisk until the sugar dissolves. Store in an airtight container at room temperature for up to 1 week.
Nutrition facts: The nutrition facts provided below are estimates. We have used the USDA database to calculate approximate values.
If you make this recipe, snap a photo and hashtag it #inspiredtaste — We love to see your creations on Instagram and Facebook! Find us: @inspiredtaste
Nutrition Per Serving
Serving Size
2 tablespoons
/
Calories
37
/
Total Fat
0.1g
/
Saturated Fat
0g
/
Cholesterol
0mg
/
Sodium
482.5mg
/
Carbohydrate
8.6g
/
Dietary Fiber
0.6g
/
Total Sugar
5.9g
/
Protein
0.5g