Easy sweet potato pie with fresh sweet potatoes, a short list of ingredients, and our favorite foolproof pie crust. It's fantastic, especially when topped with homemade whipped cream. Your family and friends will thank you for making this incredible pie.
Watch the video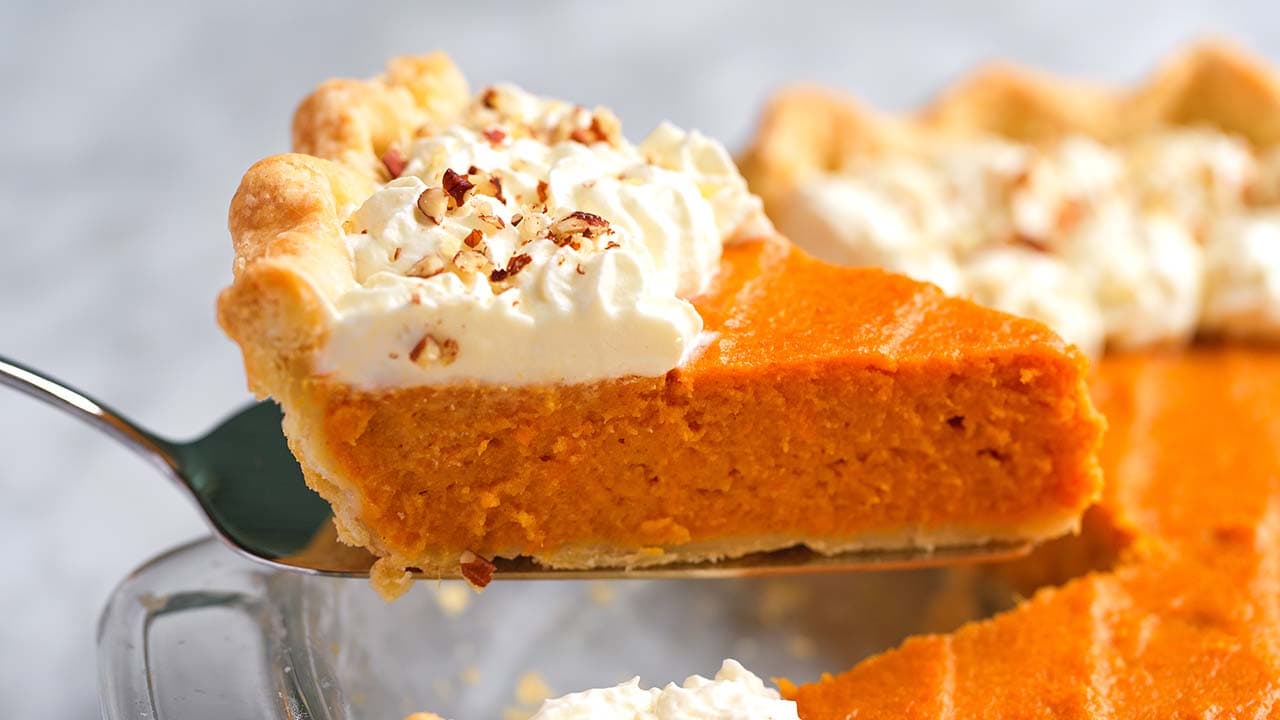 ⭐️ Try our favorite apple pie recipe with over 90 happy reviews!
3 Secrets for the best sweet potato pie
Steam the sweet potatoes. Steaming is a foolproof method for perfectly cooked, soft, and silky sweet potatoes.
Chill the baked pie overnight. A night in the fridge does wonders for the texture of our pie, making this the perfect make-ahead dessert!
Use our whipped topping. Whipped cream made with a bit of sour cream perfectly balances the sweet spice of the pie and makes a showstopper on your holiday table.
Adam and I love this sweet potato pie recipe, and now, after telling you all about it, we both want to make it again. We learned how to make it best from our friend Richard. He grew up in the South and so I knew he was the right person to talk to about it.
Key ingredients
Steamed sweet potatoes. We steam them whole with the peels left on for 40 to 50 minutes or until tender, and then cool before peeling (it comes off easily). This guarantees the best creamy texture.
Steaming prevents our potatoes from becoming waterlogged. Another option is to bake them, see recipe tips below. We do not recommend boiling sweet potatoes for this pie.
Our sweet potato pie filling is creamy and classic, with a perfect balance of ingredients. We use a lot of melted butter (8 tablespoons!), eggs, and milk to make our filling creamy. We don't use too many spices, so the sweet potato flavor can shine through. The molasses in brown sugar complements the sweet potatoes nicely.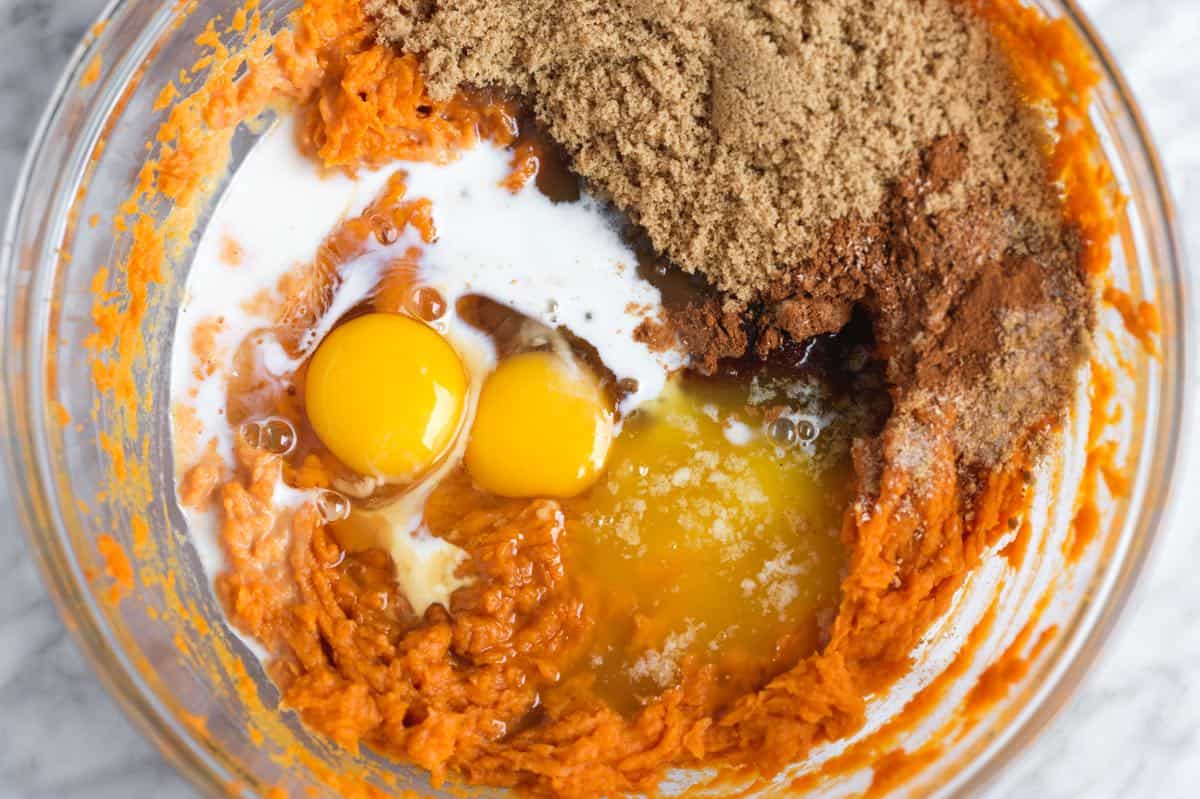 ⭐️ We prefer milk over condensed milk or cream for this pie. I love the lighter, fluffy texture we get from milk (we do use cream in pumpkin pie for more of a rich texture).
For the pie crust, look at this all-butter flaky pie crust. It's the homemade crust we recommend for all our pies on Inspired Taste. To make sweet potato pie without a crust, pour the filling into a baking dish and bake it until a toothpick inserted about 2 inches from the crust comes out clean.
Quick overview. Making the best sweet potato pie
To make sweet potato pie, follow these simple steps:
Cook sweet potatoes (steam or bake).
Beat sweet potatoes, butter, brown sugar, milk, eggs, and spices (I use a handheld electric mixer).
Scoop filling into crust.
Bake, cool, and chill overnight (chilling overnight improves the pie's texture).
Serve with our whipped topping.
Here's the pie filling going into our crust — it's raw, not blind-baked. See how the filling looks a little grainy, almost curdled? That's totally normal. Blind-baking the crust is up to you. We prefer the softer texture where the filling and crust meet when using raw dough. For a firmer texture, you can blind bake.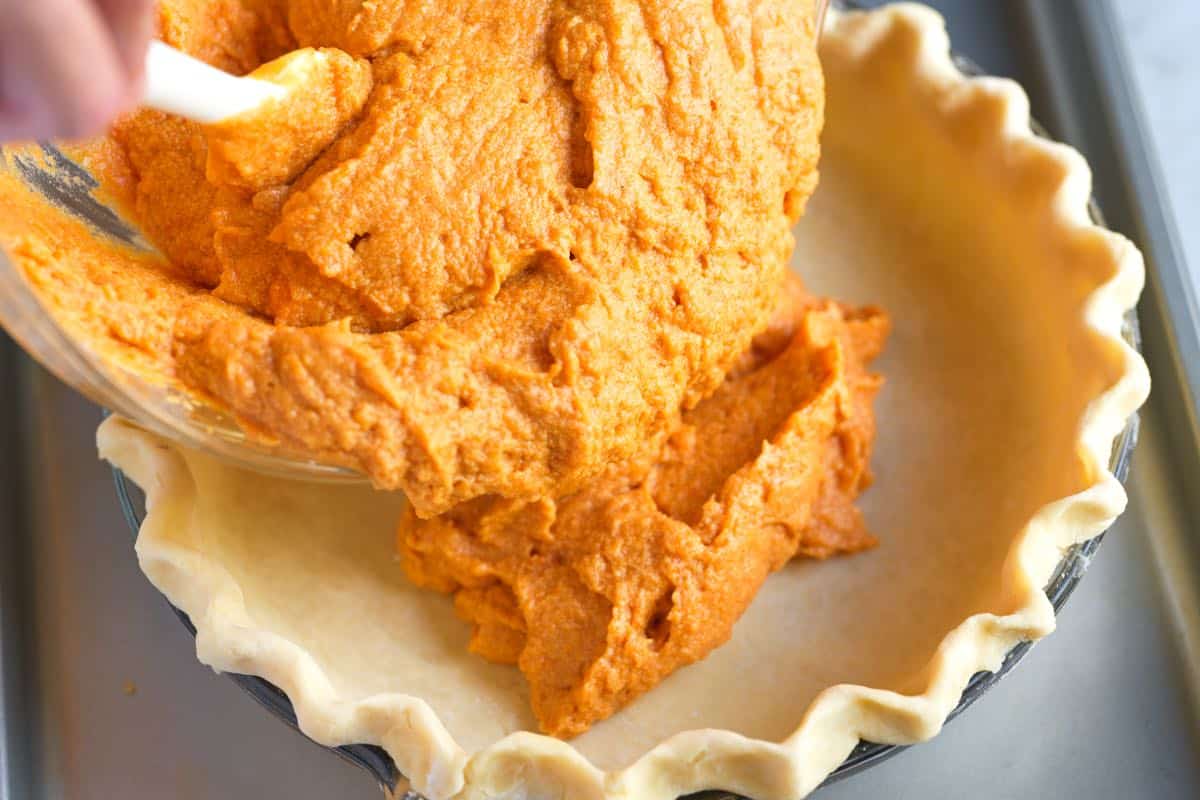 I love this traditional Southern pie topped with our not-so-traditional sour cream whipped cream (phenomenal) and a dusting of chopped pecans. As much as I love pumpkin pie, this year for Thanksgiving, we're bringing sweet potato pie, and I think you should, too.
Having grown up eating pie made with pumpkin, I'm so happy that we've finally been introduced to this holiday-worthy pie made with sweet potatoes.
How long to bake sweet potato pie?
Bake sweet potato pie in a 350° F oven for around 50 minutes. Depending on your oven, you might need a bit longer.
Then it needs to cool to room temperature, and if you have the time, chill in the refrigerator overnight. Chilling overnight helps with that shiny top and the smooth, creamy filling.
How to make our favorite whipped cream topping
I've fallen hard for this sour cream spiked whipped cream. We beat cream until soft peaks, add some sour cream, and then continue to beat until stiff peaks form. The sour cream does two things:
Sour cream adds a tangy, acidic note to the whipped cream, which balances the sweet filling of our pie nicely.
Sour cream helps stabilize our whipped cream, which means it's more pipable and holds its shape longer than traditional whipped cream.
I use a star piping tip to add little cream dots to the chilled pie — this looks beautiful and helps hide cracks between the filling and pie crust (a common problem with sweet potato and pumpkin pie).
Why make sweet potato pie over pumpkin pie?
Pumpkin and sweet potato pies are custard pies with similar crusts and fillings. We love them both, and make one over the other depending on what we are looking for.
Flavor: Pumpkin pie has a milder, nuttier flavor, while sweet potato pie has a sweeter, more pronounced flavor.
Texture: Pumpkin pie is denser and creamier, while sweet potato pie is lighter and airier.
Spices: Pumpkin pies typically have more spices. Sweet potato pies often have fewer or a smaller amount of spices.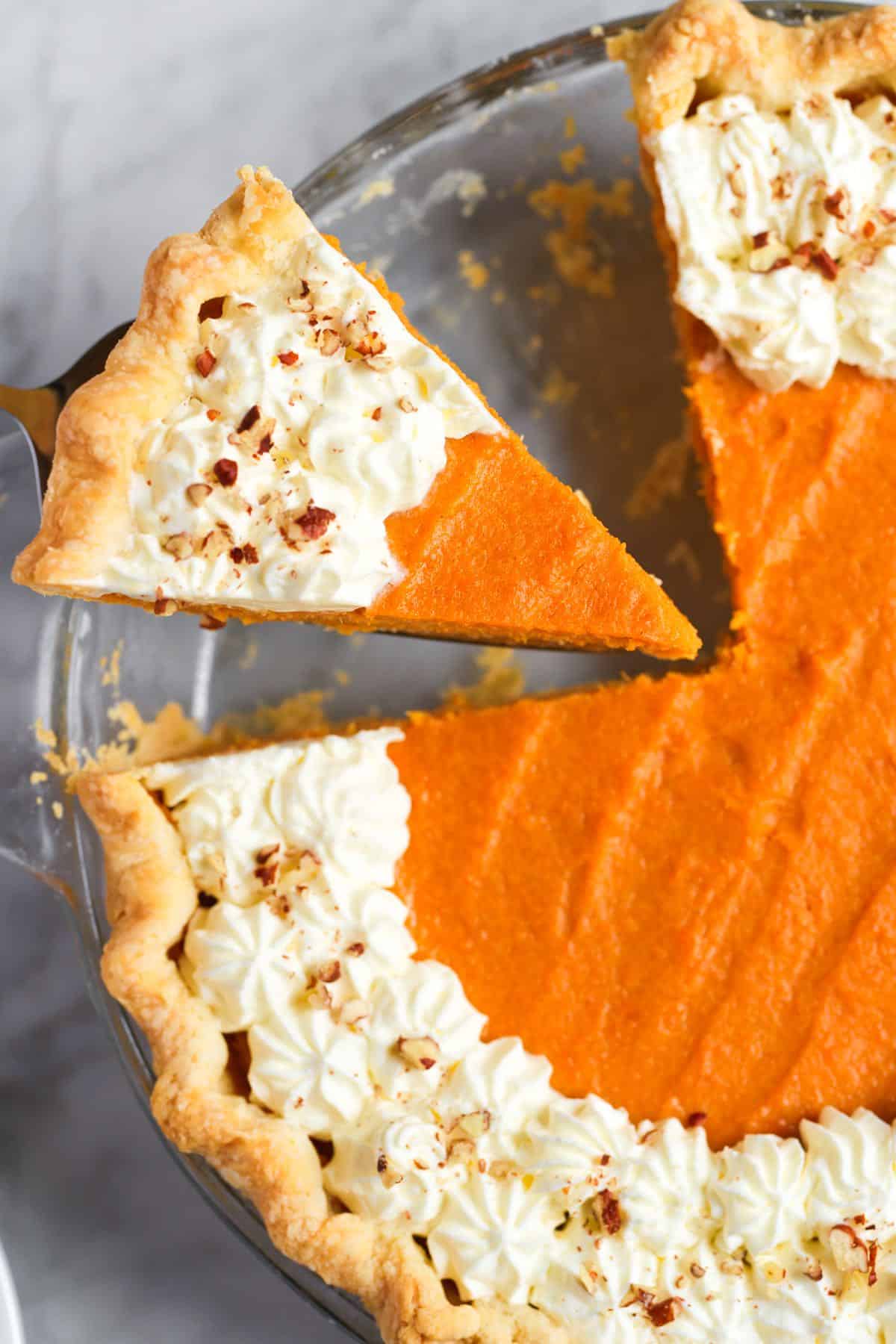 What kind of sweet potatoes should I use for pie?
We use fresh sweet potatoes — sometimes sold as yams. It doesn't matter if the label says sweet potato or yam as long as you buy medium-to-large potatoes with orange flesh. Look for Beauregard, Jewel, and Garnet sweet potatoes.
Can I use canned sweet potatoes?
Yes, you can make sweet potato pie with canned sweet potatoes. However, we much prefer using fresh. If you do use canned, use sweet potato puree. You will need 20 ounces or two generous cups for our recipe.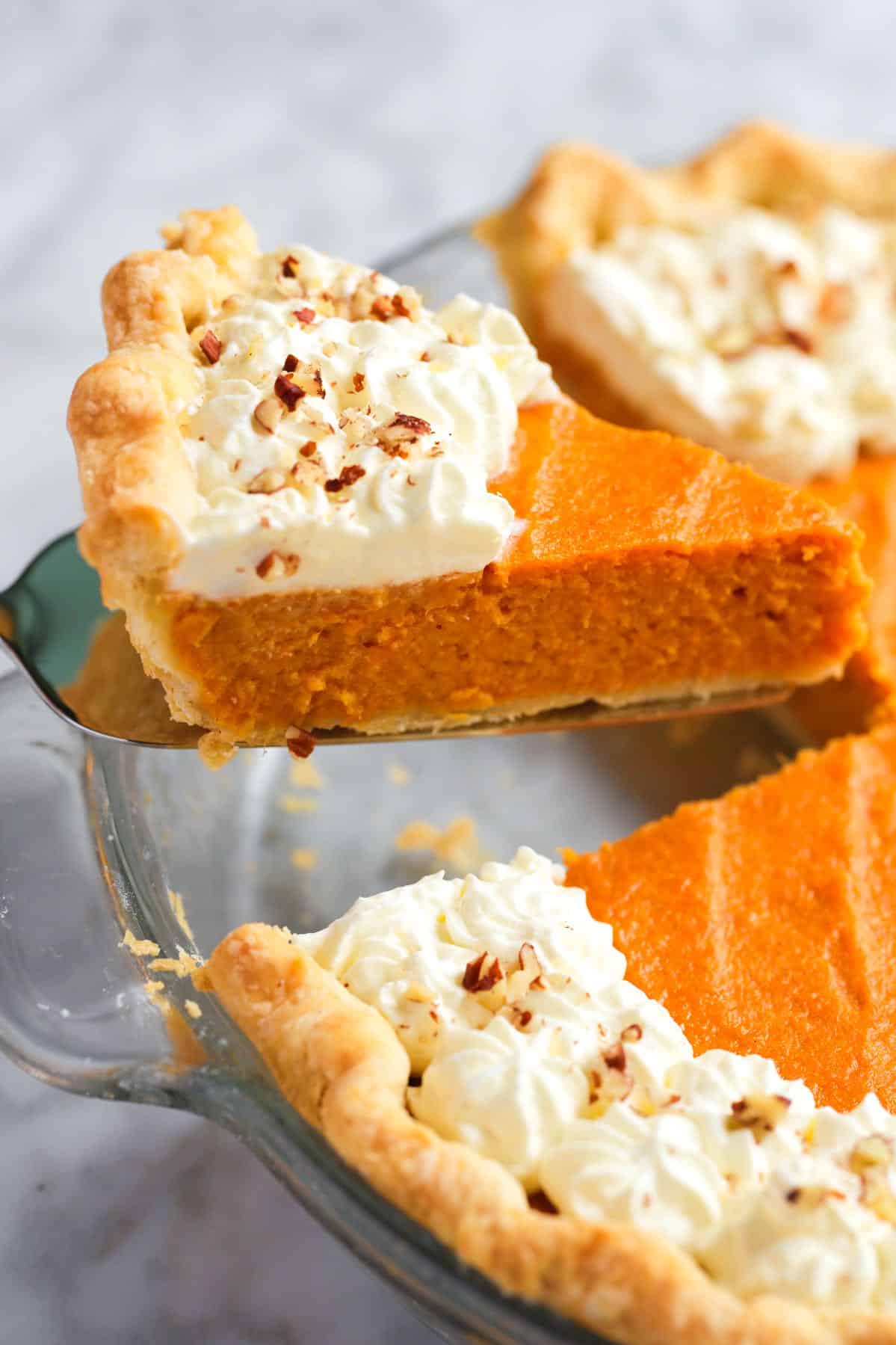 Preventing sinking and cracks
To prevent your sweet potato pie from cracking, do your best to avoid over baking the pie. Sweet potato pie is done when the filling is no longer wet, and a toothpick inserted about 2 inches from the crust comes out clean. It might still be jiggly and will look risen.
As the pie cools, the middle will sink a bit. Do your best to cool the pie to room temperature slowly — one way to do this is to leave the pie in your oven turned off with the door open.
How long can I make this pie ahead of time?
Sweet potato pie will last in your refrigerator for up to three days and in the freezer for up to three months. Leave the whipped topping off the pie until the day of serving. The whipped topping should last longer, but we recommend adding it up to 24 hours before serving.
To store the pie, let it cool completely, and then wrap it tightly in plastic wrap before placing it into the fridge. If you are freezing the pie, wrap it in foil before freezing. Thaw frozen sweet potato pie overnight in the fridge.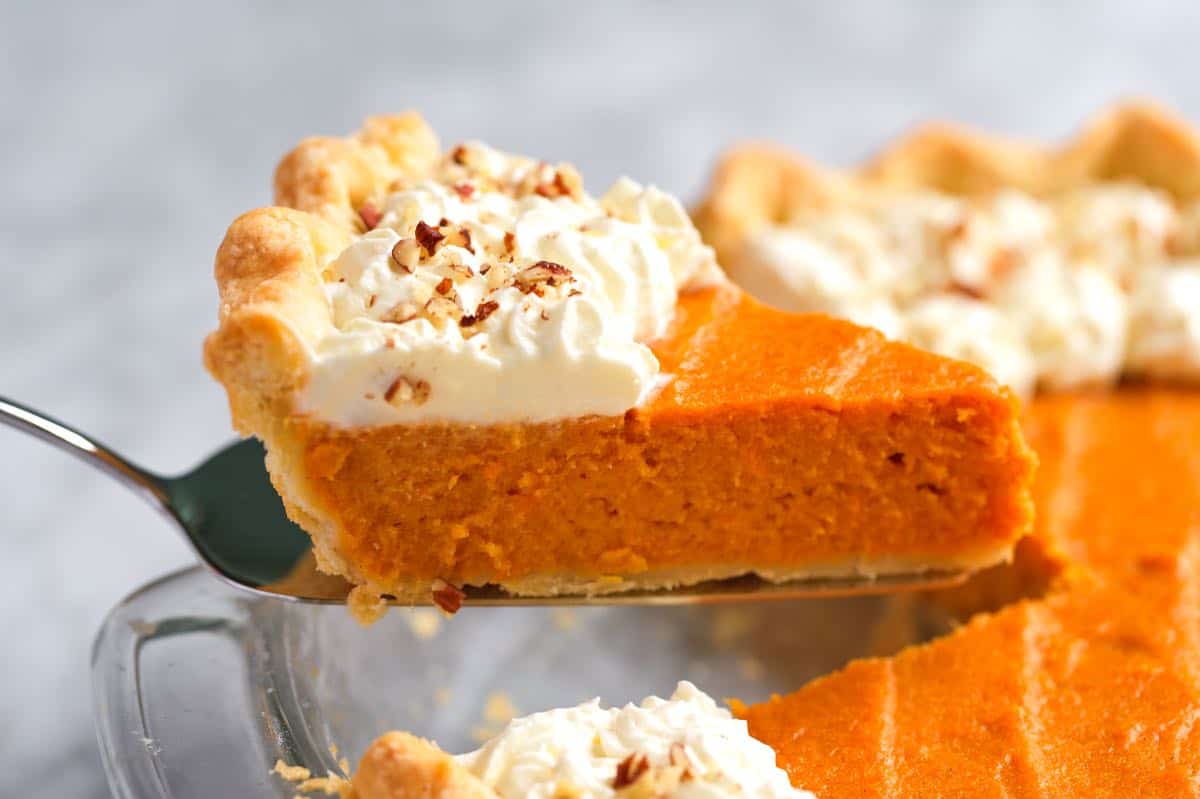 Easy Sweet Potato Pie
We love this easy sweet potato pie recipe! It's flavorful, creamy inside, and topped with a lovely whipped cream. We keep this more traditional by holding back on the spices. You'll love how the sweet potato flavor comes through.
We prefer to steam our sweet potatoes for this pie. Steaming is easy and is a little easier when it comes to making sure the entire potato is cooked through, but not caramelized. If you'd prefer to bake them, we've included tips below.
1 (9-inch) pie, 8 servings
Watch Us Make the Recipe
You Will Need
Sweet Potato Pie
Chilled pie dough for one single-crust 9-inch pie; use half batch of this pie crust recipe
2 large sweet potatoes or yams (orange flesh), 1 ½ pounds
8 tablespoons (115 grams) butter, melted
3/4 cup (150 grams) brown sugar
1/2 cup (120 ml) milk
2 large eggs
1 teaspoon vanilla extract
1/4 teaspoon grated nutmeg
1/4 teaspoon ground cinnamon
1/4 teaspoon ground ginger
1/4 teaspoon fine sea salt; omit if using salted butter
Sour Cream Whipped Cream
1 ½ cups (355 ml) chilled heavy cream
1 tablespoon powdered sugar, or more to taste
6 tablespoons (90 grams) sour cream
Directions
Cook Sweet Potatoes

1Fill a large pot with 2 to 3 inches of water and bring to a simmer. Insert a steamer basket inside the pot. Place the sweet potatoes into the steamer basket, lower the heat to maintain a steady simmer, and cover the pot with a lid.

2Steam until the sweet potatoes are tender when pierced with a fork, 35 to 45 minutes. Allow the sweet potatoes to cool completely.

3Make-ahead: Wrap and store steamed sweet potatoes for up to 2 days in the fridge.
Roll Out Crust

1Lightly grease a 9-inch pie plate (pie dish).

2Roll out the dough to be two inches larger than your pie dish (I use an 8-inch or 9-inch pie dish). Gently press the dough down into the dish to line the bottom and sides. (Be careful not to pull or stretch the dough). Trim dough to within 1/2-inch of the dish edge.

3Fold the edges of the dough underneath itself, creating a thicker, 1/4-inch border that rests on the lip of the dish. Crimp edges. (We do this in our pie crust recipe video). Refrigerate until you are ready to bake the pie.
Make Pie Filling

1When cooled, remove the skin from sweet potatoes. You will need 20 ounces — 2 generous cups — of sweet potato flesh for the pie. Save unused sweet potato for another dish.

2Place sweet potatoes in a large mixing bowl and use a handheld mixer to beat them on medium-high speed for one minute. Add the melted butter, brown sugar, milk, eggs, vanilla, cinnamon, nutmeg, ginger, and salt.

3Mix on a low speed until blended, then increase the speed to medium-high and mix for two minutes. The mixture may look grainy, but this is okay.
Bake Pie

1Preheat the oven to 350°F (176°C).

2Place pie dish with crust onto a baking sheet. Scoop batter into the prepared pie shell and smooth out the top. Bake until the filling is set and a toothpick or thin knife plunged it into the pie, about 2 inches from the edge, comes out mostly clean. Rotate once or twice during baking. The pie will bake 55 to 60 minutes.

3Let cool to room temperature, and then refrigerate overnight. As it cools, the middle of the pie will fall slightly. Do your best to cool the pie to room temperature slowly — one way to do this is to leave the pie in your oven turned off with the door open.
Whipped Cream Topping

1Pour the chilled cream into a large mixing bowl along with the powdered sugar. Using a hand mixer, begin beating the cream at a low speed. As the cream starts to foam and bubble, gradually increase the speed to medium-high.

2Continue beating the cream at medium-high speed until soft peaks form — this occurs when the beaters are lifted, and the cream peaks gently flop over.

3Once soft peaks have formed, add the sour cream to the mixing bowl. Continue beating the cream on medium-high speed until it thickens and the peaks stand tall and firm when the beaters are lifted. Spread or pipe the whipped cream onto the pie. If there are any cracks between the crust and filling, use the whipped cream to cover them.
Adam and Joanne's Tips
To bake sweet potatoes for sweet potato pie, scrub, pierce, and bake them at 400°F (205°C) for 45-50 minutes until tender.
Nutrition facts: The nutrition facts provided below are estimates. We have used the USDA database to calculate approximate values. We did not include the whipped cream topping.
Nutrition Per Serving
Serving Size
1 slice, 8 total
/
Calories
407
/
Total Fat
24.9g
/
Saturated Fat
15.1g
/
Cholesterol
109.1mg
/
Sodium
196.8mg
/
Carbohydrate
41.8g
/
Dietary Fiber
1.6g
/
Total Sugars
21.3g
/
Protein
4.9g