How to make chilled pea soup with shrimp, mint and lime. Jump to the Chilled Pea Soup Recipe or read on to see our thoughts on making it.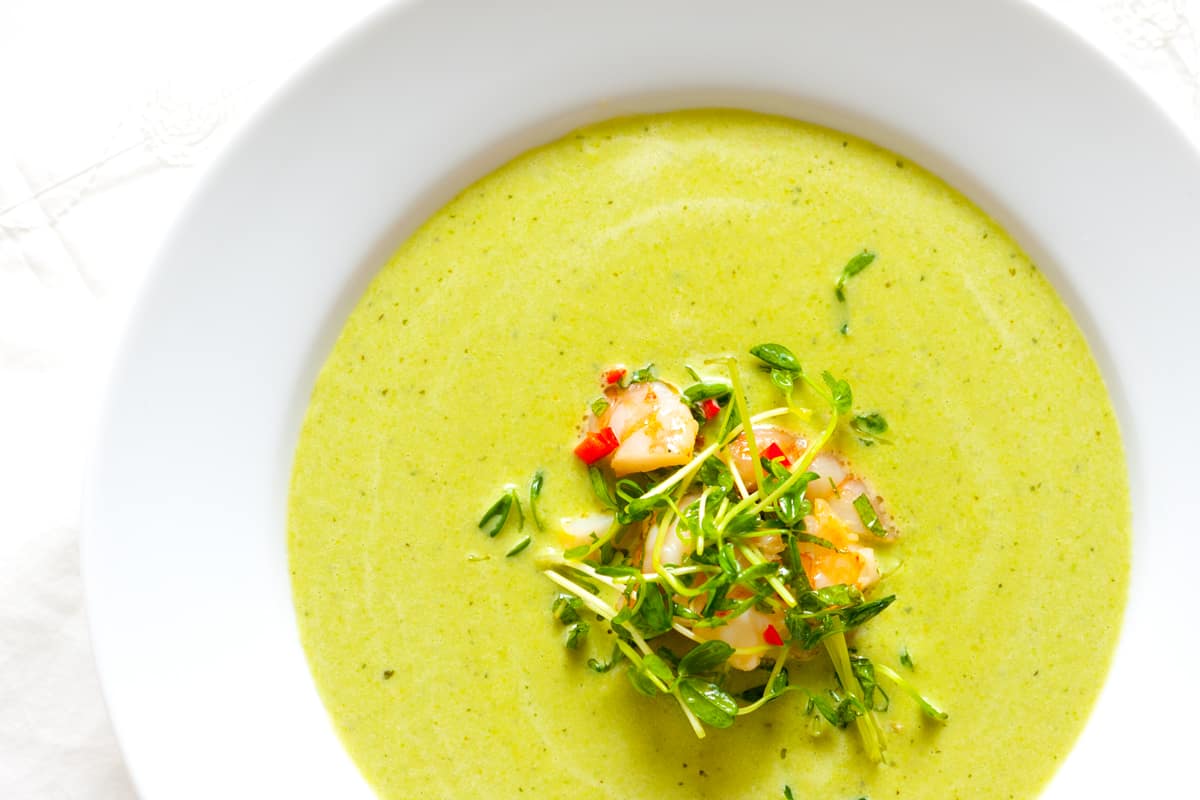 YOU MAY ALSO LIKE: You wouldn't think that three ingredients — butter, onion, and tomato — can come together to make such a velvety and delicious tomato soup, but let me tell you. They can. Jump to the Tomato Soup Recipe.
The kitchen is our therapy, it always has been. Food is kind. The world outside our kitchen can often seem unkind and full of too many questions without answers. But, inside our small kitchen, it is happy and makes sense. On a day when outside seemed too much, we stayed in to make this pea soup. It was everything we needed and more; we talked, we drank wine, we laughed and even wiggled our hips a bit when our favorite songs played through the speakers.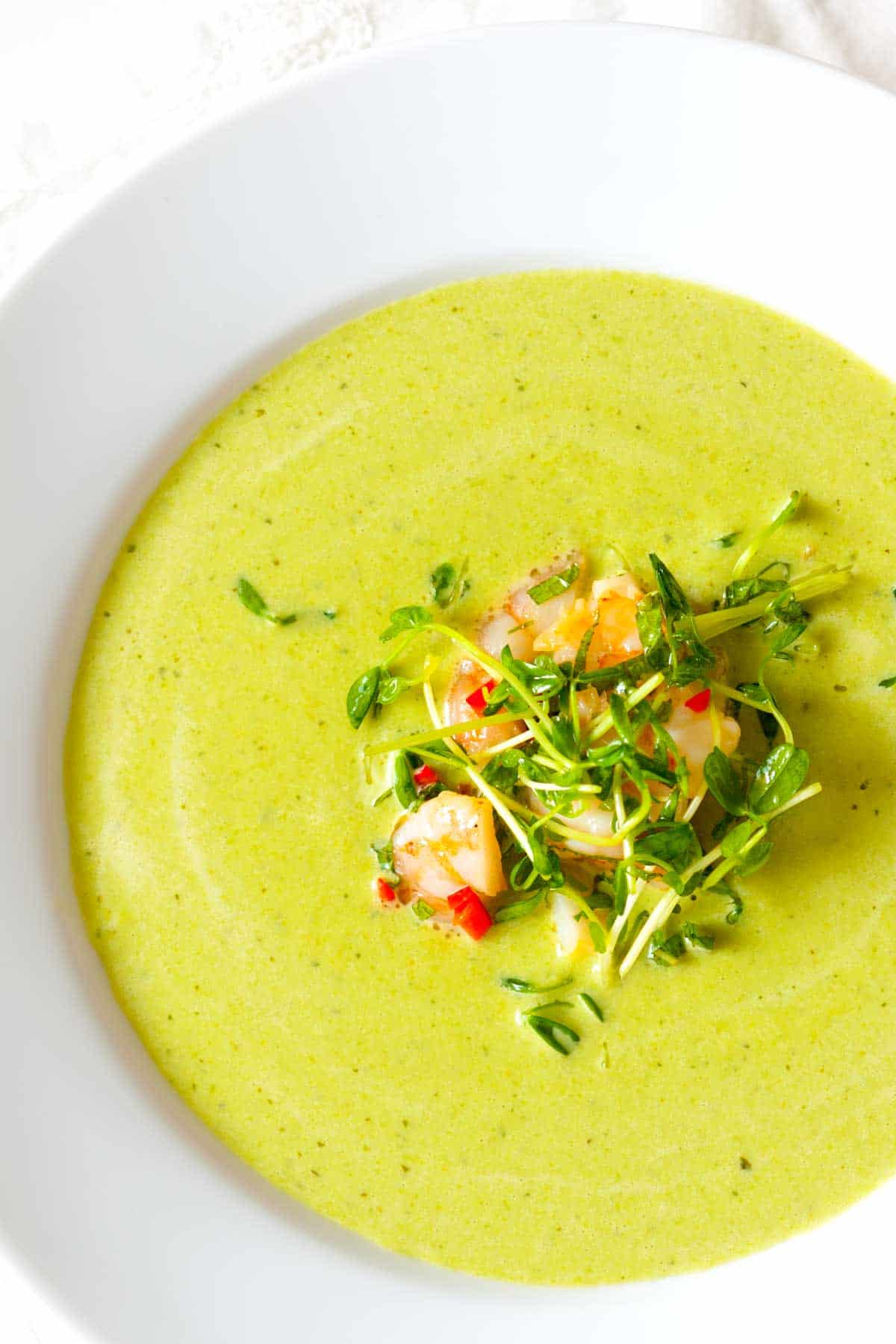 The soup comes together in minutes. It's delicious hot, but absolute perfect cold. When it's chilled, we add a big handful of roasted shrimp (click for recipe), greens, mint and lime in the middle.
YOU MAY ALSO LIKE: Thanks to artichokes, lemon and arugula this pasta isn't heavy, but still has a little creaminess from goat cheese and just a touch of cream. Jump to the Goat Cheese and Artichoke Pasta Recipe.
Recipe updated, originally posted August 2011. Since posting this in 2011, we have tweaked the recipe to be more clear. – Adam and Joanne
Chilled Pea Soup Recipe with Shrimp
This soup is best served cold, but it is quite delicious hot. We roast the shrimp for this — you can see how we do it by looking at our roasted shrimp recipe.
Makes approximately 4 servings
You Will Need
Pea Soup
1/2 cup sliced shallots (1 to 2 large shallots)
1/4 cup sliced garlic (4 to 6 cloves)
1 tablespoon coriander seeds, toasted
1 Anaheim pepper, sliced, seeds and stem included
4 cups shelled English peas or thawed frozen peas
3 1/2 cups creme fraiche
1/4 cup packed whole mint leaves
Salt and fresh ground black pepper
For Serving
2 cups cooked shrimp, see our roasted shrimp recipe
1/4 cup finely sliced mint leaves
Extra-virgin olive oil
2 limes, zested and juiced
1/2 cup pea shoots
1 red chili, minced, optional
Salt and fresh ground black pepper
Directions
Make Soup

1Bring a large pot of salted water to a boil over medium heat. Add the shallots, garlic, coriander seeds and sliced pepper. Bring the water back to a boil then add the peas and cook until the peas are tender but not mushy, about 45 seconds.

2Using a slotted spoon or spider, add the pea mixture to a blender with about 1/2 cup of the liquid. Add 3 to 4 grinds of fresh black pepper, the the creme fraiche and mint leaves. Puree until smooth, adding more liquid as needed.

3Add soup to a bowl set over a larger bowl filled with ice water. Stir the soup until chilled. Or refrigerate until well chilled.
Serve Soup

1Toss the shrimp, a drizzle of olive oil, lemon zest, lime juice, pea shoots, chili and a sprinkle of salt and pepper together in a bowl.

2Taste the chilled soup and adjust with more salt and/or pepper as needed then divide between bowls. Add a handful of the shrimp salad to the middle of each bowl.