How to make our favorite open-faced avocado sandwiches with bacon and tomato. Jump to the Bacon, Tomato and Avocado Open-Faced Sandwiches or read on to see our tips for making it.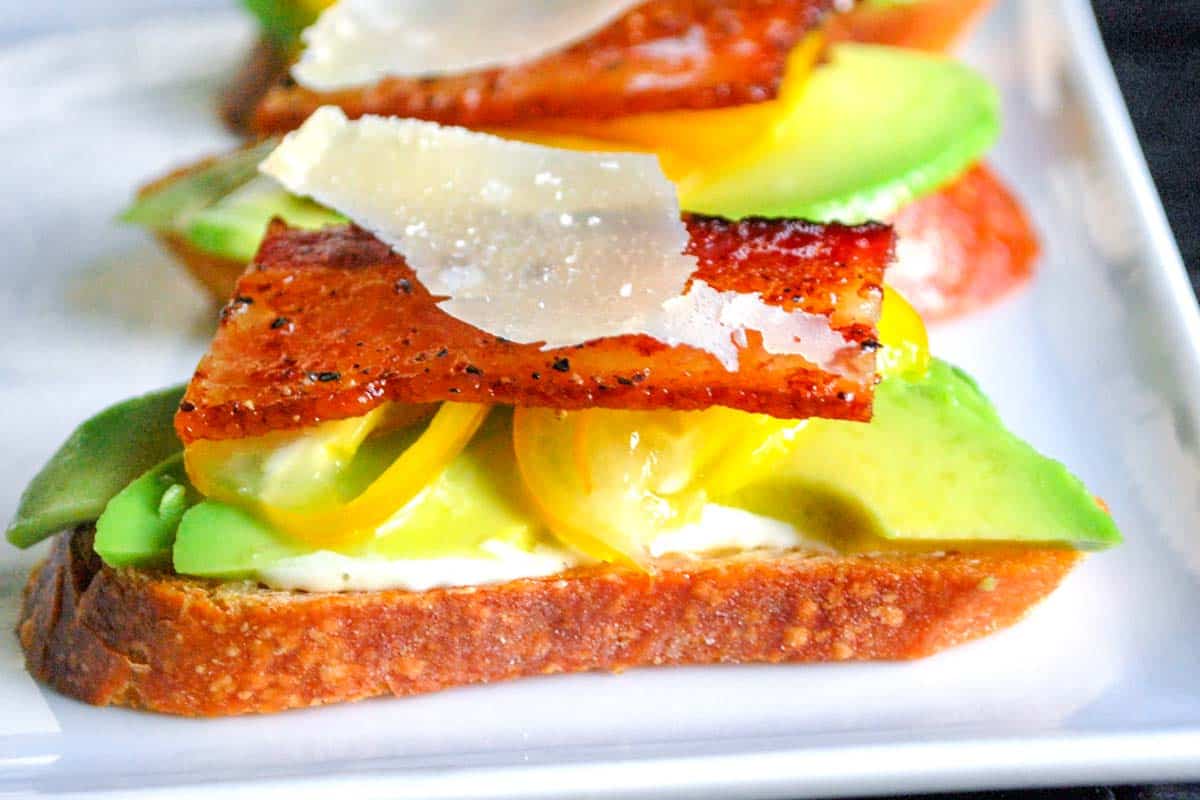 I love these little open-faced avocado sandwiches and eat them for lunch often — especially if we have good bacon in the house. We start with a sliced baguette and smear lemon mayonnaise on top. Then we add sliced avocado, tomato and a nice piece of bacon.
YOU MAY ALSO LIKE: We've eaten these tomato sandwiches twice in the last week. They're that good. Better yet, they're so simple. Jump to the Open-Faced Brie and Tomato Sandwich Recipe.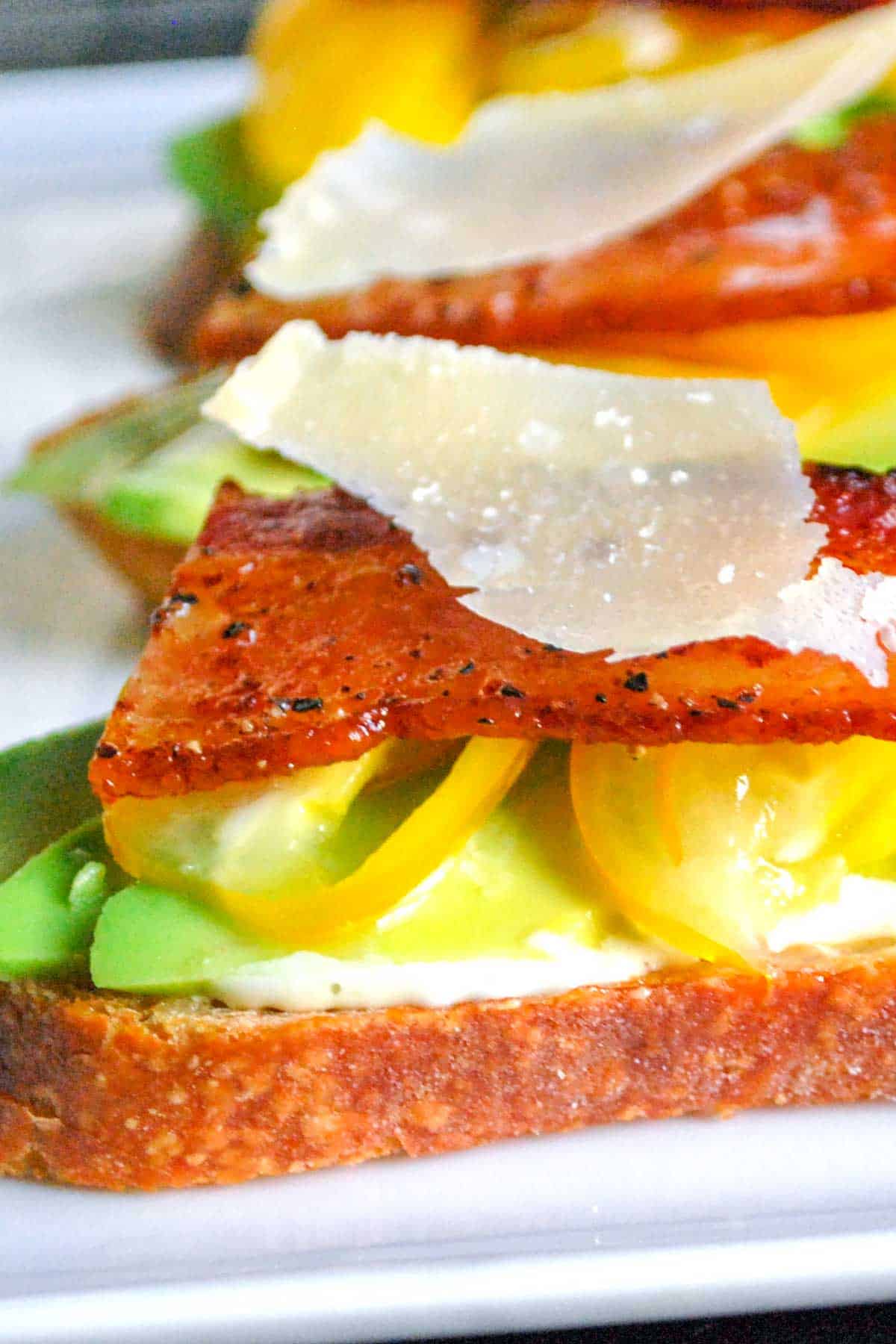 Whether you make your own homemade mayonnaise (click for our recipe) or start with store-bought, we love adding extra flavor with garlic and lemon. When it comes to cooking bacon, we prefer to bake it. It's hands-off.
YOU MAY ALSO LIKE: There really is only one way we cook bacon. We bake bacon in the oven. Jump to our recipe showing you How to Bake Bacon.
Recipe updated, originally posted May 2010. Since posting this in 2010, we have tweaked the recipe to be more clear. – Adam and Joanne
Bacon, Tomato and Avocado Open-Faced Sandwiches
I love making these open-faced, but you can easily swap the baguette for a different bread and turn these little avocado sandwiches into full-size. We bake our bacon — to see how, take a look at our tutorial for how to bake bacon perfectly every time.
Makes 12 small sandwiches
You Will Need
Sandwiches
12 slices French loaf, on diagonal
1 tablespoon extra-virgin olive oil
4 slices thick cut bacon
Lemon garlic mayonnaise, recipe below
1 ripe avocado, sliced
1 tablespoon lemon juice
12 cherry tomatoes, sliced
Parmigiano-Reggiano cheese
Salt and fresh ground black pepper
Lemon Garlic Mayonnaise
1/2 cup mayonnaise
1/4 teaspoon grated or finely minced garlic
1 teaspoon lemon zest
1 tablespoon lemon juice
Salt and fresh ground black pepper
Directions
Bake Bacon

1Position a rack in the lower third of the oven. Heat the oven to 400 degrees F. Arrange bacon slices onto a rimmed baking sheet lined with aluminum foil. If you have one that fits, place a rack inside the baking sheet then arrange the bacon slices in one layer on top. Season with fresh ground pepper.

2Bake until the bacon is golden brown and crispy, 15 to 20 minutes. The exact baking time will depend on the how thick your bacon is and how crisp you like it. Drain on paper towels then cut each slice into thirds.
Toast Bread

1Place the bread in one layer onto the baking sheets. Drizzle with olive oil then slide the baking sheets into the oven and toast the bread until golden, 5 to 10 minutes.
Make Mayonnaise

1Stir mayonnaise with garlic, lemon zest and lemon juice in a small bowl. Season with salt and pepper then set aside for 10 to 15 minutes or up to a week covered and stored in the refrigerator.
Make Sandwiches

1Smear lemon garlic mayonnaise over toasted bread slices. Top with sliced avocado and tomato. Season with a little salt and pepper then sprinkle lemon juice on top. Top with bacon slice and a shaving or two of parmesan cheese.