How to make crispy bacon roasted potatoes. Jump to the Bacon Roasted Potatoes Recipe or read on to see our tips for making them.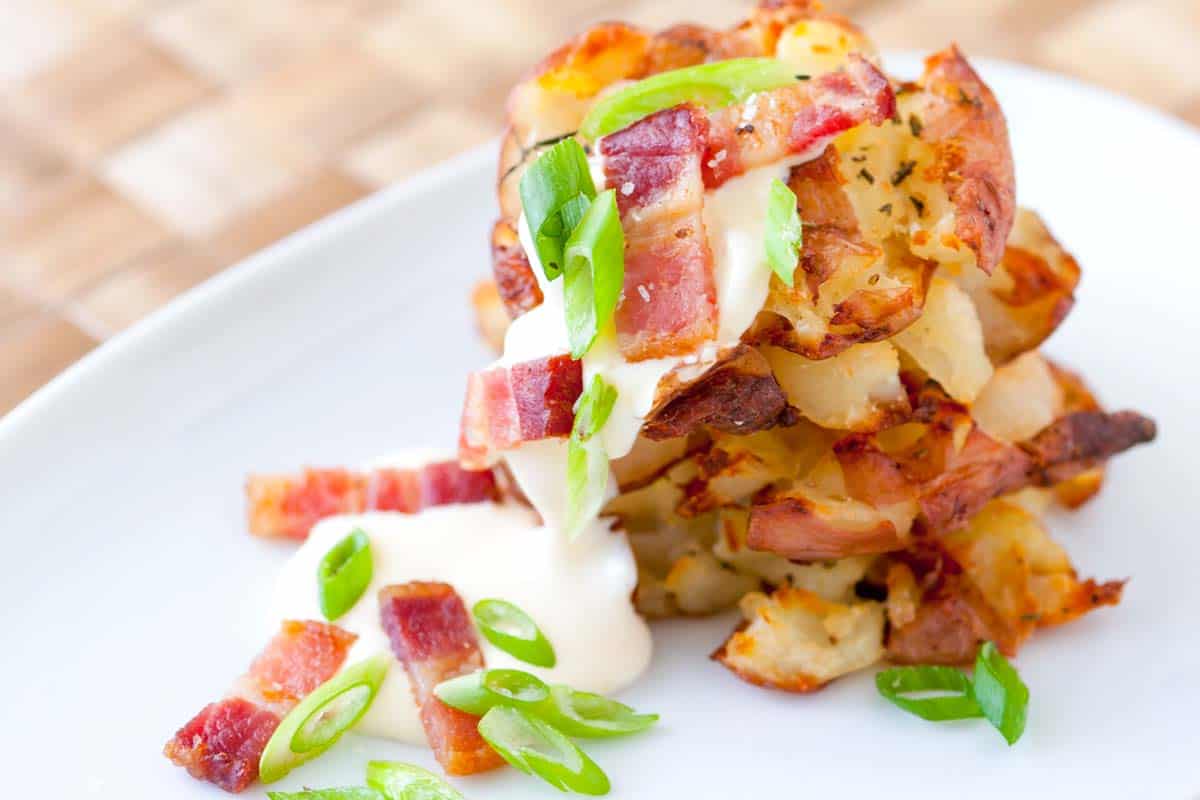 In the recipe below, you will notice we say this will serve four. That may be true, but we managed to down every single one of these crispy smashed discs of creamy potato in one sitting. There, we warned you.
How to Make Bacon Roasted Potatoes
We cook the potatoes twice. First, we boil them. Second we smash them and bake in the oven until crispy.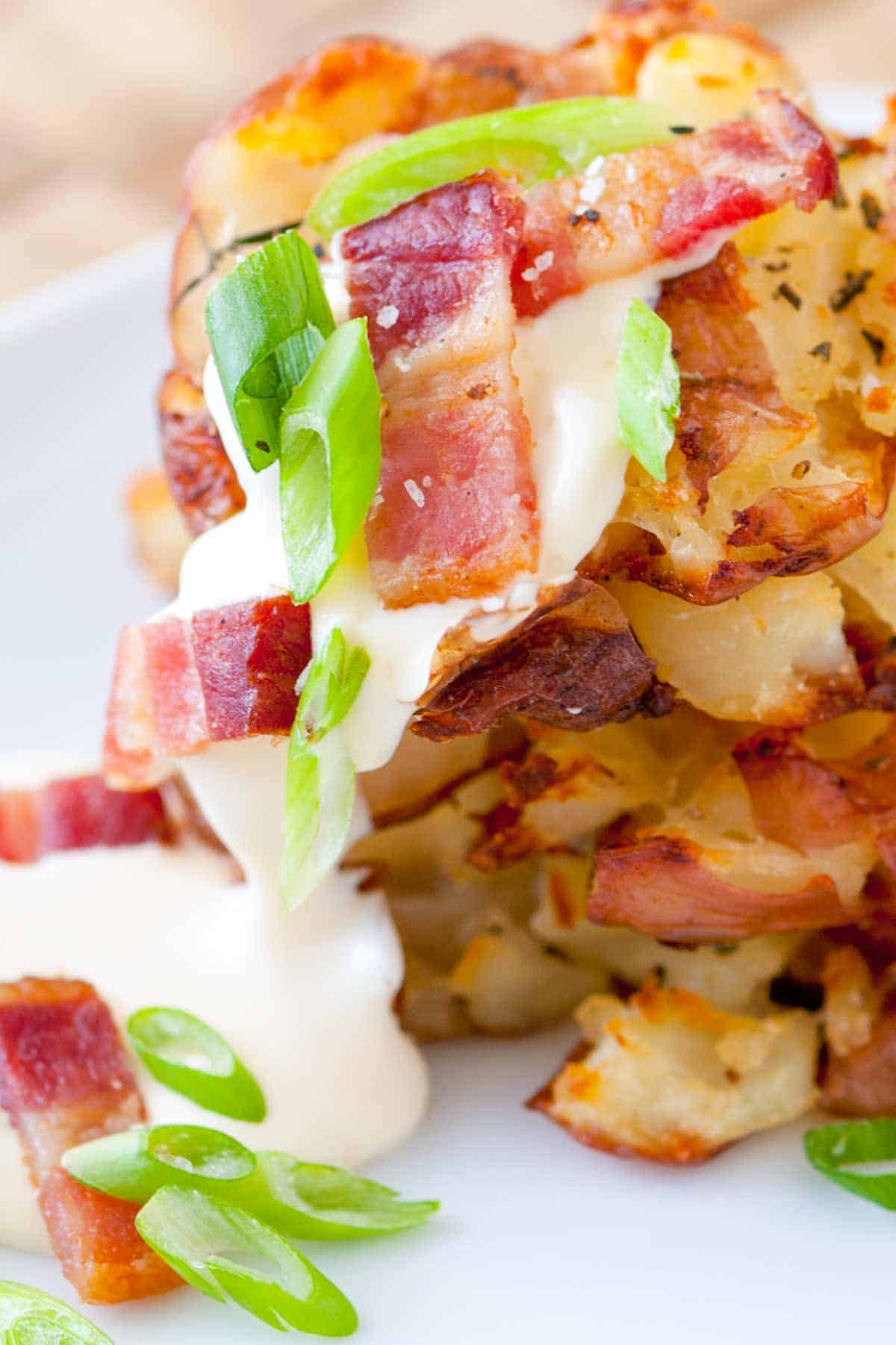 While the potatoes are boiling, bake some bacon. When it's crispy set the bacon aside and leave the bacon fat on the baking sheet — that's w  hat we roast the potatoes in. Throw the cooked and drained potatoes right into the bacon fat then use a potato masher and lightly press down onto each potato.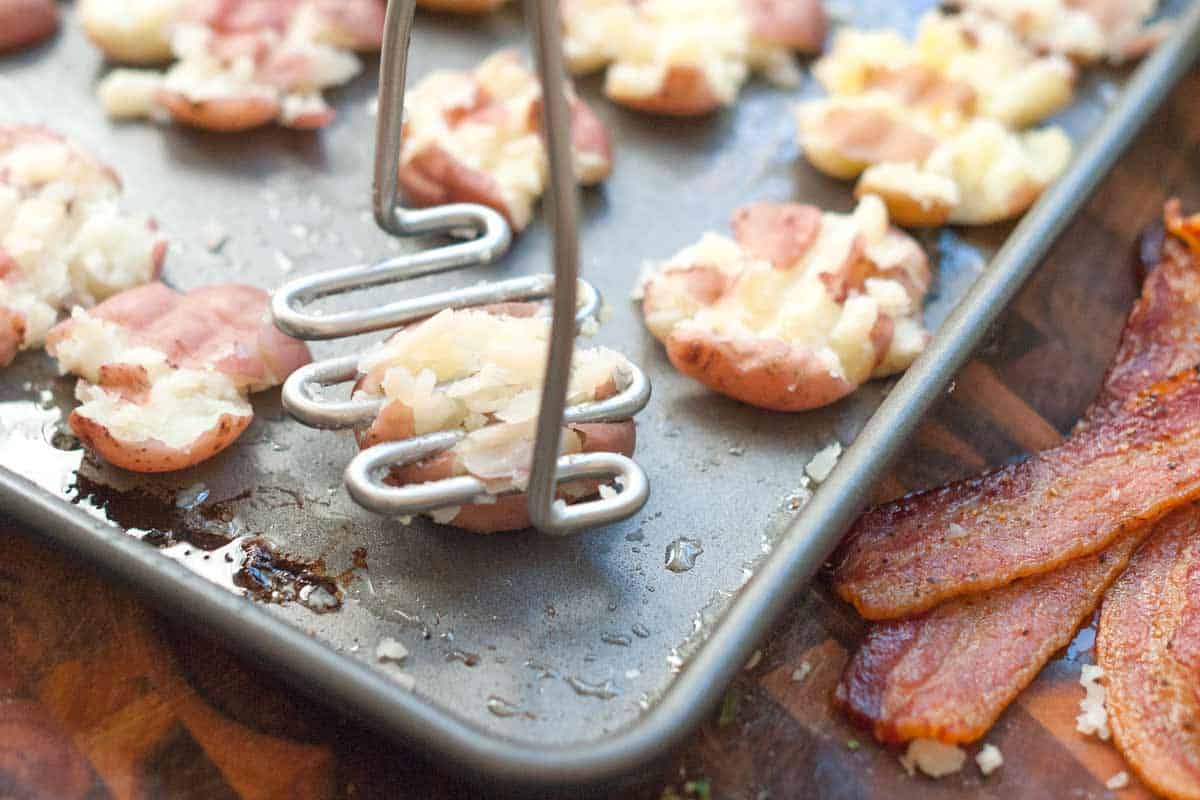 Season with a little olive oil, salt, pepper and herbs then roast until crisp and golden brown.
Recipe updated, originally posted October 2011. Since posting this in 2011, we have tweaked the recipe to be more clear. – Adam and Joanne
Bacon Roasted Smashed Potatoes Recipe
You can make these smashed potatoes without bacon. Simply swap the bacon fat for olive oil, coconut oil or other favorite fat (butter works, too).
You Will Need
1 pound baby red or yellow potatoes, scrubbed
Salt and fresh ground black pepper
4 slices thick-cut bacon
Extra-virgin olive oil
1 tablespoon fresh rosemary or 1 teaspoon dried
Sour cream and sliced scallions for serving
Directions
1Heat oven to 400 degrees F.

2Add potatoes to a large pot and cover with about 2 inches of water. Add 1 tablespoon of salt and bring to a boil over high heat, reduce to a simmer and cook until fork tender, 20 to 25 minutes. Drain.

3In the meantime, lay a cooling rack inside a sheet pan with edges. Then place bacon slices on to the cooling rack. Bake in the oven until crispy, 15 to 20 minutes; reserve cooked bacon slices and remove cooling rack from sheet pan. Drain all but 2 tablespoons of baking fat from the sheet pan.

4Increase the oven temperature to 450 degrees F. Add cooked and drained potatoes to sheet pan with bacon fat then toss so the potatoes are well coated.

5Using a potato masher, lightly press down each potato, rotate the masher 90 degrees and press down again. You should be left with discs of potato.

6Drizzle the tops with a small amount of olive oil (or spray with non-stick cooking spray). This makes sure the potatoes are extra crispy. Season with salt, pepper and rosemary.

7Bake until crispy and golden brown, 25 to 30 minutes.Serve with sour cream, green onion and crumbled bacon from earlier.